How to Write a Press Release Boilerplate in 5 Steps (+ Examples)
A boilerplate is a company description at the end of a press release. Learning how to write a press release boilerplate is easy: describe your business based on your story's angle and then add a call to action and contact info. To make writing your press release's boilerplate easier, follow the instructions here and check out some excellent examples for inspiration.
1. Identify Your Angle
A boilerplate is a concise description of a business, but it can be written a number of ways, depending on your audience and what you want to achieve. For example, your angle might be to showcase or highlight specific information that aligns with your business goals or brand image. It could also be about its longevity, your company culture, investors and funding rounds, or recent accolades or accomplishments.
While all these are interesting, decide what is most important for your business and build your boilerplate copy around that. Here are some common angles for boilerplates and strategies that can help you achieve your goal:
Attract investors

: Include financial information like past earnings, projections, or growth statistics

Increase brand awareness and affinity:

Include your company's guiding principles, mission, vision, or charitable endeavors

Generate sales:

Reference one or more of your company's most popular products or services and link to a product page or landing page

Build authority and trust:

List key awards, accolades, or prominent company officials

Show industry or thought leadership:

List patents, breakthroughs, or industry disruptions

Increase event attendance:

Reference previous events' statistics such as popularity, demand, or celebrities in attendance

Increase program or promotion participation:

List deadlines or supply limitation to appeal to fear of missing out (FOMO)

Earn media coverage:

Include a link to multimedia assets and a media contact
The right angle might be the same as the overall angle for your story, but this won't necessarily be true in all cases. For example, the purpose of a new hire press release could be to build credibility within an industry, while the boilerplate might target potential investors by highlighting the growth trajectory of the business.
To learn more about developing an angle for your press release and its boilerplate, read our article detailing how to write a press release.
2. Write a Description of Your Business
To clearly and concisely communicate what your business does, start by writing a brief, one- or two-sentence paragraph describing your business. For example, write your main company description in just one sentence using this structure: "<Business name> creates <offering> to help <target audience> <solve a specific and significant problem> with <differentiating characteristic>."
Once this part of the description is written, add compelling details based on your angle about your business' impact, revenue, growth, and relevance. Also, you want to be certain that if a journalist only reads your boilerplate, they have all the important information they need to provide additional coverage of your story.
Here are a few questions to help you write your business description, depending on the angle you identified in step one:
What industry is your business in?
What does your business do?
Who does your business work with?
Where is your business located?
When was your company founded?
What size is your company (such as in terms of employees, revenue, and regions served)?
Have you received any awards, commendations, or recognition?
What is your market share?
What are the biggest challenges faced by your ideal customers?
What is your mission or vision statement?
Who are your company's founders or chief operating officers?
3. Include a Call to Action
If your story is compelling and well-written, it is likely that readers (including journalists) will want to know more about your company. Increase engagement by concluding with a call to action (CTA).
This could be an invitation to visit your website or a landing page to learn more about your story or company, asking readers to follow you on social media, inviting them to call your business, or some other desired action. Your media CTA should include a link to multimedia assets for their stories and a media contact person.
Below are examples of press release boilerplates with different calls to action:

---

---

---
While the rest of your press release should be written to sound as objective as possible, it's acceptable to use promotional language in the boilerplate. Learn more about what to do (and not do) in our list of common press release mistakes.
4. Provide Your Contact Information
Journalists who are interested in covering your story will reach out to you for more information and even to schedule an interview. So at the end of your boilerplate, add the contact information of the person responsible for responding to media inquiries, including the name, phone number, and email address.
5. Review & Refine Your Boilerplate
Finally, double-check your boilerplate before sending it out. Remember that it needs to be concise, clear, and compelling. To perfect it, you'll probably need to read it through a few times, edit anything unnecessary or inaccurate, and add more colorful details where possible. Ideally, the entire boilerplate should be 100 words or less in length.
It's often difficult to edit your own writing, so ask a colleague or friend, or hire a professional editor to review it for you. A press release that is poorly written or riddled with errors makes your business appear unprofessional and is unlikely to get press coverage. If you plan to use a press release distribution service, choose one with a multi-tier editorial process that can help catch any mistakes, like Newswire.
3 Examples of Effective Press Release Boilerplates
A good press release boilerplate is concise and easy to read so that journalists can quickly get an idea of what your company does. It should sound confident in tone, using words that pack a punch and accurately describe your company. It should also be up to date so that journalists have the most accurate information about your company.
Here are three strong press release boilerplate examples to draw inspiration from, including what makes them effective:
1. Darling: Industry Leadership Boilerplate
Darling Ingredients Inc. to Acquire Polish Rendering Company Miropasz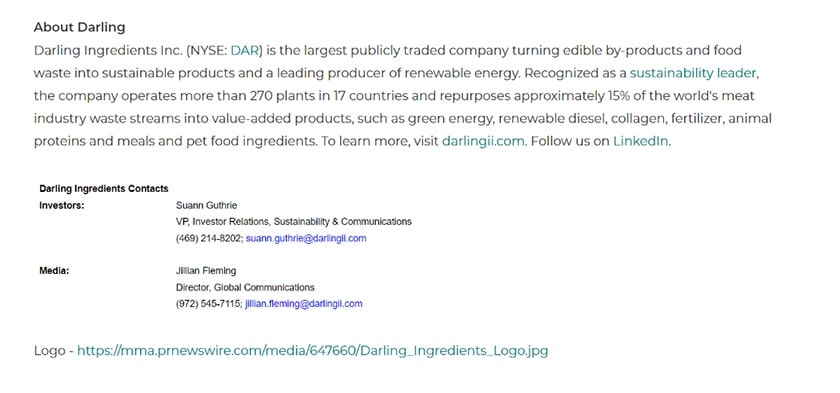 Darling gets a lot of things right in its boilerplate. It points to industry leadership and calls out topics that can increase brand affinity. It also builds authority by listing the scope of their brand. They provide contact information for both members of the media and interested investors, include a link to multimedia, and invite readers to visit their website and follow them on social media.
2. Marquette Bank: Local Appeal Boilerplate Example
Marquette Bank Welcomes New Board Member

This boilerplate example includes a media contact and an invitation to visit the bank's website. By listing their locations, they appeal to media and readers in the greater Chicago area and apply local keywords to help the story get found online. Finally, they also list their services and build confidence by listing the monetary value of the bank's assets.
3. Solution-based Press Release Boilerplate Example
Zentist Announces Second Revenue Cycle Management Bootcamp for Group Dentistry

The Zentist boilerplate references a top challenge faced by its industry to get the attention of its target audience, and describes the solution it can provide as well as its benefits. This is a good example of a product-focused angle that can increase brand awareness and generate leads and sales. It concludes with a CTA and a link to visit the website to learn more.
Need affordable help to write a press release boilerplate? Hire a freelance copywriter with public relations and press release writing expertise on Fiverr for as little as $5.
Frequently Asked Questions (FAQs)
How do I add a boilerplate to a press release?
Add the boilerplate of your press release directly below the paragraphs comprising your announcement's body. You can do this easily using the free download in our article on how to write a press release, as the boilerplate section is clearly defined. Alternatively, some press release services have online submission forms that allow you to add your boilerplate as one element of your submission.
What is the standard format of a press release?
While there are many different types of press releases, they all follow the same standard format. At the top is the header with your business' logo, contact information, and release date. After that is a bold headline followed by an italicized subheading. Next is the lead paragraph and supporting paragraphs, and below that, the boilerplate. For more details and a free template, read up on all the required elements for press release formatting.
How do you send a press release?
The process of how to send a press release isn't complicated, but it can be time-consuming, especially if you first need to compile a list of media contacts and outlets you want to reach. In addition to sending your release to journalists and newsrooms directly, use a press release distribution service that guarantees wide placement and has the ability to get your announcement into the hands of journalists who cover stories like yours.
Bottom Line
The job of the press release boilerplate is to concisely tell the reader the most important and compelling details about your business. In one short paragraph, a reader should have a solid grasp of what your business does, a call to action and link to your website or landing page, or who to contact for additional information supporting your brand and goals.
When your story is ready to go, turn to a top distribution company like Newswire for professional editing to ensure your announcement is as compelling as possible. In addition to multi-tiered editing, they also offer extensive multilayer targeting to ensure your press release gets into the hands of the right journalists.
You Might Also Like