Press Release Best Practices: 8 Press Release Tips
When writing a press release, you should try to think like a journalist and make their jobs easier. Some ways to pique a journalist's interest include keeping your release brief and scannable, optimizing it for search engines, highlighting a newsworthy angle, and incorporating quotes, statistics, and multimedia. Doing so increases your chances that journalists will develop an interest in your story and write about it.
Here are eight best practices to follow when writing your press release (plus a bonus tip):
1. Keep It Brief & Scannable
On average, it takes a journalist just five seconds to determine if your press release is of interest to them or not. If your press release is five pages long, you can bet it will look like a lot of work and your release will likely be deleted or marked as spam. As a general rule, your press release should be no more than one page and between 300 and 500 words. This creates a scannable experience for the journalist.
In addition, when writing a press release, there is more you can do to ensure your press release is scannable by journalists. This includes answering the who, what, when, where, why, and how of your news in the first paragraph while highlighting your newsworthy angle. In addition, use bullet points when possible, keep paragraphs short, remove jargon and vague descriptors, and offer visuals and ways journalists can learn more if they are so inclined.
Here are a few ways to keep your press release brief and scannable:
Cover the Basics Immediately
Your first paragraph should be scannable in about four seconds. This gives journalists time to read your headline, then get a sense of where you are going with your angle. Quickly answer the who, what, when, where, why, and how of your story, then quickly summarize why your target audience should care in 100 words or less.
Use Bullet Points
Don't use bullet points when they don't make sense but do use them when you can. For example, you can use them to list the entrance details of your charity event or a choice of quotes you wish to offer journalists from different business stakeholders. It's much easier to scan a list of quotes with names of attributed stakeholders than one paragraph with all of them together.
Be Clear & Concise
Avoid jargon. Many business-speak words have little meaning. Journalists aren't interested in learning if you know the industry language. Instead, they want every word to convey meaning they can pass along to their readers. For the same reason, avoid fluffy qualifiers like "very" or "best." Instead offer concrete numbers and facts that better depict these qualifiers.
Add Visuals
Let's face it: You can only fit so many juicy facts within 500 words. Visuals allow you to convey much more information that's consumable in only a few seconds. A graph of pertinent statistics, for example, is more easily consumed in a few seconds than two paragraphs that list and interpret the statistics.
Offer Ways to Learn More
Once you've covered the basics, provide a link to a landing or other company website page that can fill in the gaps for journalists. This allows you to provide just enough information so your newsworthy angle is adequately covered while also offering a means by which journalists can fill in the gaps should they want to develop a different angle as they write about your company news for their audiences.
2. Focus on a Newsworthy Angle
The purpose of a press release is to gain media coverage of your business announcement. Many companies make the mistake of simply praising their own company achievements and stating why that achievement matters to them. Instead, to gain media coverage, they should focus on convincing journalists their audiences should care about the announcement.
For example, a company may issue a press release to announce a new hire and, instead of focusing on the value the new hire stands to offer company stakeholders (including current and potential customers), they only focus on how the new hire might help them gain industry leadership or, worse, makes them the "best" in the industry. Make it a point to directly answer the question: "Why should my target audience care?"
3. Avoid Overused Words
One way to ensure your press release focuses on audience value instead of company praise is to choose words that show unique and concrete value. Trust Insights offers a list of overused words to avoid. These words include service, first, leading, experience, best, platform, largest, and solution. Notice that all of them are vague. Replace these words with facts that help your press release stand out as clear and unique value to audiences.
Here are examples of ways you can avoid these overused press release words:
Best: Instead of self-labeling your company or product as "the best," offer statistics or a quote that helps the audience come to their own conclusions regarding the quality your company can offer them.
Experience: While countless press releases may state that their employees offer so many years of experience, make yours stand out by stating the type of experience and how it may contribute to better value for customers. For example, a press release writing service may state that their writers have an average 10-year career in journalism prior to their joining the company (proving customers can access that deep expertise).
Largest: Instead of a vague term like "largest," provide the numbers that prove your company is the largest company offering stated services or products. For example, you could state how many customers you currently serve. A concrete number adds credibility to your claim and shows your company has the experience needed to offer superior quality.
Leading: Instead of self-proclaiming your company or product as leading the industry, offer industry statistical institutes that have named your company or product as a leading contender and state why it has earned that consideration. This helps to prove to audiences the value they can access through your company.
Solution: Describe how your business, new product, new hire, or other news announcement solves problems your audiences are facing. Instead of describing your software as a "solution," state what problems it solves that competitor products do not.
Service: Instead of announcing that you offer a service, state the exact ways your company helps customers. For example, instead of "we offer tax services," offer a list of concrete offerings, like tax preparation, tax-debt resolution, and small business accounting.
4. Optimize Your Release for Search Engines
Search engine optimization (SEO) is not normally managed by issuing press releases (but it can certainly contribute to your overall SEO strategy). Google requires press release distributors to use nofollow links when publishing a release. Nofollow links mean Google does not recognize the link as a full-fledged endorsement of the site it points to, and so it doesn't hold as much weight as dofollow links when Google reviews them to decide website ranking.
However, the nofollow policy does not apply to links journalists place in their articles as they use the information in their press releases to write their own stories for their own publications. Thus, the links journalists include in their stories can be dofollow links and so more strongly influence your website ranking. This means that links within your press release can ultimately help your website rank better in Google search.
But, journalists will only write about your company news—and include dofollow links to your website content—if your press release is relevant to the topics their audiences want to know about. That's where press release keyword optimization plays a part. If you answer the questions people are searching (and so use the relevant keywords), you are likely to be answering the questions journalists want to address for their audiences.
In the end, using popular keywords in your press release will help your story get covered more often and, in turn, will mean more links pointing to your website. Collectively, these factors help to improve your website ranking in search. Then, to help your press release get discovered more easily in search engines like Google, hire a press release distribution service that also offers SEO meta tag services.
Here are our tips for using nofollow links and keywords when writing your press release:
Include keywords with high search volumes: Free tools like SEMRush allow you to generate a list of terms that are most searched to find content around your news topic. As such, they tell you what people want to know. For example, the SEMRush keyword list can tell you exactly what details to highlight in your release about a book launch by revealing the keywords people search related to the book's topic.
Include helpful links: Place links to your website in sections of your release where they will offer value to the reader. For example, add your company's website domain in the boilerplate so readers can learn more if they are so inclined. Also, include a link to website content in your call to action; just be sure that link offers value to your readers. For example, offer a lead magnet your readers will find valuable enough to download.
Use a distribution service with SEO services: Once you have offered an optimized written press release, hire a press release distribution service like eReleases that then optimizes your meta tags—including your title, H1, and meta description tags—to help search engines better discover your press release when people search for information contained within it.
5. Incorporate Quotes
When was the last time you read a news story without quotes? It's not common. This means that journalists need quotes. And, the easier you make their jobs, the more likely they are to publish your news. So, include quotes. Key quote sources include company stakeholders and industry experts.
For example, if you own a software company and are launching a product, add quotes from your beta testers and industry experts who can speak to its industry impact. These quotes not only add a human aspect to your news (making it more relatable), but also add credibility to it. It's not just you touting the benefits of your new product—it's also those who have tested it and those who know the gaps in the industry and how to assess a quality contribution.
However, while 56% of journalists use quotes from press releases, almost as many say that the quotes in press releases aren't usable because they sound unnatural, or aren't substantive enough. To offer usable quotes, keep the following rules in mind:
Keep it brief: Keep them under 20 words.
Be human: Offer quotes that sound human (conversational) without a lot of jargon or long and complicated wording.
Offer new, authentic information: Use quotes to offer new information, not just a fancy description of your announcement or a pat on your company's back.
Offer choices: Offer two to three quotes from different perspectives so journalists can choose what fits their stories and angles.
6. Include Multimedia
Marketers know that visuals within digital marketing materials boost engagement, and press releases are no exception. PRNewswire reports that releases with images receive 1.4 times more reads and those with videos enjoy a 2.8 times increase in reads compared to their text-only counterparts. This is because 71% of journalists always (or often) use multimedia in their stories. As such, they look for releases that make their jobs easier by already including this type of content.
Admittedly, embedding videos and images in press releases can be quite costly when using a press release distribution service. For example, using a service like eReleases, image embeds are $150 each while video embedding costs $200 per video. But, there's still hope. Whether embedded within the article or attached so journalists can add it to their own article, journalists still get the content they need. Attached multimedia is very affordable for small businesses. In fact, many distribution services (including eReleases) offer free multimedia attachments with distribution plans.
Here are some rules to follow when including multimedia with your press release:
Include high-resolution images: Many press release distribution services specify the resolution they recommend and accept for images attached to your press release. Follow their recommendations for the best results.
Use proprietary multimedia: Use your own photos that represent your product or event. That will make sure you aren't violating copyright, and makes it more likely that you'll have a unique and eye-catching image to draw attention to your release.
Make it easy for journalists to publish across channels: Save journalists time by resizing your images for usage across social media, email, and website publication. Make videos easy to consume on social media by keeping them under two minutes and adding captions for easy viewership on silent mode.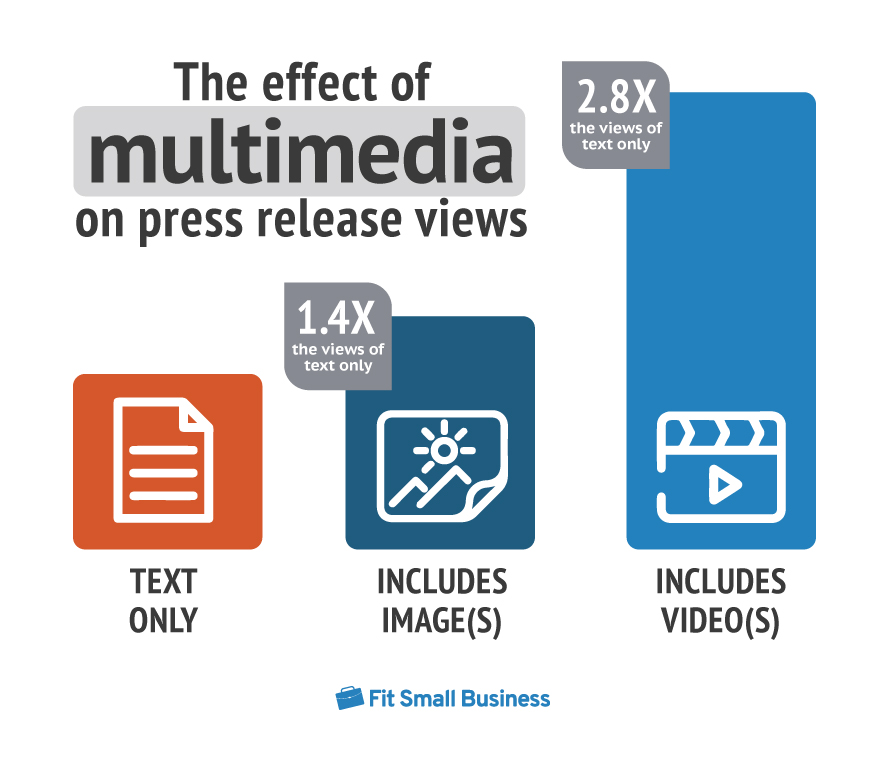 7. Use Statistics
If you want journalists to consider covering your announcement as a news story, it is important to prove its newsworthiness. That is, answer the question: "Why should the target audience care?" Statistics are a tool you can use to show journalists why your news is important.
If your news affects a lot of people, for example, using a statistic could prove its impact and add to your announcement's newsworthiness. It could tell exactly why the audience should care. If they back up your claims, statistics also add credibility to your news. For example, a statistic showing a massive amount of people face a problem your product solves adds to the importance of your product launch and so its newsworthiness—it proves people will care.
Here are some best practices to keep in mind when using statistics in your press release:
Check the source: Use statistics that come from relevant sources. Examples include trade organizations, proprietary studies, a research company report, or statistical institutions. This is crucial because an unreliable statistic could render your entire announcement sketchy in journalists' eyes. They cannot risk running a story they may have to retract later. Their careers and reputations depend on it.
Interpret the data: Clearly state why the audience should care. Instead of just stating that 50 million people have a specified problem, for example, follow up by stating how many of the journalist's audience members (people within their readers' location or demographics) are likely to be impacted. If you can't interpret the data directly based on your area of expertise, find someone who can and offer an accompanying quote.
Be precise: State the statistic exactly as the original source provided. Don't round up or round down. Doing so can make your press release seem biased and so seem less like a news story and more like a sales pitch.
8. Prepare Your Release for Cross-channel Promotion
For stories they wish to cover, 76% of journalists feel the need to evaluate in order to decide if they are social-media worthy. They also receive, on average, 300 emails each morning. As we've stated before, to cut through this noise and help your press release stand out, you have to make it easy for journalists to quickly deem your story a good fit for their needs and audiences. This means ensuring your story is social-media worthy should be part of your process.
I've already shared many ways you can make your press release consumable before social media audiences. These include offering multimedia content, quotes, and statistics. Other ways include listing relevant hashtags and social media handles and adding shareable infographics.
Here is a more in-depth look at ways to ensure your release is social-media ready:
Using hashtags: List hashtags your research shows will help your story get noticed before relevant audiences, including ones that enter it into trending and relevant conversations.
Listing social media handles: When a journalist shares your story on social media platforms, they will need to share the handles of the companies mentioned in the story. Make it easy for them by including company social media handles in the boilerplate(s) section of your press release.
Adding multimedia: We've already talked about including multimedia with your press release. As a refresher, be sure images are sized correctly for sharing across social media platforms and provide short videos with closed captioning so people can watch on silent mode from their social media feeds.
Including shareable infographics: Infographics offer statistics and data that highlight the importance of your news, and their visual nature makes them a great fit for social feeds. Use a free tool like Canva to create professional infographics via predesigned templates you can edit to match your brand style and add your information.
Including shareable quotes: To ensure your quotes are shareable, make them standalone. This means they don't require any surrounding context to interpret. Soundbites about industry trends, for example, make great quotes that contribute to the overall industry conversation on social media.
Including statistics: Statistics that highlight a problem to be solved within your industry are great tools for showcasing your company's awareness of target members' needs. When shared on social media, they help your company become a part of the larger industry discussion and so pave the way for your news story to be relevant based on trending discussions.
Bonus: Align Your Call to Action (CTA) With Audience Needs & Your Goals
A CTA should invite journalists and their target audiences to access added value while also helping you to meet your business goals. For example, a CTA inviting readers to try a free trial of your newly launched software offers them free value while also deepening their interest in your new product. Likewise, an e-book for your real estate business offering tips on how to evaluate an offer for a home adds free value while showcasing your expertise and services.
But don't just offer a press release CTA blindly. Instead, use tracking or analytics tools to determine if your press release inches your business closer to reaching business goals. Some tools you can use to track your CTA include trackable links, press release distribution service reports, email marketing software, and website analytics software. The good news is, you can use many of these tools for free or very affordable monthly prices.
Here are tools for tracking your press release CTA performance, depending on your goals:
Constant Contact: Capture and nurture new leads via an email campaign. For example, set up a Constant Contact landing page offering readers an e-book in exchange for their email. Offer the link in your release CTA. Then, begin an email marketing drip campaign to further nurture leads into becoming customers. Track how many people signed up and their email click-through, bounce, and open rates.
PRWeb: If your goal is brand awareness, many distribution services offer reports that show you how well your release lends to that goal. For example, if your CTA asks readers to share your news on social media in exchange for a giveaway entrance, PRWeb reports show you how many social media shares your release earned, as well as other similar metrics like search visibility, views, and multimedia engagement.
Freshmarketer: Once visitors have clicked your CTA link and landed on your website or designated landing page, Freshmarketer helps you track sales and conversions. It does so by tracking visitors' website behavior, including where they click, what content they interact with, and when they purchase or book an appointment on your website. As such, it tracks new leads through the customer journey and to purchase.
Bottom Line
In a study of 200,000 journalists, 100% reviewed press releases to find their stories. But, they also receive over 300 emails a day. Your job, when writing a press release, is to cut through the noise to prove your news is newsworthy and then make it easy for journalists to spread that news. Make your release scannable, valuable, and offer details and resources necessary for journalists to develop their stories and make them discoverable in search engines, like statistics, multimedia, quotes, company bios, links with more information, and keywords.
If you need help writing a newsworthy press release, consider hiring help. eReleases offers press release writing services starting at $300. Their editors first schedule a call with you to learn details about your news and your company goals, then they write a professional press release. While other release services may offer one or two rounds of edits, eReleases' editors collaborate with you until you're 100% satisfied. Click here to get started with eReleases.