15 Press Release Best Practices to Boost Small Business PR
Following press release best practices when you submit a story to the media makes it more likely to get additional coverage. The process encompasses everything from following search engine optimization (SEO) best practices to how you send your release, and what happens after it's gone live. Learn how to boost your public relations efforts by following the best practices set out below.
Want an all-in-one solution instead? Leave the writing, optimizing, editing, and distributing of your news to the experts at eReleases (or another of the best press release services) instead of going it alone.
Best Practices for Planning Your Press Release
1. Find the Angle That Matters to the Audience
To gain additional media coverage, your press release needs to find an angle that proves to journalists that their audience will care about your announcement. It needs to directly answer the question: "Why should the target audience care?" In fact, audience relevance is one of the top reasons a journalist will choose to cover a story.
For example, when announcing a new hire, explain its value to stakeholders (customers, investors, employees, or the local community). When announcing an event, explain who is invited and what benefits they will receive from attending, such as entertainment, free food and beverages, free giveaways, the potential to hobnob with a celebrity or persons of local prominence, and so on.
2. Choose the Right Type of Press Release
Choosing the right format is essential if you want to get your story into the local news or even picked up nationally. While all follow similar formats for press release headlines and general layout, one may be more appropriate than another in certain cases. We have developed best practices for several different types of PR announcements, including free templates that will make your writing process go faster and more smoothly:
Best Practices for Press Release Writing
3. Keep It Brief & Visually Scannable
If your press release is pages long, journalists will see it as a lot of work and may reject it without a second thought. As a general rule, it should be no more than a single page and between 300 and 500 words to create a scannable experience for the journalist. Check out these press release examples for more inspiration.
Answering important information, such as the who, what, when, where, why, and how, and highlighting your newsworthy angle is a key factor in what makes a good press release. In addition, use bullet points when possible, keep paragraphs short, remove jargon and vague descriptors, and offer visuals and clear ways journalists can learn more if they are so inclined.
Here are a few more best practices to follow when writing a press release:
Cover the basics in the first 100 words: A journalist should be able to take in the headline and first paragraph of your release in about four seconds. Explain the who, what, when, where, why, and how of your story and quickly summarize why your target audience should care, ideally in 100 words or less.
Use bullet points: Bullet points make it easy to scan key aspects of your news. For example, you can use them to list the invitation details of an event, a list of VIPs who will be attending your event, or a list of quotes journalists can use from different business stakeholders.
Avoid jargon and fluff: Many business-speak words have little meaning. Journalists want every word to convey meaning to the reader. For the same reason, avoid fluffy qualifiers like "very" or "best." Instead, include factual numbers or facts.
Use visual media: You can only fit so many juicy facts within 500 words. Visuals allow you to convey more, and sometimes very complex, information that's easily consumable. A graph of pertinent statistics, for example, is more easily consumed in a few seconds than two paragraphs listing and interpreting the statistics.
Leave them wanting more: Your press release should walk a fine line between conveying all the essential details while also intriguing the reader to find out more. For example, to encourage journalists to cover your event, you might mention a few top names that will be in attendance but indicate that there will be more.
Give them a way to find out more: Include a link to the page on your website that has more information or a longer version of your PR announcement. This allows you to provide enough details to showcase your angle while also offering a means by which journalists can fill in the gaps if they need more information or want to develop a different angle as they write about your company news for their audiences.
4. Avoid Overused Words
According to Cision's 2021 Global State of the Media Report, the top five most overused words are best of breed, world-class, unprecedented, unique, and cutting-edge. While each seems to indicate value, note that it's not quantified. Instead of words like these, use terms that convey your news's unique, specific, and clear value for audiences.
Here are alternatives to help you avoid using overused words in your media announcements:
Best of breed: Instead of referring to your company or product as "the best" of its kind, offer statistics or a quote that helps the audience come to their own conclusions.
World-class: Readers may not know what world-class means, and so it may not convey meaning. Instead, point to specific features or statistics that demonstrate the prominence of your brand or service.
Unprecedented: Thank the pandemic for this one, as the use of the word "unprecedented" rose to unprecedented levels in 2020. Instead, consider a synonym like novel, unrivaled, or groundbreaking.
Unique: Saying something is unique isn't unique, explaining what makes it unique is.
Cutting-edge: Things have arguably been on the cutting-edge since the start of the Industrial Revolution. Instead, explain in what specific way your brand, product, or service is leading the pack.
Mistakes can hurt your media announcement's ability to land additional coverage. Avoiding cliches and overused words is just one of the press release mistakes you'll want to avoid.
5. Incorporate Quotes
While it's not the top reason journalists viewed news stories as sharable in 2021, about one in 10 said including quotes from a company spokesperson does help. Depending on the type of media release, you may want to include one or several quotes, including sourcing quotes from within and outside of your company.
For example, a software company launching a new app could add quotes from beta testers or from industry experts who can attest to its industry impact. This not only adds a human aspect (making it more relatable), but also adds credibility. Instead of you touting the benefits of your new product, it's being endorsed by industry experts and people who have tested it.
The press release best practices for using quotes are to:
Make them short: Preferably under 20 words
Write them for average people: Offer quotes that are conversational and easy to understand (e.g., no jargon or technical, complicated wording)
Offer new, authentic information: Use quotes to offer new information, not just a restatement of your announcement or a pat on your company's back
Offer choices: Provide two to three quotes from different perspectives so journalists can choose what fits their stories and angles
6. Include Multimedia
Marketers know that visuals boost engagement and press releases are no exception. According to a 2021 State of Journalism report, 64% of journalists said that articles with images are the most sharable, second only to releases on trending stories.
Many of the best press release distribution services now include at least one embedded image in distribution packages. For example, EIN Presswire and eReleases include one while Newswire allows you to embed two images. Also, with most distribution services, embedding video is usually an add-on, so plan accordingly.
Another way to include multimedia content is to place videos or additional photos on a landing page on your website and link to it in the article. Whether embedded within the article or available via link, journalists can add it to their own article. Here are some press release best practices to follow when including multimedia as part of your PR strategy:
High-resolution images: Many press release distribution services specify the resolution they recommend and accept for images attached to your press release. Follow their recommendations for the best results.
Use proprietary multimedia: Use your own photos representing your product or event. This ensures you aren't violating copyright and makes it more likely to have a unique and eye-catching image to draw attention to your release.
Make it easy for journalists to publish across channels: Save journalists time by resizing your images for usage across social media, email, and website publication. Make videos easy to consume on social media by keeping them under two minutes and adding captions for easy viewership on silent mode.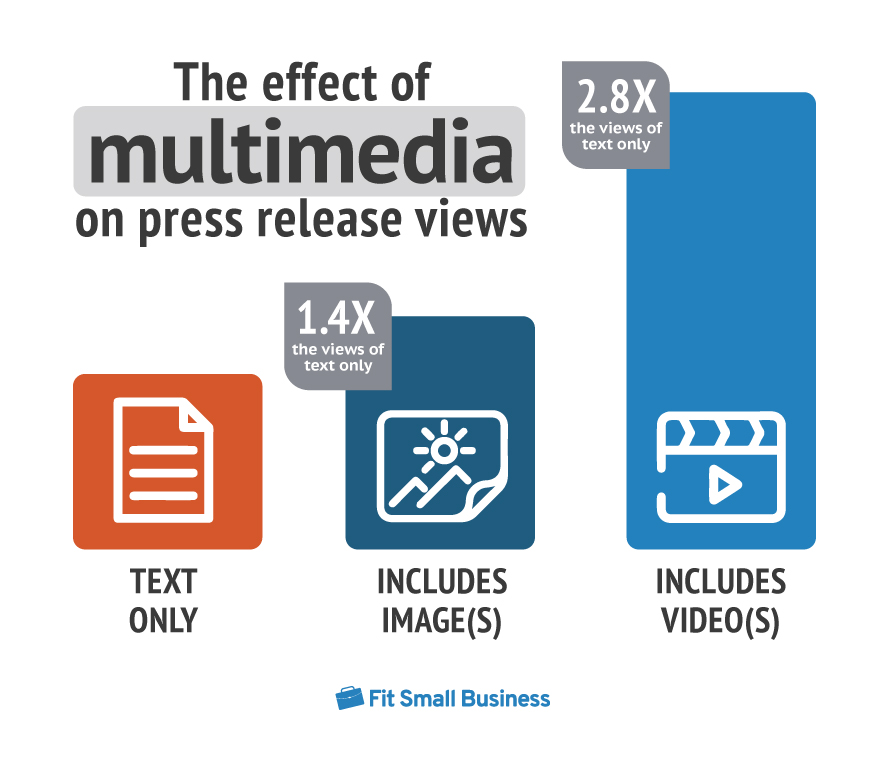 7. Use Statistics
If you want journalists and news sites to give your story additional media coverage, you need to prove it's coverage-worthy, including why the target audience would care. Meaningful statistics show journalists why your news is important. If it affects a lot of people, for example, using a statistic could prove its impact and, in turn, that your news merits additional coverage.
When they back up your claims, statistics also add credibility to your article. For example, a statistic showing a massive amount of people face a problem your product solves adds to the importance of your product launch, proving people will care. Here are some press release best practices to keep in mind when using statistics:
Check the source: Use statistics from relevant, authoritative, and recent sources. Examples include trade organizations, proprietary studies, a research company report, or statistical institutions. Stats from questionable sources or sources that are more than a year or two old may become the reason a journalist turns your story down.
Interpret the data: Instead of stating that 50 million people have a specified problem, indicate how many of the journalist's audience members (people within their readers' location or demographics) are likely to be impacted. If you can't interpret the data directly based on your area of expertise, find someone who can and offer an accompanying quote.
Be precise: State the statistic exactly as the original source provided. Don't round numbers up or down. Doing so can make your press release seem biased and seem less like a news story and more like a sales pitch.
8. Add a CTA That Serves the Reader & Your Goals
Your article's call to action (CTA) should extend access to added value to readers and help you meet your goals. For example, inviting readers to sign up for a free trial of your software gives them free value and allows you to generate leads and build your contact list.
Similarly, a call to action from a real estate agent could be to download an e-book with tips on how to evaluate an offer. This adds free value for the prospect, showcases the realtor's expertise, and enables list-building for future lead generation.
Press Release SEO Best Practices
9. Optimize for Search Engines
Like any other online content, press releases can benefit from search engine optimization (SEO), and so can your business. First and foremost, following press release SEO best practices make it more likely for your news announcement to be found in online searches.
This means you should incorporate SEO keywords that make your content more findable relative to the topic of the release. Similarly, another press release SEO best practice is to use anchor text for your link with keywords your website or landing page should rank for.
Secondly, when newswires publish your release, links back to your website are, by default (and Google mandate), "no follow" links. While they are still backlinks, they don't benefit your website in the same way that do-follow links will, but that doesn't mean they have no value.
For example, the high authority of a newswire website could mean a no-follow link still has some backlink value. Plus, as readers follow this link, the additional traffic generated provides additional SEO benefits for your site.
Also, the no-follow policy does not apply to links journalists place in their articles, as they use the information in their press releases to write their own stories for their own publications. Thus, the links journalists include in their stories can be do-follow links that more strongly influence your website ranking. This means that links within your press release can ultimately help your website rank better in Google searches.
Plus, any time someone clicks through from the press release to your website, it tells Google and other search engines that your website has value. Collectively, these press release SEO factors help to improve your website ranking in search. Here are the press release SEO best practices for links and keywords:
Include keywords with high search volumes: Free keyword research tools like Semrush allow you to find keywords relevant to your story with high monthly search volume. For example, you can find out which details to include in a book launch press release based on the keywords people search related to the book's topic.
Include links: Place links to your website in sections of your release where they add value for the reader. For example, add your company's website URL in the press release boilerplate so readers can learn more if they are so inclined. You may also include a link to your website in your call to action. For example, offer a lead magnet your readers will find valuable enough to download.
Use a distribution service with SEO services: Once you have an SEO-friendly press release, distribute it through a service like eReleases so that elements like the title, H1, and meta description tags will also be fully optimized. Implementing press release SEO best practices like these makes your news more likely to be discovered when people search for stories online.
Best Practices for Sending Press Releases
10. Choose the Right Press Release Service
Sending your release through a newswire is your best bet for maximum exposure and brand awareness, in addition to better SEO. The best press release services not only ensure your news is published across major media outlets, but many also have options for you to send your press release directly to media journalists and editors via direct email.
Several services have developed niche features or capabilities that make it more appropriate for some types of organizations or news releases. For example, Newswire is the best option when you want to get your press release in the hands of niche audiences, while eReleases is better for reaching the widest range of media professionals. Alternatively, NewsWireToday offers free distribution services to nonprofits and is on our list of the best free press release services.
11. Send Your Press Release to Your Media Contact List
Your media contact list should include journalists and media outlets (such as trade publications or local news stations) whose audiences would want to know about your news. Our article on how to get local press coverage details several options for building your list and developing relationships with media professionals to boost your PR efforts.
12. Personalize Your Pitch & Make It Short
Lack of personalization was the top reason cited by journalists as to why they rejected a pitch (MuckRack). Instead of sending out a generic email, take the time to research the journalists most likely to be interested or those you would most like to cover your story. Then write an email tailored to them, including the reasons why their audience would care about your news.
Be sure to make it short, as 91% of journalists say they prefer a pitch under 200 words. Finally, include contact information that makes it easy for the journalist to contact you or include your business information in their coverage.
13. Send It on Monday (or Tuesday)
Muck Rack compared two studies, one primarily made up of journalists and the other of PR professionals. Public relations pros said Tuesday is the best day to send a release; however, 57% of journalists said they preferred receiving pitches on a Monday in 2021, up from 45% who said the same in 2020.
Best Practices for After Sending a Press Release
14. Follow Up
If you pitched journalists personally, send a follow-up email anywhere from three to seven days later to see if they have any questions. If they do, make yourself available as soon as possible, as journalists often work on a short timetable.
15. Track Press Release Results
If you sent your media release via a service like eReleases or Newswire, you will be able to access analytics afterward. This includes everything from the number of outlets running your release to specific placements and engagement data, such as clicks or video views.
You can also use press release tracking tools and marketing software to ensure your press release helps you reach your business goals. These include trackable links, distribution platform analytics, email marketing software, and customer relationship management (CRM) software.
Here are some examples of tools and software for tracking press release CTA performance, depending on your goals:
Sendinblue: Capture and nurture new leads via an email campaign. For example, set up a Sendinblue landing page offering readers an e-book in exchange for their email. Offer the link in your release CTA. Then, begin an email marketing drip campaign to further nurture leads into becoming customers. Track how many people signed up and their email click-through, bounce, and open rates.
Freshsales: Once visitors have clicked your CTA link and landed on your website or designated landing page, CRMs like Freshsales track buying signals, sales, and other conversions. It does so by tracking visitors' website behavior, including where they click, what content they interact with, and when they purchase or book an appointment on your website. As such, it tracks customer journeys throughout the sales funnel all the way to purchase.
eReleases: With top press release services like eReleases, you can access reports as soon as two hours after sending a press release with data showing progress against your goals. For example, if your goal is to be seen as a thought leader in your industry, you can see how many industry-related outlets ran your story. If it's conversions, you can see how many readers clicked on your CTA.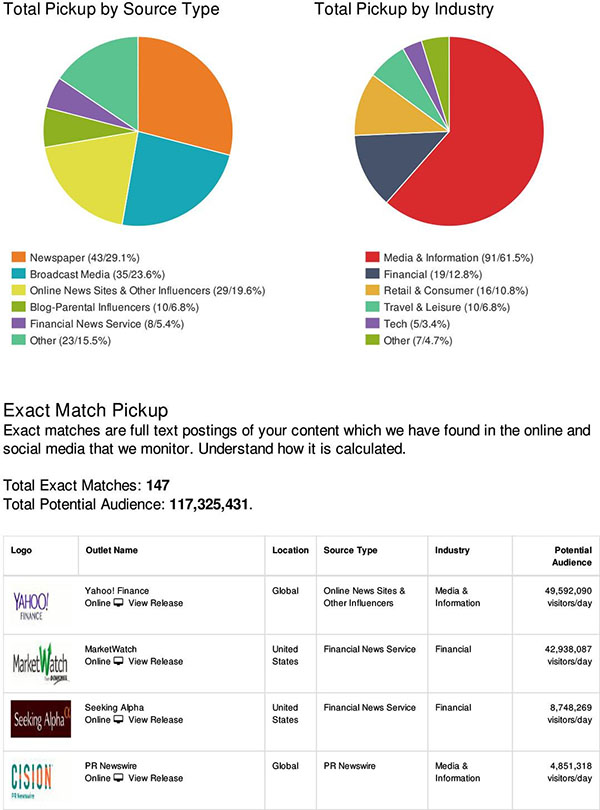 ---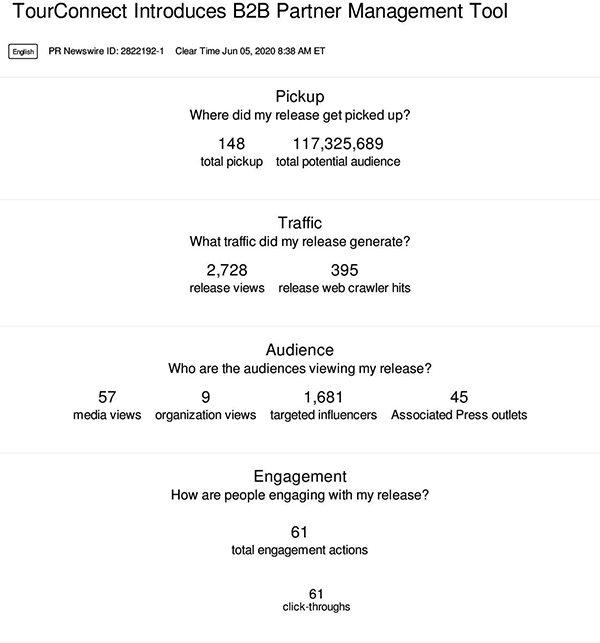 ---
Frequently Asked Questions
Should I use a professional press release distribution service?
For the best chance of landing additional media coverage, use a press release distribution platform. Not only will they provide the widest distribution of your story, but many also email your news directly to newsroom editors and journalists, providing more opportunities to land press coverage.
What are the best practices for writing press releases?
Press release best practices for writing your story include both content and format. You should follow standard press release formatting guidelines to start with. Then find a coverage-worthy angle, write a compelling press release headline and subheadline, and add a 300 to 500-word summary of your news. Finish with a call to action and ensure journalists have your contact information if they need more details.
How can I hire someone to write my press release?
There are many ways to hire someone to write your press release. Among the most affordable is to hire a freelancer from Fiverr to write your story, with many services starting at around $20 dollars. Alternatively, you can outsource press release writing, proofing, and distribution in one to seasoned media professionals at eReleases, or source industry-specific experts to write your release from CorpWriting.
Bottom Line
Following press release best practices allows you to cut through the noise, prove your story deserves media coverage, and make it easy for journalists to provide an extra PR boost. Make your story scannable and valuable and provide additional resources journalists need to develop their own stories. Follow press release SEO best practices to make them discoverable in search engines and up the engagement factor with statistics, multimedia, and quotes.
If you need help, eReleases offers the best press release writing services. A call will be scheduled with you to learn details about your news and your company goals, and an industry-knowledgeable media pro will write your press release. While other release services may offer one or two rounds of edits, eReleases' editors collaborate with you until you're 100% satisfied. Click below to get started today.