A press release is a roughly 500-word newsworthy business announcement that offers the media all needed information to publish a story about the announcement. To write a press release, choose your goals and a newsworthy angle, format your document with appropriate branding, craft a headline and subheader, and write an objective, fact-based news story. Include resources for journalists to develop unique angles, like quotes, multimedia, and links.
How a Press Release Works
Every day, journalists around the globe need compelling stories for their respective publications or programs. This means they need stories that speak directly to their audiences and their interests to be successful. So, they search for such stories. Sometimes they are readily available based on current events and trends, but, other times, they are harder to find, meaning media personnel must go looking for them.
Sometimes, the media finds stories in company press releases. They may find these press releases in their inboxes (if they subscribe to press release distribution services) or on popular newswire websites. Companies also send them press releases directly. Once they find a story that interests them, journalists either publish the press release as-is (if it already provides a complete and compelling story for their audiences), or they reach out to the contact provided on the press release for more information.
To vie for media attention, companies write and distribute 500-word press releases (approximately) about newsworthy announcements. They offer a release with an angle that is beneficial to media audiences (newsworthy). A good release includes a newsworthy headline and succinct copy that focuses on giving journalists a compelling angle for their target audiences and needed information to publish the story. This includes the who, what, when, why, where, and how of the news and added resources like quotes, company bios, multimedia, and calls to action.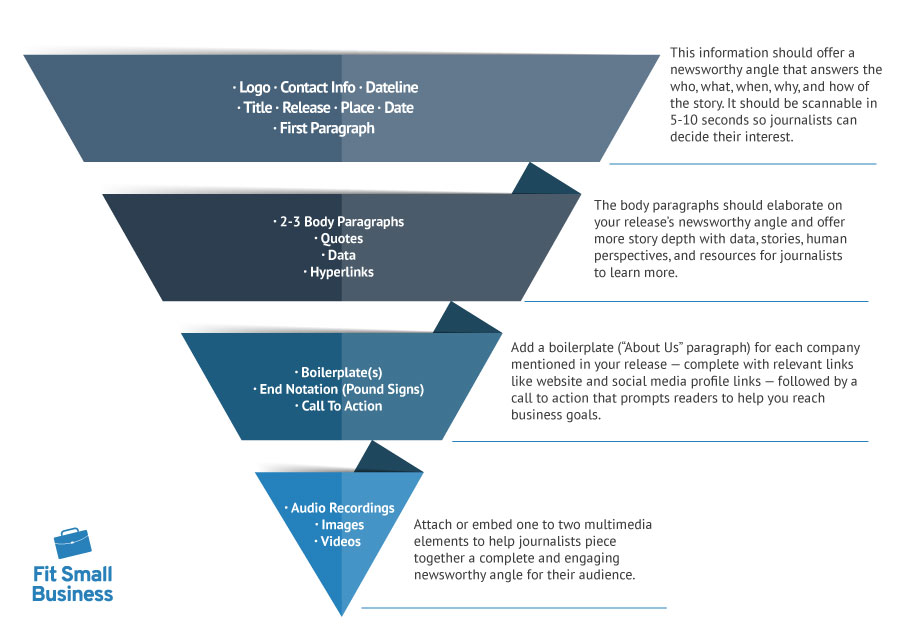 To ensure press releases help companies meet business goals, companies first set goals for their releases, then target them correctly and track their performance. To help them reach the right audience, companies specify an audience (their industry and location) via distribution services and send their releases to journalists who share the same audience. They then track where their press releases are published, audience engagement, and audience behavior around their call to action to verify the press release helps them meet company goals.
How to Write a Press Release in 12 Steps
To write a press release, begin by choosing your release goals and metrics. Next, decide the story angle that will capture journalists' attention. Then, configure your document format settings and begin adding initial elements like your logo, place and date stamp, and release date. Finally, write the copy of your press release, including your initial summary paragraph, your body paragraphs, a boilerplate for each company mentioned, and a call to action.
Here's how to write a press release in 12 steps:
1. Identify Your Goals & Ways You Can Achieve Them
Before you begin crafting your press release, you must know what your goals are. For example, if your goal is to earn more brand awareness, you might craft a press release that includes share-worthy multimedia and social media share buttons. Common goals companies set for a press release include earning media coverage, spreading brand awareness, proving their industry leadership, and increasing sales or website traffic.
Choosing press release goals will not be helpful unless you pair those goals with trackable press release elements that can help you reach them. For example, if your goal is to nurture more leads, you can craft your press release to entice people back to a landing page where you ask them to sign up for a drip campaign.
Here are some common press release goals and the metrics that can help you track them:
Media Coverage
In many cases, the goal of a press release is to generate media coverage of your company. By attracting media coverage, you can leverage that coverage toward creating more leads, sales, or positive overall brand awareness. Measuring this goal means tracking how many outlets have published or run your story. A list of outlets that covered your story tells you whether your press release did a good job attracting media attention.
Pro tip: To increase the likelihood your press release will be covered, research the audience of targeted journalists and craft a press release that will be valuable to that shared audience. A story that will be valuable to journalists' audiences is one that's more likely to get published and help you accomplish your goal of media coverage.
Page Traffic
Page traffic goals are tied to how many people click the link from your release to your website to learn more. Like media coverage, attracting traffic to a specific page on your website—like a landing page dedicated to the product you announced in your release—can help you earn more leads and sales.
To measure this goal, you can add a Google Analytics tracking code to your press release call to action (CTA) and invite readers to click from the press release to the landing page associated with your press release announcement. You can also use specific campaign URLs to help you track exactly how much of your traffic came as a result of the publication of your press release.
Brand Awareness
When you set a brand awareness goal, your goal is to expose your brand to as many of your target audience members as you can. Their knowledge of your brand can later turn into purchases, leads, and product recommendations.
This goal is often measured by how many social media shares and what social media engagement your release earns, as well as how many people search for your company on search engines like Google. You may also track your online mentions by local and industry influencers. To increase the likelihood of your press release earning brand awareness, craft a shareable press release by including share buttons.
Company Position in Your Industry
Your company's position in the industry has the potential to attract customers who are looking for brand-name products of superior quality. A boosted company position in your industry is reflected in reputation indicators like your company's listing in top industry guides, earned market share, or increases in your search engine ranking compared to competitors.
Some ways to craft a press release that help boost your position in your industry include describing product or service features that competitors don't offer, why your products or services are revolutionary in the industry, and why you offer a better value. As you induce more sales and more positive attention for your proven products, you earn more market share and likely listings in industry buyer's guides, thereby boosting your company's position in the industry.
Sales
Press release sales goals are linked to how many people buy your product after your press release has been issued and as a direct response to your press release. An important disclaimer here is that your press release should not be written in a "salesy" tone. Instead, write a fact-based announcement from an unbiased perspective.
Still, some ways you can induce sales in your press release include telling journalists how readers can take advantage of a free trial or demo (via a link to a relevant landing page, for example), showcasing the revolutionary nature of your company's offerings (in a fact-based, "non-salesy" manner via multimedia, for example), or offering ways readers can learn more (like links to your website or landing page).
2. Choose a Newsworthy Angle
To develop a newsworthy angle, ask yourself how your press release will benefit the readers you're targeting. Your press release shouldn't just be an announcement you are proud of, but one that will appeal to the audiences of the journalists you want to publish it. This means it must be timely or time-sensitive, trendy, cutting-edge or innovative, seasonal, impactful to targeted readers, and award-winning or influencer- or celebrity-endorsed.
3. Set Your Document Settings
For a traditional press release, we recommend you set your document margins at one inch on all edges of your press release. For greatest readability, use a 12-point font Times New Roman or Arial for your body paragraphs. Titles should be in slightly larger text; headlines should be set to 14-point font and subheadings to 13-point italicized font. Finally, single space your document to ensure your approximately 500-word press release fits on one page.
4. Add Your Contact Information
Your contact information should be placed on the right-hand margin of your press release below your dateline and perfectly aligned in three lines. It should include the full name and title (first line), email address (second line), and phone number (third line) of the person within your company journalists should contact if they have questions for you about your announcement.
5. Add Your Logo
Place your logo at the top center of your document. It should go above your release date and contact information. If your press release is meant for digital audiences only, add a logo of 200×200 pixels in this space. If your press release is also meant for traditional print outlets, like newspapers or trade publications, also include an attached image of your logo.
Pro tip: Creating a template that you can reuse can save you time, and allow you to skip the previous three steps the next time you send out a press release. We've even created a helpful template you can download to get started.
6. Add Your Place & Date Stamp & Intended Release Date
There are two different date elements for a traditional press release. The first is the release date, which tells journalists if you want your press release to be published immediately or at a later date. The second date goes before the opening of your press release introductory paragraph and is accompanied by the city and state of your business.
To begin adding these elements, place your release date under your logo on the left-hand side of your press release. It should either say "for immediate release" in all capital letters or "Embargoed for release until [date]." Embargoed releases tell journalists you don't want your news announcement published until the specified date. Without this, your press release may be published soon after you have dispersed it to your chosen outlets.
Add your place and date stamp where you intend your first paragraph to start. It should include your city, state, day, month, and year. Follow your date and place stamp with a dash, after which you can go right into your press release's first paragraph.
7. Write a Newsworthy Headline & Subheader
Place your headline at the top of your press release under your logo, release date, and contact information. Center it and use a 14-point Times New Roman or Arial font. Craft a headline between 65 and 80 characters that clearly depicts the announcement's newsworthy angle. Use the headline to tell readers why the announcement is timely, noteworthy, innovative (an industry breakthrough), and benefits the public.
A subheader is an optional element of a press release. If you would like to include one, make sure it elaborates on but does not reiterate the headline. Offer more detail about what your press release is about but, at the same time, don't share too much. Instead, induce intrigue that makes readers want to learn more.
8. Write Your First Paragraph
Your first paragraph should give journalists the core information about your announcement as quickly as possible. Objectively and briefly answer the who, what, when, why, and how of your announcement. Be sure to keep it brief enough that journalists can skim it in five seconds and know whether your announcement may be appropriate for their audiences. If it makes sense based on content, don't hesitate to use bullet points to make the content more skimmable.
9. Write Your Body Paragraphs With Quotes
Elaborate on the newsworthy points from your first paragraph in two to three paragraphs. Be brief; remember that your release needs to be 500 words or less and fit on one page. As you write, develop the newsworthy points from your first paragraph and be objective as if you are writing a news story. Include quotes from one or two key stakeholders to offer a well-rounded piece with different perspectives. Add hyperlinks, images, and data to back up your points.
At this point, take a break, then read your release again later. Remove unnecessary words, hype, sales speak, or jargon. Replace three-syllable words with basic synonyms. Pair down each paragraph as far as you can without sacrificing meaning or flow. The goal is two to three paragraphs with three to four sentences each.
Pro tip: A free tool like Grammarly can pinpoint areas that need simplification and remove elements that affect flow and consumability, like jargon. The paid version will even allow you to detect AP Style errors so you can be sure your press release reads like a professional news story. This is so helpful because the closer you can get your press release to a publishable news story, the more likely journalists are to publish it.
10. Write Your Boilerplate
Once you've written your body paragraphs, end your body copy with a boilerplate paragraph. This is your "about us" section" and so should include a description of what your business does, a brief overview of your mission statement, and any tidbits that make you stand out in the industry, including awards and time in the industry. If you have mentioned more than one company in your body copy (for a merger announcement, for example), write two boilerplates and dedicate one to each.
For a step-by-step, read our guide on how to write a boilerplate for a press release.
11. Track Your Press Release Performance
As you write a press release, consider how you'll track whether it is achieving your goals. One way to do that is to be sure you include some kind of call to action that you can measure. For example, if your goal is to generate new leads for your business, you might measure the number of visitors to your website as a result of the press release, and track how many of those visitors become leads.
You can also set up other ways of measuring performance including trackable links, analytics, or website landing pages. If that sounds complicated, the good news is that many distribution services also offer free analytics dashboards to help you track the metrics that matter to your business.
For example, here are some ways to track common press release goals:
12. Add Multimedia & Hyperlinks
To add images in Google Docs to create a press release you wish to email to media contacts, simply click the "Insert" header tab, "Image" from the drop-down menu, and then upload the image. You can embed a YouTube video by right-clicking on the video and selecting "copy embed code." Paste the embed code in your document. To add a hyperlink, click on the word you'd like to hyperlink, then "Link" from the "Insert" header tab. Paste the link in the box and click "Apply."
Different press release distribution service providers offer different options and processes for including multimedia and hyperlinks in or with your press release. This often depends on the plan you choose. Either embed or attach videos, images, and hyperlinks by following the prompts your service provider offers when you sign up for a plan and begin uploading your press release for distribution.
How to Distribute Your Press Release
To submit your press release, you can send your press release manually to journalists via email. Or, you can use a distribution service to send a press release en masse to hundreds or thousands of targeted outlets simultaneously. We recommend both sending press releases to key journalists so you can cultivate a long-term, win-win relationships with them, and using a distribution service to send your press release at scale for wide-spread reach.
Regardless of whether you choose to submit your press releases manually or use a distribution service to handle that for you, we've created a guide to press release distribution that can help.
Press Release Follow-up Checklist
Once you've published your press release, it's time to follow up to ensure you get the most out of it. This includes tracking where your press release is published, promoting your published press release across digital channels, tracking your press release performance, and cultivating relationships with key journalists who've published your release.
Press Release Format
Your press release should include very specific formatting elements. These elements should be crafted to help your brand be recognizable, help media personnel pay attention and publish your story, and position your company in a positive light. Every press release should follow the same formatting guidelines—including where you place elements like your logo, contact information, headline and subhead, dateline, place and date, copy, boilerplate, and closing information.
In addition, different types of press releases will vary in terms of the elements you should include. For example, a product launch press release will look different than a charity event announcement or a book launch. In our guide to the different types of press releases, we include examples and walk through how to address the unique needs of each.
Top Press Release Examples
Dropbox, Salesforce, Soapbox, and ScribbleLive all give us great examples on how to create press releases that deliver value to journalists' readers while also helping them meet business goals. Dropbox and Salesforce stand out by clearly defining the newsworthy angle of their release and helping journalists run with it. Soapbox offers journalists an immersive experience via an embedded video. Finally, ScribbleLive offers journalists an uber-shareable, high-engagement video they can publish as is without added work on their part.
Take inspiration from these three press release examples:
This partnership press release does a great job of succinctly summarizing the newsworthy angle of the press release in the initial paragraph. It very clearly states why the announcement is newsworthy (why it should matter to readers): "… enabling companies of all types and sizes to collaborate and deeply connect with their customers across sales, service, commerce, and more."
It then goes on to offer plenty of resources that make it easy for journalists to gather the details they need to craft a unique angle for their audiences. These resources include multiple quotes from key stakeholders of both companies, as well as links to each company's social media channels and upcoming joint events.
Wistia does a great job of using multimedia and extra resources to make it easy for journalists to quickly yet thoroughly explore their product and develop a unique angle to appeal to their audiences. Via a product tour video placed above the release copy, journalists can instantly immerse themselves in the Wistia product by simply clicking the play button. From there, they can download a free version of the product to try it for themselves.
This is a compelling example of why video press releases are becoming a go-to format for companies wanting to offer a highly engaging story while making journalists' lives easier. The video release clearly and quickly defines why the acquisition is newsworthy by defining the audience's problem, then laying out why their acquisition will help to solve viewers' problems.
In the end, given its highly engaging and versatile video format, reporters can easily share the press release across all platforms—including on social media platforms, embedded in their own news sites, and even via email. And the best part is that there's no need to interview a key company stakeholder about the acquisition; instead, the video displays questions, then a key stakeholder directly answers viewers' most pressing questions with no extra work on behalf of journalists.

Frequently Asked Questions (FAQ)
What is a press release?
A press release is an objectively written or produced business news story that is meant to earn the interest of media personnel. The goal is to earn this interest so the story will be disseminated to a relevant target audience within a specified industry or location. It may be an announcement of a merger or acquisition, a book or product launch, an event, a new business opening or hire, or a company crisis. It can take the form of a written or video communication.
When should I send my press release?
It is best to send your press releases during the week. Thursdays seem to be the best days to send press releases, with an average 26% open rate. Moreover, between the hours of 10 a.m. and 2 p.m. is when most journalists open their emails, so try to send your press releases during this time of the day.
In terms of general timing, send your release when it is best for your company. Try to give journalists plenty of time to plan their story around your press release and fit it into their editorial calendars. For example, if your news is about an industry-disruptive product launch, send your release at least three months before your product launch. Then, follow up a few days later to ensure journalists have all their questions answered to craft and run your story.
However, if you are distributing your press release via a press release distribution service, review their scheduling policies to determine the best time to submit your press release. For example, some offer a 24-hour publishing turnaround while others take up to a week to edit your press release before distribution. Check with your distribution service to determine how far in advance of your release date you need to upload your press release.
Does a press release help with SEO?
To avoid being penalized by Google, press release distribution services use nofollow links to syndicate press releases. This means links within press releases don't help your website rank higher on Google, even if they point back to your website.
However, in roundabout ways, press releases do help with search engine optimization (SEO). For example, if your press release really is newsworthy, it can lead to content being created that have dofollow links to help your website rank in Google, including interviews and blog posts written by influencers. In the end, more links from reputable websites means higher likely ranking for your website.
How long should my press release be?
We recommend a professional press release be no more than 500 words and no more than one page in length. The reason for this is that journalists often have very limited time to review a story and limited space with which to publish a story. If you overload them with too many details, instead of weeding out details for a publishable story, they are likely to move on to a press release that is closer to a publishable draft of a story.