A press release is an official news statement from your business, typically 400-600 words, that is shared with news media. A good press release includes a compelling headline, powerful lead paragraph, and an informative body. If written correctly using these eight key steps, the result is a well-positioned message that generates the buzz you intend.
When your press release is ready, the next step is to get it in front of the right people at the right time, which is both expensive and time-consuming. Hire eReleases, a nationwide press release distribution service, to deliver your press release to verified emails for journalists and media outlets. With a 94% delivery success rate, this means that eReleases gets your press release in front of nearly 100,000 journalists — giving you syndication across the country. Click here for 33% off.
Free Press Release Template
When understanding how to write a press release, it's essential to follow the correct structure. Press releases tend to be formulaic in their layout and pattern, and journalists and PR algorithms alike will be expecting to see this format. To help, we've created a template to be used with the eight steps below: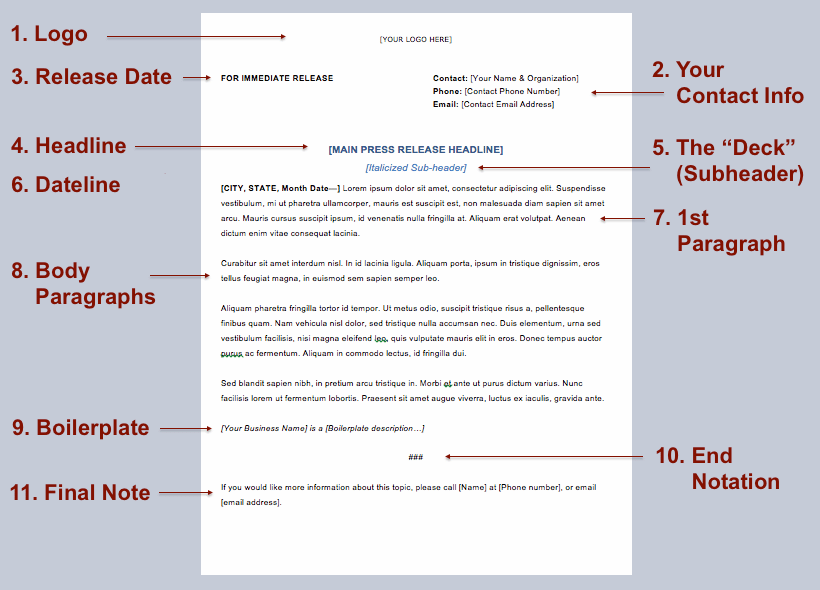 Here are the eight steps to creating a powerful press release:
1. Determine Your Press Release Topic & Audience
Your press release topic is the newsworthy story you're trying to tell. It is important to choose the right topic so that you communicate the correct message to the correct audience, amplifying your reach and visibility. Typically, press release topics include things like key new hires and new product launches, each of which will have its own purpose and intended audience.
Overall, your press release is a marketing tactic. The goal is to get as much visibility, buzz, engagement, and brand impressions as possible. That's why you want to select a newsworthy story—something meaningful, inspiring, entertaining, or otherwise interesting.
Press Release Topic Examples
Here are some examples of press release topics:
New Hire: Bringing on a new staff member, especially a key hire, is the perfect time to send a press release. The audience for a press release like this could be the local business community, interested in what key business personalities are taking on new positions. For more information, check out our article on how to write a new hire press release.
New Product or Service: If you're rolling out a new product or service, you should consider a press release. It doesn't need to be earthshaking, just informatory for your consumers.
Business Event: Businesses are involved in all kinds of events, and each of these is an opportunity to distribute a press release—speaking engagements, charity run, seminary, block party, gala, workshops, etc.
Industry Award or Recognition: Announcing an award or recognition is a strong reason for a press release. There are obvious reasons for awards, like an advertising agency winning an Addy or a restaurant receiving a Michelin star. There are other reasons, however. Getting mentioned in a national news publication is reason itself to publish a press release.
Business Change: Got a change to share with your community? It can be a new location, new store hours, extended holiday sale, internship applications, or pricing change. Even the "small" tweaks to your business provide you with the chance to write up a press release.
Accomplishments: If your business wins a major litigation case, files a patent, or completes a store renovation, it's worth a press release. Maybe your business owner or an employee is running in the Boston Marathon. Announce it!
Partnership: Joining up with local charities, businesses, community initiatives, hospitals, or other organizations is a great opportunity for a press release. Announcements like these often have strong appeal among your local community, because they draw attention to more than one business.
Every press release should have a focus, and that focus gives you the chance to plug your business. Although you're not always selling a product, you are sharing an angle to your business that will increase your exposure in the community, generate goodwill, and maintain your brand's position in the audience's awareness.
2. Create a Compelling Headline
The headline is the title of your press release. It should clearly communicate the topic of the release while also being compelling. Without a compelling headline, few people will be interested in reading the release. Studies suggest that the ideal length for a PR headline is 30-100 characters.
The headline is the single most important element of the entire press release. Marketing legend David Ogilvy is famous for asserting, "five times as many people read the headline as read the body copy." Though marketing times have changed since Ogilvy's day, the truism remains. Your headline matters; make it clear.
To create a compelling headline, simply state the most important facts as clearly as possible, using title case. Your company name should be the first word (or words) in the headline. Doing so signals to the reader what company is under discussion.
Compelling Headline Examples
Here are some examples of compelling headlines with a clear message:
CrushIt CrossFit Announces Partnership with VeggieSoft Dietary Supplements
Munchies on Main Recognized by USA Today in The Street Food Top Ten
EarthCycle Opens New Drop Off Location on Elm Street
Apple Launches Online Store in China
3. Write a Descriptive Subheadline
The subheadline of a press release is an optional but highly effective way to clarify the focus of the press release and to further engage readers. The subheadline comes right after the headline and should be 30-100 characters. Even though headlines get the lion's share of readers, subheadlines are a close second.
In order to draw readers deeper into the content of your release, it's helpful to shape a subheadline that advances the headline. The way to do this is to include additional context, names, facts, figures, or answers to questions that are raised by the headline.
Descriptive Subheadline Examples
Here are some examples of descriptive subheadlines with their accompanying headlines:
Headline: 1HUDDLE Closes Successful $3M Series A Fundraising Round
Subheadline: NRD Capital, Newark Venture Partners Bolster Portfolios with Investment in Innovative Enterprise Game Platform for Employee Training
Headline: Upcoming Episode of Advancements with Ted Danson to Explore IPCHAIN Database
Subheadline: Advances in distributed ledger technology for the protection of intellectual property
Headline: Service Objects Continues its Commitment to Corporate Conservation with Pledge to Plant Ten Trees for Every New Customer
Subheadline: Partnership with One Tree Planted will help with national reforestation efforts, including the Million Tree Challenge designed to help California recover from recent forest fires
4. Craft a Powerful Lead Paragraph
The lead paragraph, consisting of 30-50 words, is the first paragraph in the body of your press release. Start with the company name, and then answer five key questions. Your goal is to distill the essence of the entire press release into two to four sentences. This paragraph is crucial, because few people will read beyond the lead paragraph.
Your first paragraph should answer the following five questions:
Who: Who's involved? What company? Which individuals?
What: What happened? What's the story? What's going on?
When: When did it happen? When will it happen?
Where: Where did it happen?
Why: Why does it matter?
The impact of your press release depends on this opening salvo. Leave the details for later paragraphs, and answer each of these large questions looming in the mind of the reader. Maintaining the proper length is important in this section. Keep your sentences simple and your statements clear.
Lead Paragraph Examples
Here are some solid examples of opening paragraphs:
Service Objects℠, the leading provider of real-time contact validation solutions, today announced it will join forces with One Tree Planted as part of the company's ongoing commitment to corporate conservation. The company pledges to plant 10 trees for each new customer.
MilesTek, a leading manufacturer and supplier of products designed to address military and avionics applications, announced today that it has released a new series of USB 3.0 cable assemblies with thumbscrews to address high vibration and vision applications.
London Computer Systems (LCS), developer of Rent Manager® property management software and other business-critical technologies, is pleased to announce the addition of smart home automation technology for Rent Manager users and their tenants through a new application program interface (API) partnership with PointCentral, a subsidiary of Alarm.com.
"Instead of the classic 5Ws, when I write a lead paragraph, I look at what problem gets solved, what pain is alleviated, how the new discovery will change the world. So as an example, when I wrote a press release for a client's book on electronic privacy, my headline was not the boring 'Electronic Privacy Expert Releases New Book,' but instead, "It's 10 O'Clock—Do You Know Where Your Credit History Is?"

– Shel Horowitz, founder of Going Beyond Sustainability
5. Develop Your Story in the Body
The remainder of the body consists of everything else that you want to say about your topic. Not including the lead paragraph, the remainder of the press release body should be three to five paragraphs and not exceed 300 words. The body of the press release should communicate all the relevant details of your topic to your target audience
Seven Things to Consider When Writing the Body
The body is important because it tells a story. You don't have to be a journalist to create an outstanding press release, but you should follow some journalist-esque guidelines. There are seven features to keep in mind when you write your body, including writing in the third person and answering readers' questions.
Here are the seven things to keep in mind when you write your body:
Write in the third person: Do not refer to "we," "us," "me," "my," or "I." Third-person writing may not be as engaging, but it should convey a sense of credibility.
Get to the point: The cadence of a press release is like the stereotypical man in the mall. Get in. Get it. Get out.
Be clear: Eliminate jargon. Many press releases are written for a niche audience, so you're going to have to use some technical terms. (There's just no other way to refer to the MIL-STD-1553B.) That's fine. Do your best to shed oblique phraseology where possible.
Anticipate and answer questions: Think about your reader. What questions might they be asking? As you develop the article, attempt to provide context and answer the most important questions.
Stay objective: Everyone knows that a company press release is going to blow its own horn, but this doesn't mean you need to go overboard. Say nice things about your business, but at least try to sound neutral and balanced. The fewer adjectives you use, the better.
Be formal, but for the love of life, be interesting: I've seen far too many releases that read like the tax code. Although your press release isn't going to have the same appeal as Harry Potter and the Philosopher's Stone, it doesn't need to be boring.
Proofread: Then proofread it again. Then have someone else proofread it. Then proofread it again. Repeat this step.
Include a Quote in the Body
Most press release bodies contain quotes, since it helps to boost the credibility and personality of the release. The quote will be included as a standalone paragraph within the body and should be included in overall word count and length. You should try to include at least one quote, but may wish to include more. When you include a quote, be sure to indicate who said it.
Try to get a quote from an authoritative voice within the company. CEOs, owners, or presidents are often selected as a quote source. You can also reach out to managers, key employees, or other people who are directly involved in the press release topic that you're discussing.
Press releases are sometimes ridiculed for their use of cliché quotes and obviously fabricated blurbs from CEOs. Often, a staff writer pieces together a PR, makes up a quote that the CEO might say, sends it to her for approval, then hits publish on the piece.
Good journalists are on the lookout for sizzling hot quotes. If you tempt them with a humdinger, they will come knocking at your door. A hot quote informs them that someone in the company can talk, which can lead to a really good story. Use your quotes as fishing hooks for positive press.
Press Release Quote Examples
Here are some examples of press release quotes:
"This secure design will also appeal to our OEM customers who manufacture machine vision equipment," said Mark Hearn, Product Manager.
"The $1 billion share repurchase program authorization reflects our ongoing confidence in our financial strength and the long-term outlook of our business," said Frank Del Rio, President and Chief Executive Officer of Norwegian Cruise Line Holdings Ltd.
"Scott Kettle, CEO of GAWK, Inc., announced today that the company has reverse split its stock at 2,500 for one. Kettle said, 'The reverse split is good for Gawk, and new financing will allow for more acquisitions and new services to be launched, which means accelerated growth for the company.'"
6. Add Boilerplate Copy at the End
Your company boilerplate is a brief description of your business and is pretty generic. It is the final major section of the press release, and the purpose is to inform readers what your business is and what it does. Boilerplate copy is usually 30-100 words.
Here are four tips that will allow your company boilerplate to shine:
Say why you matter: What makes your company non-humdrum? Clarify your unique angle and why the world needs your business.
Tell what you've done: If you've been recognized in a big way, this is your chance to share it. Maybe your CEO is a Nobel Prize winner, you invented sliced bread, or discovered Pluto.
Share some facts: Factoids aren't always the most interesting, but you can slip in a date (established 1802), locations (out of Portland), or key products (sells cupcakes).
Slip in a soft CTA: The Call to Action (CTA) is where you can invite people to engage with your company in some way. Often a company boilerplate concludes with a remark such as "Visit the website at https://fitsmallbusiness.com."
Boilerplate Copy Examples
Here are some examples of company boilerplate copy:
Starbucks
Since 1971, Starbucks Coffee Company has been committed to ethically sourcing and roasting high-quality Arabica coffee. Today, with stores around the globe, the company is the premier roaster and retailer of specialty coffee in the world. Through our unwavering commitment to excellence and our guiding principles, we bring the unique Starbucks Experience to life for every customer through every cup. To share in the experience, please visit us in our stores or online at www.starbucks.com.
CVS Health
CVS Health is taking a leadership role in developing programs and initiatives to help consumers save money on their overall prescription drug costs and stay adherent to the medicines they need. And while this initiative signals progress, the company remains committed to doing even more across the enterprise to help patients on their path to better health.
NPR Music
NPR Music collaborates with NPR's newsmagazines, public radio Member Stations, and the passionate NPR community to celebrate great music in every genre. Visit NPR.org/music to find the complete Tiny Desk Concerts series, live music, extensive archives of performances, interviews and reviews of artists from all genres.
7. Include Contact Person and Information
Every press release must include a contact resource, often an individual who is responsible for fielding calls, queries, and requests for more information. Most of the time, the contact individual is a marketing director or public relations manager. If reporters want more information, an interview, or questions, they will reach out to this person for answers. At a minimum, include a name, title, phone number, and email address.
8. Distribute the Press Release
There are two main methods for distributing a press release: syndicating it with an online press release service or personally sending it to journalists and news outlets. Sending the press release to your own curated press list should be your first approach. However, submitting the press release to a syndication service gives your press release the widest possible coverage and should also be considered.
Distribution Personally to Local News Agencies
Distributing a press release yourself can be more effective than syndication, but it's also more time-consuming and requires that you have a press list (a list of contacts in news agencies). To distribute your press release yourself, identify publications that reach your community or target market, find a contact person in that publication, and send them your release.
I recommend the following steps for reaching out to local publications:
Call on the phone to tell them that you're sending a release.
Email the release to them.
Follow up with a call to make sure they received it and see if they have any questions.
For more information on how to manually distribute a press release, including a full step-by-step guide, check out our article on how to send a press release.
Distribution Using a Syndication Service
Syndicating your release involves uploading it to a site like eReleases for distribution to thousands of news agencies, including TV stations, major news networks like CNN, and industry-specific news outlets. If you syndicate your release with an online service, you should expect to pay $150 – $300.
Many of these companies offer additional benefits (e.g., wider distribution) at a higher cost. If you syndicate, you can expect to gain thousands of impressions (headline appearances) across hundreds of news networks. For more information, check out our articles on the following:
Post on Your Website
It's always a good idea to publish the press release on your website, because you'll gain marginal SEO benefit as well as fresh content for your website. Post your press release on a blog or a separate section of the site such as "News," "Updates," or "Press."
Press Release Examples
If you're looking for inspiration when writing your press release, we have an existing article on the top forty press release examples from the pros. Within the article you'll find a range of examples, from new hire press releases to new product press releases.
Here are three top examples from the pros:
For more information on the top press release examples sourced from pros, check out our article on the forty best press release examples.
Frequently Asked Questions (FAQ)
How Long Should My Press Release Be?
Aim for 400-600 words. If the topic of your press release deals with a complex issue, it's worth stretching those limits a bit. In press releases, brevity is a virtue.
"Keep your press release short with impact. No one wants to pour through a two-page press release. Get your point across in as few words as possible."

— Steve Turner, founder of Solomon Turner PR
What Are Some Good Reasons to Send a Press Release?
The operative word is newsworthy, in the context of your brand or industry. Redesigning your logo is newsworthy. Buying new office chairs is probably not. Hiring a new CMO is newsworthy. Firing your stock boy is probably not. If others in your industry or community would find it interesting, it's probably worth announcing in a press release. Refer to step one for more details on types of press releases.
Is a Press Release Good for SEO?
Not directly. In the past, marketers would use a press release to build backlinks for their website. Today, however, a press release simply helps to build buzz for a brand, and does not increase a website's authority or ranking
Should I Have a PR Firm Write My Press Release?
It is not necessary to have a PR agency write your press release. Any decent writer with a knack for following instructions can produce a great press release. If you don't have the time yourself, you can assign the task to an intern, marketer, or any team member who has time and some writing ability. However, if you're wondering how to write a press release, a PR firm can sometimes help.
Should I Pay to Get My PR Syndicated?
As with most issues, it depends. If your topic is highly newsworthy, it can be worth it. Syndication gives your press release a far wider audience, which can lead to being picked up by a big news agency and reaching even more people. For more information, check out eReleases.
Bottom Line
Press releases are a standard marketing tactic, but in order to publish an effective one, you need to follow the right plan. When you publish your press release, be sure to include each of the critical elements above and follow each step provided in sequence. Follow the eight steps above on how to write a press release.
Understanding how to write a press release and syndicate it to thousands of media networks is an invaluable method of distribution. Our recommended press release distribution service, eReleases, will syndicate your release and even write your press release for you. Visit their site and receive 33% off your first press release syndication.