14 Types of Press Releases & What to Include in Each Type
In addition to general business announcements, there are different types of press releases for everything from launching a new business or rebranding it to a new partnership or acquisition. Learn what type of press release you should use to get media attention for your story and what it should include to attract and engage your audience.
Effective distribution is key for maximum coverage of your news. For placement on hundreds of news sites and targeted sends at an affordable price, use EIN Presswire, which tops our list of the best press release distribution services, starting at $99.95.
1. New Business Press Release (Grand Opening)
More than 4 million new businesses are started yearly. A new business announcement or grand opening press release is used to establish brand awareness and generate early sales. Some angles to consider for a new business press release are:
How the new business fills a marketplace gap in a location
How it is different from other companies in the industry
The startup's main products or services
Its mission and vision statements
The owners ties or commitment to the community
The location of the new business
The types of customers that will benefit from the new startup
The new business' website
A press release announcement for a new business or its grand opening should follow the standard press release format. In the body of the release, summarize your business' products or services, how it differs from competitors, and their benefits to the target audience. To add a human touch, include a quote stating your company's vision.
Finally, don't forget to hyperlink to your website so readers can learn more. To ensure your full website address is always published, include your website URL in its complete written form (e.g., www.yourbusinessname.com) in the press release boilerplate.
Get more ideas to promote your new business in our list of grand opening ideas.
2. Business Press Release for a New Product or Upgrade
Of the nearly 30,000 new products released every year, as many as 95% fail, according to Harvard Business School Professor Clayton Christensen. Getting out in front of the launch of your new product or an upgrade with a public relations (PR) media campaign is essential to increasing awareness and jump-starting sales.
As part of this, a PR press release type should be used. In addition to your business' announcement of the new product, it should explain how the product is different from other alternatives already on the market. For an upgrade announcement, it should state the main ways the new version is improved compared to the last edition.
Some of the main angles and inclusions to consider are:
The features that set it apart
New technology incorporated
How the product is used or new functionality available (for upgrades)
Features unique to your version (not found in competitors' products)
A description of the intended audience (e.g., the types of people most likely to benefit from buying your product)
The cost or cost range of the product
Special offers or incentives to generate early sales
Where the product can be purchased or advance copies can be ordered
If you do extend an incentive, like a limited time discount via codeword or coupon marketing campaign, make sure it's trackable. One way to do this is by creating a landing page and then driving traffic to it from PR press releases and overall new product launch campaigns. Another way to do this is by creating trackable links through a free platform like Bitly to see how many clicks they produce and how many conversions.
Writing a press release is part art, part science. If you'd like to turn the work over to a media professional, here are the best press release writing services for any size budget.
3. New Service Press Release
Similar to a PR press release for a new product or upgrade, gaining awareness of a new service you're about to launch can make or break its success. In addition to reaching out to existing customers and prospects via email, social media, and other types of announcements, writing a press release in advance can help you build an interest list.
Or, if you've recently launched a new service, publishing a press release is an effective way to let your customers and the media know it's available. It should include information such as:
The date the service will be released
How to purchase it (e.g., contact your sales department, sign up online, and so on)
The pricing or price range customers can expect to pay
Who it's best suited for
How it's different from competing services
The gap it fills in a location-based industry
The specific benefits or results clients can expect
The vision for creating the new service
How long it was in development or how it evolved
Where they can see a demo or learn how to use the service (such as with software as a service, aka SaaS, platform)
Make sure to include contact information for both prospective customers and the media. For example, customers might be most interested in booking an appointment or signing up. By contrast, journalists would want to know where to access your company's press kit and who to contact your company to get details to enhance their own stories.
4. Event Press Release
The average cost of in-person business events ranges from $3,600 to $18,000 daily. But even if your event doesn't require a massive financial outlay, it's crucial to get a return on your investment.
Event announcements are a type of press release you can use to get media exposure before or after events are held (and sometimes both) for occasions such as:
VIP customer events or exclusives
Webinars
Online or in-person workshops and classes
Corporate retreats, board meetings, and annual company meetings
Product, service, and business launches
Major changes to a business, such as a rebranding
Charity initiatives (like a 5K race, auction fundraiser, or donation drop box)
Community-related events like an open house
Media-centric events like a press conference for major business announcements or crisis management
To save time, download our free event press release template and follow along step-by-step to write your announcement. In the body, describe what it is about, where it will take place, when, who will be involved, and how media representatives can gain admission to cover it. If the public is also welcome to attend, provide information on how they can do so.
If you want media to attend your event, in advance of your event press release, issue a media advisory. A media advisory is a bit different from a press release in both format and purpose, so read our article on how to write a media advisory, including a free template you can use.
Many businesses also plan buzz-building publicity stunts to draw mass attention to their brand from journalists and the public alike. These are also preceded by a heads-up to the media with a press release.
5. New Hire Press Release
The average tenure of C-suite (aka "chief" of something) executives is just under five years. These individuals are often key hires brought in to meet specific high-level goals, such as growing revenue, introducing new offerings, or improving perceptions around a brand.
A new hire press release is a type of press release used to announce that your company has made an essential new hire. It builds credibility by positioning your brand as a sought-after employer and increases trust in your company's expertise. Your new hire PR announcement should include things like:
The unique expertise or experience of the new executive
Awards or accolades (e.g., made the list of top 30 under 30)
Significant career accomplishments in prior roles
Standout education and background details
What their role and key responsibilities will be
How this is expected to benefit stakeholders
Changes that clients or customers can expect in the future
A quote from the new hire and someone from within your company (such as the CEO or a member of the board of directors)
As this is one of the more formal types of press releases, we recommend you follow the AP (Associated Press) formatting. To make this easy for you, read our guide on how to write an AP-style press release and download the free templates we've made for you.
6. Crisis Management Press Release
When something goes wrong, whether caused by your business or not, the best type of press release for this issue is a crisis press release. A crisis management press release is a specific kind of media statement issued by an organization in response to a significant event or problem.
These types of press releases are typically issued as part of an overall crisis PR communications plan. It's a tool you can use to get out in front of a situation that could potentially generate bad PR for your business. They are also often used in the case of disasters or other emergencies, such as a government press statement about where to go for help.
Instances where a crisis press release may be warranted are:
Customer or site visitor data breaches or cybersecurity attacks
Significant downtime of your website, customer support, or business
Sudden unexpected closure of your business
An accident in or because of your business that causes significant impacts to your employees, customers, or the community
Criminal, negligent, or grossly unprofessional actions of a key employee in your business
Your business' contribution to or participation in relief efforts
To address concerns emerging as a result of bad players in your industry
This type of media statement should provide timely and accurate information about the event, who is affected, and your response or plan to address or mitigate the problem. If your company is at fault in some way, acknowledge the blame as openly and transparently as possible, express regret, and say what your company will do next. For more tips and a free template, read our guide on how to write a crisis press release.
Small businesses on a budget can tap Fiverr freelancers for expert press releases starting from $5. However, if you want to work with top PR professionals, use eReleases. A media expert will write your press release and send it out to the largest U.S.-based media list.
7. Joint/Partnership Press Release
A joint press release doubles the PR value for all parties when two or more companies partner on a special project. Both companies gain increased exposure through the other partner's distribution channels, which can, in turn, generate additional brand credibility, leads, and sales.
Begin your release by addressing the who, what, when, why, and how details in the lead paragraph. Follow that with supplemental information, such as the problems the partnership solves for stakeholders and the positive changes they can anticipate.
Additional information to consider including are:
An explanation of the alignment between the partners (e.g., why are you working together)
How the project fits with the mission and vision of all parties
The specific goals or what will occur as a result of the partnership
Links to additional resources, such as a landing page with your press kits, images, charts, videos, and other media associated with the business announcement
A media contact and a general inquiries (public) contact for more information
The problem solved by the initiative
Who benefits (e.g., what audience should be interested in the news)
Quotes from the CEOs of both companies
A quote from any organization or cause benefiting from the partnership
Boilerplates for all companies represented in the joint press release
Not sure what to include in your boilerplate section? Get all the details in our article on how to write a press release boilerplate in five steps.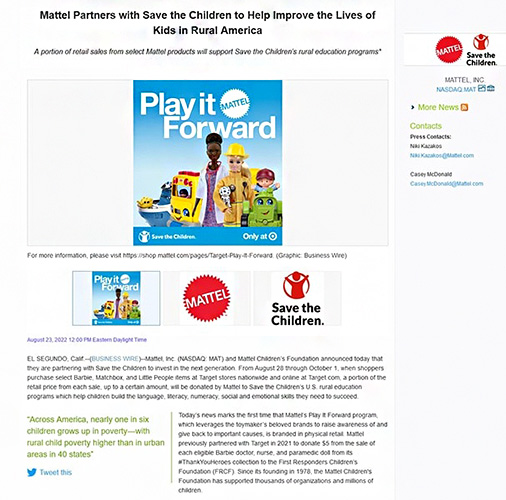 ---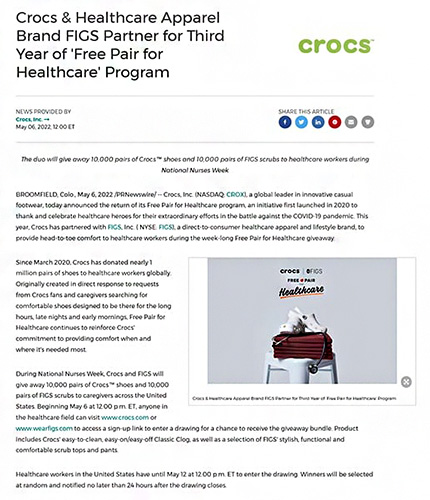 ---
8. Rebranding Press Release
Businesses rebrand about every seven to 10 years. It entails an update to the visual presentation of a brand. Usually, it affects everything from its office or storefront to its logo, website, and even down to its forms, business cards, flyers, and other marketing materials. As such, it's a significant project (and often an expensive one) that warrants issuing a press release.
Using a rebranding press release to announce your company's changes to its brand prevents confusion and unrest among stakeholders. Your rebranding media statement can reduce the fear of the unknown among employees and customers by clarifying what changes to expect and when. It should include things like:
A compelling rebranding story outlining the changes and why they were needed
How rebranding benefits the company and its employees and clients
How the rebrand aligns with your company's mission statement, values, and vision
Professional research or design agencies involved
Examples of the rebranding, such as an image comparing your old and new logos, website home pages, storefront, business sign ideas considered, and so on
What was included in the rebranding, e.g., website and logo only or everything from your brand's logo and website color scheme to its pricing and interiors—or even your business name
Where people can go (in person or online) to see examples of your business' rebranding
A contact person who can address any questions
Tell a positive story in your rebranding press release to create some buzz and excitement around it. If it impacted your physical location, consider having an open house with members of the local media, community leaders, professionals who assisted in your rebrand, and your team to celebrate.
9. Award Press Release
Winning a prestigious award positions you as a business owner and your company as a leader, but only if people know about it. As one of the most positive types of press releases, an award press release showcases an accolade won based on a business accomplishment. It should include things like:
The name of the award or accolade (e.g., "best places to work" or "best of" city-based contests)
The criteria for winning or earning it
Information about the organization that issued the award
What you or your company did to deserve it
What it means for your business and its customers and employees
How it impacts your position in the industry or your community
A quote from you or someone else high up in your company
A quote from the award issuer
A quote from someone in your community or industry
A media contact for journalists or others wanting more information
A boilerplate for your company
Issuing award press releases can be tricky, and being overly promotional is one of the most common press release mistakes businesses make. Explain when and why the award was issued as objectively as possible, and express appreciation to the organization issuing the award or accolade.
10. Book Press Release
The sheer number of new books released (upwards of 2.2 million books a year) showcases the top challenge for authors: getting the word out. A book press release is the type of press release used to promote the launch of a new book to gain media coverage and entice the intended audience to buy it.
Your book launch press release should start with a summary of the book's benefits to readers. The following paragraphs should detail reasons to purchase the new book, such as:
Any book launch events planned, such as a reading, book tour, or signing event
The gap the book fills in the marketplace
The unique point of view of the author on the topic
The author's background
The inspiration for the new book
Any awards the book or author has won
Celebrity or other notable endorsements (e.g., politicians, educators, well-known business persons, and so on)
A quote from the book
The release date and where it can be purchased
The name of the publishing company
How journalists can get free or advance copies for their stories
A media contact and availability of the author for interviews
An author boilerplate
The publishing company's boilerplate
If this is the type of press release you need, learn how to write a book press release and get a free template to save time. Then, when you're ready, issue your book launch announcement to a wide or targeted audience using EIN Presswire or another of the best press release distribution services.
11. Company Merger or Acquisition Press Release
More than 3,600 mergers and acquisitions (M&A) deals occurred in the U.S. in the fourth quarter of 2022 alone. Merger and acquisition press releases are used to announce when one company acquires another or when two companies merge.
Usually, the acquiring company or company taking the lead in the merger will be the organization that sends a merger or acquisition press release. In addition to sharing the business announcement, these types of press releases also serve to allay the concerns of employees and investors and give customers advance details about changes coming their way.
This kind of media statement can address multiple angles by including things like:
The public terms of the deal
The parties involved
The effective date of the acquisition or merger, and any major changes
The benefits of the acquisition to either or both entities
Quotes from the leaders of both companies, or at least the acquiring company
The reason why the merger or acquisition made sense
Values, mission, and vision alignments
The size of one or both companies before and afterward
New technology or offerings made possible as a result of the merger or acquisition
Key leaders in place
What changes can be expected by customers, vendors, suppliers, employees, investors, and other stakeholders
Impacts to the community, e.g., is one company moving or closing? Will the acquiring company have a larger local footprint?
Impacts on the economy, such as will other jobs be created as a result, and if so, how many and what kind of jobs will they be, and where will they be located?
The boilerplate information of both companies involved
Contact information or online form where existing customers can submit questions
Contact info or website URL for people interested in becoming customers
Media contact for follow-up and a link to your press kit
This is a great example of a press release type that should not only be distributed to the media in general, but should also be sent to industry and location-targeted journalists. Newswire is the best press release distribution service to use if you want to access multi-layer targeting with your announcement to reach the journalists who will most likely cover your story.
12. Video Press Release
A video press release, or video news release (VNR), is a video-based business announcement. It can be issued on its own, but for formal media statements, it is often embedded as part of a text-based press release. Some of the use cases that make a video the right type of press release are for:
Interviews, which could be anything from an acquisition to a crisis press release, business closing, partnership, or any of the other types above
Product tours and demonstrations
Unpacking reviews
Customer testimonials
Sneak peeks at what's coming next in your business
New product features or upgrades
How-to videos
Company profiles, such as for an occasion like a 50th anniversary
Interactive videos that allow viewers to choose their own adventure
Learn more about how to create a video news release in our step-by-step guide and how to use it to promote your business. When it's complete, embed it as part of a regular media statement and send it through a distribution service to get the widest reach. In addition, post it on your YouTube channel so you can repurpose it into content on your website.
13. Online Press Release
One of the foundational reasons to make a small business website is to communicate important information about your company to customers and the public. On it, you can post online press releases any time your business has a newsworthy angle, even if you don't send it directly to the media or use a distribution service.
Online press releases can be hosted on your website's "About Us" page or a dedicated landing page where you post media announcements and a link to your media kit. This way, journalists researching stories about your business can easily learn about important announcements, milestones, awards, and advances—all in one place.
Unlike different types of press releases used for specific purposes, online press releases can be any type of news about your business. Posting them online allows you to build a library of announcements that can be easily shared with journalists or via your social media and email marketing channels.
14. Business Closing Press Release
Nearly 600,000 businesses close every year for various reasons. If your business is closing its doors, you'll want to inform your customers, community, and the public in advance. A business closing press release can help lessen the impact on your customers by offering alternative recommendations and sharing your business announcement.
A business closing press release should include:
The name and nature of the business (e.g., a florist, dental practice, boutique, or some other type of entity)
A brief explanation of why your business is closing
The official date it will be closed, deadline for placing any last orders, closing or liquidation sales, and so on
Whether any facility, equipment, furnishings, or other assets are available for purchase
A quote from the business owner
A quote from a community leader
Length of time the business was open and timeline highlights
How your business served the community
Where else customers can purchase similar products or services
Who to contact to get more information
Perhaps most importantly of all, these types of press releases provide an opportunity to say "thank you." Express your appreciation to customers, employees, and the community for their support while your business was open.
Frequently Asked Questions (FAQ)
What are press releases used for?
Ultimately, all press releases are issued to gain positive PR and coverage around a business announcement. In addition, journalists use press releases to source materials for their own coverage of stories important to their audiences. To give your press release the best chance of landing media coverage, learn how to get local press coverage to get your story on the news.
What is the format of a press release?
The proper format of a press release includes a header section followed by a headline, lead paragraph, and the body of the press release. Below that is a boilerplate with information about the organization issuing the press release, including who to contact with media inquiries. Find out more about the best press release format and get a free template for writing your own.
How do I send a press release?
To send a press release for free, make a list of journalists, news outlets, and influential bloggers whose audiences align with yours. Adapt your release to conform to the submission guidelines of each outlet, then follow their instructions for submitting your release. For max exposure, use a top press release distribution service like EIN Presswire to target and send your release to the media, industries, and locations you most want to reach.
Bottom Line
Press releases should be part of your small business marketing toolkit for generating positive publicity and building a solid brand presence. While we've covered a dozen different types of press releases above, the truth is, any critical business announcement could warrant issuing a press release.
Press releases should be written in a specific style and format to increase the odds of getting more coverage of your story. If you have little experience writing them, eReleases offers combined press release writing, editing, and distribution to give your announcement the best chance at coverage.