HVAC insurance is often required by small business owners in the heating, ventilation, and cooling construction industry. Most state boards only require a surety bond, and an HVAC company isn't really covered unless it has general liability, workers' compensation, and commercial auto. HVAC insurance costs start at $350 but can exceed $10,000 for large companies.
AP Intego makes getting HVAC insurance easy. Their team of nationally licensed agents shop and compare your coverage needs with industry leading insurance companies such as Travelers and AmTrust to get you the right policy for an affordable price.
HVAC Insurance Providers
Many insurance carriers offer HVAC liability insurance, but there isn't a specific product that only works for HVAC businesses. The risk is based on an industry's specific risks. So, while the policy is called "commercial general liability," it is rated for the risks of HVAC companies. Not every insurance company provides HVAC liability insurance.
When you're looking for HVAC insurance, either hire a broker or go directly to a specific insurance carrier. A broker shops policies among various carriers while an agent works specifically with one carrier. It is convenient to have all policies with one carrier, but there are times where a broker will find better coverage or pricing by separating policies.
Top HVAC Business Insurance Providers
| HVAC Insurance Provider | Who Provider Is Best Suited For |
| --- | --- |
| AP Intego | Having nationally licensed agents compare rates from top-rated insurers |
| CoverWallet | Low-cost coverage for HVAC businesses needing insurance certificates fast |
| Hiscox | Small HVAC companies looking to tailor policy coverage for residential and commercial work |
| Insurance321 | Busy HVAC companies looking to shop HVAC insurance rates among top carriers |
| Nationwide | Independent HVAC contractors working on small residential jobs |
Our five favorite small business insurance companies for HVAC insurance include:
AP Intego offers you the ability to work with licensed agents to shop and compare multiple HVAC insurance quotes from industry leading companies, such as Travelers. AP Intego helps small businesses get matched with the right insurance policy for an affordable price. The pay-as-you-go option and workers' compensation payroll integration keep costs accurate and timely.
CoverWallet is an established insurance provider that offers policies that are specific to certain types of industries, including HVAC businesses. No matter the size of the business — from a solopreneur running the show by themselves to a growing company with several HVAC technicians and a fleet — CoverWallet takes your risks into consideration when providing personalized coverage.
CoverWallet's specialty is getting affordable insurance to small businesses fast. You can visit its easy-to-navigate website and submit a simple online application to get instant approval. An insurance certificate is accessible as soon as you purchase coverage. They also offer competitive rates, allowing you to get HVAC business insurance for as little as $39/month. Check out CoverWallet to get specialized, affordable coverage fast.
Hiscox is an insurance carrier not concerned with balancing personal and commercial lines of insurance. This carrier focuses on the needs of small businesses and only small businesses. By tailoring policies to meet the needs of industry and business-size risks, Hiscox is able to keep costs down for business owners.
Hiscox is perfectly suited for the independent contractor or small business with a crew of five or less. Their sweet spot is with home-based businesses, providing equipment protection without the extensive cost requirements of leased buildings.
Insurance321 is a broker without the high expense of broker fees. Insurance321 searches the market for top-rated partner insurance carriers using one application. Business owners provide information once and the best policy is provided.
Insurance321 is a good choice for a business owner unsure if he should have all policies with one carrier. Some companies are much more competitive on commercial auto than others, while some excel in professional liability. Insurance321 shifts through the noise.
Nationwide is a national insurance carrier offering personal and commercial insurance policies. The company has several options for licensed contractors, making sure risk categories meet the right cost factors. Nationwide offers liability, business auto, workers' compensation, and professional liability.
Nationwide has the ability to work with HVAC contractors and companies of all levels, but their sweet spot is with small independent contractors working in local residential areas. Being able to choose personal auto for business pursuits helps HVAC business owners reduce costs with proper coverage.
Types of HVAC Business Insurance
| Insurance Type | Required/Recommended | What It Does |
| --- | --- | --- |
| Commercial General Liability | Recommended | Covers accidental injuries and damages to people or property. |
| Workers' Compensation | Required | Pays medical costs and payroll costs for employees injured while working. |
| Commercial Auto | Required | Provides coverage for work vehicles after accidents, vandalism, or theft. |
| Surety Bond | Required | Guarantees a small claim payment on contractor's behalf that is recouped by the insurer. |
| Business Property | Recommended | Insures tools, materials, and equipment lost by theft or damaged outside of wear and tear. |
| Errors & Omissions | Recommended | Addresses claims stating work craftsmanship led to loss or injury. |
| Umbrella Insurance | Recommended | Extends higher liability coverage limits on general, auto, and workers' comp policies. |
Check with the state licensing board to determine what minimum requirements exist for licensed HVAC contractors. HVAC technicians and business owners may be required to carry commercial general liability insurance, a type of contractors policy. Those with employees must also carry workers' compensation coverage. Any HVAC technician with work vehicles must carry commercial auto.
Commercial HVAC General Liability
Commercial general liability insurance covers potential liability for property damage, moisture damage, and injuries caused by you or your employees. Installation and repair problems can lead to homeowner injury or illness. General liability is the most important insurance coverage for HVAC businesses because of the increased potential for homeowners' claims.
Commercial general liability coverage will typically cost you between $350 and $1,500 annually, depending on where you operate your business and who your clients are. Businesses working on large construction jobs—like hospitals—will typically be charged more than those working in residential homes.
Workers' Compensation HVAC Insurance
An HVAC business with employees is required by employment law (and licensing boards) to have workers' compensation coverage. It covers your business from liability related to accidental injuries that happen to employees while on the job. This includes coverage for medical bill costs related to these injuries or missed wages during a recovery period.
Workers' compensation costs are going to vary based on the type of work you perform and how many employees you have. Annual premiums could range from $300 to $10,000 for coverage up to $1 million per claim. To learn more, you can read our ultimate guide on workers' compensation.
HVAC Commercial Auto Insurance
Commercial auto insurance covers HVAC vehicles and any employees in the vehicles from an accident. A policy is usually required by law if your company owns and operates any vehicles. You can check the requirements in your state by looking at the map put together by the National Association of Insurance Commissioners.
Commercial auto insurance also covers vandalism or theft of the work vehicle, but does not cover the tools, supplies, or units stored in it. The cost of commercial auto insurance varies depending on how many vehicles you have and the driving history of the named drivers. Employees with bad driving records could cause your annual premium to increase. This insurance typically costs between $1,000 and $5,000 annually.
HVAC Surety Bond Requirements
To obtain and maintain state board licensing as an HVAC technician, most states require at least a $15,000 surety bond. Surety bonds are sold in specialty divisions of insurance companies but are not insurance. The bond is paid in a claim and then the insurance carrier recoups the money from the HVAC technician.
State boards use surety bonds to protect consumers without creating huge expenses for licensed tradesmen. It is unlike insurance where a more costly premium is paid and the insurance company pays claims without recouping the claim value.
Business Property & Equipment Insurance
Business property and equipment insurance covers the tools, materials, and other equipment required to install and repair HVAC systems. Items stolen out of a work vehicle are covered by business property, not commercial auto. Equipment can be costly for HVAC technicians and is essential for business, yet many HVAC business owners forgo insurance coverage on it.
The cost of covering business property is contingent on the amount of tools and equipment you maintain at your shop or in your van. The variety of electric tools and assessment equipment adds up quickly. A basic business property and equipment policy starts around $500 annually, with a $500 deductible.
Errors & Omissions Insurance
Errors and omissions (E&O) insurance covers you from any liability related to your recommendations as a professional HVAC technician. It is sometimes referred to as professional liability insurance. Something as small as not properly sealing a duct could lead to mold, causing occupant health problems and building damage requiring expensive remediation.
Errors and omissions insurance is a nice addition to your total insurance coverage on top of general liability, especially if you employ other technicians and aren't always supervising the work. Errors and omissions coverage will typically cost you between $500 and $1,000, depending on the nature of your work.
HVAC Umbrella Liability Insurance
Umbrella insurance extends other liability coverages, providing more protection than existing underlying policy limits. Most umbrella policies will require minimum limits of at least $250,000 on commercial auto and $1 million on liability for commercial umbrella insurance eligibility. For an extra $1 million per claim, HVAC insurance umbrella coverage costs $500 to $1,000 annually.
If you already have HVAC general liability, workers' compensation, and commercial auto, getting an umbrella policy makes sense. You will double, if not triple, some coverage limits for less than increasing liability on all other policies. While it is possible to have an umbrella policy cover other carrier policies, this isn't cost effective. Insurers prefer underwriting the entire risk, where the umbrella is the highest limit.
HVAC Business Costs
Your HVAC insurance costs are made up of your annual premium and your deductible during a claim. If you have all the recommended insurance policies for HVAC businesses, you could pay at least $2,650 annually plus the deductible on any claims. A business owners policy combines general liability and property coverage, saving premium costs.
Your deductible is a set cost that you must pay against your insurance policy before the insurance policy pays claims. Additionally, if your policy limits exceed a claim, the other party could sue you for the difference. For example, if your general liability policy is set for $500,000 but there is a $1 million claim, the remaining $500,000 could become your responsibility.
Average Annual HVAC Insurance Costs
| Insurance Type | Average Annual Premium | Coverage Limits | Average Deductible |
| --- | --- | --- | --- |
| Commercial General Liability | $350 - $1,500 | $1,000,000 | $1,000 |
| Workers' Compensation | $300 - $10,000 | $1,000,000 | None |
| Commercial Auto | $1,000 - $4,000 | $100,000 | $500 |
| Required Surety Bond | $50 - $300 | $10,000 | None |
| Business Property | $500 - $2,000 | $10,000 | $500 |
| Errors & Omissions | $500 - $1,000 | $1,000,000 | Varies based on work you perform |
| Umbrella Insurance | $500 - $2,000 | $1,000,000 | Varies based on coverage amount |
Example of HVAC Insurance Costs
An HVAC technician without employees will likely have general liability, business property, and commercial auto insurance. If he is able to combine the general liability with business property in a business owners policy, he can save $200 to $300, paying around $500. He'll be paying a minimum of $1,500 annually in premiums ($500 business owners policy plus $1,000 auto).
Assume an HVAC technician makes a mistake leading to $50,000 in damage. The claim is covered under his HVAC general liability policy. Assuming his policy has a claim limit of $1 million and a deductible of $1,000, the policyholder pays $1,000 and the insurance policy covers the remaining $49,000. Keep in mind that the more claims filed, the higher renewal premiums get.
An HVAC business owner can save money when policies are combined. Many companies offer a policy called a Business Owners Policy (BOP). This policy is designed to cover both general liability and business property in one policy. Most business owner policies also have options to cover inventory, building coverage, business interruption, and loss of income, to name a few.
Example of How HVAC Business Insurance Saves You Money
Let's look at an example of how mistakes can cost you money if you're not covered by HVAC insurance. Assume you have an employee working on a project in a large office building. During installation, your employee mistakenly installs the draining system for the main air conditioner.
Over a small period of time, the wastewater builds up and freezes in a pipe, which bursts and creates water damage inside the building. Not only did the HVAC system fail, but half of one of the floors in the office building takes on water and needs to be repaired. The total costs of this damage include fixing the water damage and installing a new HVAC system with a new duct system, which will cost nearly $100,000.
If you don't have HVAC liability insurance, then this will all come out of your business' pocket. However, with HVAC insurance, you'll only pay your deductible, which could be around $1,000. That's a significant amount of savings to a small HVAC business, and should be more than worth the annual premium costs you'll have to pay for coverage.
How to Get HVAC Insurance
The application process for HVAC insurance is similar, regardless of whether you're applying directly with an insurance company or using a broker. You'll still have to provide the same amount of information either way, but the process could take longer if you're working with some of the larger insurance companies when compared to a broker.
The four steps to get HVAC insurance are:
1. Inquire About HVAC Insurance Coverage
The first thing you need to do is to ask for coverage. This process involves inquiring of each insurance company about the specific insurance you need, including their deductibles and premiums. Be sure to confirm that policies cover HVAC insurance claims specifically. Some carriers cover some contractors but not others.
You can use a broker or go directly to the carrier. Brokers work with many carriers and shop around on your behalf to find the right insurance for an HVAC business in your area. Agents will work within their own carrier to find the best coverage options and any pertinent bundles or discounts.
2. Provide Necessary Information
The application is the start of the underwriting process. The insurance company needs to understand how to insure the HVAC business. Whether online or over the phone, the application requires pertinent business information, such as logistic information for jobs and financials regarding your company. They'll also need licensing and business experience information.
Some information to have prepared ahead of time includes:
Revenue booked
Number of employees
Driving records or driver's license for everyone driving company vehicles
Explanation of your business and nature of work
"Typically, in order to apply, you'll need to answer all the usual questions about revenue, whether the business is run from home or an office, the number of years you've been in business, and the amount of work subcontracted. Things can get more complicated depending on the percentage of work that you subcontract, as some insurance carriers will not allow over 20%."

– Maureen Brogie, Senior Advisor at InsuranceBee
3. Negotiate Insurance Terms
Negotiating terms is not haggling over price. Insurance carriers have to follow very specific underwriting risk assessment guidelines. But you can negotiate the options being offered. Consider the limits of coverage and ask about increase and decreases. While equipment limits often have a large impact on price, liability is usually negligible to overall pricing.
Every policy has more than one type of coverage itemized in it. Many of these coverages can be increased or decreased, and sometimes even waived. Go over every line item of coverage to understand what it covers and make sure you are paying for what is really important to your business. For example, if you were quoted $20,000 for business property but really only need $10,000 in coverage, you can save money.
4. Sign Documentation
Once the insurance company has offered you something that works for your business, all that is left is to sign the documentation. Once you do, you'll be covered and ready to use your insurance as needed. Carriers will vary on payment terms. Some won't bind coverage, meaning make it effective, until the first payment is made. Others will bill you for the first premium while still binding coverage.
Review the policy annually and inform your insurance agent about any new equipment purchases or new drivers. This could dramatically affect coverage and premium costs. Use your insurance agent as a partner to help keep your business protected against financial threats that naturally arise in claims and accusations.
Benefits of HVAC Business Insurance to Business
HVAC insurance carries many benefits beyond the actual liability protection from claims you can't afford to pay. It gives the peace of mind necessary to perform your work at the highest level and confidently make recommendations. From a business owners operations standpoint, there are benefits that help you make more money.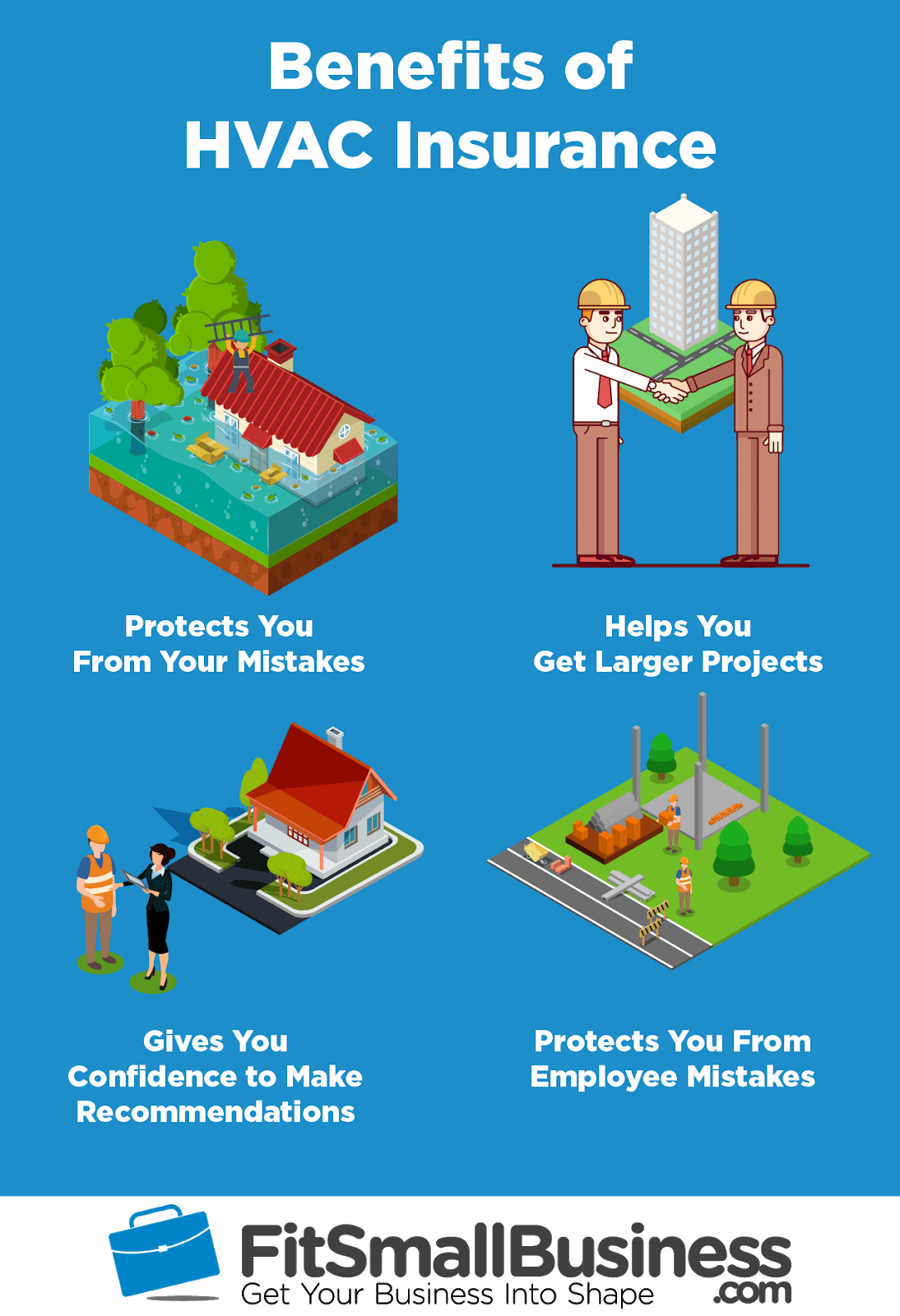 Some of the more specific benefits of carrying the proper HVAC insurance include:
1. Protects You from Your Mistakes
When you're dealing with ventilation in homes or office buildings, risk is inevitable. One big mistake could lead to damage resulting in thousands of dollars lost. Without insurance, you pay the cost of damages. Having the right insurance coverage will protect you from that liability and give you peace of mind in operating your business.
2. Helps You Get Larger Projects
General contractors, building managers, and high-end home clientele don't want to work with anyone not licensed and insured. Proof of insurance is required when bidding on many projects, and must be maintained throughout the work. The requesting party is often listed as an Additional Insured and a Certificate of Insurance is provided.
3. Gives You Confidence to Make Recommendations
Having errors and omission insurance covers the HVAC business if a recommendation is wrong or professional work is not performed according to code or safety standards. HVAC liability insurance, specifically professional liability insurance, provides confidence to give customers feedback and recommendations without worrying about the downside.
4. Protects You from Employee Mistakes
Everyone makes mistakes, and employees often don't have the knowledge or experience that HVAC business owners do. It's impossible to be with all of your employees all the time. Their mistakes are your liability. Reduce the financial burden with HVAC liability insurance.
Bottom Line
HVAC insurance is important to protect you and your business from financial loss due to either a mistake or an unexpected event out of your control. Most HVAC business owners will be covered by having general liability and workers' compensation coverage (if you have employees). Those working on large projects might find others necessary to be fully protected financially.
AP Intego helps you find proper coverage quickly. Getting HVAC insurance with AP Intego is easy. Their team of nationally licensed agents shop and compare your coverage needs with industry leading insurance companies to get you the right policy for an affordable price.