Quick service restaurant (QSR) point-of-sale (POS) systems are the central communication hub for restaurants that serve on-the-go food from a counter or drive-thru. QSR POS systems send in-person and online customer orders to the kitchen, process payments, track sales and employee hours, and help create future sales forecasts. The best QSR POS systems support kitchen display systems (KDSes), customer-facing displays, kiosks, and online ordering solutions, with software fees starting under $75 per month.
Based on our evaluations, the best QSR POS systems for 2021 are:
To find the POS that is best for your QSR, read our individual evaluations in each section of this article. Alternatively, you can start your search by taking this quick quiz below. It is only four questions, takes less than a minute, and will provide a result without redirecting you to another page.
Which POS Is Right for Your Quick Service Restaurant?
Answer a few questions about your business, and we'll give you a personalized product match
How We Evaluated Quick Service POS Systems
We compared over 20 of the most popular POS systems based on what's important to QSRs, including cost, order efficiency, support for combo orders, and hardware peripherals—like KDSes and digital menu boards. We also rated general POS functionality and ease of use. Finally, we rounded out each system's score with our retail and restaurant experts' personal evaluations of each software.
After considering all the criteria, Lightspeed Restaurant emerged as the best overall quick-service restaurant POS. The software received the highest overall score (4.32 out of 5) in our grading system for QSR POS systems. Plus, Lightspeed Restaurant is consistently one of the top POS software tools that our experts personally recommend, based on their personal experience in retail and restaurants.
20% of Overall Score
Most QSRs sell low-price point foods like burgers and barbecue, so they need a POS that won't break the bank. The first thing we considered was whether each POS offered a free software subscription plan or one under $75 per month. We also looked for plans that offer unlimited user log-ins and menu items and awarded points to systems with multiple payment processing options.
20% of Overall Score
Like all restaurants, quick-service spots need basic functions like customized employee permissions, sales tracking, and customized menus. We also looked for systems that track stock levels and log customer information and order history. Because of 2021 market trends, we prioritized contactless payment options, online ordering, and order-ahead features.
20% of Overall Score
After narrowing the field based on general functions, we moved onto the niche needs of a range of quick-service styles. We looked primarily for fully integrated KDSes, customer-facing displays, digital menu boards, and self-service kiosks. We gave bonus points for POS that included automated SMS texted order status alerts and tools to support drive-thru operations. We considered combo-building functions a necessity, and we looked for systems that integrate with sticky-label printers to print individual order labels or full-receipts for to-go orders.
20% of Overall Score
QSRs can have many revenue streams, such as from drive-thru, curbside, takeout, delivery, and in-person sales. Their menus may combine ready-to-eat (RTE) and ready-to-drink (RTD) items alongside multiple combo orders. QSRs also tend to have higher staff turnover than other restaurants, so these systems need to be easy for staff and customers to navigate. Systems that offer a searchable online support database, in-person training, and 24/7 customer support earned the highest marks.
20% of Overall Score
In the final round, we considered each system's standout features and whether the overall POS offers good value for your money. We also noted how popular each system is among QSRs and how easy it is to use. Then, I awarded points based on my personal experience using the software and interacting with its customer support.
*Percentages of overall score


PROS
Offers a 14-day free trial
High functioning KDS and combo ordering streamline QSR operations
Multiple options for payment processing

CONS
Cannot process credit card payments in offline mode
Add-on modules can add up
Online ordering tools are not the strongest for managing in-house drivers
RATING CRITERIA

Pricing
4.6
OUT OF
5
General Features
3.75
OUT OF
5
Niche or article-specific features
4.2
OUT OF
5
Ease of Use
4.38
OUT OF
5
Expert Score
4.69
OUT OF
5
Lightspeed Restaurant is an affordable cloud-based POS that is making massive moves in the US market. In the final quarter of 2020, Lightspeed purchased competitors ShopKeep and Upserve, an exciting development in a POS brand that is already incredibly strong.
In our evaluation, Lightspeed Restaurant earned a score of 4.32 out of 5. This score would have been even higher if the system could spool credit card transactions in offline mode. Besides that opportunity for improvement, Lightspeed scored incredibly well in the ease of use, price, and niche QSR features.
Lightspeed Restaurant Pricing
Software subscription fee: Lightspeed Restaurant pricing starts at $59 per month for software for a single terminal. Additional terminals come at a custom quoted price.
Hardware costs: Lightspeed operates on iPads; you can bring your own or purchase iPads directly from Lightspeed. Peripheral hardware like receipt printers, cash drawers, bar code scanners, and card readers are available from Lightspeed at custom quoted prices.
Installation fees: Setting up Lightspeed Restaurant is a do-it-yourself activity, so there are no installation fees to pay.
Processing fees: Lightspeed offers a built-in payment processor, Lightspeed Payments. Typical processing rates are 2.6% + 10 cents per card-present transaction, 2.6% + 30 cents per card-not-present.* However, you can also shop around. Lightspeed integrates with payment gateways Worldpay and TSYS as well.
*Based on quotes but can vary based on card type and Lightspeed Restaurant's discretion. Request a quote from Lightspeed Restaurant for exact processing fees.
Lightspeed Restaurant Standout Features
Lightspeed Restaurant is a multi-featured cloud POS that operates on iPads. The system is browser-based so that you can use it anywhere with an internet connection. Lightspeed Restaurant is priced comparably to competitors Lavu and TouchBistro and features a robust suite of streamlined hardware tools like KDSes and self-service kiosks. Unlike many iPad POS systems, Lightspeed Restaurant offers a 14-day free trial if you want to test drive the system.
Lightspeed Restaurant's standout features include:
Ease of Use: Lightspeed users frequently mention how easy the system is to navigate. Training new staff takes no time. Multiple modifier screens and combo building screens keep lines moving in any quick-service environment.
Flexible Hardware: In addition to iPad-based terminals, Lightspeed Restaurant uses iPads for KDSes, customer-facing displays, and self-service kiosks, so you can customize your POS by pressing a few buttons in the manager dashboard. These screens all feature Lightspeed's intuitive interface. In fact, Lightspeed Restaurant has one of our favorite KDS configurations.
Curbside and Contactless: Lightspeed's Order Ahead module supports pick up orders at your restaurant. Integration with the Star Micronics TSP654SK printer supports sticky label printing to identify takeout orders or individual items quickly.
Wealth of Add-ons: Lightspeed offers built-in options for Loyalty, online ordering, detailed analytics, and accounting. Each is priced individually, with pricing starting at $12 per month for basics like Advanced Reporting and $39 per month for "premium" features like Loyalty. You'll need to contact Lightspeed for a custom quote for add-ons, but you can test drive any of them virtually for free for 14 days.
Popular Integrations: In addition to Lightspeed's extensive add-on functions, this restaurant POS integrates with 80+ third-party software tools. You can find popular options for employee scheduling, inventory, website management, reservations, accounting, payroll, and third-party delivery platforms.
Targeted Marketing and Loyalty: In addition to essential customer management functions like creating customer profiles, Lightspeed Restaurant offers Lightspeed Loyalty. This tool allows you to offer a points-based customer rewards program and create targeted marketing emails and SMS text messaging campaigns.

Best High-Volume POS for Drive-thru

PROS
User-friendly, all-in-one system
Many digital display, kiosk, and contactless payment options
Robust functions include online ordering, drive-thru support, and label printing

CONS
Cannot choose a payment processor
Pricing can vary widely
May be more system than small QSRs need
RATING CRITERIA

Pricing
2.4
OUT OF
5
General Features
3.35
OUT OF
5
Niche or article-specific features
5
OUT OF
5
Ease of Use
5
OUT OF
5
Expert Score
5
OUT OF
5
Toast is a tablet POS explicitly built for the restaurant industry. This cloud-based POS has hard-to-find features for processing contactless payments, making it an excellent fit for restaurants that want to move in a contactless direction. Its software fee starts at $69 per month for a basic system with enrollment in Toast Payments. Toast is consistently one of our top choices for the best overall POS system for small businesses.
Toast earned a score of 4.15 out of 5. Toast's ease of use and niche features like drive-thru support earned this system high marks. It also recently changed its pricing structure to offer a basic restaurant POS starting at $0 per month for software, which gave it an edge over high-priced systems like Revel.
Toast Pricing
Software subscription fee: Toast pricing starts at $69 per month for baseline POS processing with enrollment in Toast Payments. The next step up the pricing tier—the Essentials package—starts at $99 per month. The pricing is highly customized based on your restaurant's needs, though, so if you are considering this system, you should contact Toast for a tailored quote—and it frequently runs sales promotions, so small restaurants may be able to lower their costs.
Hardware costs: Toast operates on pre-configured ELO touchscreen tablets and handhelds, so you'll have to buy hardware directly from Toast. Pricing is offered at a custom quote based on your restaurant's needs. In the past, I saw terminal bundles at around $899.
Installation fees: As a hybrid system, Toast typically comes with an installation fee. It doesn't list this publicly any longer, but historically, installation pricing started at around $499. Any installation fees you pay will depend on your specific restaurant's needs, though.
Processing fees: Using Toast means using Toast Payments—there are no other payment options. We were recently quoted a rate of 2.49% + $0.15 per card-present transaction and 3.5% + $0.15 for card-not-present.* Individual rates will vary based on your business.
*Based on quotes; individual rates vary based on card type and Toast's discretion.
Toast Standout Features
This user-friendly, Android-based cloud POS comes with recipe and food costing tools, menu management, tableside ordering, and customer relationship management (CRM) built in. Toast combines the intuitive navigation of Lightspeed Restaurant with the robust features of Revel Systems at a price point that falls just between the two.
Toast's standout features include:
Drive-thru support: Toast is the only POS on this list with a detailed, built-in drive-thru order stream. You can find configuration instructions on Toast Central, Toast's online knowledge database. Once configured, your Drive-thru tickets will be color-coded on your KDS screens.
Contactless options: Toast Order and Pay allows customers to order and pay from their smartphones after scanning a QR code.
Combo-building: Toast's combo builder operates a little differently than the others on this list. Rather than relying on nested modifiers, Toast combos operate as a discount type. You tell your Toast system, which items are possible combo items, and a discount automatically applies when they appear on a check.
Online ordering: Toast integrates with third-party delivery platforms like Doordash. The system also offers Toast Online Ordering as a customizable add-on tool if you want to operate an in-house online ordering system. Customers can place orders via your website, orders feed into your KDS or print on your kitchen printers, and you can send SMS text order status updates.
Delivery management: It offers some of our favorite built-in POS delivery tools. With Toast, you can manage a team of in-house drivers with GPS mapping integrations, or you can opt to send your in-house orders to local third-party drivers for a flat, per-delivery fee.
Text integrations: Toast's KDS screens integrate with SMS text messaging to alert takeout customers when their orders are ready.
Flexible hardware: Standard terminals with flip screens, customer-facing displays, tableside/mobile ordering, kitchen display screens, and self-order kiosks are all available on this system.

Best Multi-Location QSR POS

PROS
Widest variety of terminal and printer configurations
Excellent combo-building functions
Choice of several popular payment processors

CONS
Pricey
Back-office operations have a learning curve
Too much machine for small operations
RATING CRITERIA

Pricing
2.9
OUT OF
5
General Features
3.75
OUT OF
5
Niche or article-specific features
5
OUT OF
5
Ease of Use
5
OUT OF
5
Expert Score
3.75
OUT OF
5
Revel Systems POS is a nearly infinitely customizable iPad POS. The customizability makes Revel Systems an excellent fit for high-volume or multi-location QSR concepts. If your menu is extensive or consists of often modified dishes, like pizza and sandwiches, Revel's combo building options can save your sanity.
As a QSR POS, Revel Systems comes in third place with an overall rating of 4.08 out of 5. This system is close on Toast's heels, as price and a slight learning curve are the big reasons Revel Systems didn't score higher. Revel hosts many insightful tools in a compact POS package, but the system might be more than small QSRs need. It is also the highest-priced option on this list and requires a three-year service contract.
Revel Systems Pricing
Software subscription fee: Revel Systems starts at $99 per month, per register, which is a higher base cost than most of the other QSR POS systems on our list.
Hardware costs: Revel Systems operates on iPads, which you can purchase through Revel Systems along with accessories like iPad stands, cash drawers, and receipt printers.
Installation fees: Revel Systems is a hybrid POS with hardware that is networked—at least partially—via an on-site server, so the system typically comes with an installation fee. These are custom-quoted based on your restaurant layout but tend to start at around $650.
Processing fees: Revel Systems integrates with USAePay and FreedomPay for payment processing. It also offers a built-in processor called Revel Advantage, and its pricing varies based on business type and sales volume, so restaurants will need to contact Revel for a custom quote.
Revel Systems Standout Features
Revel Systems is a full-featured POS with tools for inventory tracking, online ordering, customized reporting, CRM, employee management, and more. It also has quick service-specific features like a streamlined KDS, self-order kiosks, digital menu screens, and support for various printer styles.
Revel Systems standout features include:
Array of printers: With Revel, you can print paper receipts at a terminal or kiosk, as well as link a Bluetooth printer to a handheld tablet to print paper receipts on the move. If you want sticky labels for individual item orders or to seal to-go bags, Revel has you covered. If you prepare or sell RTE and RTD items, you can print scannable bar code labels too.
Combo Building: Revel's combo building function is incredibly detailed. It displays all your combo options on a single screen for fast ordering and easy adjustments if customers change their minds.
Delivery management: Revel System's Delivery module is the most robust available in a hybrid POS. You can dispatch drivers with GPS directions and track their transactions and shift performance just like you do for cashiers.
Inventory and vendor management: Revel Systems keeps your supplies in order with end-to-end inventory tools that include PO creation and order receiving directly in the POS. A smartphone app for performing physical counts lets your team scan bar codes to count items, and employee permissions allow you to spread inventory counting tasks across your team without giving counting employees access to the entire inventory module.
Customizable Hardware: Digital menu boards, kitchen display screens, iPad-based registers, self-service kiosks, mobile ordering tablets, chip, swipe, and contactless card readers, Bluetooth, and ethernet connected printers are all available on Revel. So, you can create a custom configuration to match your restaurant operation.

Best QSR POS for High Staff Turnover

PROS
Hybrid installation means strong offline functionality
Available free trial
You can bring your own iPad and choose from several payment processors

CONS
No built-in features for drive-thru operations
Inventory module requires a lot of administrative attention
Accepting online payments requires enrolling in TouchBistro Payments
RATING CRITERIA

Pricing
4.6
OUT OF
5
General Features
3.35
OUT OF
5
Niche or article-specific features
2.2
OUT OF
5
Ease of Use
5
OUT OF
5
Expert Score
4.69
OUT OF
5
TouchBistro is a hybrid iPad restaurant POS with more than 200 built-in features, including inventory, menu management, templatized reporting, and unlimited user logins. TouchBistro also has a wide array of options for KDSes, customer-facing displays, and kiosks, as well as a long list of available third-party integrations to tailor the POS to your specific QSR needs.
In our evaluation, TouchBistro earned a rating of 3.97 out of 5. This put it just out of the top-three range, mostly due to some limitations in niche QSR functions. While the system has an incredibly intuitive KDS, kiosk, and digital menu display, it lacks granular details, like sticky label printers and dual cash-drawer tills. High marks for price, an available free trial, and ease of use also bolstered TouchBistro's rating.
TouchBistro Pricing
Software subscription fee: Software subscriptions for TouchBistro start at $69 per month for a single terminal. More detailed pricing requires a custom quote from TouchBistro.
Hardware costs: You can bring your own 6th generation or later iPad or purchase iPads through TouchBistro for around $400 each. TouchBistro also offers kitchen displays, kiosks, and customer-facing display solutions at an additional quoted price. Restaurants can purchase hardware separately or through TouchBistro with a payment plan bundled with the software costs.
Installation fees: You can set up TouchBistro yourself, using the detailed guides on the TouchBistro support site.
Processing fees: TouchBistro integrates with several payment processors, such as Worldpay, TSYS, Chase, and Square, but users can opt for TouchBistro Payments. Rates will vary based on your card mix and restaurant type.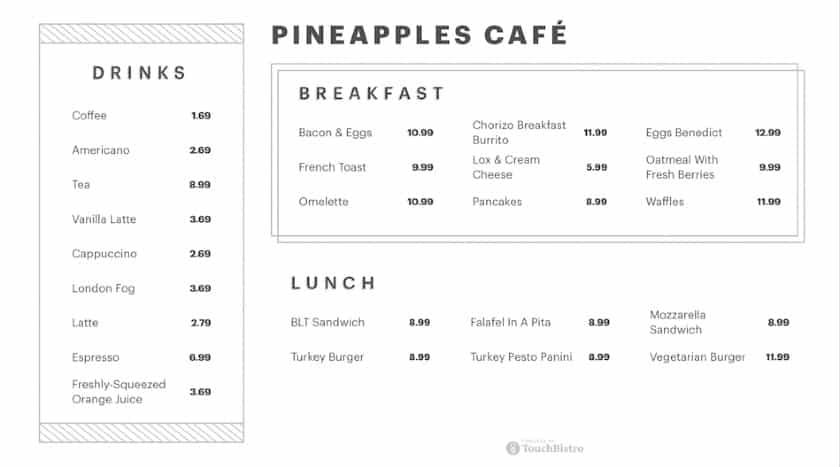 TouchBistro Standout Features
TouchBistro is a very streamlined POS system with an incredibly friendly interface, with many users having said that TouchBistro is the most intuitive POS they have ever used. So, if you are always training new employees, as QSRs can experience a much higher staff turnover rate than other restaurant types, an intuitive system like TouchBistro can save you money by cutting down training time.
TouchBistro's standout features include:
Combo-building: You can configure TouchBistro's modifier menus to ring in basic combos, like a burger and one side, or more complex orders, like a family meal kit for pickup or delivery.
Online Ordering: You can accept online orders for delivery or pickup only. You can opt to take payments online or save on card-not-present transaction fees by requiring payment at pickup or cash upon delivery. Customers can order via your restaurant website, social media pages, and TouchBistro's TBDine website.
Self-Ordering Kiosks: TouchBistro's ease of use extends to your customers. This system has one of our top-rated self-service kiosks.
Customizable Add-On Modules: TouchBistro offers built-in tools for reservations, employee management, loyalty, online ordering, and gift cards. You can also configure your TouchBistro hardware to operate as digital menu boards, self-service kiosks, or customer-facing displays.
Back Office and Reporting: Easy to digest, pre-built reports are great for novice—or busy—restaurant owners.
Available Hardware: Full iPad-based registers, Apple TV projected digital menus, iPad stands, handheld iPad cases, and contactless payment terminals let you take orders at a counter or tableside. Kitchen display screens and wireless and ethernet connected printers ensure that you can print receipts and send orders to the kitchen from anywhere in your restaurant.

Best QSR POS for Nutritional Information

PROS
Can display nutritional information in self-service kiosks
Affordable baseline POS pricing
Integrates with multiple payment processors, including built-in LavuPay

CONS
Customer support is not well-reviewed by Lavu users
Steep learning curve for managers
Offline functionality is glitchy
RATING CRITERIA

Pricing
4.2
OUT OF
5
General Features
3.75
OUT OF
5
Niche or article-specific features
4.2
OUT OF
5
Ease of Use
4.38
OUT OF
5
Expert Score
3.13
OUT OF
5
Lavu is a highly customizable cloud-based iPad POS for QSRs, and it offers easily integrated digital menu display screens that can feature nutrition information. The system also syncs with bar code scanners and label printers, making it a good fit for restaurants that sell packaged food alongside cooked to order items.
Lavu earned a rating of 3.93 out of 5, coming incredibly close to TouchBistro, and it achieved high marks for ease of use and QSR features. Its limited offline mode—and some negative online user reviews about Lavu's customer service—kept this POS from scoring higher.
Lavu Pricing
Software subscription fee: Lavu is $69 per month for a single terminal for users that commit to a full-year contract. For more detailed pricing, you'll need to contact Lavu for a custom-quote.
Hardware costs: Lavu operates on iPads, which can be purchased separately or through Lavu. Hardware prices include $175 for an iPad stand and $899 for a hardware kit that includes a cash drawer, kitchen printer, and receipt printer.
Installation fees: You download Lavu directly from App Store, so there are no installation fees to pay.
Processing fees: Lavu integrates with several payment processors, including popular gateways like Worldpay and PayPal. Rates for built-in processor LavuPay will vary based on your card mix and sales volume. We were recently quoted a rate of 2.9% + $0.30 for card-present transactions and 3.3% + $0.30 for card-not-present transactions.*
*Listed rates are based on received quotes. Individual rates will vary at Lavu's discretion.
Lavu Standout Features
Like our top pick Lightspeed Restaurant, Lavu includes standard restaurant POS features such as menu customization and inventory management built into the base price. Additional features, like online ordering, self-service kiosks, and digital menu boards, are available for an extra quoted fee.
Lavu's standout features include:
Nutrition information: Lavu allows you to input nutritional information on menu item recipes. You can display this information on customer-facing self-order kiosks, saving your staff time answering customer questions.
Combo-builder: Lavu's combo builder lets you construct combos without relying on nested modifier screens so that you can ring in combos in fewer moves. You can send combo items tickets to the appropriate printers: drink orders go to the bar, food tickets go to the kitchen.
Online ordering: Lavu's online ordering system is built on the Lavu-owned MenuDrive platform (one of our top recommendations for a free-standing online ordering system). This add-on module gives you a high-functioning, visually stunning online menu that customers can order from with a custom URL. The online ordering module comes with its own loyalty and analytics, and—like Toast—can direct delivery orders to third-party drivers without commission fees.
High volume functions: Lavu supports sticky label printing via the Epson L90 printer so that you can print individual item labels or full receipts to mark and seal take out orders. Bar code scanners and dual cash drawer tills help maintain your speed of service.
Integrations: Lavu integrated with over 100 third party apps, including popular tools like Chowly, MarketMan, and Restaurant365. A scheduling integration with 7shifts is coming soon.


PROS
Free Basic POS subscription
No long term contracts
Sticky label printing and KDS functions

CONS
Locked in to Square's processing rates
Lacks some popular features like credit card pre-authorization
Not as customizable as others on this list
RATING CRITERIA

Pricing
4.2
OUT OF
5
General Features
3.15
OUT OF
5
Niche or article-specific features
3.35
OUT OF
5
Ease of Use
3.13
OUT OF
5
Expert Score
4.06
OUT OF
5
Square for Restaurants is a cloud-based iPad POS with built-in payments from Square. The system is incredibly inexpensive, as the baseline subscription is free. That basic POS has some limitations, but the next level in the subscription tier is still incredibly affordable at $60 per month.
Square for Restaurants is well-suited for QSRs and earned an overall score of 3.58 out of 5 in this evaluation. The system scored well on price and value for money. While it could have scored higher if it offered more niche functions, like drive-thru support and more robust combo-building, Square for Restaurants has a lot to offer QSRs—especially those on a budget.
Square for Restaurants Pricing
Software subscription fee: Square for Restaurants POS offers three subscription tiers: Free, Plus, and Premium. The baseline subscription, Free, has no monthly fees, and all you pay is the credit card processing fees on credit card transitions. Plus subscribers pay $60 per month plus $40 for each additional terminal. Premium features are offered at a custom-quoted price.
Hardware costs: You can bring your own iPad and other compatible hardware if you have them. Square sells peripherals like card readers, printers, and handheld Square Terminals on its website. Prices range from $400 to $1,343, depending on your preferences.
Installation fees: Square for Restaurants is do-it-yourself, so there are no installation fees. If you'd like a Square representative to come to your restaurant in-person to assist with installation or staff training, fees start at $600.
Processing fees: Square Payments transaction fees are 2.6% + $0.10 per card-present transaction. Online payments incur a transaction fee of 2.9% + $0.30 each.* If your restaurant's annual sales are above $250,000, you may be able to negotiate a different rate with a Square sales representative.
*These rates may change at any time, based on Square's discretion.
Square for Restaurants Standout Features
Square for Restaurants offers QSRs incredible value for money. The free POS subscription tier makes POS tools accessible for new restaurants and small restaurants, in particular. Square's pricing is refreshingly transparent, so you always know what functions you have and what additional functions will cost. Square for Restaurants also does not require a long-term contract, so small operations can start with the free Square for Restaurants POS, then easily upgrade to a Plus or Premium membership as their businesses grow.
Square for Restaurants standout features include:
Free Basic POS: The free Square for Restaurants POS doesn't allow you to re-open closed checks or use seat numbers and meal courses. Most QSRs don't need these functions anyway, so the entry-level subscription is plenty functional.
Delivery Integrations: Square integrates with aggregating software like Chowly to feed third-party platform orders into your POS order stream directly.
Sticky Labels: Square for Restaurants integrates with the StarMicronics TSP654SK printer to print thermal labels for individual items. This makes the system an excellent fit for QSRs with limited menus, like coffee or sandwich shops.
Integrated KDS: Square for Restaurants recently added an integrated KDS (it formerly relied on FreshKDS). This new function is a great option for QSRs that need a cost-effective solution.
Bottom Line
Quick service POS systems need to be full-featured and cost-effective. High-volume spots with drive-thru operations will be well-supported by Toast, while multi-location QSRs will enjoy Revel System's centralized management and inventory console. On the contrary, health-conscious eateries can use Lavu to display nutritional information in self-service kiosks, and QSRs with a high staff turnover rate will save money with a friendly system like TouchBistro. Simple tools like Square for Restaurants will best serve seasonal food shacks and those with tight budgets.
In our estimation, though, the POS that best combines QSR functions with value for money is Lightspeed Restaurant. In addition to excellent baseline POS functions like menu management and reporting, Lightspeed features streamlined combo building and online ordering integration and is one of our favorite KDSes. Starting at $59 per month, the system is budget-friendly and offers a 14-day free trial. Visit Lightspeed Restaurant for more information and to schedule a demo.