MAP Communications Review: Is It Right for Your Business?
This article is part of a larger series on VoIP.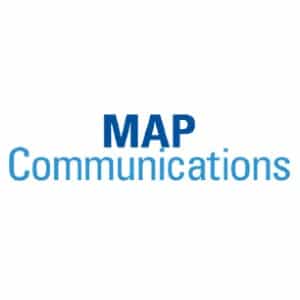 MAP Communications Overview
PROS

CONS

Offers a 7-day free trial
No free minutes included in the Standard plan
Bilingual receptionists (English and Spanish)
Limited third-party integrations
Guaranteed 99.9% uptime
No mobile application
Fully HIPAA (Health Insurance Portability and Accountability Act) and Payment Card Industry (PCI) compliant
Only call recording and no transcription
Flexible month-to-month subscription
Live transferring charged per minute can become pricey
What We Recommend MAP Communications For
MAP Communications is ideal for solopreneurs and small businesses that want to offer 24/7 customer support. With some of the lowest monthly subscription fees, it provides customizable call center solutions with month-to-month service agreements. With a trained agent team, MAP Communications helps ensure your company never misses a call or potential lead.
When to Use MAP Communications
Businesses that experience seasonal call volume increases: MAP Communications is one of the best answering services for small businesses with flexible pay-per-minute plans. It offers month-to-month service contracts, allowing customers the flexibility to upgrade their call center services for cases like holiday service spikes. Companies may upgrade for a month and then revert to lower call volumes when things normalize.
Small businesses that want to expand into Spanish-speaking markets: MAP Communications' bilingual answering services enable your business to cater to the needs of Spanish-speaking audiences. Fluent Spanish-speaking virtual receptionists will follow your custom script to engage your customers in their preferred language. This minimizes order placement, shipment tracking, and appointment scheduling errors caused by language barriers.
Companies that want to maintain a lean internal team due to budget limitations: Outsourcing your virtual receptionists to MAP Communications is an affordable alternative to staffing agents 24/7 with night differentials and full benefits. For those with limited staff, MAP Communications' receptionists will prioritize specific phone calls and transfer them directly to you, based on your preference. With its 24/7 live answering service, smaller businesses will be able to compete with larger companies by providing customers with around-the-clock telephone support.
When MAP Communications Might Not Be a Good Fit
Companies that want to adopt an omnichannel contact center solution: MAP Communications is limited to cloud telephony. For businesses that receive customer interactions from multiple channels, RingCentral is a better option. RingCentral's contact center supports voice, SMS, email, live chat, ticketing, and social media. Our RingCentral Contact Center Review details everything you need to know, from features to pricing.
Companies that want an affordable international number: While MAP Communications provides a nationwide toll-free or local number for registered accounts, it does not provide international numbers or minutes. For small businesses looking for affordable international phone numbers and international calling minutes, Phone.com is one of the best services for voice-over-internet-protocol (VoIP) international calls offering both metered and unlimited plans.
Small businesses that need a mobile application for remote teams: MAP Communications has a client web portal for call and message management but does not have a mobile application. As an alternative, Ruby's call answering service has a mobile application that can forward calls to virtual receptionists and take messages and voicemail.
MAP Communications Pricing
MAP Communications offers three paid monthly plans, starting at $43, with minutes consumed billed at $1.27 per minute. Its higher-tiered plans include free minutes with charges for additional minutes at a lower rate of $1.20 or $1.18 per minute. MAP Communications offers a seven-day free trial for all prospective users.
MAP Communications Plans

Standard

(Pay-As-You-Go)

Business

Enterprise

Best For

Small businesses with a low call volume

Small to medium companies receiving basic inquiries

Enterprises with a high call volume

Monthly Pricing

$43

$164

$274

Free Minutes

N/A

125 minutes

225 minutes

Rates for Additional Minutes

$1.27 per minute

$1.20 per minute

$1.18 per minute
All MAP Communications plans include the following benefits and features:
Toll-free or local number: Accounts are provided with a nationwide toll-free number or a local number that will be answered by the receptionists or forwarded to your lines.
Month-to-month service agreements: Services renew monthly for 30 days, allowing small businesses more flexibility to adjust call volumes as needed.
24/7/365-day coverage: Phone call solutions are available anytime, including after-hours, ensuring no calls fall through the cracks.
HIPPA and PCI compliance: HIPAA and PCI-compliant answering services, such as MAP Communications, reduce fraud and ensure sensitive personal information is handled securely.
Client access portal: The online dashboard grants access to all calls handled by the team, review billing statements, make payments, update on-call rosters, and choose message delivery options.
No-cost message delivery: Promptly deliver messages from a combination of email, text, digital, and alpha paging.
MAP Communications Features
MAP Communications offers a suite of phone services that include phone answering, call center, virtual receptionists, and alarm monitoring solutions. Call center services with virtual receptionists include order taking, disaster recovery, event registration, and whistleblower hotline solutions. These services keep your business on track by keeping the lines of communication open between you and your clients.
General Features
MAP Communications' answering services are fully equipped call centers that work 24/7, including after-hours and holidays. Services support appointment scheduling, order taking, ecommerce technical support, phone call screening, and call management services.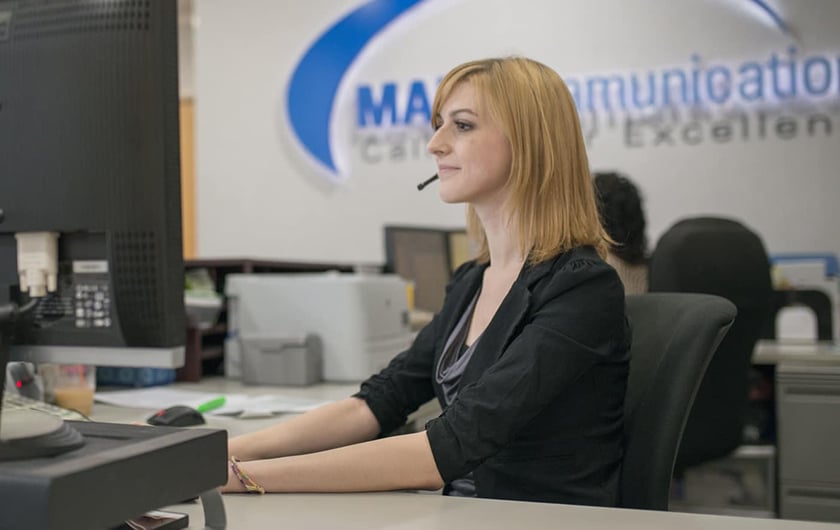 ---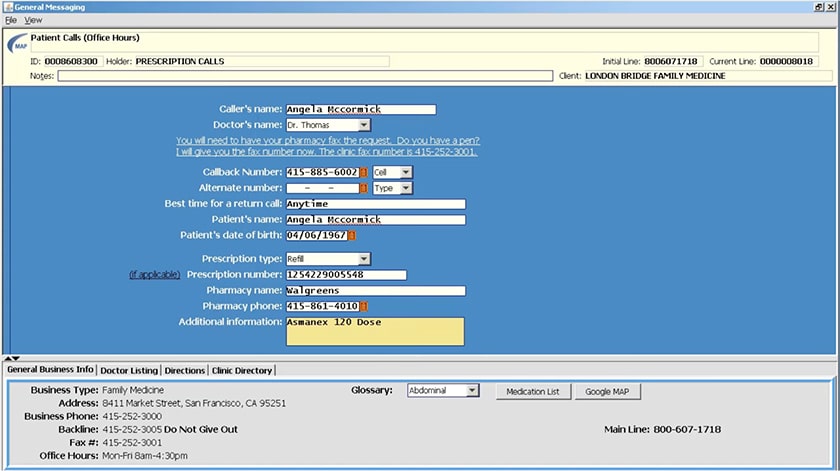 ---
MAP Communications also offers alarm monitoring services critical in industries such as food service and utilities. The service monitors elements as an early warning system that looks into power and equipment failure and quickly alerts your company of possible issues. Your team is able to focus on increasing productivity while MAP Communications handles your back-end through alarm monitoring.
Custom Scripts
MAP Communications' custom scripts allow you to personalize your greetings and messages to align with your brand personality. This is useful in business communications, minimizing unwanted tones or responses while maximizing efficiency through consistent messaging. Businesses provide custom scripts composed of statements and questions that MAP Communications representatives use as a guide during customer interactions.
---
Bilingual Answering
MAP Communications has both English and Spanish-speaking service agents, giving your business an advantage over the competition while gaining customer loyalty. Companies ensure that customers are comfortable when being assisted with scheduling appointments, order placement, and resolving technical issues. Other providers, like Ruby, offer bilingual services during business hours, but MAP Communications' Spanish-speaking receptionists are available 24/7.
---
Client Portal Access
The client web portal is a message management solution for all user accounts. MAP Communications' online dashboard is a centralized message archive that documents call data, which you can use and review to improve communication protocols. In terms of security, only authorized users have access to the portal, and administrators are able to segregate permissions for additional privacy.
---
Call Routing
MAP Communications has live receptionists who provide comprehensive call management services, including call routing, patching, forwarding, and transfer. This service offers a more personal and human element to customer service that auto-attendants cannot match. Furthermore, trained agents use a customized script aligned with each company's brand and voice—addressing callers' queries in a professional manner.
---
MAP Communications Alternatives
MAP Communications is a U.S.-based professional receptionist and phone answering service that provides services 24/7/365 days a year. Its key features include appointment scheduling, custom call scripts, and call routing. This service provider has extensive experience in the fields of legal and medical answering with a basic plan that offers one of the lowest base subscription rates.
However, Map Communications may not be the best for those who want a more extended trial period, need a mobile application for remote teams, or need both phone and live chat functionality.
| | | |
| --- | --- | --- |
| Best for: Businesses that require close coordination with their phone system provider through dedicated account managers | Best for: Small to medium businesses that need a robust mobile application for remote teams | Best for: Small businesses that want to combine phone answering services with live chat functionality |
| Monthly starting price: $299 for 100 minutes and $2.99 for each additional minute | Monthly starting price: $59 for 20 minutes | Monthly starting price: $219 for 50 receptionist minutes |
| | | |
In need of phone service for your small business?
Read through the best business phone systems for 2022 to discover the most recommended providers, their pricing, and their features.
MAP Communications Reviews: What Users Think
While limited online reviews are available, most of the feedback for MAP Communications is positive. One of the most appreciated features of MAP Communications is its 24/7 answering service, which is generally regarded as efficient and effective.
The key features highlighted by customers include the free toll-free or local number, after-hours package, the secure clients portal, customizable call scripts, and HIPAA compliance. Customer support is efficient, with many MAP Communications clients saying they are satisfied and would recommend its services to others.
At the time of publication, MAP Communications has earned the following scores on popular user review sites:
Some negative comments are related to call script inconsistency, billing schedules, and charges for calls not made or to a wrong number. A review also noted incidences of customers hanging up or messages with incomplete information. However, most reviews acknowledge MAP Communications' contribution to employee productivity and professionalism in conveying company messages.
Bottom Line
MAP Communications offers comprehensive phone answering and call center services for small to medium businesses that want to provide their customers with 24/7 call channels. Its cloud-based call center services, such as call routing, message delivery, and client portals, help businesses provide quality customer service without the complications of capital outlay and technology overhead.