4 Best Nurse Scheduling Software (+ an Honorable Mention)
Scheduling nurses can be trickier than with staff in other industries as you must properly fill every shift, every time while preventing nurse burnout and fatigue. Plus, there are compliance rules and sometimes union rules to consider. The best nurse scheduling software navigates you through these issues, helping you create a schedule that meets both patient and healthcare provider needs.
We looked at 15 of the most popular scheduling software both specifically for nurses and for general use, judging by price and user interface as well as function. We narrowed it to the four best plus one special callout. In short:
Best Nurse Scheduling Software Compared
Monthly pricing

$0–$4.90 per employee ($25 minimum)

$0–$99.95 per location

$0–$39.99 per location

Call for quote

Free plan

For specific locations

For one location and up to 20 employees

✓

✕

Free trial

31 days

14 days

✕

✕

Shift swap

✓

✓

✓

✓

PTO and break planning

✓

✓

✓

✓

Multilocation

✓

Costs extra

Costs extra

✓

Autoscheduling

✓

✓

✓

✓

On-call Scheduling

✓

Create manually

✕

✓

Compliance tools

✓

✓

Some

✓

Integrates with payroll, HR software

✓

✓

✓

✓

Time clock included

In higher plans

✓

✓

✓

Interface

Excellent

Excellent; moderate learning curve

Excellent

Good; high learning curve

Support

24/7 live chat, monthly training, videos, how-to's

Phone, email, chat, articles, videos

24/7 chat support, articles, videos

Phone, email, chat, some help articles

Real-world user scores*

4.54

4.56

4.51

4.46

Mobile app

4.5 out of 4 on Android

4.8 out of 5 on iOS

4.4 out of 4 on Android

4.8 out of 5 on iOS

4.1 out of 4 on Android

4.8 out of 5 on iOS

4.7 out of 4 on Android

4.7 out of 5 on iOS
*User scores are averaged across multiple third-party review sites.
New to scheduling? Before you start, check out our guide to scheduling employees to get an idea of what's expected.
Deputy: Best Overall Software for Nursing Staff Scheduling

What We Like
Easy to set up and use
Reduced-price plan if you have a rotating staff
Highly rated mobile app with few reports of glitches
Stress profiles to reduce worker fatigue
What's Missing
Free plan has limited features and only allows 100 shifts per month
Forecasting only available in Enterprise Plan
Payroll integration requires the Premium or Enterprise Plan
Pricing
Starter plan: Free

100 shifts per month and 100 time sheets per month

Scheduling plan: $3.50 /employee/month*

Online schedule builder with auto-scheduling and shift swapping functionalities.

Time and Attendance: $3.50/employee/month*

Time sheets, payroll integrations, and time clock apps (for iOS and Android).

Premium: $4.90/employee/month*

Scheduling and Time and Attendance plans, reports

Enterprise: Custom pricing

Includes all in Premium plus advanced reporting, custom installation, a training matrix, and more.

Flexi Weekly: $2.50/active employee/week + 50 cents/inactive employee/week

Premium's features, with special pricing suited for businesses with half their staff on schedule in any given week.
*All monthly Premium, Time & Attendance, and Scheduling plans require a minimum spend of $25 per invoice monthly.
Deputy is a feature-rich, easy-to-use scheduling app that is highly versatile. While not No. 1 on our general list of best employee scheduling apps, it takes the top spot here because it has more tools suited for nursing than Homebase. You get great scheduling tools including rules-based autoscheduling, an excellent mobile app that can include a time clock, and more. It stands out with its stress profile, which monitors maximum scheduled hours and can help you prevent nurse fatigue.
This app earned 4.69 out of 5 in our evaluation. It had perfect scores for pricing, scheduling tools, popularity, and reporting, and an excellent 4.63 for tools especially needed in the nursing industry, such as rapid shift fulfillment. Ease of use knocked down its score some, as it does not have live phone support. Its mobile app had the best score for reliability.
Deputy Pricing
Deputy has a free plan, although it's more limited than those of Homebase or SocialSchedules, allowing only 100 shifts per month. It has fewer features than its paid plans. Nonetheless, if you are a small center with basic needs, it could fit the bill.
Deputy's free plan may not be available in all countries. Thus, it may not appear on your website or even in the free trial. If you are interested in the limited free version and don't see it on the pricing page, try opening an incognito window on your browser and searching again.
If all you need is scheduling and have a small number of nursing staff, then Deputy's Scheduling Plan is a deal at $3.50 per employee per month ($25 per month minimum). If you need scheduling and time and attendance, then get the Premium plan at $4.90 per employee per month. (You need this plan if you want to integrate with payroll software.) Of course, it also has an Enterprise Plan, with added features and custom pricing.
One unique plan Deputy provides is Flexi Weekly, which gives you all the tools in Premium for only $2.50 per employee per week they are scheduled (50 cents per week for those not scheduled). This is most cost-effective when only about half your nurses are scheduled in a given week or if you have slow seasons where you may not schedule nurses but want to keep them on standby. Contact Deputy for more details.
Deputy Features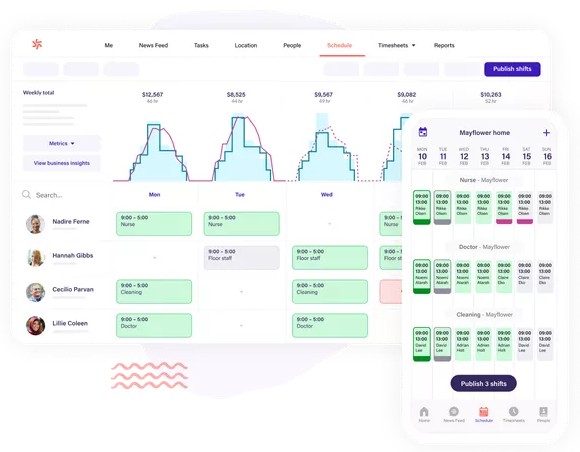 ---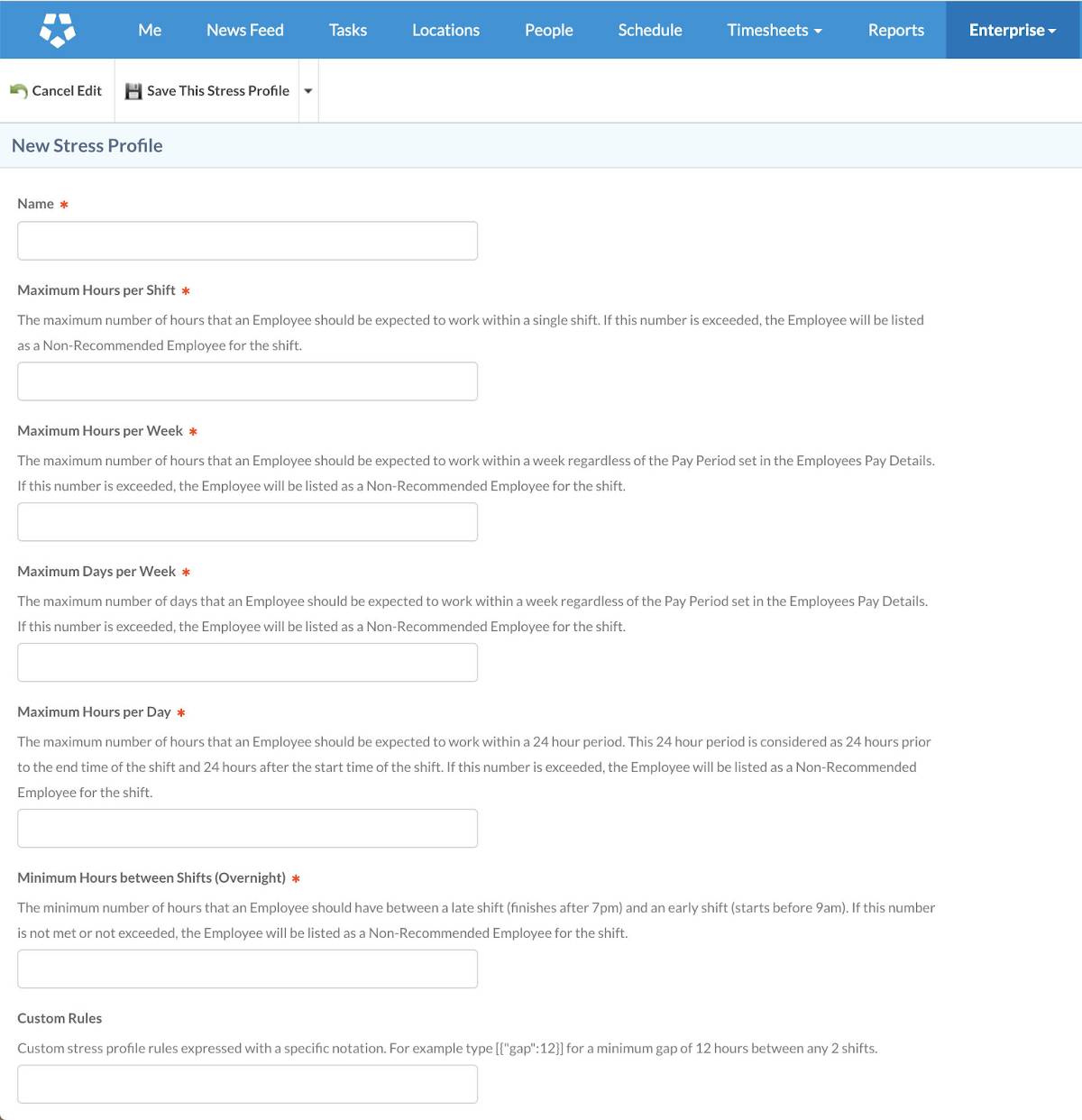 ---
Read our Deputy review for more details
Homebase: Best for Facilities Experiencing High Turnover

What We Like
Free plan includes scheduling and time clock
Paid plans support unlimited employees in one business location
Easy setup and navigation
Has additional in-house services for HR, hiring, and payroll
What's Missing
Takes some time to learn
Free version limited to one location, up to 20 employees, and one administrator
Occasional mobile app glitches
Pricing
Basic plan (one location, up to 20 employees): Free

Create and manage schedules, automated time sheets, reports, time clock

Essentials tier: $24.95 per location monthly ($20/monthly on the annual plan)

Basic features plus geofencing, autoscheduling, late employee alerts, manager approvals, and automated employee reminders

Plus option: $59.95 per location monthly ($48/monthly on the annual plan)

Essentials plus managing PTO policies and balances, hiring, budgets and labor cost forecasts, and user permissions

All-in-One package: $99.95 per location monthly ($80/monthly on the annual plan)

Plus, API access, online onboarding, labor cost management, an electronic signature tool, access to HR professionals

Add-on services:

HR Pro advisers and resources ($99 per month)
Promote job postings on ZipRecruiter and Craigslist (starts at $79 per post)
Payroll ($39 base fee + $6 per employee)
An estimated 30% of nurses say they are likely to quit their career due to the pandemic—some citing burnout and a high-stress environment as primary concerns. Homebase can help not only with scheduling software to help relieve employee burnout but also with hiring and onboarding tools to help you fill positions quickly and easily. It's the only scheduling software on our list with hiring, onboarding, and other HR functions such as consulting.
You'll find Homebase ranking No. 1 on our best employee scheduling software. Here, it falls to No. 2 because it does not have as many nursing-specific tools as Deputy. It also has a lower score for popularity, although its user review scores are strong for both the software and the mobile app. Homebase got a perfect 5 out of 5 for pricing and reporting tools, and high scores for its general scheduling tools and ease of use. Overall, it scored 4.41 out of 5.
Homebase Pricing
Homebase's pricing, unlike Deputy's, is by location rather than person and includes up to 20 employees. Depending on how many employees you have in your office, it could be a cheaper option.
The free version primarily covers scheduling, time off, and communication. Like the others, it's extremely limited, but it does stand out in that it has employee feedback tools, including shoutouts and pay advances. Further, it offers job posting and applicant tracking in its higher tiers, something the others don't have at all. It ranks No. 1 for the best free employee scheduling software.
Its Essentials Plan runs $24.95 per location per month ($20 per month with the annual plan) and offers a good toolset for scheduling and time tracking. However, if you want to track PTO and have time-off controls, you need the Plus Plan which runs $59.95 per location per month ($48 monthly with the annual plan). The All-in-One Plan offers HR, new hire onboarding, and compliance support plus designing and storage of employee documents, and can relieve you of some of your HR burdens. It costs $99.95 per month ($80 per month per location on the annual plan).
Homebase Features
Read our Homebase review for more details
SocialSchedules: Best for Home Healthcare or Travel Nurses

What We Like
User-friendly with a simple and visually appealing interface
Robust compliance tools
Ability to lock shifts so they cannot be refused or swapped
Off-site address tools for traveling or home health nurses
What's Missing
Limited free plan—only 10 scheduled workers, one department, one location
Need highest plan for multilocation scheduling
Mobile app as some login issues
Pricing
Basic plan: Free for 10 employees, one department, one business location

Basic scheduling and labor law compliance tools, PTO requests, shift availability, digital timecards, in-app messaging, and a time clock app.

Starter tier: $15.99/location/month, unlimited employees, two departments, one location; $12.99/monthly on the annual plan

Basic plan, plus shift confirmations, daily and weekly overtime compliance settings, overtime reports, and the capabilities to view candidate profiles and block workdays from PTO requests

Premium: $39.99/location/month; $33.99/monthly on the annual plan

Starter plan, plus certification tracking, auto-break allocations, advanced reporting, and mobile time clock apps with GPS functionality

Enterprise plan: Custom-priced, unlimited employees, departments, and locations

Premium plus dedicated support, API access, custom reports, and up to three free recruiting credits
Add-ons: $49.99 for additional recruiting credits. Note that you have to subscribe to a paid plan to purchase this add-on.
We like SocialSchedules for its ease of use and off-site address tools, which make it a good choice for home healthcare or other medical facilities that have nurses working off-site regularly. SocialSchedules also has strong compliance tools and a highly rated mobile app. It often ranks well in our lists for employee scheduling software for different industries.
SocialSchedules earned a strong 4.09 out of 5 in our evaluation. It earned perfect scores for pricing and reports, and high scores for scheduling tools and ease of use. In fact, it's second to Homebase for ease of use. Its score for nursing-specific tools like on-call scheduling and union compliances brought its overall rating down.
SocialSchedules is on our best employee scheduling software with a specific callout for nurses and medical staff. That's because we were impressed with its certification scheduling, shift swapping, and overtime rules. Nonetheless, a deeper dive for nursing-specific features brought this product lower in rank for this evaluation.
SocialSchedules Pricing
Like Homebase, SocialSchedules prices by location rather than person, and includes unlimited employees. Its plans are cheaper than Homebase. While it has a Starter Plan for $15.95 per location per month ($12.99 per month with the annual plan), we recommend the Plus Plan which has certification tracking and off-site addresses (for home health care). This runs $39.95 per location per month ($33.99 monthly with the annual plan). You can also get the Enterprise Plan with custom pricing and dedicated support and customizations.
There's a free Basic Plan with extremely limited tools (scheduling, time off, communication). It is good for up to 10 employees. While none of the free plans offered by the software on our list are great choices for healthcare, we think Homebase's free plan has more to offer.
SocialSchedules Features
Read our SocialSchedules review for more details
Schedule Flex by Shiftboard: Best for Filling Shifts

What We Like
Flex pool staffing for rapid filling of open shifts
Auto-filling of shifts for no-shows
Communications tools include automated phone calls, SMS text, and email
Robust union compliance tools
What's Missing
Although the mobile app has high scores, it also has a huge number of complaints
Higher learning curve than others on this list
Pricing not listed; you must call for a quote
Pricing
Custom Pricing: Call for a quote.
Business (Single Site Only):

Autoscheduling, shift swap, multiple languages, self-scheduling, PTO requests, shift reminders, team-based scheduling, SMS texting, 3 profile types, seniority scheduling, overtime thresholds, mandatory rest periods, standard reports, geofencing, API, payroll integration.

Enterprise (Multiple Sites):

Business, plus automated data movement with your HRIS and internal databases, training tracking, applicant tracking, custom reports, compliance alerts, credential tracking, unlimited profile types
If ensuring you have all your shifts filled consistently and with qualified personnel is your main issue, then we recommend Schedule Flex by Shiftboard. Its tools for filling empty shifts, both expected and sudden, blow away the others. It also has excellent compliance tools that work for union agreements as well as local labor laws, strong scheduling functions, and time-off management. It integrates with payroll. Overall, it's a great tool for reducing your shift-fulfillment stress.
Despite having so many standout tools, Shiftboard only earned 3.8 out of 5 on our list. That's because it lost points for pricing, which is not transparent and lacks a free plan. It didn't have as many reviews as the others on our list, and its app had the most complaints, despite its high user scores. Schedule Flex's complexity gives it a higher learning curve as well, although users say once you master it, it's a lifesaver.
Shiftboard Pricing
Shiftboard no longer lists its prices on its website but requires you to call for a quote. In the past, we've seen prices that ran $2–$7 per employee, per month, and other third-party sites list plans running $45—$400 per month for a set number of employees. However, these sites list different plan names from Shiftboard's current structure. Therefore, use this information only for a rough comparison.
You'll need to call for a quote to get accurate pricing. Be sure to specify that you want Schedule Flex, which is designed for service industries, as opposed to Schedule Pro, which is for production facilities.
Shiftboard Features
Honorable Mention: IntelyCare—Best for Access to Temp Staff
IntelyCare is a temp nursing tool for healthcare facilities that need a last-minute fill for a shift or a longer-term substitute. It offers free scheduling software. While it didn't rank as high as the others on our list, it deserves a callout because the schedule ties into the IntelyCare system, meaning if you have an open shift you cannot fill, an IntelyCare nurse may be able to step in.
The scheduler is free to facilities with up to 150 employees. It offers setup guidance and training videos to get you started. The schedule includes predictive analysis to help you spot scheduling conflicts and open shifts, allowing shift swapping among your nurses.
You'll need to register your facility with IntelyCare to use the scheduling app. The staffing platform is fully integrated in cities and regions covered by IntelyCare. You pay IntelyCare nurses on a per diem basis.
How We Chose the Best Nurse Scheduling Software
We've evaluated scheduling software for years, so for this guide, we took a deeper dive into what each had to offer the healthcare industry. We also looked at nursing-specific software we'd not considered before. We started with 15 products and narrowed it down to the five that offered the best functionality while keeping within a small business budget.
Deputy scored highest in our evaluation not only because it offers a fantastic range of scheduling and reporting tools at a great price, but also because many of its tools are well suited to the needs of the nursing industry.
Click through the tabs below for our full evaluation criteria:
25%
Scheduling Software Functionality
20%
Nursing-specific Scheduling Tools
25% of Overall Score
This score covered the basics for any scheduling software: shift swap, mobile app, messaging employees, PTO request capability, and automatic scheduling to name a few. Homebase and Deputy earned perfect scores, but all scored high.
20% of Overall Score
Here we looked for features that addressed the unique needs of healthcare, such as on-call scheduling, rapid-response fills, and union compliances. Partial credit was given where there might be a scheduling tool that could adapt to the purpose. Here, Shiftboard took the lead with a perfect score.
5% of Overall Score
All our research still does not replace the experiences of real-world users. Thus, we look at scores and the number of users reviewing on popular review sites like Capterra and G2, plus the popularity of the apps on Android or iOS. Only Deputy earned a 5 out of 5.
10% of Overall Score
Schedule reports are important for payroll, labor costing, and HR. We considered the number and customizability of reports. All the software on our list had perfect scores, although some need a higher-priced plan for custom reporting.
20% of Overall Score
Ease of use takes into account not only interface, but training, integrations, and phone support. Homebase earned the highest score with 4.69 out of 5.
*Percentages of overall score
Bottom Line
When looking for the best nursing scheduling software, consider your needs. Are you looking for a basic software that can include certificate tracking and availability, or do you need something more focused on handling quick shift fulfillment? The software on our list are all excellent but work best for particular situations.
Nonetheless, we found Deputy to be the best overall nurse scheduling software. It offers an excellent range of tools and a highly rated, reliable mobile application that lets you create schedules as well as view them. Even better, many of its tools address the unique needs of the health industry. The free trial is limited, but a great way to get started. Sign up today.
You Might Also Like …