5 Best Payroll Apps in 2022
The best payroll apps make it easy for employers to manage payroll directly from their smartphones or tablets. Most are free to download, although you have to pay providers' subscription fees to use their software. Some mobile payroll apps won't let you e-file payroll taxes through its system, whereas others have full-service functionality so that you can run payroll, pay employees and taxes, and approve time all via the app.
To find the best payroll apps for small businesses, we evaluated 14 solutions and narrowed the list down to our top five recommendations:
Want mobile payroll without taking up more space on your phone? With Gusto, you can access payroll software and pay employees via the web browsers of any iOS or Android device. It also comes with a free 30-day trial.
Best Payroll Apps Compared
| | | | | | |
| --- | --- | --- | --- | --- | --- |
| | | | | | |
| Best for | QuickBooks accounting software users | Small businesses and startups | Restaurants and retail shops using Square POS | Solopreneurs and growing businesses | Tech-savvy small business owners |
| Our Ratings | 4.13 out of 5 | 4.10 out of 5 | 3.99 out of 5 | 3.70 out of 5 | 3.24 out of 5 |
| Unlimited Pay Runs | ✔ | ✔ | ✔ | ✖ | ✔ |
| Runs Payroll From App | ✔ | ✔ | ✔ | ✔ | ✔ |
| Review and Approve PTO Requests From App | ✖ | ✔ | ✖ | ✔ | ✖ |
| Pay Employees and Contractors | ✔ | ✔ | ✔ | ✔ | ✔ |
| | | | | | |
Answer a few questions about your business, and we'll give you a personalized product match.
Need to process payroll on the go? Check out this three-question quiz to help find a payroll app that works for you.
QuickBooks Payroll: Best Overall Payroll App for Small Businesses
QuickBooks Payroll

Overall Score:
4.13
OUT OF
5
RATING CRITERIA

Mobile-app specific features
3.63
OUT OF
5
Payroll features
4.63
OUT OF
5
Pricing
5.00
OUT OF
5
Ease of use
4.63
OUT OF
5
HR features
4.38
OUT OF
5
Reporting
5.00
OUT OF
5
Popularity
3.75
OUT OF
5
What We Like
Mobile app lets you run payroll and e-file payroll taxes
Reasonably priced plans with unlimited and automated pay runs
Same-day and next-day direct deposits
Seamless integration with QuickBooks and QuickBooks Desktop
What's Missing
Employees don't have access to the apps; pay and benefits details are available only through the online self-service portal
Occasional mobile app glitches
Inconsistent customer support quality
QuickBooks Payroll Pricing
Mobile app: The app is free to download, but you have to sign up for a QuickBooks Payroll plan to use it.
Software subscription fees:

Core: $45 plus $4 per employee monthly
Premium: $75 plus $8 per employee monthly
Elite: $125 plus $10 per employee monthly

Additional costs: Integrating your payroll data with QuickBooks Accounting will run you anywhere from $25 to $70 per month. Core and Premium plan subscribers that require payroll tax filing in more than one state also have to pay $12 monthly for each additional state. However, the said additional state filing charges don't apply to Elite plan holders.
Check out our QuickBooks Payroll review to learn more about its functionalities.
The QuickBooks Payroll app is ideal for small businesses, especially existing QuickBooks users. With one click, you can access its payroll module directly through the QuickBooks accounting system—a favorite of many small businesses. This means that you don't have to spend extra time importing and setting up your chart of accounts as you do with outside providers. Note, though, that the app is for employers or managers only.
Scoring 4.13 out of 5 in our evaluation, QuickBooks Payroll earned ratings of 4 and up in nearly all of the criteria but scored lower in popularity since its user reviews on third-party sites like G2 and Capterra average below 1,000. Despite it having robust mobile payroll tools with e-payroll tax filing capabilities, it also posted a lower score in our mobile app functionalities criteria because of its app glitches and inconsistent in-app tech support. The app also can't be accessed by employees, so if this is a deal-breaker because you want employees to view their pay stubs, consider other options in this guide like Fingercheck, Paychex, and Roll by ADP.
QuickBooks Payroll Standout Features
Efficient mobile payroll processing: Create, review, edit, and run unlimited payrolls from Android and iOS mobile devices. You can even set up payroll to run automatically—provided that all employees receive pay via direct deposit and your first payroll using QuickBooks has been successful.
Fast direct deposits: While its Core plan allows you to remit employee payments through next-day direct deposits, its Premium and Elite tiers provide you with a same-day option. You may also want to consider Square Payroll, especially if you have a Square Payments account, since it comes with same-day direct deposits.
Complete tax compliance: Aside from automated federal and state tax calculations and year-end forms, you can electronically pay and file taxes directly from QuickBooks Payroll's mobile app. However, it doesn't handle local tax payments and filings unless you subscribe to at least its Premium plan. If you want tax filing services that cover federal, state, and local taxes, then the other providers on this list are good alternatives.
Payroll reports: Apart from the current pay period's register, you can generate reports on past pay runs—up to one year's worth of paycheck history—directly from the QuickBooks Payroll app, including past and upcoming payroll tax details.
Expert support: For new users who require assistance getting QuickBooks Payroll up and running, the provider has a guided payroll setup and experts who can help you stay compliant. It also offers 24/7 chat support and United States-based phone support Mondays through Fridays from 6 a.m. to 6 p.m. Pacific time and Saturdays from 6 a.m. to 3 p.m. Pacific time. However, if you need a dedicated payroll specialist, consider Paychex, as it assigns a payroll expert to act as a single point of contact to each of its clients.
Fingercheck: Best for Startups or Small Businesses Needing an All-in-One Time Tracking, HR & Payroll Solution
Fingercheck

Overall Score:
4.10
OUT OF
5
RATING CRITERIA

Mobile-app specific features
4.00
OUT OF
5
Payroll features
4.50
OUT OF
5
Pricing
5.00
OUT OF
5
Ease of use
3.88
OUT OF
5
Human resources (HR) features
4.75
OUT OF
5
Reporting
3.50
OUT OF
5
Popularity
2.50
OUT OF
5
What We Like
Mobile app lets you run payroll
Affordable pricing with a wide range of features
Dedicated portal for accountants
Unlimited pay runs
What's Missing
Limited integrations with third-party software
Employee onboarding can be problematic
Fingercheck Pricing
Mobile app: The app is free to download on Google Play and Apple Store but needs a subscription to use.
Software subscription fees:

All-in-One HR Platform: $39 plus $8 per employee monthly. Includes payroll, time and attendance, scheduling, hiring, onboarding, HR management, benefits and insurance, benefits administration, business insurance, and 401(k)
Time Clock Software: $20 plus $5 per employee monthly. Includes multiple clock-in methods, job costing, GPS tagging, secure clock-ins, time off, scheduling, reporting

Additional costs:

Clock/tablet fee, $10
Additional admin and supervisor, $10
HR concierge service, $39
Automated clearing house (ACH) child support payments, $25
Background checks ($29 plus state fees)
Fingercheck provides a well-rounded HR platform and mobile app for startups and small businesses. Its time clock software and app are solid and provide a good entry point into using the software if you want to try it out before signing up for payroll (it has a separate plan that's cheaper than QuickBooks Time). It's cheaper to just sign up for QuickBooks Payroll's Premium plan though if you already know you need the time tracking plus payroll.
It's worth noting that Fingercheck is the only provider that offers payroll financing—a great option for startups to secure funds in time for payroll. It also helps manage tasks such as hiring, onboarding, and insurance, as do other providers on our list.
Fingercheck's mobile app is packed with features. Employers and employees will use the same app with differing features according to role. For employers, the app lets you process or cancel payroll, run all reports, edit employee information, view employee time sheets and punch details, modify or create schedules, and onboard new employees anytime. Note, though, that while the mobile app is free to download, you need to have a subscription to log in and use its features. Employers will also set up their employees' access to the app. The app also lets administrators switch seamlessly between the administrator and employee accounts without logging out.
Fingercheck's high overall score of 4.10 out of 5 is due to its perfect mark for pricing and high marks for HR, payroll, and mobile-specific features due to its robust tools. While it had good scores for ease of use and reporting, its low number of user reviews on popular websites brought its score down.
Fingercheck Standout Features
Unlimited and affordable payroll: Like all other providers in this guide except Paychex, Fingercheck allows unlimited payroll runs. You only pay one monthly fee regardless of how often you run payroll, making it an excellent solution for startups and small businesses. It also offers financing so that you can always run payroll even when cash flow is thin, something that no other provider in this list offers.
Employee access and engagement: With Fingercheck and other providers in this list, employees can control and monitor their payroll information when they log into their account. They don't have to wait for the manager and there's no need for disputes since everything is transparent. Thus, compensation becomes simple and quick.
Tax compliance: Similar to other providers in this guide, Fingercheck uses an automated payroll processing system using internal time sheet data to calculate pay. This eliminates error and helps in staying compliant with federal, state, and municipal tax codes. You can also preview payroll and edit details before processing.
Employee benefits: Like the other providers in this list, Fingercheck helps you manage insurance policies including disability, workers' compensation, paid family leaves, and general liability. Your employees can also choose from different employee benefits including medical, vision, and dental through Fingercheck's open enrollment feature. However, you can't access benefits features on the app unlike Paychex and Square Payroll.
Time tracking: Fingercheck offers multiple time punching options including biometric time clocks, mobile apps, text messages, and online. Like QuickBooks Time (QuickBooks' time tracking solution), Fingercheck comes with GPS tagging to track employees' location with each punch and a geofencing feature to restrict punches to specific locations. It also has a photo capture option to minimize buddy punching and time theft.
Reporting: Fingercheck lets users view all reports using the app, similar to what other apps in this list do except Roll by ADP. While it doesn't have a big selection of canned reports like QuickBooks Payroll and Paychex, you can create custom reports and add them to the system.
Square Payroll: Best for Retailers & Restaurants Using Square POS That Need Fast Employee Payments
Square Payroll

Overall Score:
3.99
OUT OF
5
RATING CRITERIA

Mobile-app specific features
4.13
OUT OF
5
Payroll features
4.50
OUT OF
5
Pricing
4.00
OUT OF
5
Ease of use
4.50
OUT OF
5
HR features
3.75
OUT OF
5
Reporting
1.75
OUT OF
5
Popularity
2.50
OUT OF
5
What We Like
Affordable full-service payroll with unlimited pay runs
Offers next-day direct deposits and instant payment options
Timecard management features included in mobile app
Seamless integration with Square POS
What's Missing
Next-day direct deposits and instant payments require a Square Payments account
Standard direct deposits take four days for those without a Square Payments account
Available only for employers; employees have to download a separate app to view pay stubs and manage staff info
Occasional app glitches
Square Payroll Pricing
Mobile app: The Square Payroll app is free to download, but you have to pay software subscription fees in order to use its features.
Software subscription fees:

If you're paying both employees and contractors, Square Payroll's pricing is $35 plus $5 per employee monthly.
However, if you're only paying contractors, the rate is $5 per person monthly.
Read our Square Payroll review to help you gauge whether or not it fits your business's requirements.
The seamless integration between Square Payroll and Square POS makes it easy for retail shops and restaurants to accept payments and track employees' work hours from mobile devices. That data is transferred directly to its payroll system, which can even handle tip reporting. This is much simpler than signing up with a provider like QuickBooks Payroll and having to research and install POS systems that integrate with it manually.
Square Payroll earned an overall score of 3.99 out of 5 in our evaluation. It got ratings of 3 and higher in nearly all of our criteria given its affordability, ease of use, efficient payroll tools, instant payment options―if you have a Square Payments account―and helpful HR features that include benefits and basic timekeeping. The criteria where it got low scores (2.5 and below) are reporting―fewer than 60 standard reports―and popularity, as the average user reviews online are below 500.
Note, also, that the Square Payroll app is available only for employers. Your employees will have to download the Square Team App to check their pay stubs, view their hours worked, and access tax forms (W-2s and 1099s). This is unlike Fingercheck, Roll by ADP, and Paychex, which offer a single app for both employers and employees. However, many users still appreciate its straightforward interface that makes mobile pay processing quick and easy. Meanwhile, some users said that its app is glitchy and that its customer support isn't always responsive.
Square Payroll Standout Features
Affordability: Pricing is one thing to consider when finding the right payroll solution. Compared to the other payroll app providers that we reviewed, Square Payroll―as well as Roll by ADP―has the cheapest plan at only $29 plus $5 per employee monthly.
Mobile payroll processing: Pay hourly and salaried employees, including contractors, via Square Payroll's mobile app for Android and iOS. While you can run payroll as many times as you need, you can't file payroll taxes electronically through the app like with QuickBooks Payroll.
Multiple pay options with instant payments: Apart from manual checks, which require a printer, and four-day direct deposits, you can pay employees instantly through Square's Cash App or the next day via direct deposit—provided you have a Square Payments account. If you're not a Square Payments user but want fast direct deposits, we recommend either QuickBooks Payroll or Roll by ADP since both offer next-day direct deposits as their standard timelines.
Complete tax compliance: Unlike QuickBooks Payroll, Square Payroll handles all payroll tax payments and filings for you. It also provides quarterly and annual tax forms such as W-2s and 1099s.
Time tracking: With Square Payroll's time tracking feature, employees can clock in/out through the Square POS or the Square Team mobile app. Then, you can view and edit digital time cards through your Square dashboard. Other providers will require you to pay extra for time clock integrations like SurePayroll and time-tracking tools like QuickBooks Payroll, but only for Core subscribers.
Employee benefit plans: The Square Payroll app provides easy access to employee health insurance and retirement plans, including workers' compensation. However, it lacks the financial wellness services that Paychex offers.
Payroll expertise: For new subscribers who switched payroll providers, Square offers the assistance of a payroll specialist to help guide you through the system set up. You can also contact Square's support team on weekdays via phone and email from 6 a.m. to 6 p.m. Pacific time and through live chat from 6 a.m. to 4 p.m. Pacific time.
Paychex: Best for Solopreneurs & Growing Businesses That Require Flexible Plans & Dedicated Payroll Support
Paychex

Overall Score:
3.70
OUT OF
5
RATING CRITERIA

Mobile-app specific features
3.50
OUT OF
5
Payroll features
4.50
OUT OF
5
Pricing
2.00
OUT OF
5
Ease of use
4.50
OUT OF
5
HR features
5.00
OUT OF
5
Reporting
5.00
OUT OF
5
Popularity
2.50
OUT OF
5
What We Like
Flexible payroll and HR plans, including one for solopreneurs
24/7 support for all plans and a dedicated payroll specialist for higher tiers
Multiple pay options, such as paper checks, direct deposits, pay on-demand, and pay cards
What's Missing
Pricing isn't all transparent
In-app tech support isn't responsive
Has a bit of a learning curve due to robust features
Paychex Pricing
Mobile app: The app is free to download but requires a Paychex software subscription.
Software subscription fees: Paychex offers three full-service payroll solutions, Paychex Go ($39 plus $5 per employee monthly), Paychex Flex Select (custom priced), and Paychex Flex Enterprise (custom priced).
Additional costs: Payroll tax administration, Paychex's time and attendance module, and access to accounting software integrations cost extra. You have to call the provider to get pricing information.
To learn more about Paychex's functionalities, check out our review of Paychex Flex, its product designed for 10 to 49 employees.
Paychex is great for solopreneurs and growing businesses because it offers flexible payroll and HR plans. You can start with its Paychex Solo solution for solopreneurs and then transition to Paychex Flex—and maybe even its professional employer organization (PEO) option—if you need to offer competitive benefits or want to outsource more of the HR and compliance function to a team vs doing it yourself.
Paychex's mobile app is for its Paychex Flex product, and unlike the other providers on this list except for Roll by ADP, it has functionalities for both employers and employees. Aside from processing payroll, employers can use the mobile app to access staff profiles, pay slips, tax documents, and health insurance enrollment information. Meanwhile, employees can check their pay stubs, Form W-2s, PTO balances, health insurance benefit details, and more.
Scoring 3.70 out of 5, Paychex received high marks in nearly all the criteria with perfect scores in HR and reporting features because it has more than 60 canned reports. It received the lowest scores in pricing and popularity given its nontransparent fees and the low number of average user reviews online, respectively. User feedback about its mobile apps is also mixed—several reviewers commented that it is convenient to use while some said that it is glitchy, crashes a lot, and loads slowly at times.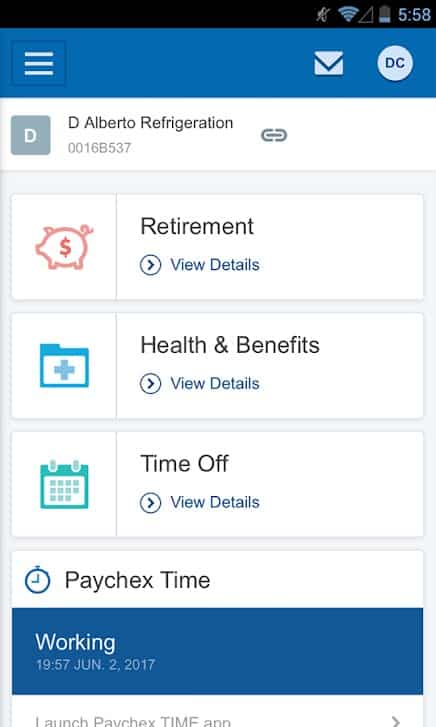 Paychex Standout Features
Flexible payroll processing: Review, edit, and submit payroll for employees and contractors via the Paychex Flex mobile app for Android and iOS devices. Even if you started running payroll on your desktop computer, you can resume pay processing on your smartphones and tablets easily. None of the payroll apps included in this guide have this functionality.
Early access to wages: Aside from direct deposits and pay cards, Paychex supports paper checks with check signing and stuffing services. It also has a pay-on-demand feature that provides employees access to earned wages before a payroll date.
Tax compliance: Paychex offers accurate and efficient payroll tax calculations, payments, and filings for federal, state, and most local taxes. It also provides automatic W-2s and 1099s for your staff. Unlike the other providers we reviewed, Paychex can help you claim tax credit incentives in case your business is eligible for tax credits.
Self-service tool for employees: Paychex Flex's app has different permission settings for employees. This allows them to use the same mobile program to access and view their employee profiles, benefits information, retirement balances and contributions, pay stubs, and W-2s. Other providers like SurePayroll and QuickBooks Payroll will require your employees to download a separate app to access this information.
Reporting: Paychex is the only provider in this guide with 60-plus reports you can use to evaluate your payroll detail. Plus, the reports are customizable.
Dedicated payroll support: Subscribing to Paychex's higher tiers grants you access to a dedicated payroll expert who can help with all of your tax and pay processing needs. In addition, you can contact Paychex's support team by phone and via its 24/7 US-based live chat service.
Roll by ADP: Best for Tech-savvy Business Owners Looking for an Affordable, Chat-based Payroll App
Roll by ADP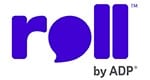 Overall Score:
3.24
OUT OF
5
RATING CRITERIA

Mobile-app specific features
4.00
OUT OF
5
Payroll features
3.50
OUT OF
5
Pricing
4.00
OUT OF
5
Ease of use
1.38
OUT OF
5
HR features
1.00
OUT OF
5
Reporting
0.00
OUT OF
5
Popularity
2.50
OUT OF
5
What We Like
Affordable plan with unlimited pay runs and live chat support
Next-day direct deposits
Artificial intelligence (AI)-powered assistant guides you through the payroll process and conducts error checks in real time
Three-month free trial
What's Missing
Slight learning curve due to its chat-based commands
No benefit options, accounting integrations, automated 1099 tax filings, and live phone support
Limited reporting
Chat support wait times can be lengthy
Roll by ADP Pricing
Mobile app: The app is free to download, but you need a paid Roll by ADP subscription to use its payroll tools.
Software subscription fees: It costs $29 plus $5 per employee.
To see if it has the features you need for your business, read our full ADP Roll review.
Roll by ADP is the only mobile app in this guide that lets you run payroll and set up staff profiles online through chat commands. While its chat-based mobile system may take some getting used to, its smart in-app assistant can help guide you through its functionalities in addition to running error checks and sending proactive alerts. Plus, similar to Square Payroll, it offers an affordably priced plan that costs $29 plus $5 per employee monthly. This makes it a good option for small businesses that require low-cost yet smart mobile payroll tools without all the features of cloud-based payroll software.
With an overall score of 3.24 out of 5, Roll by ADP earned ratings of 3.5 and above in pricing, payroll tools, and mobile-app functionalities. It scored the lowest in reporting and ease of use because it has limited reports and customization options, lacks phone support and employee benefits plans, and doesn't integrate with third-party solutions (as of this writing). You may need time adjusting to using its chat commands.
In terms of user feedback, those who left reviews on Google Play and the App Store said they appreciate its affordability and fast payroll runs. However, several are unhappy about the occasional app glitches and long wait times for chat support.
Roll by ADP Standout Features
Chat-based mobile payroll app: Roll by ADP is the first of its kind—you can set up employee profiles, add deductions, run payroll, and pay employees through direct deposits by using only chat commands on your mobile iOS and Android devices. It even has a scanner icon that lets you view its mobile platform on computer desktops and laptops.
Affordably priced plan: For $29 plus $5 per employee monthly, you get full service payroll with unlimited pay runs. While Roll by ADP costs the same as Square Payroll, we recommend Square if you need employee benefits, tip reporting, and integration options with QuickBooks Online and time tracking solutions—Roll by ADP has none of these.
Next-day payments: What's great about Roll by ADP is that it provides next-day direct deposits to its clients automatically, including a same-day option if the deposit is via manual check. This is comparable to QuickBooks Payroll although QuickBooks' same-day option includes direct deposit; you also have to subscribe to a premium plan to access it whereas Roll by ADP includes it under its one plan.
AI-powered assistant: Paychex may offer the services of a dedicated payroll specialist, but with Roll by ADP, you get a smart in-app assistant that learns how you do payroll and automatically lines up your to-dos in advance. It sends automated alerts and even conducts error checks to make sure that your payroll is in line with your normal pay runs. In case you need to consult with a customer representative, Roll by ADP provides unlimited live chat support.
Alternative Payroll App for Very Small Teams
The five payroll apps we recommended may provide you with all the essential tools you need to process employee pay while on the go. However, for employers who need to compute the salaries of a very small team, Payroll Guru is the app for you.
Unlike the other mobile solutions mentioned in this guide, Payroll Guru has a free-to-use app, Paycheck Free. You don't need to purchase a software subscription to use its online payroll and payroll tax computation tools. It doesn't run payroll—just calculates—so if you need more functionalities, such as hourly calculations, pre- and post-tax deductions, multiple employee payroll profiles, and zero in-app ads, consider using the paid Payroll Guru app, which costs $4.99.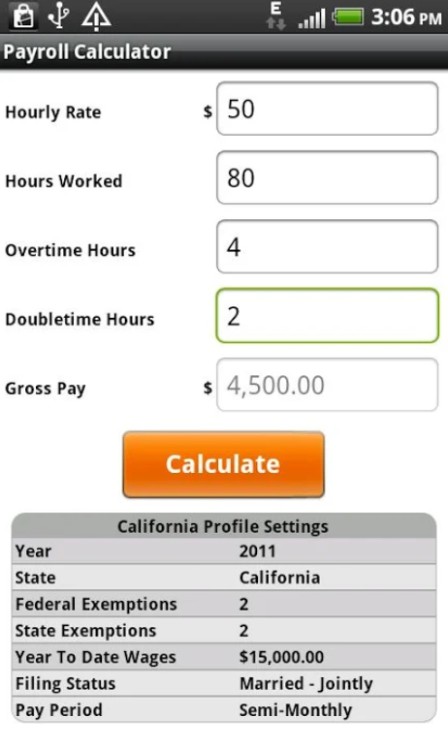 Note that you can't run payroll directly from Payroll Guru's free and paid apps. It only allows you to compute your expected payroll and payroll tax deductions. Many users who left feedback on the App Store and Google Play mentioned that they primarily use the app to estimate their take-home pay.
However, employers can take advantage of the app's functionalities if they don't have a more efficient way to calculate payroll amounts. It's best to only use it if you have fewer than five employees because it only gives calculations and can get tedious if you have a larger team.
How We Chose the Best Payroll Apps
We looked at pricing—software subscription fees and whether the app is free—ease of use, payroll functionalities, and HR features, such as online onboarding, new hire reporting, and benefits administration. We rated each function on a 5-star scale designed to assess payroll apps.
Based on our evaluation criteria, QuickBooks Payroll has the best payroll app for small employers. The software and its mobile app scored the highest according to our grading system, having received an overall score of 4.13 out of 5. In addition to running payroll, you can remit staff wages via direct deposits and electronically pay and file payroll taxes in all 50 states—all from your mobile device.
To see our full evaluation criteria for best payroll apps, click through the tabs in the box below.
50%
Mobile app-specific features
50% of Overall Score
Mobile solutions that allow employers to run payroll and e-file payroll taxes, including those that offer in-app tech support, received high marks. Extra points are also given to those that are free to download, can be accessed by both employers and employees, have positive mobile app reviews (average of 4-plus stars), and provide PTO management and self-service tools, such as viewing pay slips and managing employee data. QuickBooks Payroll and Fingercheck are great if you want payroll e-filing capabilities while Roll by ADP is ideal for those who are comfortable using chat commands to run payroll.
15% of Overall Score
Automatic payroll runs, payroll tax filing, 1099 form preparation, manual check capabilities, and two-day direct deposits are some of the features that we looked for. Providers also get points if they can handle both employee and contractor payroll and offer manual checks, pay cards, and pay on-demand options. While all of the software we reviewed scored well here, we recommend Paychex if you want to provide employees with early access to earned wages and Square Payroll for those that need multiple pay options with instant payments through Square Payments and its Cash App.
10% of Overall Score
Aside from having a user-friendly, intuitive, and customizable platform, payroll software that integrates with common third-party systems like QuickBooks are awarded extra points. We also prioritized providers that offer quick problem resolutions and live phone support. The only provider that posted a score of below 2 here is Roll by ADP, mainly because it lacks live phone support, third-party software integrations, and customization options.
5% of Overall Score
Aside from having access to customizable reports, providers that have a robust selection of canned reports of more than 60 were rated favorably. QuickBooks Payroll and Paychex received perfect marks here while Roll by ADP posted the lowest score due to its limited reporting capabilities.
*Percentages of overall score
Bottom Line
Using mobile apps to manage payroll out of the office is a necessity for many business owners. Those that are considered good are designed to provide payroll services that help employers pay their staff accurately and on time and avoid potential tax-filing penalties. The best payroll apps for your business also depend on the type of workers you hire (employees versus contractors), your compliance needs, and whether or not you have in-house payroll or HR support staff to handle employee pay processing.
Our recommendation for the best payroll app is QuickBooks Payroll. It lets you run payroll, electronically file and pay payroll taxes, and remit employee wages via direct deposits all from your mobile device. Moreover, it's easy to use and integrates with QuickBooks seamlessly—a plus for existing users of the provider's accounting software. Sign up for its 30-day free trial today.