Purchase Order Financing: What It Is & How It Works
Purchase order (PO) financing is the process in which a creditor pays your suppliers for goods so that they can be delivered to your customers. If your business has insufficient funds to pay your suppliers up front, then this type of financing can help avoid delays in fulfilling customer orders. Take note that PO financing requires that you sell finished goods to either a business (B2B) or the government (B2G).
The process is simple—the financing company reviews the order, and if approved, then it will issue payment to your supplier to deliver the goods. When the goods are delivered, your client will then make payment to the financing company, at which point it will deduct its fee and issue the remaining balance to your business.
If you're sure that PO financing is the right choice, then consider SMB Compass for your funding needs. You can get up to $10 million in funding in as little as seven days.
Purchase order financing occurs before an invoice is issued to your customer: If you've already delivered goods and issued an invoice requesting payment for goods, you should instead consider invoice factoring. Read our guide on how invoice factoring works to learn more.
How Purchase Order Financing Works
PO financing can be difficult to understand since there are multiple parties involved. There are also multiple steps involved with the evaluation of your application, issuance of funds, and collection of payment.
Parties Involved in PO Financing
PO financing involves at least four separate parties.
Your business: As the borrower, your business must be the one to apply for PO financing.
A supplier: The supplier is the company responsible for delivering or providing the goods needed to fulfill an order your business has received from a customer. Suppliers typically require payment before they can fulfill your customer's order.
A customer: Your customer must be a business or government entity to be eligible for PO financing. Your customer will place an order with your business for certain goods that will ultimately be provided by your supplier.
A PO financing company: This is the company responsible for issuing funds to your supplier.
The PO Financing Process
PO financing is a process that can be broken down into eight steps.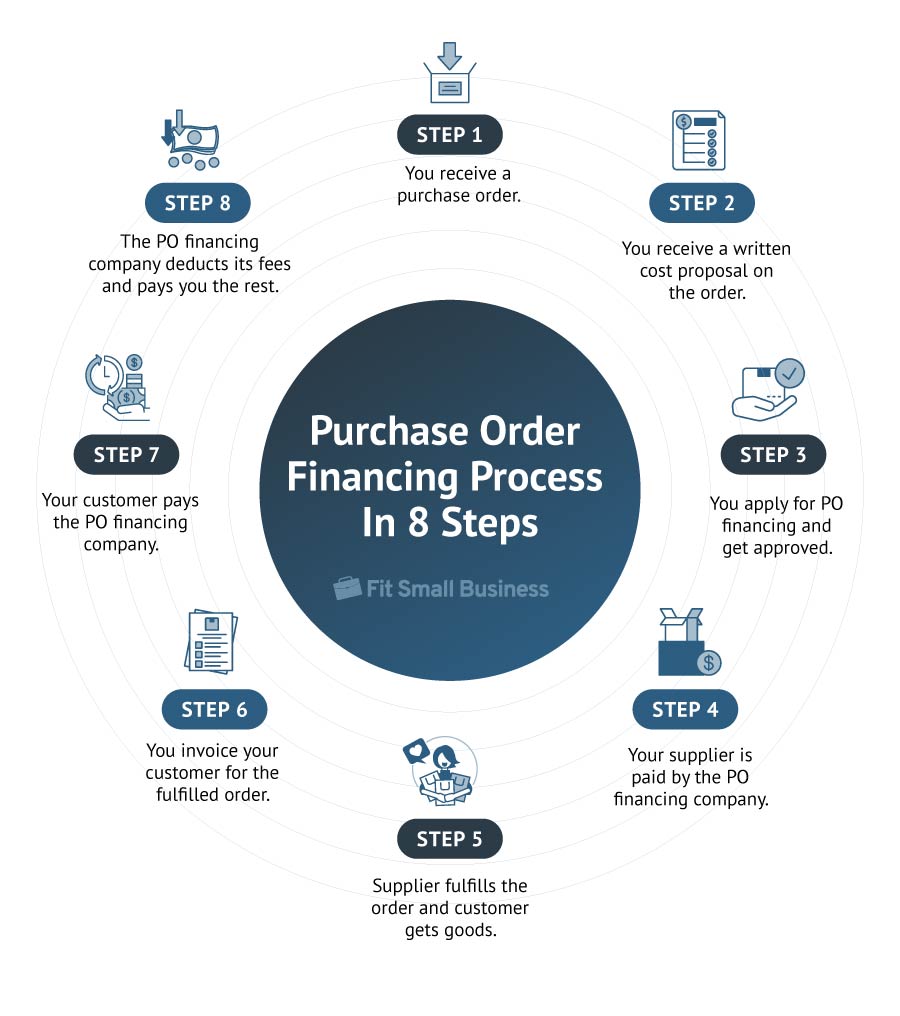 The first step in the PO financing process occurs when your business receives an order from a B2B or B2G customer. Orders from individual consumers are ineligible for PO financing.
---
After you've received the order, the next step is to obtain an estimate from your supplier for how much it will cost to fulfill the order. Cost estimates should include expenses for any applicable manufacturing costs, materials, transportation, and delivery fees.
---
Once you've received the estimate for what it will cost to fulfill your customer's order, you'll need to find a PO financing company and submit a loan application. The PO financing company will review the details of the order and evaluate the creditworthiness of not only your business but also that of the customer.
---
If approved for financing, the PO financing company will then issue funds to the supplier. Funding speed is dependent on the PO financing company itself, as well as the details and complexity of the order. In most cases, it can take between 2 and 21+ days from the time you submit a loan application.
---
Once your supplier has received payment, it will proceed with fulfilling the order. This can include completing the manufacturing or assembly process. Suppliers typically deliver the finished goods directly to your customer—although, in some instances, you can elect to have it delivered to your business instead. Once delivered, the order is considered complete.
---
Depending on the PO financing company you choose, it may handle the process of invoicing the customer on your behalf. If not, you will need to complete this step yourself. Invoices should show the terms of repayment, including the total amount owed and when payment in full must be made.
One thing to note is that the longer it takes for your customer to make payment, the more expensive PO financing becomes for your company.
---
For your customer, its final step is to make payment in full to the PO financing company according to the directions on the invoice.
---
After the PO financing company has received payment from your customer, it will deduct its fees and issue the remaining balance to your business.
---
Who Should Consider Purchase Order Financing?
Here are a few circumstances in which PO financing could be a good fit for you:
You have customer orders to fulfill but do not have enough cash to pay supplier: If you're unable to pay the costs associated with fulfilling customer orders, PO financing can be a good option. This can occur with seasonal products, if you experience a spike in demand, or otherwise receive a larger-than-typical order. PO financing can help you avoid needing to decline or cancel any such orders so that you can still collect the additional revenue.
You want to use funds for another area of your business: Suppliers that require payment upfront to begin or complete the order can deplete funds that could otherwise be used to invest in other areas of your business. If this is the case, then PO financing can be a way for you to continue meeting customer demand for orders while simultaneously allowing you to fund other aspects of your company.
You have cash flow concerns and do not want to use your own funds: Since PO financing allows you to preserve your own business funds, it can be a good option if you believe you may need to use your business funds for other purposes in the near future. Some examples of this can include saving for an upcoming large repair bill and saving funds to cover unexpected expenses.
You were turned down for other loans: PO financing typically has easier qualification requirements compared to a traditional loan. You're more likely to get approved with bad credit because a larger emphasis is placed on the creditworthiness of your customer. PO financing is also available to startups and well-established companies that have experienced credit or financial challenges.
Rates, Terms & Qualification Requirements for PO Financing
Typical Rates & Terms

Rate & Fees

1% to 4% per 30 days of financing

Estimated Annual Percentage Rate (APR)

20% to 80%

Loan Amount

$10,000 to $10 million

Repayment Schedule

Satisfied when customer pays the invoice

Repayment Term

30 to 120 days

Collateral Required?

No

Minimum Down Payment

0% to 10%

Funding Speed

3 to 21-plus days from time of application

Typical Qualification Requirements

Time in Business

0 to 12 months

Profit Margin

20% to 30%

Qualifying Order Types

Finished, tangible goods

Eligible Customers

B2B and B2G entities

Ineligible Customers

Individual customers

Credit Score

Varies, but you and your customer must both be considered creditworthy
Rates & Terms
Most PO financing providers charge a rate of between 1% and 4% for every 30-day period. As a result, the longer your customer takes to pay the invoice, the more expensive this type of financing will be.
Funding speeds also typically range from three to 21 or more days, with international orders generally taking longer.
Qualification Requirements
As with rates and terms, there are also some nuances to qualification requirements you should be aware of. For instance, depending on the provider you choose, your order will need to have a high enough profit margin to be eligible for financing. A profit margin of at least 20% should give you a good chance of approval.
Another thing to be aware of is that qualifying orders must be for finished goods only, and your customers must be either a business or government entity. PO financing providers will also evaluate the creditworthiness of your business, as well as that of your customer. This is determined by varying criteria, which can include things like a credit score or a history of late payments to other creditors.
How To Get PO Financing
Getting PO financing involves several steps, from finding the right provider to applying and providing the necessary documentation to push it forward.
Many lenders offer PO financing, including banks, credit unions, brokers, and online lenders. If you're not sure where to start, you can begin with our recommendations of the best PO financing providers.
When choosing a lender, here are some things you may want to ask:
How knowledgeable is the team with PO financing?
What are the most common industries it works with?
What other loan products are offered?
What are the typical rates, fees, and terms offered?
Does the lender have any flexibility when it comes to qualification requirements?
How quickly can the lender review, approve, and issue funding?
Does the lender communicate directly with your customers?
How and when does the lender issue payment to suppliers?
Does the lender have consistently high customer reviews and ratings?
---
Purchase order financing generally doesn't require much documentation. Commonly requested items include the following:
Purchase order from your customer
Cost estimate from your supplier
Financial documents, such as balance sheets, tax returns, or cash flow statements
---
If you're approved for PO financing, you'll need to review and accept the terms of the loan. Make sure to read this final documentation carefully to ensure it's what you initially agreed to. At a minimum, important items to review should include:
Rates and fees
Funding amount
Repayment terms
Order details (including order type and customer name)
Requirements for collateral or personal guarantee as a condition of financing
---
Pros & Cons of Purchase Order Financing
PROS

CONS

Has easier qualification requirements compared to traditional loans
Is only eligible for tangible, finished goods
Allows your business to accept and fulfill larger orders
Can be more expensive than other types of financing
Doesn't require monthly payments, which can help with business cash flow
Could have a slow funding speed, particularly for international customers
Alternatives To Purchase Order Financing
PO financing can be a useful tool for your business—but if it's not quite right for you, or if you're looking for more affordable options, then you can consider the following alternatives.
Invoice factoring: This is similar to PO financing in the sense that it gives you an advance on payments for customers you've invoiced. The key difference here is that invoice financing is used after you've sent an invoice to a customer. Meanwhile, PO financing is used before that happens. Learn more about the differences in our comparison of PO financing vs factoring.
Small business line of credit: This is a revolving line of credit that allows you to draw funds on an as-needed basis up to its credit limit. Interest rates are commonly below 10% and can be more affordable than PO financing. Head over to our guide to the best small business line of credit providers for some options.
Term business loans: These are loans that can issue a lump sum of funds to be used for a variety of business purposes, such as equipment financing or other working capital. You can view our top-recommended working capital loans.
Frequently Asked Questions (FAQs)
With PO financing, a financing company pays your suppliers on your behalf. This allows the supplier to fulfill your customer's order, allowing your business to retain working capital without delaying or declining customer orders. When your customer issues payment to the financing company, it will deduct its portion of the fees before sending the remaining balance to your business.
---
PO financing typically costs 1% to 4% for every 30 days being financed. The longer your customer takes to pay, the more it will cost.
---
PO financing can be easier to get compared to traditional loans. This is because it focuses more on the creditworthiness of your customer, rather than your own business.
---
Bottom Line
If you want to preserve working capital or don't have sufficient funds to pay a supplier to fulfill a customer order, PO financing can be a good solution. The financing company can pay your supplier on your behalf, which can help you avoid lost revenue from otherwise turning away customer orders. PO financing may not be the most cost-effective option though, so you should consider some alternative financing options before making any final decisions.