QuickBooks Online vs Excel: Do You Really Need Bookkeeping Software?
QuickBooks Online is software that's custom-designed to make tracking your business income, expenses, assets, and liabilities as simple as possible while Excel is a spreadsheet program that can be programmed to do the same thing—if you have the time and expertise.
These software programs are so different that it's a bit like comparing apples and oranges. With enough work, Excel can serve as rudimentary bookkeeping software, even though it's much more useful for creating schedules to supplement your QuickBooks Online.
When To Use QuickBooks Online

QuickBooks Online is our choice for the overall best small business accounting software, and for good reason. It offers flexible plans for small business owners, and it has an excellent invoice creation and management system as well as the ability to manage bills and connect your bank and credit card accounts. Its strong ecommerce functionalities and class and location tracking features make it a great fit for a variety of industries.
We recommend QuickBooks Online for the following users:
Freelancers or small businesses that frequently invoice clients: QuickBooks Online has exceptional invoicing features, such as the ability to calculate sales tax to apply to an invoice automatically. QuickBooks Online allows you to customize invoices to any industry, making it our choice for overall best invoicing software.
Ecommerce retailers: A recent focus on ecommerce integrations makes QuickBooks Online our pick for the overall best ecommerce accounting software. Its robust features in accounts receivable (A/R), accounts payable (A/P), and banking, combined with its adaptability to different industries, made it a clear winner.
Companies that need a balance sheet: QuickBooks Online automates the double-entry accounting system, saving you time and ensuring that your entries are accurate.
When To Use Excel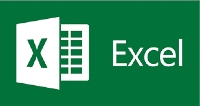 While there's a bit of a learning curve when it comes to using Excel, there are also a few advantages to using the software. Its strong customizability enables you to embed formulas that will provide data in various ways via charts and graphs, and there are also free templates available. Regardless of the complexity of the formula and needed function, Excel delivers calculations in seconds. It also supports touchscreen technology and can be used on phones, desktops, and laptops.
Here are a few examples of users who might want to use Excel:
Bookkeepers with Excel expertise: Creating a bookkeeping system with Excel requires both a thorough understanding of how bookkeeping works and an expert knowledge of advanced functions in Excel. You may find templates to download but, without a knowledge of bookkeeping and Excel, you won't be able to solve problems that inevitably arise as you customize the template to suit your business.
Businesses seeking schedules to support QuickBooks Online: Excel is much more useful as a tool to support your bookkeeping software than to replace it. See our article on how to use Excel for accounting for some great ideas.
Teams that want to collaborate on documents easily: Excel gives you the ability to access documents from the cloud and share them with team members. You can edit files from anywhere in the world while also keeping track of edit history.
QuickBooks Online vs Excel at a Glance
| | | |
| --- | --- | --- |
| | | |
| Who It's Best For | Freelancers and small business owners who want easy-to-use, automated accounting software | Spreadsheet-savvy and budget-minded microbusinesses |
| Pricing Plans | $15 to $200 per month | $6.99 to $9.99 per month |
| Maximum Users | 1 to 25 | 1 to 6 |
| Send Estimates | ✓ | N/A |
| Send Invoices & Track Collections | ✓ | N/A |
| Track Sales Tax Collections & Payments | ✓ | N/A |
| Manage Unpaid Bills | ✓ | N/A |
| Assign Time & Costs to Projects | ✓ | N/A |
| Capture & Organize Receipts | ✓ | N/A |
| Integrated Payroll | ✓ | N/A |
| Track 1099 Payments | ✓ | N/A |
| Print 1099s | ✓ | N/A |
| Track Activity by Class & Location | ✓ | N/A |
| Create Sales Orders | ✓ | N/A |
| Customize Reports With Formulas | N/A | N/A |
| Available on Both Cloud & Desktop | N/A | N/A |
| Cash Flow Forecasting | ✓ | N/A |
| | | |
When To Use an Alternative
In some cases, neither QuickBooks Online nor Excel are a fit for your business, in which case you may want to consider the following alternatives:
QuickBooks Online vs Excel: Pricing
While QuickBooks Online has five different plans that are priced based on the number of users and available features, Excel is available for a one-time purchase or a monthly fee if you sign up for Microsoft 365. You may already have Excel installed on your computer, so it's best to check for that first.
QuickBooks Online Pricing
QuickBooks Online offers a choice of five subscription plans, which vary by the number of users and features included. You'll need to purchase at least QuickBooks Online Essentials if you want to manage unpaid bills and QuickBooks Online Plus if you need to track inventory. QuickBooks Online Advanced allows for up to 25 users, a dedicated support manager, and enhanced reporting. Read our QuickBooks Online Comparison for a detailed analysis of five QuickBooks Online plans.
The QuickBooks Online pricing plans are:
Self-Employed: $15 per month for one user
Simple Start: $30 per month for one user
Essentials: $55 per month for up to three users
Plus: $85 per month for up to five users
Advanced: $200 per month for up to 25 users
Excel Pricing
Many users may already own Excel, in which case it's one less expense for them. If you choose to purchase Excel, a license is available for one PC or Mac at $159.99. You can also sign up for a monthly subscription to Microsoft 365 starting at $6.99 per month for one user and $9.99 per month for up to six users. This not only gives you access to Excel, but also Word, Outlook, PowerPoint, and OneDrive, plus 1 TB of cloud storage.
Takeaway: Although QuickBooks Online users will have to commit to a monthly fee, all the accounting features you need are built-in, whereas you'll have to program Excel from scratch. For a flat, one-time fee, you can download Excel or you can pay for it as part of a subscription to Microsoft 365. Either way, you'll end up saving money as compared to the price for QuickBooks Online's services.
QuickBooks Online vs Excel: Features
It may seem odd to compare QuickBooks Online and Excel features, given that QuickBooks Online is designed for small business bookkeeping whereas Excel is a programmable spreadsheet program. While QuickBooks Online's A/R and A/P capabilities are outstanding, Excel's customizability and capacity for forecasting make it ideal for creating different business scenarios.
QuickBooks Online Features
| | Self-Employed | Simple Start | Essentials | Plus | Advanced |
| --- | --- | --- | --- | --- | --- |
| Users Included | 1 | 1 | 3 | 5 | 25 |
| Connect & Reconcile Bank Accounts | ✓ | ✓ | ✓ | ✓ | ✓ |
| Scan & Upload Receipts | ✓ | ✓ | ✓ | ✓ | ✓ |
| Customize, Create, and Send Invoices & Estimates | ✓ | ✓ | ✓ | ✓ | ✓ |
| Integrated Third-party Payroll (Fee) | N/A | N/A | ✓ | ✓ | ✓ |
| Assign Time & Expenses to Jobs | N/A | N/A | N/A | ✓ | ✓ |
| Print a Balance Sheet | N/A | ✓ | ✓ | ✓ | ✓ |
| Automated Late Payment Reminders | N/A | ✓ | ✓ | ✓ | ✓ |
| Track Project Profitability by Class & Location | N/A | N/A | N/A | ✓ | ✓ |
| Manage Bills | N/A | N/A | ✓ | ✓ | ✓ |
| Pay Bills Online Via Bank Transfer or Credit Card | N/A | N/A | ✓ | ✓ | ✓ |
| Dedicated Account Support | N/A | N/A | N/A | N/A | ✓ |
| Automated Workflows | N/A | N/A | N/A | N/A | ✓ |
| Dedicated Account Manager | N/A | N/A | N/A | N/A | ✓ |
QuickBooks Online has a few standout features that set it apart from its competitors, including the ability to import and classify bank and credit card transactions, pay and track bills, invoice customers, and generate reports:
Bank transaction import: You can connect your bank and credit card accounts to QuickBooks Online easily, which will download your transactions automatically. If you dread reconciling your bank account manually, you can use QuickBooks Online's powerful bank reconciliation feature and generate reconciliation reports to view cleared and uncleared transactions.
Transaction classification: QuickBooks Online allows you to classify transactions, and the auto-recall feature will assign the same category to transactions from the same vendor automatically. You can also customize your chart of accounts to make these categories as broad or specific as you desire.
Bill payment and tracking: QuickBooks Online's A/P features allow you to view a list of unpaid bills to track them effectively, and you can create recurring transactions, record partial payments of an invoice, and print checks instead of writing them manually.
Invoicing: QuickBooks Online's accounts receivable features are equally as strong as accounts payable, and its customization features will help you to distinguish your business from others. You have the option of uploading your logo, using a template, changing the invoice colors, and adding personalized messages. You can also set up recurring invoices and print or email them to customers.
Reporting: QuickBooks Online is arguably one of the best accounting software programs for reporting. It can generate more than 100 reports, depending on your subscription. Whether you need standard reports like balance sheets and profit and loss (P&L) statements or sales reports by customer, location, and class, you can do it all.
Excel Features
Excel is best suited to users who want a completely customized experience, especially if they need to switch back and forth between their desktop and the cloud. Its robust forecasting features and strength with data analysis provide great insight for decision-making and projections for the future:
Customizable templates: You can use Excel to create, calculate, and analyze your tables and spreadsheets. Quickly graph with familiar formulas to run calculations and analyze your data. Its rich productivity features and formatting options will make your workbooks easier to use and read.
Data analysis: Excel allows you to use spreadsheet features, such as adding and editing chart labels to highlight key insights in your data. You can also access the pie chart maker to create charts and graphs.
Accessibility on both cloud and desktop: Excel can be accessed on both your desktop and on the cloud. You can also download the mobile app for when you're on the road. Excel can accommodate multiple users, and you can share your files in real-time so that others can collaborate.
Forecasting: Many businesses use Excel to predict and plan for their financial future. Using your actual financial data and information about general industry performance, you can build a forecast of the company's income and expenses for defined future periods. You can create multiple spreadsheets to model how the business would perform under different conditions and use this data to build projected versions of the key financial statements.
Account reconciliation: To aid with bank and credit card account reconciliation, you can use an Excel spreadsheet to show the money entering and leaving each account. This is particularly useful for revealing transactions that are still in transit.
Excel's features are much better suited to supplement QuickBooks Online than to replace it. Here are some great ideas for how Excel can be used for accounting.
Takeaway: While QuickBooks Online is specifically designed to keep track of your finances, Excel isn't an accounting software program and therefore will require extensive programming to track income, expenses, assets, and liabilities. QuickBooks Online automates your transactions, allowing you to track A/R and A/P and generate reports that show the financial health of your business. You must create and maintain these processes yourself when using Excel.
QuickBooks Online vs Excel: Ease of Use
QuickBooks Online is much easier to set up and use than Excel, which requires some knowledge of formulas. QuickBooks Online is a double-entry accounting system that automates most processes, saving time. You'll need a thorough understanding of bookkeeping systems to customize Excel to keep your books.
QuickBooks Online Ease of Use
QuickBooks Online is fairly easy to set up, and once you create your account, the default dashboard will display shortcuts to essential functions alongside an overview of your business. From the left menu bar of your dashboard, you can access all of the software's core features easily, which include Banking, Sales, Cashflow, Expenses, Projects, and Payroll. You can also view reports that display your paid and unpaid invoices, P&L, total expenses, and total sales for any period.
Excel Ease of Use
As a basic spreadsheet program, Excel is easy to use but may require more advanced skills to use it as bookkeeping or accounting software. Since Excel wasn't designed with accounting in mind, it requires that you design your own bookkeeping process. This includes designing journals, ledgers, a trial balance, and financial statements. This can be confusing and completely unnecessary for many business owners since QuickBooks Online is available for a very reasonable price.
Takeaway: QuickBooks Online is a simple and easy-to-use program, while Excel requires extensive bookkeeping knowledge and a good grasp of Excel formulas to create even a rudimentary bookkeeping system. QuickBooks Online has an intuitive user interface that gives you access to common functions, such as reconciling your bank account or generating reports.
QuickBooks Online vs Excel: Integrations
QuickBooks Online has hundreds of third-party integrations and also the ability to connect to thousands of apps via Zapier. Excel doesn't offer any third-party integrations, but it does allow for connections via Zapier.
QuickBooks Online Integrations
QuickBooks Online integrates with over 650 popular third-party business apps that allow data to flow automatically into your books so that you can review everything in one place. These apps include Google Sheets, Salesforce, PayPal, Square, Stripe, HubSpot, TSheets, WooCommerce, Gmail, and Amazon Business. QuickBooks Online also connects with thousands of apps through Zapier.
Excel Integrations
With the assistance of Zapier, you can integrate Excel with more than 4,000 apps, many of which will allow you to automate your workflow. Some of the most popular include Google Sheets, Trello, Facebook Lead Ads, Cognito Forms, HubSpot, Slack, Google Calendar, SurveyMonkey, Airtable, and Salesforce.
Takeaway: If you're looking for access to third-party apps, then QuickBooks Online is a better choice. Excel works better as an integration with QuickBooks Online, but you also have the option of more than 4,000 integrations via Zapier.
QuickBooks Online vs Excel: Mobile App
Both QuickBooks Online and Excel offer a mobile app, but the QuickBooks Online app has much more functionality, including the ability to track your mileage with GPS and upload receipts into the software using your mobile phone. Excel has the added feature of sharing your files with others and allowing for feedback.
QuickBooks Online Mobile App
We selected QuickBooks Online as one of the best mobile accounting apps because it complements the web-based version so well. Available for both iOS and Android, you'll find that it has a layout similar to the online dashboard and the ability to perform most accounting functions.
The app allows you to track your mileage with GPS, and you can also scan receipts to upload into the software. Two limitations are that you can't view or pay outstanding bills or record hours worked within the mobile app. But it's easy to use and free with a subscription to QuickBooks Online.
Excel Mobile App
Microsoft Excel also has an app that is available for both iOS and Android, and it allows you to create, view, edit, and share files. You can review spreadsheets and run data analysis while on the go and use the app's robust formatting tools to customize tables. The mobile app also allows you to share your files and invite others to edit, view, or leave comments directly in the file. On devices with touch capabilities, you can use the draw tab feature to make notes or write equations.
Takeaway: While QuickBooks Online's mobile app gives you access to most accounting functions, you're limited with Excel's mobile app. Just like the software itself, you cannot invoice customers, enter and pay bills, or generate reports easily.
QuickBooks Online vs Excel: Assistance
Both QuickBooks Online and Excel offer their own versions of assisted bookkeeping for an additional fee. The QuickBooks Online offering is QuickBooks Live Bookkeeping, which matches you with a dedicated bookkeeper who will assist with set-up and perform bookkeeping tasks on a monthly basis. Got It@Work is a Microsoft partner that provides expert help to Excel users via live chat.
QuickBooks Online Assistance
If you're a QuickBooks Online customer, then you're eligible to enroll in its add-on service called QuickBooks Live Bookkeeping. This service gives you access to a QuickBooks-certified bookkeeper who will handle your books and provide the reports you need. They're available to answer your questions anytime, and you can meet with them through a one-way video chat. The service provided includes setting up your chart of accounts, categorizing transactions, reconciling your bank statements, and generating reports. We ranked QuickBooks Live as the overall best online bookkeeping service.
Prices for QuickBooks Live's full-service bookkeeping scale with the monthly expenses of your business, which means higher costs for businesses with higher expenses. Below is a breakdown of QuickBooks Live's pricing:
Low-volume bookkeeping: $200 per month for businesses with $25,000 in monthly expenses
Medium-volume bookkeeping: $400 per month for businesses with $25,001 to $150,000 in monthly expenses
High-volume bookkeeping: $600 per month for businesses with $150,001 or more in monthly expenses
Excel Assistance
If you're looking for instant expert help with Excel, Got It@Work for Microsoft Excel is a partner of Microsoft that gives you access to hundreds of vetted and ranked experts. The service is available 24/7 and works via live chat. You just need to post your issue—whether it has to do with charts, formulas, pivot tables, or other spreadsheet questions—and you'll be able to connect with an expert for at least twenty minutes, with the option to extend the session.
There are three pricing tiers for this service, which are as follows:
Select: $29.99 per month for up to three sessions, billed on a monthly basis
Unlimited: $129.99 per quarter with unlimited sessions for three months
Business: $199.99 one-time billing, 10-session bundle with Advanced Project Support
Takeaway: While each of the assisted bookkeeping options differs in terms of the services provided and in what form, they both allow access to an expert who will assist you with any issues that may come up while using the software. Prices start at $200 per month for QuickBooks Live and $29.99 per month for Got It@Work.
QuickBooks Online vs Excel: Customer Support
There's no comparison when it comes to customer support options, as QuickBooks Online is by far superior in this category. You can speak with someone over the phone or connect via live chat or a chatbot. There's also a vast database of resources for further reading. Other than articles provided on its website, Excel doesn't provide live bookkeeping support. However, it does provide help through Got It@Work for questions about how to use the software.
QuickBooks Online Customer Support
QuickBooks Online offers a variety of options to receive customer support, and although you can't initiate a phone call, you can submit a ticket and wait for an agent to contact you. You can also chat with an online representative, seek help via a chatbot, or check out the self-help resources, such as accounting blogs, setup guides, community forums, and troubleshooting tips. If you have critical bookkeeping needs, you might consider hiring a QuickBooks ProAdvisor.
Excel Customer Support
Unfortunately, Microsoft Excel doesn't offer live customer support via phone, but there are resources on the website that will assist with common frequently asked questions (FAQs).
Takeaway: If customer support is an important feature to you, then QuickBooks Online is the most logical choice.
Bottom Line
QuickBooks Online and Excel are vastly different, but with a little customization and maintenance, Excel can be an adequate accounting system—as long as you have the time to devote to it. However, if you're looking for software that focuses on automating aspects of your accounting, then QuickBooks Online is the clear solution.