RAMA Logistics Software Review: Features & Pricing in 2023
RAMA Logistics Software is a cloud-based transportation management system (TMS) designed for freight brokers, third-party logistics providers (3PLs), and logistics companies. It allows you to create and track loads, assign them to specific drivers or trucks, and create and customize invoices through its QuickBooks Online integration.
In this RAMA Logistics Software review, we'll discuss the platform's most notable features, including load management, carrier management, and QuickBooks integration. We'll also cover who the TMS is best for and when to seek an alternative.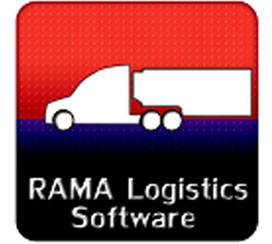 Pros
Is more straightforward than most similar TMSes
Integrates with QuickBooks Online
Can print and email basic invoices within the platform
Includes dispatch order management
Can submit a customization request to the provider through the Change Request screen
Has a feature-tailored help button
Cons
Lacks a centralized customer database
Lacks advanced features, such as fleet management and International Fuel Tax Agreement (IFTA) reporting
Has limited software information available
Lacks client and carrier self-service portals
Lacks a mobile app
Supported Users

Trucking companies, freight brokers, and 3PLs needing a straightforward order and dispatch management solution

Pricing

Basic: $45 per month for one user
Complete: $80 per month for eight users

Free Trial

30 days; no credit card required

Standout Features

Lets you create a new load and track it throughout its lifecycle
Allows you set up customized status codes based on your unique requirements
Enables you to capture detailed load records, including the rate, rate type, and rate volume
Can run various types of trucking reports, including carrier, customer, and driver reports
Lets you track unassigned loads and assign them to available carriers

Ease of Use

Moderate; has a simple user interface but may take time to fully master the features

Customer Support

Email support, help button, and online resources like frequently asked questions (FAQs)
Trucking companies using QuickBooks Online for accounting: If you already use QuickBooks Online for accounting and need a specialized trucking solution, you can integrate QuickBooks Online with RAMA Logistics Software. You can sync customer and carrier information and load details, simplifying the billing process. If you don't have a QuickBooks account, read our QuickBooks Online review to see if it fits the bill.
Trucking companies that need a straightforward TMS: Trucking companies focused on core trucking processes like load and dispatch management will do well with RAMA Logistics Software without being burdened by additional functionality they don't require.
General freight carriers shipping different types of goods: The load entry form allows you to capture detailed information about different types of goods being transported, and you can choose from different rate types, such as flat rate, miles rate, and piece rate.
Expedited or time-sensitive freight carriers: Trucking companies can create specialized status codes to indicate the urgency or criticality of their loads.
Trucking companies that want trucking and accounting features in one platform: If you prefer a one-stop shop, consider Q7. Unlike most trucking software that require accounting integration, Q7 comes with built-in bookkeeping features, such as invoicing and bill payments. We discuss the program in detail in our review of Q7.
Truckers that need comprehensive billing and invoicing features: RAMA Logistics Software has no bill payment feature and a very limited invoicing tool—unless you integrate it with QuickBooks Online. Tailwind TMS is an excellent alternative for a more robust billing and invoicing solution. As covered in our Tailwind TMS review, the software includes specialized A/P features like the ability to track bills and payments from different personnel.
Small trucking companies looking for a single-user solution: While RAMA Logistics Software offers tiered pricing for eight seats ($80 per month), it can be expensive for trucking companies with only one user. A more affordable alternative is Rigbooks, which only costs $19 per user, per month—as opposed to RAMA Logistics Software at $45 per month for a single seat. Head to our review of Rigbooks for detailed information about the TMS's pricing and features.
If none of these alternatives suit your needs, explore other options in our list of the leading trucking accounting software.
RAMA Logistics Software Alternatives
| | | |
| --- | --- | --- |
| | | |
| Best for: Truckers needing a standalone accounting solution | Best for: Trucking companies requiring comprehensive billing and invoicing features | Best for: Trucking companies looking for a more affordable TMS |
| Cost: Quote based | Cost: From $117 per user monthly | Cost: From $19 per user monthly |
| | | |
Still can't find what you need? If you think RAMA Logistics Software or any of our recommended alternatives isn't right for you, then you may be best served by general-purpose bookkeeping solutions. Our roundup of the best small business accounting software contains our recommendations.
RAMA Logistics Software Pricing
The RAMA Logistics Software pricing information isn't published on the provider's website. However, the RAMA Logistics Software integration page through the QuickBooks App Store shows that there are two plans:
Basic: $45 per month for one user; includes load and dispatch management, carrier insurance tracking, load confirmations, and invoice print.
Complete: $80 for eight users; everything in the Basic plan plus advanced tracking, carrier settlement, and load status tracking
You can sign up for a 30-day free trial with no credit card required. The free trial can be integrated with QuickBooks Online, so you can see how it works before buying.
RAMA Logistics Software Features
Load management in RAMA Logistics Software starts with creating a new load entry. To do this, click the New Load menu and complete the load entry screen by providing the required details. Select the customer from the dropdown list and assign the load to a specific carrier or driver who will be responsible for transporting the shipment.
Additionally, you need to specify the type of commodity being transported, such as electronics components and medical items, including other relevant details, such as the number of pieces, rate type, rate, and rate volume. You may also add a rate expansion, if there are any associated charges or surcharges for the load.
You can print a basic invoice from the load entry screen by clicking on the Print Invoice button. The software also allows you to email the invoice to your customer. However, the invoices are very basic, and there are no customization options. As discussed later, we highly recommend you integrate RAMA with QuickBooks Online. Once integrated, you can transfer the load information easily into QuickBooks Online to create professional and customizable invoices.
Once a new load is added, you can track its status on the load list screen. This screen shows the list of all the loads added to RAMA Logistics Software, including their details, such as customer, invoice number, load date, and delivery date. From here, you can track and update the status of each load by clicking on the Load Status button on the far right side of the load entry line.
You can edit the information and enter other important details, such as the number of stops made within each trip. Click on the drop-down arrow on the Status field to update the status of the load. RAMA Logistics provides eight default status codes:
O – On Time
SD – Shipment Delayed
X3 – Arrived at Pickup Location
AF – Carrier Departed Pickup
CP – Completed Loading
X1 – Arrived at Delivery Location
D1 – Completed Unloading at Delivery
CD – Departed Delivery Location
You can create and add a new status if needed by clicking on the Status Code Setup button under the Account Setup menu. For instance, you may add a status "code D – Delayed due to External Factors," which indicates that the shipment has been delayed due to external factors, such as weather conditions.
The provider also offers an Electronic Data Interchange (EDI) add-on that enables you to send real-time load status information to your customer. However, you will need to contact RAMA Logistics Software for pricing.
---
You can set up a new customer and store and manage customer information, such as address and contact details. However, while each customer in the system is assigned a unique profile, it has no dedicated customer database where you can see the list of all your customers. Instead, you'll see your customer list by clicking on the drop-down list in the Name field.
The customer management feature in RAMA Logistics Software is limited because there's no way to facilitate communication. For instance, it could have been helpful if the customer profile had the option to upload documents, such as contracts and agreements. Alternatively, the provider may consider adding a client portal feature where customers can see and track all their loads and receive all relevant files.
---
Just like the customer maintenance feature, carrier maintenance doesn't have a centralized database. You can only see the complete list of your carriers when you click on the drop-down list in the Name field. You can store basic information, such as carrier address and contact details.
While the fields are sufficient for capturing basic information, the carrier maintenance feature is not comprehensive as those in other similar platforms. For instance, TruckingOffice, lets you specify the type of carrier, such as full truckload (FTL) or less than truckload (LTL).
---
Using the driver entry form, RAMA Logistics Software allows you to add a new driver, including essential information, such as address, contact details, driver license number, mileage rate, and extra stop rate. There's also a free-text area where you can enter additional comments, instructions, or any relevant information about the driver.
If you only need basic driver management features, then you shouldn't have any problem with RAMA Logistics Software. However, if you need more robust functionality, such as a driver's mobile app that allows your drivers to see their scheduled trips, you should consider an alternative like Q7.
---
You can store information about various locations relevant to your transportation requirements. If your primary focus is storing and retrieving location details for reference or contact purposes only, then you might do well with this feature. The location entry form lets you record basic information, like the complete address and a contact number of a primary point of contact specific to that location.
On the downside, it lacks advanced features, such as geolocation and GPS integration, which provide accurate coordinates of the locations. This feature could have helped with route optimization and tracking.
---
This allows you to assign loads and shipments to available carriers efficiently. When you click on the Dispatch menu, you'll see an Unassigned Loads section displaying a list of loads or shipments that have not yet been assigned to a specific carrier or driver. This shows you all the pending loads that you need to assign.
When you click on the View button, RAMA Logistics Software will take you to the original load entry form, allowing you to assign the load to an available carrier. Also, below the form, you'll see a list of available carriers or drivers who can handle the unassigned loads. You may also add a new available carrier on the fly if needed.
---
By integrating RAMA Logistics Software with QuickBooks Online, you can activate accounting features. These include vendor management and billing and invoicing—which are extremely important for trucking companies.
For instance, you can synchronize customer information between RAMA Logistics Software and QuickBooks, including customer names, addresses, contact information, and any other relevant customer data. Additionally, you can transfer carrier information to QuickBooks Online as vendor records.
The load information in RAMA Logistics Software is also transferred to QuickBooks Online for invoicing. QuickBooks Online generates an invoice based on the load details provided by RAMA Logistics Software, including the invoice amount.
Once you're ready to invoice your customer, locate the load on the load list screen and click on the Edit button. Click on Update QuickBooks, and the customer and load details, such as invoice amount, will automatically transfer to QuickBooks Online. For instance, in the screenshot below, we created a load for a customer named Max Campbell with an invoice amount of $400.
When we clicked on the orange Update QuickBooks button on the upper right side of the load entry form (shown above), the load and invoice details were automatically recorded to QuickBooks Online.
Upon checking our invoice list in QuickBooks Online, we now see the $400 invoice for Max Campbell. The customer information is also automatically recorded in QuickBooks. You can edit the invoice, make changes as needed, such as update descriptions, and then email it to your customer from within QuickBooks Online.
To integrate RAMA Logistics Software with QuickBooks Online, click on the QuickBooks menu and then select Connect to QuickBooks. You can disconnect anytime by going to the Account Setup screen and clicking on the Disconnect from QuickBooks button.
---
You can create various types of trucking-specific reports, including customer, carrier, load, driver, and commission reports. You can access all these types of reports from the Reports menu.
The reporting screen doesn't readily show the actual report like in other trucking accounting software. You have to click the View/Report button to display the reports, which we believe are very basic, so trucking companies with relatively simple operations may find the basic reporting features of RAMA Logistics Software sufficient. If you require more customizable trucking reports, you should consider an alternative like Tailwind TMS, which you can learn more through our review of Tailwind TMS.
Additionally, we found that RAMA Logistics Software doesn't allow you to create IFTA reports. This feature could have been helpful, especially for carriers that operate across multiple jurisdictions. If you require IFTA reporting, then we recommend that you read our Rigbooks review to see if its IFTA reporting tool and other trucking features are suitable for you.
---
RAMA Logistics Software Ease of Use & Customer Service
RAMA Logistics Software has a simple grid-based dashboard, and you can easily access all of its features from the horizontal menu bar. However, it may take a while to fully understand how each menu works. For instance, creating and tracking loads are executed in two separate windows.
Another feature we like is the change request screen, where you can enter the modification you want into the software—although you need to pay an additional fee to implement the programming changes you requested.
If you encounter problems, you can contact the customer support team via email. Note that the provider does not offer the option to call for support via phone.
However, you may use the Help button on the upper right corner of your dashboard to access self-help resources. While the information is very limited, we like that the button is tailored to the specific area you are currently using. For instance, if you are in the load entry screen, clicking on the button will take you to resources that specifically address load management.
RAMA Logistics Software Reviews From Users
As of this writing, we haven't found any RAMA Logistics Software reviews online. We encourage prospective users to conduct research or contact the provider for information about customer satisfaction.
Frequently Asked Questions (FAQs)
Yes, you can send software customization requests through the Change Request screen. The provider will send you a quote for the changes you requested.
---
You can have up to 99 shippers and 99 consignees on a single load.
---
You can transfer your customers to the QuickBooks customer list, carrier information to the QuickBooks vendor list, and settlement information to QuickBooks' bills.
---
Bottom Line
For trucking companies operating on a smaller scale or with straightforward TMS requirements, RAMA Logistics Software can be a smart option. You can even integrate it with QuickBooks Online to develop a powerful trucking management and accounting solution combined. However, if you require more customization options and advanced features, like fleet management and IFTA reporting, then you may need to check out the alternatives we list above.