Sideline Review: Is It Right for Your Business?
This article is part of a larger series on VoIP.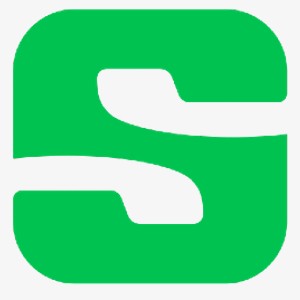 Sideline Overview
PROS

CONS

Uses carrier network instead of Wi-Fi, leading to a smoother calling experience
Pricing and comparison table are hidden in the help center
Unlimited calls and texts to the U.S. with the Sideline mobile app
Group messaging is limited to 10 contacts
Shared phone lines for a flat monthly fee and no per-user cost
Lacks extensive call functions like call recording and call forwarding
Ability to add branded content to text messages
Text marketing tools like broadcast messaging and contact panel are exclusive to iOS users
Auto-reply feature avoids missed customer opportunities
What We Recommend Sideline For
Sideline offers four subscription plans that cater to solopreneurs, small business owners, and companies with remote teams. It allows businesses to easily scale up their services and increase their performance, while having complete control over their expenses. With its powerful text marketing tools, Sideline is also a great fit for teams looking to support their marketing and advertising efforts.
When to Use Sideline
Budget-conscious small businesses wanting a free vanity number: Getting a vanity number typically requires a one-time fee. With Sideline, you get a second phone number at no extra cost. Simply pick a local area code and search for a memorable business number. This puts Sideline among our list of the best free phone number apps.
Small businesses looking for an affordable text marketing service: Starting at only $14.99 per month, Sideline offers text marketing tools to support your bulk text campaigns. Unlimited domestic texts are available at all plan tiers, including a wealth of features, such as auto-reply, branded messages, and group messaging. Its competitor, Google Voice, offers unlimited texting but doesn't support mass texts. With this, Sideline is included in our list of the best Google Voice alternatives.
Small, distributed teams wanting a text messaging-based customer engagement platform: Sideline allows you to share a single phone number with your team to answer calls and receive messages when you're unavailable. A team number enhances your response time since everyone has access to a shared inbox. There's no extra fee for added members, so it's easy to add as many people as you like.
Solopreneurs wanting a professional line to separate their work and personal communications: Sideline lets users enjoy the benefits of having two phone numbers within a single device. By having a Sideline number, you get a separate inbox, app, and phone line for communicating with customers and coworkers. Plus, you get a dedicated text messaging service to sort your business communications.
When Sideline Might Not Be a Good Fit
Sideline Pricing
Sideline pricing includes four pricing options that start at $9.99 per user, per month. All plans include unlimited domestic calls and texts, a second phone number, group messaging, auto-reply, voicemail-to-text, and number porting. Unfortunately, Sideline's pricing guide is hidden deep within the website, so users must further explore the help center to access its comparison table.
Three pricing models share the same price but differ depending on your personal or business needs. For example, the Standard plan is designed for private individuals with basic texting needs. The Team Number plan is for those wanting to share a business line with multiple users, while the Enterprise plan depends on how many assigned or reserved numbers are linked to your account.
| Sideline Plans | Standard | Team Number | Enterprise | Pro |
| --- | --- | --- | --- | --- |
| Best For | Solopreneurs who want a second number | Small teams wanting to share a single business line | Companies with multiple numbers to manage | Small business owners needing text marketing tools |
| Monthly Pricing | $9.99 per user, per month | $9.99 per month | $9.99 per line, per month | $14.99 per user, per month |
| Unlimited Domestic Calls & Texts | ✓ | ✓ | ✓ | ✓ |
| Group Messaging | Up to 10 recipients per message | Up to 10 recipients per message | Up to 10 recipients per message | Up to 50 recipients per message |
| Shared Number | ✕ | ✓ | ✕ | ✕ |
| International Calling | ✕ | ✕ | ✓ | ✕ |
| Auto-attendant | ✕ | ✕ | ✓ | ✕ |
| For iOS Users Only: Appointment Reminders, Templates & Business Hours | ✕ | ✕ | ✕ | ✓ |
The majority of features included in the Pro plan are currently unavailable for Android users. This means only iOS users have access to premium features, such as SMS marketing, appointment reminders, and contacts. Also, monthly, semi-annual, and annual subscription lengths are only available to Sideline Standard and Pro users. The Team Number plan has no per-user cost, so subscribers can add as many users as they like at a fixed monthly fee.
Sideline Features
Sideline is a phone number app that provides users with a professional number for work-related communications. It comes with rich features, such as unlimited calls and texts, web texting, and voicemail. To strengthen customer relations, Sideline offers text marketing tools that allow you to engage customers, respond quicker, and enhance the brand experience. Advanced texting and management tools include number ID, appointment reminders, and separate contacts.
General Features
Sideline offers a second number to divide your business and personal communications easily. To start, pick a local area code and search for a memorable business number. Use number porting if you want to use an existing number from another device.
You get a separate caller ID to differentiate your second number. Additional features include voicemail transcriptions, custom voicemail, group messaging, and MMS messaging. For added reliability, Sideline uses your carrier network anywhere your phone gets reception.
Business Texting
Companies relying on personalized text messaging will benefit from Sideline as it has tools to help you appear professional and would leave a lasting impression on your customers. With Sideline, you can:
Send pictures and visual updates of invoices or projects
Add an image or company logo to your texts
Include multiple contacts in the same conversation
Add coupons, links, promotions, and appointment reminders
Customize your text signature with Sideline, reminding customers who you are when texting in case they don't recognize your number. For more engaging content, add text coupons, links, and appointment reminders. No need to worry about messaging caps because unlimited messaging is included in all monthly subscriptions.
---
Auto-reply
Sideline's auto-reply texting feature lets you send an immediate response or a branded text message to any missed call or inbound text message. This tool automates customer communication and ensures a higher response rate for your business.
Set different responses for various circumstances, whether after-office hours, on weekends, on holidays, or when you're busy with another customer. Simply add a custom reply and write the message you want to deliver. Add a company logo or branded content for a more professional feel.
---
Team Number
Team Number is a Sideline feature that enhances your business response time by allowing team members to access a single line for incoming calls and texts. A single Sideline number is provided to your team, which is accessible on individual mobile devices. With a Team Number, employees share the responsibility of your business line by letting them listen to voicemail, review communication history, and send text messages.
When a customer calls, all active devices will be notified, and whoever answers first will be connected to the call. This makes your team more responsive, leading to fewer missed calls and more opportunities. Note that only one person is the owner and administrator of a Team Number.
---
Broadcast
Broadcast is a text marketing tool available to Sideline Pro users. It is a simple way of sending messages, updates, and promotions to multiple recipients at the same time. When a customer replies, you will receive a new message in your inbox to continue the conversation individually.
---
Sideline Contacts
Sideline Contacts is another feature exclusive to Pro users. It separates your professional and personal contacts, making it easy to recognize who's calling and prioritize incoming calls. Here are a few things you can do when you separate your business contacts with Sideline:
Import contacts from your device's address book
Create a new contact
Search your address book by name, phone number, or company name
Identify who the incoming call belongs to if it's from an unknown number (Number ID)
Sideline uses a third-party service to determine who's calling your number, but it doesn't always guarantee that the suggestion will always be accurate. In this case, it gives the users an option to confirm whether the suggested name is correct. When a customer calls you, the number will automatically be stored in your contact list to build your business contacts.
---
Sideline Alternatives
Although Sideline offers a variety of text marketing tools, subscriptions don't include extensive call functions, video conferencing, and real-time reporting. In these cases, other business phone solutions may provide better feature sets and pricing offers. Here are a few noteworthy providers to consider:
| | | |
| --- | --- | --- |
| Best for: Companies that need a complete phone solution with extensive capabilities | Best for: Small businesses looking for a budget-friendly virtual phone number provider | Best for: Solopreneurs or small teams looking for a free business calling solution |
| Starting price: $19.99 per user, per month, billed annually | Starting price: $28 per month, billed annually | Starting price: $9.99 per month |
| or | | or |
Sideline Reviews: What Users Think
Sideline app reviews show that the majority of users are using its service to get a second phone number for their small business. They were able to neatly divide their work and personal communications as well as protect their privacy while being accessible to their clients. Others switched to its service because of the number of features offered, such as voicemail greetings, auto-reply, and contact management. Many also praised the superior call quality Sideline offers.
Here are links to a handful of average user ratings with online Sideline reviews:
However, several users complained that Sideline customer support was unresponsive and difficult to reach. Others encountered issues with its voicemail feature and the ability to save names on their contact list. Plus, Sideline doesn't offer a video chat option, which confines users to making calls and sending text messages.
Bottom Line
Sideline is a valuable text messaging tool for solopreneurs and small business owners who want to manage their work-related communications in a professional manner. Besides having a second number, it offers impressive text marketing features to boost brand image and keep customers engaged. Try Sideline for free for seven days and get access to its full suite of features and benefits.