The 25 Strangest Things on Amazon in 2023 (That Shoppers Love)
Amazon is the world's go-to marketplace for everyday staples like furniture, appliances, and food—but out of the millions of products currently listed on the platform, some of them are downright strange.
Given the vast inventory spread, we sought to find the weirdest things available on Amazon. Whether you're just browsing or looking for unique products to sell on your own Amazon storefront, our list is full of surprising finds.
Here are 25 of the strangest things you can buy (or sell!) on Amazon in 2023 (with pricing and ratings at the time of publication):
Price: $9.99–$39.99
Reviews: 4 stars from 1,100+ ratings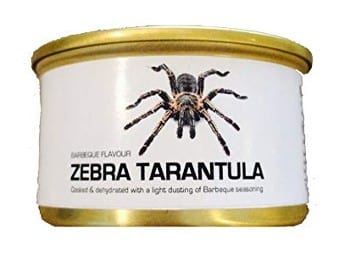 Edible insects aren't a new trend. In fact, they're considered a delicacy in many countries where street vendors and restaurants alike serve them fried, grilled, candied, dehydrated, and in countless other preparations. If you want to get a taste of an eight-legged delight for yourself, look no further than Amazon.
These products are boiled and dehydrated, leaving behind a crunchy exoskeleton without much "meat." And, despite the product photos, they ship in a plastic bag—so your insects may arrive crumbly and broken. But it's a good source of protein and novelty.
Real Review: It's a tarantula
"Okay I gave it a 5 star in flavor simply because it tastes like a tarantula. I've eaten three in my life due to my job/hobby. Imagine picking up a woodchip and chewing on it. That is the flavor and texture of a tarantula. I think the novelty is worth the money."
Price: $17.75
Reviews: 3.8 stars from 40+ ratings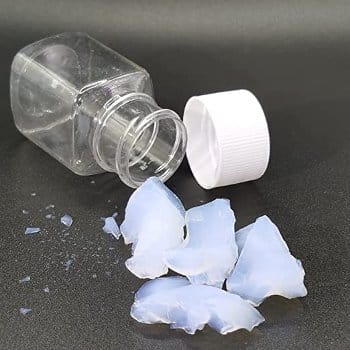 Advertised as "frozen smoke" due to its appearance and weight, this exotic substance is actually a silicon-based solid called Aerogel.
Aerogel is the lightest material on the planet and frequently used by NASA for its unusual properties such as the ability to withstand extreme heat and pressure. It can even stop a bullet in its tracks! But you don't have to be an astronaut to get your hands on this otherworldly gel—just head over to Amazon.
Real Review: Perfect for a cheaper aerogel
"Definitely a little bit of aero sand but came with a couple reasonable sized chunks."
Price: $13.99–$19.99
Reviews: 4.5 stars out of 950+ reviews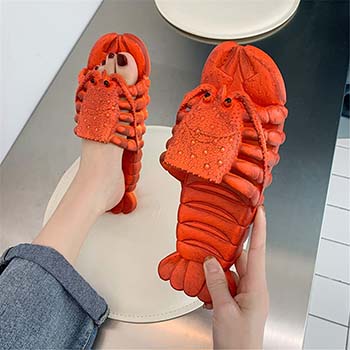 House shoes and slippers come in all styles, but whoever came up with this design has a true sense of imagination. Walking around the house doesn't have to be boring—it can be colorful, exciting, and even funny with this crustacean-inspired footwear.
And while you might think these are intended to be worn around the house, many shoppers seem to have added them to their going-out wardrobe. A true multipurpose, though strange, item to buy on Amazon.
Real Review: Gods gift to earth
"These lobster flip flops are the best thing I've ever owned, including my car, my laptop, my entire house. I know people see me wear them and admire their beauty. One day at the beach I thought I had lost them and my heart ached with pain. I later found them."
Price: $83.95
Reviews: 4.4 stars from 150+ ratings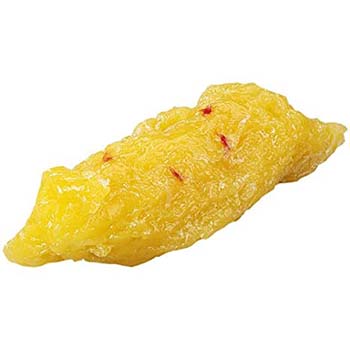 If you're learning about biology, Amazon has you covered. Buyers can choose this lifelike replica of human body fat.
It's intended to be an educational resource for patients, students, and teachers, offering a lifelike visual and physical representation of what excess body fat looks and feels like. Some reviewers use it as motivation to stay on top of their own health.
Real Review: Just what you'd expect. True to volume and weight.
"Just what you'd expect. Quality. I have it in my house to remind me 5 lbs. of fat is a big deal because I find exercise and eating healthy extremely challenging. Picturing all that around my organs really helps me!"
Price: $19.97–$76.97
Reviews: 4.8 stars from 250+ ratings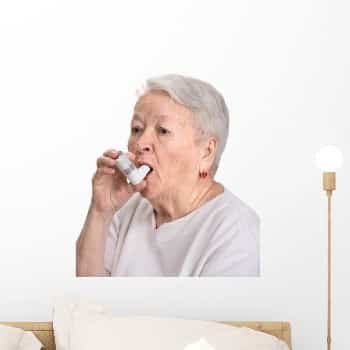 Searching for some unique home décor? This semi-gloss vinyl wall decal is easy to install, ultra-durable, and sure to be a conversation starter. Plus, it's great for keeping you company, according to dozens of reviews.
If asthma inhalers aren't your thing, the seller offers a variety of other wall decals—including seniors in a golf cart and a senior chef serving muffins.
Real Review: Now I have companionship
"At first I wasn't sure if spending money on a sticker of an old lady with an inhaler was a good idea but once I got it I knew I had made the right choice. She keeps me company in my apartment since I don't have any actual friends, we eat, play board games, and watch tv together. We have so much in common like our love for breathing and other things. She doesn't argue like real people do and unlike a girlfriend I don't have to take her on dates, worry about keeping her happy and she doesn't nag me for money. Overall I am 100% satisfied with my purchase."
Price: $49.95
Reviews: 4.4 from 2,000+ reviews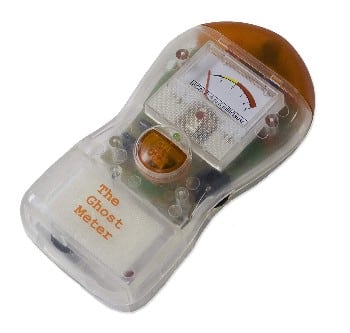 Ghost hunting is no longer a spectator sport—with affordable electromagnetic field (or EMF) readers on Amazon, it's now a serious hobby for anyone with too much time on their hands.
Plus, it does more than just detect apparitions—it has practical value as a detector of any type of electromagnetic field. Whatever you use it for, it's an affordable and accessible version of a normally high-end device.
Real Review: Ghost detecting simplified
"I bought this about three months ago, and I've had some amazing results. Me and two buddies of mine investigated an abandoned old house. There is no electricity going to the house but I got some good spikes. I did an evp and got a name. I laid my emf detector on an old mattress close to my buddie's k2 and for a few minutes nothing happened, but then both the emf and k2 lit up at the same time! There was nothing around to make them light up like that. The next day I went and researched the name and found it! I recommend this emf to any amateur ghost hunter, it does work."
Price: $13.96
Reviews: 3.9 stars from 900+ reviews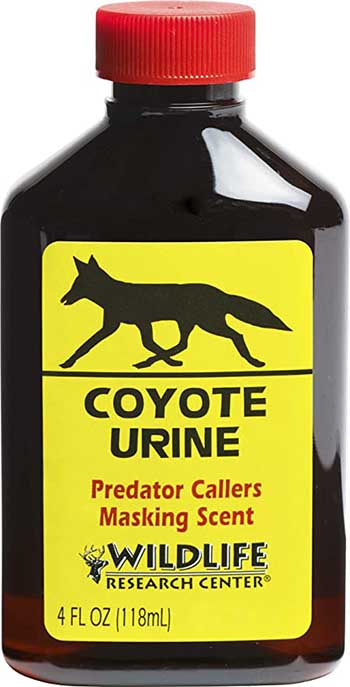 If coyote urine seems off-putting to you, you're not alone! This product is used to deter invasive critters from your garden or yard.
Alternatively, it can be applied as a cover scent while hunting. The seller also offers raccoon and red fox urine in case coyote isn't your smell of choice. Just don't ask how they got it.
Real Review: Great gag gift. Probably also has other uses.
"Small yet potent. Easily boxed or slipped into a birthday bag/basket. Well-sealed so you don't have to risk spilling it on your carpet – that's for the birthday person to do in the privacy of their own home. Graduation, anniversary, divorce – multiple applications."
Price: $18.57
Reviews: 4.4 stars from 40+ ratings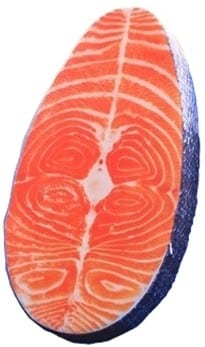 Every night is sushi night with this appetizing pillow by your side. The hyper-realistic 100% cotton cover is made with a zip closure and removable foam cushion.
Many reviewers report having purchased this product as a costume accessory or gag gift, and ended up having it as a permanent installation in their home. The high-quality materials, firm support, and bright colors had them hooked.
Real Review: Nothing fishy about it
"This thing is dope. Pillow. TV tray. Back support. Super soft. Fun to just thwomp your fam with at random times too."
Price: $9.99–$34.95
Reviews: 3.7 stars from 5 ratings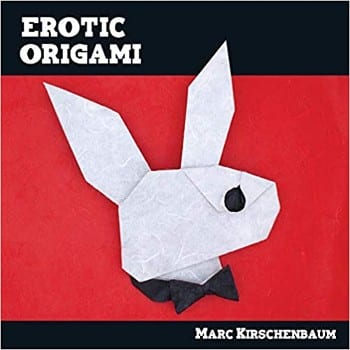 This book aims to spice up the ancient Japanese art of paper folding.
It was written to "satisfy the adult-oriented cravings of origami aficionados" with detailed instructions to make 12 different paper projects. Plus, readers receive an educational chapter on materials and methods to get started. Available in paperback, hardcover, or on your Kindle.
Real Review: Fascinating
"I have always been intrigued by origami. When I saw the title while browsing on the Amazon App, I was curious to see the art created by someone's imagination, hands and a piece of paper. I was not disappointed as the art, the depiction of erotica was amazing, in addition the instructions were detailed, great photography as well. The history and background information unique to each piece was a very enjoyable bonus. There is also good information of techniques that can be used to enhance the final piece. A nicely done book."
Price: $2.99
Reviews: 3.3 stars from 25+ ratings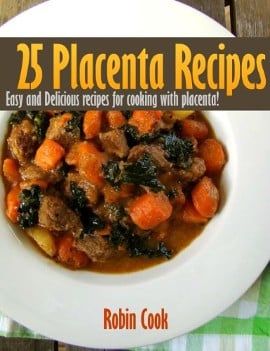 Although it's not advised by medical professionals, some believe that eating one's placenta can prevent postpartum depression, reduce bleeding, improve mood, increase milk supply, and provide micronutrients. To make the daunting task more enjoyable, this book delivers 25 ways to integrate placenta into your daily diet as a new mom.
Real Review: Placenta
"YUM!! Simply YUM! These are without doubt the easiest and most delicious placenta recipes ever conceived. But don't take my word for it, cook up a batch of your own afterbirth pronto, pardner. Bon Appetit."
Price: $6.99
Reviews: 4.6 stars from 700+ reviews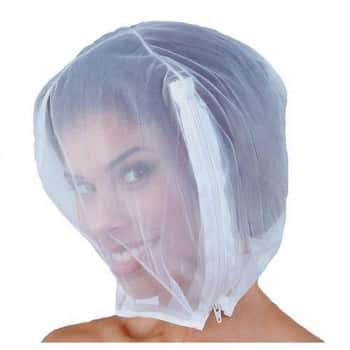 No, this isn't beekeeping equipment, and it clearly isn't a fashion accessory either. Its purpose is to keep your makeup intact and your clothes clean while changing.
This breathable chiffon mask promises triple protection for your face and wardrobe. Plus, it's machine washable and reusable. Just remember to take it off before going out for the night.
Real Review: Why didn't someone tell me about these sooner??
"I wear white and pastels almost all of the time. Winter sweaters were always a challenge. With these protector hoods I don't have to worry about my makeup on the neckline. I love them."
Price: $41.14
Reviews: 4 stars from 230+ ratings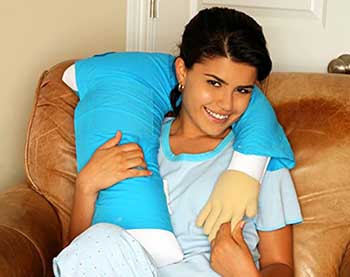 This strapping pillow boasts a high-quality cotton blend with a feather fill to deliver neck support and emotional support. It promises to provide comfort from the "intimate closeness of a man"—or half of a man's torso, at least.
Choose from three shirt colors for a boyfriend that matches your taste, or opt for the Muscle Man version to lose the shirt altogether.
Real review: Funny product but also useful
"I got this as a white elephant gift and stole it back in the game. I sleep with it every night to support my back. Funny product, but also useful."
Price: $11.98
Reviews: 4.2 stars from 4,000+ ratings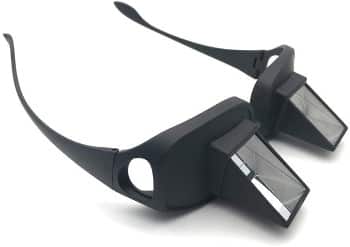 Stay in bed all day with these prism glasses that turn your view to a downward 90 degree angle. They're ideal for reading books or watching TV without the need to sit up.
While the glasses are great for the lazy, they also benefit post-surgical patients and those with mobility restrictions.
Real review: Life Changing
"I didn't know what I was missing until I used this. My life is now complete. If you enjoy comfort and lazy binge watching but don't care how ridiculous you look wearing these then you have found nirvana. My glasses fit in these just fine. Takes a minute to get used to, then it becomes your reason to live. Expect people to laugh at you, but forgive them for they know not what they are missing."
Price: $14.69
Reviews: 4.6 stars from 800+ ratings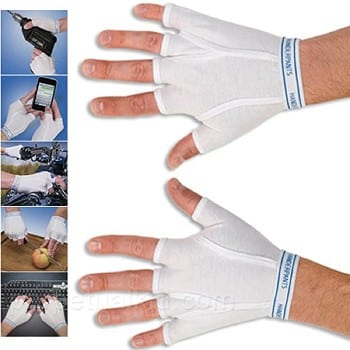 Protect your hands with the classic look of traditional white underwear. These adult-sized gloves are made of cotton and spandex for the look and feel of men's briefs.
Wear them underneath your regular gloves for extra warmth and protection from chafing, or adorn them as a bold fashion statement. Reviewers describe using them as driving gloves, scooter gloves, billiards gloves, manual labor wear, and work attire.
Real review: The best hand undergarments available
"In looking for underwear for your hands, look no further. The seams are small, so when wearing under your outside gloves, there's no worries about the underwear lines showing through. They create healthy space between you and your regular gloves, ensuring you don't have to wash your outside gloves as often. Worked great as a white elephant, BTW."
Price: $26.38
Reviews: 3.8 stars from 500+ ratings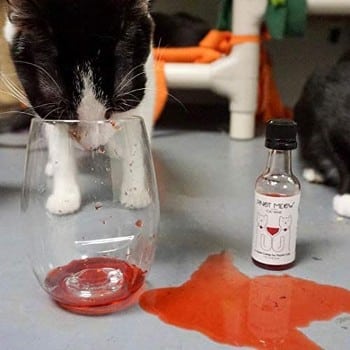 Ever wish your furry friend could enjoy happy hour with you? Now they can with this 100% organic cat wine.
Each bottle just contains liquid catnip, beet color, and sea salt—so it's a perfectly safe way for your kitty to get a buzz of their own. The Pawty Pack includes Pinot Meow, MosCATo, White Kittendel, and Catbernet varieties.
Real review: They're hooked!
"LOL the things I do during a snowstorm here in Boston, MA. Got these nice 'wine' drinks for the kitties, and they are hooked onto them. We had a wine and art night and wanted to be inclusive of the kitties as well. They found themselves to fancy it very much. Even though it was on the pricier side for the amount, it was still great to see their reactions. Worth. Just had to play some Daft Punk while I was 'testing' these drinks out hehe"
Price: $19.97
Reviews: 4.4 stars from 1,500+ ratings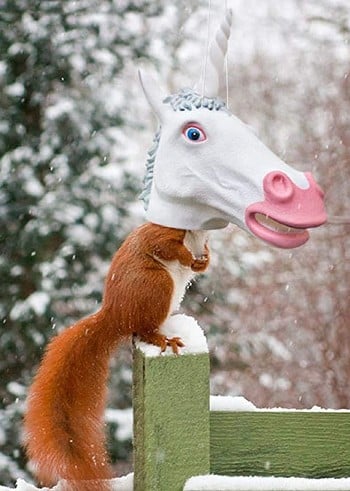 This adorably absurd feeder stores squirrel food in the unicorn's snout, forcing the critter to place its head inside and take on a whole new appearance.
Reviewers love it as a hilarious ornament for their yard or garden. Customer images on the Amazon listing might be the best thing you'll see all day.
Real review: Funny to watch!
"My daughter loves unicorns and purchased this as a Christmas gift for my dad. We had so much fun watching the squirrels use it that we bought another as a gift for another family member, and one for our house. The squirrels figure it out quickly and come back over and over until it's empty."
Price: $16.99
Reviews: 4.1 stars from 17,000+ ratings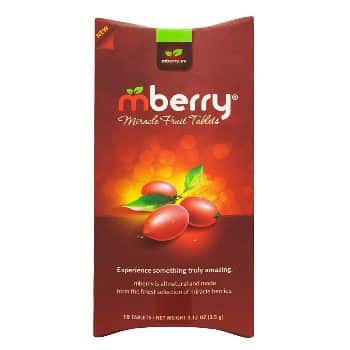 Synsepalum dulcificum or Miracle berry is the active ingredient in these strange tablets. For 30-60 minutes after ingestion, they change your perception of taste, causing sour foods to taste extremely sweet.
As if something out of Willy Wonka's factory, this product will have you eating lemons like apples and drinking vinegar by the glass. Not only do they make for a great party game, but these tablets also help chemo patients and post-COVID sufferers experience the ability to taste food again.
Real review: Fun night with friends & family!
"My wife has mentioned wanting to try these a bunch of times, so I bought them to have at a party with some friends and family, and boy was it worth it! Seriously such a blast! Just suck on the tablet until it all dissolves, moving it around your tongue every now and then while you're sucking on it. Other people mentioned this, but the tablets seemed to work better or worse depending on the person. Regardless, everyone did notice some taste-altering sensation to some degree or another.
Things we tried:
Lemons – AMAZING!
Limes – Also delicious
Sparkling Cider (Apple and Apple/Cranberry) – Both were very sweet, but good
Mustard – Weirdly good
Salt & Vinegar chips – Didn't notice much difference
Grapefruit – Pretty good
Dill Pickles – Some loved them, some hated them
Take these to your next party and you'll be a hero."
Price: $39.95–$70.31
Reviews: 3.6 stars from 130+ ratings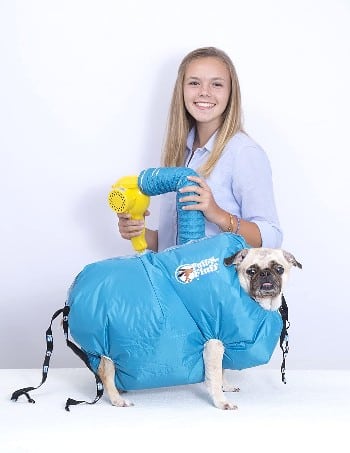 This canine contraption promises to make bath time easier for you and your pup alike. By evenly dispersing heat around their whole body, it quickly dries the dog and relieves the fearfulness of the blow dryer.
The Puff-N-Fluff dog dryer is an as-seen-on-TV product that you can buy right on Amazon. It promises to reduce wet dog odor, warm your pet after a cold winter walk, and even remove icicles from its fur.
Real review: Quick and easy!
"I always procrastinate baths because my poodle hates the hair dryer and I hate fighting her. This was so easy to use, efficient, and comfortable for both of us! We keep her hair short, so her torso was completely dry in less than five minutes—I timed it."
Price: $1.99–$35.90
Reviews: 4.5 stars from 460+ ratings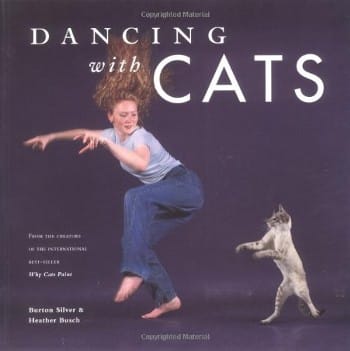 Described as "perpetually ahead of its time," this coffee table book features full-color photographs of people dancing with cats, along with moving testimonials to the power of the activity.
While it may seem humorous to some, Dancing with Cats was written by a lecturer on feline energy-field dynamics and a bonafide cat-dance therapist. Whether you're interested in the book for therapeutic or entertainment purposes, it's sure to please.
Real review: Four paws, nine lives, and all the right moves
"As a book, "Dancing With Cats" is very professional, with strong writing, an excellent selection of testimonials and great photographs. As a novelty, it is the most ridiculous, far-flung piece of visual and written art I have ever had the pleasure of experiencing. Although cat dancers themselves will likely praise this book as an excellent description of the pastime, others will relish the absurdity of the images and quotes for many laughing fits to come."
Price: $24.99–$44.99
Reviews: 4.6 stars from 60+ ratings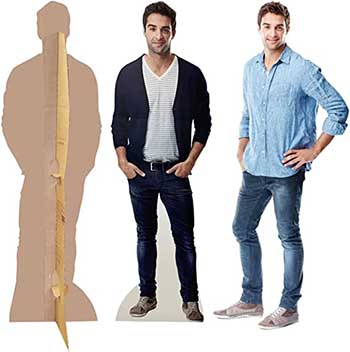 Ever wonder what it feels like to stand next to yourself? Or do you need to make an appearance somewhere you can't personally attend? Simply send this Amazon seller a full-body photo and they'll create a life-size replica of you—or anyone else.
This cardboard cutout stands five feet tall and works with any photo 1MB or larger. Reviewers love it for graduation parties, birthdays, and funerals.
Real review: Excellent quality!
"I cannot recommend this enough. I purchased a life size cardboard cut out of myself as a gag gift for my sister. She received it in less than two weeks and the quality is amazing."
Price: $14.99
Reviews: 4.2 stars from 200+ ratings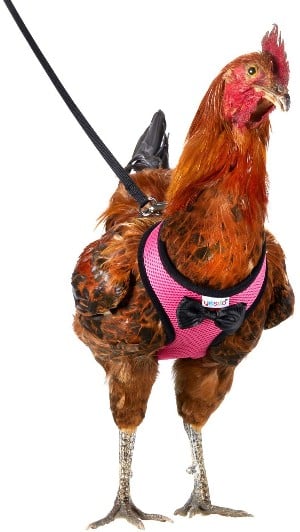 Take your chicken for a nice afternoon walk with this adjustable harness and leash set. Not only will it keep your feathered friend comfortable and secure, but it features a cute bow to make sure she looks her best when out on the town.
It's built for hens weighing about 6.6 pounds, but larger versions are available in the seller's store (including duck and goose harnesses).
Real review: Cute and funny!
"My daughters love this. The chickens also seem to enjoy it. My neighbors find it comical when they see my daughters out walking their chickens. The interchangeable bows are a cute touch."
Price: $19.99
Reviews: 4.3 stars from 270+ ratings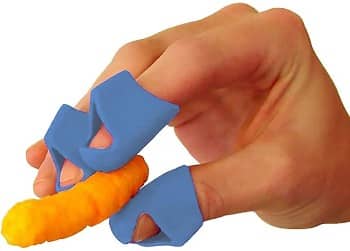 Getting covered in brightly colored dust is easily the worst part of eating snack foods. In fact, it's such a universal frustration that Cheetos recently launched an entire marketing campaign around it.
But you don't have to invest in hands-free technology to enjoy dusty chips. These silicone covers are comfortable, washable, and reusable to protect you from the dreaded Cheeto fingers.
Real review: Proven preventive measure to this contagious disease
"Great Christmas present to a friend who is often infected with this contagious disease. No more missed days from work. Which was becoming a real problem."
Price: $9.99–$19.95
Reviews: 4.7 from 2,500+ reviews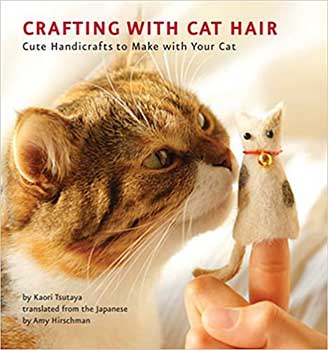 Most cat owners are familiar with the ever-present nuisance of cat hair. Why let all that material go to waste when you can turn your feline's fur into memorable crafts? That's the premise this book takes.
Learn how to make finger puppets, badges, kitty portraits, and even tote bags. They make great gifts for fellow cat lovers.
Real Review: Basic tools and supplies
"I bought this as a gift, but was disappointed not to find a list of basic supplies in the description. So here's the picture of the page that shows the basic tools and supplies. You also should get some sheets of felt."
Price: $31.99
Reviews: 4.6 stars from 2,500+ reviews
The rubber chicken has gotten a makeover—and now it's a fashionable staple (depending on your style). The hen handbag is a rubber chicken purse with two straps and a secure zippered top. You won't get eggs from this hen, though you can probably use the bag to store and transport eggs. Surprisingly, it's the No. 22 top seller in the category for women's top-handle handbags.
Real Review: Clucking fun
"It's a chicken purse. It meets all expectations! The opening is smaller than a usual purse of that size but not tiny. It's great. I only hesitated because it was a little more than I initially wanted to spend, but in the end I couldn't resist"
Price: $6.99
Reviews: 4.6 stars from 170+ reviews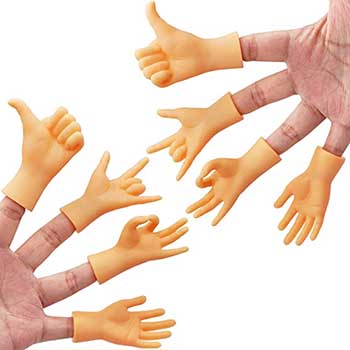 We can't think of many use cases for these finger puppets, but they're certainly strange enough to make this list. Your purchase will get you two sets of four different styles of hands for a total of eight tiny hand finger puppets. You can also find animal-inspired designs, such as squirrels, dinosaurs, and sharks.
Real Review: Great white elephant gift!
"These are quite disturbing and hilarious! I used these for a white elephant gift and everyone was laughing! I Filled a box with all the things one would need for their hands (hand sanitizer, lotion, gloves, hot hands, fingernail clippers…) and hand these hands sprinkled in throughout!"
Bottom Line
Amazon is the ultimate ecommerce destination, and this list proves it. Many sellers find their niche in novelty and gift items, while others simply sell surprising goods that we're not used to seeing at the local mall. This results in a wide array of strange and shocking products that not only make conversions, but lead to customer satisfaction as well.
As the record-breaking multibillion-dollar company continues to grow, we're excited (and nervous) to see which new, strange products become available in the future.