A quality Amazon listing contains 5 elements: a descriptive title, compelling images, concise bullet points, a detailed product description, and competitive pricing. Adding listings to Amazon is quite easy, however, each of these 5 elements must be carefully crafted using Amazon SEO tactics if you hope to achieve the high search rankings needed to drive sales.
Why Amazon SEO Matters in Amazon Listings
Amazon SEO is what makes certain Amazon product listings rank higher than others in Amazon shopping searches. Amazon SEO incorporates the brand names, product names, and related terms that shoppers search for as keywords throughout product listings. Good Amazon SEO integrates these terms into product titles, descriptions, and other key areas of an Amazon product listing.

Using brand and item names as keywords within Amazon listings seems simple enough, but there's a hitch. Not all shoppers looking for your products use the same words when they search. So, Amazon SEO keyword research is an important first step in crafting an Amazon listing that will actually drive sales. This research will show you the words that Amazon shoppers actually type into the search box when they search for certain products. These are the words you want to use to create your listing.
There are many Amazon SEO keyword research tools available, but Sellics, an all-in-one Amazon software, offers a free keyword research tool called Sonar. Using the Sonar tool, here's a look at the terms I found related to a product I want to sell on Amazon, a Rodeo Bracelet: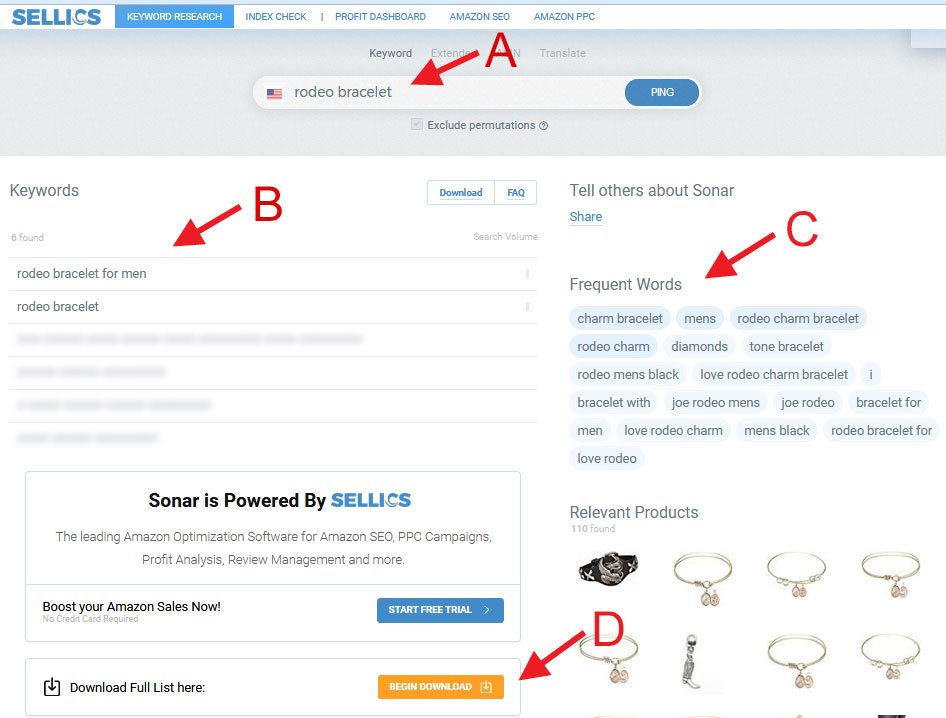 Using Sonar, I entered "rodeo bracelet" (A). The free tool is limited, so it only shows a few direct results (B). However, it also displays "frequent words" (C), and even shows me related products currently selling on Amazon. This is all helpful information. Who knew "rodeo bracelet for men" was even popular? Not me, until now.
Even with the free tool, you can get more keyword results by downloading the list (D), this is what we find:
Note that Sonar doesn't give me specific search volume for these keywords in the free version. But right now, I'm just looking for additional terms to use in my listing. If you want to learn how to conduct more in-depth product and keyword research, we cover that in our article What to Sell on Amazon.
Using Sonar, I did a bit more research and came up with 3 keywords that Amazon shoppers use when searching for items related to my product:
Rodeo bracelet
Horse bracelet
Rodeo horse
Now I'll show you how I incorporate these 3 Amazon SEO keywords into all 5 elements of a quality Amazon listing, based on Amazon's streamlined product listing standards.
The 5 Elements of a Quality Amazon Listing
Sellers need to create quality listings for two reasons. First, if your product listing doesn't meet Amazon's quality standards, it will be flagged as low-quality and ultimately suppressed, killing your sales. Second, low-quality listings typically don't rank well in Amazon's product search, which also affects sales. So let's look at the 5 elements that make a quality listing.
1. A Descriptive Product Title
Amazon allows 250 characters for your product titles and recommends using a specific formula when you write them:
Product Brand/Description + Line/Collection + Material/Ingredient + Color/Size + Quantity
Of course, not every item sold on Amazon has or needs every factor listed above. But this formula is a good guide for building what Amazon considers a quality product title. Here's a sample product title from Amazon's Seller University video tutorials: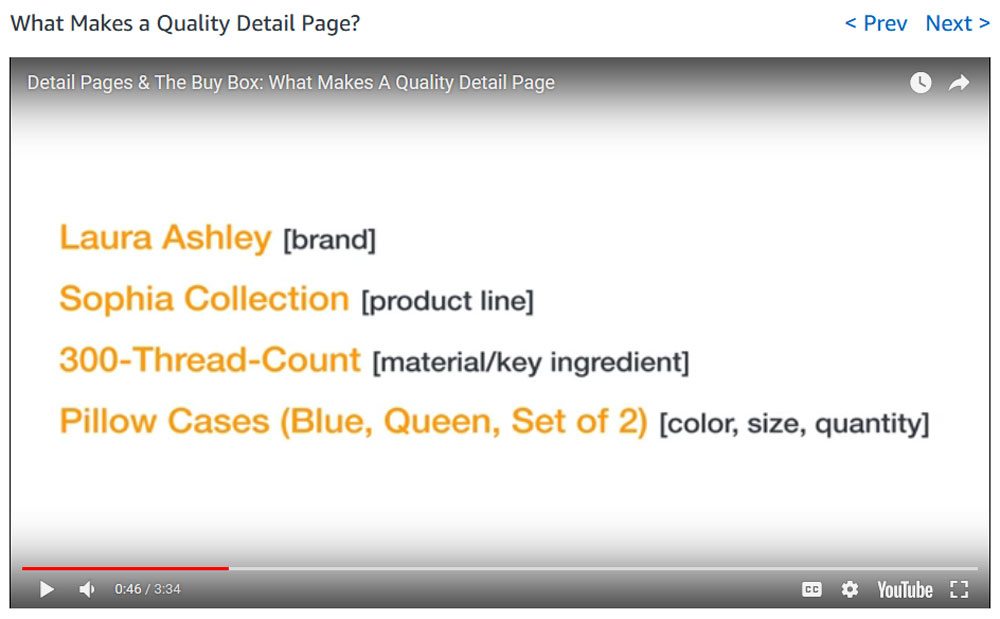 Following this example, we'll write a Descriptive Title for our rodeo bracelet that incorporates the three Amazon SEO keywords we identified earlier using Sonar. We enter this into the Product Name field in our product entry screen:

Here's how our descriptive title appears in the live listings. It's descriptive, contains Amazon SEO keywords, but is not keyword-stuffed or obnoxiously long. That's the new Amazon standard for 2017:

As you can see, this item doesn't have a specific brand, line, or collection. In fact, quantity really doesn't apply to this either since most items in jewelry are sold per piece. So I used our Amazon SEO keywords: rodeo bracelet, rodeo horse, and horse bracelet, as the basis of our description. Then I added other descriptive words: rope letters, ladies' and western, to highlight other details to catch a shopper's eye.
2. Compelling Product Images
Amazon has very strict guidelines for their product images in 2017. If not met, it can affect your search rankings or even lead to low-quality alerts and suppressed listings. Luckily, Amazon's image guidelines aren't too hard to follow. Here are the image guidelines Amazon recommends in a quality product listing:
High-quality Professional Images
Amazon is serious and strict about the appearance of its site, and product images must be professional quality and accurately portray the product being sold. But that doesn't necessarily mean you need to hire a professional photographer. You can capture amazing product shots yourself by using your smartphone camera, then editing your photos afterward to add the finishing touch.
Photolemur is a photo editing software that optimizes your pictures automatically with Artificial Intelligence. It analyzes, adjusts, and enhances various elements of your pictures to achieve a professional quality photo. You can upload an unlimited amount of photos, and its simple operation will instantaneously transform them, saving you the time you'd spend editing photos one by one. Click here to visit Photolemur.
Main Image on a White Background
While this isn't possible in every case, Amazon highly recommends using a white background image for the main product image. Listings that don't have this may be moved down the search results or receive low-quality alerts. You can learn how to shoot against a white background in our product photography guide, or the budget-friendly freelancers at Fiverr can remove backgrounds for you.
Use Secondary Images to Show Items in Use, Fine Details, and Angle Views
Amazon allows you to upload a number of images for your product listing, and the more images you use, the better. Showing items in use, zooming in on fine details, and including different angles helps buyers visualize items and, hopefully, entices them to buy.
Use Images 1000 x 500 Pixels or Larger
Amazon has a minimum image size of 1000 x 500 pixels for all of your product images. This size triggers Amazon's image zoom feature to give buyers a closer look. Amazon also requires that products should take up 85% of the image area, so trim out those backgrounds as close as possible.
I followed each of these 4 image requirements when adding our Rodeo Bracelet to Amazon. Here's what shoppers will see when they view our product listing: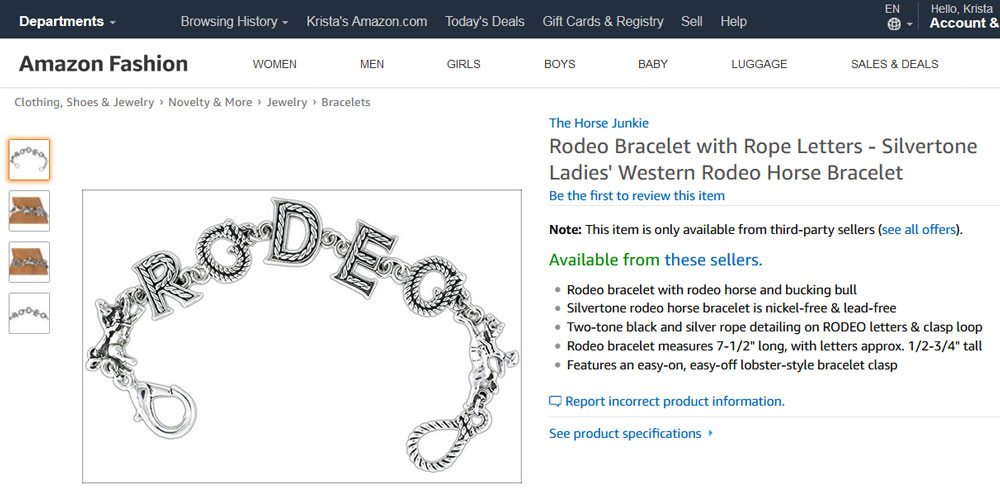 As required by Amazon, our main image is on a white background. The secondary thumbnail images on the left enlarge when a buyer mouses over or clicks on them. In those, we include images of the bracelet being worn to give buyers a sense of the proportions, plus show two different angles. We even include a close-up shot to highlight the rope detailing on the letters.
All of our images also meet or exceeds the 1000×500-pixel minimum. So in our 4 product images, we've met Amazon's image requirements for a quality listing, plus show buyers exactly what they want to see.
3. Clear & Concise Bullet Points
Amazon listing pages feature a bulleted list of product details which Amazon calls Key Product Features in your product entry screen. Amazon uses the copy you insert here to create a bulleted list of product facts and features. Shoppers can quickly scan this list to learn specific details about your product.

In addition to highlighting meaningful product information, you can maximize Amazon SEO by using target keywords in your list copy. Amazon lets you enter up to 5 lines in your list, and each line allows up to 100 characters. You aren't required to use all 5 lines or all 100 characters per line, but you should try to use as much as possible since it boosts your Amazon SEO.
Use your target Amazon SEO keywords to describe the following information about your product:
Product name, use, or intent
Sizing, dimensions, or fit details
Special features or benefits
Improvements if a new model or release
Materials, colors, contents, or ingredients
Guarantees, warranties, etc.
And so on….
Remember! Amazon intends this section to be informational and not overtly promotional, so it doesn't allow:
Promotional language, coupons, or deals
Pricing information
Free shipping offers
Following Amazon's guidelines and using our 3 Amazon SEO keywords (rodeo bracelet, horse bracelet, rodeo horse), here's how the key features appear as a bulleted list on our Rodeo Bracelet listing: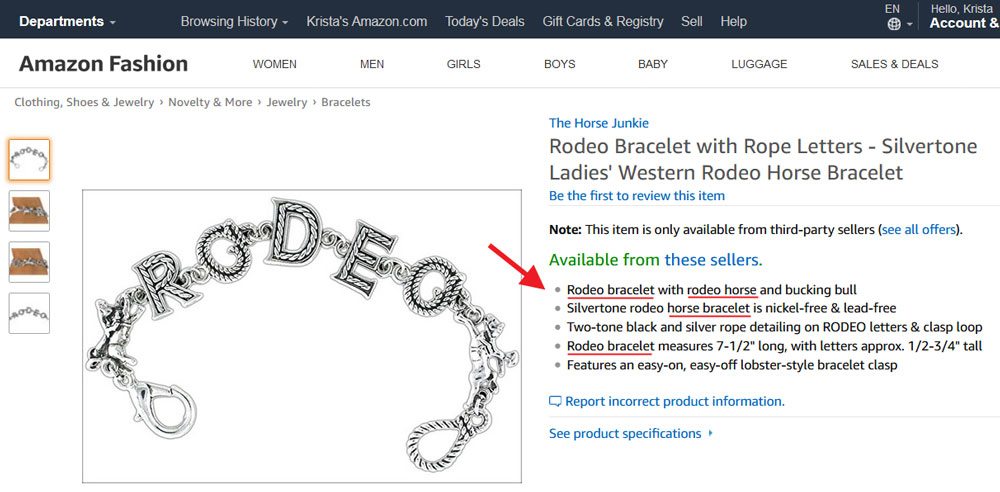 Remember! Key features are a snapshot of important facts about your product. You still have one more area to give shoppers more information and really sell your product. We'll look at that now.
4. Detailed Product Description
This key element of a quality Amazon listing is where you fully describe your product, answer any questions you think shoppers might have, and hopefully close the sale. You enter this information in the Product Description field, located beneath the Key Product Features: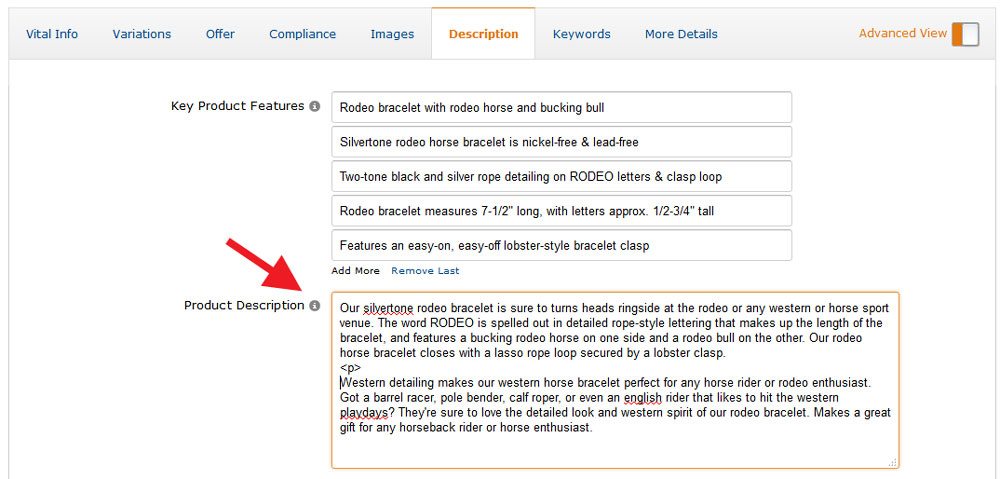 Amazon allows 2000 characters in your Detailed Product Description. So you have plenty of space to describe and sell your product using your Amazon SEO keywords, as we did above. If you know basic HTML codes, you can use it here to break up paragraphs, create a second bulleted list, or add bold headers. But, you can't add additional images in this section, it's for copy only.
Your detailed product description is your opportunity to paint a picture for your shopper in a narrative style. Is your product a great gift idea? Mention that. Does it appeal to certain users? Discuss where they might use it, and how it can benefit them or add to their experience. And of course, work in Amazon SEO keywords wherever possible in a natural, conversational way. For more about crafting descriptions, check out our article on writing product descriptions that sell.
Once we complete this, here is what shoppers see under the Product description on our Rodeo Bracelet listing:

5. Compelling Price
Now we come to the last element in a quality Amazon listing: a product's selling price. In truth, I could write a book about the do's and don'ts, techniques, and tactics that Amazon sellers use to set product prices. But I won't because in most cases one rule outweighs them all:
Low prices lead the Amazon search listings
It's as simple as that. A compelling price is, often, the lowest price, and Amazon listings always combine all elements in a product's final price:
The Selling Price + Any Shipping Fees
Most successful sellers try to be the combined low price leaders, no matter how they present a product's selling price or shipping fee. Some sellers list everything as "ships for free" but inflate the product price to cover costs. Others have low product prices and higher shipping costs. Still others use Amazon FBA, so their products can ship under Prime free shipping.
But however you do it, the combined lower-priced listing often appear higher in results, even for a brand-new seller with no ratings or reviews yet, as shown here:

This is why it's imperative that you do your homework when deciding which products to sell on Amazon. With the Rodeo Bracelet, there's just one existing competitor, so it can come in under their selling price and still make money. However, the competitor might lower their price now that this listing has been added.
Bottom Line on Amazon SEO
Amazon made sweeping changes to their product listing requirements in 2017. What we covered above is based on the new standard, and is what new listings must strive to meet to rank well in Amazon search results going forward. As you research products, you'll run across listings that don't match these criteria. You'll find lengthy bulleted lists and rambling product descriptions. You'll find terrible images, too. But these listings are being tagged as low-quality and will slowly disappear in favor of the streamlined version that Amazon now favors.
Frequently Asked Question
Do I ever get notifications from Amazon indicating that one of my listings being tagged as low quality?
Amazon informs you of this in your Amazon Seller dashboard. They tag your low-quality listings in your inventory list, include them in a listing report, and also send you emails if you have listing problems. They definitely don't keep these issues a secret! Glad the article is helpful, good luck with your Amazon pursuits.