Before you allow your employees to take any kind of leave, have them fill out a time off request form (also known as a vacation request form). It should track and document the reason and duration of their time away from work, when the request was made, and who approved the time off.
Our free time off request form can be updated to fit your specific company needs—add your company name, logo, and additional time off fields. Simply copy the file to your computer and customize.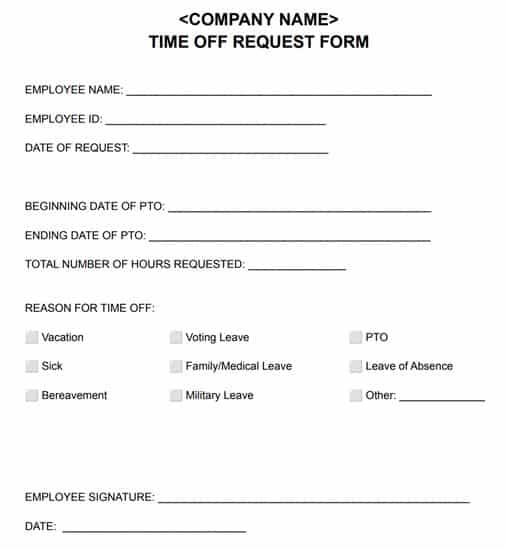 Thank you for downloading!
If you are looking for a free time and attendance tracking tool that allows you to create an attendance policy, consider Homebase.
Visit Homebase
If you want to ditch the paper forms and track employee time off in the most efficient way possible, consider using time and attendance software. Learn more about our recommendations in our guide to the best time and attendance software.
Information Your Time Off Request Form Should Capture
If you're creating your own time off request form, there are a few required fields to include that the requesting employee needs to fill out for proper record keeping. The minimum requirements are the following:
Name/ID Number: This is needed to identify which employee is submitting the request, whether for auditing purposes or to maintain the employee's leave balances.
Date of Request: This is the date when the employee requested time off. It is useful for managers to prioritize which requests to accept and is also beneficial if your time off policy requires employees to submit their requests in advance.
Beginning Date and Ending Date: The beginning and ending dates are necessary for tracking how many days an employee is taking. This also helps keep tabs on any leave that is dependent on how many days an employee has already taken off (e.g., disability leave).
Total Number of Hours Requested: While you can calculate the total number of hours based on the dates submitted, sometimes an employee will submit time off requests that span a weekend. For this reason, it is a good idea to have your employee put in the total number of working hours they will be taking off.
Reason: Tracking why employees take time off is needed for reporting purposes and maintaining accurate leave balances based on your PTO policy. Types of leaves can include vacation, sick, jury, voting, military, family/medical (such as maternity leave), leave of absence, and bereavement.
Employee Signature/Supervisor Approval: This field is to ensure that all necessary parties are aware of the request and are in agreement for leaves that require a supervisor's approval.
Reasons to Track Employee Time Off
Tracking employees' time off requests can be important in several ways, including:
Federal compliance: Some employee leaves include paid sick days, which are mandated by certain state laws. In this case, the employer does not need to approve time—but it is an important practice to document that the leave was used. These laws may also include potential fees and penalties for non-compliance.
Scheduling: Many managers and leaders need to create regular schedules to ensure that the company has adequate coverage if employees in their department are taking time off. Some work may need to get reallocated to ensure that all necessary items are covered in an employee's absence.
Company compliance: Using a time off or vacation request form will allow employees to make sure they are in compliance with their own paid time off (PTO) policy, allowing you to properly manage employees. Even states that do not have laws regarding time off will require employers to consistently apply their own policy.
Once you have your PTO policy, you may want to try out Homebase. It has a free time and attendance system that has a place to input your time and attendance policy, making it simple to track employee days and your official company policies.
Bottom Line
Taking time off is necessary for all employees, no matter the work environment. Time off can be used for many different reasons, including going to doctors' appointments, taking care of a loved one, completing mandatory obligations, or just taking a break. Having a well-crafted time off request form or time and attendance software will make this a seamless process for both the employee and employer.