Unlimited Paid Time Off (PTO): Policy Guide (+ Free Template)
An unlimited paid time off (PTO) policy allows employees to take as much time off as they need or want in a given year. This policy should remain structured (i.e., request/approval process) with no cap on the number of days allowed.
Some companies are experimenting with this option to improve work culture, give exempt employees a better work-life balance, and allow senior staff more vacation and personal time. There are pros and cons to offering unlimited PTO, but creating a solid policy outlining clear expectations can help make it successful. Use our free template as a guide.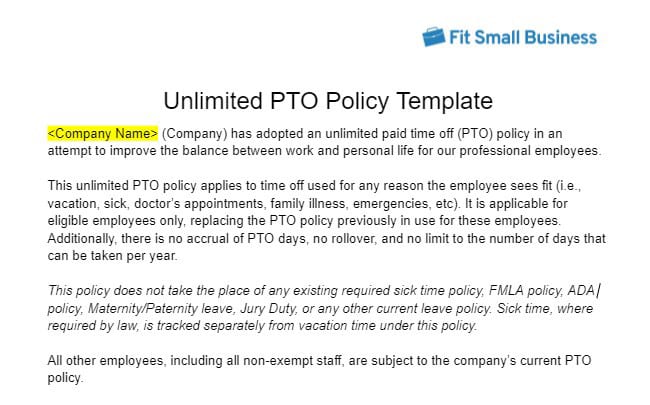 Thank you for downloading!
For help creating custom company policies, consider Gusto. Plus save time with HR, Benefits, and Payroll all in one place.
Visit Gusto
How to Create a Clear Policy
Creating and distributing a strong policy outlining your PTO structure is key when introducing an unlimited paid time off option to your employees. Include the timeline for when the policy will roll out, who's eligible, and what happens to the old policy once the new one is in place. You should also establish parameters to ensure important work gets completed, deadlines are met, and the policy isn't abused. Put this policy in writing (making it part of your employee handbook, for example).
Consider these simple rules when crafting and implementing your unlimited PTO policy.
Require employees to request leave and get it approved by their supervisor five to 30 days before their time off to ensure proper coverage during their absence.
Make it clear if employees cannot request time off during key business events that require them to be on-site—such as key project dates, system implementation dates, and budget or strategic planning periods.
Provide a limit to the number of staff in one department that can be on PTO simultaneously.
Require that individual or team performance and productivity are not impacted by employee absences based on your department's performance standards, metrics, or KPIs.
Ensure it's clear that flexible leave cannot be accrued, rolled over, or cashed out.
Identify Who Is Eligible
Businesses providing unlimited PTO can make it available to only certain types of employees—exempt salaried employees being the most common. There are, however, groups that unlimited PTO will work well for and those it may not be right for.
May Work Well For

May Not Be Right For

Exempt salaried employees.

An unlimited PTO policy allows these employees to take off work as needed, as long as they meet their strategic performance objectives. Learn more about

exempt vs nonexempt

employees.

Nonexempt staff. They must be paid for all hours worked, even while on vacation. If an employee prefers to spend their nights on PTO answering emails, you'd have to pay for that time, even if it's overtime.

Consultants and information technology (IT) or project-based employees. These salaried employees are typically available 24/7, ensuring their programs are running. An unlimited PTO policy allows them to take time off on an as-needed basis.

Staff with no backup. Let's say you have only one person in a role who goes on a two-month safari. Who will manage the work while they are gone with no internet/cell service? Unlimited PTO won't work well in this scenario.

Commissioned salespeople. They work odd hours for travel and trade shows and are typically required to meet financial objectives each month. It's a good idea to include these workers in an unlimited PTO policy.

New hires. You may wish to offer them traditional PTO for a certain period (i.e., 90–360 days) before making them eligible for an unlimited PTO policy.
If you're looking for a policy that gives your employees the flexibility to work when they want and from wherever they want as long as they meet performance objectives, you may be interested in implementing a flexible work environment.
Set Parameters
Your unlimited PTO policy should not be an open-ended policy with no guidelines. It should include parameters around using it, including what happens to unused PTO when employees leave the company.
Be clear that although your PTO policy is unlimited, performance and productivity expectations must still be met. For example, "There are no limits on how much time an employee can take under this policy each year. However, employee performance will be managed throughout the year to ensure that agreed-upon deliverables and work efforts are maintained in accordance with the employee's job description and annual planning activities."
Since your policy is unlimited, there would not be an accrual method for gaining PTO. Make this clear in your policy. For example, "Unlike traditional sick time and traditional PTO policies, time does not accrue under this policy. As such, there is no rollover from year to year."
An unlimited PTO policy does not put a cap on the number of days you can take off. Because of this, there will be nothing to calculate when an employee leaves the company. Be sure to notify employees that they will not receive accrued/unused PTO payouts in their final paycheck. For example, "Because time does not accrue under this policy, no cashout or payout of unused time is available upon termination."
If you are switching to an unlimited PTO policy from a traditional PTO policy, this may come with unused, accrued, or rollover PTO in an employee's bank. You may want to make the transition to unlimited PTO during a natural time frame, such as calendar, fiscal, or benefits year-end. Be clear that the old policy will be replaced and any unused vacation at the end of the prior timeframe will be lost.
Separate PTO From Sick Time
If your state mandates paid sick time, it is advised that your unlimited PTO apply only to vacation or personal time. Several states mandate how much sick time must be provided to employees, and that bank of time should be tracked separately from vacation. Often, traditional PTO combines both, but unlimited PTO in these situations should only refer to vacation or personal time.
Pay close attention if you're in a state or locality that requires businesses to provide a minimum amount of sick leave, such as:
New York, which requires 40 hours per year earned sick time if you have 5–99 employees and 56 hours per year earned sick time if you have over 100 employees
Illinois, which requires a mandatory 40 hours per year for sick leave
California, which requires three days (24 hours) per year for sick leave (up to six days in some counties)
Other policies, like those dealing with the Family and Medical Leave Act (FMLA), the Americans with Disabilities Act (ADA), and Maternity/Paternity Leave, require specific amounts of time for leave. Refer to our guide on Federal Labor Laws Every Small Business Should Know to learn more.
Explain How It Works
In your policy, tell your employees how the policy works and the procedure for requesting time off. We recommend listing the following:
Explain to your employees the procedure for requesting time off. For example, "Employees wishing to take time off must formally request PTO dates in writing via email or by using our company time-off request form/process at least 10 business days before the planned time off."
Notify employees about the avenues they must take to gain approval for their PTO. For example, "Supervisors and managers can approve or reject requests depending on business needs and workload during the requested dates."
If there are times throughout the year, such as busy seasons or holidays, that will not be approved for time off, make that clear in your policy. For example, "Some business-intense timeframes should be avoided for PTO use under this policy, including [list key dates], and any other busy times of the year unique to your particular job or department needs."
Let employees know that their performance metrics must still be met regardless of the amount of time they choose to take off. For example, "Employees off-site, on PTO, or traveling under this policy are expected to maintain strategic objectives and department goals defined by the business, management, or supervisor. Failure to maintain business performance/work results will be managed as a disciplinary issue."
How to Track Unlimited Paid Time Off
Without a clear system for tracking employee time, unlimited PTO can quickly turn into a nightmare for managers. It may become difficult to ensure that employees are taking the time they need to recharge and reset and that they're not taking advantage of the system.
We recommend the following:
Ask employees to keep their own records (like a calendar system) and submit them periodically
Additionally, there is still a level of employee management responsibility that comes with any PTO policy, along with the benefit of knowing how much time your employees are taking off to gauge their productivity. Once you have the guidelines in place, you can choose from any variety of tracking methods.
Pros & Cons of Unlimited PTO
PROS

CONS

Employee job satisfaction and performance may increase as they feel they have adequate work–life balance.
Employees could take advantage of the policy by taking time off every week or taking a long paid leave of absence.
Employees may be more readily available at the end of the year, as they will not be trying to use their PTO before they lose it.
May be limited to certain employees in the company, which can lead to dissatisfaction for those unable to participate.
It helps with hiring and retention when a company offers a robust PTO policy.
Employees may not use many PTO days to avoid being accused of abusing the policy, leading to the feeling of stress and being overworked.
It may save the company money. Since there is no time accrued, there is nothing to pay out when employees leave their posts.
Your company could be left without enough employees to handle daily activities if a good policy is not put into place.
Bottom Line
For small businesses, unlimited PTO can improve morale and make your workplace more desirable, allowing you to attract top talent. A recent poll from Fortune showed that half of US workers would prefer unlimited PTO to a higher salary. It works best in a company with freedom and autonomy, affording trust between co-workers and creating the desired work-life balance. However, be sure when creating your unlimited paid time off (PTO) policy that you're aware of state/federal leave laws and even local mandatory sick leave requirements that may impact the exact wording of your PTO policy.
Related Articles
How to Create a Paid Time Off (PTO) Policy
How to Calculate Vacation Accruals
Time Off Request Form
Employment Probation Period