An unlimited paid time off (PTO) policy differs from traditional PTO by allowing employees to take as much vacation time as they want with virtually no limits. Some companies are experimenting with unlimited PTO to improve work culture, give exempt employees more work/life balance, and allow senior staff more vacation and travel time.
A recent benchmarking report from the Society for Human Resources Management (SHRM) indicated that only 4% of businesses surveyed had implemented unlimited vacation policies for their employees. Is unlimited PTO a good idea, or are you just asking for trouble? In this article, we'll cover recommendations and best practices for implementing an unlimited PTO/vacation policy.
Want to learn about traditional PTO? View our existing article on paid time off policies, or visit our recommended payroll provider Gusto and get a free one-month trial.
Please note that this article contains only general guidelines, and you should consult with a legal professional for specific questions before finalizing any workplace policy.
Our Recommendation: Offer A Flexible Work Environment Instead Of 'Unlimited PTO'
'Unlimited PTO' is a great concept with the wrong name. Most of the businesses we asked who have implemented unlimited vacation have really implemented a work culture that allows employees to work from anywhere and on their own schedule, as long as they meet productivity goals. This isn't really 'unlimited PTO' – rather, it means giving employees the flexibility to work when they want and from where they want if they meet performance objectives.
In fact, here at Fit Small Business, we experimented with unlimited PTO and found that calling the policy "unlimited paid time off" caused confusion for our staff because unlimited doesn't really mean 'unlimited'. Are you really going to pay someone who is on vacation and not working 6 months out of the year? Probably not. Ironically, because it wasn't clear what 'unlimited PTO' meant, many employees actually ended up taking less time off.
After this experiment, we put into place a generous policy of 2 weeks paid time off, 5 days of paid leave, and several paid holidays, which could even be taken as floating holidays. At other times, employees can work from home or choose their own hours as long as they attend important meetings and complete their work. We found that employees actually used all of their PTO, which made for a happier workforce and better company morale. It also created a more trusting work culture with the focus on performance rather than work location or hours worked.
We spoke to several other small businesses who, although they may call their PTO policy unlimited, have really implemented performance-based work policies and flexible work environments.
"I would say it definitely doesn't mean unlimited. Rather, we call ours a 'flexible' leave time policy. Our company's "paid time off plan" is designed to help employees balance leave time needs with department workload. This plan is supposed to make taking time off from work (which we all value) simpler and less stressful."

— Rebecca Nichol, HR Manager, Instrumart, 52 Employees via SHRM Connect (Blog)
"Effectively, unlimited PTO doesn't mean, "Heading to Italy for two months — see ya!" What we've seen is that there has been little net increase in days off taken by employees as a result of our unlimited PTO policy. The BIG change has been that employees no longer have to worry so much about those little parts of our daily lives that we have to attend to — going to the doctor, picking up your kids from school, waiting for the DirecTV person. Before we changed to unlimited PTO, employees and managers stressed about these things and how to manage them."

— Scott Baradel, President, Idea Grove, staff of 25
How To Offer A Flexible Work Environment
If you decide to offer flex time or a flexible work environment, consider these best practices to ensure it works well for you and your employees.
Don't Call It 'Unlimited PTO'
Even if you are flexible about leave, it's not like employees can just show up to work whenever they want. Some call it unlimited vacation time, but we recommend being even more clear in your policy description. Perhaps what you're looking for is workplace flexibility, meaning employees can work on their own schedule and from whatever location they prefer.
"Our RTO (Responsible Time Off) policy was implemented once we realized that we wanted employees to use their vacation days to actually have fun rather than using them for personal reasons. Our team members really appreciated having the assurance of being able to take time and not cut into their vacation days, without guilt… it boosted their morale and happiness at work.
— Aman Mann, CEO, Procurify, staff of 70
Separate PTO from Sick Time
To avoid confusion with some state labor laws that mandate paid sick time (like California and Oregon), Unlimited PTO should apply to vacation time only, not sick time. In fact, several states mandate how much sick time must be provided to employees, and that bank of time — sick time — should be tracked separately from vacation. Most payroll systems, like Gusto, ADP and Paychex, can track both vacation and sick time. Often, traditional PTO combines both, but unlimited PTO only refers to vacation.
Limit Who is Eligible Under The Policy
Most businesses that provide unlimited PTO/vacation by any name make it available to certain types of employees only. Unlimited PTO may work well for:
Senior level employees – Senior level exempt salaried employees who don't often take vacations due to the importance of their work. A workplace flexibility policy lets them work from anywhere, even while on vacation, as long as they meet their strategic / performance objectives.
Consultants, information technology (IT), or project-based employees – These salaried employees are typically available 24/7 already, making sure their programs are running or systems don't crash. A flexible leave policy allows them to take time off on an as-needed basis and work on their projects between personal activities, often at night.
Sales employees with commissions – Commissioned sales people work odd hours for travel and trade shows and are typically required to meet financial objectives each month. Sales people likely work on vacation already to avoid missing out on revenue and commissions. So it's not a bad idea to formalize sales folks' flexible work schedule in a policy.
There are several types of positions that should probably not be eligible for unlimited PTO. Here are some:
Non-exempt staff – Non-exempt employees must be paid for all hours worked, even while on vacation. If Joie prefers to spend her nights answering emails while she's on a cruise ship, you'd have to pay her for that time, even if it's overtime. Read our article Exempt vs. Non-Exempt Employees for more information.
Staff with no 'backup' – For example, if Ernie is your only sales rep, and he goes on a 2-month Safari, who will manage the sales calls while he's gone with no internet/cell service?
Staff that need to be in office – Some staff must be available for specific work hours, say 9-6 to answer phones, or available for pre-scheduled customer appointments. Those positions would not be good candidates for unlimited PTO because someone needs to be in the office or provide service during those hours. If the key functions of the job cannot be done offsite/remote, it's probably not a job eligible for unlimited PTO, or work that can be performed while on vacation.
New hires – You may wish to offer new hires traditional PTO for a period of 90-360 days prior to making them eligible for an unlimited vacation or flexible workplace policy, so that you have time to evaluate their performance and work habits.
Staff with poor performance – Consider limiting eligibility only to those employees who maintain a pre-set performance standard. For example, if you use a four-point performance rating scale, you may want to allow unlimited vacation or a flex-work environment only for those employees who maintain 3 points or above. Learn more about managing performance.
Free Flexible Workplace Policy Template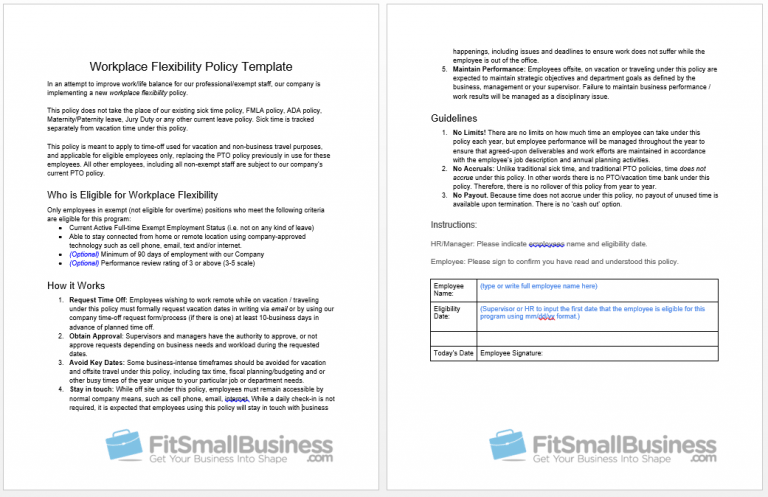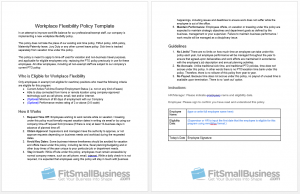 We've included the recommendations above onto a 2-page template, available as a fillable Google Doc or a pdf. This document can be a start to drafting a policy that works for your business, but you'll need to make adaptations based on your employee subset.
How To Keep A Flexible Leave Policy In Check – Pro Tips
Even if you want to avoid putting limits on the amount of time an employee can take vacation, you should include policy parameters to make sure important work gets completed and deadlines are met.
For instance, require employees to request leave and get it approved by their supervisor 5-30 days before their time off, to ensure proper coverage during their absence.
"We implemented an unlimited PTO policy a few years ago without many rules around it. It was a disaster in year 1! What staff heard was take any days off that you want – whenever you want. This translated into a lot of people calling out on Friday/Monday. We later put rules in place like a required two week notice and approval from management. I have found no cons after fixing the issues identified above."

— Greg Nicholson, Founder, 401(Play), staff of 15
You should also make it clear that employees can't request time off during key business events / dates that require them to be onsite such as key project dates, system implementation dates, and budget or strategic planning periods. A good rule of thumb may be allowing no more than xx # or % of a department to be scheduled on 'vacation' at the same time. Team performance and productivity shouldn't be impacted by employee absence based on your department's performance standards, metrics or KPIs.
The important thing is coordinating project timelines. We require team members to give us at least a month notice if they will be away for more than a week."

— Aman Mann, CEO, Procurify, staff of 70 
You may also want to implement an employee scheduling or calendar system or a project management system to simplify PTO tracking and project metrics for your managers/supervisors.
Some More Do's When Implementing A Flexible PTO policy
Document your policy in writing. See our template.
Be specific about who is eligible and who is not.
Clarify that vacation time is not sick time (track sick time separately). Track sick time in a separate time bucket using Gusto or other payroll software if you're in a state or locality that requires businesses to provide a minimum amount of sick leave, such as:

NY requires 40 hours per year earned sick time (1 hour for every 30 hours worked).
IL which requires a mandatory 40 hours per year for sick leave.
CA requires 3 days/24 hours per year for sick leave (up to 6 days in some counties).

Make sure it's clear in your policy that flexible leave can't be 'accrued', 'rolled over', or 'cashed out'.
Expect employees to be 'available' during key events (such as project kick-off, year-end inventory, annual meetings, conferences or tax season)
Be prepared to manage scheduling issues (for instance, both your trial attorneys can't be gone at the same time)
What Do Other Small Businesses Say About Unlimited PTO?
Here at Fit Small Business, rather than continue with unlimited PTO, we returned to a standard, generous vacation policy with 2 weeks paid vacation and 5 days paid personal/sick leave to use for any reason, available upon a person's hire date. We actively encourage people to take their vacation, unplug during their time off and really unwind. If they're on vacation, we don't want them to 'check in'.
As far as taking vacations, managing family activities and traveling, we also opted for a flexible work environment policy that allows most of our employees to work from anywhere, at any time. Other than logging in for weekly meetings and project updates conference calls, an employee could work from the Appalachian trail, using their laptop at night in a tent or while soaking their feet in a creek. Performance matters to us more than location or work hours. But, let's hear some other business perspectives.
More Cohesive and Shared Environment
"We've had an unlimited PTO policy since we started this company more than 20 years ago. Here's the bottom line: when you hire adults and treat them as such, they tend to behave as such. We've never had anyone take advantage of this policy. In fact, it creates a more cohesive and shared environment ."

— Amanda Vega, CEO, Amanda Vega Consulting, staff of 32
Saves Administrative Overhead
"The best part of unlimited PTO is that we don't have an administrative overhead pertaining to people taking time off. We get to spend more of our time doing awesome work instead of tracking spreadsheets about who has how many days left."

— Sam Coster, Co-founder of Butterscotch Shenanigans, staff of 7
No Change in Amount of Time Off Taken
"The first thought most people have when faced with this possibility is that employees will abuse the system. Again, this is where operations and current culture are critical in the decision. Every firm that I know that has implemented this has found that there is a net zero change to aggregate time taken; some employees take more and some take less, but there was no real impact on operations."

— Margaret Zecchin, HR Manager via SHRM Connect (Blog)
Unlimited PTO Frequently Asked Questions (FAQs)
Q: How do other companies manage rollover of unused time when they transition from standard PTO to unlimited vacation?
A: Some companies don't rollover time since the new policy is essentially unlimited. Others pay out accrued vacation once they replace their old PTO with a new unlimited PTO policy, and reset everyone's balance to 0 at that time. Once the new policy is implemented, allow no further 'accruals'. Others put a limit on the amount of unused vacation (up to 2 weeks for example) an employee can expect to be paid upon termination. To avoid issues with accruals, keep two buckets of time, sick time and PTO, separately.
Q: What if employees want to 'cash out' their prior accrued vacation at the time of transition?
A: The point of unlimited vacation is for employees to take time off and improve work life balance. Since there are no accruals, there should be no 'cash out' option. However, you may want to make the transition during a natural time frame, such as calendar, fiscal or benefits year end, and be clear that the old policy will be replaced, and any unused vacation at the end of the prior timeframe will be lost. Of course, give employees plenty of heads up so they can use up their vacation under the old PTO policy before you transition.
Q: Can payroll/hr systems manage administration of unlimited PTO?
A: The benefit of unlimited PTO, aka, work from anywhere even while on vacation, is that there is no tracking of days taken, or accruals. Therefore there should be no need to manage anything but the sick-time portion, depending on your state. Yes, most HR/payroll systems are able to track sick time taken.
Bottom Line: Unlimited PTO
As a small business, unlimited PTO, more aptly named something like 'workplace flexibility' or 'flexible vacation', can improve morale, and make your workplace more desirable, allowing you to attract top talent even if you can't pay the highest wages yet. What's most important, whatever you call your policy, is that you're aware of state/federal leave laws, and even local mandatory sick leave requirements that may impact the exact wording of policy. And by all means, determine in advance, and describe within your policy how you're going to manage it — so that you retain the ability to run your business and work continues to get done.
And once you've implemented a workplace flexibility policy or unlimited PTO / vacation at your business, we would love to hear from you about how it's working. Please leave a comment below.