10 Checkout Optimization Tips for Small Businesses in 2023
As many as 17% of ecommerce shoppers ditch their purchase because the checkout process is too complicated. This is why checkout optimization strategies are important.
What Is Checkout Optimization?
Checkout optimization is the process of enhancing the online checkout experience with the goal of maximizing sales and conversions. This means making it as smooth, efficient, and user-friendly as possible for customers. Optimization includes simplifying steps, reducing friction, and removing barriers that might prevent customers from completing their purchases.
This guide outlines several checkout optimization tips and includes examples to demonstrate how the tips translate into real checkout pages.
1. Go Mobile-first
Mobile commerce, or mcommerce, is continuing to grow. In fact, it's expected to account for just over 40% of all ecommerce sales by 2024. Capturing those shoppers is about more than making sure your product photos are viewable on small screens—you also need a mobile-optimized checkout experience.
This means making sure your checkout page is mobile-responsive and easy to navigate on smaller screens. Implement mobile-friendly payment options and consider integrating mobile wallets for a seamless experience.
2. Reduce Steps & Form Fields
The checkout process requires customers to take specific steps to complete their purchase. The number of steps may vary depending on a number of factors, including the type of product you sell, customization options, and more. On average, an ecommerce checkout has 5.2 steps, so this is a good benchmark to keep in mind. Anything more than that, you probably have space to cut.
Along with reducing the number of steps in the checkout process, you can also optimize the number of form fields. More form fields means more work, which also leads to more bounces. The average site checkout has 11.8 form fields, another benchmark to keep in mind.
Only use the form fields you absolutely need to process the order. Anything more can add friction and encourage users to bounce.
Did You Know?: Businesses lose as much as $5.11 each time a new customer bounces (or abandons their cart)—$5.24 for existing customers and $4.89 for new customers.
3. Include Plenty of Payment Methods
It's important to accommodate the payment methods your customers prefer. As many as 42% of shoppers abandon their cart if they can't use their payment method of choice. Today's payment methods span more than just credit and debit cards. Now, consumers can pay with mobile wallets, buy now, pay later (BNPL) options, cryptocurrency, and more.
BNPL, for instance, can boost consumer spending—45% of BNPL users take advantage of this option to be able to make purchases they otherwise wouldn't be able to. BNPL essentially works as a personal loan, where shoppers can pay the BNPL provider in installments, rather than forking over all the cash at once.
RevAir offers both Shop Pay and Afterpay BNPL options to its customers.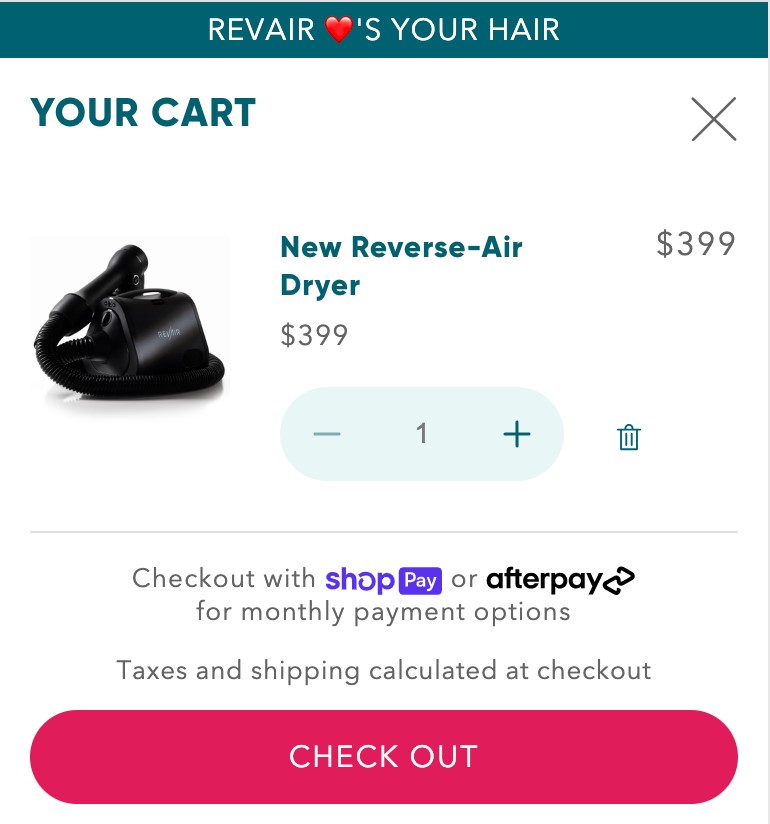 It's important to do your research to find the best payment gateway for your business, while also offering a variety of payment options.
Related:
4. Create Saved Customer Profiles
Saved customer profiles are exactly that—saved information that goes along with each customer account. Shoppers can save their shipping and payment information, making the checkout process easier each time they come back for a repeat purchase. This also helps reduce the number of errors, as the address and billing information don't need to be manually entered again.
Ora Organic, for example, offers the option to create an account at checkout.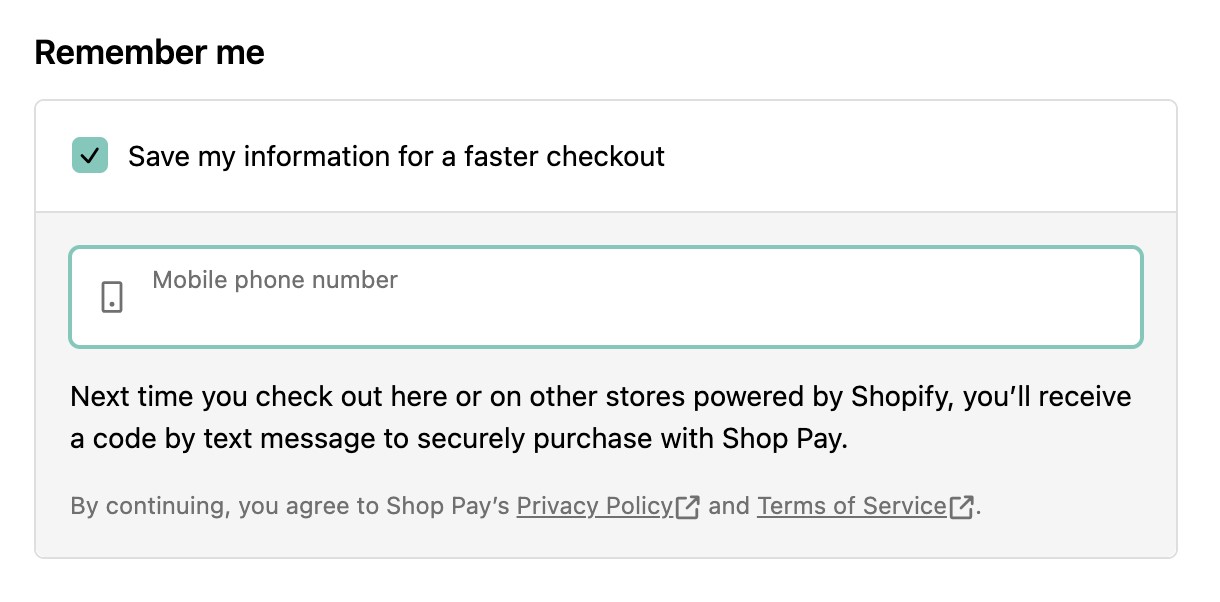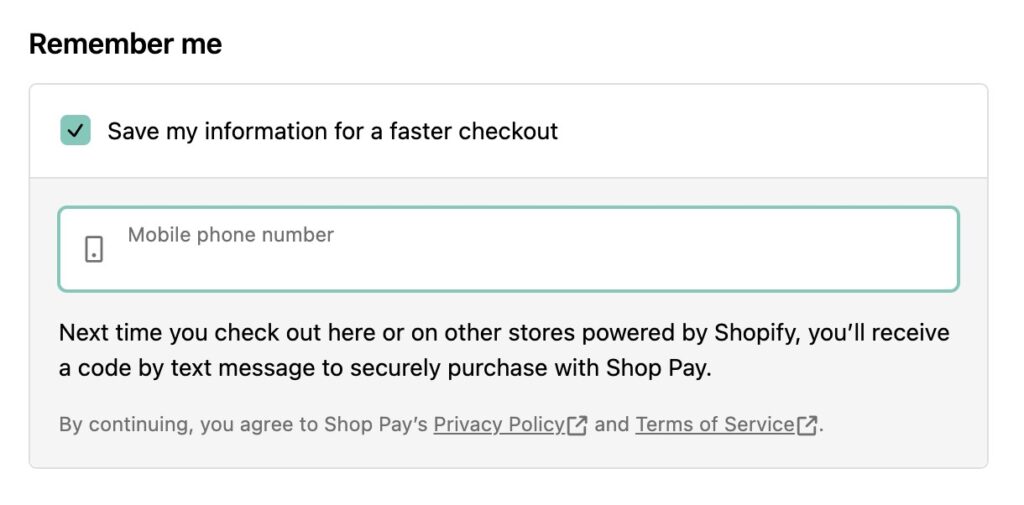 You can offer your own customer accounts and dashboards or leverage third-party technology. Google Autocomplete, for example, can increase conversion rate by nearly 20% through time savings and error mitigation.
5. Allow Guest Checkout
On the flip side, you also want to offer guest checkout. While customer accounts are especially great for customer retention, not everyone is ready to commit to making an account. In fact, nearly a quarter of shoppers will bounce if you ask them to create an account to complete the checkout process.
Take, for example, retail brand Nike's checkout options for its shoppers. It offers a member checkout as well as a guest checkout option.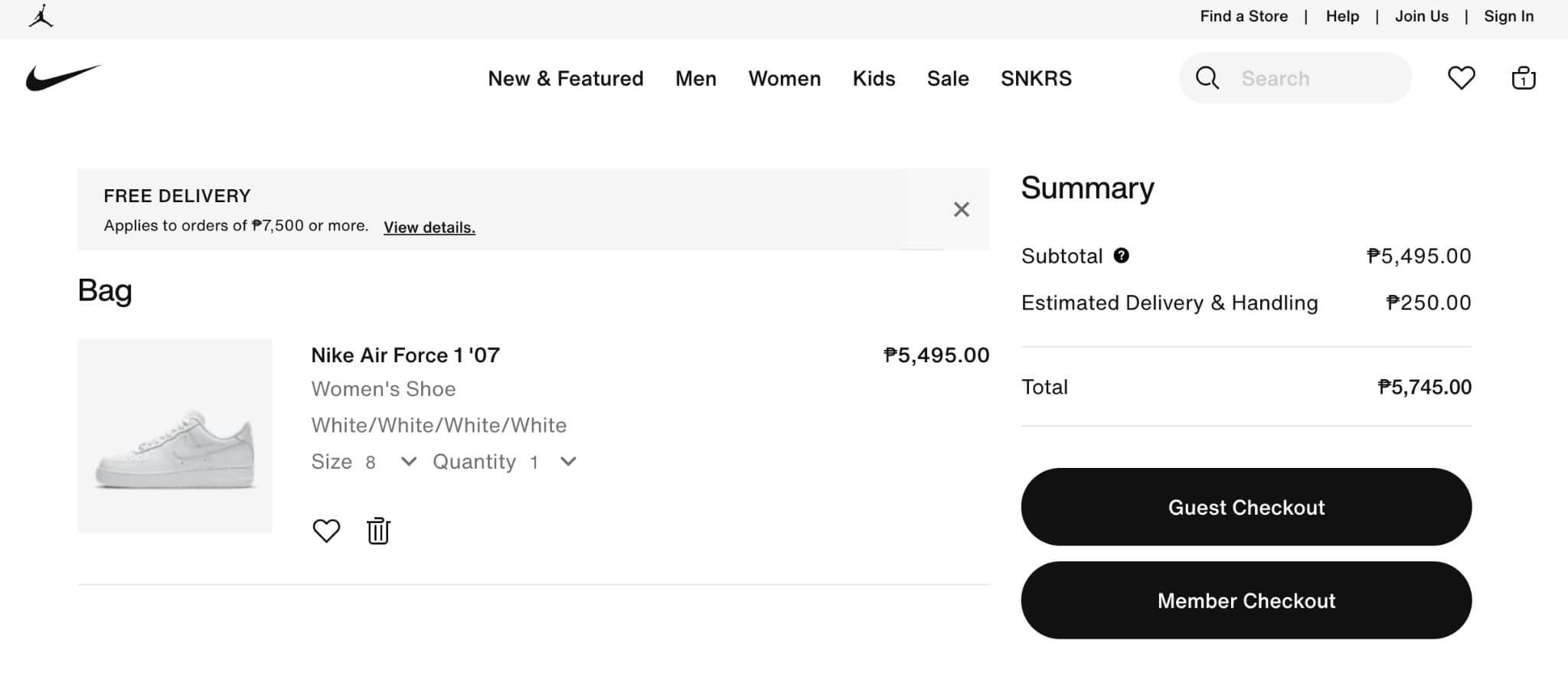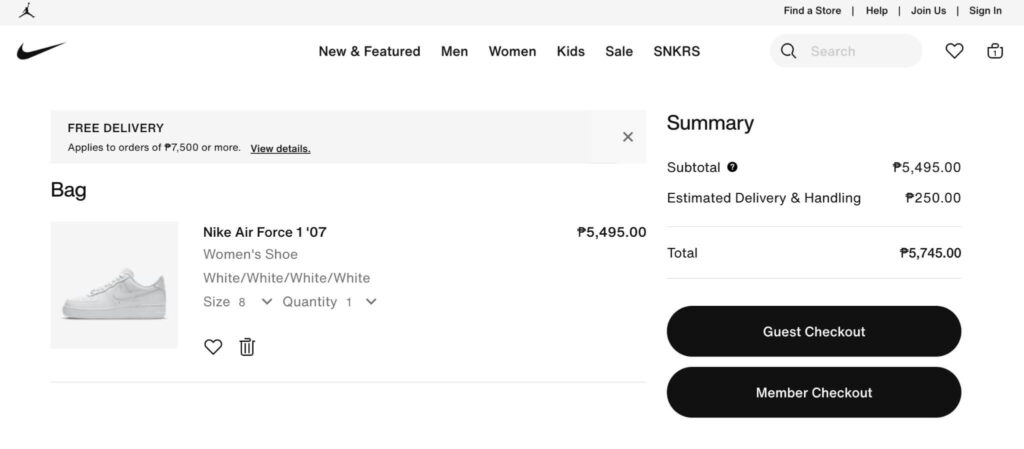 6. Offer Free Shipping
Free shipping is a great way to boost conversions and optimize the checkout process. According to one survey, 62% of shoppers won't buy from a business that doesn't offer some form of free shipping.
You can choose to offer free shipping across the board or make it conditional. For example, many US-based retailers may offer free domestic shipping but charge for international orders. You might also incentivize higher order values by offering free shipping on orders over a specific dollar amount. Learn how to offer free shipping without losing money.
7. Use Checkout Tools
You don't have to build a completely optimized checkout experience from scratch. There are many checkout tools and platforms to help. The best ones really depend on your unique business needs. Here are some to consider:
We've also put together these guides to help you weigh your options:
8. Mind Site Security
Ecommerce payment security is important for protecting both your business and your customers. More than half of businesses were more concerned about cybersecurity in 2022 than the year prior. And it's certainly a consideration among shoppers—17% of shopping carts are abandoned because of trust issues with the site.
It's important to always use payment technology that has Payment Card Industry (PCI) compliance. Learn how to ensure your business meets its requirements in our PCI compliance guide.
Additionally, improve your site's trust signals by displaying trust and security seals. Include Secure Sockets Layer (SSL) certificates, payment badges, and antivirus software logos at checkout. Also consider presenting verified customer testimonials and reviews on your platform.
9. Be Transparent About Total Pricing, Including Fees
Transparency matters to modern consumers, including when it comes to pricing. Hidden shipping fees, taxes, and other unexpected additional expenses can be major turnoffs and cause shoppers to bounce. Rather than luring shoppers in with misleading prices, be honest about what they'll have to pay.
Did You Know?: Checkout optimization goes beyond direct lost sales. Around 6 in 10 shoppers feel "frustrated and/or annoyed" with the business when they bounce, and 41% will share that frustration with their networks. Plus, 73% are less likely to shop with the business in the future and 13% will even turn to a competitor.
10. Add Live Chat Support
Live chat is an excellent tool that can ease the burden on your customer support teams and also encourage shoppers as they make a purchase. You can add a chatbot to your checkout experience to help customers answer any questions that pop up along the way—without having to exit the checkout process.
Customers are used to these tools—in fact, 38% of shoppers are more likely to purchase from businesses that offer live chat support.
Related:
Checkout Optimization Tips Frequently Asked Questions (FAQs)
Checkout optimization refers to the process of improving the checkout experience for customers by streamlining steps, reducing friction, and removing barriers to completing a purchase.
---
A few ways to optimize checkout are reducing the number of steps and form fields, offering various payment methods, providing free shipping, and creating a secure checkout experience.
---
To optimize checkout on Shopify, use Shop Pay (its one-click checkout service), use saved customer accounts, and offer BNPL.
---
Bottom Line
Starting a retail business is exciting, but optimizing it is when you start to see real results and real growth. Checkout process optimization is a powerful strategy that can significantly impact your bottom line. Continuously monitoring and analyzing checkout performance is essential to identifying areas for improvement and making customers happy.