How Much Are International Calls? What Small Businesses Need to Know
This article is part of a larger series on VoIP.
International calling costs vary based on the country you're calling and the service provider you use. Voice-over-internet-protocol (VoIP) providers offer the cheapest per-minute international call rates, ranging from 1 cent to $1 per minute. They also have different international call plans for specific needs. In this article, find out how much are international calls, learn about the most affordable providers, and explore tips on how to save on international calling costs.
Global Rates by Country & VoIP Provider
The chart below gives you an idea of how much are international calls depending on the country and VoIP provider. Prices displayed are based on per-minute international call rates by top business phone systems, with calls originating from the U.S.
| Country | RingCentral | GoTo Connect | 8x8 | Phone.com | Nextiva | Ooma |
| --- | --- | --- | --- | --- | --- | --- |
| U.K. | $0.04 | $0.03 | $0.03 | Included | $0.01 | $0.03 |
| India | $0.06 | $0.03 | $0.06 | $0.03 | $0.09 | $0.03 |
| Brazil | $0.08 | $0.03 | $0.04 | $0.03 | $0.03 | $0.05 |
| Canada | Included | $1.05 | $0.03 | Included | Included | $0.01 |
| Hong Kong | $0.04 | $0.03 | $0.06 | $0.03 | $0.06 | $0.03 |
| France | $0.04 | $0.15 | $0.02 | Included | $0.02 | $0.02 |
| Japan | $0.04 | $0.03 | $0.06 | $0.03 | $0.05 | $0.04 |
| Germany | $0.04 | $0.03 | $0.02 | Included | $0.02 | $0.02 |
| Italy | $0.04 | $0.03 | $0.03 | Included | $0.03 | $0.03 |
| Spain | $0.04 | $0.15 | $0.03 | $0.03 | $0.02 | $0.02 |
| Mexico | $0.01 | $0.06 | $0.04 | $0.03 | $0.16 | $0.03 |
Fit International Calculator
We created a calculator to help you determine which VoIP provider offers the lowest international calling price. Select the country you want to call and enter the number of minutes you expect to consume each month.
Fit International Calculator














If you cannot estimate how many minutes you might use, simply enter "1" to see the per-minute charge.
VoIP Providers With International Calling
Now that you know how much international calls cost, let's explore the top VoIP providers and the type of international call plans they have. Unlimited calls are often unlocked at higher tiers, while per-minute charges will apply if you stick with the entry-level plan.
VoIP Providers

Monthly Starting Price

(per User)

International Calling Plan

$30

Per-minute rate

$32

Unlimited calls to 50+ countries
Per-minute rates available

$28

Unlimited calls to 14 or 48 countries
Per-minute rates available

$14.99

Unlimited calls to seven countries
Included minutes
Per-minute rates available

$30.95

Per-minute rate

Free or $9.99

Unlimited calls to 60 to 70 countries
Per-minute rates available
Click on each provider below to learn more about their top offerings.

RingCentral, the leading provider of business phone systems, is an excellent choice for scaling businesses needing extensive communication features and a seamless app experience. Subscribing to the Standard, Premium, and Ultimate plan provides access to Global MVP, which lets you streamline phone system management across your global offices. It includes up to 1,000 minutes of monthly regional calls per user and local dialing options in 105-plus countries.
Check out our RingCentral review for a more in-depth look at its functionality.
---

GoTo Connect is a cloud phone system with built-in chat and video conferencing. For international calling, the Basic plan charges per minute, but upgrading to the Standard and Premium package includes unlimited calls to 52 countries. If you're dialing outside the included countries, per-minute charges will apply based on the region you're calling. With GoTo Connect, you get features like virtual phone numbers, unlimited extensions, and a call flow editor.
Take a look at our full GoTo Connect review to learn more about what it can do for your business.
---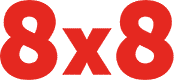 8×8 is a unified communications provider that offers unmetered calling to 14 or 48 countries when subscribed to its X2 or X4 packages. It also provides metered calls to more than 200 global destinations. If you want to expand globally, 8×8 offers local phone number support in over 100 countries, allowing you to establish virtual offices outside the U.S. All plans include video conferencing, team messaging, multi-level auto-attendant, and voicemail transcriptions.
Our 8×8 review gives you a deeper look into its best-use cases, pricing, and feature set.
---

Phone.com is a low-cost VoIP provider that lets you mix and match metered and unmetered call plans. The basic plan includes over 50 voice features, including business texting, video calling, phone greetings, and auto-attendant. Calls to Canada, France, Israel, Italy, Germany, Puerto Rico, and the U.K. are included in your Phone.com plan or billed at U.S. local rates. In addition to per-minute rates, Phone.com also lets you purchase local numbers in 39 countries.
Learn more about Phone.com's affordable monthly plans in our Phone.com review.
---

Nextiva is a business phone service that integrates multiple communication channels in one easy-to-use solution. Although it doesn't have an unlimited plan for international calling, its per-minute rates are fairly competitive. If you travel frequently, Nextiva includes features that keep you connected with your team and customers. Popular features include multiple forwarding options, team chat, video meetings, and professional voicemail service.
Explore our Nextiva review to learn more about its pricing, features, and customer support.
---

Ooma is a phone service provider offering affordable plans fit for solopreneurs, startups, and small businesses. It has separate international calling plans for residential and business users. Basic and Premium plan subscribers can avail of the World Plan or World Plus Plan to get unlimited minutes in over 60 to 70 countries. Those who subscribe to any Ooma Office plan can enjoy cheap per-minute rates for international business calling.
Our Ooma review provides a full view of its phone system service and business phone features.
---
Types of International Calling Plans
There are different international calling plans available for specific business needs and budgets. You can pay only for what you use or subscribe to a monthly plan to enjoy unlimited calls. To help you decide, we explain how each type of plan works.
Pay-as-you-go: This option is best for businesses that only make international calls on occasion. With metered plans, the rate depends on the destination country, and charges are applied to the next bill.
Included in the plan: Unmetered plans cater to businesses that make frequent international calls. Your bill stays the same as long as the country you're calling is included in the list of supported countries your VoIP provider offers.
Preset minutes and calling credit bundles: Some VoIP providers include a specific number of minutes to use for international calls. If you run out of minutes, purchase credit bundles or pay for the overage charges. The only downside is it requires frequent monitoring of outbound calls to avoid extra fees.
Tips on How to Save on International Calls
International call cost is a significant expense for any business wanting to expand its market globally. Follow these steps to keep those fees as little as possible and avoid paying more than necessary for those calls.
Evaluate your business needs: Before anything else, it's important to know which countries you call the most and how often you make calls during a specific period. Understanding your current needs makes it easy to narrow your search for the right service provider and call plan.
Review international calling plans: As explained above, international calling comes in three different plans: pay-as-you-go, unlimited calling, and preset minutes. Knowing how each one works will give you an idea of how much a provider's international calling plan will cost your business.
Research cheaper providers: Providers charge different fees for calling internationally. For example, traditional phones can cost as much as $5 per minute, while VoIP providers typically charge between 1 cent and $1 per minute. Look for a provider with the cheapest rates specifically for the countries you're calling. Our guide on the best services for VoIP international calls enumerates the best providers for overseas calling.
Check with your provider if calling a landline or mobile phone is cheaper: The per-minute costs and dialing processes vary depending on whether you use a landline or mobile number. Landline calling is cheaper, so make sure to consider this option.
Read the terms and conditions: It's easy to get carried away by cheaper international call rates and plans. However, most of them come with limitations, which could lead you to pay more than what you expect. For instance, unlimited calls or free minutes can only work for certain countries or extensions. That's why reviewing the terms is important before signing up. Contact the sales team if you have any questions.
Frequently Asked Questions (FAQs)
Why are international calls so expensive?
Different factors affect the cost of international calls, but the cost usually comes down to the network provider. Network providers work with multiple parties to process calls and use cables and satellite systems, which can be expensive to build and maintain. Aside from covering the entire cost of the process, they have to include additional charges to profit from it. With all the intricacies of international calling, the entire cost is high for the customers.
What are other options to get low-cost international calls aside from VoIP?
Other low-cost alternatives to consider are free messaging apps like Skype and WhatsApp. Make free international calls as long as both parties have the app installed. You can make unlimited calls to international territories using your internet connection or cellular data plan.
What is the dialing procedure to start calling internationally from the U.S.?
To start making calls in another country, dial 011, enter the country code you're calling, followed by the area or city code and the phone number.
Bottom Line
International calling doesn't have to be expensive if you take the right approach. Businesses that want to save costs on international calling will never go wrong with a VoIP phone system. When choosing an international calling plan, determine your business needs first and check the call rates when considering multiple VoIP providers.