What Is BNPL? A Small Business Guide to Buy Now, Pay Later
This article is part of a larger series on Payments.
Buy now, pay later (BNPL), often referred to as "point-of-sale installment loans," is a type of short-term financing that lets your customers pay for purchases over time, often with zero or low interest rates. BNPL payments have become increasingly prolific in the retail world in recent years as people have begun to use them more frequently for everyday purchases.
This article takes a deep dive into how BNPL works, the pros and cons of offering this financing option, and the solutions you can use to implement it in your business.
Want to learn more about the current BNPL landscape? Check out our article on the top BNPL statistics.
How Buy Now, Pay Later (BNPL) Works
While the exact terms of purchase will vary based on the financing solution, in general, the BNPL process begins with a customer choosing their items and selecting the BNPL option at checkout. The customer must then be approved and decide on a payment plan. Once the transaction is complete, your business will receive the full payment amount while the customer will pay later according to the BNPL terms.
Buy Now, Pay Later in 5 Steps
Customers shop normally and select the products they want to buy from your store.
When customers go to checkout, they select the BNPL option as their payment method.
Before becoming eligible for BNPL financing, customers will sometimes undergo a quick credit check, which typically takes less than a minute. This is not only used for loan approval, but your credit score will also determine your APR rates.
Not every BNPL lender requires a hard credit check; some do a simple identity verification.
Once approved, customers can view their financing options and generally choose between paying monthly or in four biweekly installments. Note, however, that not all BNPL financers offer term options. For some, there is only one timeline, interest rate, and monthly fee to choose from.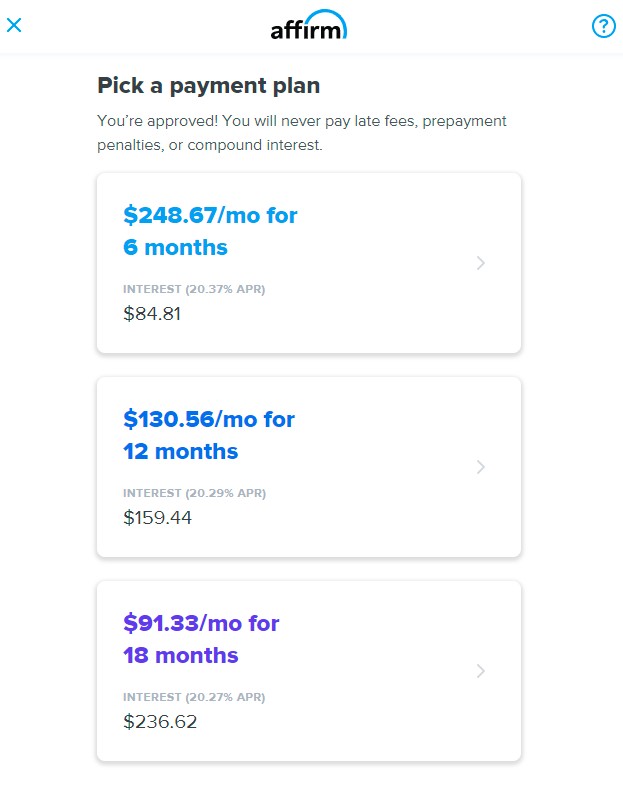 When your customer completes their purchase, you will receive the full amount upfront. All that you owe to the BNPL company is the processing fees. Your customer will then start paying the BNPL company according to their financing terms to avoid any interest or late fees. They can also choose to pay off their entire purchase at any time.
The BNPL company will carry all the loan risk and is responsible for administering late fees and collecting payments. In other words, once you get paid, you are off the hook and all other purchase concerns move to the BNPL provider.
Sometimes, depending on the plan and BNPL company, the customer will owe a portion of the purchase upfront as a down payment. Depending on their selected terms, this down payment can be 0%–70% but typically runs anywhere from 0%–25%.
Pros & Cons of Offering BNPL
There are lots of great benefits that can come from offering BNPL to your customers. However, there are also drawbacks you should consider, particularly impacts on the customer that could alter their opinion of your brand.
PROS

CONS

Higher conversion rates
BNPL providers charge high merchant fees
Higher average order value (AOV)
Late penalties can cause customers to become distrustful of your business
Improve customer experience by offering them more ways to pay
Customer credit score is impacted upon taking out loan
Expand reach to customers with less upfront capital
Can cause customers to incur debt that they can't afford
Easier to sell high-value products
Let your customers know that many BNPL platforms allow them to set up an account where they can link their bank account and put their monthly payments on autopay. This is a great way to avoid late fees and missed payments.
BNPL Solutions
To offer a BNPL payment option at your business checkout, you will need to sign up and integrate a BNPL solution into your POS and/or ecommerce site. Creating an account and adding it to your site is free—simply pay the processing fee, and the BNPL partner takes care of the rest.
Click through the tabs below to see how the top BNPL providers stack up against each other.
Best For

Number of Retail Partners

Number of Monthly Users

Conversion Rate Increase*

Average Order Value (AOV) Increase**

Offering a variety of financing plans

250,000+

23 million

250%

58%–68%

Financing high ticket items

207,000+

2.9 million

20%–30%

85%

Retailers that already use PayPal

34.6 million

429 million***

20%–30%

39%

Catering to younger shoppers

15,000+

5 million

20%–50%

10%–25%

Small transactions

21,900

7.3 million

20%

60%

International sales

3,000+

350,000+

12%

80%
*As reported by provider
**As reported by provider
***Number of active PayPal accounts, not necessarily BNPL users
Processing Fee

Loan Limit

Financing Options

Payout

Annual Percentage Rate (APR)

Late Fees

3.29%–5.99% + 30 cents*

Based on individual credit

Pay-in-4, pay in 30 days or 6- to 36-month financing

Set payment schedule in contract

0%–28.99% (APR only applies to 6- to 36-month financing)

Up to 25% of purchase value

2%–8% + 30 cents

$17,500

Pay-in-4 or 6- to 48-month financing

1–3 business days

10%–36% (APR only applies to 6- to 36-month financing)

None; missed payments impact credit

1.9%–3.49% + 50 cents

$10,000

Pay-in-4 or 6- to 36-month financing

Per your PayPal schedule

9.99%–29.99% (APR only applies to 6- to 36-month financing)

Vary by state

4%–6% + 30 cents*

$2,000

Pay-in-4

48 hours

0%

Up to 25% of purchase value

2%–4% + 15 cents

$5,000

Pay-in-4

Set payment schedule in contract

0%

Up to 25% of purchase value

1.5% + $1.50–3.9% + 30 cents

Based on available credit

3- to 24-month financing

3 business days

0%

Credit card charges interest
BNPL Frequently Asked Questions (FAQs)
While BNPL services and credit cards operate mostly the same—letting you buy items and pay for them later—BNPL providers typically have higher merchant fees than credit card payments. However, BNPL providers also usually offer lower interest rates, late fees, and penalties. Additionally, there are BNPL options that do not require good credit.
---
You can sign up for most BNPL providers for free. Simply choose a provider that integrates with your website, sign up, and use the plug-in to add the provider to your checkout and product pages. You then pay the BNPL company in transaction fees for every purchase processed through the financing company.
---
BNPL is typically free for merchants to sign up for and use. You only pay for BNPL as you use it in the form of processing fees, typically ranging from 1.5% to 6%.
---
BNPL companies make the majority of their money through processing fees. They also make money from late fees and other consumer penalties.
---
Typically, you are given a grace period of 5 to 14 days to make your payments. From there, the late penalties vary from a set fee, to a fine equal to 25% of your purchase, to a hit on your credit score—it depends on which company you are working with.
---
Most BNPL companies have a spending limit ranging from $5,000 to $18,000. Some, however, do not have set caps and base their limits on your credit score.
---
Bottom Line
As we look to the future of retail, BNPL services will play a major role in the payments landscape. Here, we examined what BNPL is, how it works, solutions for your business, and the service's highlights and drawbacks. With this knowledge, you are ready to start integrating BNPL services into your transactions and reaping the benefits.
You May Also Like…