What Is Mobile Recruiting? Definition, Tips & Benefits
This article is part of a larger series on Hiring.
Mobile recruiting is the process of reaching out to job seekers and taking them through the application process via their mobile devices. It seems simple, but to do this well takes more than just a mobile-friendly website. The best mobile recruiting processes fully utilize mobile technology, enabling a smooth process and quick and easy communication for job seekers and your hiring team.
HR software like ZipRecruiter can make mobile recruiting easy. ZipRecruiter allows you to manage your job ads and track applicants right from your mobile device.
Mobile Recruitment Strategies & Tips
Finding employees using mobile recruitment requires many of the same job advertising skills as any other recruiting style. Start with a clear job ad with strong keywords that will help interested people find it in a search. Ensure your "About" page and social media feeds showcase your company in its best light. Also, especially on mobile, take out any unneeded steps that lengthen the application process or otherwise make applying difficult.
Consider these specific strategies and tips to make your mobile hiring experience its best:
Recruiting Pages
There are a few things to keep in mind when designing a mobile recruiting page. First, the page should be designed specifically for mobile devices. This means it should be easily viewable and navigable on a small screen.
Second, the page should contain relevant information such as job descriptions and contact information. And finally, the page should be designed with conversion in mind, making it easy for job seekers to apply for open positions.
Geo-targeted Ads
Geo-targeted job ads are a type of online advertising that allows employers to target potential employees in a specific geographic area. This can be done through online job boards, social media, and other online platforms.
Geo-targeting can benefit both employers and employees—it allows employers to reach a larger pool of potential employees, and employees can search for jobs in their specific geographic area.
Optimized Applications
Most people use their mobile devices to access applications. While many applications are designed to be used on mobile devices, some are not. For the best experience possible when using an application on a mobile device, optimizing it for that platform is important.
Mobile optimization goes beyond making sure your recruiting tool is good for mobile. You should also:
Optimize your keywords
Keep job descriptions simple and direct
Avoid complex application processes
Allow buttons rather than typing where possible
Avoid making applicants move from webpage to webpage to get things done
Additionally, mobile devices differ from desktop or laptop computers in that the screen size is typically smaller, and they usually have different input methods (people use their fingers versus a mouse or trackpad). Designers must consider how users will interact with the surface, how much space is available, and how users will input information into the application.
In addition to optimizing the job application for mobile, keep the information to the essentials. It's been shown that 60% of applicants will give up on an application that is too long or complex—whether a traditional application or on a mobile device.
Mobile Communication Options
Since the majority of Americans own a smartphone, it's important for businesses to communicate with job seekers in a mobile-friendly way. This ensures that job seekers can easily find and apply for jobs on the go and reach you in case of questions.
Sometimes, applicants want to know more before going through the application process. Those using mobile especially expect a way to reach out and communicate before going through the application process. This can also be an advantage to you, as you may be able to screen some candidates before putting them in the application chain.
You should also consider communicating with job seekers via text message. Text messages have a high open rate, and people are more likely to read a text message than an email, so you're more likely to reach potential candidates if you send them a text message. Just be sure to keep your messages clear and concise.
According to Emissary and Aptitude Research, 40% of companies increased their use of texting in recruitment in 2022. Texts generally get immediate attention, whereas emails can be lost or ignored—and even if someone has email on their phone, it's still a process to get to, whereas texts are one tap away.
Document Uploading
It is easy for applicants to upload information using their mobile phones and it can speed up the application process. This could be anything from attaching a resume or an application to being able to upload proof of ID.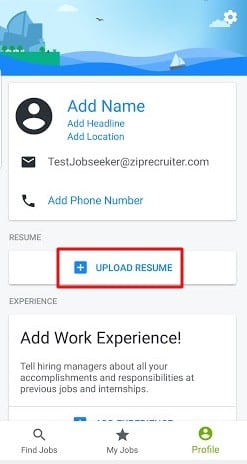 Mobile End-to-End
To make your recruiting process mobile-friendly, you need to consider the entire process from start to finish. This means making sure your job postings are easily viewable and accessible on mobile and that the application and interview process can also be completed on a mobile device. It can be annoying to an applicant to start on mobile, only to have to move to a desktop for communication, applications, or other parts of the process.
Additionally, you should consider making your offer letters and other communications mobile-friendly so they can be easily viewed and accessed by candidates. These steps will help make your recruiting process mobile-friendly and more accessible to all candidates.
QR Codes
QR codes are popular for payment processing and item information, but they can also be used for hiring. Having a kiosk or even a sign at the counter with a QR code that leads to your application site can increase applicants, making it a great tool for restaurants and retail. Further, this makes you more accessible to people who already love what you do and are familiar with your business.
Social Recruiting
Mobile and social media go hand in hand, so it's important to include social outreach as part of your mobile recruitment strategy. Look for recruiting and job posting software that includes social media features, and be sure you have company pages on the most popular business-oriented platforms as well as some up-and-comers. For example, LinkedIn is a standard, but if you are reaching out to women in the workforce, Bumble Bizz, the professional networking arm of the popular dating app, is worth considering.
Smart job seekers will make sure they have a strong profile, so consider letting them apply via LinkedIn rather than filling out a complex application online. You can also host live events via Facebook Live, WhatsApp, and others.
According to CareerArc, 86% of job seekers search for jobs through social media. Make sure your social media pages are up-to-date and reflect your company culture and your product.
Mobile Recruiting Benefits
More than 60% of candidates applying for jobs use their mobile devices, according to Appcast's 2022 Recruitment Marketing Benchmark Report. However, mobile recruiting is not only important for reaching candidates but in showing your company as forward-thinking and technology-minded.
Some other benefits of mobile recruiting include:
Reach younger candidates: Pre-COVID studies showed nearly 52% of millennials searched for jobs using mobile devices. For Gen Z, the expectation for mobile is even higher, with 69% expecting mobile job applications.
Quicker communication: Gen Z also expects text communication. Two-thirds say that texting shows a company is tech-savvy, a quality they expect. Regardless of generation, however, applicants are expecting faster replies. Texting makes it easy—plus, you're more likely to be heard as most studies and surveys indicate an open rate for text messages of nearly 100%.
Recruiters can work anywhere: Mobile recruiting isn't just about convenience for the candidates. It allows managers and hiring authorities to work via mobile as well, so they can work even when not near the computer. For example, a restaurant manager who was too busy during open hours to get to the computer can quickly review candidates and send texts over the phone from home. It also makes it easier to quickly react to a new applicant no matter when they submit.
Mobile Recruiting Apps
Many of the best recruiting apps handle mobile recruiting as well as website job postings. Look for those that optimize for mobile, allow text messaging within their system, and have tools that utilize social media.
Bottom Line
A few years ago, mobile applications surpassed desktop applications for the first time. Your business cannot ignore mobile recruiting, especially if you are looking for the next generation of employees (54% of Gen Z candidates will pass by a business if they think you have outdated recruiting methods). Consider the tips we discussed above—including simplifying the application process, allowing documents to be sent via mobile, and communicating through text—to get the most out of your mobile recruitment strategy.