How you are perceived by current employees, job candidates, and those who may apply for future opportunities is largely tied directly to your employer brand. Employer branding can have a huge impact on attracting and retaining enough high-quality talent, which in turn will help you grow and compete within your industry effectively. In this article, we'll teach you how to craft an employer brand that will win over your current and prospective employees.
Employer Branding in 6 Steps
Define Your Objectives
Develop a Skill Needs List
Define Your Employee Value Proposition (EVP)
Get Input From Your Team
Get the Word Out
Measure and Evaluate
Branding Terminologies, Don't Let Them Confuse You
First, we want to normalize the most common terminologies. There are developing various schools of thought on this topic, but do not get caught up or overwhelmed with these terms. Our goal is to develop an internal brand that attracts top talent and retains it once you acquire it!
Employee Brand
The term "employer brand" has been around for a while, however, social media continues to dramatically evolve what branding messaging looks and feels like. As LinkedIn's reporting shares that your employer brand has always been the messaging you shared with the marketplace and "periodically refreshes" as updates become relevant.
Talent Brand
We hear the term "talent brand" which is designed to point toward the modern-day ways in which your talent (people) experience their workplace. Now more than ever, information is consumed and distributed at light speed, or in real time, based on employees' and job seekers' experiences with and about your company. Some 52% of candidates first seek out (1) the company's websites and (2) social media platforms to learn more about a prospective employer.
Employee Value Proposition (EVP)
EVP is the balance of the rewards and benefits that are received by employees in return for their performance at the workplace. Regardless of terminology, we are largely focusing on the same priorities as we desire to drive top talent to your company and increase retention by building an awesome work culture that people never want to leave.
A Closer Look: What Is Employer Branding?
Employer branding is how your company is perceived by prospective and current employees. It includes company mission, culture, ethos, your total compensation package, and, to candidates and passive job seekers, even your product or service. Your employer brand is perceived long before you begin your hiring process.
Since employer brands are interpreted by how they make people feel, it is more important than ever to develop and cultivate an employee brand, or internal brand, that is best in class and that is relatable to as many people as possible. It's the aggregate perception of all these pieces relative to other employers that make your employer brand what it is today.
Why Employee Branding?
Tactically speaking, why is employee branding critical to understand? According to the Society of Human Resources Management (SHRM) and the Manpower Group, more businesses than ever are struggling to fill their open positions. In fact, 45% of companies globally say they can't find the skills they need, up from 40% a couple of years ago and those numbers are still climbing. In addition to helping you locate top talent for your employment opportunities, there are a number of other related attributes that will greatly assist your company, by creating and maintaining a strong employee (or talent) brand:
You may spend (a lot) less on hiring. You could lower your cost per hire (CPH) as much as 50%.
You will position yourself to significantly boost retention. Reduce employee turnover by up to 28%.
You will influence the conversation with job candidates and casual job seekers.
Source: LinkedIn Employer Brand PlayBook
How Job Candidates Look at Your Company
A positive employer brand can go a long way in helping your small business hire and retain talent and stand out from other companies in your industry. We have to remember that it is not just job applicants trying to sell you on their abilities and talents; your company needs to successfully sell job applicants that yours is an awesome organization to work for.
The Holy Grail: Passive Job Seekers
When we talk about employee branding as it relates to job candidates (and potential job candidates) assessing your organization from a distance, the most highly desired sub-group within those onlookers are your "passive job seekers." These people are presently employed people who are casually shopping around to see what else is out there (these passive job seekers can also manifest as referrals from current employees as well).
Much of the time they are not desperately looking for another job, they are completely in the driver's seat. They will not leave their current job unless something much better presents itself to them. These employees tend to be the best hires, as they are typically surer of themselves in your employ than the average new hire (who might be inclined to take any similar job out of necessity).
6 Steps to Employer Branding
Similar to marketing your product, you need to think through and execute an employer brand strategy with a series of steps that not only require initial action, but ongoing cultivation so your employee brand always accurately represents you, who the company is and why it matters.
Step 1: Define Your Objectives
First, let's be clear on the "why" of employer branding. Generally, businesses create an employer branding strategy for the following reasons:
Attracting Candidates
Everyone has heard the refrain, "it's hard to find good help." Most small business owners know that attracting the right employees is critical to success and growth. You need to have a great recruiting strategy, but any recruiting strategy is going to be more effective if supported by a great employer brand.
Converting Candidates
To meet hiring goals, you need to be able to convert candidates to employees. Some 69% would reject job offers from brands with poor employer branding, even if they were unemployed.
A strong employer brand will help you compete against other companies when those offers come rolling in for the great candidates (much of the time your best candidates will also catch the eye of other companies).
Lowering Acquisition Costs (and Employee Referrals)
A great employer brand will reduce recruiting costs because you attract more candidates per position with less effort. Also, since the most effective hiring comes through employee referrals, a great employer brand means people who work for and know your company will be more likely to refer the people they know to your brand. This is the more cost-effective way to acquire top talent (more so than job boards or recruiters).
Employee Engagement
Everyone wants productive employees. It just happens that happy employees are more productive employees, in general. How your existing employees perceive your employer brand is going to affect their attitude in their daily job.
Increase Employee Retention
Reducing turnover in your workforce means reduced recruiting costs, reduced training costs, and reduction in the loss of valuable expertise in your workforce. Around 84% of employees would consider leaving their current jobs if offered another role with a company that had an excellent corporate reputation. A strong employer brand is a critical piece in reducing turnover as much as possible.
Now that we're all super-motivated to have a great employer branding strategy and making it happen, what goes into it?
Step 2: Develop a Skill Needs List
The more specific you can be in your branding strategy, the more you'll benefit from it. Instead of saying "We're a great company to work for," which is easy for any company to say, you need to talk specifics with the world.
Take a look at your current and future skill needs. Do you need customer service people, engineers, designers, salespeople? Often different types of employees value different things. Designers might want creative freedom. Salespeople want a fast growing company.
You want a cohesive employer branding strategy, but you may want to tailor your message and choose different channels as you try to reach different folks. For example, you might have a message about intellectual challenges when recruiting at an engineering school or emphasize a flexible work environment for customer service personnel.
Develop Clear and Concise Job Descriptions
The best way to further put forth a clear initiative as to what you need and are looking at building up within your organization, is to share the information, post the recruitment ads, and also develop and maintain (which is the hard part) accurate and informative job descriptions. Employees, and at times candidates, can refer to this resource for information, confirming expectations and peace of mind, as one typically feels more confident when one knows what the prerequisites of one's job is.
Step 3: Define Your Employee Value Proposition (EVP)
Current and future employees are trading their time and effort in exchange for not only earnings, or pay, but also the experience of working for your organization. So it's helpful to think about your employer brand in terms of an employee value proposition (EVP). Remember, we mentioned EVP at the beginning of this article. Although all companies have employee brands, either intentionally or unintentionally, only two in five employees surveyed believe their employer has EVP related goals and established attributes.
Mercer.com notes that, "Thriving organizations place a premium on people and think carefully about how to create experiences that meet the full range of their employees' needs. They are future-focused and understand that the workforce of tomorrow may look quite different from the workforce of today." These companies develop and curate an employee value proposition (EVP) that is meaningful to its recipients (employees) and delivers an engaging employee experience.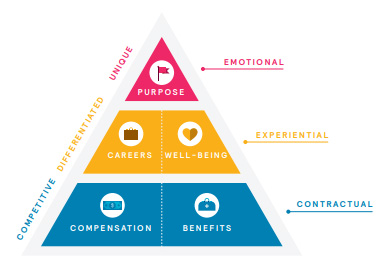 The purpose of your EVP is simply to define and be able to articulate your company's key strengths relative to what other employers are doing.
Blend in Benefits
Armed with a mission, now build in all of your specific benefits into a cohesive story. Keep in mind your prioritized list of skill needs and what's important to your target employees. The more cohesive you can blend in benefits under mission, the better your EVP and branding campaigns will be. There may be branches in your EVP and benefits articulation. You'll want to tailor the messaging based on each employee segment.
Here are some benefits you can focus on:
Charitable involvement/volunteer work
Health benefits and wellness classes
Work/life balance
Retirement benefits
Company culture, including dress code and food, snacks, or beverages offered
Vacation and paid time off
Mission
Your EVP can't just be a list of benefits. Your EVP needs to go beyond promoting all of the important benefits and needs to be articulated as a compelling story. That means all of the benefits need to fit cohesively into the company mission. What does your company stand for? Why does it exist? What's the culture? What's the vision for your company's impact on the community? And how do your employees fit in this picture?
A good example is Charity Water. They've baked their mission of bringing water to developing countries right into their business model and made it abundantly clear in all of their marketing. Good for sales but also helpful on the employer branding front.
Act Don't Talk
Finally when crafting your EVP, the most important thing is not your message. Your employer branding campaign is to show off how your organization thinks and behaves. So while you need messaging, that messaging should focus on showing how your organization thinks and behaves, not just its principles.
If you don't have a lot of activities that promote and enable your EVP, you need to do that first. Is one of your principles to support the environment? Then how does your business do that? Are employees volunteering to plant trees? Are they working on recycling drives? Make sure you're walking the talk on your EVP before you start promoting it.
Instead of just a marketing campaign, Avon's breast cancer fundraising run shows that the company is willing to get out and actually try to help women by sponsoring this race.
Authentic Voice
As you head into creating your messaging for your employer branding, make sure you're using the right voice and not coming off as holier-than-thou. People can see through marketing speak. Use a down-to-earth, approachable voice, and focus on showing actual activity as opposed to marketing messages.
Ben & Jerry's ice cream sounds authentic when describing what fair trade means to them and why it's important.
Step 4: Get Input From Your Team
Now that you've got a beautiful EVP, it's time to get the word out. You'll need a plan to execute your employer branding. Engaging your team for ideas and input and getting everyone involved and on the same page is essential for long-term success.
Who Owns It
The first step in any execution plan is clearly defining who's responsible for it. For employee branding, often it's a tussle between marketing and HR departments. Traditionally, HR departments have owned this function when it was mostly internally focused. However, the marketing department is skilled at evangelizing externally. It makes sense to leverage these capabilities and resources. So clearly, it'll involve both departments, but having multiple departments ultimately responsible for execution is usually a recipe for failure. So pick one to take the lead.
Senior Leadership Buy-In
A proper employee branding strategy is ultimately going to require investment, effort, and focus. Without proper buy-in from owners and senior managers, you're probably not going to get far. So get this early on in the process.
Cooperation Breeds Authenticity
A company needs to walk the employer branding talk for it to be authentic. That means the employer brand needs to reflect all the different parts of your company, e.g., marketing, operations, customer service. Make sure you involve each department in the planning process, so you have the necessary buy-in when it comes time to execute.
Step 5: Get the Word Out
Now that you've got your EVP and the ownership and buy-in you need, you need to map out how to get the word out. From your research, you should have a good sense of how to get in front of folks, similar to any marketing campaign. Each small business is going to have different channels to get the message in front of the right folks but here are some common ones.
Company Review Pages
The first place that many potential candidates will go to learn more about your company is company review sites. Job boards like ZipRecruiter, Glassdoor and Indeed, the world's largest job board, have company profiles where job seekers and employees can leave reviews.
Make sure your profile information is up-to-date, upload photos that show happy employees having fun and doing activities that reflect your brand, answer any open questions, etc. A good place to start is to ask current employees to leave reviews. However, don't try to game the system and ask a dozen employees to leave reviews at the same time. Job boards will flag that as spam. Ask for genuine reviews, perhaps one or two per month until you build up your company profile page.
Training & Development Programs
Any employer branding project starts with your existing employees and, thus, the first place you should start is in your internal training and development programs. Does your onboarding process incorporate your EVP principles? Does your review process include employee feedback on your EVP in addition to performance reviews?
Internal Newsletters
This one should be pretty obvious. If you don't have an internal newsletter, start one. It's an easy way to get the word out to your employees about how you're executing against your EVP. Some newsletters are internal blogs or updates to a page on the company intranet.
Employee Referral Programs
Referrals are usually the best ways for small businesses to attract talent. Make sure you have an employee referral program. Make sure both the messaging and processes reflect your EVP. For example, if work-life balance is a part of your EVP, think about rewarding those who refer hires by giving them time off from work instead of just a bonus.
Your Website
The first place folks will go to research your small business is your website. If you're like most businesses, your website focuses on selling. But if you're serious about attracting talent, you need to incorporate your mission and EVP into your homepage and throughout the site. A key spot is your careers page. Make sure it reflects the branding you're after. If you don't have a careers page, you should create one.
Physical Presence
For many small businesses, your physical presence is just as visible, if not more so, than your website. Review all the ways you're visible to the world, such as uniforms, retail presence, packaging, etc. The goal is to work your employer branding throughout as much of it as you can, alongside your product marketing.
Career Postings
If you're like most businesses, your postings for job openings have some sort of company background and job description. Review all existing ones and new ones to ensure both are using the messaging and voice you want.
Social Media
Here's where you really want to make sure you're using your authentic voice and focus on showing your EVP, not just marketing messages. Instead of posts that simply espouse good intentions and missions, use social to support your EVP activities. Use Twitter to promote activities, e.g., announcing a blood drive. Create groups on Facebook that support EVP-related efforts, e.g., volunteer groups. Evidence of activity will go much further than just branding messages.
Marketing Campaigns
You want your marketing to sell products. But if you're serious about your EVP and your employer branding, you should work them into your marketing efforts to some extent. Quite often, employer branding and marketing are two sides of the same coin. Used well together, they can convince people to come work for you and feel better about buying your product.
Budget
Again, like any marketing campaign, you're going to need funding to get the word out about your employer brand in all these channels. Some typical pieces of your budget should include line items for the following:
Full-time and part-time staffing
Any tools you'll need to execute and track your branding
Direct advertising
Production costs for advertising
Special projects such as donating to charities or organizing events
There's going to be some overlap between employee branding, marketing, and HR activities. Use your judgement on what belongs to each in the budget.
Step 6: Measure & Evaluate
A lot of factors go into determining the effectiveness of your employer brand. But the two main pieces are how effective you are at delivering on your EVP and how well are you at getting the word out.
Remember, in order to have an effective employer brand, it's not enough to get the word out once. You need to continually hone the messaging in your EVP and reach job seekers and employees. Your long-term plan should also include periodic review and adjustment to make sure your small business is being effective over time.
Evaluate Internally
The easiest place to measure your EVP is going to be with your employees. Employee surveys are a great way to do this. A few things you might want to start measuring if you're not already would be:
Employee engagement surveys
Employee retention rates
Employee activity, e.g., volunteer rates
New employee post-onboarding surveys
Exiting employee surveys
Evaluate Externally
Similar to any marketing campaigns, measuring how effective your employer branding is going outside of your small business is a bit trickier than internal. But here are a few ideas on how to measure it:
Average number of candidates for job openings over time
Time to hire
External surveys
Number of attendees at non-employee social activity, e.g., liking a blood drive
There are additional HR metrics that can also be a good measure of the success of your employer brand.
Employer Brand (internal) vs Company Brand (external)
While your employer brand relates to how people perceive you as an employer, your company brand is broader. It includes traditional sales-related branding efforts and how the public perceives all aspects of your company. However, there is often overlap between your employer brand and sales marketing efforts.
For instance, TOMS shoes has baked into its brand and truly its corpus, charitable giving throughout its business model and marketing. This helps its sales and overall growth, but also positions the company as a caring organization and employer of choice. Similar to TOMS, you should leverage your traditional marketing capabilities as a starting point to enhance your employer brand.
The main difference between company branding and employer branding is the focus and the channels utilized. For employer branding purposes, the focus is on employee engagement, inclusivity, growth opportunities and key benefits, or perks. Messaging should focus on internal, employee-focused attributes, not on sales. And, you're going to focus on channels that put that message in front of employees and potential employees, not necessarily customers.
Your company branding efforts focus more on outward directing channels, toward customers, potential customers and society-at-large. Corporate branding refers to the practice of promoting your company's brand name and its entire entity, including corporate social responsibility efforts, products or services and how those make humanity better and so on.
Bottom Line
You are now armed with what you need to get your employer branding off the ground. Keep these key things in mind as you get started:
You have to "walk the talk" on your brand, not just marketing speak, be authentic.
Focus on evangelizing actual activity as opposed to good intentions. It helps to under-promise and over-deliver, especially when starting out, keep your goals reasonable.
To sustain a program over the long term, you need to gather data to support continued investment and improve the program over time.
At first, your employee brand can seem a bit nebulous of a concept to you and we understand. Taking the time to define who you are, though, as it relates to your internal brand (or with your team members and potential candidates) matters greatly. If your employee brand is nebulous to you, it probably is to your current and potential future employees too.