A shift differential policy is a set of guidelines and rules for handling non-mandatory premium pay offered to eligible employees for working hours that deviate from the standard or regular work schedule. A strong policy outlines the details of how the pay is calculated, who is eligible to receive it, the specific shifts or time periods that qualify for the differential, and any other relevant terms and conditions.
Although there are no federal or state laws that require shift differential pay, some businesses offer this as an added benefit for working under certain conditions. If you are considering creating a shift differential policy for your business, download our free policy template and customize it to meet your needs.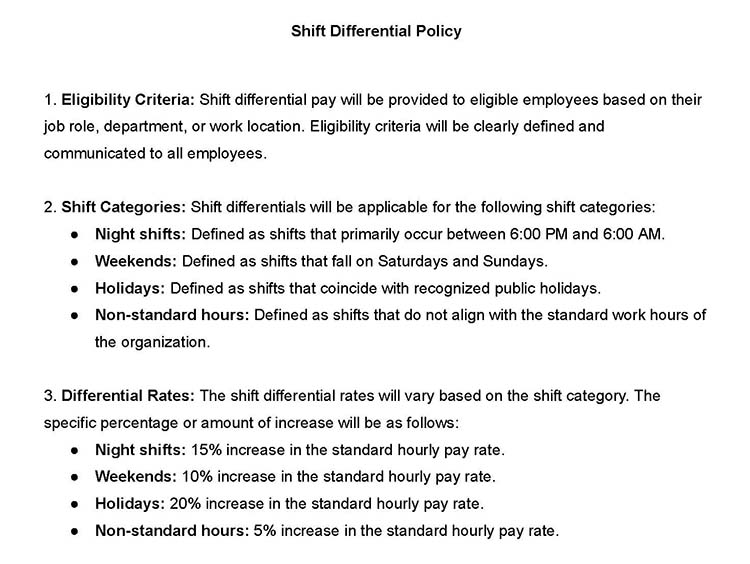 Thank you for downloading!
💡 Quick Tip:
If you're in a state that heavily regulates employee pay stubs, consider outsourcing to a payroll software service, like Gusto.
It is a full-service payroll provider that helps ensure your pay stubs are calculated correctly and contain the required information for your state.
Shift Differential Policy Inclusions
A well-defined shift differential policy helps create transparency, consistency, and fairness in providing additional compensation to employees who work less desirable shifts while promoting effective employee management. It should also, of course, comply with relevant labor laws and regulations.
Key elements typically found in a shift differential policy may include:
Eligibility Criteria: Which employees are eligible to receive shift differentials based on factors such as job role, department, or work location
Shift Categories: Shifts or time periods that qualify for a differential, such as night shifts, weekends, holidays, or other non-standard hours (we go into more detail on shift differential types below)
Differential Rates: Specific percentage or amount by which the standard pay rate will be increased for employees working eligible shifts; this can vary based on the shift type
Calculation Method: How the shift differential is calculated, whether it's a percentage increase, a fixed amount, or another method
Pay Periods: When and how often the shift differential will be paid to eligible employees (e.g., weekly, biweekly, monthly)
Employee Communication: How employees will be informed about shift differentials, including during the hiring process, orientation, or ongoing company communications
Changes and Amendments: Provisions for how changes to the shift differential rates or eligibility criteria will be communicated and implemented
Overtime and Other Pay Factors: How shift differentials interact with other forms of compensation, such as overtime pay
Dispute Resolution: Procedures for resolving any disputes or concerns related to shift differential calculations or eligibility
Record Keeping: Required record-keeping for paid shift differentials
How Shift Differential Works
Because shift differential isn't required by law, employers have flexibility within their policies. You may choose to offer employees a flat dollar amount per hour or a percentage. Regardless, your policy should clearly outline eligibility requirements. Through detailed time-keeping records, you can calculate the total pay due to an employee eligible for shift differential pay.
If your business is considering a shift differential policy for your employees, you may benefit from time tracking software to help keep employee hours straight. To adhere to accurate pay calculations around shift differential consider using payroll software.
Determining Eligibility
In most cases, only hourly employees are eligible for shift differential. However, some companies want to offer this benefit to salaried employees as well. Companies are free to offer shift differentials to all or just certain classes of employees.
Be aware of employee classification as it relates to shift differentials. Your business may have two different classes of employees: exempt and nonexempt. Under the Fair Labor Standards Act (FLSA), exempt employees are not subject to overtime laws and, therefore, not eligible for overtime pay. Nonexempt employees are, however.
While all your employees can be eligible for shift differential, only nonexempt employees will be eligible for both overtime pay and shift differential. This requires a unique calculation to first determine shift differential pay and then overtime pay. We discuss this further in our calculating shift differential pay section below.
Salaried Employees
If you expect your salaried employees to regularly work odd or undesirable hours, you can add shift differentials to every paycheck (or as a quarterly or annual bonus) in the form of a flat rate or percentage. A percentage of the employee's salary/hourly rate will be more difficult to calculate, whereas a flat supplement on every paycheck will make payroll easier for you.
You may also choose to offer premium pay based on the hours the salaried employee works, although this is more complicated and requires detailed timekeeping records, something salaried employees aren't always ready to do.
Hourly Employees
Calculating shift differentials for hourly employees is not as difficult as it may seem. Because hourly employees already record their hours in your timekeeping system, you will know exactly how much shift differential pay they're entitled to.
Where it can become confusing is in calculating overtime. In addition to the FLSA's strict rules, some states even go further, mandating additional overtime pay in certain situations. Under the FLSA, overtime pay is calculated at one and a half times the employee's regular hourly rate. If an overtime hour is also eligible for shift differential, the shift differential pay must be added to the regular hourly rate before calculating overtime.
Eligible Work Hours
Your policy should specify the hours that are eligible for premium pay. Many companies designate overnight hours as eligible for shift differential pay (8 p.m. until 8 a.m.). You can list all hours that your business is open and tag them as either eligible or ineligible in your policy to avoid confusion.
Calculating Shift Differential Pay
Employers need to track employee hours efficiently. An employee has the right to take legal action and potentially sue an employer if they believe that their shift differential pay has been wrongfully calculated or if they have not received the correct amount of compensation for their work.
To calculate the total pay due for an employee entitled to shift differential pay, you need to determine their base rate for regular hours, overtime hours, and shift differential hours.
Determine Regular Hours – Number of hours worked x hourly rate
Determine Overtime Hours – Number of overtime hours worked x hourly rate x 1.5
Determine Shift Differential Hours – Number of shift differential hours worked x adjusted hourly rate (including premium pay)
Determine Shift Differential Overtime Hours – Number of shift differential hours worked x adjusted hourly rate (including premium pay) x 1.5
Calculate Total Due – Regular Hours + Overtime Hours + Shift Differential Hours
EXAMPLE:
An employee worked 50 hours last week. They make a regular rate of $10 per hour and five of their 50 hours were eligible for shift differential at $2 per hour.
Here's how to calculate what you owe the employee:
40 hours of regular pay (40 x $10 = $400).
5 hours of overtime pay (5 x $15 = $75).
5 hours of shift differential pay, calculated at $10 + $2. The shift differential hours were subject to overtime pay as well (1.5 x $12 = $18).The total rate for those five hours (5 x $18 = $90).
Add it all together ($400 + $75 + $90 = $565). For these 50 hours worked, you would owe the employee $565.
| Day | Regular Hours | Overtime Hours | Eligible Shift Differential Hours |
| --- | --- | --- | --- |
| Monday | 10 | 0 | 0 |
| Tuesday | 10 | 0 | 0 |
| Wednesday | 10 | 0 | 0 |
| Thursday | 10 | 0 | 0 |
| Friday | 0 | 5 | 5 (OT) |
| Totals | 40 | 5 | 5 (OT) |
| Rate per Hour | $10 | $15 | $18 |
| Total Pay | $400 | $75 | $90 |
Because the employee worked overtime during a period where they were entitled to shift differential pay, they are getting time and a half for the shift differential period. This creates even more incentive for the employee to help you cover those less desirable hours.
Shift Differential & Payroll Taxes
Before implementing a shift differential policy for your business, ensure you understand the tax implications for both you and your employees.
Taxable Income: Shift differentials are generally considered taxable income for employees. As an employer, you are responsible for including the shift differential amounts in employees' total wages when calculating their taxable income.
Withholding Taxes: When calculating payroll taxes (such as federal income tax, state income tax, and Social Security and Medicare taxes), employers must consider both the base wages and any shift differentials paid to employees. The withholding amounts will be based on the combined total of these earnings.
Unemployment Taxes: Shift differentials may also be subject to unemployment taxes, which vary by state. Employers are required to pay unemployment taxes on the total wages, including shift differentials, to fund state unemployment programs.
Reporting: Employers are responsible for accurately reporting both base wages and shift differentials on employees' W-2 forms at the end of the tax year.
Income Tax Withholding: Shift differentials are subject to income tax withholding. When employees receive shift differential payments, the employer withholds federal and state income taxes based on the combined total of their base wages and shift differentials.
Social Security and Medicare Taxes: Shift differentials are also subject to Social Security and Medicare taxes (FICA taxes). Both employees and employers contribute to these taxes, and the amounts are calculated based on the combined total of base wages and shift differentials.
State Taxes: State income taxes, if applicable, will also be withheld from shift differentials based on the employee's withholding allowances and the state's tax rates.
It's important to note that the specific impact of shift differentials on payroll taxes can vary based on individual circumstances, tax laws, and regulations. Employers should consult with tax professionals or payroll experts to ensure accurate and compliant payroll tax calculations and reporting when dealing with shift differentials. Similarly, employees may want to review their withholding allowances and consult tax advisers to ensure proper tax planning when receiving shift differentials.
Types of Shift Differential
There are several common types of differential pay to understand:
Hazard pay is typically offered to highly specialized employees like doctors who go to work in a war zone. It is generally offered as either a bonus or a percentage increase in their salary. This additional sum may incentivize employees to work in hazardous conditions.
During the COVID-19 pandemic, many employers offered essential workers hazard pay to help keep their businesses running. Some grocery stores, for example, offered workers hazard pay to help them keep the shelves stocked during the tumultuous time.
Pros & Cons of Paying Shift Differential
Shift differential pay has historically been a significant benefit to offer that helps set your business apart from the competition. By providing premium pay, you can attract and retain top talent in your industry, reducing your hiring and retention costs.
You're probably thinking that all of this is great but, ultimately, it's going to cost your company more money. Initially, it will. Higher salaries mean more outgoing payroll and taxes, cutting into your margins. But don't look at this increased cost in a vacuum. You can save money in other areas—such as hiring, employee retention, and employee engagement, just to name a few.
PROS

CONS

Gain a competitive advantage and attract better talent
Higher payroll costs
Improve morale and reduce turnover
Resentment from ineligible employees
Increase employee productivity
Operational challenges in complying with city and state overtime laws
Industries That Commonly Offer Shift Differentials
Any company may choose to offer shift differentials, but they are not common in every industry. Businesses that operate during normal business hours rarely need to offer shift differential pay.
Restaurants and Retail: Restaurants and retailers that operate during extended hours, particularly in malls or during holiday seasons, might offer shift differentials to employees working evening, night, or weekend shifts.
Manufacturing: Manufacturers often have round-the-clock operations to meet demand. Workers on night shifts or extended hours may receive shift differentials.
Customer Service: Companies that operate in the customer service industry need to have a full staff during peak hours. For many businesses, peak hours can be early evenings and weekends. By offering shift differential pay to employees who work later hours and weekends, customer service companies can ensure a full staff and happy customers.
Healthcare: Healthcare facilities operate 24/7, requiring nurses, doctors, and support staff to work evening, night, and weekend shifts. Shift differentials are common to incentivize employees to cover these crucial shifts.
Even if none of your competitors offer shift differential pay, offering it to your employees might be a way to set yourself apart from your competition and make yourself a best-in-class employer.
Bottom Line
When your company operates beyond the traditional 9 to 5, you may look for ways to incentivize employees to work outside those hours. Shift differential policies are a great way for you to recognize your employees who work less desirable hours and attract high-quality employees. It also helps set yourself apart from your competition. With no laws requiring shift differential, you have a lot of flexibility. The key is creating a clear, comprehensive policy.