Zoho Invoice is an absolutely free invoicing app for freelancers and small businesses. It features excellent invoicing functionality and can integrate with other Zoho apps for increased productivity and collaboration. It includes features, such as project billing, reporting, and template customization. Zoho Invoice is the best fit for small businesses that are looking for free invoicing solutions.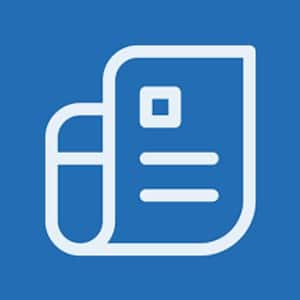 Pros
Is free for companies of any size with no ads or in-app purchases
Supports an unlimited number of users, invoices, and clients
Offers excellent invoice customization options, such as the ability to add your company logo
Includes project management features with built-in time tracking
Integrates with Zoho's other specialty apps for enhanced productivity
Cons
Has no approval workflows for issuing invoices
Is not a full bookkeeping system; requires Zoho Books integration
Lacks features for vendor invoices received
Has no live chat support
Doesn't calculate sales tax rates automatically based on the customer's location
Tracking client billings: Zoho Invoice tracks billable expenses that can be added to an invoice later.
Billing clients by project: Zoho Invoice allows you to create multiple projects per customer and assign time and expenses by project. Once assigned to projects, you can include these expenses as part of client billings.
Service providers: If you offer a professional service, such as accounting or law, or personal service like lawn care, Zoho Invoice fits your type of business. You can use the timesheet feature to track employee time by client for later billing.
Zoho users: Of course, Zoho users can connect Zoho Invoice with other Zoho products like Zoho Books, our pick for overall best accounting software for freelancers.
Faster invoicing: Zoho Invoice is available on mobile to help you send invoices when you're on the go. As one of our best mobile accounting apps, it provides an easy-to-use app interface for your invoicing needs.
Individuals looking for simple bookkeeping with invoicing features: Zoho Invoice isn't a bookkeeping app and cannot produce financial statements. FreshBooks made our list of the best small business accounting software because of its professional-looking and outstanding invoicing features and its easy-to-understand accounting interface.
Companies collecting sales tax from multiple states: Collecting sales tax from multiple states can be difficult with Zoho Invoice. You have to manually set up tax rates for each jurisdiction and then add the correct jurisdiction to each invoice. QuickBooks Online, our choice for overall best invoicing software, is an excellent software program for collecting sales tax. It computes the sales tax based automatically on the location of the customer.
Companies looking for accounts payable (A/P) management: Zoho Invoice only processes invoices to customers or accounts receivable (A/R). We recommend Invoicera, one of our picks for best invoicing software, if you want to manage both A/R and A/P in the same invoicing program.
Zoho Invoice Deciding Factors
Supported Business Types

Businesses looking for a totally free invoicing software

Pricing

Free

Free Trial

None

Standout Features

Totally free without hidden charges or in-app purchases
Easy to use, especially for existing Zoho users
Offline or online payments recording
Invoice customization
Invoice statuses
Multilingual and multicurrency invoices
Recurring invoices

Customer Support

Phone, email, chatbot, live chat, and self-help library
Zoho Invoice Alternatives
| | | |
| --- | --- | --- |
| | | |
| Best for: Complete bookkeeping software with professional-looking invoices | Best for: Invoicing and all-around accounting needs | Best for: Managing incoming and outgoing invoices |
| Cost: $17 to $55 | Cost: $30 to $200 | Cost: $0 to $149 |
| | | |
Zoho Invoice Pricing
Zoho Invoice is absolutely free, with no credit card required, no ads, and no in-app purchases. You'll enjoy the following benefits:
Send unlimited invoices to unlimited customers
Create recurring invoices
Use multiple currencies
Manually add sales tax rates
Accept bank transfers, checks, or cash
Get project time management features
Issue estimates to customers
Zoho Invoice Features
Sign in or create an account, then enjoy Zoho Invoice's valuable features. After logging in, you'll land on the dashboard:
The Dashboard will show you a quick snapshot of everything happening within your organization. At the top, you'll see an aging schedule for your receivables. Below the aging schedule is the Sales and Expenses graph, which displays your sales and expense levels plus receipts. You can change the period of reporting as well to see how well you perform every month.
Below the graph is the Projects overview, which shows information about ongoing projects, including the number of unbilled hours and unbilled expenses related to each project. Beside it is the pie graph of all your expenses. You can see here which type of expense gets the most significant portion of your operations.
Finally, you can see sales, receipts, and outstanding balances for unpaid receivables at the bottom part of the dashboard. It segregates them by day, week, month, quarter, and year.
In the left-side panel, click Customers to see your list of customers. To add a new one, just click the plus sign on the panel: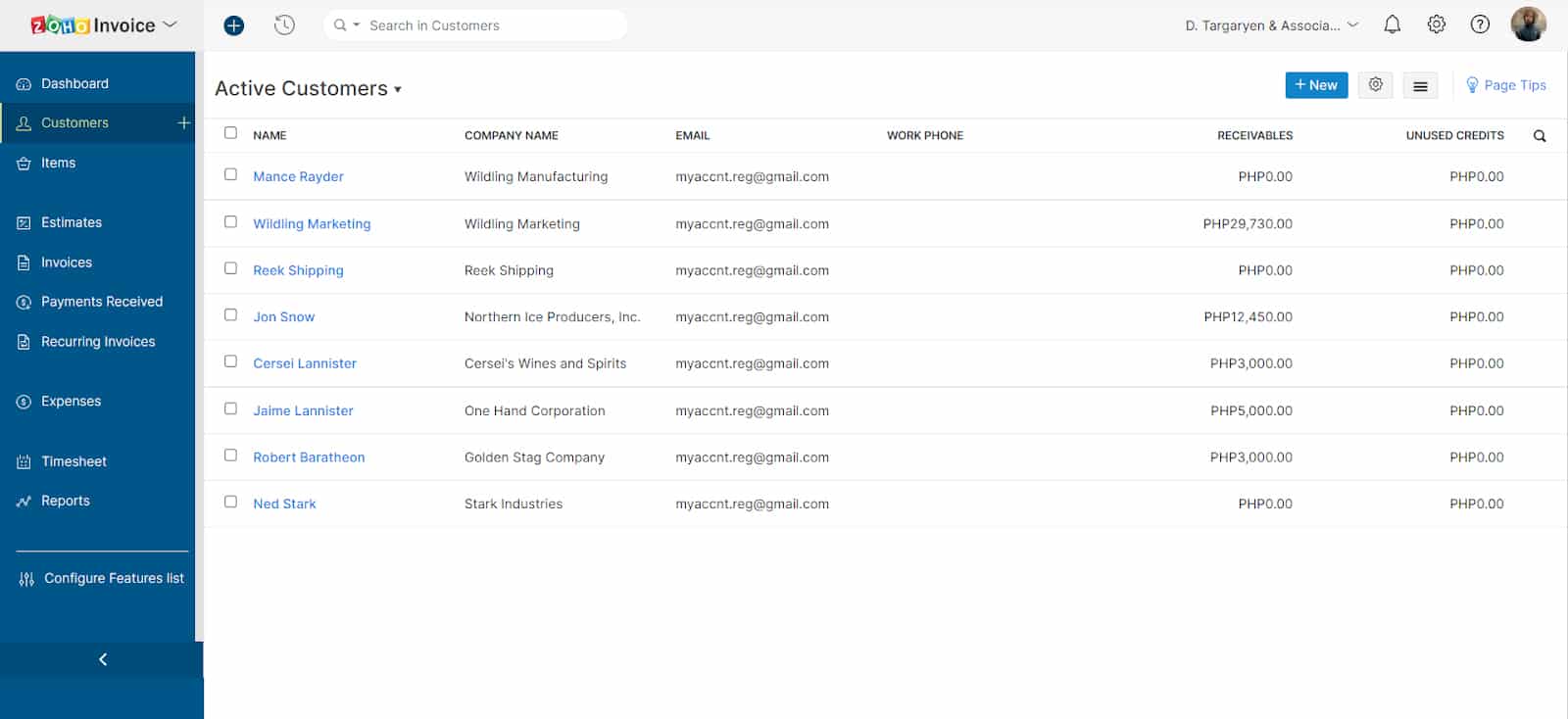 ---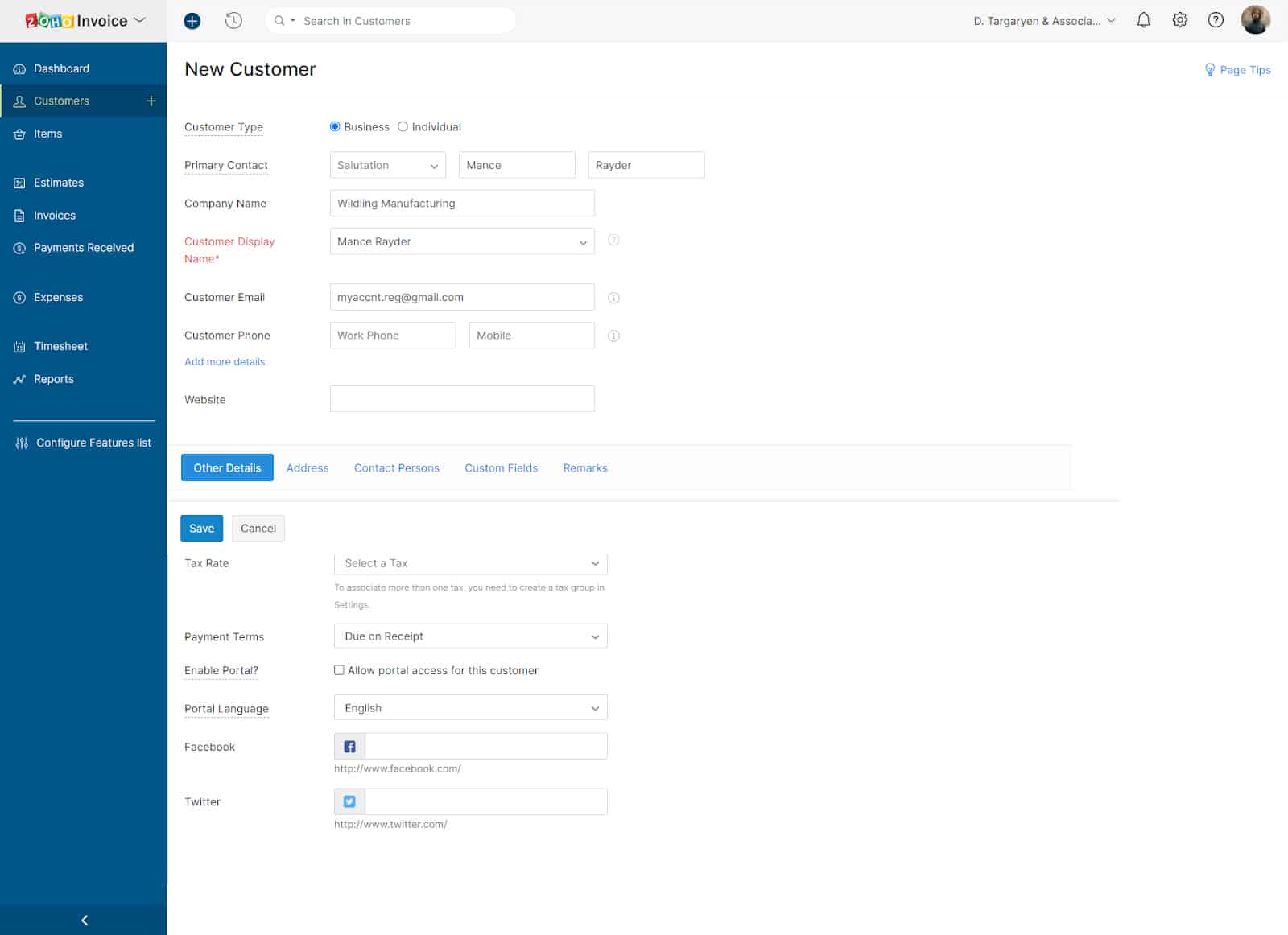 ---
When adding customers, you can set specific tax rates, payment terms, and contact persons. Once you've added a new customer, you can also use the Customers tab to view your transactions with them. Click the name of the customer, and Zoho Invoice will show you all the information about that customer:
---
After setting up your customers, you can begin invoicing. Head to Invoices to see the list of all your invoices:
You can also change the filter to see specific invoices under the category. Click All Invoices, and a drop-down menu will appear:
---
You can create two types of invoices: recurring and nonrecurring. For recurring invoices, go to the left-side panel and click Recurring Invoices. Zoho Invoice will generate and send these invoices via email automatically on whatever schedule you choose:
You can track your recurring invoices on the same tab. Zoho will inform you of the next invoice and its status. This feature is helpful if you have clients that you bill the same amount every month.
You can also create a nonrecurring invoice on the Invoices tab. Invoice numbers are auto-generated, but you can reset them by clicking the gear icon beside the invoice number. You can set the payment terms of the invoice, but its default setting is "due on receipt." If you intend to extend credit to your clients, you can set a custom credit term or a predefined term in the Terms drop-down menu.
After adding the particulars of the invoice, click Save as Draft or Save and Send to complete the invoice. If you save it as a draft, you can still edit the invoice. Otherwise, Zoho will send the invoice to the email address of your client. Sent invoices will be marked as "Pending":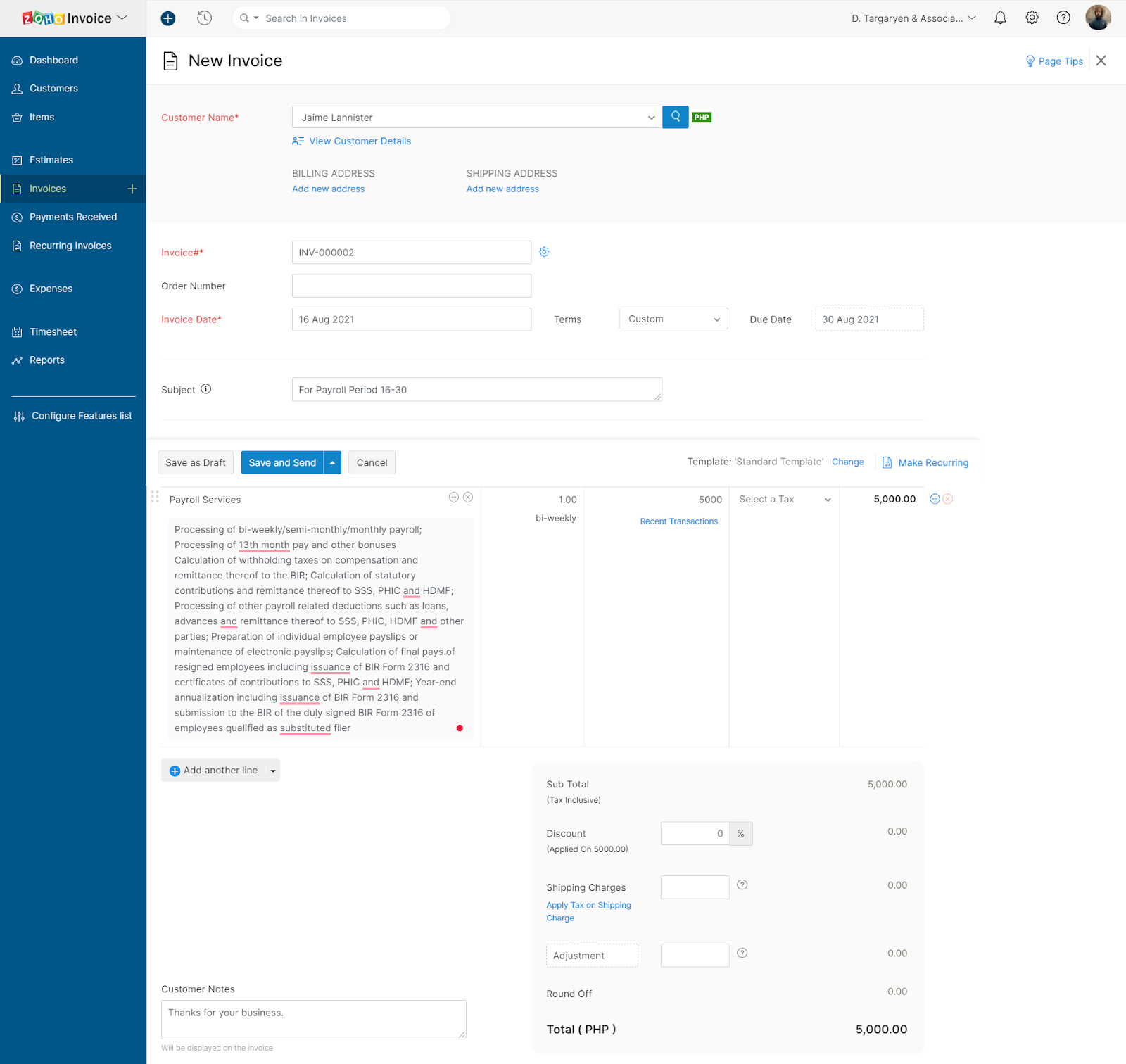 ---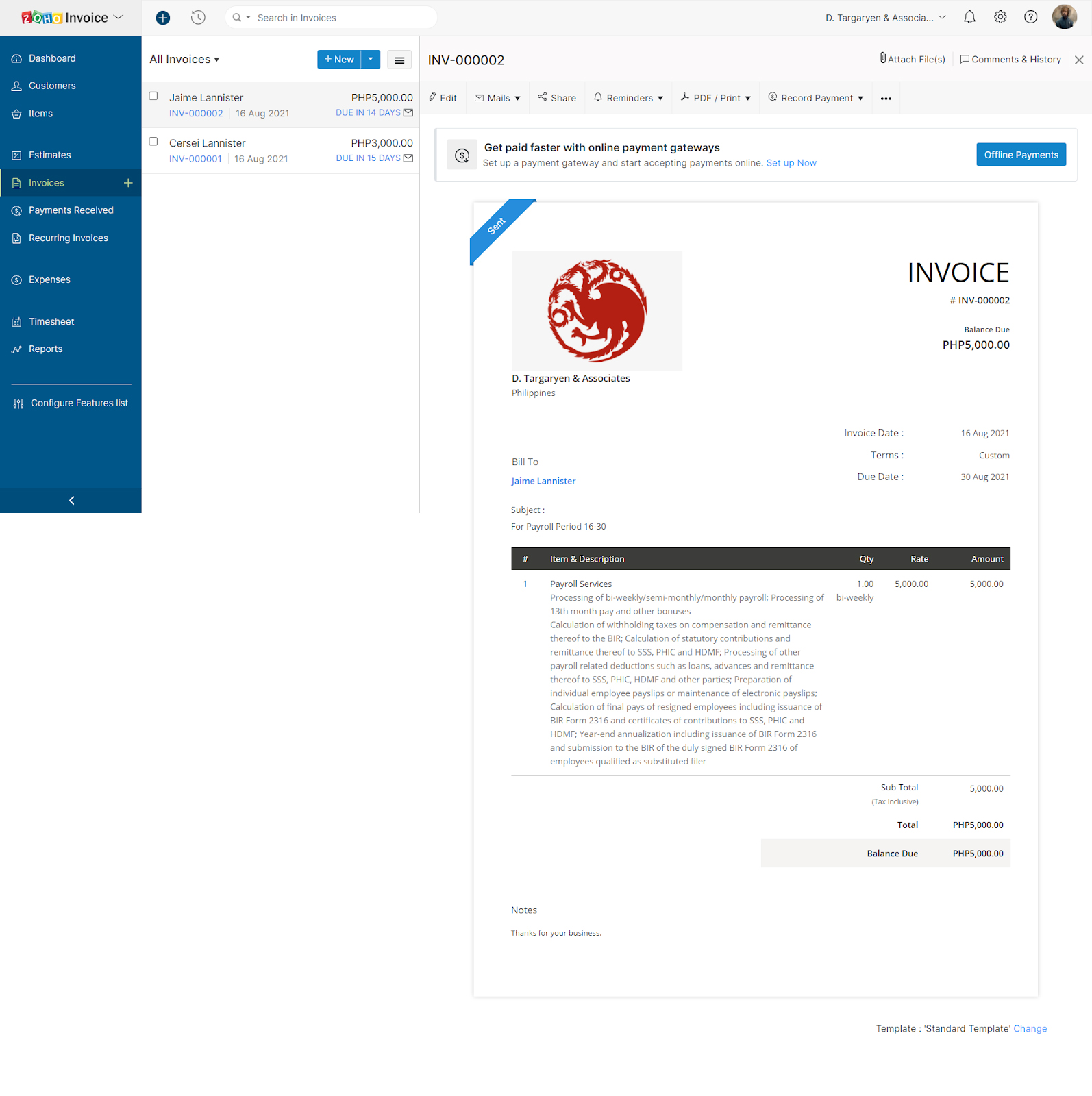 ---
Invoice status can be seen on the top left corner of the actual invoice in the form of a colored ribbon:
Sent: Blue ribbon
Overdue: Orange ribbon
Paid or Partially Paid: Green ribbon
Clients will receive an email with the invoice. If you accept credit card payments or bank transfers, clients can click Pay Now and they'll be redirected to a secure payment channel:
---
Invoicing items are your products and services. To add or view these items, go to Items on the left-side panel. From there, you can view your products or services, including their description, price, and usage. Click an item to see more information about it.
---
To record payments, go to your client's invoice and click Record Payment. A new window will appear where you can add payment details, such as amount received, bank charges, sales tax, payment date and mode, reference number, and notes. If there are supporting documents, you can attach a file.
Once payments are recorded, you can see the payment receipt on the Payments Received panel. You can also send this to your client as a receipt:
For clients that have forgotten to pay, you can send all of them a reminder automatically via email instead of manually emailing them one by one: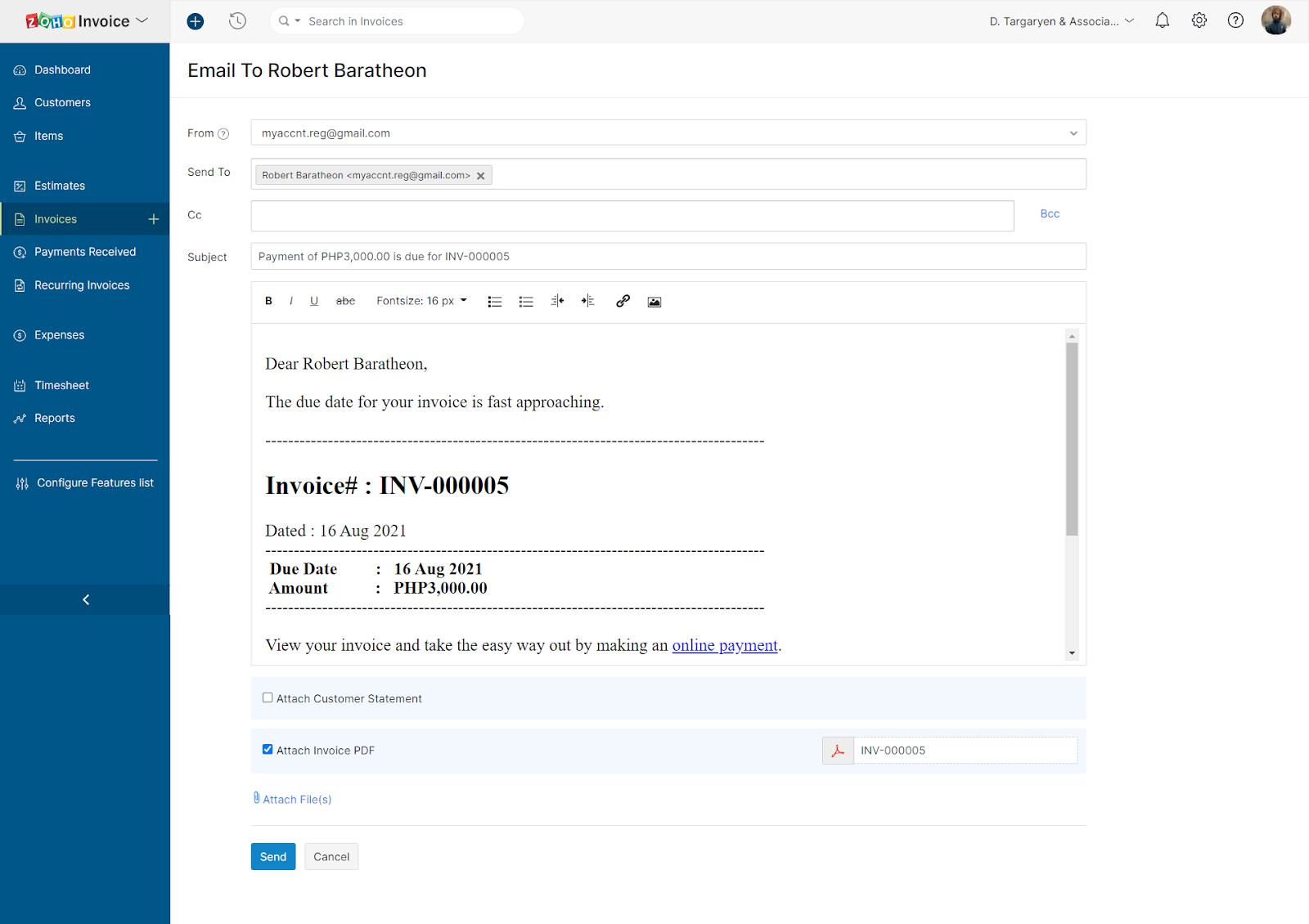 ---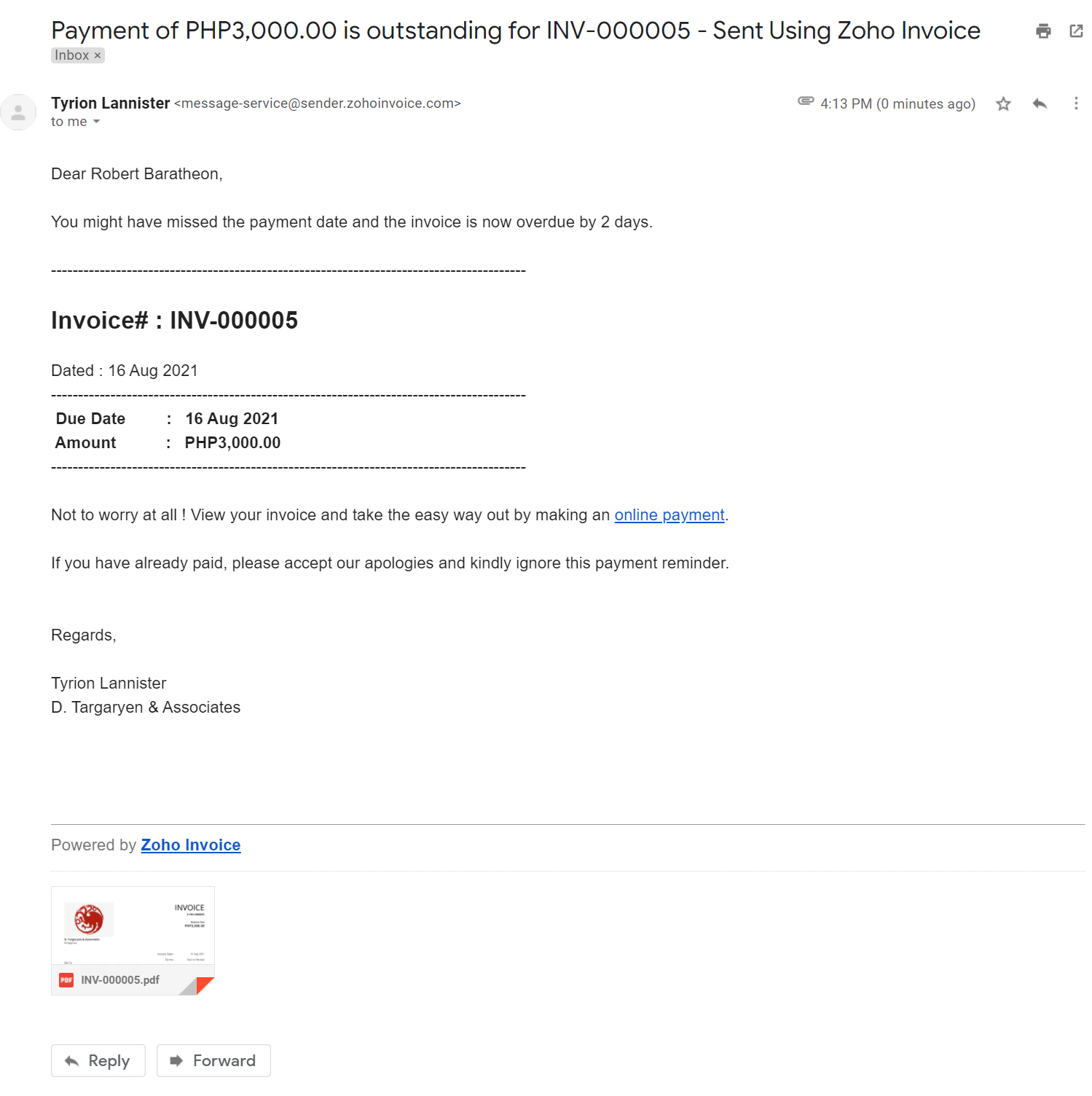 ---
---
One of Zoho Invoice's features is expense recording. You can record billable and nonbillable expenses in the app. If you add a billable expense, Zoho Invoice will ask you to tag an expense to a client and possibly a project. Afterward, you can generate an invoice for billable expenses automatically and send it to your client. You can also add mileage expenses on Zoho Invoice. You can input odometer readings or distance traveled when computing your mileage costs.
---
If you handle projects with several clients, Zoho Invoice has a time tracker. You can either track your work hours with Zoho's tracker or enter hours spent manually when working. Every time log is added to the project based on the hourly rate:
From there, you can bill clients on your hours worked by creating an invoice. Zoho will ask you about the invoice period, and it'll include all billable hours and expenses within that period automatically.
---
Zoho Invoice User Reviews
Reviewers who left a Zoho Invoice review said that they get to enjoy premium features in a completely free service and appreciate that it takes less than a minute to send invoices to customers. However, some users found that it would take time to learn the full functionality of Zoho Invoice.
Zoho Invoice received the following ratings on user review websites:
GetApp: 4.6 out of 5 stars based on around 350 reviews
G2: 4.7 out of 5 stars based on around 200 reviews
Frequently Asked Questions (FAQs)
Is Zoho Invoice 100% free?
Yes, Zoho Invoice is now totally free. It was once a paid software from Zoho, but the company decided to offer it for free after seeing the success of its invoicing arm.
Who uses Zoho Invoice?
Zoho Invoice is best for freelancers and solopreneurs. Its invoicing capabilities are more than enough for self-employed individuals or small businesses.
Bottom Line
Zoho Invoice is a great app with outstanding invoicing features. It's incredible that such a complete, unlimited app is available for free. If your small business can't commit to annual or monthly plans, Zoho Invoice is a good start. As your business grows, you can move to a complete bookkeeping system via simple integration with Zoho Books.