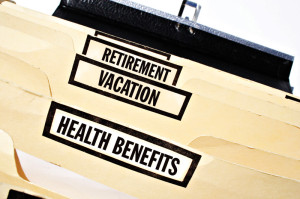 As I discussed in my previous article on "How to Design an Employee Compensation Plan," you should develop a "total compensation philosophy" for your business that includes a dollar amount of pay, opportunities for professional development, and benefits. This article will help you with setting up your employee benefits, and answer these three main questions:
What are typical benefits?
What are they going to cost your business?
Where can you get them?
Before we begin exploring potential benefits, there are a few things you should keep in mind:
1) Employee benefits are not one size fits all. The appeal of certain benefits will differ depending on the demographics of your company.
2) It is important to allow your employees to choose from different benefit options. Your employees are more likely to be satisfied with their benefits if they feel they are given some freedom to select the package that best fits their personal lifestyle and goals.
3) You won't know what are most important to your employees if you don't ask them what they want. As you decide which benefit options to offer your employees, consider talking to them about what their priorities are. This way, you won't waste money by offering benefits that don't appeal to your employees.
For the sake of simplicity, this guide is divided up into three core benefit categories:
Healthcare
Retirement benefits
Specialty benefits
Under each category you will find a description of the specific benefit options, an estimate on how much they will cost your company, and where you can you can begin finding these benefits.
Zenefits – Free Employee Benefit Management Service
If all the above info sounds intimidating and overwhelming to you, never fear. Zenefits is a free service that helps you manage all areas of employee benefits, including health insurance, retirement plans, and stock options. Even better yet, your employees do a lot of the work, by selecting their plans and inputing a lot of the info themselves. You can even estimate benefit cost for future employees and run a variety of reports.  We will also reference Zenefits throughout the article, explaining how they handle each kind of benefit.
Employee Benefits Category 1: Healthcare
Health Insurance
Health insurance is the most important, but also most expensive, benefit that you can offer your employees. While health insurance benefits are not currently mandatory, they can help you attract and keep top quality talent. You can purchase group health insurance directly from a wide range of insurance providers, or you can shop through the new healthcare marketplaces created by the Affordable Care Act, which is also known as Obamacare. Offering healthcare through the SHOP Exchange may also qualify your business for a number of tax breaks. Take a look at our "Ultimate Guide to Obamacare" for more information on opportunities that the Affordable Care Act offers your business.
What will health insurance cost?
There is no simple answer to how much health insurance will cost, since this depends largely on where you purchase your company healthcare plan. In the past, about half of small businesses have spent roughly 7.5 percent of payroll costs, and about a quarter have spent more than 15 percent. While these costs are high, keep in mind that the recently passed Affordable Care Act is designed to lower the costs of health insurance for small businesses. There are a number of tax credits available to business with fewer than 25 full-time employees, which you can calculate using this calculator.
Where can you get health insurance?
If you decided to purchase a group plan directly from an insurance provider, you can usually get a direct quote through their website or an insurance broker. Some of the top providers are:
Here is a great guide from eHealthinsurance.com with an overview of the different types of plans available to employers as well as explanations of the terminology you will need to know when shopping for a plan.  And here is an article from Inc.com on how to choose the best plan for you.
Before you decide on a plan, you should consider looking at the new SHOP exchanges, which allow you to compare different plans online.  For more on this read our Ultimate Guide to Obamacare You can access your state's exchange here.
Managing Employee Health Insurance Through Zenefits 
With Zenefits, you have a variety of health insurance options. First, if you already have insurance for your employees, you can add those options to Zenefits and your employees can shop plans, enroll , and renew for themselves. Zenefits has partnerships with a lot of the major Health Insurance carriers, including Humana, Blue Cross Blue Shield (Anthem), MetLife, UnitedHealtcare, and more. If you do not have a healthcare system already in place, Zenefits has brokers available to advise you and set you up with employee health insurance options.
Employee Benefits Category 2: Retirement Benefits
Offering retirement benefits can help your company attract and retain top talent. Retirement benefits are broken down into two categories: "defined contribution plans," which includes 401(k)s and IRAs, and "defined benefit plans," which are mostly pensions. Most small businesses that offer retirement benefits choose defined contribution plans, and we recommend doing the same.
Defined Contribution Plans
Choosing the plan that's right for you can be a fairly complicated affair, and we recommend finding a professional to help you navigate the process. The basic concept, however, is that defined contribution plans, like a 401(k), encourage employees to set aside their own funds for retirement each pay period. In some cases, companies match a certain percentage of what employees contribute. Employees can invest their money in different mutual funds to avoid having their savings decline in real value.
What will a defined contribution plan cost?
The cost of offering a defined contribution plan will depend on the size of your company, and, if you decide to match a percentage of your employees' contributions, how much they end up saving.
For many small businesses, the SIMPLE IRAs and SIMPLE 401(k)s are a good option. These only require 2 page IRS forms, and cost $350 plus $25 per participant. They both allow total combined contributions (which is employee contribution + employer matching) of up to $11,500 per year.
You can also set up a full 401(k), but this more expensive and complicated. A full 401(k) is only a good idea once your payroll reaches about $500,000, or the combined contributions reach at least $20,000 in salary deferrals and company matching.
Where can you get a defined contribution plan?
Once again, setting up the right defined contribution plan can be a complicated affair, and we recommend seeking professional help. Before doing so, however, familiarize yourself with the different types of plans available for small businesses and the features and benefits of each using the links below:
Some of the largest administrators of retirement plans are:
Managing Defined Contribution Plans Through Zenefits 
Managing 401-K's and other defined contribution plans with Zenefits is very similar to the process for managing healthcare. You can either connect with your current 401-K provider through Zenefits, or team up with Zenefits' brokers and set up those plans directly through Zenefits. When an employee logs on for the first time, they will be able to see various defined contribution plan options and select/enroll in whichever works best for them.
Employee Benefits Category 3: Specialty Benefits
"Specialty benefits" refer to benefits generally considered of secondary importance to healthcare and retirement benefits. Nevertheless, specialty benefits can help your company expand its range of benefit options and really distinguish itself from the competition.
Managing Specialty Benefits Through Zenefits
Zenefits allows you to manage a variety of specialty employee benefits through their system. Depending on what provider you are using/what options you offer, employees can select to purchase/enroll in life insurance, disability, dental/vision, and a variety of other specialty coverage as well. From the research I have done, tuition assistance is about the only specialty benefit that Zenefits does not seem to offer. But, for all other benefits and specialty benefits, Zenefits has you covered.
Life Insurance
Generally, life insurance policies should pay out the equivalent of what an employee makes in one year, and at the very least enough to handle funeral expenses. We don't recommend going below $20,000 when selecting a plan.
What will life insurance cost?
In general, life insurance policies cost about 5 cents for every $1,000 worth of coverage. The exact rates, however, are based on a number of factors that include the size of the group, the company claims history, the occupations of the group, the gender and age of employees, and salaries.
Where can you get life insurance?
Most insurance companies offer group life insurance, so shop around until you find one that suites your needs and budget.  Fidelity, Vanguard and ADP all offer life insurance services, and here are 3 other top providers.
Here is a good article from Yahoo on offering life insurance to your employees. Here are some of the top providers:
Disability Insurance
Disability insurance provides your employees with a source of income in the event that they are unable to work. There are certain states that require employers to provide disability insurance, so check here to determine your obligations .
There are two types of disability insurance coverage: short-term disability (STD) and long-term disability (LTD). STD benefits typically have a seven-day "elimination period," which is the time between the onset of the disability and the beginning of benefits. During this period STD policies generally cover 60 percent of the employee's salary. Once full STD benefits begin, they generally last for 13-26 weeks. LTD benefits typically have a longer elimination period, generally 90-180 days, and usually last for up to two years. For STD benefits typically pay out around $1,000 a week, while LTD benefits are usually $6,000 a month.
As you shop for disability insurance, be conscious of the small print. Plans differ widely on what disabilities are covered. For example, some policies cover "own job" disabilities in which the employee cannot perform their existing job, whereas some will only cover "any job" disabilities in which the employee is unable to perform any job.
What will disability insurance cost?
Regardless of your company's size, the cost of offering disability insurance is between generally between 0.25 and 0.5 percent of total compensation. For 0.5 to 1 percent of compensation, you can generally offer both STD and LTD benefits.
Where can you get disability insurance?
Disability insurance is offered by most insurance companies like Prudential, Allstate, and New York Life.  ADP also offers disability plans.
For more on offering disability insurance to your employees see this article from the NFIB and this this site.
Dental and Vision Coverage
There are three options for offering dental and vision plans: Fully-Funded Employer Plans, in which your company pays all the costs, Partially-Funded Employer Plans, where employers traditionally about 80 percent of the cost, and Fully-Funded Employee Plans, where employees pay the total cost of the plan, but the employer takes over administrative costs and payroll deductions.
What will dental and vision coverage cost?
The costs of dental and vision benefits depend on different factors, including plan design, provider network, healthcare expense trends, group characteristics, funding mechanisms, and administrative expenses. It is best to get a direct quote by contacting your broker or provider directly.
Where can you get dental and vision coverage?
Most health insurance companies, including United Healthcare, Cigna, and Aetna also offer dental and vision coverage.  ADP also offers both vision and dental.
For more on setting up a dental plan see this article from Inc.com.
Paid Time Off
Paid time off refers to vacation time, family medical leave, maternity leave, and flextime. While there are no legal requirements to offer vacation time or flextime, there are certain instances in which you are legally required to offer medical and maternity leave, so read this article to make sure you are aware of these.
What will paid time off cost?
The cost of paid time off will depend on your individual payroll expenses, and the amount of time you decided to offer.  Here are some additional resources for setting up your vacation and paid time off policies.
Tuition Assistance
Tuition assistance programs are a type of benefit in which an employer reimburses the costs of their employees' continuing education. This may include the costs of tuition, books, and fees. Offering tuition assistance can help your workforce expand its skill set and attract employees interested in personal career development.
What will tuition assistance cost?
Tuition assistance can be costly so be sure to set clear guidelines when developing your benefit package. Despite these costs, adding tuition assistance may help you qualify for certain tax breaks.
Want to save time on payroll? Click Here to get 3 FREE payroll timesheet templates!
Where can you get tuition assistance?
Tuition assistance is largely an internal policy, so you can decide how to handle reimbursements.
For additional information on tuition assistance programs go here.
Do you have a great payroll services provider? Read Our Recommendations
Further Reading
You may find these links and articles helpful as you develop your benefit packages:
SBA.org:  "Required Employee Benefits"
INC.com:  "How to Build a Competitive Employee Benefits Package"
Forbes.com: "The Best Benefits Package for Small Businesses"
About.com: "8 Uncommon Benefits Your Employees Will Love"
Also, keep in mind that while benefits are incredible helpful in recruiting and keeping employees, first you have to find good talent. Find out why we recommend Indeed for advertising a job opening, or go directly to Indeed.
That's our article for today.  If you have any questions or comments please leave them in the comments section below.  Also be sure to  read the next article in this series where we discuss how to fire an employee in the most efficient and effective manner .