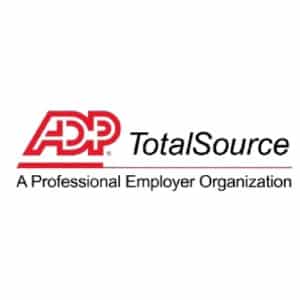 ADP TotalSource PEO is a full-featured professional employer organization good for companies with up to 1,000 employees. It offers hire-to-retire HR services, compliance assistance, and complete payroll administration. Certified by the IRS and the Employer Services Assurance Corporation (ESAC), it's a solid PEO with a strong reputation. We rate it 4.45 out of 5 stars on our PEO evaluation.
What We Recommend ADP TotalSource For
I've researched dozens of PEOs and payroll services, and ADP is always at the top of my list. With over seven decades of experience in HR and payroll, it offers an excellent range of services, has a generally helpful and knowledgeable staff, and provides a comprehensive set of HR functions.
In short, ADP TotalSource PEO is best for:
Businesses with special industry-specific HR needs: ADP works with a wide variety of companies and thus has expertise in rules and compliances for specific industries such as transportation.
Companies that are already using an ADP product: If you use ADP Run or ADP Workforce and are looking to move to a PEO, this is a natural progression and can save you time, money, and hassle on data migration and implementation.
Businesses that expect to grow: ADP works with large businesses, including international companies. If your company expects to expand in 2021, ADP cannot only accommodate you but also provide strategic advice for successful growth.
Small businesses in high-profit margins industries: ADP TotalSource targets small businesses but can be costly for those with little cash flow. Industries with notably high profit margins like software and tech companies, usually benefit most. This is because they can afford to use ADP (don't have thousands of employees that would drive the cost up), save money overall from not hiring in-house HR personnel, and can offer quality benefits to remain competitive with bigger companies.
When ADP TotalSource Would Not Be a Good Fit
Cost-conscious businesses needing transparent pricing to make a decision: ADP pricing depends on many factors, including your ZIP code. You'll have to reach out to a representative, get assigned a local contact, and schedule a demo to get a good quote. If you want a product with straightforward pricing to help you rank your options quicker, check out our Justworks review; most other PEO options don't have transparent pricing.
Companies that want simple HR and payroll: If you don't need benefits management and just want some basic HR functions with payroll, consider HR payroll software.
HR managers or teams that are not tech-savvy: ADP's software is feature-heavy and not always user-friendly. For a PEO that uses software with a better user experience, check out our Rippling PEO review.
Looking for something different? Read our guide to the best PEO services for small businesses to find an option that's right for you. And if you need more insight into what a professional employer organization is, check out our article on PEOs.
ADP TotalSource Overview
PROS

CONS

Excellent range of features
Complex pricing
Fortune-500-level benefits
The software can be difficult to navigate
Dedicated support specialists
Scheduling software costs extra
ADP TotalSource Pricing and Features
ADP does not provide general pricing information—and this is typical of most PEO services. However, ADP is the only PEO we researched that also considers your geographic location when determining the price. The representative we spoke to said that prices start around $85 per employee, per month but average closer to $160. This matches with what we found from third-party sources. Users most often complained about the pricing complexity and lack of transparency.
ADP TotalSource is an all-inclusive package of payroll and HR features, which means you get a lot for your money. However, you may not need all the functions it provides, and some tools may be lost in the crowd. It also has a steeper learning curve. When you sign up, ADP will handle moving you to its system.
HR
Start your HR experience with a strategic evaluation and guidance on an annual success plan. ADP takes on many of the standard HR tasks like ensuring workplace compliances, employee scheduling and auditing, administering unemployment claims, and leaves-of-absence. If you are expanding, you can consult with specialists on workforce optimization and get merger and acquisition support.
It helps with hiring, from job descriptions to background checks and skill assessments. ADP TotalSource comes with employee learning and performance management programs, employee survey and communications systems, and employee compensation self-analysis. It also has leadership programs and assimilation training for new managers, and you can get assistance with employee termination, from compliances to exit surveys.
Payroll
ADP offers complete payroll administration. It pays employees by direct deposit, pay card, or checks (including signing and sending checks). It handles all deductions and garnishments and tracks PTO. Managers can preview and approve payroll before submitting it. You can do payroll on any schedule; ADP does not charge by pay run.
It also handles all aspects of taxes, including forms management, filing tax paperwork, and paying taxes. It keeps you in compliance with changing regulations, and it has audit and reconciliation services. Business expansion tax registration services are also included.
Benefits
With 500,000+ client employees under its PEO, ADP can negotiate for enterprise-level benefits with major health insurance carriers, the kind of benefits most small businesses cannot afford. In addition, it offers the following:
Dental and vision plans
FSA, HSA, and Section 125 POP accounts
Online commuter benefits
Health advocacy
Employee assistance programs
Employee discounts
401(k)
COBRA administration
You can also choose life insurance, accident insurance, critical illness insurance, group legal plans, funeral planning services, and more. ADP administers the programs, deducts the costs from payroll, ensures compliance, and so forth. In essence, it takes care of it all. It also evaluates your benefits each year against your competitors and recommends changes to keep you attractive to your employees and potential hires.
Compliance Support
ADP is certified by both the IRS and ESAC, which evaluates PEOs on strict criteria for business practices and financial reliability. Only about 5% of PEOs are ESAC certified.
ADP gives you a dedicated team of HR experts who can advise you on compliance issues, from good hiring practices to safety in the workplace. This includes help with handbook writing, document storage, risk assessments, OSHA training, and drug-free workplace programs. Through the software and best practices, ADP ensures that your payroll stays within the law. It also offers reasonably-priced workers' compensation insurance and Employment Practices Liability Insurance.
Employee Portal
Employees can use the ADP portal or mobile app to view pay, W-2 statements, and benefits. They can also request time off, track time and attendance, punch in and out, and contact co-workers through the app.
What's interesting about the user comments on the mobile app is how many people rated it high yet still said it was slow and glitchy. Employees with login problems are often directed to their company HR rather than given online help through the system.
ADP TotalSource Ease of Use
Dedicated support representative
Can be difficult to contact the support team
24/7 support
Not great software UI—many features, some are hard to find
Online how-to articles
Proactive compliance help through articles and emails
ADP provides a dedicated representative and access to HR specialists, but it also sends emails and alerts to keep you up-to-date on legislative changes. It worked with its clients during the trials of COVID 19 to deal with personnel and tax regulation issues. Employees can also contact advisers to ask questions about benefits.
We went to real-world user reviews for the best estimate on the user interface. This software is best for experienced HRIS users, who found it easy enough. Other users said that the number of features was overwhelming and specific functions were hard to find.
ADP offers a lot of support options, but they can be hit and miss. For example, to get help with an employee login issue, we had to answer multiple questions and go to several links, and then we were told to talk to our company's HR support.
Top ADP TotalSource Alternatives
Justworks
4.48 out of 5 stars

Paychex PEO
4.31 out of 5 stars

Xcel PEO
4.43 out of 5 stars

Best for: Small businesses wanting easy software

Best for: Businesses needing flexible plans

Best for: Price-conscious businesses

Per employee fee from: $49

Per employee fee from: $100 (custom pricing)

Base monthly fee from: $49 (Custom)
If you're not sure ADP TotalSource PEO is right for you, see how it compares with our top PEO services.
What Users Think About ADP TotalSource
Users trust ADP TotalSource overall, giving it an average of 4.17 out of 5 stars on multiple user review sites. We poured over the comments and found that in general, users appreciate the customer support (something ADP has been focusing on in the past year or more).
The one consistent issue that crops up has to do with its size—smaller businesses sometimes feel neglected; some users complain of the difficulty of contacting a representative (or that they keep getting moved to a new rep) and that the software can be overwhelming. One December 2020 review mentioned that the interface had a 90s-era feel. The most-often-mentioned comments concerned the difficulty with reports and the expense.
When reading through user reviews, here are some of the trends that I noticed:
| Users Like | Users Don't Like |
| --- | --- |
| 24/7 support, especially helpful during the COVID-19 pandemic | Confusing pricing |
| Great benefits packages | Difficult-to-use reports section |
| Reliable service | Overall interface not especially user-friendly |
If you're unsure you even need a PEO, check out our best payroll services guide.
Bottom Line
ADP TotalSource serves small businesses employing up to 1,000 people and needing full-service HR and payroll support. It can be pricier than other PEOs, and the software has a steeper learning curve than similar tools, but the dedicated support staff can help you with individual employee issues and strategic concerns for the growth of your company. Sign up for an ADP TotalSource PEO demo today.