ADP is an established payroll provider that many businesses rely on to pay their employees and stay on the right side of the law. However, some companies experience inconsistent customer service quality, and there are tons of complaints about login issues. The software setup takes a while, and the products are too pricey and overwhelming for some customers. As an alternative, we've researched the top ADP Run competitors that excel in those areas, so that you can make the right choice for your business.
Top 6 ADP Alternative Payroll Competitors
Find the best ADP competitor for your business by answering the short quiz below:

Answer a few questions about your business and we'll give you personalized product match
How We Evaluated ADP Competitors
To determine the ADP alternatives you should consider, we focused on software that offers a robust set of payroll and HR tools vs just low-budget software. ADP isn't the cheapest payroll service on the market, and neither are many of its top competitors. Quality usually costs extra, but it always provides value.
We did add a couple of low-cost payroll software just in case you don't need all of the features ADP offers and you don't anticipate needing a huge upgrade soon. (Payroll and a little HR support may go a long way for your business or you may just need help with the math and starting a paper trail, especially if you're a recipient of the Paycheck Protection loan.)
Gusto: Best Overall for New Small Businesses That Need Affordable All-In-One Payroll Software

Gusto doesn't go head-to-head with ADP on all of its robust features, but it sure beats the service on price—without sacrificing quality. Gusto is priced at $39 per month + $6 per month/person. The software is all-in-one, meaning you get full-service payroll plus HR support. There are three plans, and all include the assurance that your employees and payroll taxes get paid on time.
| Gusto Strengths | Gusto Weaknesses |
| --- | --- |
| Low-cost | Doesn't offer insurance in 24 states |
| Payroll tax management | Doesn't scale well for businesses with >100 employees |
| New hire support | |
| Unlimited and automated pay runs | |
Gusto's Pricing
The base price for Gusto is $39 per month, plus $6 per month, per employee or contractor. Gusto doesn't offer an edition with more limited features. The most you'll pay is $2,268 annually for 25 employees if you sign up for the Core plan.
Gusto Product Plans
| Features | Core | Complete | Concierge |
| --- | --- | --- | --- |
| Monthly Price | $39 + $6/employee per month | $39 + $12/employee per month | $149 + $12/employee per month |
| Plan Comparison | Full-service payroll and benefits features | Core + Time management, onboarding and employee engagement tools | Complete + HR Pro advising and resources, templates, training and dedicated support team |
Gusto Features
Unlimited pay runs: Run payroll as many times as you want at no extra cost for both employees and contractors. This differs from providers like Inova and ADP that base their costs on the number of times you run payroll within the month.
Payment options: Manual check, two-day direct deposit; payroll available on-demand or as employees earn it (Cashout feature).
Self-service: New hires can e-sign and e-file their tax docs and retrieve them when needed; W4 forms are available within the system.
Paid time off: Employers can set paid time off (PTO) policies within the system and manage time taken.
Benefits: Health insurance (although not in every state), 401(k) retirement, 529 savings plans, commuter benefits, health savings accounts, flexible spending accounts.
Integrations: QuickBooks, Freshbooks, Xero, When I Work, Homebase, Ximble, Receipt Bank.
Add-ons and premium features: Time and attendance, unlimited access to certified HR professionals, employee org chart, HR training and templates, dedicated support team and phone line.
Average user review: 4.8 out of 5 stars; many of the user reviews we found included comments that Gusto is easy to use, and the customer service team is reliable. There are complaints from companies with more than 100 employees stating the system can't support that kind of volume. Some users also don't like that insurance isn't available in all states.
Paychex: Best ADP Alternative for Small Business Startups

Paychex is very similar to ADP in that it has payroll plans that serve businesses of all sizes, from small to medium to enterprise-level. You can start with its basic small business product and upgrade as you begin to need more than just payroll, like a dedicated specialist, e-learning system, and even background checks.
| Paychex Strengths | Paychex Weaknesses |
| --- | --- |
| Flexible product plans with lots of add-on options | Charges extra for W2s and 1099s that cheaper software include |
| 24/7 customer service | Learning curve due to robust features |
| Robust reporting | Set up may take a few weeks |
Paychex Pricing
Cost-wise, Paychex is similar to ADP in more ways than one. You'll have to call in for a quote; it doesn't publish pricing online. It's not the cheapest software on the market, but it can be less expensive if you can negotiate discounts. Our quote came in between $2,900 and $3,000+ annually, depending on how often you run payroll and other features needed. There was also a $200 setup fee the rep offered to waive.
Paychex Features
Payroll taxes: Withholds all federal, state, and local taxes and pays them on time (plus year-end tax reporting); tracks all tax rate updates for you.
Pay options: Check, direct deposit, pay card (they have a program you can sign up for); payroll on demand (employees can withdraw funds before payday).
Mobile: Run payroll from any mobile device.
Self-service portal: Employees can log in to update their tax withholdings and view pay stubs.
New hire reporting: Reports new hires to the state no matter which plan you're on.
Labor law posters: Included in its Business Select plan whereas cheaper providers like Gusto send users to the Department of Labor site to download themselves (Patriot doesn't provide them at all).
Add-ons: Numerous premium features like timekeeping, benefits, employee handbook builder, General Ledger integration, check signing, etc.
User Reviews: 4.2 out of 5 stars ; Paychex Payroll has mixed reviews. On the plus side, business users like the software and tax compliance. However, some find its sales team pushy and fees annoying.
Zenefits: Best for Businesses With an Hourly Workforce

Zenefits' core product is HR, and it offers payroll as an add-on. All of its core products come with a time and attendance tool at no extra cost. Businesses with an hourly workforce will find its direct integration to the payroll system very useful—no more manually tracking work hours or entering them into the software. It's pretty affordable, too, with its basic HR product starting at $8 monthly per employee plus payroll at $6 monthly per employee.
| Zenefits' Strengths | Zenefits' Weaknesses |
| --- | --- |
| Strong HR and payroll compliance support | Can't purchase stand-alone payroll product |
| Unlimited pay runs | Can be difficult to reach the support team |
| Transparent pricing | |
| Lots of software integrations | |
Zenefits Pricing
To sign up for Zenefits' payroll plan, you'll need to sign up for one of its HR core plans and then add payroll as a separate product. The minimum amount you'd pay for 25 employees is $4,200 a year ($350 per month), and that's if you sign up for the annual subscription; it would be a $4,800 annual cost on the month-to-month plan.
This cost sounds a bit pricey compared to other payroll services, but the HR features are a huge value add. Remember, ADP and many ADP competitors charge extra for time and attendance and HR support, so they could cost more if you compare apples to apples. Also, the Essential plan includes integrations, which are a premium feature with providers like Paychex. If you don't need these features, you should think twice about spending the extra money and consider software like Gusto.
Zenefits HR Products
Product Plans

Essential

Growth

Zen

Cost

Annual Subscription:

$8 per employee/month

Monthly Plan:

$10 per employee/month

Annual Subscription:

$14 per employee/month

Monthly Plan:

$18 per employee/month

Annual Subscription:

$21 per employee/month

Monthly Plan:

$27 per employee/month

Plan Comparison

HR, Time and Scheduling tool, Integrations, Mobile app

Essential + Compensation Management + Performance Management

Growth + Workforce well-being features
Zenefits Features
Payroll taxes: Includes automatic filing of federal, state, and local taxes; W2 and 1099 year-end forms are also included.
Pay options: Direct deposit, manual check (no pay card options).
Hiring and onboarding: Offer letters, background checks, self-onboarding, W4, and I9.
PTO management: Create PTO policy, automatic PTO calculations, approve PTO requests.
Employee mobile app: Employees can request time off, review benefits, pay stubs, and employee directory, clock in and out.
Time and scheduling: Manage PTO, geolocation tracking, build schedules, clock-in terminal.
Integrations: 401(k) providers, GSuite, Slack, Asana, Salesforce, Xero, QuickBooks, JazzHR, etc.
Add-ons: Advisory services, benefits, payroll (remember, to use payroll, you have to purchase it as an add-on).
User reviews: 4.4 out of 5 stars; many users commented on the integration between the different systems (payroll, HR, time and scheduling). There were also quite a few complaints about poor customer service; it seems to take a while to resolve issues, and it's challenging to reach a live person.
Inova: Best ADP Alternative for Existing ADP Clients Dissatisfied With Customer Service

Inova isn't as popular as ADP, but its products target similar business needs with features to support employers from pre-hire to retirement. Where it really stands out is customer service. Like Paychex, it provides a dedicated customer support representative to all of its customers. The kicker here is the user reviews. The majority of user reviews verified that the service is stellar, quick, personable, and productive with a consistency we have yet to run across with other providers.
| Inova Strengths | Inova Weaknesses |
| --- | --- |
| Quality customer service | Pricing isn't transparent |
| Automatic payroll tax table updates (ensures tax rates are always accurate) | Software isn't as user-friendly as alternatives |
| Software is customizable | No unlimited pay runs (charges by payroll run vs by month) |
Inova Pricing
Inova doesn't publish any pricing online, so you'll have to call to request a quote (which is customary for many ADP competitors). Our quote came in between $4,200 and $5,600 annually for 25 employees. This can change depending on the features you add. It's truly an a la carte system. For instance, garnishments and benefits access that Gusto offers for free, cost extra. Also, once you sign up for a plan, Inova gives you a two-year price guarantee that the rate won't increase.
Inova Features
Payroll taxes: Professional tax team monitors all payroll, all federal, state, and local tax updates, and resolves notices on your behalf.
Pay options: Paper checks, direct deposit with online access to pay detail, pay cards.
Integrations: QuickBooks and other top time, accounting, and benefits software (the representative wouldn't give us a complete list, and there isn't one online).
Add-ons: Since plans are so customizable, most features are add and remove; direct deposit is $9/employee per month, garnishment processing is $1.60/check, adding the employee self-service portal is $30 a year, and so on. Also, time, benefits, HR outsourcing, and workers' comp are add-on features to consider.
User Reviews: We don't currently have any reviews on Inova, but those we found on other third-party sites mentioned its quality customer service. Users like the one-on-one relationship they have with their representatives. There are some complaints that the software isn't user-friendly or intuitive.
Patriot Payroll: Best for Businesses With a Handful of Employees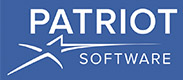 If your business only has a few employees, and cost is your main concern, Patriot Payroll's do-it-yourself (DIY) plan would be a good option for you. It's at least half the cost of the other ADP alternatives on our list and gives you the option to upgrade to full-service if you ever need to. The system will calculate paychecks and tax as well as pay your employees, but you'll have to file and pay the taxes. Having some payroll knowledge on hand would be helpful.
| Patriot Payroll Strengths | Patriot Payroll Weaknesses |
| --- | --- |
| Allows you to start with DIY payroll and upgrade to full-service later | 4-day direct deposit processing time vs average 2-day |
| Direct deposit is included in DIY plan | No benefits or insurance options |
| Tax compliance (calculations and forms) | Upcharges for basic services other providers give free |
Patriot Payroll Pricing
Patriot offers two competitive pricing plans in comparison to all other providers on our top list of ADP competitors. The DIY plan would be $1,320 annually for 25 employees, no matter how often you pay them (more than 50% less than the cost of ADP, Inova, Paychex, etc.). The full-service plan is also a good deal—$1,560 a year, even less than Gusto—as long as you don't need new hire reporting or benefits access.
Patriot Payroll Product Plans
| Features | Basic | Full-service |
| --- | --- | --- |
| Monthly Price | $10/month + $4/month, per employee | $30/month + $4/month, per employee |
| Plan Comparison | Unlimited pay runs + direct deposit + printable W2s + employee self-service | Basic + filing and paying payroll taxes + year-end payroll tax report filings + tax-filing accuracy guarantee |
Patriot Payroll Features
Setup: Setting up Patriot software is easier than with ADP or Paychex (fewer features equals fewer decisions) but a little more difficult than Gusto.
Payroll taxes: You can opt to file and pay them yourself or sign up for the full-service plan. If you don't need Gusto's HR features but still want payroll taxes off your plate, consider Patriot's full-service plan; it's cheaper and gives you the same tax accuracy guarantee that Gusto does.
Payment options: Manual check, direct deposit with both plan options.
Self-service: Employees can see pay stubs, change their bank account information, etc.
Add-ons and premium features: Time-tracking, HR software (functions as electronic file storage).
User reviews: 4.1 out of 5 stars; users commented on how easy it was to set up. Many also spoke highly of Patriot's support team. There were some complaints that direct deposit is outsourced to a third party, causing issues when you need to resolve errors.
Paycor: Best for Mature Businesses Needing HR Tools

Paycor is best for businesses with stable staffing levels that have a strong need for HR tools and payroll. You're charged a monthly rate that covers up to a certain number of employees, in increments of 10, which means you pay the same amount whether you have 22 or 29 employees. Paycor also offers numerous HR tools and modules you can use to manage job candidates, employee performance, training plans, etc., and they all seamlessly sync to its payroll product.
| Paycor Strengths | Paycor Weaknesses |
| --- | --- |
| Transparent pricing | Limited customer service hours |
| Customizable interface | Leave management tool costs extra (with Gusto, it comes free although not as robust) |
| Direct integration between the HR and payroll systems | |
Paycor Pricing
While the pricing is transparent, the reps will customize your plans depending on the number of employees you have. Each plan has a starting price that increases if your employee total reaches the next increment of 10 (21, 31, 41, etc.).
We were quoted $220 monthly under the Basic plan if we sign up with 25 employees. This covers up to 30 employees, which gives a little room to grow without being charged extra. Year-end W2 filing would be an extra $130 annual fee; the plan structure is similar to ADP, Paychex, and other robust payroll systems. Gusto offers it free.
Paycor Product Plans
| Features | Basic | Essential | Complete |
| --- | --- | --- | --- |
| Monthly Starting Price | $99 | $149 | $199 |
| Plan Comparison | Payroll and tax filing, reporting, mobile app | Basic + Custom reporting, PTO management, garnishments, compliance checklists, advanced analytics | Essential + dedicated garnishment support team, new hire onboarding, 401(k) integrations, GL provider integrations, one on one HR support |
Paycor Features
Ease of use: Easy to use; interface is made up of widgets that you can customize to your need; you can turn features on and off as you need them, which prevents your interface from being cluttered with tools you're not ready to use.
Payroll taxes: Files and pays all federal, state, and local taxes.
Self-service: View pay stubs, request time off, clock in and out from the mobile app, review benefits.
Customer service: Dedicated customer service team; you'll be assigned one expert for each product you purchase.
Payment options: Check, direct deposit, pay cards.
Reporting: Reports on cash requirements, labor distribution, unpaid employees, headcount, etc. You can also schedule sending reports to you or anyone you're working with on any preset frequency.
Add-ons and premium features: Applicant tracking, benefits, onboarding (Gusto offers it free), performance reviews, training, time and attendance (includes robust PTO tracker), benefits; software integrations also cost extra.
User reviews: 4.3 out of 5 stars; users like that Paycor combines HR and payroll in one software. The single sign-on for time and payroll also saves them time. There was a user who couldn't quite justify the cost, though, because they weren't doing much hiring.
Bottom Line
ADP Run is a good payroll software for small businesses, but its competitors also have notable qualities. If you're looking for payroll software and are considering ADP solely because of its name in the industry, consider your business needs first. ADP may offer more than you need at a much higher cost than you need to pay. If you're currently using ADP and are looking to switch, determine your main complaints and review software that does a better job at addressing your concerns without losing quality in other areas that are important to your business.
Based on our reviews, and the needs of most startups and small business owners, Gusto offers the best blend of payroll and HR support features at a competitive price. You get all the basics, (benefits, PTO management, onboarding, etc.) that other providers charge extra for at no additional cost in addition to payroll. If you like the size of ADP's product line but just want to consider a different service, check out Paychex. It's similar in functionality and pricing (although it can be cheaper).