Bambee offers HR outsourcing services and solutions that enable small and midsize businesses (SMBs) with up to 500 employees to efficiently manage HR-compliant policies, staff terminations, onboarding, and other HR operational issues. It assigns a dedicated HR manager to its clients who can help craft employee-related policies, fix compliance gaps, and handle employee issues (like conflict resolutions). In addition to providing access to secure document storage and workflow automation tools, its cloud-based platform allows you to easily chat with your Bambee HR manager.
Monthly fees for its HR outsourcing solution start at $99. It also offers a custom-priced payroll add-on that includes two-day direct deposits, multiple pay rates, and automatic tax calculations and filings at all levels (federal, state, and local).

What We Like
Dedicated HR manager
Solid HR compliance services
Automated workflows for HR documents requiring electronic signatures
Online chat with a live person; all chat conversations are saved automatically in Bambee's cloud-based platform
Reasonably priced starter plan
What's Missing
Handles businesses with up to 500 employees only
Starter tier only comes with email and chat support
Charges setup fees for higher plans
Lacks HR tools to manage hiring, time tracking, staff scheduling, and employee benefits
Doesn't have a mobile app; on-the-go users can only access its platform via mobile web browsers
Deciding Factors
Ease of use

Relatively easy to learn and use
Workflows automate processes for onboarding, reviewing policies, and approving HR forms

Pricing

Has five Bambee pricing plans with monthly fees that start at $99
Higher tiers have setup fees that cost anywhere from $500 to $1,000

System implementation

Its system is cloud-based; no software to download
Bambee guides you through the setup process (includes an HR audit to identify gaps and problem areas)
Implementation timelines range from within seven days to three months, depending on scope of work and the client's responsiveness to checking and reviewing documents with their Bambee HR manager

Customer support

Phone, email, and chat support
Bambee's HR specialists are available from Monday to Friday, 9:00 a.m to 6:00 p.m. Pacific time
What We Recommend Bambee For
Bambee, which is one of our recommended HR outsourcing services, makes handling the complexities of managing HR processes easy for new company owners and small businesses. Aside from helping you craft HR-compliant policies for your business, its HR specialists provide expert advice for tackling simple to sensitive employee issues while ensuring compliance with labor regulations. You also get access to an online platform that streamlines and automates basic HR processes, such as onboarding new hires, tracking training progress, and storing digital documents.
In short, Bambee is best for:
SMBs (with up to 500 employees) that want a remote HR manager to help them stay compliant with state and federal regulations: Leverage the expertise of Bambee's dedicated HR manager who can help craft employee-related policies, review internal documents, and provide guidance on how to handle labor disputes and terminations.
Budget-conscious new company owners and solopreneurs with plans to grow into a small business: Setting up HR policies that comply with labor regulations can be challenging for new business owners, including solopreneurs who are thinking of expanding operations by hiring employees. With Bambee's starter plan ($99 monthly), you get the expert help you need at a price point that's more affordable than similar HR outsourcing services (some providers charge $100–$200 per hour).
Small businesses that don't plan to hire an in-house HR manager: Compared to partnering with an HR outsourcing service provider like Bambee, hiring a full-time HR manager is more costly because you have to pay a salary that's either at par or above market (nearly $70,000 annually or $5,833 monthly) and provide standard benefits like paid time-off and health plans. With Bambee, you only pay a flat rate that ranges from $99 to $699+ monthly—you can even get savings of up to 10% if you pay annually.
When Bambee Would Not Be a Good Fit
Companies needing an all-in-one platform to manage HR: While Bambee provides you with an HR Manager and an online platform to store HR documents, it doesn't have built-in solutions for managing simple to advanced HR processes—from posting jobs to tracking employee attendance and creating custom learning courses. If these features are critical to your business, consider Rippling, as it has a wide range of HR tools to manage the entire employee lifecycle.
Employers looking for niche HR products to handle their needs: Bambee isn't a good fit for businesses that need specific HR solutions, such as hiring or payroll services. Freshteam is optimal for those who only want recruiting and applicant tracking solutions, while Gusto is a great choice if you're looking for solid payroll tools with tax filing services and multiple employee payment options.
Businesses that want to outsource day-to-day HR tasks and access standard and non-standard employee benefits plans: The services provided by an HR outsourcing company slightly differ from a professional employer organization (PEO), many of which can help you with hiring, payroll, learning management, and benefits administration. When it comes to employee benefits, PEOs have a wider network of insurance partners and can negotiate for better rates given the number of clients they have. If offering a variety of benefits is important to you, consider Justworks, as it has both standard and non-standard options, such as health plans and wellness perks.
Looking for something different?
If you want an HR system to securely store employee information while ensuring you have a single source of staff data across HR and payroll tools, check out our best HRIS/HRMS software guide.
Top Bambee Alternatives
Best for: Employers needing a dedicated HR specialist to work on HR-related projects

Best for: Companies that want expert assistance with recruiting and creating HR policies

Best for: Businesses looking for affordable PEO services to manage day-to-day HR

Base monthly fee from: $197 per hour

(pricing is based on a quote we received)

Base monthly fee from:

Custom-priced

Base monthly fee from:

$59 per employee
Want to learn more about PEO services? Read our guide to the best PEO companies.
Bambee Pricing
Bambee offers five plans with fees that start at $99 per month when billed monthly. If you opt to pay a lump sum amount for the entire year, Bambee offers discounted rates, wherein you can save up to 10% (as of this writing). It also charges a one-time HR audit/setup fee that costs anywhere from $500 to $1,000, depending on the plan selected. The main differences between the five Bambee pricing plans include the number of employees, support options available, and setup fee costs.
New Company with No Employees Yet

1–4 Employees

5–19 Employees

20–49 Employees

50–500 Employees

Monthly Pricing

($/Month)

$99

$199

$299

$699

Call Bambee for quote

Annual Pricing*

($/Month)

$94

$189

$284

$664

Call Bambee for quote

One-time Setup Fees

✕

$500

$500

$1,000

Call Bambee for quote

Access to an HR Manager

✓

✓

✓

Senior HR Manager

HR Director

Phone, Email, and Chat Support

Email and chat only

✓

✓

✓

✓
*Requires a lump sum payment
Note that Bambee doesn't require its clients to sign an annual contract with them. It follows a month-to-month pricing model, and you can cancel your subscription at any time.
Bambee Features
Bambee's HR tools and services are designed to help you efficiently manage staff terminations and handle conflict resolutions while ensuring compliance with labor policies and procedures. Its online platform also allows you to store employee-related documents and HR-compliant policies. Here are some of Bambee's important functionalities.
You are granted access to a remote HR manager whose services include the following:
Crafting internal HR policies that will fit your business
Maintaining HR compliance
Managing company policies and ensuring implementation across all functions of your business
Providing unbiased guidance and coaching on how to handle employee terminations and high-risk HR issues
Managing government agency claims, like disability and unemployment insurance
---
Apart from helping formulate HR-compliant policies and procedures, your Bambee-certified HR manager can assist you in creating and reviewing employment contracts, onboarding packages, non-compete agreements, employee handbooks, termination letters, Health Insurance Portability and Accountability Act (HIPAA) notices, and more.
Bambee also has a library of policies that most businesses use such as harassment prevention and anti-discrimination policies. You can opt to either use these documents or further enhance them by adding your company's rules.
---
For new clients, Bambee conducts an initial HR audit to identify HR and compliance gaps. This also helps the provider to know what HR and employee-related issues need to be addressed first and the measures to take to ensure that your business is protected from potential risks. It also does periodic checks to make sure your internal HR processes and policies comply with the latest labor regulations.
---
Available through Bambee's online platform is a real-time chat service. This allows you to directly interact with your Bambee adviser who can answer HR-related questions, from clarifying sick leave accrual rules to inquiring about state labor regulations and raising sensitive issues—like sexual harassment.
---
Efficiently manage HR and legal documents with Bambee's online platform that features electronic signatures and a smart cabinet system that tracks document retention periods as mandated by federal and state laws. It also has staff folders for compliance and organization, which contain your employee's basic information, onboarding documents, and HR files for separation and corrective actions (like disciplinary notices).
With its automation tools, Bambee's platform ensures that employees sign off on important policies and documents (such as non-compete agreements) as part of their onboarding process. Its system will even guide you on how to terminate employees while providing compliance checks as you go through the process.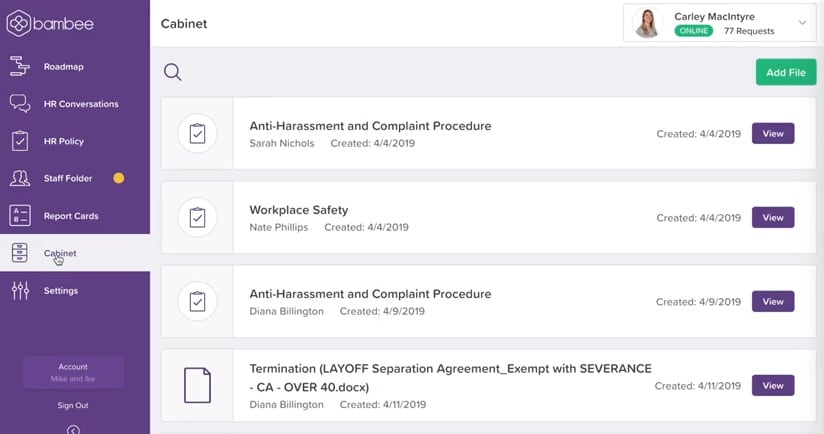 ---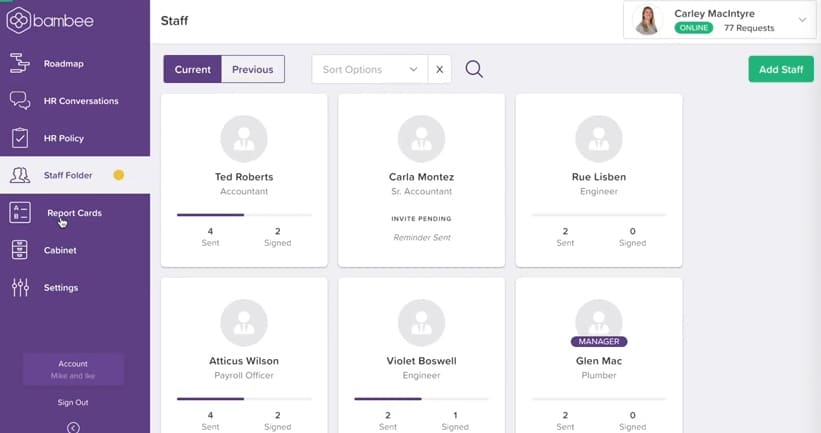 ---
---
With Bambee's "report cards," you can provide constructive feedback to employees and track their performance against work goals on a month-to-month basis. This makes monitoring annual performance easy for people managers.
---
While Bambee may not have a robust library of online learning programs, its online platform can track your staff's training progress to mandatory courses such as workplace safety and harassment prevention. This is helpful if you require employees to complete training programs for specific positions or job roles.
---
Bambee's payroll product is a paid add-on solution to its HR outsourcing services. Aside from handling your federal, state, and local payroll taxes (including year-end tax reporting), this solution supports multiple pay rates and lets you pay employees via two-day direct deposits. With its built-in HR support, your Bambee HR manager can provide guidance on how to handle wage, hour, overtime, and payroll tax regulations.
---
Ease of Use
Relatively user-friendly
Guided setup and implementation
Phone, email, and chat support
HR audits and compliance reviews
Automated workflows for HR files requiring signatures
Bambee's online platform is generally straightforward to use. While it lacks the tools to help you manage a wide range of HR processes (like time tracking and recruiting), its robust document management solution makes it easy to create, track, store, and electronically sign digital files. You even get a training tracker and "report cards" to monitor your employees' performance at work.
What we appreciate the most about its services is the direct access to a remote dedicated HR manager. This is helpful for small companies that don't have plans to hire an HR team yet but need the assistance of an HR professional to ensure that their policies and processes comply with labor regulations. Bambee will even conduct HR audits to identify potential problem areas and provide an action plan to address compliance gaps.
For new clients, Bambee offers guided setup and implementation. After the initial HR audit with its team of HR experts, your dedicated HR manager will work with you to ensure that your company's HR and employee-related policies are up-to-date with the latest federal and state regulations. After setup, you can easily contact your Bambee adviser via phone and email if you have HR-related questions. If you subscribe to its higher tiers, you get a real-time chat solution that you can directly access through its online platform.
What Users Think About Bambee
PROS

CONS

Easy sign-up process
Starter plan only comes with email and phone support
Efficient document signing and storage tools
Online platform isn't robust; lacks tools to track employee attendance
Online platform is simple to learn and use
Some of Bambee's HR managers are slow to respond
Dedicated HR support; Bambee's HR managers are generally helpful
Limited FAQs and how-to guides
Most of the Bambee reviews on third-party sites are positive, wherein several users commended its HR managers for providing good HR support. Some reviewers also appreciate its easy sign-up process, while others like that its online platform is simple to learn with features that are easy to navigate through.
However, some users are unhappy with the support they receive from their Bambee HR manager. They complained about having encountered HR managers who are slow to respond to their HR queries. A few others also wished for more features, like a time tracking solution and additional FAQs and how-to guides.
At the time of publication, Bambee reviews earned the following scores on popular user review sites:
Bambee Frequently Asked Questions (FAQs)
Bambee's team of HR experts will first conduct an in-depth HR audit of your business in order to identify compliance issues and problem points. Once the audit has been completed, a Bambee-certified HR manager will contact you to review your business information, create a customized plan to address pressing issues, identify measures to mitigate potential risks, and provide guidance to help you stay compliant.
---
Yes, your Bambee adviser may help manage your existing government agency claims—such as unemployment, disability, wage and hour, and Equal Employment Opportunity Commission (EEOC).
---
With Bambee, you are granted access to an HR expert who can coach you on how to handle employee terminations and avoid mistakes that could lead to expensive lawsuits. Additionally, its services include the review and creation of necessary documents that comply with your company's HR policies and with federal and state labor laws.
---
Bottom Line
If you're an SMB (with up to 500 employees) and need expert help in creating HR policies and managing employee issues, then Bambee is a good choice. Its services cost less than hiring an in-house HR manager, plus you're granted access to Bambee's online platform that includes secure document storage, a training tracker, and a performance rating solution for monitoring your staff's work performance.
With Bambee's services, you're assured that your company is up-to-date and complies with federal regulations and labor laws. This allows you to spend more time on projects to help grow your businesses and spend less time worrying about compliance risks.
Sign up for a Bambee plan today.