5 Best Applicant Tracking Software
This article is part of a larger series on Hiring.
Applicant tracking software helps you manage the many candidates who apply for your open positions (reports peg the average number of applicants per job at 250). The best applicant tracking software also includes tools that allow you to collaborate with your hiring team during the process and help with interview scheduling and offer letters.
We looked at a dozen applicant tracking systems (ATSes) to select the best for 2022. Some of these, like Rippling, are part of a larger talent management system, while others, like MightyRecruiter, are free but more limited.
The best five are:
A note on ranking here vs in our guide to free ATSes: Many of the products here scored highly in our list of the best free applicant tracking systems. However, you'll find that they rank differently in this guide. That's because on the other list, we weighed more heavily based on the offerings of the free plans, while this list considered all the paid features.
Best Applicant Tracking Software Compared
| | Monthly Price | Free Plan | Free Job Boards | Paid Job Boards | Applicant Screening and Assessment | Interview Scheduling | Mobile App (for ATS) | Offer Management |
| --- | --- | --- | --- | --- | --- | --- | --- | --- |
| | $71 + $1.20/ employee to $203 + $4.80/employee | ✓ | 6 | Via Integration | ✓ | ✓ | ✓ | ✓ |
| | $171 to $479 | ✓ | 16 | 45+ | ✓ | ✓ | ✓ | ✓ |
| | Call for quote; starts at $10/employee/month for core module* | - | Via integration | Via Integration | ✓ | ✓ | - | ✓ |
| | $140 (5 jobs); $449 (10 jobs) | ✓ | 44 | 36 | ✓ | ✓ | - | ✓ |
| | $0 | ✓ | 29 | - | ✓ | ✓ | - | ✓ |
*$8/employee/month if paid annually
Freshteam: Best Overall Applicant Tracking System
Freshteam

What We Like
Robust free plan
Automatic resume parsing
Feature-rich mobile app
Tools for employee management (like time off tracking) in higher plans
What's Missing
Can get expensive if you have many employees
Limited integrations
Steep learning curve due to many features
Freshteam Pricing
Two-month free trial
Free: 3 published job postings, inbox, basic career site, email integration, Kanban board, team collaboration, apply by email, employee referral, minimal employee tools
Growth ($71/month + $1.20/employee/month): Free + 20 published jobs; custom career site, application, scorecards, and hiring pipelines; vendor management; job board integrations, employee management tools
Pro ($119/month + $2.40/employee/month): Growth + 100 jobs, advanced customizations, social recruiting, talent pool management, offer management, multiple recruiters, e-sign, sponsor job posting on Indeed, candidate sourcing, merge duplicate candidates, multiple languages, onboarding
Enterprise ($203/month + $4.80/employee/month): Pro + advanced employee tools
Freshteam is a feature-rich ATS with a strong list of customizations and automations to make finding and recruiting the right candidate easier. Like Breezy HR, it has a highly ranked mobile app, and like Rippling, it offers some onboarding and HR tools. Overall, it's an excellent choice, and if you have fewer than 84 employees, it is also the cheapest after MightyRecruiter.
It has an excellent free plan with most of the tools you need and a limitation of three job posts, whereas the Pro tier has multiple languages and post sponsoring tools. Freshteam also has robust workflow and automation functions, and while it scored high for user satisfaction, it does have a steeper learning curve than many systems we evaluated. Overall, it earned 4.78 out of 5 on our rubric.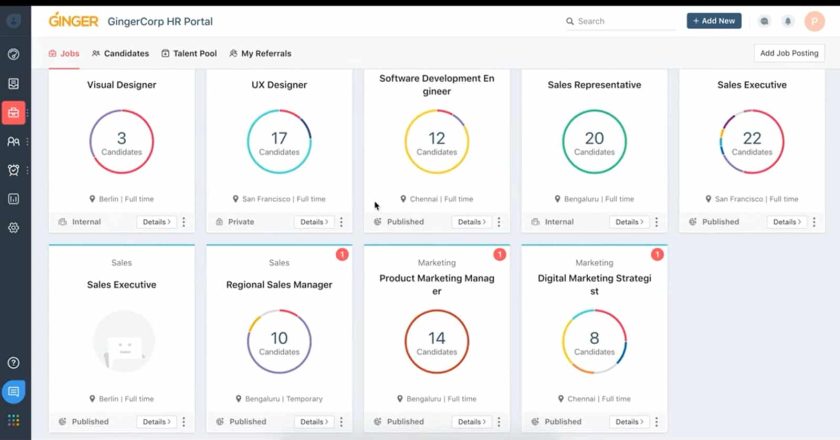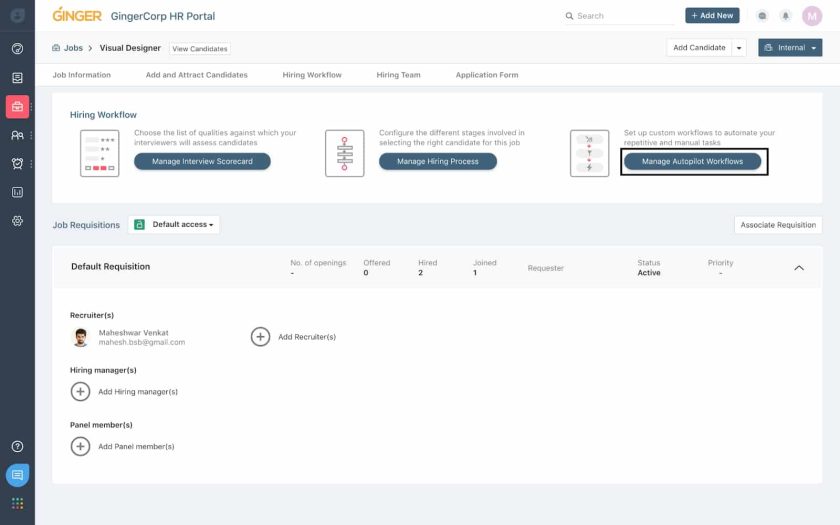 You can create individual workflows for each job.
(Source: Freshteam)
Freshteam Features
Free Plan: Freshteam ranked No. 1 in our list for free applicant tracking software. It's a feature-rich tool with job posting, workflows, email integration, team collaboration, and even employee referral. However, it limits the number of job postings you can have active. For this reason, we placed MightyRecruiter on this list for businesses that may want a free option with unlimited postings and searches.
Job ad creation and posting: Like others on this list, Freshteam lets you make a branded career page and has over 100 job description templates you can modify. It only posts to six free job boards—a far cry fewer than Breezy HR—but they are the most popular. You can also post to social media, bring in external recruiters, and get employees to refer candidates. One unique feature Freshteam has is custom tracking links, so you can tell where an applicant is coming from.
Applicant screening: Freshteam lets you create custom application forms and hiring workflows. It has screening tests, including technical ones from providers like Codility. It will parse resumes, let you tag candidates, and use a star system to rate them. You can archive applicants who don't fit the job and save the best for consideration for other jobs.
Communication and interview tools: You can make job-specific email addresses, where most simply tie to your work email. Hiring teams can make notes and discuss candidates on the platform's newsfeed, and the information stays with the candidate profile. You can program automated responses and email in bulk. Unlike Breezy HR, it does not have texting, but it does have video interviewing through Skype and Google Hangouts.
Hiring and onboarding: You can create customized offer letters and send them through the system, which will record their replies. Then, you can onboard with emails, forms, e-signatures, checklists, and reminders. (Onboarding comes in the Pro plan.) Only Rippling has a more complete onboarding system.
HR tools and integration: Freshteam does not have as many HR tools as Rippling, but even its cheapest tier includes time off tools and workweek configurations, plus HR analytics. Higher plans include onboarding and leave reports. Aside from calendars, email, recruiting software, and job boards, it integrates with the other Freshworks software.
Mobile App: Of our list, only Freshteam and Breezy HR have a mobile app. Freshteam has 4.2 out of 5 with around 30 votes on iOS and 4.5 out of 5 with about 200 reviews on Android. Breezy HR, our choice for mobile recruiting, fared better on iOS but worse on Android.
Ease of use: Freshteam earned a solid 4.46 out of 5 across multiple review sites. Users praised the posting tools especially but said the overall interface could be overwhelming. As a result, it took longer to learn than others on our list, and some features are hard to find. In addition to the help section, there are webinars and e-books. It has 24/7 phone and chat support, something the other systems on this list do not offer.
Breezy HR: Best Applicant Tracking System for Mobile Recruiting
Breezy HR

What We Like
Mobile app, texting
Highly rated by real-world users
Multilanguage support
Add-ons for talent search and SMS/text messaging
What's Missing
Offer management only in highest plan
Add-ons are expensive
Included texts are limited to about 1,600 characters/month
Breezy HR Pricing
Bootstrap (Free): One position, unlimited users, unlimited candidates, branded career site, posting, multi-language, resume parsing
Startup ($171/month): Free + unlimited positions, unlimited candidate pools, screening, automations, questionnaires, customizable workflow, EEO/OFCCP reports, self-scheduling, mobile app, live video meetings, slack, priority support
Growth ($299/month): Startup + customizable interview guides and scorecards, referrals, e-sign, recruiter tools
Business ($479/month): Growth + assessment integration, email campaigns, HRIS integration, job and offer approvals, offer management
It's estimated that nearly 90% of job seekers browse openings via mobile, and Breezy HR makes it easy with mobile-friendly job ads and career sites and SMS/texting capability. Further, it provides a mobile app that lets you manage candidates and collaborate with team members on the go. Freshteam and JobScore have some mobile features, but Breezy HR has them all.
Breezy HR's plans are among the most expensive, but unlike JobScore, it does not limit open jobs and has more features. Like Freshteam and JobScore, it earned a perfect mark on interview scheduling functionality, but slow customer support and limited KPI tracking hurt its score. Overall, it received 4.54 out of 5 in our evaluation.
Breezy HR Features
Mobile recruiting: The Android app did not rate as well as Freshteam's, with 3.5 out of 5 from around 50 reviews, but it earned 4.5 out of 5 on iOS with about 120 votes. Nonetheless, we like Breezy HR's mobile app better because (for an additional fee), you can integrate text messaging to contact clients directly. It allows you to customize for mobile, such as showing you how to change the CSS of your career site to optimize videos. JobScore has no mobile app, but it's optimized for mobile and is a good alternative.
Free Plan: The free plan is more limited than the others on our list but is still a good place to start. It parses resumes, allows for one position or candidate pool, lets you create a career site, and enables you to post to 50+ job boards.
Talent Search: Breezy is unique in that it offers two add-on programs. The first, Talent Search ($249/month), gives you access to millions of professional profiles, with the ability to search based on background, location, and skills. Once found, you can make contact via SMS or email from the platform. You can even start automated nurture campaigns if you don't have a position available but want to keep the relationship going. MightyRecruiter has a similar resume search program for free, however. The second plan is SMS texting (explained next).
Communication and interview tools: All Breezy HR plans have 10 SMS credits per month (about 1,600 characters), but if that's not enough, you can purchase SMS/Texting ($149/month) for an additional 5,000 credits. Breezy HR has self-scheduling for interviews and video interviewing technology. You can collaborate with your teammates on the app or via Slack. If a team member is on mobile, they get push notifications in real time.
Job ad creation and posting: Create beautiful and mobile-friendly career pages and job ads with one-click apply. You can create custom job ads and post them to over 50 boards, including tweaking for paid promotions. Like Freshteam and JobScore, Breezy HR has tools for recruiting, including a recruiter portal and its own Breezy email address. It also processes employee referrals. Like JobScore, you can add notes about incentives and goals. If someone visits your website or career page, you can automatically reach out with the Hello Messenger app. This is unique among the ATSes on our list.
Applicant screening: Breezy HR compiles candidate information into a profile that you can easily peruse and comment on. It has scorecards and questionnaires as well. One tool not seen in other systems in this guide is video assessments, where you can have a candidate answer a question in a short video. Like Freshteam, there is a Kanban board for tracking applicants and some automated actions, like sending emails, requesting background checks, and generating offers.
Hiring and onboarding: While Breezy HR lets you manage job and offer approvals, it does not have onboarding. It will automatically send a new hire to your integrated HRIS. If you need more onboarding tools, check Freshteam or Rippling.
HR tools and integration: Unlike Rippling, Breezy HR does not have HR tools. However, it does integrate with popular HR systems like Bamboo HR, Deputy, Gusto, and Zenefits. With EEO compliance surveys, Breezy HR can track your compliance and reporting with ease.
Ease of use: With 4.49 out of 5 stars from real-world users across multiple review sites, Breezy HR is one of the higher-ranking software on our list. Users said it was easy to use, well-priced, and had the features they needed. It has an online knowledge base, video tutorials, and weekly webinars. You get priority support with paid plans, which includes live chat support on the platform during business hours, but no phone support.
Rippling Talent Management System: Best ATS That Can Grow Into a Complete HR System
Rippling Talent Management System

What We Like
Extremely easy to use
Excellent user reviews
Module-based platform grows with your needs
ATS includes onboarding, training
What's Missing
Add-ons can get expensive
No candidate/resume search
Must purchase Unity module
Rippling Talent Management System Pricing
Unity ($10/month/user)*: Directory, analytics, onboarding, positions management, workflows, policies, document and e-signature management, mobile app (not for ATS)
Applicant Tracking (Custom): Job boards, screening, calendar integrations, message templates, hiring reports, onboarding, learning management
*$8/month/user if paid annually
Rippling is a great choice for any business thinking it may need a complete HR system because its program is designed to grow with your needs. You can start with the Unity module, which is its core program, then add its applicant tracking system. This system, while not as feature-rich as say, Freshteam, nonetheless has all the basic tools you need—plus, it has training tools, so you can get your new hire up to speed fast. Rippling earned 4.46 out of 5 on our rubric.
The platform is the only product on our list that requires a custom quote, which we could not secure. However, Rippling is reasonably priced. It costs $10 per month, per employee, for the required core program ($8 if paid annually)—then you add other modules. Most run $6 to $10 per employee monthly, and we expect the Talent module with hiring to be in that range—so, at minimum, you'll likely pay $14 to $18 per employee monthly.
The by-employee pricing means it could be more expensive than others in this guide, but it does include other functions, like a training module. Rippling does not have a free plan, so if all you need is job posting and applicant management, consider MightyRecruiter.
Rippling Talent Management System Features
HR tools and integration: Of all the ATS on our list, Rippling excels in HR tools and integrations. You can add payroll, time tracking, benefits administration, learning management, IT management, and HR support. In fact, if you want a professional employer organization (PEO), Rippling has you covered. And with over 500 integrations, if you need a tool, you can probably add it with no problem.
Job ad creation and posting: Like the others on our list, Rippling's ATS lets you post to job boards and social media with a click. Its application tools are not as robust as the others, but it does have resume parsing and search. However, it does not have recruiter tools, so check Freshteam, JobScore, and Breezy HR if you require them.
Applicant screening: Unlike the others on our list, Rippling does not have screening questions, but you can customize workflows from hundreds of prebuilt templates. Plus, it has background screening, something we did not find in the others on our list.
Communication and interview tools: Rippling integrates with Outlook, iCal, Google Calendar, and others, so you can easily schedule interviews with the candidate and your team. Unlike Breezy HR, you cannot reach out to them via SMS on the app.
Hiring and onboarding: Rippling has the best onboarding tools, with Freshteam coming in second. It boasts 90-second onboarding, and it is the only system in this guide that has e-signatures with its basic plan. You can send offer letters, run background checks, enroll them in payroll and benefits, and even assign them their work computer if you have the IT Device module.
Mobile App: Rippling does have a mobile app, but it's for employees and not applicant tracking. If it's a requirement, check out Breezy HR or Freshteam.
Ease of use: Rippling has the highest user satisfaction score on our list: an average of 4.82 out of 5 across several user review sites. Customers praise the ease of use and organization of features but did say the ATS needed improvement. Others raved about the integrations and called the software itself "low maintenance."
JobScore: Best Applicant Tracking System for Ease of Applying & Employee Referrals
JobScore

What We Like
Intuitive interface
Free plan with strong features
Job SEO optimization
Employee referral reward plan
What's Missing
In-app chat usually responds via email
Advanced features only in expensive plans
LinkedIn posting only with expensive plans
JobScore Pricing
30-day trial
Free: 1 active job, unlimited users and candidates, applicant tracking, hosted careers page, basic reports, EEO compliance, email support
Basic ($149/month): Free Plan + 5 open jobs
Scale ($449/month): Basic + 10 open jobs, apply w/LinkedIn, customizable applications, internal job board, customizable email templates, two-way email sync, interview tools, customizable workflows, customizable job fields, advanced reporting, e-sign, onboarding/HRIS integration, phone support
Enterprise (Custom): Scale + dedicated support, API, LinkedIn RSC integration, job approvals, offer approvals, custom careers site
JobScore makes it easy for you to impress potential applicants with its customizable career and job posts that can include video and are mobile-friendly. Its mobile-optimized application process makes it easy for candidates to apply (a difficult application process is one reason good candidates may pass your job posting by). JobScore also has impressive resume parsing and evaluation tools and an employee referral system that can include rewards. Unlike Freshteam and Rippling, it does not have HR features. It's similarly sparse on offer and onboarding tools.
It earned 4.31 out of 5 on our rubric due to its price and steeper learning curve compared to most systems. The free and basic plan have similar tools, with the difference being the number of active jobs you can have. However, to get interview tools, templates, and integrations—things many include in their more basic plans—you will have to pay $300 a month.
JobScore Features
Enhanced careers page and job description: Other ATSes on our list let you create a job ad, but we especially like JobScore's drag-and-drop interface that not only lets you add text, but also images, video, maps, and more. Use the same tools for an impressive careers page. Either way, they are mobile-optimized, which is vital since nearly 90% of job seekers will use their phones. Breezy HR also allows video and mobile-optimization.
Free Plan: The free tier contains the basic tools you need for recruiting, and many users say it's enough to get the job done. You can set up a career site (with video and images), post to job boards, share on social networks, run an employee referral campaign, and more. It has notes, candidate tagging, customizable workflows, and offer templates. Reports are minimal but include EEO compliance. MightyRecruiter and Freshteam rank higher for free plans, however.
Job ad creation and posting: JobScore integrates with over 70 job boards, letting you post to your choices with a click. The application process (also mobile-optimized) makes it easy for applicants to apply—but you can also use the application builder to create one. Select questions from its list or add your own, and let applicants drag and drop their resume, which JobScore will parse it for you. If you want to entice your employees to refer people, the system lets you build a rewards program for referrals.
Applicant screening: Sort through your slush pile using JobScore's list of criteria. You rate the importance of each aspect, and it scores resumes on a scale from 1 to 10. Freshteam also has this auto-screening feature in its cheapest plan. You can schedule interviews and integrate them with Google and Microsoft calendars.
Communication and interview tools: Create custom emails from templates and send them from an address and at a time you schedule. You can even send bulk emails, plus track whether you've gotten a reply. While JobScore can send you SMS messages through Zapier for triggers you set, it does not let you text applicants. (Breezy HR does, which is why we recommend it for mobile recruiting.) JobScore does integrate with Slack in its Enterprise plan, however.
Hiring and onboarding: Unlike Rippling and Freshteam, JobScore does not have hiring and onboarding tools aside from offer letters and e-signatures in higher plans.
HR tools and integration: JobScore has a nice range of third-party integrations, such as Sapling, ADP, Bamboo HR, and Paylocity. These are only with the Scale and Enterprise plans, however. The Enterprise Plan also lets you integrate with LinkedIn's Recruiter System Connect. Rippling has significantly more integration capability.
Mobile App: JobScore does not have a mobile app, although the online interface is mobile-optimized and easy to use. If you are interested in a mobile app, check out Breezy HR or Freshteam.
Ease of use: Jobscore earned 4.18 out of 5 over multiple user review sites, although it has few recent reviews. Users said the software made it easy to review and categorize candidates. In the cons section, some said they disliked the price and that it took time to learn the system. It offers walk-throughs, how-to articles, and phone support. The in-chat support, however, often replies via email.
MightyRecruiter: Best Fully Free, Unlimited ATS System
MightyRecruiter

What We Like
All tools free for unlimited use
Resume database with over 21 million candidate profiles
Free posting to 29 job boards and socials
EEO and OFCCP compliance reporting
What's Missing
Job posting takes up to 48 hours
No job offer tools or onboarding
No report customizations
If you are looking for a free system with no restrictions, then MightyRecruiter may be just what you need. While it has fewer features than the others on our list such as Freshteam's free plan, it does allow for unlimited open jobs and unlimited searches of its 21+ million resumes. (Even Freshteam's paid plans limit these tools.) Plus, you can have unlimited accounts, so each department or store location can handle its own hiring.
You can post to free and paid job boards, including paying for premium posting. It provides communication and screening tools but lacks offer management and onboarding tracking features. It also does not integrate with HR software, and in our evaluation, it lost points in reporting since its reports aren't customizable. Nonetheless, it earned a spot on our list with a 3.95 out of 5.
MighytRecruiter Features
Searchable database: Monster offers a database of over 21 million resumes so you can search for a candidate that may not be on your job boards. In addition to keywords, it offers Boolean search tools to help you narrow candidates down. Some criteria include location, when a resume was last updated, work experience in years, previous companies, and education. You can rank candidates, invite them to apply, and even set up an email campaign. Breezy HR has something similar with its Talent Search add-on, but it costs extra.
Job ad creation and posting: MightyRecruiter offers over 200 customizable job descriptions, twice as many as Freshteam. You can customize these with its editor, and then post to any of 29 different boards or social media sites with a simple click. Job boards include popular sites like Monster, local sites like Craigslist, and specialized sites like VetJobs. In addition, you can post to social media like LinkedIn—all with a click. Want to pay to promote your job on a site? MightyRecruiter can handle that for you as well. It has tools for processing in-house recommendations but has no rewards program like JobScore.
Applicant screening: There are several ways to evaluate candidates: a star system, a Yes-No-Maybe, and thumbs-up. You can add notes on candidates and create tags to make it easier to search for them in the future. It has a simple screening questions tool, with a library of questions you can use. Compared to others on our list, it is basic but has enough to get the job done.
Communication and interview tools: Unlike Breezy HR, MightyRecruiter only works with email for communication. You can set up drip campaigns with up to three emails for candidates. The system syncs with your email, so if you send a message through MightyRecruiter, replies go to your email and the system; from there, any email conversations will show up on MightyRecruiter and email even if you reply via email. It integrates with calendar systems for scheduling.
Hiring and onboarding: This is where MightyRecruiter falls short of the others on our list. It does not come with offer letter generation or signing and onboarding procedures. The others have offer letters, while Rippling and Freshteam also have basic onboarding tools.
HR tools and integration: MightyRecruiter does not have HR tools. For a complete HR system that lets you also choose what tools you want, consider Rippling. Freshteam, too, offers a lot for employee management. While it integrates with 29 job boards, that's the limit of its integration capability.
Mobile App: MightyRecruiter does not have a mobile app. If you are interested in mobile, check out Breezy HR or Freshteam.
Ease of use: Real-world users give MightyRecruiter 4.04 out of 5 over multiple review sites. You get a dedicated account manager. JobScore, for example, only offers this with its Enterprise Plan. Phone support is only available during business hours. There are how-to videos, articles, and guides but not how-to articles, and as of this writing, the FAQs link is broken. Nonetheless, users found it straightforward and easy to use.
Read our MightyRecruiter Review
How We Evaluated the Top Applicant Tracking Software
We started with a dozen ATSes, many of which made our list of the best free applicant tracking systems. Then, we considered price, especially for small businesses, evaluation and collaboration tools, integrations, and ease of use.
Just like in our free applicant tracking software list, Freshteam took the No. 1 spot. While its paid plans are not the cheapest, we were impressed with the features and ease of use vs the price point. Its free version is good for up to 50 employees but can scale.
Click through the tabs below for our full evaluation criteria:
20%
Applicant Tracking Features
25% of Overall Score
We looked for free plans, transparent pricing, and affordable rates for small businesses. Additional points were also given if the software has no setup fee and paid plans less than $30 monthly. Among the shortlisted solutions, Freshteam, JobScore, and Breezy HR scored perfectly.
20% of Overall Score
We awarded points for posting to multiple job boards, in-app communications for the hiring team and the applicant, interview scheduling, screening tools, and offer letters. We also gave points if they had a keyword-friendly search and matching tools. Freshteam, JobScore, and Breezy HR each earned a perfect score.
15% of Overall Score
We looked for solutions with an average score of 4+ stars from online user reviews on sites like Capterra and G2 and gave top points if the software has 200 or more reviews on third-party sites. Freshteam, Breezy HR, and Rippling got top marks here.
15% of Overall Score
JobScore, Rippling, and Freshteam also got top marks for reporting, which considered not only the breadth of reports but also customizability.
25% of Overall Score
We considered whether real users found the interface intuitive and easy to learn and navigate. Then, we looked for quick response turnaround via live phone support, how-to guides, and multiple third-party integration options. Additional points were awarded if a user can export documents into a CSV file. Rippling and MightyRecruiter took the lead here with perfect scores.
*Percentages of overall score
Bottom Line
In 2017, the average time to hire someone was 30 days. In 2020, it had risen to 42. That translates not just into time with a position open, but time spent by your hiring team and money lost. A good ATS can make the hiring process easier, saving you time and money, and ease the process by which you find your perfect new hire.
Overall, Freshteam is the best ATS of those we evaluated. It has a robust free plan, great customizations, and very useful automation tools. While it only posts to a few job boards, the screening tools are first-rate, and it sweetens the deal with time-off tracking and onboarding. Try Freshteam's free plan or sign up for a paid subscription today.