Best CRM for Nonprofits: Top 6 Platforms in 2022
This article is part of a larger series on CRM.
Nonprofit customer relationship management (CRM) systems let organizations like community service groups, philanthropic organizations, trade associations, and political advocacy firms manage operations, marketing, and financial activities. They provide modules for handling donations, volunteers, and communication outreach. We evaluated dozens of systems ideal for nonprofit management to identify the best CRM for nonprofits:
Best CRM Systems for Nonprofits Compared
Provider

Free Plan

Starting Price for Paid Plans*

Free Trial for Paid Plans

Key Features

Customer Support

Yes, unlimited users

$49 per month, includes 5 user seats

30 days

Free projects, donor profiles, website builder & payment processing

Live chat & email support for paid plans + online resources

N/A

$100 per month for unlimited users

N/A

Activity & donation tracking + tax summaries

Email & phone support 8 a.m. to 5 p.m. Central time Monday–Friday

N/A

$39 per month for unlimited users

30 days

Low-cost fundraising pages & processing

Online user guides + email customer support

N/A

$99 per month for unlimited users

N/A

Robust contact, donor & member management features

Blogs & product guides + email customer support

Yes, unlimited users

$45 per month for up to 2 users

14 days

Built-in telephone system

Email, chat & phone support Monday–Friday (7 a.m. to 8 p.m. Eastern time)

Yes, unlimited users

$45 per month for up to 2 users

14 days

Email, live chat & content marketing tools

Email, chat & phone support (7 a.m to 8 p.m. Eastern time)
*Based on annual billing. Monthly billing is also available for slightly higher rates.
Bitrix24: Best Overall Nonprofit CRM
What We Like
Free CRM for nonprofits that supports unlimited users
Project management, donor database, websites, and payment process available for free
Built-in telephone
What's Missing
Features for time tracking get expensive
Event planning module requires Standard plan
Not designed for nonprofits, requires detailed system and feature customization
Bitrix24 Pricing at a Glance*
Free: Free for unlimited users
Basic: $49 per month for up to five users
Standard: $99 per month for up to 50 users
Professional: $199 per month for 100 users
Enterprise: $399 per month for 250 users
Free trial: 30 days
*Pricing based on annual billing, reflecting a 20% discount compared to monthly pricing. Monthly and quarterly billing is available for a higher cost.
Bitrix24 is a tailorable CRM system that can be geared to all types of industries and verticals through data field and page customization. It offers a free plan for unlimited users, and the tools become intuitive after a short learning curve. This CRM is a comprehensive business management solution as it provides modules for sales, marketing, project management, ecommerce, and human resources.
Bitrix24 is the best overall nonprofit CRM primarily because of its free plan. Nonprofits are often strapped financially and need a free option to get rolling. With this platform, an unlimited number of users can manage projects, organize and track donor data, build a fundraising website, and process donations for free.
Unfortunately, because Bitrix24 is a general-use CRM, users need to customize their data fields and features to make it applicable to nonprofit operations. Neon One is the best alternative as it is built specifically for nonprofits and has all of the capabilities required, including donor management, fundraising, donation processing, and volunteer tracking.
Bitrix24 Plan Summary
| | Free | Basic | Standard | Professional | Enterprise |
| --- | --- | --- | --- | --- | --- |
| Project Management | ✓ | ✓ | ✓ | ✓ | ✓ |
| Custom (Contact) Data Fields | ✓ | ✓ | ✓ | ✓ | ✓ |
| One-Page Contact Profiles | ✓ | ✓ | ✓ | ✓ | ✓ |
| Self-Service Payments on Website | ✓ | ✓ | ✓ | ✓ | ✓ |
| Website Builder with Forms | ✓ | ✓ | ✓ | ✓ | ✓ |
| CRM Payments | ✕ | ✓ | ✓ | ✓ | ✓ |
| Email Contact Center | ✕ | 10,000 CRM emails per month | 50,000 CRM emails per month | 100,000 CRM emails per month | 250,000 CRM emails per month |
| Telephone and Email Contact Center | ✕ | ✓ | ✓ | ✓ | ✓ |
| Built-in Telephone | ✕ | ✓ | ✓ | ✓ | ✓ |
| Event Planner | ✕ | ✕ | ✓ | ✓ | ✓ |
| Employee Work Time | ✕ | ✕ | ✕ | ✓ | ✓ |
| Custom Traffic Source Reports for Ads | ✕ | ✕ | ✕ | ✕ | ✓ |
Bitrix24 Key Features
Donor Contact Profiles: Organizations can view and manage to track donor contact, contribution, and activity information in custom records.
Project Management and Event Planning: Teams can plan out, collaborate, and organize major events or community projects.
Built-in Website Builder with Contribution Processing: Module for building websites to easily share through marketing campaigns. Websites have ecommerce and integrated payment processing capabilities to receive donations from the site.
Employee and Volunteer Management: Human resources (HR) management for recruiting volunteers and tracking their time.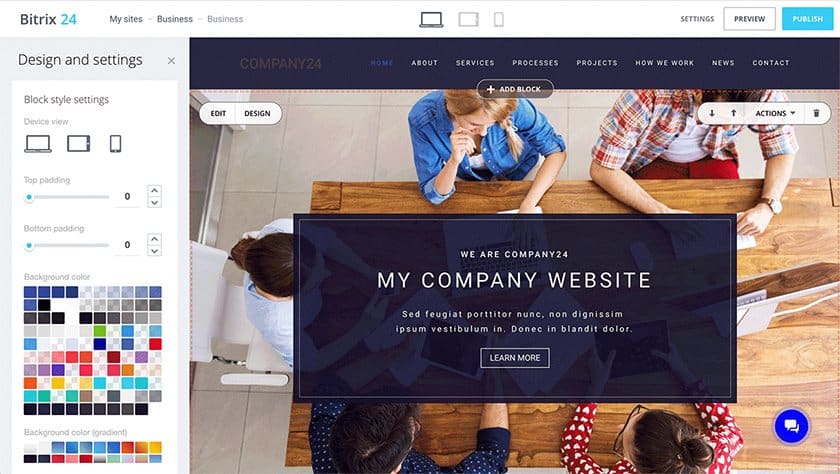 ---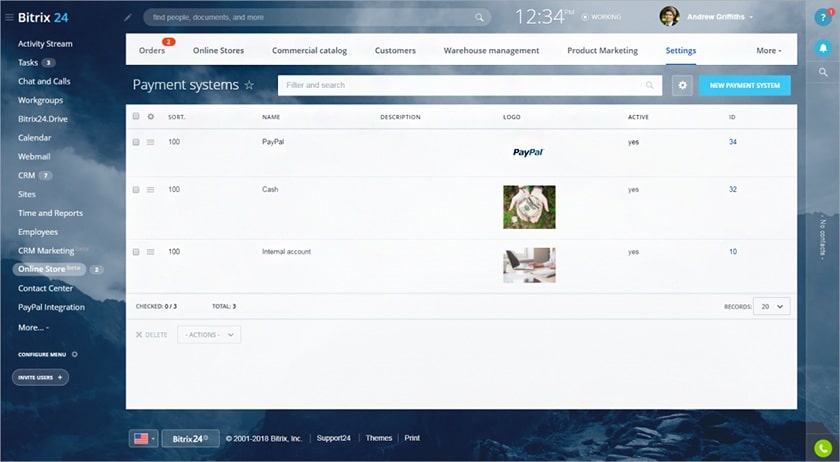 ---
Bitrix24 Customer Support
Bitrix24 offers self-service resources online, including a help desk, product guides, and online training tutorials. Additionally, paid users can contact support via live chat or email during business hours, from 8 a.m. to 5:30 p.m.
Want to learn more? Our comprehensive Bitrix24 review offers an expanded look into the features, pricing, and usability of the Bitrix24 CRM system.
Kindful: Best for Donation & Activity Reporting
What We Like
Unlimited users on every plan
System built for nonprofits
All features available regardless of the number of contacts
What's Missing
No free plan or trial
Early plans are relatively expensive for only 1,000 contacts
Optional customer success packages can get expensive
Kindful Pricing at a Glance*
Up to 1,000 contacts: $100 per month
Up to 5,000 contacts: $200 per month
Up to 15,000 contacts: $300 per month
Up to 25,000 contacts: $400 per month
Up to 40,000 contacts: $500 per month
Up to 55,000 contacts: $600 per month
Up to 70,000 contacts: $700 per month
70,000+ contacts: Request a quote
Customer Success Package (Optional)
1 hour per quarter: $33 per month
2 hours per quarter: $66 per month
1 hour per month: $99 per month
2 hours per month: $189 per month
4 hours per month: $359 per month
*Pricing based on annual billing.
Kindful is a nonprofit-specific CRM with donor management, communications and outreach, and fundraising tools. Regardless of the subscription, teams get unlimited user access to all features, including email marketing, task management, event registration, and the ability to track donor lifecycles.
The biggest standout feature for Kindful is the set of reporting tools—both for internal and external reporting purposes. Users can create and schedule customizable activity and donation reports using pre-built templates—including or filtering out any data points to meet their needs. Plus, the system automatically generates donation receipts and tax summary pages and auto-sends them to donors when necessary.
Kindful is not ideal for new or small nonprofits as they don't have a free plan, and the first few tiers are relatively expensive. Bitrix24 is the best overall free option on this list for teams that don't mind customizing the system to their needs. Donor Tools, alternatively, is ideal for startup nonprofits as it offers all the website, fundraising, and donor management features needed for a low cost.
Kindful Plan Summary
| | Kindful |
| --- | --- |
| Donation Pages and Forms | Teams can create donation pages and opup donation forms to receive contributions |
| Crowdfunding Pages | Shareable pages with thermometer progress tracking, cause description, and images for crowdfunding campaigns |
| Donation Reporting | Automated donation tracking with filtering tool to track who donations and activities come from |
| Event Registration | Users can create event web landing pages for selling tickets and registering and checking in attendees |
| Donor Life Cycles | Donor journey and pipeline management to view their timeline activity |
| Contact Records with List Segmentation | Data management of donor and nondonor contacts with the option to filter out lists for campaigns |
| Task Management | Teams can create to-do lists and reminders, connectable to contact records or other users |
| Automated Donor Receipts | Upon donations, donors will receive an email receipt automatically |
| Email and Letter Templates | Teams can store and share email and letter templates to use for marketing or donation campaigns |
| Tax Summaries Tool | Automatic tax summary tracking for donations with ability to send to supporters |
| Unlimited Scheduled Reporting | Teams can schedule an unlimited number of customizable reports on performance and activity |
| Relationship Tracking | Within contact and donor records, users can connect identities to other records based on donors relationships or living in the same house |
Kindful Key Features
Fundraising Modules: Ability to create donor, crowdfunding, event, and peer-to-peer webpages and process contributions and registrations as they come in
Donor Management: Users can create, view, edit, and filter donor and contact records from the system to organize their data and activity.
Communications: Email campaign tools with premade templates, automated email donation receipts, and acknowledgment lists.
Reporting and Tracking: Activity and donation tracking with customizable CRM reporting options.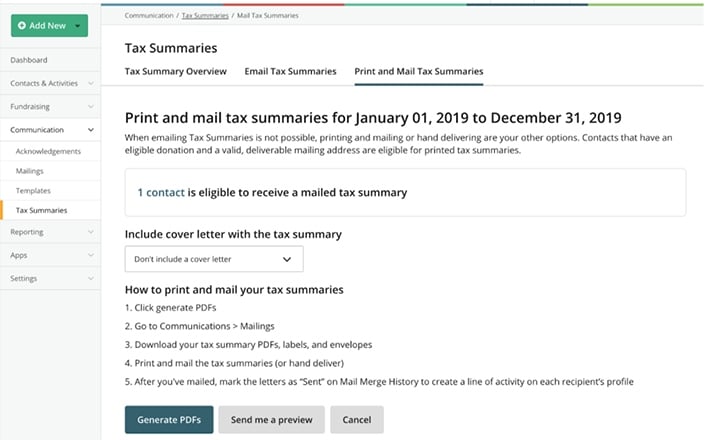 ---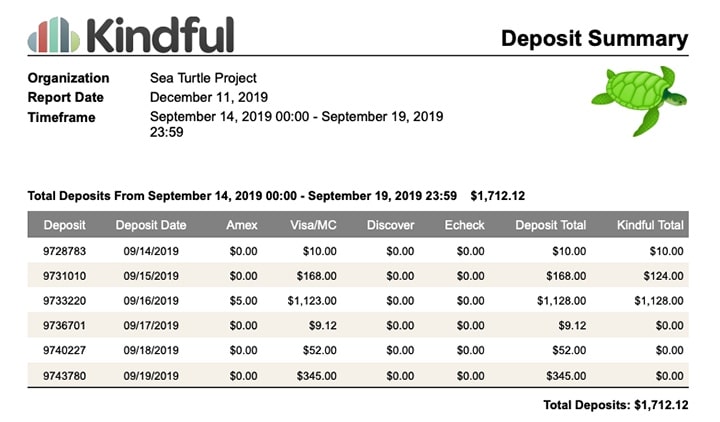 ---
Kindful Customer Support
Kindful has an online help center full of articles and user guides for operating the platform. They are also available Monday through Friday, 8 a.m. to 5 p.m. Central time, via email and phone support channels.
Donor Tools: Best for Startup Nonprofits
What We Like
Low-cost CRM for nonprofits with unlimited users and donors
Platform designed for fundraising efforts and donor management
Simple platform to navigate and use
What's Missing
Does not yet support Automated Clearing House (ACH)
Payment processing must be done using WePay
No capability to migrate contact or donor data from one CRM to Donor Tools
Donor Tools Pricing at a Glance*
Donor Tools: $39 per month for unlimited users
Free trial: 30 days
*Pricing based on monthly billing, users may cancel at any time
Donor Tools is a simple and low-cost CRM system built for nonprofits to raise money, track donations, record physical transitions, and manage their donor and contact base. Because there's only one plan, all features are included with accessibility to an unlimited number of users and donor records.
Donor Tools is the best CRM for small nonprofit organizations and startups due to its affordability and user-friendliness of nonprofit-specific tools. The website builder is quick and easy—only requiring users to upload their logo and enter some information about their organization, then the system publishes the website to advertise and capture donations. For $39 per month for unlimited users, you can access all its features. Also, the payment processing fees are negotiated through WePay, so users get some of the lowest rates on the market.
While there are positive reasons that startup nonprofits should use Donor Tools, its limitations also contribute to its best-for situation. For example, there isn't any option to quickly import contact and donor data from one system into Donor Tools. That inability is not inconvenient for established organizations who want to migrate over from a different CRM. Neon One and Kindful are both excellent options for nonprofits looking to switch to a new CRM.
Donor Tools Plan Summary
Donor Tools

Fundraising Pages

Platform provides subscribers with a branded web page to receive donations

Donor Records

Teams can manage contact data and activity history for donors

Donations Dashboard and Reports

Users can view all donation activity on a simple

CRM dashboard

and generate custom reports on donation performance

Payment Processing

Organizations can process and track contributions through integration with WePay

Online Donations

Self-service online capture of donations through website

Physical Transactions

Users can easily record cash or check donations, their date, check #, and specific fund contribution

Donor Filtering

Ability to create reporting lists based on donor activity, such as a list of donors who contributed over a certain amount of money
Donor Tools Key Features
Branded Webpage: Custom branded webpage to accept donations simply by uploading a logo and filing a few fields
Payment Processing: Integration with WePay for online donations allows processing with a low, 2.3% plus $0.30 for all cards.
Reporting: Custom and filtered reports on donations and donor activity.
Donation Management: Users can organize and track contact records for donors to view their activity and donation history.
Donor Tools Customer Support
Donor Tools comes with online user guides with product tutorials and resources to help teams use the features. They also have customer support available during standard business hours through email.
Neon One: Best for Donor & Member Management
What We Like
Includes unlimited records, users, emails, and templates
Features for fundraising, donor management, and communications
Modules and product enhancements applicable to many types of nonprofits including trade associations and commerce chambers
What's Missing
No free plan
Requires a one-time setup fee
Events and volunteers management features get expensive
Neon One CRM Pricing at a Glance*
Essentials: Starts at $99 per month
Impact: Starts at $199 per month
Empower: Starts at $399 per month
Neon One for Associations Pricing at a Glance*
Essentials: Starts at $109 per month
Impact: Starts at $219 per month
Empower: Starts at $439 per month
Service Add-ons
Data and Implementation (Required): $300 one-time fee
Training and Consulting: $600 for four hours
*Pricing based on monthly billing.
Neon One is an all-in-one nonprofit management solution for handling outreach campaigns, storing contact data, prospecting, managing events, and accounting through QuickBooks. Teams can also track volunteer time and create fundraising campaigns and webpages, including peer-to-peer, event registration, or simple donation page options.
This nonprofit CRM offers two types of software products; one for donation-based nonprofits and the other for managing members—commonly used for trade associations, chambers of commerce, and professional organizations. Regardless, its contact, donor, and member management tools are excellent across the board. Users can store their contact information and activity data in terms of volunteering or contributing, and do relationship linking to other records in the system.
Neon One, unfortunately, has no free plan and requires a one-time setup fee to import data and implement the system. Bitrix24 and Freshsales are excellent CRM alternatives that do not require a setup fee and have free options for unlimited users.
Neon One Plan Summary
| | Essentials | Impact | Empower |
| --- | --- | --- | --- |
| Fundraising and Donor Management | ✓ | ✓ | ✓ |
| Peer-to-Peer Fundraising | ✓ | ✓ | ✓ |
| Prospecting and Activity Tracking | ✓ | ✓ | ✓ |
| Grant Management | ✓ | ✓ | ✓ |
| Task Management | ✓ | ✓ | ✓ |
| Email Campaigns with Templates | ✓ | ✓ | ✓ |
| Surveys | ✓ | ✓ | ✓ |
| Automated Workflows | Up to one | Up to 15 | Unlimited |
| Integration with QuickBooks | ✕ | ✓ | ✓ |
| Volunteer Management | ✕ | ✓ | ✓ |
| Events Management | ✕ | ✓ | ✓ |
| Radius Search and Geocoding | ✕ | ✕ | ✓ |
Neon One Key Features
Data Record Management: Contact and donor management with household and relationship tracking, list filtering, and activity monitoring
Email Marketing: Teams can create and deploy automated email campaigns and surveys using premade templates.
Task Management with Automation: Users can design to-do lists, get reminders, and create automated workflows to complete activity actions based on triggers and conditions.
Fundraising and Events: Ability to create fundraiser, peer-to-peer, event, and donation pages for online registration or contributions.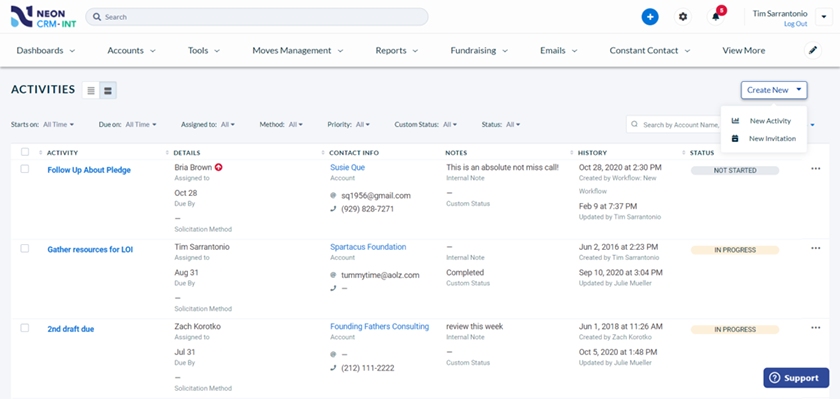 ---

---
Neon One Customer Support
Neon One has self-service options online through their blog, product guides, and webinars. They are also available through email customer support during standard business hours, where users can submit request forms on the website or direct message the service email address.
Freshsales: Best Built-in Phone System
What We Like
Free plan for unlimited users that includes a built-in phone system
Scalable pricing options to meeting growing nonprofit needs
Overall easy CRM to use for operating features and navigating the interface
What's Missing
Requires lots of system customization to meet nonprofit needs
No direct features for collecting and processing donations
Custom modules requires Enterprise plan
Freshsales Pricing at a Glance*
Free: Unlimited users
Growth: $15 per user monthly
Pro: $39 per user monthly
Enterprise: $69 per user monthly
Free Trial: 21 days
Add-ons
Configure, Price, Quote: $19 per user monthly for managing branded invoices, onboarding documents, quotes, and contacts.
Additional Workflows and Bot Sessions: $5 for 10 more workflows and $75 per month for 1,000 bot/automated live chat sessions.
Phone Credits: Starts at $5 for additional telephone credits.
*Pricing based on annual billing. Monthly billing is also available for a higher cost.
Freshsales is a general-use CRM with contact management, deal tracking, and email communication tools. The system is easy to navigate for users at any technical skill level. Additionally, teams enjoy a free plan for unlimited users, scalable pricing options, and add-ons that let the CRM grow with the organizational budget and feature needs.
Many nonprofits need to directly engage with big donors and corporate sponsors on a personal level to keep their contributions up. For that, Freshsales has an excellent built-in phone system, in which the core components such as placing and receiving calls are available for free. Also, the telephone feature comes with call logging and notes, queue management, call routing, and warm transfer, which gives agents context before a call is routed to them.
Because it's a general-use CRM system, users must custom-design the fields and modules to make Freshsales into a nonprofit CRM. Kindful and Neon One are the best options for teams looking to invest directly in a ready-to-use, nonprofit CRM system.
Freshsales Plan Summary
| | Free | Growth | Pro | Enterprise |
| --- | --- | --- | --- | --- |
| Contact, Account, and Deal Management | ✓ | ✓ | ✓ | ✓ |
| Tasks, Appointments, and Notes | ✓ | ✓ | ✓ | ✓ |
| Activity Timeline Tracking and Lifecycle Stages | ✓ | ✓ | ✓ | ✓ |
| Built-in Telephone with Inbound ID | ✓ | ✓ | ✓ | ✓ |
| Live-Chat Communications | ✓ | ✓ | ✓ | ✓ |
| Custom Date Fields | ✕ | ✓ | ✓ | ✓ |
| Email Sync, Sequences, and Team Inbox | ✕ | ✓ | ✓ | ✓ |
| Website Forms | ✕ | ✓ | ✓ | ✓ |
| Custom Workflows | ✕ | 20 | 50 | 100 |
| Quota Tracking | ✕ | ✕ | ✓ | ✓ |
| Call Warm Transfer and Conferencing | ✕ | ✕ | ✓ | ✓ |
| Custom Modules | ✕ | ✕ | ✕ | ✓ |
| Queue Virtual Hold and Callback | ✕ | ✕ | ✕ | ✓ |
Freshsales Key Features
Built-in Phone System: Telephone system within the CRM for placing and receiving calls, managing a call queue, and logging calls into CRM records.
CRM Customization: Users can create unique data fields, modules, layouts, and automated workflows specifically tailored to a nonprofit's needs.
Contact Management: Teams can organize data and activity information for donors, members, or organizational partners.
Website Integration: Nonprofit teams can track website visitor activity such as pages visited from the CRM, and collect contact through website forms.
Freshsales Customer Support
Freshsales customer support includes 24/5 live chat, phone, and email available Monday through Friday. Enterprise users get additional support, such as a dedicated account manager who provides expedited support for product issues and helps teams achieve their CRM goals. Freshsales also has self-help options through its blog, product tours, tutorials, and documentation.
Like what you see? Find out more in our Freshsales review for feature insights and best-for scenarios to invest in the CRM.
HubSpot CRM: Best for Nonprofit Marketing Features
What We Like
Free plan for unlimited users
Excellent email, ad, and content marketing features plus payment processing for donations
Intuitive, easy-to-use interface and features
What's Missing
Both individual and bundled paid plans get expensive
Not built for nonprofits, users must customize the system to their needs
Custom reporting not available until Professional plan
HubSpot CRM Pricing at a Glance**
Free: Unlimited users
Starter CRM Suite**: $45 per month for two users
Professional CRM Suite: $1,600 per month (up to five users)
Enterprise CRM Suite: $5,000 per month (up to ten users)
Free Trial: 14 days
*Pricing based on annual billing, monthly billing is also available for a higher cost
** CRM Suite includes sales, marketing, customer service, CMS, and operations software. Individual modules can be purchased for lower monthly costs.
HubSpot is a popular CRM with sales, marketing, operations, service, and content management modules. Organizations can either purchase the modules individually or as bundled software packages. There's also a free plan for unlimited users that gives nonprofit teams some basic features such as contact management, emailing, and customer service.
One thing that separates HubSpot from the nonprofit CRMs on this list, as well as other popular products, are the marketing features. HubSpot is a marketing-heavy platform that enables nonprofits to design and distribute email campaigns, manage online ads, publish social media and blog posts, and host video content from the CRM. At the same time, they can get higher web traffic and engagement through built-in search engine optimization (SEO) analytics.
HubSpot's two downfalls are that it requires system tailoring because it's not a nonprofit CRM and has expensive custom reporting features. Kindful is the best alternative that solves both issues—being a nonprofit-specific CRM and having reporting features no matter which plans you choose.
HubSpot CRM Plan Summary
| | Free | Starter | Professional | Enterprise |
| --- | --- | --- | --- | --- |
| Contact Management | ✓ | ✓ | ✓ | ✓ |
| List Segmentation | Up to five active lists | Up to 25 active lists | Up to 1,000 active lists | Up to 1,500 active lists |
| Ads Management | Simple website audiences only | Up to two contact and company list audiences | Up to five contact and company list audiences | Up to 15 contact and company list audiences |
| Landing Pages | Limited features | Removes HubSpot branding but limited features | ✓ | ✓ |
| Email Marketing Campaigns | ✓ | ✓ | ✓ | ✓ |
| Email Scheduling and Tracking | ✓ | ✓ | ✓ | ✓ |
| Blog | One with HubSpot branding | One with HubSpot branding removed | 100 blogs | 100 blogs |
| SEO Recommendations | Basic | Basic | Advanced | Advanced |
| Payments Processing | ✕ | ACH and cards | ACH and cards | ACH and cards |
| Automated Workflow Extensions | ✕ | ✕ | ✓ | ✓ |
| Custom Reporting | ✕ | ✕ | ✓ | ✓ |
| Custom Goals | ✕ | ✕ | ✕ | ✓ |
HubSpot CRM Key Features
Content Marketing: Teams can manage content such as blog articles, videos, social media posts, and website landing pages as well as receive SEO recommendations all from the CRM.
Outreach Features: Direct email and automated email campaign features for engaging donors and other contacts with filterable lists.
Payment and Donation Processing: Digital payment capabilities through ACH or cards with one-time or recurring links to make donations.
Custom Reporting: Users can create and distribute reporting on marketing campaigns and revenue (donation) progress—including data on customizable goals.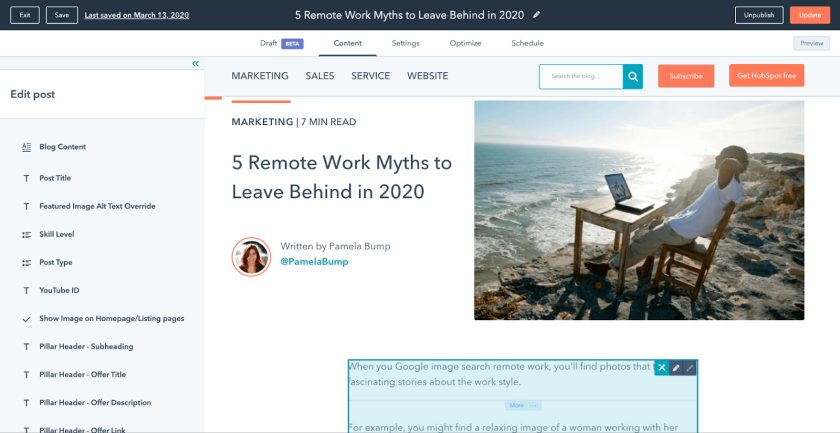 ---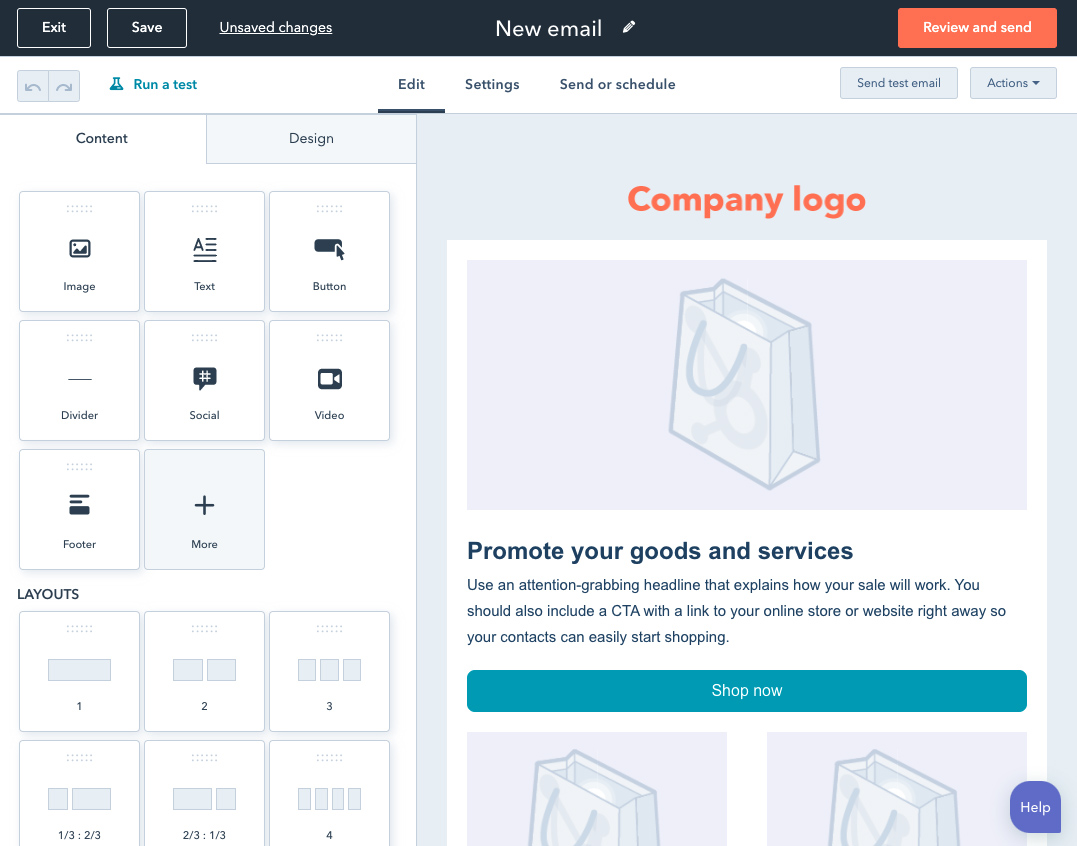 ---
HubSpot Customer Support
Users can reach HubSpot's customer support from 7 a.m. to 8 p.m. Eastern time via phone, live chat, or email. There are also online resources, including HubSpot Academy, a community forum, and a library of product tutorials and user guides.
Be sure to check out our comprehensive HubSpot CRM review. It has detailed insights into features, pricing plans, integrations, usability, and what other users say about the product.
What Is a Nonprofit CRM & Why Use One?
A nonprofit CRM is software designed for organizations to manage activities for a cause or mission. Rather than having tools to manage leads and customers, nonprofit CRMs have modules meant for service, philanthropic, or political advocacy organizations. For instance, there are features for volunteer time monitoring, donation tracking, and marketing tools such as email campaign features to engage with donors and those unfamiliar with the organization.
It's important to use an industry-specific CRM or one meant for your vertical such as a nonprofit organization, for system centralization. Specialized software platforms contain built-in features, data fields, and external integrations, letting you easily manage marketing and operational activities and collaborate with team members all in one interface.
How We Evaluated the Best CRMs for Nonprofits
To determine the best CRM for nonprofits, we considered niche product features specific to managing a community service, philanthropic, or trade organization. For instance, donation processing tools, features for tracking volunteer time, and email capabilities to nurture the donor base are crucial to nonprofits. We also looked into each software in terms of standard product attributes such as price, general CRM features, ease of use, and customer support.
We found Bitrix24 to be the best overall nonprofit CRM. Its free plan has unlimited users, project management features, contact profiles to store donor data, and a free website builder to design and receive contributions on fundraising pages. Additionally, the system as a whole is customizable to meet the data and operational needs of any kind of nonprofit including a trade association, philanthropic organization, or community service group.
The tabs below offer insight into our evaluation process of the best CRM for nonprofit organizations:
20%
Niche-Specific Features
20% of Overall Score
The best CRM for nonprofits will have features relating directly to managing nonprofit operations and marketing. For instance, email campaigns, donor and contribution tracking, and volunteer management solutions are non-negotiables for organizations serving a societal cause or advocating for political or commercial interests.
20% of Overall Score
The solutions are also evaluated on platform usability. This was analyzed in terms of the expertise required to set up an account, integrate with native or third-party applications, and the skill needed specifically to use the non-profit niche features. We also reviewed the overall intuitiveness of navigating the system's interface.
20% of Overall Score
Extensive support and service help prevent poor user experiences and outcomes users may encounter while using any of these systems. Help and support are evaluated in terms of customer service hours and the availability of support via phone, live chat, and email. We also look at online resources for users to review, like tutorials, forums, or training modules.
20% of Overall Score
In addition to first-hand experience with these software systems, we evaluated what real users say about each product. These criteria consider how customers representing nonprofit-based organizations feel, based on their reviews, to gain insight into platform popularity, ease of use, and overall value for the price.
10% of Overall Score
Pricing takes into account free plan availability, various scalable pricing options users can purchase affordably, and the availability for a subscriber to either pay monthly or save by paying annually. Additionally, we looked at the costs specifically for built-in features or integrations with nonprofit solutions.
10% of Overall Score
In addition to specialized nonprofit features, we look at the overall functionality we feel is necessary for all CRM systems. This includes various CRM integration options, reporting & analytics tools, and a mobile app. We also evaluate other common capabilities in most CRM platforms, such as contact management and workflow automation.
*Percentages of overall score
Bottom Line
Nonprofit CRMs support organizations through premade modules or customizable options for fundraising, donor and volunteer management, and marketing outreach tools. While Bitrix24 is our pick for the best nonprofit CRM solution, the other products on this list could be a far better option depending on your usability requirements, feature demands, and tolerance to customizing the platform to your needs.