Real Estate Practice Exam Questions (+ Top Test Prep Providers)
A real estate practice exam is a mock test designed to help prospective agents prepare for their licensing exam. They typically include dozens of multiple-choice questions covering topics like real estate law, finance, and ethics. Free full-length practice exams are hard to find, so students should consider sourcing them from a subscription-based exam prep company.
Even if you can find a free practice test online, chances are it will include inaccurate or incomplete information that will make it difficult to pass your exam. That's why it's recommended that you go with a vetted but low-cost practice exam provider like Real Estate Exam Scholar. It offers practice exams for every state, as well as flashcards to help you master real estate topics. Try the platform for free before signing up.
Visit Real Estate Exam Scholar
10 Real Estate Practice Exam Sample Questions
Real estate practice exam questions help aspiring real estate agents and brokers prepare for their state's licensing exam. Instead of starting with a paid exam prep provider, some students prefer to start with free practice questions from platforms like Union Test Prep, PrepAgent, and Tests.com. We compiled 10 examples in different subject areas to give you a sense of what's covered on the exam.
Free real estate exam questions available online include:
1. Property Ownership Law
Question: When one landowner uses the land of another for a specific purpose, it is known as a(n):
A. Littoral right
B. Easement
C. Lien
D. Restrictive covenant
Answer: B. The most common types of easements are access, utility, and drainage easements.
This practice question was taken from the practice test provided by Union Test Prep.
2. Real Property Characteristics
Question: Personal property that, by its attachment to real property, is regarded as real estate is called:
A. An emblement
B. Personality
C. A fixture
D. An appliance
Answer: C. When personal property is attached to real property to such an extent that a person cannot extract the item from the real property without damaging the real property, the item is a fixture. Another test to determine whether an item is a fixture is whether the item is so adapted to the real property that to remove the item will diminish the value or utility of the real property.
Of course, if the purchase contract specifically includes a certain item with the sale of the property, that item must be regarded as a fixture, whether it meets the legal definition of fixture or not. Likewise, if the purchase contract specifically excludes an item from the sale, it must be regarded as personal property, and should be removed.
This practice question was taken from the practice test provided by Tests.com.
3. Zoning
Question: For the past 30 years, the Stone family has operated a neighborhood grocery store. Last week, the city council passed a zoning ordinance that prohibits packaged food sales in the area where the Stone family's grocery store is located. The store is now an example of a(n):
A. Illegal enterprise
B. Nonconforming use
C. Violation of eminent domain
D. Variance of the zoning laws
Answer: B. This is an example of "grandfathering" that's common when new zoning rules are put into place. Basically, it means that businesses and buildings that were in compliance before the new code was established may continue to operate or exist under their present owners. However, if the Stones want to sell their business, it must be to an enterprise that meets the new requirement.
This practice question was taken from the practice test provided by PrepAgent.
4. Land Description
Question: A metes and bounds legal description:
A. Can be created only for areas excluded from the rectangular survey system
B. Is not acceptable in a court in most jurisdictions
C. Must commence and finish at the same identifiable point
D. Is used only in extreme cases where there is no recorded subdivision plats
Answer: C. A metes and bounds legal description begins at a well-defined point (point of beginning or POB) and follows the boundaries of a parcel of land, using directions and distances around the tract, and ends at the point of beginning. When properly written, it is acceptable and enforceable in all court jurisdictions and can be created for any parcel of property. Oftentimes, a deed will contain two types of land description. Generally, a metes and bounds description is accompanied by a rectangular survey (or government survey) description or lot, block, and tract description.
This practice question was taken from the practice test provided by Tests.com.
5. Agency Management
Question: Mr. and Mrs. Conners sold their home and paid an 8% commission to their real estate agent. Assuming no other fees, if they walked away from the sale with $306,000, about how much did their house sell for?
A. $328,400
B. $330,400
C. $327,900
D. $332,600
Answer: D. To solve this problem, set up an equation using P (for the selling price) for the answer you seek:
You know that the seller walked away with $306,000.
If the agent was to take 8% of the selling price (P), then the seller received 92% of the selling price.
So, the equation would look like this:
Amount seller received ($306,000) = P (selling price) x 92% (0.92)
$306,000 = P x 0.92
To isolate P (the unknown) on one side, divide both sides of the equation by 0.92:
$306,000/0.92 = P
Divide and you have the actual answer: $332,608.69
Notice that the question says "about," so round to find the correct answer among the choices given: $332,600
This practice question was taken from the practice test provided by Union Test Prep.
6. Recordation of Deeds
Question: The recording of an instrument gives:
A. Constructive notice
B. Legal notice
C. Actual notice
D. Documented notice
Answer: A. Constructive notice attaches once a document is recorded. Once this is recorded, subsequent buyers will be deemed to have received "constructive notice" regarding the document and its effect on the property in question. This could also be given by taking possession of a property. Actual notice is when an individual has first-hand knowledge of something—for example, if a buyer has knowledge that someone has taken possession of the property that is for sale.
This practice question was taken from the practice test provided by PrepAgent.
7. Fair Housing Act
Question: Which of the following is a violation of the Fair Housing Act?
A. Refusing to rent to someone who does not meet economic qualifications
B. Not renovating second-story apartments to accommodate handicapped residents
C. Not allowing a service dog in an apartment complex that doesn't allow pets
D. A private club that provides lodging and gives preferential treatment to club members
Answer: C. According to fair housing laws, a handicapped individual who needs a service dog is permitted to have one even if animals are not generally allowed on the property. However, the person is responsible to pay for any damage the animal causes when their tenancy ends. In new multiple-story housing properties, accommodations must be made on the first floor only.
This practice question was taken from the practice test provided by Union Test Prep.
8. Real Estate Ethics
Question: After the buyer's offer was accepted by the seller, the broker cashed the buyer's deposit check and put the money in his office safe pending the close of escrow. The seller demanded the deposit money but the broker refused to give it to him. Assuming only the above facts:
A. The broker had legal justification to hold only one-half of the deposit; he must give the other half to the seller.
B. This conduct would probably subject the broker to disciplinary action by the real estate commissioner.
C. The broker had legal justification for refusing to give the deposit money to the seller.
D. The broker needs to look out for the best interest of the seller at all times, even if that means performing acts against the seller's will.
Answer: B. If a broker refused to give a deposit to a seller when the seller demanded it, this conduct would subject the broker to disciplinary action by the Real Estate Commissioner. Remember, the deposit now belongs to the seller.
This practice question was taken from the practice test provided by PrepAgent.
9. Restrictive Covenants
Question: A subdivision has a rule that each home in the neighborhood be at least 2,500 square feet. This is an example of which concept?
A. Cooperative ownership
B. Fair Housing Laws violation
C. Homestead laws
D. Restrictive covenant
Answer: D. Restrictive covenants are created by neighborhood developers or associations to ensure that the neighborhood maintains certain standards. Examples include minimum housing size, restrictions on architectural style, and mandated underground sprinkling.
This practice question was taken from the practice test provided by Union Test Prep.
10. Contract Law
Question: In order to be valid, all exclusive listings must include:
A. An automatic renewal clause
B. Permission for the listing broker to appoint subagents
C. A forfeiture clause
D. A definite date of expiration
Answer: D. Listing agreements must have specific "from–to" dates attached. Moreover, they may not be automatically renewed but must be renegotiated (usually that's just a routine extension, but it's still a new agreement).
This practice question was taken from the practice test provided by PrepAgent.
Top 7 Real Estate Practice Exam Providers
Now that you have a sense of the content included on the licensing exam—and the complexity of the subjects it covers—consider looking into a real estate practice exam provider. We have assembled a list of top providers below, but it's important to consider your budget, state-specific exam availability, and additional exam prep inclusions like flashcards when selecting the one that works best for you.
Here are our top seven real estate practice exam providers: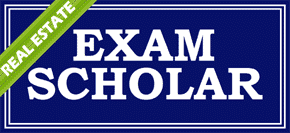 Real Estate Exam Scholar is a real estate practice exam and preparation service that offers prep courses for $29 in all 50 states. The course includes six months of access to over 1,200 practice questions, over 25 practice exams, a 95% pass rate, and more. This makes it right for aspiring agents looking for a large volume of practice questions and exams at a great value.
Real Estate Exam Scholar features more than 1,200 multiple choice practice questions broken into smaller online quizzes for different categories. This means you can practice at your own pace and focus more intensely on the areas in which you need the most improvement. In addition to practice questions, Exam Scholar gives you online flashcards to practice definitions, as well as a glossary and printable reference guides. Users get six months of access to their practice exams.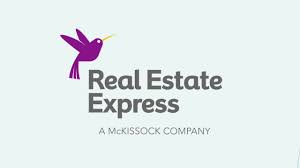 Real Estate Express is a real estate education and exam prep company that offers prelicensing education and a la carte access to 17 practice exams for $99. Overall, the platform offers courses in 25 states and boasts a 78% passage rate. Choose the a la carte Exam Prep Master, a package offered by Real Estate Express, if you want to purchase practice exams that you can access for 150 days—almost as long as Real Estate Exam Scholar.
Exam Prep Master's 17 state-specific practice exams include 12 general practice exams, three themed practice exams, and two final practice exams. Prelicensing education courses provide user study guides, exam prep tests, and a series of topic-specific questions and answers. Real Estate Express also offers three learning formats (coach, pace, and power), each structured to help test-takers prepare for actual exam circumstances.

Mbition – Learn Real Estate is an online real estate education platform that offers a la carte exam prep products—Exam Prep and Prep xL—plus the Exam Prep Toolkit, a more comprehensive prelicensing tool. The most basic Exam Prep costs $45 to $60, depending on the state, while Prep xL costs $50 to $79 and includes over 1,600 practice questions, eight timed exams, and personalized reporting tools. Users also get access to the platform's pass guarantee.
The Exam prep Toolkit costs $129 and includes flashcards to help you review important national terminology; a course review of agency, contracts, finance, and law; as well as helpful exam-taking tips to maximize efficiency throughout the exam. The Real Estate Exam Prep Toolkit also includes Mathmaster, which helps students develop the real estate math covered on the licensing exam.


Kaplan is a real estate exam prep course provider that provides flexible learning options for $59 to $199, depending on the state. Test-takers can opt for classroom-based courses, online video lectures, or at-home written materials. Kaplan also offers full practice exams. For that reason, the platform is great for students who want to choose from a number of test prep experiences and have room in their budget for one of the most expensive options we considered.
Kaplan offers flexible educational resources like audio lessons and lectures you can participate in online or in a classroom setting. Real Estate Exam Scholar doesn't offer audio lessons at all, and while Night Before the Exam offers animated videos, they don't offer live webinars or audio lessons like Kaplan. What's more, the platform provides six months of access to full practice exams and the ability to build custom quizzes by choosing areas of focus.

PrepAgent is an online real estate exam prep course provider that is available for $49 for the Basic plan, which includes practice questions and exams. Deluxe and Premium plans cost $69 and $89, respectively, and include more advanced audio and video-based learning tools. PrepAgent is more expensive than Real Estate Scholar but is a great option if you want audio-visual study tools.
The platform is available in all 50 states and offers users a 100% money-back guarantee within 120 days of purchasing the materials, which is less time than what Real Estate Express offers. The PrepAgent curriculum includes national and state-specific questions, and all of the plans include numerous practice tests and thousands of practice questions. However, aspiring agents who choose the Basic plan only have access to practice exams for seven days.

Night Before the Exam is an exam prep service that provides entertaining ways to learn real estate material in 22 states. At $59.95, the platform is pricier than other options but offers entertaining and user-friendly study tools like quizzes and puzzles. Try Night Before the Exam if you need an entertaining exam prep course without the monotony of standard exam prep courses.
Night Before the Exam offers printable cheat sheets, a competency meter to measure your odds of passing, learning games like crosswords, and animated videos. The number of practice questions varies based on which state you're in, and Night Before the Exam automatically generates study and cheat sheets tailored to your strengths and weaknesses after each practice exam session.

Real Estate Exam Ninja provides national real estate practice exams and real estate exam prep material. Each of Exam Ninja's products is currently available for $1 for 24 hours of use, but a month of services are available from $9.99 to $19.99 per month. For this reason, Exam Ninja is best for test-takers who want to test their skills with practice exams but don't have room in their budget for more expensive study materials and courses.
Exam Ninja offers national real estate exam questions, flashcards, audio lessons, vocabulary sheets, and crossword puzzles. Cram Session costs $9.99 for one month of access to practice questions, while Focused Learning is $15.99 for 30 days of access to questions and flashcards. Finally, Real Estate Exam Ninja costs $19.99 for a month of access to more extensive review materials like vocabulary sheets and audio lessons.
Frequently Asked Questions (FAQs)
How does the real estate licensing exam work?
Real estate licensing exams differ by state but typically cover a combination of state-specific and general topics. Aspiring real estate agents must meet their state's educational licensing requirements, and then register for the exam. On test day, students will take the exam at a predetermined location via computer. Exam results are typically released soon after completion of the exam.
How many questions are on the real estate exam?
The number of questions on the real estate exam varies by state but typically ranges from 100 to 150 questions. Exams are generally broken into a state-specific portion with 60 to 80 questions and a portion with 80 to 100 questions about universal real estate concepts. Check with your state's real estate licensing board for up-to-date information about the exam format.
How do you study for the real estate exam?
The best way to study for the real estate exam depends on your learning style. In general, real estate exam prep providers offer students a mix of practice questions and timed exams. Some platforms also provide more interactive study tools like flashcards, games, and access to online student communities.
Can you use a calculator on the real estate exam?
Whether or not you can use a calculator on the real estate exam depends on your state's licensing requirements. While some states—like Florida—require test takers to bring their own calculator, others—like California—provide them at the testing center.
Bottom Line: Real Estate Practice Exams
Real estate practice exam providers offer a large number of practice questions and resources to help aspiring real estate agents prepare for national and state-specific real estate licensing exams. Free practice exams are available online but paid resources like flashcards, forums, and one-on-one training help test-takers learn and review exam material more quickly.
If you want to be sure you're getting the most comprehensive, up-to-date practice exams, take a look at Real Estate Exam Scholar. Not only does it offer broad availability of state-based exam prep, but it boasts a high pass rate and review materials customer love. Click here to learn more about how the platform can help you pass the licensing exam for only $29.