Real estate prospecting letters are designed for agents to reach leads, potential clients, and past clients via direct mail. In fact, up to 91% of all direct mail is opened and read, so your prospecting letters are likely to grab the attention of potential clients and more effectively generate leads for your business than online materials.
To help you make a positive impression and grow your business, we've created real estate prospecting letter templates for nine purposes. Download the templates below and then read along for tips on how to use them.
Keep in mind that the real estate market changes on a daily basis, so you'll need to keep your letters up to date. The verbiage used in the following templates can be changed to accurately reflect your local market and the present economy.
1. The Introduction Letter
Intended audience: Your local community
A real estate introduction letter helps new and experienced agents generate more real estate leads within their niche location. Use this real estate prospecting letter template to introduce yourself to a particular neighborhood or community group, using as much relevant expertise or information as possible.

Dear (Potential Seller or Buyer),
I hope this letter finds you well! My name is (insert your name), and I am a real estate agent with (company name). I wanted to take a moment to introduce myself and share some exciting real estate news.
I've lived in (town, city) for (number of years), and have helped residents buy and sell homes for (number of years) years.
Whether you are looking to sell your home or buy a new home, our present market is a "perfect storm" of low interest rates and a shortage of homes to buy.
What does this mean for you? If you are a buyer, low interest rates allow you to have more buying power. Buyers can purchase a higher-priced home at a comfortable mortgage payment.
If you are a seller, basic economics play to your advantage in the present market. With supply being so low and demand so high, sellers are receiving multiple offers and selling their home at a higher price than expected.
I would welcome the opportunity to discuss any requests or questions you may have.
Looking forward to visiting with you soon.
Thank you for your attention!
(Insert signature)

This real estate marketing letter is particularly appealing to potential clients who don't already have a go-to agent for their questions. By
establishing your expertise
and availability, you may take that place for clients who need a professional's opinion. It's possible that this letter may help you find leads who are ready to start a transaction, but even more likely that it will help you begin a long-term relationship with potential buyers and sellers.
Find out what type of clients are in your farm area by using a data source like Claritas. With a single report from Claritas, get extensive market data for up to three areas, including demographics, behavior, and financial activity. If you aren't confident in your knowledge of your audience, a marketing report is an essential long-term investment.
2. Low Inventory Letter
Intended audience: Prospective sellers
As a knowledgeable real estate agent, use the state of the market to create real estate letters to get listings and more real estate clients. For example, when there's a shortage of homes and an influx of buyers, you are presented with a natural opportunity to attract listing clients. Delivering real estate letters to potential sellers opportunistically is a great way to boost your authority and generate leads.

Dear (Potential Seller),
I hope this letter finds you well! I'm reaching out today because it is an incredible time to sell a home.
There is a shortage of homes on the market, and sellers are benefitting from the influx of buyers. Many of these buyers are willing to pay more than the asking price for the right home—leaving you with a hefty profit.
We can start by setting up a visit where I can talk in more detail with you about how to take advantage of this opportunity. Or you can call or text me directly at (cell phone #) or email me at (email address) with a day and time that works best for you.
Don't hesitate to reach out with any additional questions! Looking forward to meeting with you soon.
Sincerely,
(Insert signature)
Although sending letters is considered an "old-school" marketing strategy, you can combine old and new methods to get the best results with the minimum amount of time and energy. With real estate direct mail services, you can have your letters automatically printed and delivered to your audience. This can save you hours of envelope stuffing and adding stamps so you can focus on serving your clients.
One of the best tools for creating and delivering real estate letters is ProspectsPLUS!, which is created specifically for real estate professionals. It provides thousands of unique real estate marketing letters, postcards, flyers, and mailer templates. If direct mail is a marketing strategy you want to invest in, the solutions from ProspectsPLUS! are set up to maximize your impact.
3. Interest Rates Letter
Intended audience: Prospective buyers
Over the last few years, mortgage interest rates have been a major topic of conversation. They reached all-time lows, then sharply increased with inflation. Use this information to generate leads with real estate mailers. The truth is that many potential buyers aren't aware of how the state of the real estate market affects them, so you have an opportunity to help them connect the dots.

Dear (Potential Buyer),
I hope this letter finds you well! If you've been thinking of buying a home, I'm thrilled to tell you that there has never been a better time to do so.
Although interest rates have fluctuated over the past few months, they are currently at the lowest point since November of last year. This makes it an excellent opportunity for you to find the perfect home.
Let's set up a visit to chat in more detail. You can call or text me directly at (cell phone #) or email me at (email address) with a day and time that works best for you.
Don't hesitate to reach out with any additional questions!
Looking forward to meeting with you soon.
Sincerely,
(Insert signature)
Although you can—and should—share this information with your audience through email and social media, it may receive more attention as a real estate mailer. With every real estate agent letter to potential clients, make sure to keep it focused on the recipient and how they can benefit from the current interest rates.
Pro tip: Since interest rates change on a daily basis, it's more important than ever to keep the information accurate and up to date. Avoid printing large quantities of prospecting letters with time-sensitive information.
Before sending a real estate prospecting letter with any kind of data, make sure you've gathered information from a reputable source. For instance, Zillow is the top real estate platform in the world, so leverage the platform's reputation and popularity to establish your own authority. Start by looking at Zillow's resources for agents, like their Agent Toolkit and refinancing page. Plug in your ZIP code and immediately view up-to-date interest rates, current charts, and refinancing data.
4. Renter Letter
Intended audience: Renters who may be interested in buying
Many renters are not aware they are financially ready to buy a home. It is the responsibility of real estate agents to use this as an opportunity to create marketing materials that inform and educate renters while building their businesses. For this reason, marketing to renters could be a profitable real estate niche and could help you become an expert in both renters and first-time buyers.

Dear (Potential Buyer Who Is a Renter),
I hope this letter finds you well! Did you know that you may be able to buy a home right now?
Many local lenders provide specialized programs to help renters or first-time homebuyers get more buying power. You might be surprised by your options right now—without having to save thousands of dollars. There are a few lenders I know who can show you exactly how you can take advantage of the market.
Let's plan a visit to talk about this in more detail. I truly don't want you to miss an opportunity to find your dream home! Call or text me directly at (cell phone #) or email me at (email address) with a preferred time and date.
Don't hesitate to reach out with any additional questions!
Looking forward to meeting with you soon.
Sincerely,
(Insert signature)
Pro tip: Depending on the laws in your state, you can reach out to your title company and get a list of local renters. This can automatically become a mailing list to target with specific renter-friendly information.
5. Co-marketing Prospect Letter
Intended audience: Potential local business partners
As a real estate agent, you quickly realize that relationships within your community are crucial to your success. Local connections present you with an incredible network for referral opportunities, and real estate lead generation statistics show that you need them to build a consistent, sustainable business.
One of the first real estate prospecting tips you should learn is to partner with other professionals and business owners to refer clients in the right direction. Start by searching for local lenders, inspectors, insurance agents, financial advisers, and attorneys. Use this sample letter asking for real estate referrals to get started.

Dear (Professional/Business Owner),
I hope this letter finds you well! I'm (insert your name), a real estate agent with (real estate company name). I've heard your name come up among my connections, and I'd love to discuss the idea of a mutually beneficial partnership.
By working together, we could increase our exposure to potential clients and businesses. Since our client databases have similar needs, our partnership can be a natural source of value for our clients and businesses.
I'd be thrilled to work with you and see how we can help each other. Let's set up a meeting to discuss this venture in more detail. You can call or text me directly at (cell phone #) or email me at (email address) with a preferred time and date.
Don't hesitate to reach out with any additional thoughts or questions!
Looking forward to meeting with you soon.
Sincerely,
(Insert signature)
6. Referral Request Letter
Intended audience: Your top-referring friends, family, and past clients
A study from the National Association of Realtors (NAR) showed that 63% of homesellers found their agent through a referral, making it the most dependable source of new leads for a majority of agents. Your past clients already know your business ethics and how you guided them through their transactions, so they are often happy to recommend you to others.
In fact, 85% of sellers said that they would be happy to recommend their agent to others. However, they may not always remember to actively recommend you or connect you with others. Therefore, it's your responsibility to implement a referral lead generation system to prompt your sphere of influence to send you these leads. Use this real estate prospecting letter sample to remind previous clients how they can help you.

Dear (Previous Client),
I hope this letter finds you well! You've been on my mind over the past few months, and I'd love to hear how you are doing! How is your home treating you?
Since you are one of my favorite past clients, I always want to keep you "in the know" about what is happening in the real estate market. Right now, there is a low inventory of homes, making it an excellent environment for homeowners to sell. Plus, many local mortgage lenders have unique programs to help buyers purchase a new home more easily.
Do you know someone who is considering buying or selling their home? I'd love to help them take advantage of the current conditions.
Please feel free to call or text me directly at (cell phone #) or email me at (email address) and let me know if I can answer any additional questions.
As always, I am so very grateful for your confidence, loyalty, and support. I hope we can visit soon!
Sincerely,
(Insert signature)
A fun way to make your real estate letters memorable and effective is by delivering them with a pop-by gift. This will stand out from the other mail your clients receive, and make them feel like they're valued. You can even perfect and automate the art of gift-giving with EvaBot. It's an artificial intelligence (AI) gifting assistant that connects to your client relationship manager (CRM) and schedules gifts specifically chosen for each client. It even sends you reminders to send gifts or messages to clients.
7. Expired Listing Letter
Intended audience: Homeowners with an expired listing
Expired listings happen when a home on the real estate market fails to sell within a specific period of time. For real estate agents, it can be an opportunity to showcase their ability to sell a home. For homeowners, however, it can be an extremely frustrating and scary experience.

Dear (Expired Listing Homeowner),
I hope this letter finds you well! Today I noticed your home at (insert address) is no longer listed for sale within the Multiple Listing Service (MLS).
My name is (insert your name), and I specialize in helping people who may be frustrated that their homes didn't sell the first time around. How? I offer my clients a different, unique approach to getting their homes sold despite the market conditions.
One example of my marketing plan is the effective use of the internet to maximize exposure for your home. This is absolutely critical as 96% of buyers today use the internet as their primary information resource.
In addition, when working with sellers, I offer my clients:
Complete market overview and pricing analysis
Enhanced MLS listing and a linked virtual tour
Dedicated website, specific to your listing
Online classified advertising
Complete email-ready property information kit for buyers
Exclusive 25-point internet marketing strategy—local and regional marketing
If you are considering relisting your home, I would welcome the opportunity to interview for the job. Please call me at (insert phone #) or email me at (insert email address) at your convenience.
Sincerely,
(Insert signature)
If you decide to market to expired listings, make sure you approach the situation with empathy and sensitivity. Read
how to write the best expired listings letter
to ensure your letter has a positive impact.
8. Preforeclosure Letter
Intended audience: Homeowners in preforeclosure
Just like expired listings, homeowners facing foreclosure are never in this situation by choice. While you shouldn't assume you know their situation, it is safe to say that they will be extremely fearful and stressed out. If you are confident that you can help these homeowners and offer a solution to their problems, reach out with a letter that focuses on the potential positive outcomes.
Here's an example preforeclosure prospecting letter from the National Association of Realtors:

Dear (Preforeclosure Homeowner),
As you know, the economic recession has left many homeowners in a challenging financial position. Navigating the foreclosure process can prove stressful, and identifying alternatives to foreclosure is tricky.
My name is (insert your name), and I am a real estate agent with (real estate company name). I specialize in working with homesellers who are underwater on their mortgage or are facing foreclosure. For many homesellers, foreclosure is a dark time in life. Through my work, I provide a much-needed beacon of hope for my clients to lift out of such a crisis.
A short sale is one alternative to foreclosure. In a short sale, the homeowner, real estate professional, and lender work together to form an agreement to sell a home at its current market value. This agreed-upon value is typically below the existing balance on the homeowner's mortgage. The property is able to transfer hands to a new owner, removing the overhead and risk from the lender's portfolio and relieving the existing homeowner of the burden of an underwater mortgage.
The short sale process can prove challenging, stressful, and time-consuming. It requires persistence and dedication. As a specialist in short sales and foreclosures, I am well-versed in the ins and outs of this process and knowledgeable about how to move such transactions to completion. My work allows my clients to realize the freedom they desire from the unwanted weight of an underwater mortgage.
If you or someone you know is facing foreclosure, please do not hesitate to contact me. I would be happy to help during this challenging time.
Best wishes,
(Insert signature)
9. For Sale By Owner (FSBO) Prospecting Letter
Intended audience: Homeowners selling their home without an agent
Homeowners who are selling their home without the help of a realtor are not doing so by accident. Although many agents wrongly think negatively of FSBOs, they are often ambitious homeowners who simply want the best for themselves and their families.
When you put together a real estate letter to potential sellers, make sure you approach them with respect. It's important to explain to them that you also want what's best for them and that you can actually help them get more money for their home. Your best chance of converting FSBO properties is by presenting a clear solution to their objections.

Dear (FSBO Seller),
I hope this letter finds you well! I recently found your listing online, and I must say that I'm impressed with the quality of your listing photos. Your home looks beautiful, and these photos are surely helping you attract buyers.
You've probably heard too many real estate agents say things like, "You really need an agent's help to sell your home" or "You'll never be able to handle all the paperwork."
As you've probably realized, those things are not true. It is possible to sell your home without an agent—especially in a market with such low inventory. And although the paperwork isn't usually anyone's favorite part of the homeselling process, I'm sure you've faced tougher things in your lifetime!
However, I'd love to extend a hand if you have questions about the process at any point. I know that you want to do the best thing for yourself and your family, and that's what I want for you too. There are a lot of things to consider, like disclosures, buyer financing, marketing, and pricing, so it's important to have support when questions inevitably come up.
I love to help people buy and sell their homes and move their families closer to their goals. Whether you just need someone to consult with questions or you'd like to see profit projections, I'm here for you—no obligation.
Sincerely,
(Insert signature)
In order to see consistent results from marketing to FSBOs, you need to approach them correctly and at the right time. Your approach will improve over time, and you can perfect your timing with the right FSBO lead sources. For example, REDX helps you get accurate contact data for FSBO sellers before any other platform. Armed with accurate data and strategic scripts, and marketing materials, marketing to FSBO sellers can be extremely profitable.
Tips for Successful Real Estate Prospecting Letters
The first impressions of websites and marketing materials are formed quickly. That being said, it's extremely important to put time and effort into the appearance of your letters—as well as the content.
Here are some tips for attention-grabbing real estate prospecting letters:
Address envelopes by hand: Handwritten envelopes get more attention because they are more personal. It piques curiosity because handwritten envelopes are often sent by loved ones.
Use a postage stamp: Instead of relying on a postage-paid envelope, use a unique stamp. This is another way to personalize your envelope and show that it isn't junk mail. You can also consider using colored envelopes or even adding stickers.
Define the topic with a headline: Readers only have so much time and patience to read through letters. Get straight to the point and consider using a headline to grab attention and clearly communicate what you are offering.
Check for spelling or grammatical errors: One small mistake can make you appear unprofessional. Ensure you proofread your letter multiple times and have others confirm it's free of mistakes before going in the mail.
Keep it short and sweet: The longer the letter, the more likely it is to end up in the trash bin. Get to the point of your letter quickly to respect the reader's time and get the maximum results.
Use custom letterhead: Add professionalism and familiarize leads with your branding by using a custom letterhead and envelope. You can easily design your own logo and letterhead on Canva.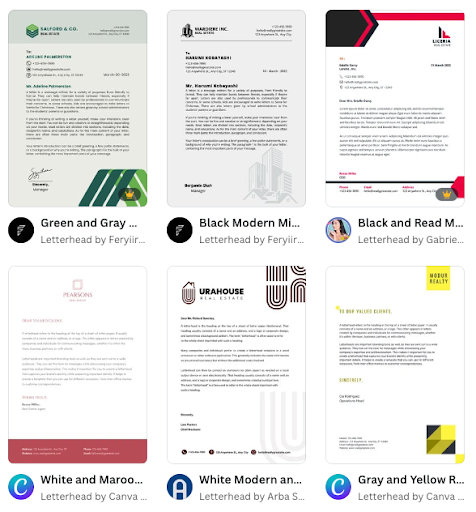 ---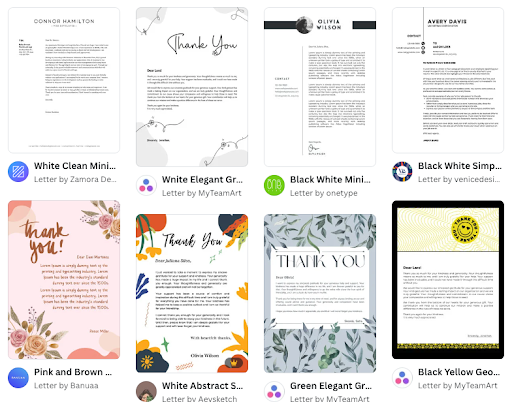 ---
The days of printing out boring, black-and-white documents are over. With Canva, you can easily add design elements to make your letters look unique, professional, and visually appealing. If you struggle with design, you can use one of the thousands of professional templates Canva provides for documents, presentations, and letters, or simply add subtle elements and colors.
Resources to Distribute Your Prospecting Letters
Designing professional prospecting letters is only half the battle. In order to get the maximum results out of your real estate letters, you also need to distribute them correctly and efficiently. You may think that the only budget-friendly solution is to manually stuff envelopes and add stamps, but there are plenty of resources available.
Here are a few of the top real estate direct mail services:
Company

Best For

Agents and brokers wanting real estate-specific print templates, mailing lists, and delivery options

Real estate professionals wanting a unique style of print marketing materials combined with online marketing

Agents wanting the widest range of products to customize for unique marketing

Key Features

Wide range of real estate-specific campaign templates
Postcards, brochures, folders, or newsletters
Every door direct mail (EDDM) for automatic delivery

Mailing listings
Combined print and online marketing tools
EDDM for automatic delivery

Design services
Custom letterhead or envelopes
Print and online marketing

Starting Price

35 cents to 67 cents per flyer

20 cents per letter

22 cents to 81 cents per letterhead

Read More
Bottom Line
Even though many real estate marketing strategies are digital or online, direct mail should still have an essential place in your lead generation and nurturing systems. Although digital real estate marketing is valuable and effective, personalized prospecting letters can reach contacts more effectively and generate new business. With the templates and tips above, you can generate new clients by writing strategic prospecting letters.