How to Write a Real Estate Business Plan (+ Free Template)
A real estate business plan lays the groundwork and provides direction on income targets, marketing tactics, goal setting, lead generation, and an overview of your industry's competition. It describes your company's mission statement in detail and assesses your SWOT (strengths, weaknesses, opportunities, and threats) as an organization. Business plans should include measurable goals and financial projections that you can review periodically throughout the year to ensure you meet your goals.
Continue reading to see real estate business plan examples and discover how to write a real estate business plan. Start by making your own by downloading and using the free real estate business plan template we've provided below.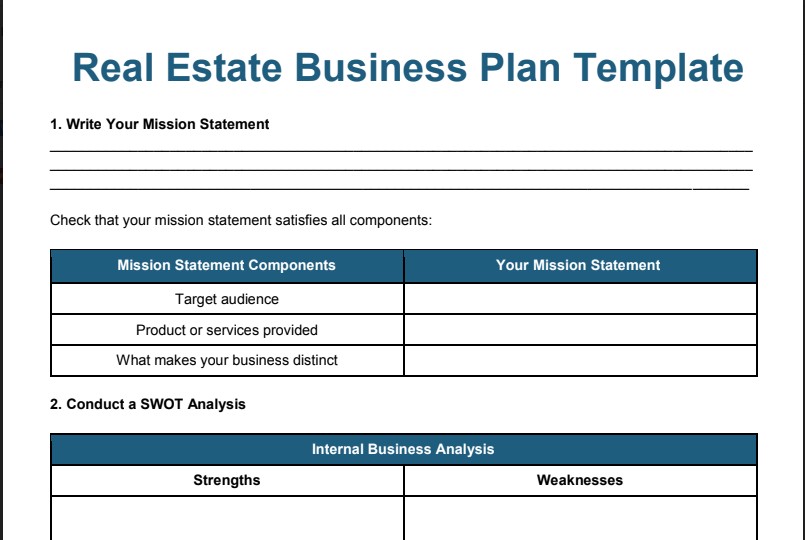 Thank you for downloading!
💡Quick tip:
Market Leader provides a comprehensive paid inbound lead, automated marketing, and CRM solution to help agents acquire, engage, and nurture real estate leads.
Furthermore, Market Leader offers and guarantees you a number of exclusive seller and buyer leads in your target niche at a monthly rate.
Visit Market Leader
1. Write Your Mission Statement
Every real estate agent's business plan should begin with a mission statement, identifying your values and why your business exists. Your mission statement serves as the guide to achieving your ultimate business objective. When you create a solid clear mission statement, all other items identified in your realtor business plan should be aimed at fulfilling this statement.
Your mission statement should identify your target audience, what product or service you provide, and what makes your business distinct. As seen in the example above, a powerful mission statement should be short and concise but sums up a business objective.
Let's take Compass' mission statement above as an example: "Our mission is to help everyone find their place in the world." The statement identifies what the company offers, for what reasons, and who it benefits.
Mission Statement Components

Compass Mission Statement:

"Our mission is to help everyone find their place in the world."

Target audience

Everyone

Product or services provided

Help find their place

What makes your business distinct

In the world (global capacity)
2. Conduct a SWOT Analysis
SWOT is an acronym that stands for a business' strengths, weaknesses, opportunities, and threats. The primary objective of these four elements is to assess a business by evaluating internal and external factors that can drive decision-making and help you make more money. Conducting a SWOT analysis as you develop your business plan for real estate uncovers opportunities to differentiate yourself from the massive competition currently on the market.
Strengths and weaknesses are internal parts of your organization. Strengths identify what product or services you provide better than others, your access to resources, and items that benefit your customers. Weaknesses are items that need improvement, lack of resources, or what your competition does better. These are items within your control to change because you can convert a weakness into a strength.
See the example below if "Agent X" was doing their SWOT analysis:
Internal Business Analysis for "Agent X"

Strengths

Weaknesses

Proprietary technology to quickly run property comparables
Staff does not feel supported in daily operations
Office is located in a retail area, driving a lot of foot traffic
Keys are often lost between agents
In business operation for over 10 years
High agent turnover rates
---
External factors drive opportunities and threats and are areas you can take advantage of to benefit your business. Examples of opportunities can be shifts in the current marketplace, emerging trends you can capitalize on, features that competitors lack, or even changes with your competitors. Threats, on the other hand, are anything that can negatively impact your business. You don't have control over changing the opportunities or threats, but you can develop a practice to anticipate and protect your business against the threats.
The opportunities and threats for "Agent X" would be:
External Business Analysis for "Agent X"

Opportunities

Threats

Agents want to expand outside of a niche market, an opportunity for them to do deals in other specialized areas
New brokerage/team obtaining listings in my area of expertise
Buying into the Zillow Premier Agent program for more buyer leads
Interest rates are increasing; buyers don't want to move as quickly
Obtaining a brokerage license in an adjacent state
The state may be caping commission rate percentages
When you complete your SWOT analysis, use it as a guide when creating strategies to meet your business objectives. To gain the most benefit from creating a SWOT analysis, make sure you are being realistic about your business and evaluating it in its present state. You don't want to be unrealistic by listing strengths or opportunities that don't exist yet, and you want to allocate time and money to the most impactful solution to your business issues.
If "Agent X" completed the above SWOT analysis, a few strategies they could derive would be:
Incentivize agents to keep them at the brokerage for longer
Implement a technology-based key machine to reduce lost keys and keep the team accountable
Find a competitive advantage against competing brokerages and use that in marketing messages
---
To help agents locate other brokerages operating in your preferred market, agents can use Zillow's agent finder page as a research tool to see which agents or brokerages are operating in a specific area. You can find an agent by location, name, specialty, and language. Once you click on a Zillow profile, you can read their reviews, see their team members, contact and website information, and property listings. Take a deep dive into your competitor profiles and can use the information to implement strategies within your own business.
3. Set Specific & Measurable Goals
You're ready to set some business goals after clearly defining your mission statement and SWOT analysis. Goals can help set the tone to increase your performance and drive your business in the right direction. Your goals should have a definitive way to show progress, which can be a prime motivator to keep you on track to achieving them.
Each goal should follow a pattern to identify set criteria. This will ensure that your daily efforts are performed to meet business objectives within a set period. A way to do this is by using SMART goals:
Examples of SMART goals for agents or brokerages:
Increase closed transactions by 20% to a total of 150 deals within the next year
I will ask all closed clients for a referral and review within 30 days of closing the deal
Goals can be split into short-term and long-term goals. Short-term goal lengths vary between days and weeks but do not exceed six months. Short-term goals can also be worked on simultaneously with long-term goals. Long-term goals can take up to six months or more to complete and require careful planning and perseverance. A mix of short-term and long-term goals will help you maintain motivation.
All goals are equally important; however, success will stem from how you prioritize each one. Slowly add on additional goals as you have the capacity and feel comfortable with the current progress of your current set of goals. Without identifying your business goals, you'll leave your results up to luck to attain your business objectives.
4. Plan Your Marketing Strategies & Tactics
Developing marketing strategies and tactics and implementing them help you identify and locate your current value proposition in the real estate industry, along with specific timelines for execution. In addition to determining your overall business objectives and goals, your marketing strategy and plan should include the following:
While a marketing strategy identifies the overall marketing goals of your business, developing marketing tactics will help you achieve those individual goals. They can include referral business tactics, retention efforts, and ways to acquire new customers. For example, you can offer incentives to anyone who refers your business, or you can implement new email drip campaigns to help increase lead conversion rates.
These tactics should have set key performance indicators (KPIs) to help you evaluate your performance. For instance, a KPI you can set for your business could be that referral business should exceed 20% of your lead generation sources.
If direct mail is part of your promotion strategy, services like ProspectsPLUS! can help easily create and distribute mailers to a targeted area. It also has options for postcards, brochures, newsletters, flyers, and folders. You can also send mailers to prospective clients by geographic or demographic farm areas through its campaigns. Check out its templates and mailing options today.
5. Create a Lead Generation & Nurturing Strategy
Having a successful lead generation strategy will help you maintain business growth. Lead generation can be performed organically and through paid advertisements to attract and convert prospective clients. In addition to generating leads, agents should have systems to manage, nurture, and re-engage with contacts to maximize opportunities.
Generating leads through a multipronged approach is the best way to maintain lead flow. Use organic strategies like hosting an open house, reaching out to your sphere of influence, and attending networking events. Employ paid generation strategies, such as purchasing leads from a lead generation company or setting up a website to funnel potential clients. Your marketing strategies will directly correlate with your lead generation strategies.
Every lead is an opportunity, even if they don't immediately convert into a deal. Effectively nurturing leads can make sure no opportunity falls through the cracks. Agents can nurture leads by continuously engaging and developing relationships with prospective leads. It's important to provide prospective clients with a constant flow of essential and relevant information, depending on where they are in the real estate buying or selling process.
Here are the top lead generation companies for real estate agents and brokers:
Provider

Best For

Real estate professional seeking full marketing suite

Agents wanting buyer leads by location

Realtors looking for in-depth reporting and insights

Its multi-channel communications and lead nurturing features

Key Features

Extensive digital and print marketing features
Scalable for expanding teams
Mobile app

Includes a personalized agent website
Exclusive placements on your listings
Streamlined CRM

Unlimited users and contacts
Contact and lead management
Detailed analytics and reporting

Free trial and free-forever plan
Easy to navigate
Over 800 seamless integrations

Starting Monthly Price

$169

Varies by ZIP code ($20 to $60 for each lead)

Free; paid plans start at $50

Free; paid plans start at $20 per user

Learn More
Engage more efficiently with buyer and seller leads using Market Leader's new feature Network Boost. Network Boost has shown a 40% increase in agents successfully connecting with leads. Market Leader social media experts design highly targeted and optimized ads for your Instagram and Facebook. As visitors engage with your ads, they will be prompted to complete a form and funnel directly into your Market Leader client relationship manager (CRM). This will also trigger an automatic marketing campaign that nurtures your clients and lets you know they are ready to engage with you personally. Try Market Leader's Network Boost today.
6. Calculate Your Income Goal
Your income goal is one of the most critical items to be included in your business plan. While this may be more difficult for new agents who are still learning the business, it's still necessary to estimate the amount of money you will earn for the year. Work with an experienced agent or mentor to help you estimate your monetary goals. For professional agents, review your previous years to judge your income goals for the upcoming year.
To calculate your income goal and the amount of work you'll need to complete to get to that goal, you'll need to have some basic number estimates:
Net income: The amount of money you will put in your pocket after commission splits with your real estate brokerage.
Fee split with brokerage: This is the agreed-upon commission split you have with your brokerage for each completed transaction. For example, if you have a 70/30 split with your brokerage, you will collect 70% of the commission, and your brokerage will receive a 30% commission for each deal.
Estimate of completed deals per year: You also want to estimate the number of deals you intend to complete yearly. Remember that some months will be busier than others, so make sure to account for holidays, weather, and your schedule.
By figuring out these numbers, you can give yourself a realistic number for your income goal. Compute the gross income commission (GCI) or amount of money you must make before the commission splits and the average profit per deal and month you'll need to reach your goal.
For a more detailed breakdown of your yearly goal, download and use our yearly goal calculator. Input your information into the highlighted yellow boxes, and the spreadsheet will automatically calculate the GCI, total deal count, and gross income you'll have to earn each month to reach your goal. Adjust the average gross commission per deal and brokerage split as necessary.
7. Set Times to Revisit Your Business Plan
Business plans are only effective if you use them. A business plan is a roadmap for your business, and you'll need to revisit it often to ensure you're staying on track. It should be a constant resource to guide you through meeting your goals and business objectives, but it's not necessarily set in stone if you need to make any changes.
Agents should revisit their business plans monthly to measure progress and make any changes to stay the course. If you find that you're missing the times set for your goals, then you should continue to revisit your business plan regularly. Changing the business plan itself should occur annually once you can have a complete picture of your yearly performance. Evaluating the business plan can help you discover new strategies and ensure you have the appropriate resources for the upcoming year.
Sales software like Pipedrive can help you track your overall business performance when revisiting your business plan. It presents company sales data in easy-to-visualize dashboards that track your business performance and contains forecasting tools to project future revenue. It can maintain company and team goals with progress tracking to keep goals top of mind.
Read how our experts feel about this real estate customer relationship manager (CRM) system in our Pipedrive review.
Why Agents Need a Real Estate Business Plan
A real estate business plan keeps you up to date on market developments and one step ahead of your competitors. It also enables you to test lead-generating tactics and create new marketing campaigns while keeping track of results over time. A solid business plan for a real estate agent presents the following:
Where you are at the moment
Where you would like to be
How you're going to get there
How to evaluate and measure your performance
When and when to correct the course
Real Estate Business Plan Examples & Templates
Real estate agents and brokerages don't have to build their business plans from scratch, as many resources provide different examples. Business plan templates can also have different objectives. Some are used to secure financing or help you focus on lead generation, while others are single-page plans meant to get you started.
Here are five real estate business plan examples you can use to create yours:
This business plan is from Market Leader, a third-party lead generation platform. It specializes in lead generation, marketing, and converting leads into customers with an attractive IDX (Internet Data Exchange) website and robust automation tools. Agents can also participate in purchasing leads through their lead products to receive a guaranteed number of leads per month.
---
Agents who are new to writing a business plan can start small. Business plans do not have to be multipage to be effective. This single-page business plan helps identify a single goal followed by three areas to focus on and five objectives for each focus area. As real estate agents begin to feel comfortable with goal setting and completion, they can continue to add to this single-page business plan with duplicate pages, identifying additional goals.
---
This robust real estate broker business plan is designed to address organization and management goals. It contains pages identifying personnel information like title, job description, and salary. The business plan also encourages the broker to identify operational goals for future personnel changes. It's best suited for a broker with a larger team to help drive operational change.
---
This multipage business plan contains eye-catching graphics and detailed company financial information for real estate agents and brokers seeking funding from outside investors. One of the last sections of the business plan is a financial planning section geared toward showing how viable your business is through your provided income statements, cash flow, and balance sheet reports.
---
Upmetrics' real estate business plan templates are easy to edit and share and contain professional cover pages to help agents convert their business ideas into actionable goals. The business plans from Upmetrics are geared toward agents looking to transition into real estate development. This plan includes vital sections important for a developer to analyze, such as building location, demand for housing, and pricing.
---
Market Leader's business plan is centered around driving more business through lead generation. It helps agents understand their lead sources, average sales price, and how much commission was earned in a given year. It also allows agents to set income and transactional goals for the following year.
Bottom Line
Whether you are a new real estate agent or looking to grow your brokerage, writing a real estate business plan template will help you define the steps needed to build a successful business. It serves as a guided roadmap to help you achieve your business goals, identify areas of improvement, and provide guidance in all aspects of your business, from marketing, operations, and finance to your products and services. Business plans can help determine if your business is viable and worth the financial investment.
Frequently Asked Questions (FAQs)
A real estate business plan is a document that presents an outline of your organizational goals. A business plan lays out future company goals and structured procedures to achieve them. Business plans commonly contain plans for one to five years at a time, though they can differ from investor to investor.
A real estate business plan will put you in a position to succeed while also assisting you in avoiding potential pitfalls. It serves as a guide to follow when things go as expected and when they diverge from the initial plan of action. Also, a real estate business plan will ensure that investors know the steps they need to take to succeed.
---
It is important to note that starting a real estate business is not a simple task. Before launching a firm in any field, entrepreneurs should spend numerous hours researching and developing a solid business plan. As you start your real estate business, use the following tips as guidance:
Think about your professional goals
Conduct extensive research
Organize your finances
Create a business plan
Establish an LLC
Make a marketing plan
Create a website
Start campaigns
Keep track of leads
Develop a network of connections
---
You can use multiple strategies and ways to grow your real estate business. They include:
Assess your current situation
Invest in your professional growth
Establish strategic alliances
Take advantage of omnichannel marketing
Start blogging
Create consistent social media profiles and campaigns
Improve your website
Consider working with a marketing company
Optimize your signs and direct mail
---