The CE Shop Review: Is It Right for Your Real Estate Education?
With courses available in all 50 states, The CE Shop is one of the country's leading online real estate schools and earned a 4.17 out of 5 on our list of top online real estate schools. We based this score on 32 factors of high-quality education for real estate professionals, such as course features, learning styles and formats, national availability, customer reviews, pricing, support, and our expert score.
The CE Shop reviews boast affordable education and an interactive learning platform that provides flexibility and convenience. We recommend The CE Shop to aspiring and experienced agents looking to fulfill the education hours needed to obtain, renew, or upgrade their real estate license. Read our review to learn more.
Visit The CE Shop
Use Promo Code FSB30 for 30% Off
Cons
Broker licensing courses are available in 11 states only
No physical school to visit for support
Lack of professional development courses
No direct access to instructors
Who The CE Shop is Recommended for
Busy agents needing scheduling flexibility and self-paced education options
Aspiring agents looking for affordable prelicensing training
Students looking for customizable education
Who The CE Shop is Not Recommended for
Agents looking for a variety of course formats
Students needing direct instructor access
Agents who prefer in-classroom courses
Prelicensing courses: Starting at $129
Post-licensing courses: Starting at $15
Broker licensing courses: Starting at $29
Continuing education courses: Starting at $9
Exam prep: $75
---
---
The CE Shop Reviews: What Users Think
The CE Shop received a high rating score for its quality content. Based on The CE Shop real estate reviews, agents love its easy-to-follow content, user-friendly platform, and self-paced online learning. Furthermore, many agents mentioned passing their exam on the first try, thanks to The CE Shop's comprehensive prelicensing and exam prep courses. Additionally, The CE Shop's user-friendly website improves agents' user experience. You can easily hover over their drop-down menus to find state-specific course information.
Trustpilot: 4.0 out of 5 based on 6,400+ The CE Shop reviews
Agent Advice: 4.05 out of 5 based on 100+ The CE Shop reviews
Due to the large number of people that visited The CE Shop's Cyber Monday sale page, it had an unprecedented outage. As a result, The CE Shop reviews show numerous complaints about the server repeatedly crashing and glitching. A few students also complained that the platform's customer support representatives gave them a terrible experience and did not assist them in solving their problems. Consider Aceable Agent, which offers a student concierge available seven days a week to assist you with concerns.
Would Our Expert Use The CE Shop?
So for those wondering, "Is The CE Shop legit?" our answer is yes. The CE Shop is suitable for real estate agents seeking flexible course schedules, affordable pricing, and customizable real estate education. We recommend it for its high-quality, self-paced learning—providing flexibility and convenience. With its unique custom LEAP platform, you can easily navigate your courses and process information effectively.
Our favorite is the interactive features added to classes to keep learners engaged. These include images, diagrams, and learning exercises. Plus, The CE Shop's intuitive dashboards are designed to gauge students' competencies after taking practice exercises and tests. This enables you to get immediate feedback on their learning.
However, The CE Shop real estate reviews show that some students complained about the heavily text-based lessons. Also, The CE Shop primarily offers self-paced online courses. This can limit agents looking for course format variety to match their unique learning styles. You should check livestream classes on Colibri Real Estate if you're looking for different course formats.
Types of Education Available at The CE Shop
The CE Shop real estate offers all the courses required for the salesperson license, though availability varies by location. The school also provides broker licensing courses in selected states.
Prelicensing
The CE Shop offers online prelicensing courses in 42 states plus District of Columbia (DC) for aspiring agents preparing to get a real estate license. These courses are self-paced and optimized for mobile devices like smartphones, tablets, and computers. Prelicensing courses are predominantly text-based with interactive content to keep agents engaged throughout the learning process.
Additionally, prelicensing training at The CE Shop is offered in tiered packages, which include the complete hours of coursework required in each state. You can also purchase individual courses in some states, which you can tailor to your education needs. Though course content can differ from state to state, lessons generally include real estate laws, contracts, agencies, and real estate principles and terminology.
Below are the different prelicensing course packages offered by The CE Shop:
Courses Only

Standard Package

Value Package

Premium Package

State-specific prelicensing
Business ebooks
Career resources
Downloadable resources
Digital flashcards
Real estate glossary
Study schedule

State-specific prelicensing
Business ebooks
Career resources
Downloadable resources
Digital flashcards
Real estate glossary
Study schedule
Exam Prep Edge
Pass Guarantee

State-specific prelicensing
Business ebooks
Career resources
Downloadable resources
Digital flashcards
Real estate glossary
Study schedule
Exam Prep Edge
Pass Guarantee
Business building courses

State-specific prelicensing
Business ebooks
Career resources
Downloadable resources
Digital flashcards
Real estate glossary
Study schedule
Exam Prep Edge
Pass Guarantee
Business building courses
First renewal/ Post-licensing/ CE package*
*Availability varies by state
If you're looking for additional education, such as post-licensing, continuing education, exam prep, or broker licensing, The CE Shop is an option for you. Click through the tabs below to see if The CE Shop offers the required education in your state:
The CE Shop Alternatives
If you'd like to further compare The CE Shop to other schools, here are a few alternative real estate schools that provide quality online courses nationwide:
School

Best for

Aspiring agents looking to complete the licensing process efficiently at their own pace

New or experienced agents who need course format variety

Course affordability for aspiring or experienced agents

Key Features

Affordable course pricing
Multiple tiered package options
Career assistance post-licensing
One-to-one access to instructors for questions

Multiple course formats
Customizable packages
Extensive career support
PassProtection Retake Policy

CE courses available
Flexible completion schedule
Multiple device compatibility
Practice tests, study guides, and flashcards provided

Starting Price*

$19.95 to $2,299

$9 to $1,099

$19.95 to $964

Learn More
*Pricing here is for comparative purposes; exact price range depends on location, course selection, and learning format.
The CE Shop Pricing & Plans
The CE Shop offers education packages and individual courses for exam prep, prelicensing, post-licensing, broker licensing, and CE courses. Pricing varies by location based on the course topics and the number of education hours required by each state. Because prelicensing courses require the highest amount of education hours, they tend to be the most expensive (starting at $129). Prelicensing education is offered in tiered packages with several add-ons, such as flashcards, e-books, and career resources.
Post-licensing, broker licensing, and CE courses are also available in bundled packages and individual courses that you can customize based on your interest. Check out the table below to see the features included in each type of education:
Types of Education Plans

Prelicensing

Post-licensing

Broker Licensing

Continuing Education

Exam Prep

Who the Plan Is Best For

Aspiring agents getting a real estate license for the first time

New agents looking to fulfill additional prelicensing requirements

Licensed agents planning to upgrade their career to a broker level

Agents who need to renew their real estate license

Students who need extra study, tools, and preparation time to pass exams

Annual Price Range*

(per Course)

$129 to $1,705

$15 to $899

$29 to $1,139

$9 to $379

$75 to $125

Pass Guarantee**

✓

✕

✕

✕

✓

Custom LEAP Platform

✓

✓

✓

✓

✓

Exam Prep Materials

✓

✕

✓

✓

✕

E-books

✓

✓

✓

✓

✓

Instructor Support

✓

✓

✓

✓

✓

Money-back Guarantee**

✓

✓

✓

✓

✓

Customer Support

✓

✓

✓

✓

✓
*Price range includes all course packages in all states.
**Terms and conditions apply. Contact The CE Shop for more information.
General The CE Shop Features
With an innovative learning platform, The CE Shop students enjoy interactive features and additional learning tools, like videos and practice exams, to make online learning more engaging. Furthermore, the online chat button provides students easy access to contact the school's customer support and get quick answers to their questions.
The following are key features available on The CE Shop that promote effective online learning:
Pass guarantee
Custom LEAP platform
Self-paced learning
Agent Essentials
To ensure that students get the best value for their education investment, The CE Shop provides adequate instructor and customer support to assist students before, during, and after taking a course. The self-paced learning offers maximum convenience and flexibility to agents with different learning needs. Its custom LEAP platform makes it easy for students to follow their lessons and track their progress.
Additionally, its pass and money-back guarantees ensure effective training materials to help students become real estate agents successfully.
Additional The CE Shop Features
Take a closer look at each of The CE Shop features below by clicking on the tabs:
Interactive course content
Streamlined navigation
Intuitive dashboards that gauge students' competency
The CE Shop's online learning is powered by a custom LEAP 2.0 platform, providing interactive content to keep students engaged and retain relevant information more effectively. Additionally, the course contains progress indicators so students will see how much of the material has been covered and the time left to finish the course.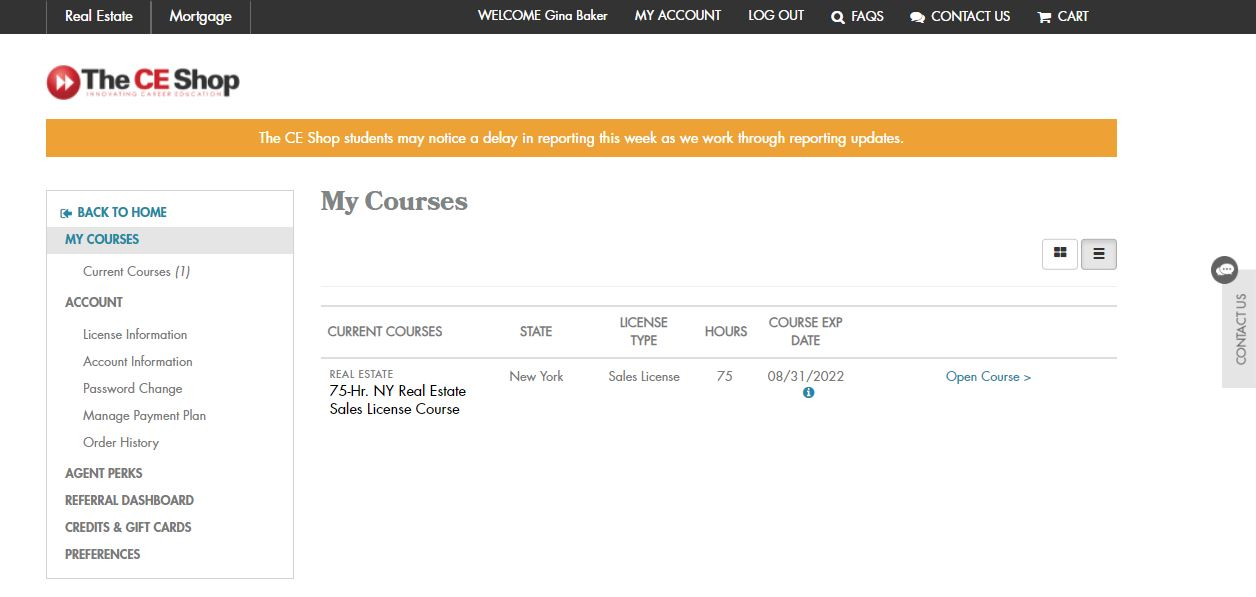 ---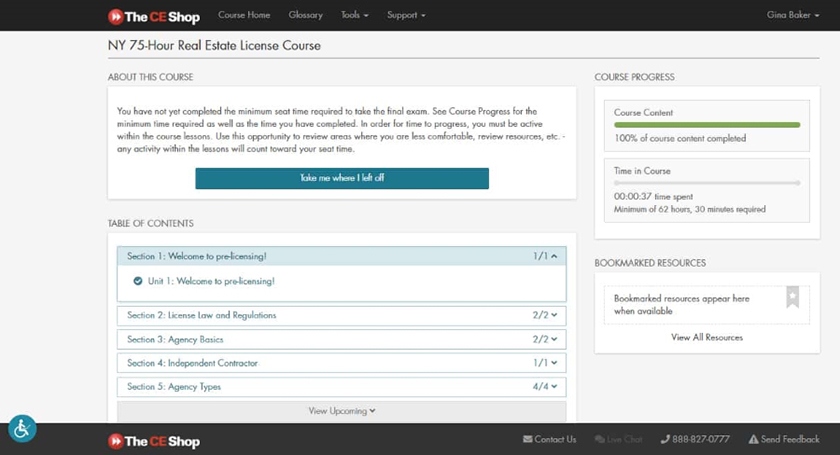 ---
Topics are broken down into individual lessons for students to digest and master information easily. Lectures are presented in a slide format. This allows learners to easily navigate through the slides without skipping sections. Each course's unit and practice exams provide immediate feedback through intuitive dashboards, gauging students' competencies.
Depending on the course package, you can also find additional tools in your course, such as a Glossary page, Study Plan and Calendar, and Career Builder resources.
---
Scheduling flexibility
Study lessons anywhere
Interactive course content
The CE Shop's real estate courses are 100% online, which students can take anywhere, any time, on any mobile device. As soon as they sign up and pay for their course, agents can access state-specific content, learning tools in a digital format, as well as student and career resources.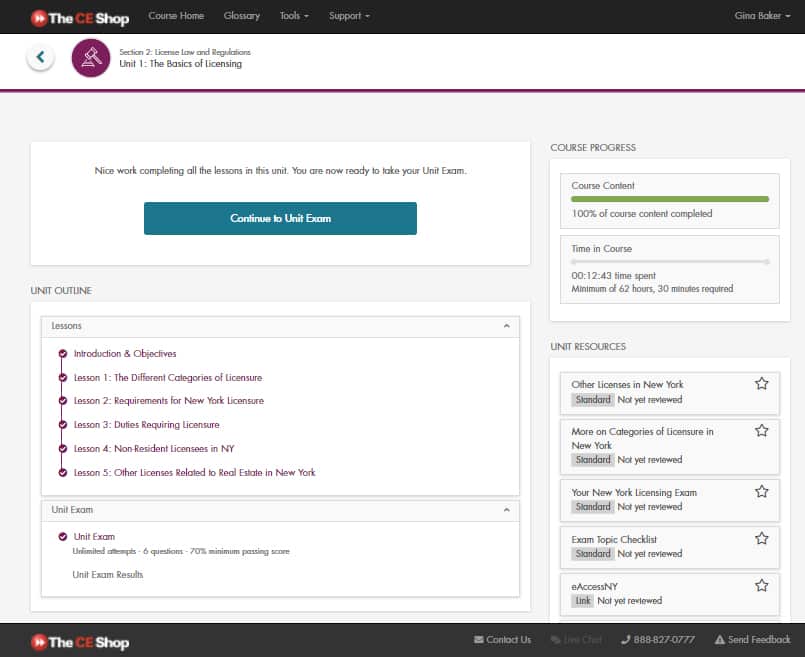 ---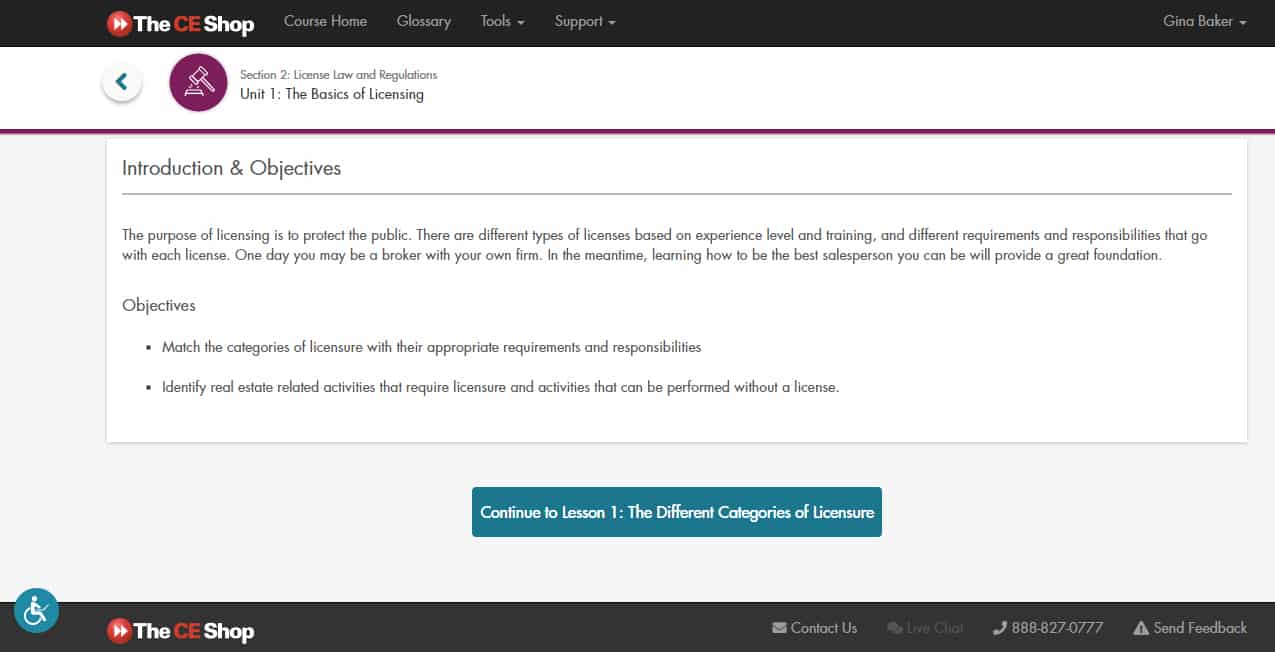 ---
Although course content is primarily text-based, at least one interactive activity is included in each lesson. These activities have check-for-understanding questions, matching exercises, ordered list activities, and true/false questions. Course content also includes other learning tools, such as images, diagrams, case studies, examples, scenarios, and links to relevant external resources so that agents can be exposed to different learning opportunities.
Moreover, exams are provided after every unit to ensure topic mastery, which can be taken as many times as necessary. Students must pass the prior unit exam to access the subsequent unit lessons. A practice test is offered once all the classes have been finished. Students are only permitted to take the final exam after completing the necessary course hours.
---
High national pass rate
Tuition refund for eligible students
Reimbursement of the prelicensing and Exam Prep edge costs
With a high national pass rate, The CE Shop has helped thousands of students pass their licensing exam on the first try. If a retake is required, the school offers prelicensure students reimbursement of their initial licensing exam costs. The Pass Guarantee is only available in prelicensing packages with Exam Edge Prep. If students only purchase Exam Prep Edge, they can still get a refund of the course fee if they were unsuccessful in the licensing exam.
---
5-day free trial on selected prelicensing courses
Unlimited course access during the free trial period
30-day money-back guarantee
If you're still uncertain about purchasing a course with The CE Shop, you can take advantage of the free trial, where you can have unlimited access to a prelicensing course for five days. This gives you firsthand experience before fully committing to a class. If you like the course, you can purchase it within 14 days after the trial ends to save your learning progress. If you're unsatisfied with a course, you can ask for a full refund within 30 days from purchase, as long as your course progress is less than 50%.
---
Study lessons by topics
Free initial assessment
Unlimited exams
Exam Prep Edge for broker licensing is available in select states
The CE Shop uniquely offers its Exam Prep Edge, an intuitive online learning experience that enables aspiring agents to gain confidence before taking the exam. Course content is state-specific and covers every topic and subtopic a student may encounter in their licensing exam. This course provides a free initial assessment and unlimited practice tests to help students master complex topics. Course content is outlined according to state-specific instructions to ensure that agents study relevant information.
The CE Shop's Exam Prep Edge (Source: YouTube)
A unique feature of The CE Shop's Exam Edge Prep is its intuitive dashboards, which gauge a student's knowledge in real time. This allows aspiring agents to identify the areas that need more focus. Exam Prep Edge is also available in some broker licensing packages for aspiring brokers to confidently pass the exam.
---
Real estate experts from different fields
State-approved curriculum developed by real estate professionals
Instructors with decades of experience and several accolades
The CE Shop faculty comprises real estate educators, brokers, lawyers, CPAs, and mortgage loan originators with decades of experience in their respective fields. The school's curriculum has been written and developed by these experts to provide up-to-date information about industry trends in different niches.
With experienced instructors, real-world scenarios and expert perspectives are incorporated into the lessons so that students can gain an in-depth understanding. You can find a list of The CE Shop's instructors and their bios on the school website.
---
Courses are generally accessible within 12 months
Shorter course access in several states
Repurchase unfinished courses at 50% of the retail price
Pre-licensing and CE courses at The CE Shop can be accessed for six or 12 months from the date of purchase, except in Washington, D.C. and North Carolina, where courses must be completed within three months to 180 days, respectively.
If students cannot complete the course within the access period, they can repurchase it at 50% of the retail price within 30 days after the expiration. If you can still not complete the course a second time, you will have to repurchase the course at full price.
---
Free career resources
Agent Encyclopedia
Blogs, videos, podcasts, e-books, and webinars
Aside from its educational programs, The CE Shop provides free career resources on its Agent Essentials page to help you succeed in real estate. These free resources include blogs, e-books, videos, podcasts, and webinars. You'll find topics on how to grow your real estate business, how to get started in your career, industry news, and hot topics.
The CE Shop also provides free study resources through the Agent Encyclopedia for agents getting ready for the licensing exam. An example of a free resource is "Real Estate Math," which provides practice questions, exam tips, and formulas that can be used for the licensing exam.
---
Available seven days a week
Accessible through phone, email, and chat
"Contact Us" links available on the student dashboard
Unlike other online schools, The CE Shop provides customer support seven days a week. Whether you need assistance choosing a prelicensing course or obtaining your course certificate, you can reach The CE Shop's support team through phone, email, live chat, email, and even fax. You can also contact the school's support team through your student dashboard for assistance regarding your course.
While students are not given access to their instructor's contact information, they can contact instructors through an email provided in their courses or through the "Contact Us" button on their learning dashboard. Students can expect a response within 24 hours.
---
Ease of Use for The CE Shop
Purchasing and completing a course on The CE Shop is simple. When you enroll in a course, you only need to select a program in your state and proceed to check out with your preferred payment method. You can also enter applicable promo codes (Use promo code: FSB30 for 30% off) to get discounted rates and donate some money to The CE Shop Foundation.
After payment, you can immediately access the course content by logging in to your student account. The CE Shop's custom LEAP platform allows students to navigate their courses easily. They can go back to previous slides or go directly to specific sections using the table of contents. Flow control also prevents students from skipping sections as they progress through their course.
Students can also check the course progress bar to see how much of the course has been completed. They may quickly continue learning when they log back in because their progress is instantly saved. The website for The CE Shop also has a user-friendly design. You may learn about all the packages and individual classes that are offered, their inclusions, and associated costs, when you click on the state where you want to take courses. You will also receive information on licensing, how to apply for a license, and exam details.
How We Evaluated The CE Shop
The best online real estate schools offer new and experienced agents the tools they need to start and continue learning throughout their careers. We examined schools for realtors based on the following criteria:
25%
Course Features/Learning Style
25% of Overall Score
Consists of various formatting and learning styles for each course to meet the specific needs of the agent as well as ease of course accessibility.
20% of Overall Score
Pricing is based on the cost of pre- and post-licensing, continuing education courses, broker prelicensing, and exam prep of the top real estate accredited schools.
15% of Overall Score
The availability of each level of education for different stages of licensure. This would include pre- and post-licensing, continuing education courses, broker prelicensing, and exam prep.
15% of Overall Score
Extending services past licensure, such as coaching, training, and career assistance. Also, whether the provider offers pass or refund guarantees for its courses.
10% of Overall Score
Based on customer feedback for each program, with particular attention given to reviews of the product and popularity of the provider, to certify the course meets user satisfaction.
10% of Overall Score
Expertise in the field and firsthand experience with the providers allow us to evaluate the standout features, value for the money, and ease of use for each school.
5% of Overall Score
To find the best real estate accredited schools, we looked into the convenience and attainability of customer service for technical support and instructor assistance.
*Percentages of overall score
Bottom Line
The CE Shop is an excellent option if you're looking for online real estate education that you can access 24/7. The school's custom LEAP platform allows streamlined navigation to keep students engaged amid the heavily text-based content. Its unique and intuitive dashboards also enable agents to test their knowledge about a topic as they progress through their courses. We recommend the school to agents looking for affordability and scheduling flexibility while fulfilling the education requirements to obtain or renew their real estate licenses.