An 800 number, or toll-free number, is a type of phone number that lets your audience call you at no cost to them. These numbers, which have a specialized prefix, can also make your company look like an established enterprise compared to your competitors that use a local number. Best of all, they are available with most mainstream voice-over-internet-protocol (VoIP) systems at no extra cost.
Top 800 Number Providers
Most of today's mainstream business phone systems offer the choice of a local or toll-free number at no cost. Therefore, the best 800 number provider for you will depend on what other features you want.
Provider

Notable Feature

Best-in-class mobile apps
Video conferencing
Multilevel auto-attendant

Affordability
Virtual faxing
Visual voicemail

International calling
Call center capabilities
Reports and analytics
1. RingCentral

RingCentral is our best overall pick for small business VoIP services. In addition to offering toll-free numbers for your small business, it also comes with a wide range of features like team messaging, video conferencing, and mobile apps for iOS and Android. RingCentral starts at $19.99 per user, per month for two to 20 users on an annual basis.
For more information, check out RingCentral user reviews page, or visit their website.
2. Grasshopper

Grasshopper is a virtual phone service, which means that it requires an existing phone line (such as a personal cell or landline) to forward calls from. However, Grasshopper is substantially less expensive than VoIP systems, with pricing starting at just $26 per month for one number and three extensions on an annual basis. Each new account offers the choice between a local and toll-free number.
For more details on how Grasshopper can help your small business, go to our Grasshopper user reviews page. You can also learn more by visiting their website.
3. 8×8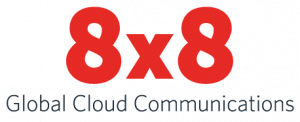 8×8 offers packages starting at $12 per user, per month. It offers standard features like a toll-free number, unlimited domestic calling, and video conferencing. But perhaps most notably, it offers unlimited international calling for up to 47 countries around the world depending on what package you choose.
Visit their website, or go to our 8×8 user reviews page for more information.
How an 800 Number Benefits Small Business
An 800 number is a type of business phone number that charges the holder of said number for each call, but not the person calling. This was important in the past when most landline systems would charge for calls outside of one's own area code. As a result, 800 numbers became a sign of prestige. While this matters less now that most consumer cell plans offer unlimited nationwide minutes, most still associate 800 numbers with large, established companies.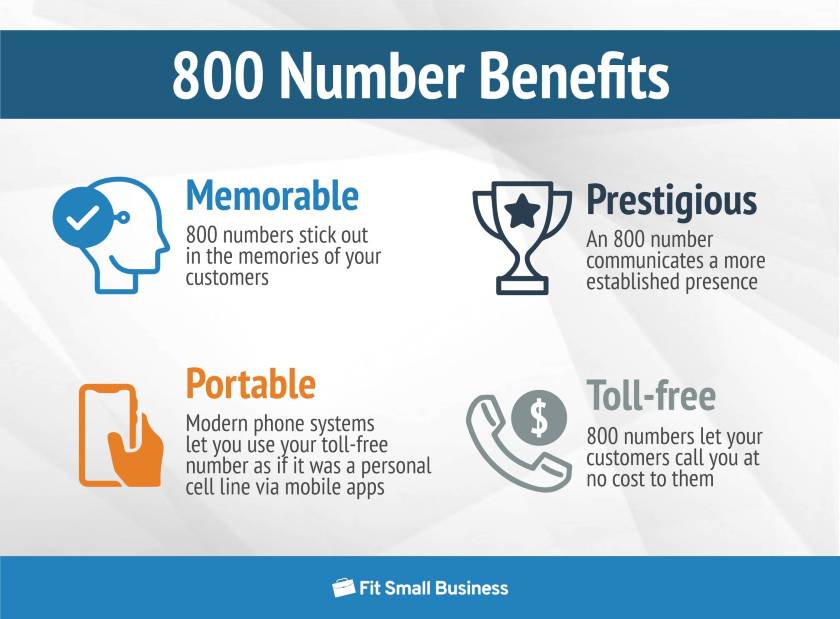 The term "800 numbers" has also expanded to include a number of different toll-free number prefixes. If your preferred 800 number is not available, other toll-free prefixes include 888, 877, 866, 855, 844, and 833. New toll-free prefixes get added on a regular basis as well.
The overall cost of an 800 number will depend entirely on what phone service you go with, as most providers offer them at no extra cost. Virtual phone systems like Grasshopper offer them for as low as $26 per month for three extensions. On the other side are premium services like RingCentral's most expensive package, which can cost as much as $59.99 per user, per month depending on your configuration.
If you are in the market for a new business phone system that also provides you with a toll-free number at no additional cost, we recommend looking at RingCentral. With each new account, you have the choice of setting up a local number or one with a toll-free prefix. Click the button below to learn more and start a free trial.
Who an 800 Number Is Right For
All told, an 800 number has benefits for businesses of all kinds and sizes. While they were once only available for larger companies, the growing wave of internet-based services has made toll-free numbers available at no extra cost over a local number. This means that organizations of any size can use them to appear larger and more "serious" than your competitors.
How to Get an 800 Number
In most cases, choosing an 800 number will happen when you first set up your phone system, as many providers will ask you to choose between a local or toll-free number, with the option to purchase additional numbers for a fee. You then will be asked to select the specific number in your system settings menu. Contact your phone service provider for more information.
How to Choose a Vanity Number
Vanity numbers are, in a sense, upgraded versions of toll-free numbers. Vanity numbers leverage the letters on a phone dial pad and take the form of letters in order to be more memorable (such as 1-800-FLOWERS). These numbers serve the purpose of being very easy to remember, thereby increasing the likelihood of your audience calling your number.
Let's look at RingCentral's number selection tool and search for "LAWYERS" as an example:
As you can see, there are no exact matches available. However, when we shorten this to "4LAW" and then add the * symbol (which designates a "wildcard" digit), we see there are many more options: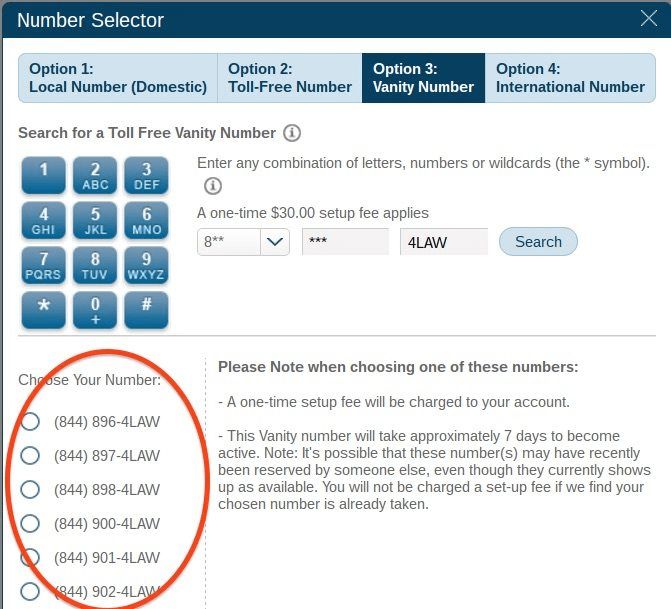 Finding a good vanity number can take a little creativity and flexibility. Abbreviations and synonyms will help your chances of finding one that's available. For example, a plumber might consider shorter phrases like "PIPES" and "LEAKS."
How to Choose a Non-vanity Number
If you have no need for a vanity number, the process is far more simplistic. Most 800 number providers will simply generate a random extension for your company. This option is, in most cases, far less expensive than a vanity number.
Pros & Cons of an 800 Number
800 numbers have the ability to make your company truly stand out from competitors. However, they aren't necessarily the best fit for everyone, especially those that do all of their business in the same domestic area.
Pros of an 800 Number

Cons of an 800 Number

Professionalism: On a subconscious level, a number with an 800 prefix communicates to your audience that you are an established company that is perfectly equipped to handle their needs.

Local alienation: If your business serves a local area exclusively, a toll-free number could make your business look cold and impersonal to your customers.

Portability: If your company's offices ever move to another area, your phone number can stay with you, which minimizes customer confusion.

VoIP expense:

If you have no need for a dedicated phone system (you might find that you get by just fine with your personal cell line), then there are free alternatives like

Google Voice

that give you a free local number that you can use for your team.

Accessibility: If your customers are on a pay-per-minute plan, they will likely appreciate being able to call you at no cost to them.

Landline systems: If you need to use a landline service, you can expect to spend over $1,000 just for the privilege of having a toll-free number. This is prohibitively expensive for most small businesses.
Alternatives to an 800 Number
An 800 number is not the best choice for everyone. Fortunately, there are plenty of alternatives that can serve your business better. For more information, you can also check out our more detailed guide to business phone numbers. Here are your most viable alternatives:
Local Phone Number
A local number is helpful if you serve one community. In terms of business presence, it can show your audience that you are as much a part of the community as they are. Local phone numbers can also be had for free with services like Google Voice.
Vanity Number
Having a customized vanity number can help your customers easily recognize your number. It also helps if you want to use your phone number in billboards or other types of advertisements so that your audience can remember your number for later reference.
International Number
If you do business in different countries, you might benefit from having extensions that customers in those countries can call for free. Systems like RingCentral offer international numbers at an extra fee. In some cases, you can even adopt multiple numbers to serve all of your customers, no matter where they live.
Frequently Asked Questions (FAQs)
Is the area code 800 the only toll-free prefix available?
No. Available prefixes include 800, 888, 877, 866, 855, 844, and 833.
If I switch phone services, can I bring over my 800 number?
Yes. In most cases, porting over a toll-free number from one service to another works just like porting a local number. Contact your provider for more details or check out our guide to number porting.
Will my customers know my location if they dial my toll-free number?
No. There is no location tracing for toll-free numbers. The only way your customers will know where you are located is if you tell them.
Bottom Line
800 numbers can be extraordinarily useful to small businesses. They let your customers call you at no cost to them, they are easy to remember, and they can help your company look more established. Best of all, they are free with most mainstream business phone systems.
If you want a new phone service for your team, we suggest looking at RingCentral. The service is affordable, easy to use, and offers toll-free numbers with every new account. Click the button below for more details.