Thank you RingCentral for sponsoring this post. While this was a sponsored opportunity from RingCentral, all content and opinions expressed here are those of Jeremy Marsan and Fit Small Business.
Although toll-free may not be as important as it was 20 years ago, having an all powerful 800 number is still the best way to leave a memorable impression on customers.
In this guide, we'll show you how to choose and purchase an 800 number using RingCentral, one of the top business VoIP providers.
What's So Special About 800 Numbers?
To explain how 800 numbers came to dominate the business world, we have to recall a time when calls were either local or long distance. Any calls made outside of our 3-digit area code were considered "long distance" and thus subject to extra fees.
Now, for most local businesses, long distance calls weren't too common. A pizza shop, for example, isn't going to get too many orders outside their metropolitan area. For a large national company like GE or SkyMall, however, the opposite is true – calls are constantly coming in from all around the US.
Thus, to take the burden off customers who would have to pay long distance fees, the 800 number was born (along with 888, 866, 877, etc.) Lacking any specific area code, these "national" numbers could be called without incurring long distance charges. Instead, the business would pick up the tab.
Do 800 Numbers Still Matter?
These days, fewer and fewer Americans pay for long distance calls within the US. This is because most cell phone plans, VoIP plans, and even some landline plans, give you free nationwide calling. You no longer have to pay extra for a call made outside your area code.
While this has largely eliminated the original advantage to 800 numbers, they continue to be extremely popular and sought-after today. Why is this the case?
For one, an 800 number is the only way to "separate" yourself from a local area code. Let's say your business is located in California, but you serve customers nationwide. If a potential customer dials from Florida and sees they're calling an out-of-state number, it may leave the wrong impression. Using an 800 number, on the other hand, does not tie you down to any specific location.
Here are some of the other advantages to using 800 numbers:
Memorable.

Especially when combined with a vanity number (i.e. 1-800-FLOWERS), 800 numbers are incredibly easily to remember. This makes them perfect for outdoor advertising campaigns, like

billboards

.

Portable.

You can keep your same phone number should you move to a new area code, or open a new location.

Prestige.

800 numbers still give off an aura of professionalism.

Toll Free.

Though irrelevant to most Americans, there still are landline die-hards who pay for long distance calls. For these customers, 800 numbers still have their original appeal.
How to Pick an 800 Phone Number
If you're sold on the benefits of using an 800 phone number, the next step is decide whether or not you want a vanity phone number.
A vanity phone number is one in which you intentionally select the digits. This might be to spell out a certain phrase (i.e. 1-800-EDUCATE) or to take advantage of repeating numbers (i.e. 1-877-777-7777). The primary advantage is to make your phone number memorable at-a-glance.
Vanity numbers do tend to cost extra compared to randomized 800 numbers. So if you're just looking for an 800 number to avoid using a local area code, you can probably skip a vanity number and save your money.
Aren't All Good Vanity Numbers Taken?
800 numbers have been popular for several decades, so common wisdom holds that any basic phrase, like "1-800-LAWYERS" is going to be already taken.
While this is largely true, there's often still variants available to choose from. To explain, let's take a quick look at RingCentral's 800 number tool. If you're already logged into your RingCentral account, head to the Admin Panel, and click "Company Numbers and Info" on the left-hand toolbar.
When we search for the term "LAWYERS" we can see that nothing is available: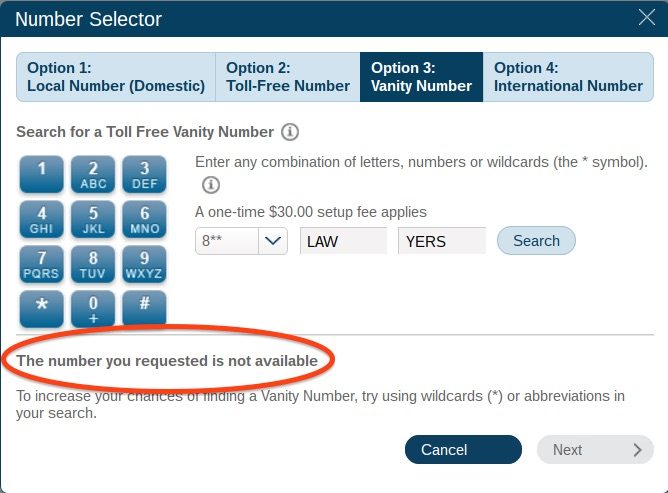 However, when we shorten this to "4LAW" then add the * symbol (which designates a "wildcard" digit), we can see there's many more options: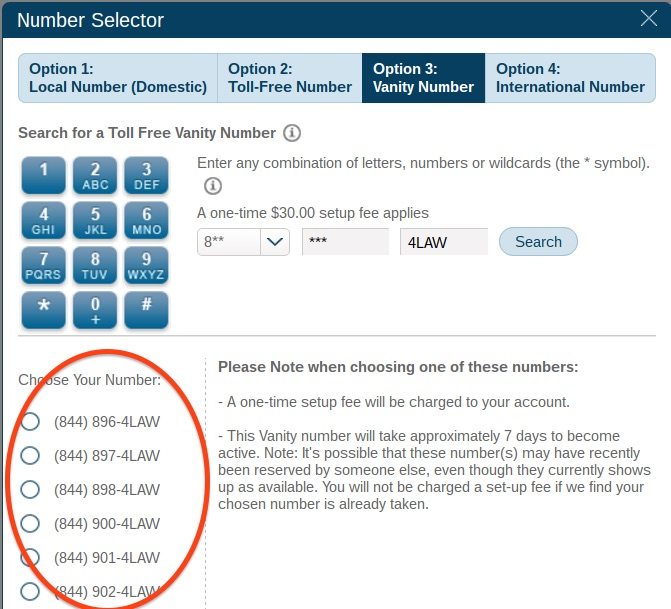 Finding a good vanity number takes a bit of creativity. First, you'll probably have to think of some abbreviations. For example, a plumber might consider shorter phrases like "PIPES," and "LEAKS."

Once you have a list of options, you need to determine which has the best flow, or ring to it. For example, from the list of options above, 844-900-4LAW probably has the best look on paper. Saying them out loud, however, 844-902-4LAW has a better flow in this author's opinion.
What If I Don't Need a Vanity Number?
If you just want a randomized 800 number, the process is even easier. Using RingCentral's Number Selector tool, you can browse various options: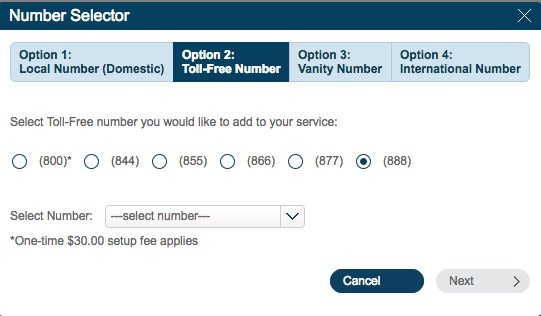 RingCentral allows you to choose the prefix (800, 844, 888, etc.). Then you can pick from a list of numbers on the drop down menu.
Again, this option is usually less expensive than picking a vanity 800 number. So keep this in mind if you aren't worried about your number being memorable.
The Bottom Line
800 numbers are not for every business. Just as a pizza shop in the past didn't need to worry about long distance-calling customers, most local business today prefer having a number in their local area code.
If your business extends beyond one metropolitan area, however, an 800 number can be a very wise choice. Along with the added prestige, and the potential to pick a memorable vanity number, an 800 number establishes you as a nationwide company.
Ready to set up your 800 number? Click here to see what's available.