Many small business owners add 800 numbers to encourage customers to reach out to their customer support or sales teams. While some voice-over-internet-protocol (VoIP) systems offer free or add-on numbers, virtual number providers offer another toll-free way to route calls. We identified the top three toll-free number providers and explain why you should consider offering this service to your customers.

Provider

Notable Feature

Call routing
Auto-attendant
Call analytics
Voicemail boxes

SMS messaging
Video conferencing
Multilevel auto attendant
Team messaging

Intuitive mobile app
Call recording
Dial-by-name directory
HIPAA compliant
1. 800.com

800.com offers plans ranging from $19 to $239 per user, per month. Subscriptions provide one to five toll-free numbers. The lowest-priced plans give you 1,000 minutes, whereas the top-tier offers unlimited minutes. All plans come with several features, including call recording, analytics, sequential and simultaneous call forwarding, and voicemail boxes. With 800.com, you won't pay any setup fees and can cancel at any time.
2. RingCentral

With monthly plans ranging from $19.99 to $59.99 per user, per month, all RingCentral packages give you a business phone or toll-free number. This feature-rich small business VoIP service provides unlimited short message service (SMS) messaging, voicemail-to-text, team messaging, document sharing, and mobile apps. RingCentral works as a unified communications platform bringing communication and collaboration tools together in one app.
Find out how to get an 800 number through RingCentral by checking out our reviews page.
3. Phone.com

Phone.com offers a local number or an 800 number with all three plans. Prices range from $9.99 to $39.99 per month for a business phone system, making Phone.com an affordable option for small business owners. Plans include more than 40 features, such as an intuitive mobile app, call screening, call recording, and call routing. Plus, you can set up a dial-by-name directory.
How an 800 Number Benefits Small Business
Online companies must support customers across the nation in different time zones. While many mobile phones provide consumers with free calling in the U.S., people still see an 800 number, or similar toll-free prefixes like 888, 877, 866, 855, 844, or 833, as a sign of a reputable business. Listing a toll-free number in your contact materials gives small companies several advantages.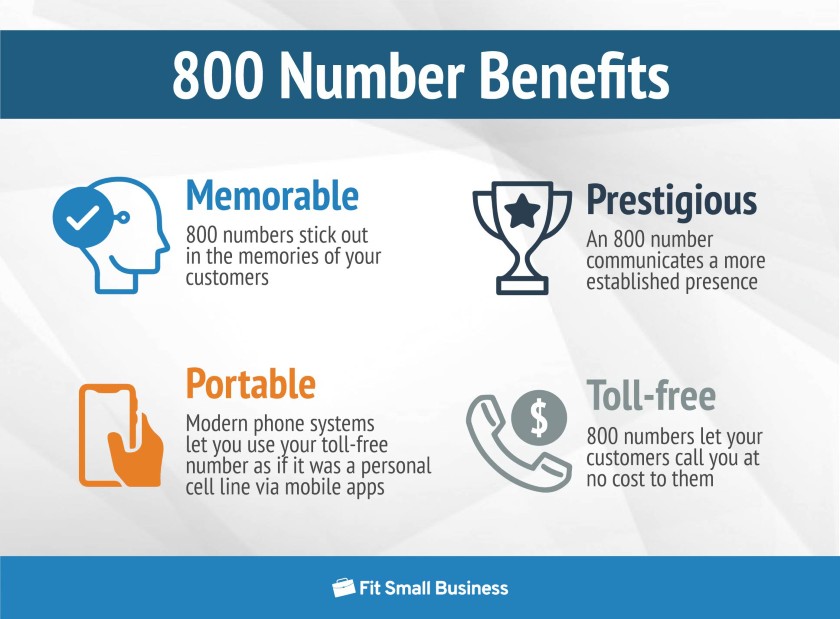 A considerable benefit of an 800 number is the boost it gives to your brand image. Instead of calling or receiving a call from an unknown number, consumers use your 800 number, which also may be a vanity number. Once reserved for big corporations, smaller companies can now leverage a toll-free number and VoIP capabilities to reassure customers that your business is real.
With a vanity number, for which you choose the last seven digits of the business phone number, you have a built-in marketing tool. Just look at the success of 1-800-CONTACTS or 1-800-FLOWERS. By using a phone word, name, or acronym, you increase memorability. Easy-to-remember numbers improve response rates across all mediums, including out-of-home advertising and digital communications.
Toll-free number providers offer small business phone systems, making it easier to manage calls using calling features like call routing, monitoring, and recording. With built-in analytics, you can see where customers call from and assess whether they're getting the answers they need for a satisfying experience.
Who an 800 Number Is Right For
If you want your business to have a national presence and give customers a free, easy, and fast way to connect with you, consider using an 800 number. Toll-free numbers impress consumers because they're familiar and have been around since the 1960s. In an age where customers are wary of answering calls with uncertain prefixes or non-local area codes, an 800 number soothes their concerns, making them more likely to answer the phone or reach out with questions.
How to Get an 800 Number
During the initial setup of your virtual or VoIP business phone service, the provider asks you to select a phone number. You may have the choice of using your existing number, choosing a local number, or opting for a toll-free number. But, you can also add an 800 number after purchasing your subscription. Most services give you a dashboard where you click a tab to look at your current numbers or select a new one. Tap to add a new toll-free number to your existing package, and any additional costs will go on your next billing statement.
How to Choose a Vanity Number
Turn your toll-free number into a marketing tool by personalizing it so it leaves an impression on your customers. You'll find vanity number options in your VoIP dashboard under a calling or numbers tab. Most companies use national registries so you can check the availability of your phone number. You may need to play around a bit with your vanity number to find an option that suits you. If you can't come up with an easy-to-remember word, consider picking a familiar or repetitive number or just customizing the last four digits.
Let's look at RingCentral's number selection tool and search for "LAWYERS" as an example: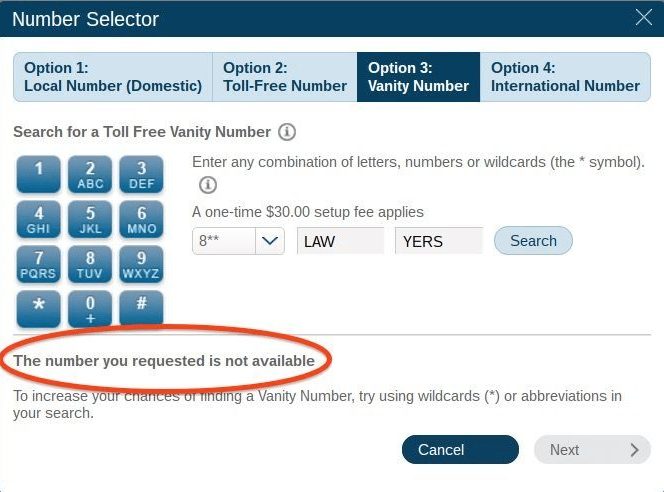 As you can see, there are no exact matches available. However, when we shorten this to "4LAW" and then add the * symbol (which designates a "wildcard" digit), we see there are many more options: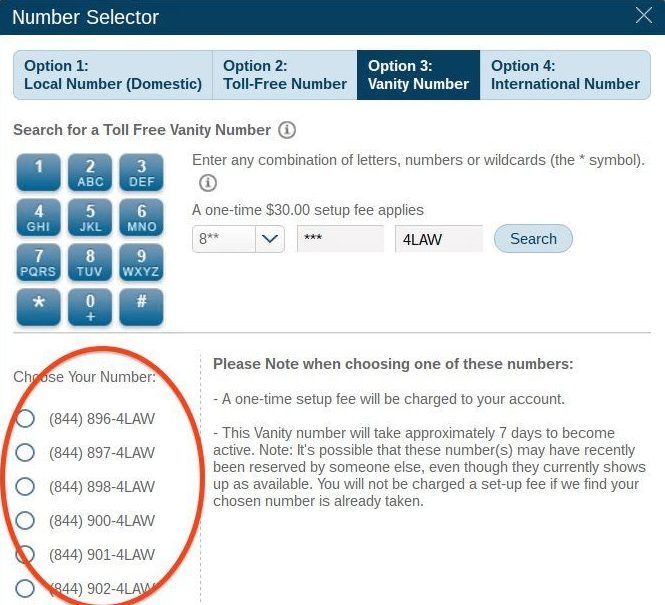 Finding a good vanity number can take a little creativity and flexibility. Abbreviations and synonyms will help your chances of finding an available number. For example, a plumber might consider shorter phrases like "PIPES" and "LEAKS."
How to Choose a Non-vanity Number
In most cases, you'll pay less for a randomly generated phone number. Simply use the tool on your provider's website to pick a random extension. You can still choose your prefix, like 888 or 877, and then the service determines the last seven digits.
Pros & Cons of an 800 Number
While 800 numbers help a small business market on a national scale, they aren't necessary in all cases. Due to a shift to mobile phones, many people don't pay per-minute fees for calling in the U.S. However, if your target market relies on landlines (something you can find out during market research), then an 800 number on a website appears less risky than calling an area code they aren't familiar with.
Pros of an 800 Number
Improve brand image: Give your company a national presence and compete with large corporations by using an 800 number that eases any fears about calling an unknown number.
Increase accessibility: Customers want numerous ways to contact you, and listing an 800 number encourages all consumers to get in touch from a landline or cell phone.
Boost mobility: Whether you shift to remote work or change your office location, your toll-free number is portable, so it goes wherever you go.
Cons of an 800 Number
Extra expense: If you're not replacing existing phone services or your provider charges extra for a toll-free number, then your monthly payments may go up.
Possible SPAM calls: Although regulations continue to cut down on spam calls, publicly posted 800 numbers may generate more unsolicited calls than other phone numbers because it's free.
Customer service concerns: Some consumers are wary of calling customer service or corporate numbers that may be offices many states away or in another country. International customers may pay added costs to use a toll-free U.S. number.
Alternatives to an 800 Number
Although an 800 number is an excellent choice for companies that sell to consumers across the U.S., other options may better fit your business. After all, your goal is to use your phone number to increase memorability and make it easy for customers to contact you. Instead of a toll-free number, you can select a local, vanity, or international number.
Local Phone Number
Many businesses prefer to use a local number connected to the city where their physical store resides. You select your area code. Then your provider shows you a list of randomly generated phone numbers to choose from. When people in your community see a familiar area code, they feel comforted knowing you're serving their community and aren't a big corporation located many states away.
Vanity Number
You can choose vanity numbers in combination with a toll-free or local number. A vanity number is also a marketing tool. It costs extra, but if you find the right combination, you can add your vanity number to advertisements, and it's easy for people to remember.
International Number
For global businesses, an international number helps you support customers worldwide. Some VoIP phone providers offer international numbers as an add-on, where you'll pay per-minute charges based on where the call originates from. Other services provide separate international calling plans suited for companies with many global calls.
Frequently Asked Questions (FAQs)
Are 800 numbers still necessary?
Although many mobile phone providers offer free calling plans, consumers still see an 800 number as a must for national businesses. However, toll-free numbers aren't necessary for all companies. It's a good idea to poll your audience to determine how they make calls, such as a landline versus cell phone, to determine if an 800 number is needed.
Is there a difference between 800 & 888 numbers?
There is no difference between 800 and 888 numbers. Each prefix has a limited combination of numbers, and more prefixes are added over time. For example, the 800 prefixes have been around since the 1960s, whereas the Federal Communications Commission (FCC) released more public 888 numbers in the '90s.
Can international customers call a U.S.-based toll-free number?
Yes, in many cases, your international customers can call your toll-free number. However, your customer's phone provider charges them extra fees for international calls, making your toll-free call not free for overseas customers. Depending on your customers' phone plans, some may be able to call from Mexico or Canada without additional fees.
Bottom Line
In an economy where trust is paramount, anything you can do, as a small business owner, to improve relationships with customers is a good idea. Whether you choose an 800, local, or vanity number, it's essential to decide which option best supports your customer and business needs.
When it comes to toll-free number providers, RingCentral is an affordable option. It comes with an 800 number along with advanced communication and collaboration tools. Explore RingCentral's services or sign up for a free trial by visiting RingCentral.