Client meetings give you an opportunity to build or re-establish credibility and trust with leads, prospects, and current customers. Through understanding the meeting's purpose, proper logistical planning, in-depth research, preparedness, and planning, you ensure your customer meeting is run effectively and successfully. In this article, we explore how to plan and run a client meeting with templates you can use during this process.
Client Meeting Template
Streamline your sales operations with premade, uniform templates to help guide your client meetings. As you fill out the information from the templates, store the document in your customer relationship management (CRM) system or another database. Below you will find the template we've constructed to help you create an agenda and take solid notes for all types of sales meetings.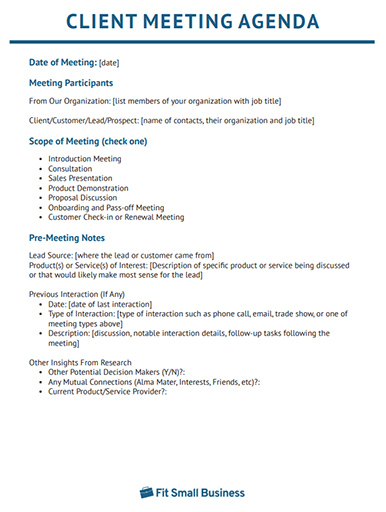 Thank you for downloading!
💡 Quick Tip:
Use customer relationship management (CRM) software to store client meeting notes and share them with team members. Freshsales is a free CRM that helps teams collaborate effectively and improve organization.
1. Understand the Purpose of Each Client Meeting
The scope of a client meeting with a prospective client depends on their needs and where they are in the sales process. It impacts the content and flow of the meeting, the attendees, and how you will prepare for the appointment. Below are some of the most common types of meeting purposes to consider:
Introduction meeting: In-person visit or call to make the initial connection with a lead or prospect. It involves going through the lead qualification process, determining their needs, and briefly discussing your business, product, or service.
Consultation: An advisory discussion with a lead or current client to determine their circumstances, needs, and potential solutions for their unique situation. This is not a time to sell, but instead to provide adequate knowledge and advice based on what you learn from their perspective.
Sales presentation: The sales pitch to a lead or customer that takes a deep dive into your business and its offerings. During this time, you present your unique selling proposition and address questions about your product or service.
Product demo: A detailed presentation of your product, its features, how it works, and if it is well-suited for the prospect.
Proposal discussion: A call or meeting with a prospective client to discuss quotes or a formal proposal containing pricing, scope of services, terms, and so on.
Onboarding and pass-off meeting: A call or meeting with a new customer to go over the onboarding and delivery process of a product or service. It also involves introducing them to a new point of contact, such as a sales rep passing them off to an account manager.
Customer check-in or renewal meeting: A meeting with a current client to check their needs and satisfaction on your solution. You can also address concerns related to your products or services renewal.
Sales management and other organizational leadership teams must develop procedures and tools for each type of meeting and make them available for their reps and account managers. Once the purpose is fully understood, the rest of these steps become intuitive.
2. Manage Meeting Logistics
Once a meeting is confirmed and all attendees understand the purpose, ensure you adequately handle the logistics. This includes agreeing on the right time, place, and communication channels, such as in-person, phone call, or video conference meeting. Furthermore, make sure anyone who should be involved is invited and aware of the meeting logistical requirements.
For instance, if you're doing a product demonstration for your software, have one of the software engineers on the call to help the client better understand the features. Additionally, if you're doing a proposal discussion and there are multiple decision-makers in your lead's buying process, ensure they are all invited.
To manage the meeting well, ensure you provide detailed instructions for logging onto the phone or video conference call and that any web links for access work properly. If it's in-person, write out navigation directions for the location and any security or parking information they need to know.
Lastly, ask the lead or customer to bring any items or information needed for the meeting. For example, with renewal-based insurance, many agents request a lead's current policy information for their proposal discussion. This way, they can do a direct, apples-to-apples comparison with the current or updated policy.
Pro tip: Use scheduling automation tools like Calendly to streamline the process of agreeing on the meeting time and place. Calendly lets users configure their meeting parameters to meet their scheduling requirements. Meeting attendees get to receive a link for the scheduling portal and find a time and channel that works best. Once scheduled, the event is automatically synced to everyone's calendars.
3. Research Your Meeting Attendees
Depending on the type of client meeting, certain details should be obtained prior to the event. If you're meeting someone for the first time, have some talking points ready to build a connection by researching information on the attendee's experience or interests. For example, if you learn on LinkedIn that you have mutual friends or share the same alma mater with the lead, mention that in the meeting to build rapport.
For meetings directly discussing the product or service, such as a product demo, proposal call, or sales presentation, learn more about the lead's current providers and how they feel about them. If they don't like the current price or customer service, you can use those insights to express how you can bridge those gaps and provide a more desirable solution.
Any meetings with current clients should include a thorough review of their activity history, their customer experience, and any concern related to your firm. Be prepared to handle their complaints and understand where they are coming from based on their interactions with your product, service, or the entire business.
Some research sources you can use include LinkedIn, the lead or client's website, or mutual connections. You can also track down information using the lead data organization and note-taking features of customer relationship management (CRM) software. Prior interactions and contact information can be stored in popular products such as HubSpot for your whole team to access.
4. Prepare Content & Questions
As you prepare for a customer meeting, develop preset questions to understand their needs, priorities, purchasing process, budget, and timeline. Additionally, make sure the content and materials for the meeting look professional, up to date, and ready for presentation.
For example, use a slide presentation for your product demos or a spreadsheet for price comparisons during your proposal discussions. You could also have a checklist document for reference during consultations or anytime you're qualifying a lead. An example checklist can be found in our article on using the BANT method to qualify leads.
Last—and arguably the most important—is preparing the agenda for the meeting. This should include the sequential order of items to discuss within the allotted time slot. The agenda should also contain a goal that you should send to all participants prior to the meeting so they know what to expect.
5. Start Client Meetings With Introductions
During the first stage of your meeting, introduce yourself and the other members of your organization on the call. Also allow the lead or customer to introduce themselves, briefly talking about who they are, what they do, and why they were interested in the meeting.
Afterward, you can cite some of those talking points you created in step three. For example, if it's a one-on-one meeting and you knew one of your lead's friends, you could bring up that connection. Start the conversation with something that goes like "Hey, I think I saw that you are also friends with Griffin Buscavage."
6. Stick to the Agenda
It's essential to stick with the plan you set as it impacts the expectations of the prospects or clients attending the meeting. Furthermore, all attendees are managing their schedule around that agenda. So stay on track, focus on the meeting's primary purpose, and respect everyone's time by not running the meeting too long.
Part of keeping with an agenda is maintaining control of the conversation. Contrary to what many sales reps think, this doesn't mean talking for 90% of the time. Any client meeting is a two-way conversation, with you understanding their problems and preferred fix while they discover what solutions your product or service provides.
If you run out of time and there are still remaining agenda items, find a courteous way to manage a plan to fulfill those items. For instance, if you can extend for five more minutes, ask the participants if they are available to stay. If they are not but you still need more time, agree on a follow-up call and send a calendar invite for your next meeting.
7. Create a Follow-up Plan
At the end of each meeting, include a follow-up plan for things that you, your sales rep, the lead, or the client must accomplish. Much of the post-meeting tasks depend on the purpose of the meeting and what was discussed. For example, after an introductory meeting, your next plan of action may be to send a follow-up email and a calendar invite for another meeting, such as a product demo.
During this stage, be clear on what exactly the next steps are. Perform any follow-up tasks in a timely manner to keep the lead or client in the buying or renewal mindset. If you delivered a sales presentation and the prospect wants price quotes, generate the proposal and send it within a day. This is to keep up with the information they learned and the retention of their purchasing mindset.
Pro tip: Don't let follow-up tasks slip through the cracks. CRMs also act as task management tools where you can create and track tasks you need to complete within certain deadlines. Bitrix24, for example, lets users manage independent tasks or ones directly associated with a lead or customer in the CRM system. Plus, the team view allows everyone to collaborate on activities that need to be completed.
Tips for Running an Effective Client Meeting
As you go through each of the steps of running an engaging client meeting, follow these tips to best connect with clients. These will help you become more organized, and ultimately reap better results out of your customer meetings:
Respect their time: Show up on time, follow the agenda, and keep the length of the meeting reasonable by not exceeding the allocated time slot.
Conduct detailed research: Any insights you can acquire before the meeting could be valuable. It also shows you take understanding and interacting with your clients on a personal level seriously. Keep the intelligence you gather on your CRM system for future reference and for others to access.
Take diligent notes: Make sure you're documenting everything you learn during the meetings for future use. Taking solid meeting notes also prevents you from forgetting important details a client may have mentioned during the discussion.
Avoid inappropriate conversations: As expected in all business settings, don't bring up unethical conversational topics or anything that would be uncomfortable for the attendees. Common things to avoid include politics, religion, and deep personal discussions.
Focus on unique value to them: Understand your competition and how you stand out from them. Additionally, focus on robust factors within the context of how you can add value to the customer. For example, if you know the lead has a wide budget but is upset with their current provider due to poor service, you can focus on the excellent customer support you offer.
Choose the right environment: Your relationship with the client or lead should dictate the meeting environment. If you have a client for 10 years, taking them to lunch instead of a check-in call might be a better idea since you already have a long-term, personal connection.
Be candid: Many salespeople say that the relationships and the human side of the job are their favorite aspects of it. Keep a strong balance of professionalism and social connection during your meeting, and don't be afraid to be yourself and make your clients laugh. In many cases, the lead or customer isn't choosing the company, but the sales rep they have the best interactions with.
Bottom Line
Not properly handling a client meeting could be a deal-breaker for obtaining new business or retaining current customers. It's essential to remain organized and professional throughout planning and running the client meeting. Using organized meeting agendas and taking diligent notes to reference during the other stages of the sales process help you remain systematic and close more deals.