The budget-authority-need-timeline framework, aka BANT, takes into account four major buying factors prospects consider when making a purchase. It's a qualification strategy you can use to prioritize sales leads in order to identify those most worth immediately pursuing. Keep reading to learn more about what BANT is, how you can use it to find the most qualified leads, and get insights as far as best practices and tools to use during the process.
BANT Definition
BANT, which stands for budget, authority, need, and timeline, is a methodology for ranking sales opportunities based on a lead's budget, decision-making authority, need, and purchase timeline. Top leads are identified through this process as you and your sales team ask questions and dialogue to establish an understanding of the four major factors of a purchase decision.
Let's take a closer look at the four major buying considerations that comprise the BANT definition and contribute to a lead's ranking score:
Budget
This component analyzes the financial capacity the lead (or their organization) has to make a purchase. It takes into account both budgetary restrictions and how much they are willing to pay for your product or service. The "Budget" part of the BANT method is often one of the most important aspects, as many deals are turned down due to cost-related reasons.
Authority
"Authority" is often under-looked by sales reps even though it determines if the lead contact is even in a position to make a purchase decision. This is typically missed because salespeople tend to assume that certain representatives of a business are decision-makers. So if a point of contact doesn't have the authority to finalize a deal, you need to know whether or not they can refer you to the correct person.
Need
Next, examine if your product or service will be useful to the lead and to what extent, i.e., does it fully solve the problem they need to be solved and make sense compared against their particular requirements?
Part of this also means considering if your product or service can be customized to suit the prospect's needs. For instance, many software products offer a ton of modules and features that, on the surface, may seem useless to the lead but once customized, will help them solve their problems.
Timeline
The final component in the BANT definition is the timeline, which equates to the prospect's level of urgency and expected purchasing time frame. Even if the other three BANT elements are fulfilled, the timing could be slightly off due to current contract commitments, top-level management desires, or because an organization is in the middle of its "busy season."
How to Use BANT for Lead Qualification in 6 Steps
Use of the BANT sales method starts before you've even made contact with a lead and doesn't end until you've fully scored the lead against all four buying factors. Here's a step-by-step guide to incorporating the BANT method into your sales process.
1. Generate a Lead
Content marketing, referrals, cold calling, and email introductions are just a few ways to keep your sales pipeline full of opportunities. Regardless of how you generate leads, your use of the BANT qualification process will then dictate which leads to focus your efforts on. Your BANT strategy can be implemented after or during the lead generation process.
For instance, if you plan on doing cold calling campaigns to generate your leads, you first need to compile a list of contacts to go after. This requires some research on BANT-related information, some of which you might be able to infer before even conversing with the person. Larger businesses, for example, will likely have more budgetary freedom as opposed to startup businesses.
You also might find certain job positions carry greater authority for your product or service than others and some industries have a higher need for your solutions. For example, if you're selling a marketing solution, you would target decision-making positions in marketing such as a VP of revenue or a chief marketing officer (CMO). These kinds of insights let you use BANT before a sales call or presentation and can be applied to other inbound and outbound lead generation tactics.
2. Schedule a Sales Call
After the lead is generated, schedule a sales presentation, product demonstration, or consultation call with the prospect. If you used cold calling or email introductions to generate leads, you may have already scheduled an introductory consultation through your call to action.
If you used another method, however, such as inbound tactics like obtaining referrals, content marketing, or advertising, you should reach out directly to schedule a call and learn more about the lead. During this time, you can continue using the BANT method to request additional information before the call.
For instance, you might send an email saying "I look forward to connecting. Please send me some additional information about your needs and current pain points, as it will provide me some reference to guide our conversation." This way, the BANT process is used even before a substantive conversation takes place.
Pro tip: Automate appointment scheduling with platforms like Calendly. Calendly makes it easy for recipients to click a link to enter your scheduling portal and book a meeting time right from your website or email signature. Once scheduled, each of the attendees receives a notification and the event is synced to everyone's calendars.
3. Prepare Your Questions
Much of the BANT process involves asking key questions relating to the prospect's major purchasing considerations. Although you may have already asked some questions or evaluated the lead's budget, authority, needs, and timeline in your research, it's a good idea to prepare some questions before a conversation takes place.
Below are some qualifying questions to ask for each component of BANT:
Budget
Do you currently have any budget restrictions for [type of solution]?
How much are you currently spending for [type of solution]?
Is there any flexibility in your budget in terms of being able to pull from other departments?
Do you know how much this might cost you (or your business) if this issue is not fixed?
Authority
Are there other people involved in your purchasing process, or do you have the final say?
What would a typical buying process look like at your organization, specifically for [type of solution]?
Who else do you think we should involve in this conversation?
Need
Where does [problem your solution solves] sit on your priority list?
What are some things you like about your current [solution/vendor] you are using?
What are some things you'd like improved about your current [solution/vendor]?
Is there anything you've tried in the past to solve this problem?
Timeline
When are you looking to [implement this solution or solve this problem]?
Is there anything happening within your organization that could put a hold on your trying to find a solution to this problem?
Are you currently in any contract or commitment with a current [vendor/supplier/solution provider]?
To make it easier for you to remember these questions and include them as part of your lead qualification process, we've also created a free downloadable checklist, which you can print out and place in your workspace.
Asking these questions has two primary benefits. The first is that it allows you to do what the BANT method is intended to do, which is score and prioritize sales leads. The other, lesser-appreciated benefit is for the lead, as you can honestly tell them if your solution is a good fit for them.
For example, if the prospect told you they wanted usability improvements or customizations compared to their current solution provider, but your unique selling proposition is strictly low cost, you likely are not a good fit for that lead. Furthermore, if they indicated a tight budget that's far from the prices you can offer, it wouldn't benefit them to invest in your solution.
4. Keep a Two-way Dialogue
The purpose of the sales call and the BANT process is to determine the fitness of your solutions to that person's need, which requires a back-and-forth conversation. However, salespeople often dominate conversations during sales calls, which is far from optimal because it limits your ability to ascertain the customer's needs. Once you're in the middle of the sales call, make sure to keep the entire conversation as a two-way dialogue.
Allow the person to open up about the problems they want to be solved and what they feel their solution options are. Use those questions you developed and weave them into the conversation. This prevents the lead from feeling like they are in an interrogation if you were to just sound off a bunch of questions consecutively.
It's also an excellent idea to build a strong rapport with them early in the conversation by asking more personal questions like "How long have you been at the company?" or "Where are you calling in from?" Having an interpersonal touch early on builds a more comfortable environment and makes the person more likely to provide better information to you.
5. Take Notes
Throughout your conversation, document the information obtained during the dialogue and as you ask questions. These notes become your evidence when scoring and ranking your leads.
We recommend using your customer relationship management (CRM) system to take and store your notes. CRMs like Pipedrive, HubSpot, and Salesforce offer easy-to-use features within lead records that include conversational notes. You can use these notes for reference and collaborate with other team members as CRM data is shared throughout your organization.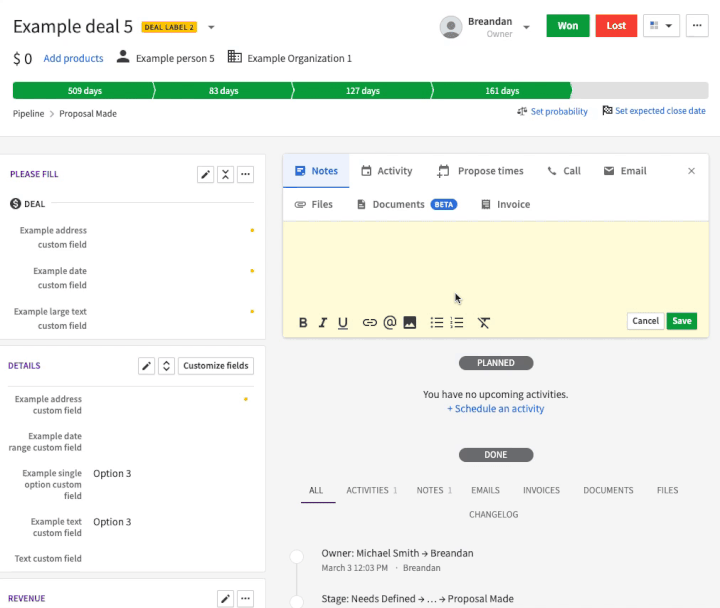 ---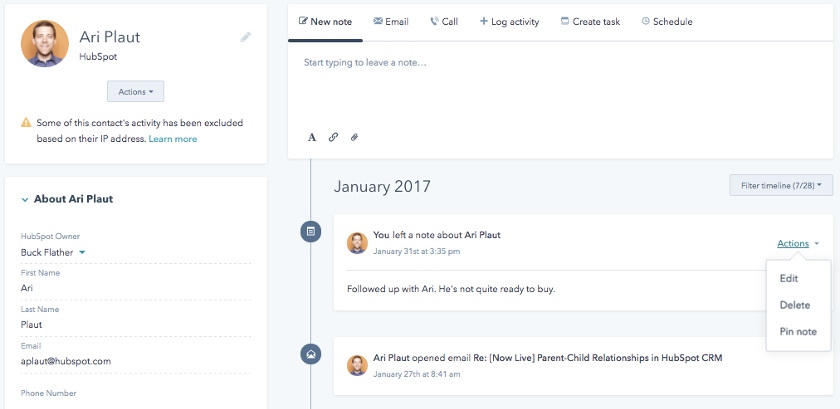 ---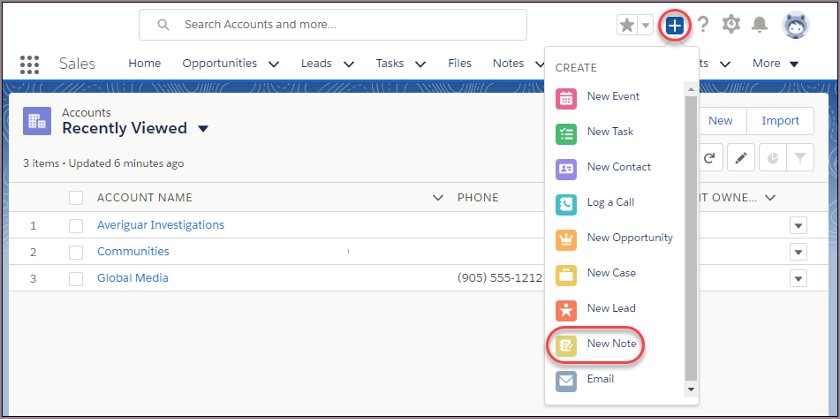 ---
6. Score & Prioritize Your Leads
The BANT process acts as a de facto lead scoring tool where you assign points to each lead depending on if their budget fits your solution, they have the authority to make a decision, your solution fits their needs, and if the timeline matches up. Based on the insights you've gathered about a lead, convert them into quantifiable metrics so you can make data-backed decisions about which to prioritize.
Start by establishing lead scoring criteria and developing a point system. A step-by-step process for how to do this can be found in our article on how to use lead scoring. Once the system is set, assign points to each lead and create a ranked list. Leads with higher points will rank at the top and be prioritized during your day-to-day sales activities.
If they don't rank high because of information gathered during your BANT analysis, this doesn't mean you should stop pursuing them—it just means you may want to wait. For instance, if a lead was scored low because their budget was far from what you could offer in pricing, try reaching out again in six months or so to see if their financial means have changed.
Even things like the authority and needs of a buyer change with time. The prospect could get a promotion, putting them in a purchasing position, or find themselves with new pain points your solution is well-equipped to solve. The sales process can take months or even years―patience and persistence through periodic follow-up is an essential part of effective sales management.
Pro tip: Take advantage of the lead scoring tools in CRM software to organize your priority leads. In addition to BANT methodology, you can configure your lead scoring system to assign points for marketing-related actions such as opening an email, clicking a link, or downloading a piece of content. Popular CRM products like Zoho CRM let you view individual scores in a lead record or as a list view.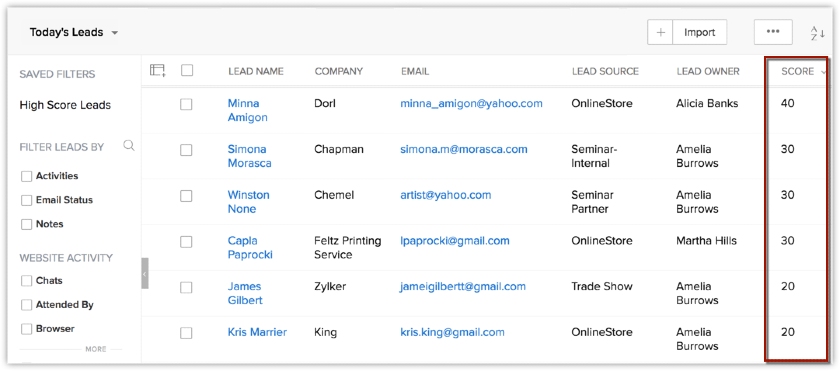 ---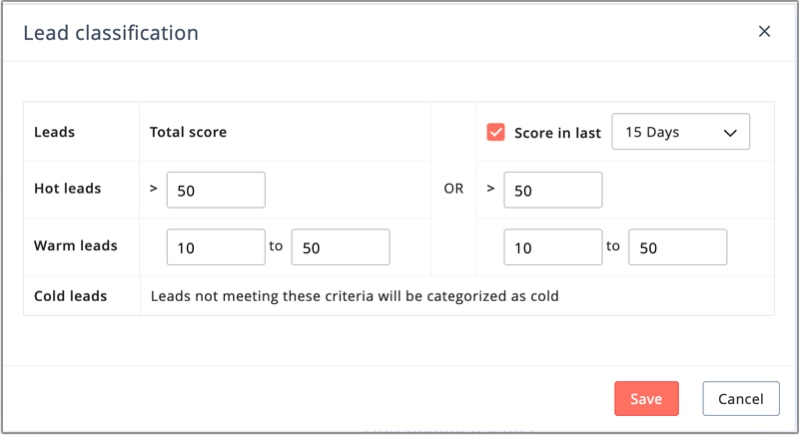 ---
Bottom Line
The BANT strategy helps minimize time wasted on bad opportunities and helps each lead navigate their solution options. By using our step-by-step process to refine your sales techniques and relying on time-saving software tools and best practices, you can easily incorporate the BANT method into your sales operation.