How to Write a Business Proposal in 7 Steps (+ Free Template & Examples)
A business proposal lets a prospective client know exactly what work will be done, when it will be completed, how much it will cost, and why the offering firm is qualified. It can be either in response to a request or sent as a proposed solution to gain the interest of a lead. In this article, we explore the different types of proposals and how to write a business proposal, along with a free template to get you started.
Free Business Proposal Template
Creating a business proposal from scratch can be a tedious process, particularly if you've never written one before. That's why we've created a free business proposal template you can use to follow along with our step-by-step process as you design your proposals.
Our free template speeds up the process and helps to ensure you create a document that includes all the essential components of a successful proposal, but you can also create your own business proposal from scratch simply by following these steps:
1. Determine Your Business Proposal Requirements
The first step in how to write a business proposal is understanding what your prospective customer needs it to include. Formal requests for proposals (RFPs) usually lay out the specific requirements a business needs to make a buying decision. At a minimum, these requirements typically include detailed information about the proposed solution, product, or service, the implementation/delivery plan or timeline, and the total price.
Even if you aren't responding to a formal RFP, you want to think critically about what other information may be necessary for the lead decision-maker to make a purchasing decision. Ask yourself what would you need to compare your product or services with competitors and include it in your sales proposal. It's also good to be prepared to provide qualifying information about your business, its purpose, and prior experience solving similar business pain points.
2. Gather the Necessary Information
Once you know what your prospect or customer requires, it's time to detail how your products or services fill those needs. This step may require you to gather additional information like your inception story, mission, or unique selling proposition. This information can be taken from your website, but you'll want to be prepared to customize language so that solution you plan to propose appears more personalized to the proposal recipient.
You should also put together additional supporting information such as a client reference list, project/client samples, and testimonials. This helps prove to the potential client that your experience is adequate and you are fully qualified to fulfill their needs.
Pro tip: Rather than scrambling to organize all of the information you'll use for your proposals at every opportunity, use customer relationship management (CRM) software to store your sales information and documents. Popular CRMs like Pipedrive, for example, let you centralize your sales files in one system where all of your team members can access them. They even have a SmartDocs feature to easily create fillable proposal templates.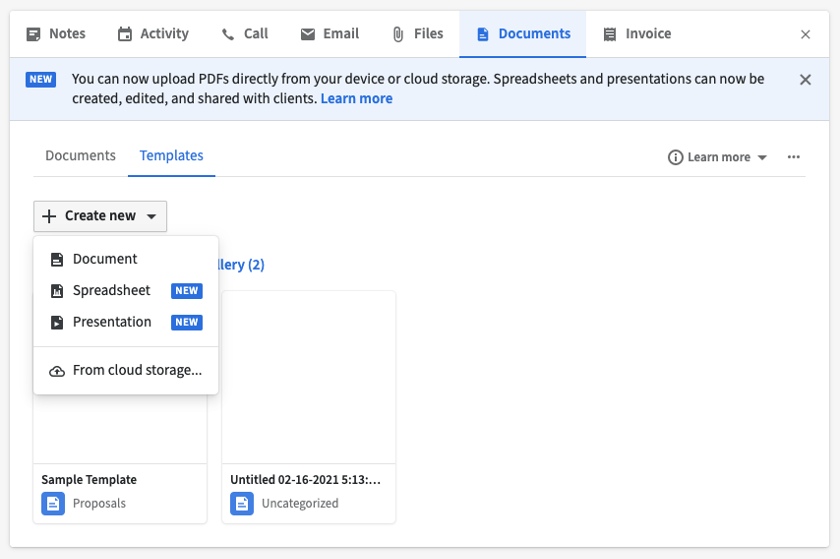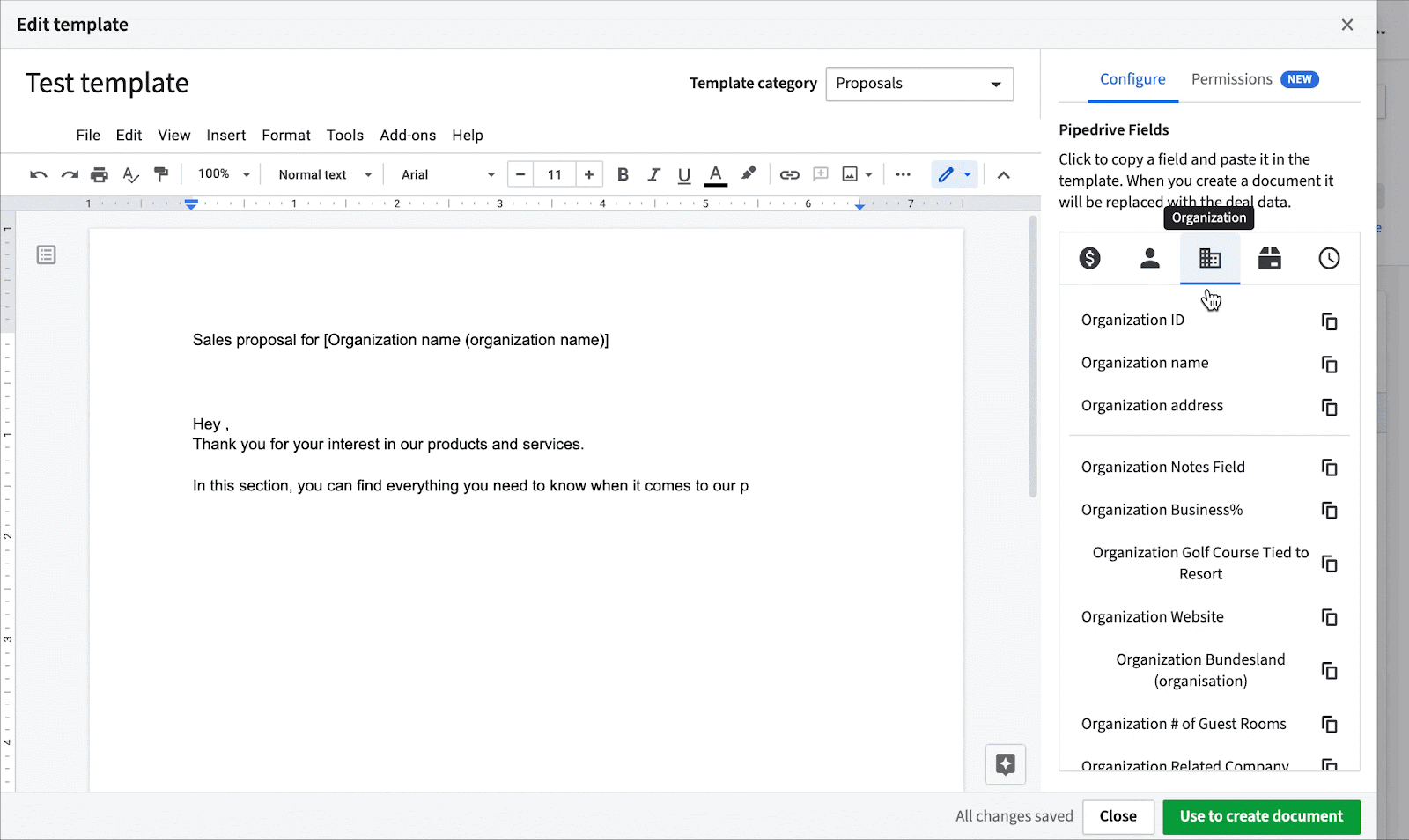 3. Generate Your Proposed Solution
The next step needed to create a business proposal is to define exactly how your proposed solution meets their statement of needs and what they should expect from you if they accept your proposal. This step will help you fill in the scope of work section in your final, written proposal. If you use work order forms, master service agreements, or already have a generic scope of work document, you can tailor these to fit the client's needs.
If you don't have formal documents you can use as a starting point, use the five Ws and one H methodology, like shown below, to construct a scope of work your proposed solution.
Who: Who will be involved, do the work, manage it, and be a point of contact if something goes wrong?
What: What solutions will be delivered and what resources will be used?
Where: Where will work be done or be delivered to?
When: When will the work start and be completed, and what are the key milestones throughout the project?
How: How will work be done, be managed, and ensure high quality and customer satisfaction?
Why: Why did you choose this particular solution for this customer's needs?
Let's use an example to illustrate this methodology for how to write a business proposal. We'll say that a prospective client, International Sales Corp, issued an RFP requesting HR consulting services to improve their sales culture. They go into detail about issues with their current system, such as high turnover, a toxic environment, and low job satisfaction.
As an HR consulting firm and after collaborating with your team, you've come up with the following proposed solution:
The objective of this business proposal is to demonstrate how ABC HR Consulting can improve the sales culture of International Sales Corp.
We believe the best course of action is to begin individual weekly coaching sessions for each of your sales managers (what) beginning in March 2022 (when). The coaching will focus on being approachable to employees and creating a more collaborative environment. This will help with the "toxic environment" issues (why) and be led by our sales management specialist Kathy Green (who).
Furthermore, starting in April of 2022 (when), we will work with top-level managers to reconstruct your sales compensation plan and PTO policy (what). Full implementation of the new systems should be in place by June of 2022 (when). For compensation, we want to create a system that offers a balance between guaranteed and performance-based compensation. This will help with the "high turnover" and "low job satisfaction" issues (why), and be led by our compensation specialist Collin Buchanan (who).
Lastly, we will begin deploying numerous technology solutions, such as sales gamification software and performance management tools (what), for management and the sales reps. The objective is to improve individual performance issues (why) and promote healthy competition. All software will be fully installed and adopted by August 2022 (when). This will be led by our sales technology specialist Sydney Vanfleet (who).
To ensure high-quality work and client satisfaction, we will continuously monitor metrics associated with a poor sales culture, like turnover rates, job dissatisfaction, and individual performance, and make adjustments as needed. These adjustments could include more coaching sessions, hosting team-building activities, or additional training on the new technology (how).
All activities taking place and solutions will be delivered virtually from our home office (where).
Pro tip: Use customer relationship management (CRM) software with built-in project management features to help easily transition from managing a proposed deal to managing the project that implements the solution. Bitrix24, for instance, is a CRM that lets you manage projects on a Kanban, Gantt, or timeline chart. Additionally, users can convert deals in the pipeline into projects in the project management module.
4. Calculate Pricing
Pricing is often one of the most difficult parts of learning how to write a business proposal because there are many factors involved and numerous pricing methods you can use. Plus, you have to gear your pricing toward the specific solution you proposed, which is customized to potential client's needs. Pricing can either be a flat fee, an hourly rate, per unit, or various combinations of the three.
Start with the total cost of the project, then determine desired profitability. For instance, if your proposed solution involves 100 hours of two employees' time and 40 units of something like software subscriptions, find out that break-even point first. For each employee, take their salary + benefits + work comp + employer taxes and turn it into an hourly rate as shown below:
2 x $80,000 salary = $160,000
2 x $20,000 cost of benefits = $40,000
2 x $800 cost of workers' compensation = $1,600
7.6% of $160,000 for salaries employer payroll taxes = $12,160
Total cost annual of 2 employees = $213,760
Total hourly rate of 2 employees = $213,760/1,920 hours x 2 employees = $222.67 per hour
For this example, we'll also assume that the unit's cost is $70 per unit. Therefore, the baseline cost for the proposed solution is $25,067. While you have the cost of the project, this is not what you price it at. Next, build in a contingency budget in case the project gets slowed down by something or additional costs are accrued. Instead of 100 hours and 40 units, you budget for 125 hours and 50 units, making your updated cost equal $31,333.
Your pricing still isn't complete, however, as you now want to add in the desired profitability. This is based on elements of your sales plan and could either be based on a percentage or a flat amount over the break-even point. Let's say you decide on a profitability percentage of 35%. The total fee you would charge ends up being $42,299.
Pro tip: To ensure you don't forget to include hidden costs in your pricing calculations, check out these seven free estimate templates to help you win more deals. These can be used to help break down costs associated with varying purchases to take into account labor and materials. The templates also are great for presenting costs to potential clients as they provide a layer of transparency that builds trust and increases confidence.
5. Draft Your Business Proposal
Once you understand the requirements, organize your information, craft your proposed solution, and know how you want to price the offering, you are ready to combine all the components of your proposal in a single written document. Per the free proposal template, you'll find there are many sections to include. This step in the process should also be supplemented with an in-depth editing process that has multiple eyes on each section to make revisions.
The best business proposal documents include the following sections:
Title Page
Your title page is what will appear on the front cover of the proposal. Add a proposal title, your logo, and the date. Indicate who the proposal was prepared for and include both the company name and the point of contact. Similarly, include who the proposal was prepared by, your company name, and the specific people involved.
Table of Contents
Since proposals contain a lot of information and detailed sections, be sure to add a table of contents that lays out the page numbers where each section and subsection can be found. If your proposal is being sent and viewed electronically, create your table to navigate the reader to a particular section if they click on the section name in the table of contents.
Executive Summary
The best way to describe this section's purpose is if a reader was to only read this part, they would have an understanding of your business and what you are proposing. Taking the HR consulting example above, here's an example of their executive summary:
With over 25 years of experience in building successful sales cultures, we are eager to assist International Sales Corp in their endeavor to lower turnover, increase employee satisfaction, and create a positive overall work environment. We plan to achieve this through teaching best practices within sales management, restructuring your compensation and PTO system, and utilizing top-of-the-line technology to improve individual sales production—ultimately enhancing organizational performance and workplace culture.
Company Background
This is the section where you introduce your business, its key leaders, and its purpose. Include subsections for your mission statement, unique value proposition, and company history. Also have pictures and biographies of some of your founders, executives, and key personnel related to your proposal offerings. Lastly, add in any awards or industry breakthroughs to highlight your successes and build trust.
Scope of Work
Based on the proposed solution you developed in step three, take what you decided and translate it into an easy-to-understand action plan. Make sure the scope of work is relevant to the statement of needs or problem set forth by the potential client. You also want to try to either avoid or translate industry-specific lingo the reader may not understand.
For example, if you are a cybersecurity business and your scope of work involves elements of implementing what's called the "Zero Trust Framework" strategy, briefly describe the components around this framework by stating:
This strategy takes into account the fact that most organizations have transitioned into cloud-based infrastructure. It works to ensure there is constant system visibility, network segmentation to isolate breaches, only users who need access to certain data and applications have that access, and accounts for both inside and outside security threats.
Timeline
While you may have mentioned a few dates and milestones in your scope of work, it's also a good idea to present a visually appealing schedule of deliverables. This shows task-by-task or milestone-by-milestone when it would start, finish, and the total length of time it's expected to take.
Pricing or Estimates
Based on the price calculation you did in step four, indicate the pricing to the prospective client. In addition to a total, you should also line item the incremental costs involved. While you might show a total flat fee, you can also show fixed rates such as an hourly or per-unit rate.
Use this section to indicate when payment will be required. For instance, you might require a certain amount of money upfront before work takes place and then another amount after completion. Also, explain if any portion of the payment is refundable in the event something unforeseen happens.
Conclusion, Terms & Appendix
Your conclusion should thank the reader for considering your business and explain who they can contact with questions or to move forward with the project. You can also include a client reference list or work portfolio for them to access and see the work you've done before.
Optional terms and conditions go into some of the dispute policies, confidentiality agreements, and other legalities involved in a working contract. Some proposals also contain an appendix section for visuals or other content cited in the proposal. For instance, if you talked about a product or material you plan on using in your solution, you might have the entire product catalog in the appendix section.
Pro tip: Professionalize your proposals by using a design platform like Canva. Canva makes it easy to turn ordinary documents into presentable proposals through free templates and design tools that are easy to use, even for those without graphic design skills.
6. Send Your Proposal
Once you've drafted and made your final edits on the proposal, you're ready to send it out for review. Please note that some RFP requirements are strict on how and when submissions need to be made. Make sure you understand every little detail of these requirements since it could disqualify you from contention if they aren't followed.
Give yourself ample time to draft and submit it and take into consideration transportation time, particularly if a proposal is required to be hand-delivered. If you mail, email, or upload your proposal into a portal, confirm with the recipient that they received it on their end.
7. Follow Up With the Recipient
After you send your proposal, follow up with the prospective client and see if they have any questions or concerns. There's a good chance they'll have items they want to be clarified and that there will be another step involved in the procurement process, such as an interview, sales call, or meeting.
Use a CRM such as Zoho CRM to track all of your opportunities and where they are in the process. You can even create a custom stage in your process called "post-follow up" so you know which proposals are in development, which have been sent, and which have been followed up upon.
Types of Business Proposals
All business proposals are used to present a solution, mostly to another organization or government entity. Ultimately, the types of proposals you send depend on the formalized process and specific needs of your solution requested by other organizations.
Solicited business proposals: Proposals sent after a formal request for proposal (RFP) was issued or a lead specifically asked for one during the sales process.
Unsolicited business proposals: Proposals sent to potential customers without explicitly requesting one. This is generally used as a sales tactic to present a problem statement, proposed solution, and how the company can implement that solution.
Did you know?
For solicited proposals, most formal RFPs issued by large organizations, universities, or local, state, and federal government institutions will have detailed requirements on proposal sections, formatting, and how to submit the proposal. This may be quite different than a sales proposal you send to a lead in the sales pipeline, which will have your own consistent format.
Bottom Line
If you're a sales management leader, you need to have a plan and process in place regarding how to write a business proposal. Whether you're responding to an RFP or using a proposal to present a solution to a sales lead, these formal documents allow you to prove your qualifications and present a detailed solution to a prospective client's needs.