An employee database is a spreadsheet that contains essential information about each employee. This information can be used to track employee performance, run payroll reports, and more. 
Follow the steps below and with just a little bit of effort, you can turn your Excel spreadsheet into a powerful employee database. Download our free template to help you get started.
Step 1. Collect Information
To create an employee database in Excel, you'll first need to collect and collate the information you'll be tracking. Some of the most common employee information to keep track of in your database includes:
Employee Name
Birth Date
Address
Contact Details
Job Role
Supervisor/ Department Details
Pay Rate
Start Date
Step 2. Create a New Spreadsheet & Name Your File
Open Excel and click on the "New Blank workbook" box. This opens a new blank spreadsheet.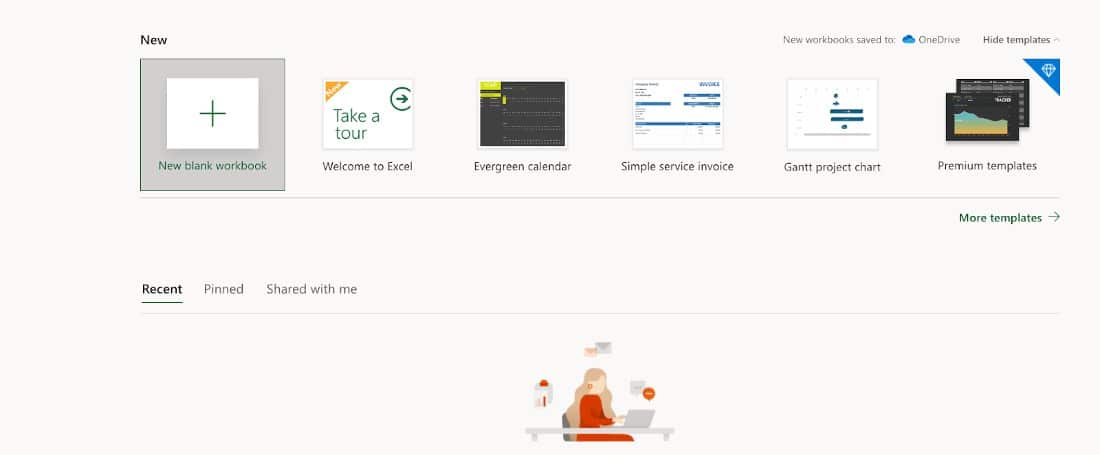 Start by creating a title for your employee database. We'll go with "Employee Database – Template." Do this by clicking "File" and then "Save As." In the top left, you'll now see your file has a name.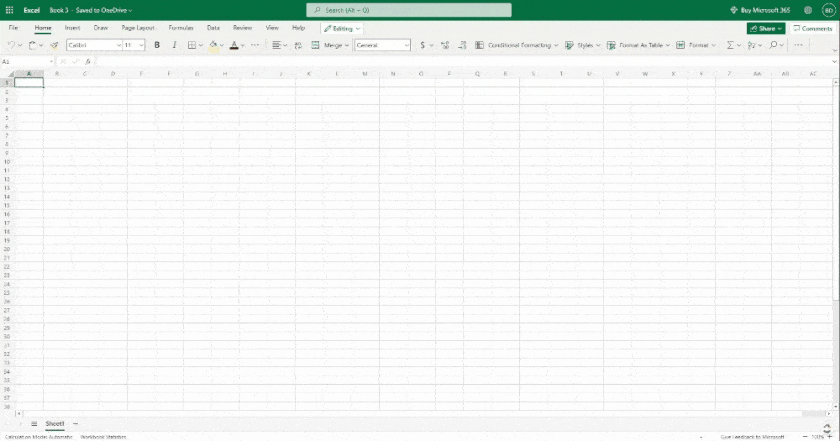 Step 3. Add Columns to Your Spreadsheet
The columns you add will depend on the information you want to track for each employee. The most basic information to keep track will be the employee's name, birth date, address, phone number, department, job title, manager, pay rate, and start date. To enter these fields, type each one in row 1. We recommend bolding and centering them so you know they're the column titles. It's also nice to freeze the row if you have lots of employees for easy viewing.

Remember, these are templated columns, and you should configure this to fit your company's needs. If your company has lots of employees, then you may want to include a column for "Department" or "Team" so that you can easily narrow down a search. You do that by right clicking at the top of the column to the right of where you want to add a new column, then click "Insert Column."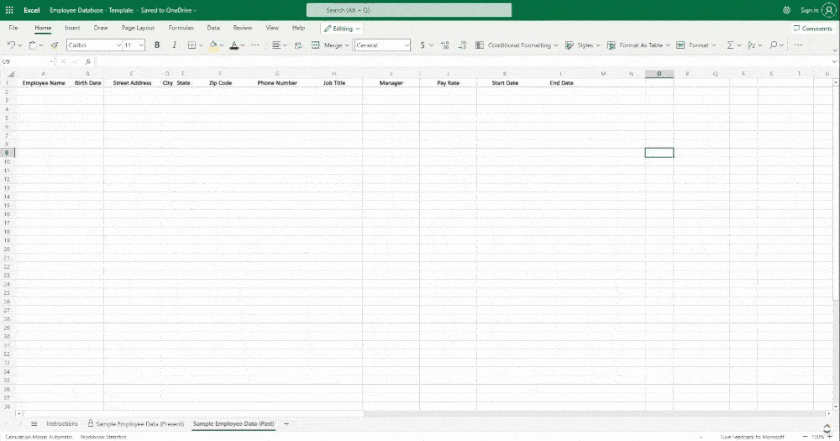 If you're a fully remote company and provide computers or other costly items to employees, then you may want to keep a list of the serial numbers for each item so that you can retrieve the items when an employee leaves your company. Just don't include too many columns—only the necessities. Too much data, and you'll overwhelm your data entry whenever you hire a new employee or when you need to run a search.
Notice we haven't included Social Security numbers in this example. That's because we don't recommend putting confidential employee data in a spreadsheet—that information should be kept in your company's personnel files or your HR software. Those places provide much greater security than an Excel spreadsheet, which could get into the hands of an employee who shouldn't have access to confidential employee information.
Step 4. Enter Employee Information
Here's where you enter your employee data. We'll put a few fake employees in here so you can see what it looks like when filled in.

It's vital that you enter this information every time you hire a new employee. If you don't do it right away, you may forget and make the spreadsheet an inaccurate or incomplete source of information.
Step 5. Set Permissions & Access
Although we recommend against entering confidential information in your Excel spreadsheet, it will contain personal information about your employees. You'll want to restrict access to this sheet, giving permission only to specific employees who need to reference this information.
Make sure you share the sheet only with authorized users. Click "Share" and enter specific user email addresses to give access to only the people who need it.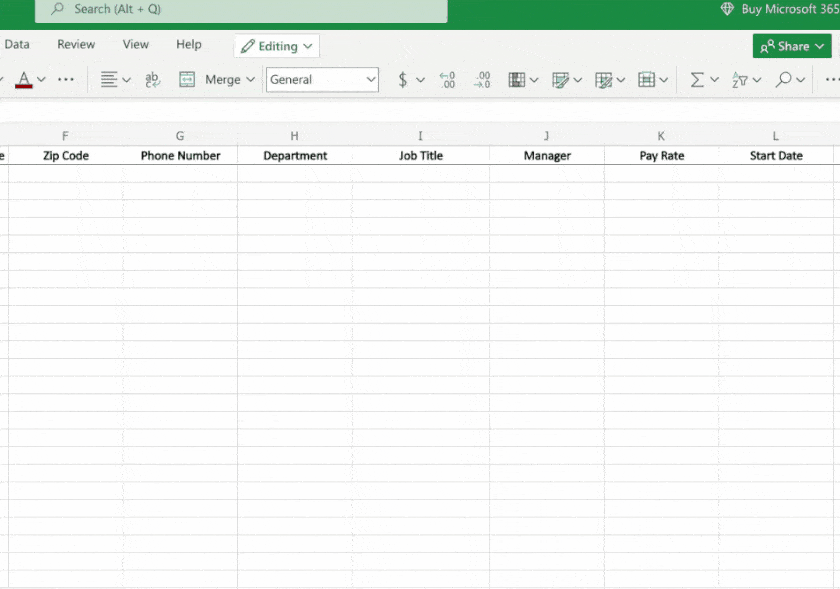 Then, protect the sheet further by restricting what data users can edit. You see in the gif below that you can click "Options" to expand more detail on which cells, columns, and rows are protected, or you can protect their entire sheet. This will restrict anyone else's ability to edit the sheet. If you're going to be the only person entering and editing data, you may want to leave all of the protection options unchecked so you're the only one who can change data.
Step 6. Keep Your Employee Database Updated
Make sure you update this file regularly—we recommend doing so at least annually. As you grow, consider creating a data entry form to have your new employees enter their information so that it auto-populates in your spreadsheet. This would also be useful to have your existing employees update annually or as their personal situation changes.
When you keep your employee database in Excel updated, it makes it easy for you to keep track of your current employee headcount, employee tenure, and payroll details (to help determine how much of your annual revenue goes toward your payroll costs). Without an updated employee database, you'll need to go digging in files and systems every time you need to find employee information.
Bottom Line
An employee database in Excel can be a valuable tool for any small business. It can help you keep track of employee information and make it easier to access employee data, though the larger your company, the more likely you are to need employee software instead of a spreadsheet. Creating an employee database in Excel is a simple and free process that only requires a few steps. Get started today with our free template.
Need More HR Excel Templates?
Check out some of the other Excel templates we have: