Recruiting the right hire can be a long process, with different job application platforms, multiple interviews, and even online testing. A good recruitment tracker Excel template can help you and your team keep track of all that information. By harnessing the analytical power of Excel, you can use your data to improve your hiring procedures. We've created two free applicant tracking spreadsheet templates. One is designed for the hiring team and one is for the hiring manager/HR. You can download and customize either to fit your company's needs.
Why Use an Applicant Tracking Spreadsheet?
If you are only hiring a single worker once in a blue moon, then you may not need an applicant tracker. However, if you are hiring with a team of managers, experience high turnover or seasonal hiring surges, or are experiencing a cycle of growth, then an applicant tracking template can keep you organized and on top of the information. In addition, it can help with:
Team communication: Anyone on the hiring team can see at a glance where an applicant is in the process, what other people's impressions were (as long as notes are recorded), and how a candidate fared in each part of the process.
Organization: By recording dates and tracking steps, you can ensure a qualified candidate does not fall through the cracks because a call was not scheduled, for example.
Analysis: By having the tracker in Excel, you can also manipulate the data to gain insights. What referral process brings the most candidates and the best candidates? Where are most candidates falling short in the process?
Process improvement: For example, if candidates are doing well in phone screening then failing the first interview, you may need more stringent phone screening processes to weed out the weaker candidates. Or, maybe you're not seeing a correlation between online test results and the best candidates—and in this case, you might be able to drop that program and save some money.
Diversity analysis: While no one should be judged on race or gender, businesses are concerned that they are reaching out to a diverse hiring pool. An applicant tracker can help you determine if you are reaching a wide range of demographics.
Free Recruitment Tracker Excel Template
We created a recruitment tracker in Excel for tracking applicants through the recruiting process. You can download them for free and then customize as needed for your specific hiring or industry needs. You can also share it with your hiring team so that everyone is working with the same data.
We did not include certain information, such as phone numbers or gender classification, in the recruiting tracker sheet. Also, since it is designed to help your team, its information is best kept by HR in a password-protected file. We also created an HR Applicant Tracker, which includes needed but sensitive information, where you can track all candidates for all positions.
Need something more robust? If you have high turnover or are undergoing rapid growth, then an Excel sheet may not be enough. We recommend Freshteam for a full applicant tracking, hiring, and onboarding package. You can start with its free plan and post up to three jobs at a time. Sign up today.
How to Use the Recruitment Applicant Tracker Template

Download the Recruitment Applicant Tracker
Using a tracking template not only keeps applicant information at your fingertips but also makes it easy to check on status, feedback, red flags, and other information that's important to the hiring process. Let's look at each element and how it's best used.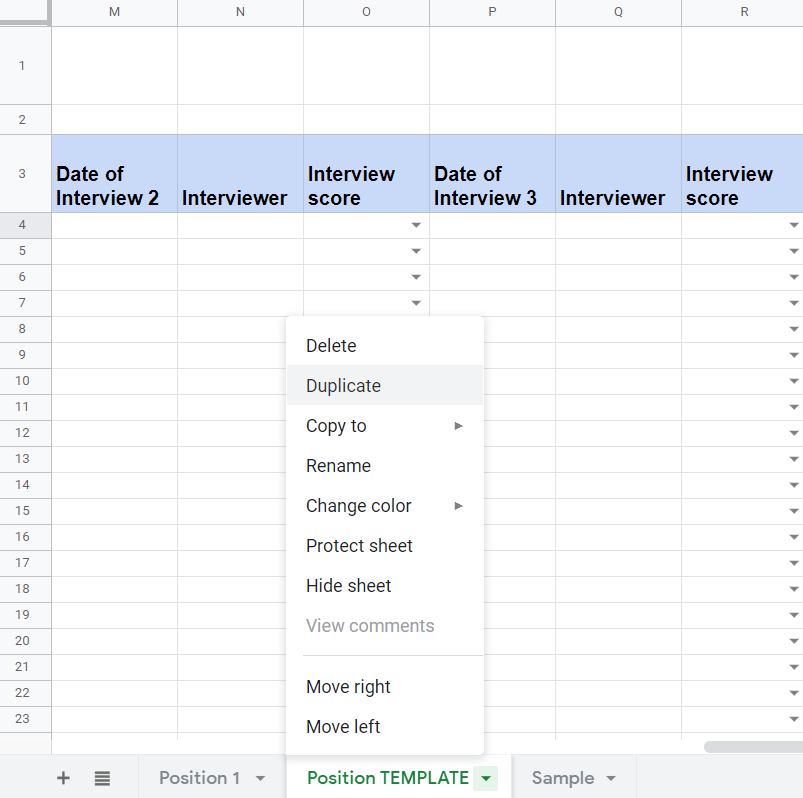 Position: We created the spreadsheets to be job-specific. At the bottom of the file, you will see tabs marked Position 1, Position TEMPLATE, and Sample. Position 1 is ready for you to fill out with your first job. Save Position TEMPLATE for future jobs. (You can modify the cells to fit your applicant procedures.) When starting a new hiring process, right-click on the Position TEMPLATE tab and select Duplicate. This will create another tab that you can rename. The Sample tab shows you how you might use the template.

Row 1: At the top of the page is a place for you to put the job title and description. This is for the edification of your hiring team only. You can copy and paste this from the official job posting or put a summary of what interviewers should be considering.
Row 2: Here, you can put the department you are hiring for or the responsible hiring party, whatever information is most important for the team to keep in mind.
Row 3–103: We set this up for 100 candidates. If you need more, highlight and copy an entire row, then paste it. That will let you keep the menu choices.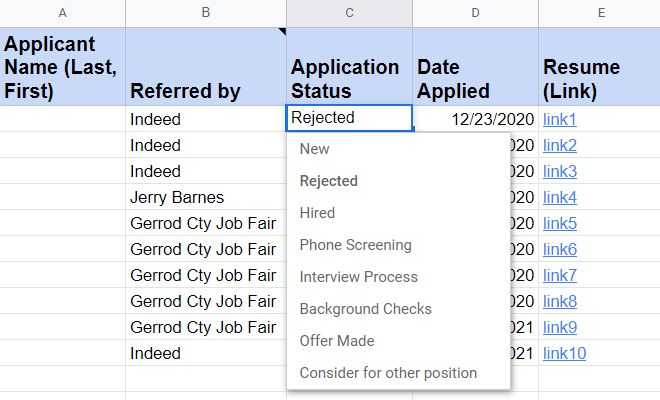 Column A: Be sure to put the applicant's last name first so that it's easy to sort alphabetically.
Column B: Knowing the reference can help give insight into the candidate. For example, if an employee refers someone, you can ask them about the candidate. You can modify this column by making a menu of choices, but we chose to leave it filled-in so you can get more precise (like referral names).
Column C: The application status lets you know where in the process a particular candidate is. You can also use color-coding to make it easier to spot active vs rejected candidates. If you like a candidate but not for that job, the "Consider for another job" option is useful.
Columns D & E: Date applied is self-explanatory. Resumes can be referred to with links or notes as to where they are stored.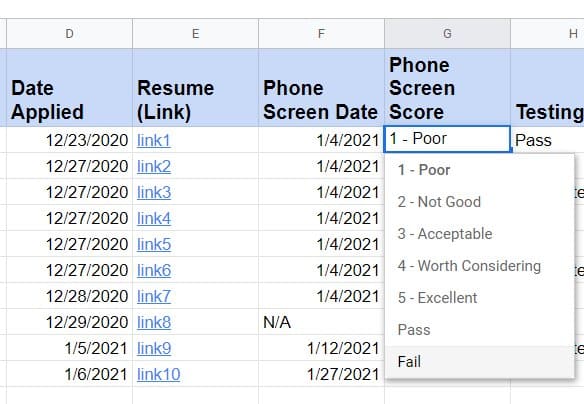 Columns F & G: If your company has a policy of phone screenings, quick interviews to weed out unqualified candidates, then record here. The menu choices for scoring offer a pass/fail option as well as a scale of 1–5. The menus are easy to change if you prefer something more specific, such as PASS/FAIL, UNQUALIFIED/FAIL, UNINTERESTED/FAIL, POOR COMMUNICATION, etc.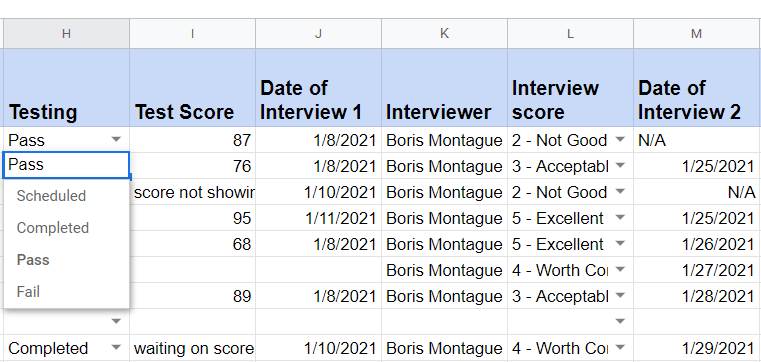 Columns H & I: Some companies ask potential candidates to take online or in-person tests such as for analytical skills, word processing, or trade skills. Here, you can track if the candidate is scheduled or has taken the test, as well as their score. We left the score as a fill-in to accommodate the many ways that one can be graded.
Columns J–R: We allowed for three interviews, but of course, you can either delete some columns or leave them blank.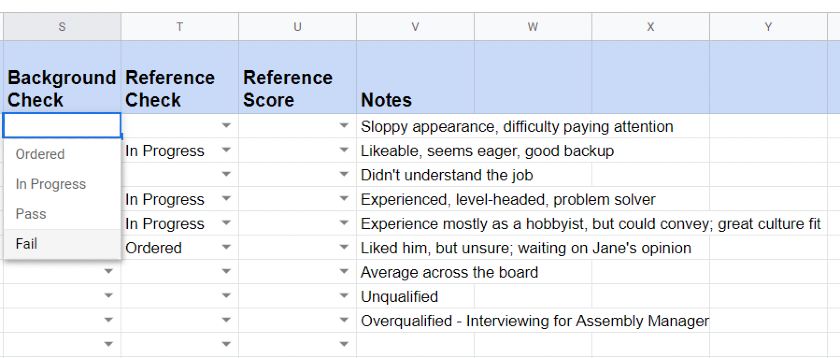 Columns S–U: At any point in the process, you may want to conduct a background or reference check to verify qualifications. (Drug testing is in the HR Applicant Tracker.) The background check menu offers a simple pass/fail in addition to scheduled vs complete. The Reference check offers a place for a score.
Column V: Offer any notes here. You can also make comments in any of the cells—for example, if you want to make a note that an interview had to be rescheduled or add some kind of explanation about a test score.
How to Use the HR Applicant Tracker Spreadsheet

Download the HR Applicant Tracker
This template is similar to the recruitment tracking work sheet but has a bird's-eye view. You can list all jobs and applicants. However, rather than all the details of interview ratings, this holds the contact and demographic information, the overall progress (such as latest interview date), and the hiring results. It, too, has drop-down menus so that you can keep notes consistent.
We set this up for 100 candidates. If you need more, highlight and copy an entire row, then paste it. That will let you keep the menu choices.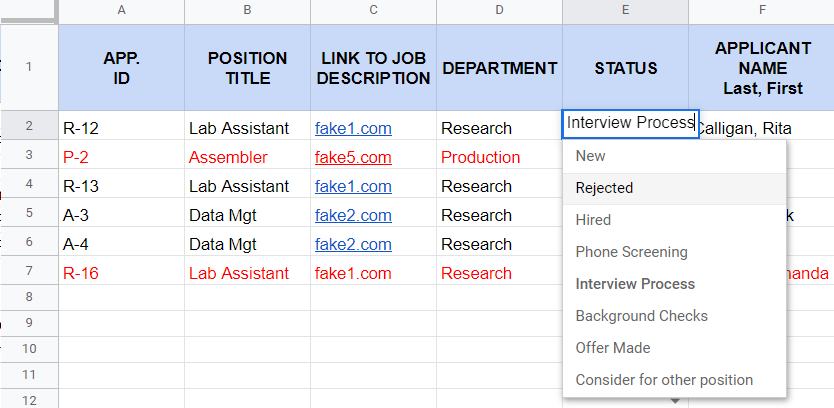 Column A: APP ID: This column is where you can put your own unique applicant ID code, whether an identifier from another system, an SSN, or an in-house identification method.
Columns B–D: This is the information about the job itself. One suggestion for customization is to add the hiring authority by name instead of the department.
Column E: We thought the status of the application was most important. Why scan columns of information to discover an applicant was rejected? If you want to, you can move this column elsewhere. We included a "Consider for another position" option in case you find a candidate that you'd like to hire for a different job or at a later time.

Columns F–L: This is the applicant's contact and demographic information. Demographics are important for HR considerations for equal opportunity employment, which not only impact the diversity of the company but can also result in tax credits. Nonetheless, this should be considered sensitive information that does not impact hiring itself.

Column M–O: This tracks the applicant's past and current work history. Link to the applicant's resume or make note of where it's stored if desired or link to their application.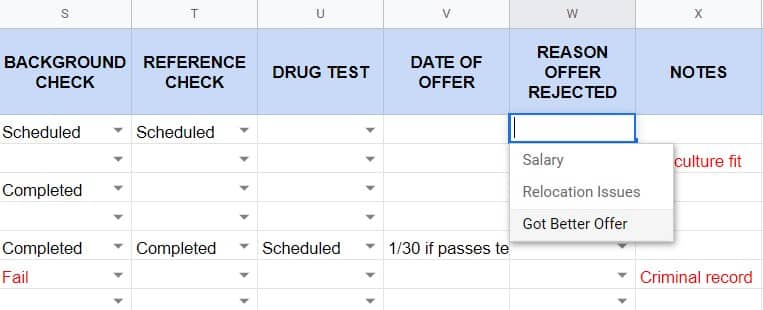 Column P: By noting where the applicant heard about the job, you can get insight into what venues get the most results and which generate the most qualified candidates. This can help you with future recruiting planning and knowing where to post job ads. One modification would be to create a menu of items.
Column Q–W: Here, you track the application process including interviews, background and reference checks, rejections, or offers.
Column X: Interviewers can record notes in the Recruitment Template. This is for high-level notes or additional comments.
Modifying the Template
Delete a Column: Go to the top of the page in the row with the letters. Right-click on the column letter you don't need, then select Delete Column.
Add a Column: Do you have a step or piece of information you want to track? Go to the top of the page to the row with letters. Right-click on a nearby column where you want the information, and select Insert. Excel defaults to inserting a column on the left, while Google Sheets gives you a choice.
Add or Modify Menu Choices: Start by highlighting the cells whose menu you want to change. Then go to Data in the menu. Find Data Validation.
Where to Find Other Recruitment Tracker Excel Templates
Smartsheet

Smartsheet is a project management platform that helps businesses manage and automate work, from employee onboarding to pipeline management. In addition to Excel-style templates, it has Gantt charts, calendars, card views, and automation of repetitive tasks. It also offers multiple templates for recruiting.
Indzara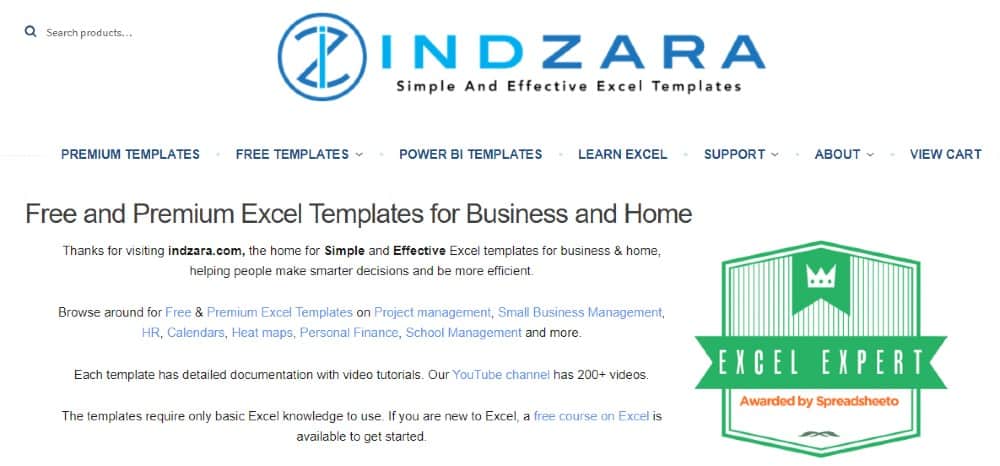 If you'd like to get more power out of Excel but don't have the time for the programming yourself, Indzara offers a multitude of Excel templates that you can download. Many are free, but it also offers premium templates for small businesses, project management, HR, and business intelligence. In addition, it has training videos for using the templates or learning Excel.
Someka Excel Solutions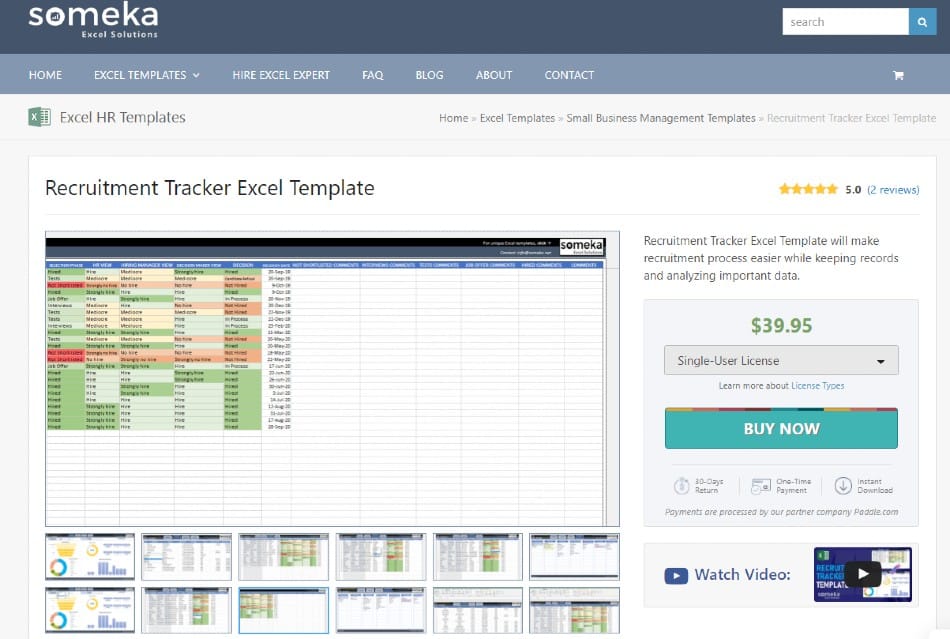 Someka offers a wide range of ready-made Excel templates for business or personal needs. Templates cost a one-time licensing fee. It offers a few free templates, mostly for home and family use.
You'll see the menu options under Criteria. Delete the ones you don't need and add those you want. Separate items with a comma. Then, click Save.
You can use the same process to create a menu of choices, such as for referral sources.
Bottom Line
Growing your company is exciting, though going through the process of hiring new people isn't always. Having an organized system and a central place to keep information and notes can make it easier. Download our templates and adjust them to your needs so that you can get to the interesting part of recruiting—finding the perfect new employee.