Free Employee Schedule Templates & Instructions
Using a free employee schedule template will save you the time of having to manually create one. You can choose from the templates below, depending on your business hours and scheduling pattern (such as one-day, weekly, 24/7, and shift), and download them for Excel or Google Sheets.
Daily Schedule Template
Weekly Schedule Template
24/7 Schedule Template
Shift Schedule Template
If you're looking to make employee scheduling easier, we recommend using top-rated scheduling software like Homebase. Its templates help you avoid scheduling overtime and make it easy to see your team's availability, time off, and scheduling preferences. Also, once you create your schedule, you can replicate it weekly. Homebase offers a free plan for businesses with only one location.
Continue reading for more detailed information on each of our free templates or view our video instructions.
1. Daily Schedule Template for Scheduling Employees
Use this daily schedule when you need to schedule employees day by day with specific information that they'll need for each hour or shift. This one-day schedule is great for service businesses that assign employees to specific kinds of work throughout the day and want to specify break and lunchtimes. What this daily schedule lacks is a way to show employees which days they're scheduled to work for the entire week; however, you can add a separate tab in your spreadsheet for each day.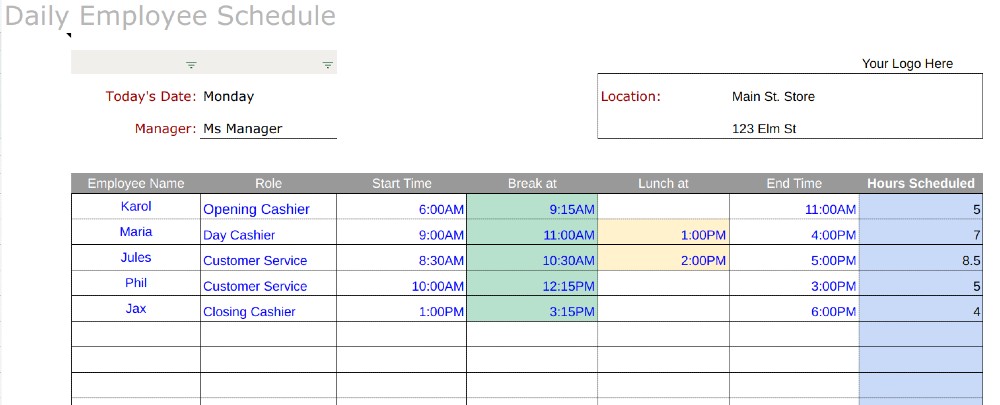 Modifying the Daily Employee Schedule Template
Once you download the template, input the names of your employees and their roles. Then, manually type in their start and end times for each day and indicate what role or work they'll be doing. You can insert additional rows if you need to schedule more than a dozen employees.
2. Weekly Schedule Template for Standard Work Weeks
Use this weekly employee schedule template if your staff works standard business hours (e.g., a retail or service shop that's open five to seven days a week). If your business is open Saturday or Sunday, there's room to input those hours. (Otherwise, you can delete the weekend columns.)

Modifying the Weekly Employee Schedule Template
This template is a bit more complex than the daily schedule template, as it allows you to input each person's start and end times for an entire week. You'll be able to see at a glance the total number of hours for which employees are scheduled to work. The weekly employee schedule template helps avoid overtime and ensures that you don't overschedule or underschedule your part-time workers.
3. 24/7 Schedule Template for Businesses Operating Round-the-Clock
This 24/7 employee schedule can help service businesses like senior care providers, security agencies, or manufacturing firms that operate multiple shifts by keeping track of employees throughout an entire seven-day workweek. It can also ensure that workers aren't overscheduled and that you have coverage at all times of the day.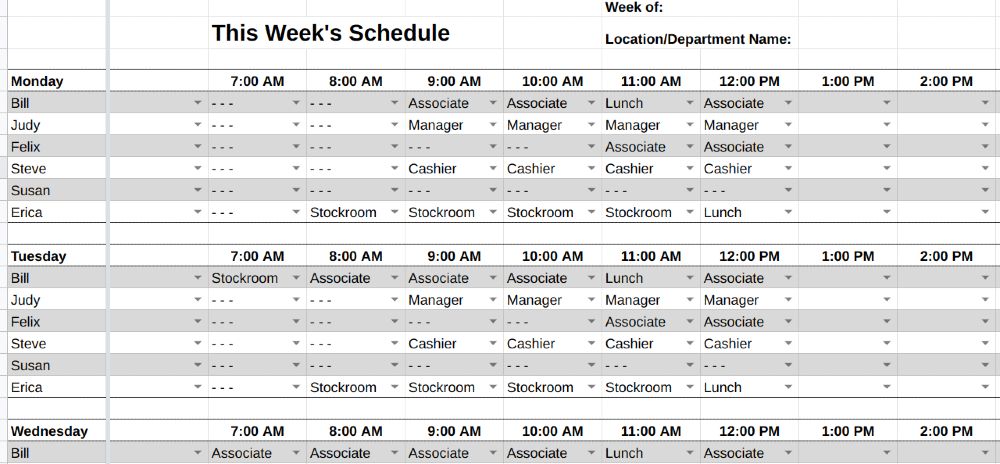 Modifying the 24/7 Employee Schedule Template
This template adds the ability to schedule employees around the clock. It contains a week's schedule on one spreadsheet. This 24/7 employee schedule template provides you with the ability to indicate the job role of each worker using a drop-down menu. Like the other templates, you can add rows and columns to customize it to your operation.
Because this template is a bit more complex, we've provided the four steps you'd need to follow in Google Sheets to customize your job roles:
Select the range of cells you'd like to change.
Right-click and select "Data validation."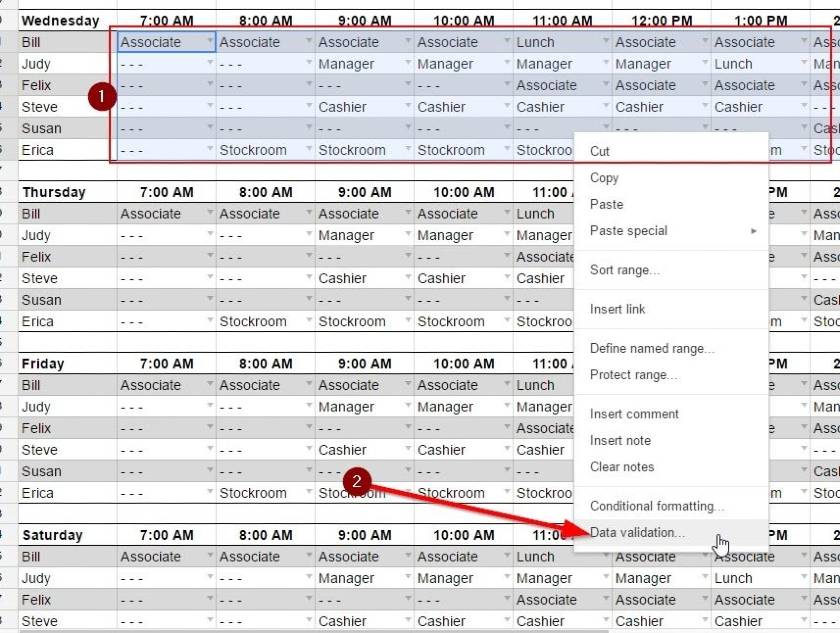 Criteria should be on "List of Items." Add the name of each position to the list (separated by a comma).
Click Save.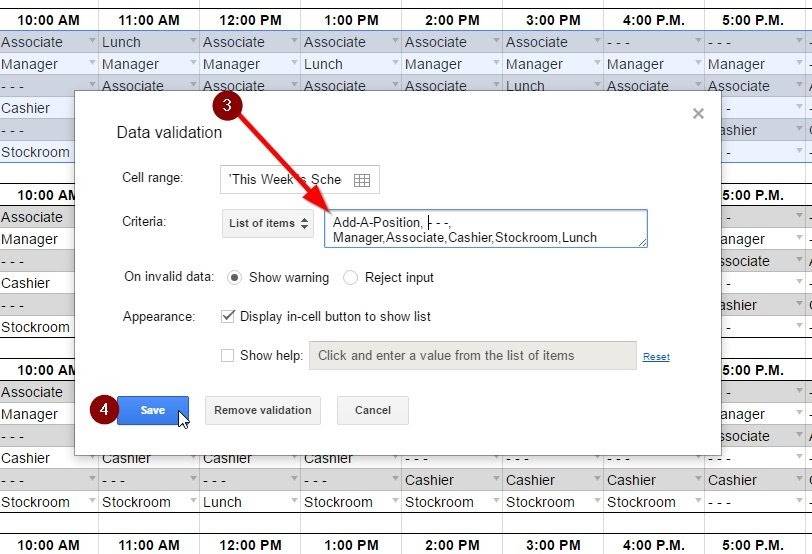 4. Shift Schedule Template for Restaurants & Retail
Most retail and foodservice businesses schedule employees around specific times of the day, or shifts. For example, your restaurant is likely to need more staff during lunch and dinner than midafternoon. Likewise, a small tourist shop may be busier in the middle of the day. This schedule accommodates those shifts easily and allows you to add more people at the times of the day when your business is busier. In addition, you can add details for each employee shift such as job role or assigned workstation.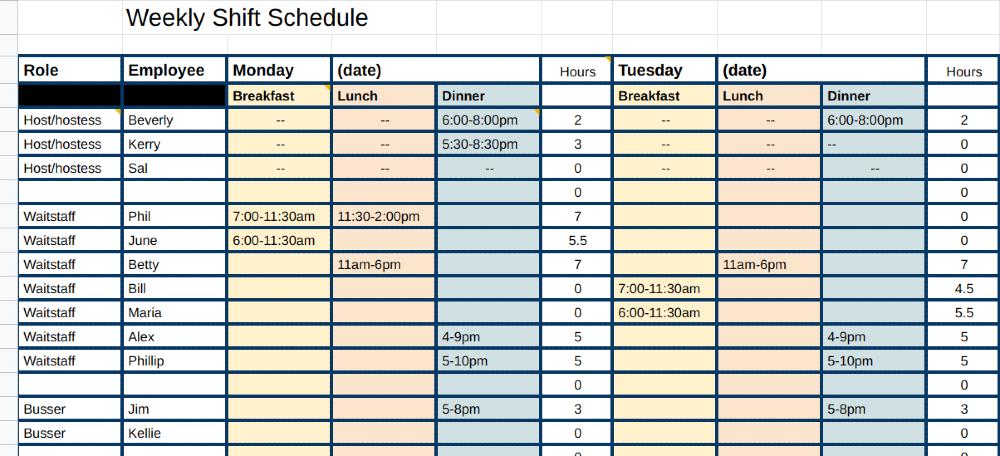 Modifying the Shift Schedule Template
You can change the names of the job roles by typing in each cell, or you can modify the names of your shifts by replacing the Breakfast, Lunch, and Dinner text. You can also customize your colors, add rows for additional employees, and add columns for additional shifts—for instance, scheduling only four hours per shift.
You can build employee schedules in most word processing apps, like MS Word and Google Docs. You'll simply use the table feature, adding days at the top and employee names on the left-hand side. Here are some MS Word schedule templates to start with.
Employee Scheduling Template Checklist
At a minimum, your employee schedule template should have information on when your workers are scheduled and what position they'll be working.
Your employee schedule template should include:
Timeframe: Your schedule should match your workweek. For example, a Monday through Saturday retail operation will likely use a six-day scheduling template.
Shifts: Workdays are typically divided into shifts such as the morning shift for a restaurant or opening shift for a retail store.
Hours: Include the start and end times of each employee's shift.
Worker Names: Include the name of each employee on the schedule.
Location: Indicate where each employee will be working. For example, you may have one worker on the register and another who will work in the warehouse.
Roles: Indicate the role that each worker will be assigned to if work duties change (e.g., an employee who normally works in electronics doing sales but will be scheduled for a four-hour trade show booth).
If you include the information above, you'll have an employee schedule template that can accommodate the needs of your small businesses in one location with a small team. Once your team grows or you need to schedule workers across multiple locations, you may need scheduling software.
Sharing Your Employee Schedule With Staff
Here's how to share a work schedule using Google Sheets:
Click Share in the upper right corner.
Add the names/email addresses of people who have permission to edit.
Leave a note informing people when the edit period will end.
Click Send.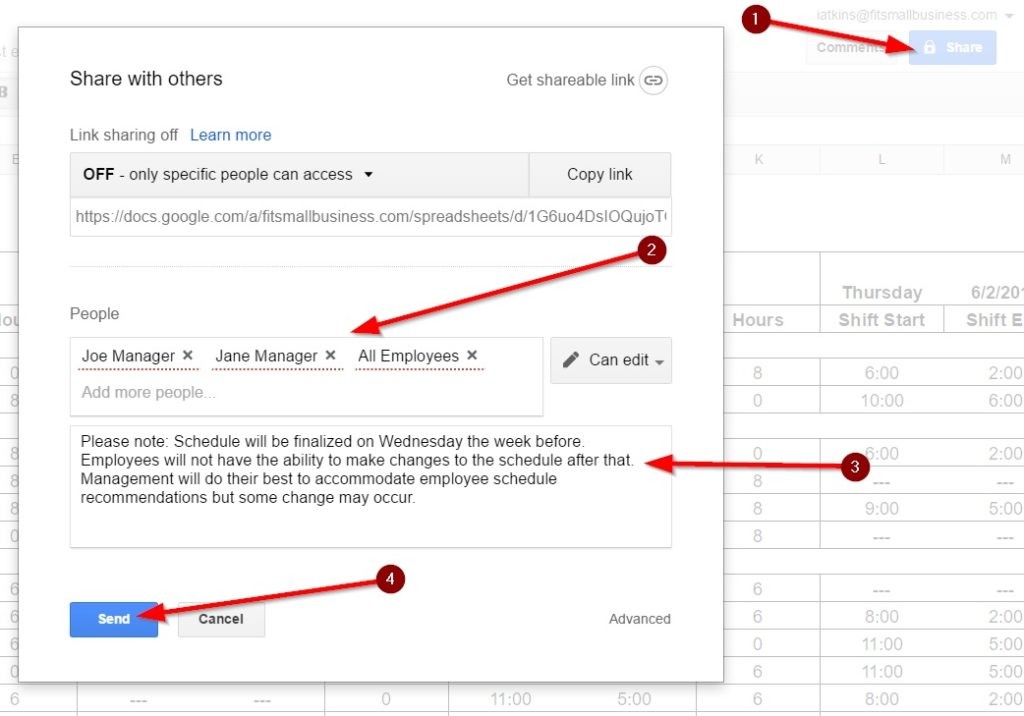 By sharing access to your employee schedule, your team may be happier with their work hours while you maintain control over the final schedule. You'll do this without the clutter and confusion of printouts, emails, or post-its, and everyone will have access to the schedule from any desktop, tablet, or smartphone. You can also make the schedule editable, allowing your employees to add their names to the shifts they want.
Alternatives to an Employee Scheduling Template
Employee scheduling software and apps are a great alternative to using manual employee scheduling templates. In addition, many have free plans:
| | | | | |
| --- | --- | --- | --- | --- |
| | | | | |
|   | | | | |
| Free Plan Option | For one location | For one location and up to 30 employees | For US-based users | For one location or department and up to 10 employees |
| Shift Swapping | ✔ | ✔ | ✔ | ✔ |
| Mobile Accessible | ✔ | ✔ | ✔ | ✔ |
| Multi Location Scheduling | Addt'l fee | Addt'l fee | ✔ | Addt'l fee |
| PTO/Overtime/ Break Scheduling | ✔ | ✔ | ✔ | ✔ |
| Geofencing/ Geotracking | ✔ | ✖ | ✔ | ✔ |
| Clock-in with Fingerprint, Badge, or Code | ✔ | ✔ | ✖ | ✖ |
| Customizable Reporting | ✔ | ✖ | ✖ | ✔ |
| Integration with Third-party Software | ✔ | ✔ | ✔ | ✔ |
| Simple Intuitive Interface | ✔ | ✔ | ✖ | ✔ |
Free Trial

14-Day Free Trial

7-Day Free Trial

Shift Swapping

✔

✔

Mobile Accessible

✔

✔

Multilocation Scheduling

✔

✔

PTO/Overtime/

Break Scheduling

✔

✔

Geofencing/

Geotracking

✔

✔

Clock-in with Fingerprint, Badge, or Code

✖

✖

Customizable Reporting

✖

✖

Integration with Third-party Software

✔

✖

Simple Intuitive Interface

✔

✔
There are numerous labor laws to consider when scheduling employees; additionally, there are federal and state labor laws that require you to keep different kinds of payroll documents, including time cards and schedules. While there are no federal predictive scheduling laws currently in place, some states and localities have them. For example, California has very specific labor laws that regulate hours, work schedule notices, and predictive pay.
Bottom Line
Employee scheduling is an essential part of running a small business. Our free employee schedule templates will save you the time you'd spend building your schedule from scratch. A well-communicated schedule is likely to help you reduce turnover and absenteeism and improve team productivity.
To make your life easier and take your employee scheduling to the next level, enlist the help of scheduling software like Homebase. It allows you to schedule employees, lets employees clock in, and tracks time on the go with a handy mobile app. If you only have one location, your small business will qualify for the free plan.
New to managing employees? Check out our guide to employee management for practical advice.