Customer retention is the ability of a business to keep its current customers. Customer retention rates are measured by looking at how many customers are lost over a specific period of time. Customer retention is important because higher retention rates are an indicator of customer satisfaction, which typically leads to better sales.
Having the right tools in place makes calculating your current customer retention rate a breeze. In fact, point-of-sale (POS) systems like Lightspeed will do it for you. Lightspeed Analytics will calculate your customer retention rate and provide you with a whole custom reporting suite so you always have the data you need right at your fingertips. Visit Lightspeed for a free 14-day trial.
How to Calculate Customer Retention Rate
Customer retention rate is the percentage of current customers you kept during a certain period of time. To calculate your customer retention rate, you need three numbers: customers at the end of that period of time, customers acquired during that period, and the number of customers at the start of that period.
Three numbers needed to calculate customer retention rate:
Number of customers at the end of the period (E)
Number of new customers gained during that period (N)
Number of customers at start of that period (S)
Here is the equation for calculating customer retention rate:
Customer retention rate = ((E – N) / S) X 100
For example, let's say you're measuring your customer retention rate for the last three months and you have the following data:
55 customers at the end of the three-month period (E)
10 new customers gained during the three-month period (N)
50 customers at the beginning of the three-month period (S)
((55 – 10) / 50) X 100 = customer retention rate
(45 / 50) X 100 = customer retention rate
.9 X 100 = customer retention rate
90% customer retention rate
In this scenario, you started with 50 customers, lost five, and gained 10 new customers, ending the three-month period with 55 total customers. Your retention rate is 90%—which is pretty good.
A customer retention score of 100 is the highest you can possibly have. That means you did not lose any customers during the time period you are measuring. The time period you should measure depends on what type of business you have. The expectation on retention rate will also vary by business type.
For example, if you have a coffee shop, it is very possible many of your customers are regulars that stop in almost every day on their way to work. So, you may want to measure retention on a weekly basis. If you have a spa, you may want to measure customer retention over a period of six to eight weeks. If you have a boutique or retail store, you may want to calculate retention quarterly.
Why Does Customer Retention Matter?
Higher customer retention rates almost always equal more sales and higher profit margins. Repeat customers spend more per visit than new customers, are easier to market to, and are more likely to send referrals. Plus, acquiring a new customer can cost five times as much as retaining a current customer.
Here are four ways improving customer retention can positively improve your bottom line: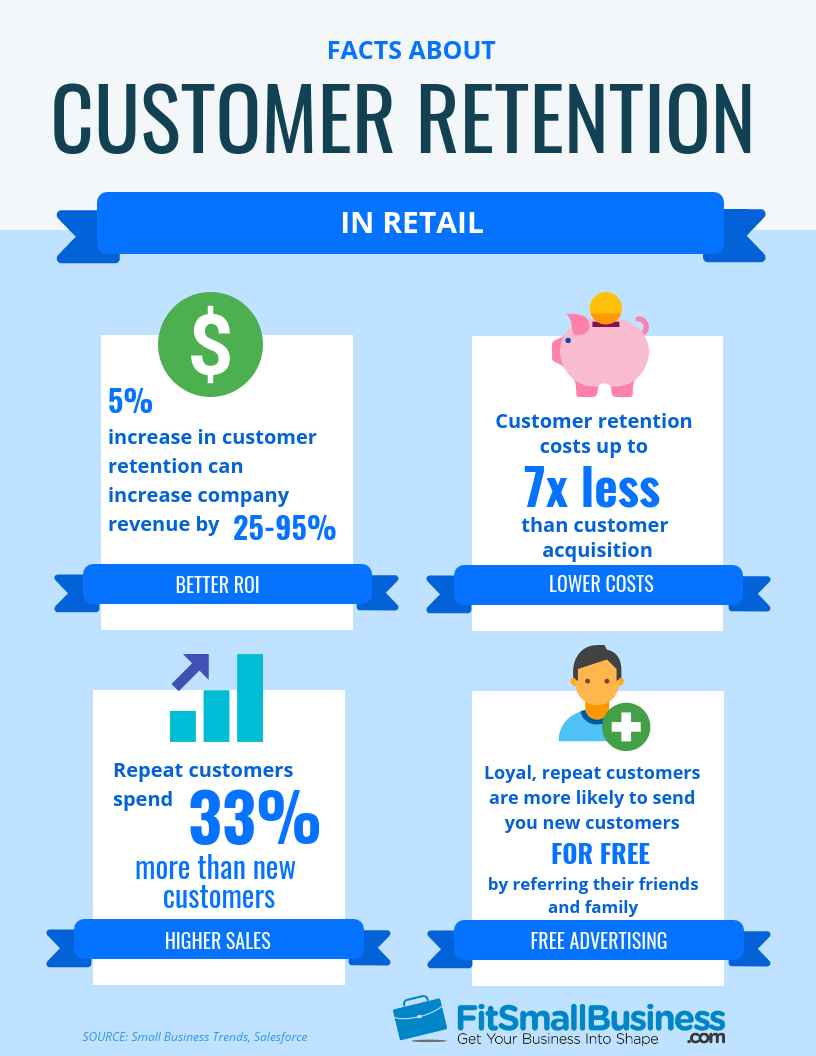 Better ROI & Lower Costs
A simple 5% increase in customer retention can increase revenue anywhere from 25% to 95%. Customer retention costs up to seven times less than customer acquisition. Of business owners surveyed, 82% agree that it is easier and less expensive to keep your current customers than to bring on new ones.
Acquiring a new customer requires lots of advertising. It's said that customers need to see an ad for your business seven times before they remember who you are. Getting a customer in the door is your biggest battle. Once they shop with you, it is easier and less expensive to retain customers by providing great service and staying in touch through email.
Higher Sales & More Referrals
Repeat customers spend 33% more than new customers. They have higher average order values than new customers. Plus, each time a customer returns to your store, the chance of them coming back again increases. Customers who frequent your business, use your products, or are pleased with the service you provide are likely to tell their friends or family. Word of mouth referrals are the most effective form of advertising, and they are the least expensive.
How to Improve Customer Retention in 4 Steps
Retaining customers is a huge boost to your bottom line. If a customer comes back again and again, it shows that they are happy and satisfied with your level of service and the product you're providing. Likewise, if your customer retention rate is lower than you would like, there are a few specific steps you can take to provide a better customer experience.
Here's how to improve your customer retention rate in four steps:
1. Collect Customer Feedback
The first step in improving your customer retention rate is collecting feedback. Send out surveys to customers to determine how satisfied they are and what areas they think you can improve. The easiest way to do this is with a simple customer satisfaction survey. Send out an email asking customers to rate how satisfied they are with your business, or how likely they are to recommend your business to a friend or family member. Then have a blank space for collecting open-ended feedback.
Receive Ongoing Feedback
In addition to sending out one-time surveys, it's a good idea to regularly solicit customer feedback. Asking customers to rate or discuss their experience with your business soon after their purchase or visit will provide the most accurate information, as their experience is still fresh and at the top of their minds.
Some point-of-sale (POS) systems like Square have a customer feedback tool built into digital receipts. With Square, when a customer receives an email or text message receipt, they can indicate whether the experience was positive or negative, and choose a reason for their ranking. This allows businesses to collect real-time feedback and to respond to customer concerns immediately.
Monitor Online Reviews
Most customers won't tell you when they've had a bad experience—they just won't return. Over 90% of customers who switch to a different business because of a bad experience never say anything. That means all customer feedback should be taken into consideration—even indirect feedback. Monitoring and responding to online reviews are so important for maintaining current customer relationships.
Podium is a cloud-based customer feedback software that aggregates online reviews from more than 20 different sites as well as text, email, and online communications (including Google and Facebook) into one dashboard. Podium helps businesses of all sizes collect customer feedback, solicit reviews, and respond to comments. It's a great tool for organizing and streamlining the process of collecting customer feedback. Visit Podium to start completely free.
2. Revamp Your Customer Service
Poor customer service can have a huge impact on your bottom line. In fact, 82% of customers have stopped doing business with a company because of poor customer service. If you're looking to improve customer retention, improving your level of service is imperative. After listening to and collecting customer feedback, you'll have an understanding of what customers would like to see improved or done differently.
Training Should Be an Ongoing Process
The only way to tangibly improve the level of customer service you offer is by consistently working on it. Associates should be practicing their skills by role-playing different sales opportunities and customer concerns with each other, as well as with the store owner or manager. Otherwise, your employees are essentially practicing on customers. Set aside some time each day at the beginning or end of each shift to discuss customer concerns and role-playing how to handle different situations.
Reevaluate Store Policies
Today's customers have high expectations around store policies like shipping costs, delivery times, return policies, and even payment options. Having a strict or short time period for returns can irritate otherwise happy or loyal customers. Some studies have indicated that having a lenient return policy or lengthier return period can increase sales, as shoppers view that as a commitment to quality.
Call it the "Amazon Effect," but today's shoppers are also accustomed to fast and free shipping. Consider offering free shipping for orders over a certain dollar value, customers who register for an account, or shoppers who have placed a certain number of orders within the last year. Free shipping options will help you compete with larger retailers, and help regular shoppers feel like valued customers.
3. Implement a Loyalty Program
The most effective way to implement a loyalty program is by using loyalty program software. Many small businesses opt for paper punch cards, but using a software program gives you much more control, the ability to reach out to customers instead of waiting for them to come to you, and provides data on loyalty program usage and effectiveness.
"Segment your customers and reward them for loyalty. I've recently started putting a lot of work into better understanding the purchasing behaviors of our customers, as we have two key groups: those that choose to buy our collections and those that make [their own pieces]. Although both are often fashion-forward women, engaging with them in ways that make the most sense for whether they knit or buy is very important with our messaging. Offer special releases to your VIPs or include them in special invite-only events."

– Kristen Lambert, Founder & Owner, Third Piece
4. Modernize Customer Communication Channels
Truth be told, just listening to customers and responding to reviews in itself is a huge step in improving customer service. Now, look for more ways to open communication channels or improve existing ones. For example, if your front desk is understaffed, you may be missing phone calls. Having to call multiple times to speak with someone can lead to customers getting frustrated and having a negative impression of your business.
If you are regularly missing calls, add another team member to each shift. You could also assign a dedicated "call center" team member to each shift, whose main focus will be answering phone calls.
Reevaluate Online Communications
Once your phone lines are in control, look to improve your digital communication. If you have a Facebook or Instagram page, how are you making sure comments and messages are being answered? Using Facebook Messenger is also a free way to add a chat option for customers.
Many customers prefer to interact with brands via chat and messaging rather than phone, so offering customer support through Facebook Messenger is an easy way to dramatically improve service. If your business has a website, you can also add chat to your website fairly easily and for a small fee.
Take Advantage of Email Marketing
Loyal and repeat customers spend more than new customers. But did you know that for the average business, 80% of sales come from 20% of customers? A small group makes up a huge amount of revenue for your business. This group isn't just loyal: They're raving fans. As such, they want to hear from you all the time.
Give your most loyal and highest-spending customers what they want by sending regular email updates, promotions, and newsletters. Make sure to keep your customers in the know about new product arrivals and upcoming events. Lightspeed Loyalty has a built-in marketing and email feature to easily build quality email campaigns with drag-and-drop features. Plus, you can segment your customers automatically or manually in case you want to send special deals or emails to specific customer groups.
Tips for Improving Customer Retention
Improving a customer retention rate doesn't look exactly the same for every business. But businesses that are most successful in improving customer retention rates are persistent and consistent. Your rate won't spike overnight. Raising your customer retention rate and keeping it high will take time and effort. Here are some tips to help you stick with your goal:
Utilize POS Technology
Advancements in POS system technology present a chance for retailers to provide their customers (new and returning) with a more personalized experience based on their past purchase history, for example. Ensuring your POS, inventory, ecommerce activity, and loyalty programs are all synced up will give you incredible data and insights into the needs and wants (and patterns) of your returning customers. This is a true goldmine to create a personal, custom, engaging experience.

– Elijah-Blue Vieau, SEO Manager, Logojoy
Set Achievable Goals
Improving customer retention is a huge task that will take time and consistency. If you want to increase your retention rate by 30 percentage points in the next year, break that up into smaller goals of 10% each quarter. The task will feel more manageable, and you'll set yourself up for success.
Incorporate Text Messaging
"An easy way for retailers to improve their customer retention is by integrating text marketing into their strategy. You can do a lot with text marketing. Send mobile coupons to encourage foot traffic, automatically follow up about in-store visits and purchases, create a loyalty rewards strategy, and even send birthday texts and special offers. People actually read their text messages, and if what you're offering is valuable to them, they will respond."

– Matt Baglia, CEO, SlickText
Make an Action Plan
Create an action plan with specific steps and deadlines. For example, if you're implementing a loyalty program to improve customer retention, make a deadline for when you will have a platform chosen and installed. Set another goal for how many loyalty members you want to have at the end of the first week, month, and quarter, with strategies on how you will promote the program and enroll customers.
Involve Your Whole Team
Improving customer retention is good for your bottom line, but it is also good for employee morale. Building relationships with regular customers helps keep employees engaged and motivated. Involve your front-line employees with your customer retention goals by holding a meeting to inform them of your goals and to ask for feedback.
Your employees are the ones who have the most direct contact with customers, so their feedback on how to improve customer service and products will be invaluable. Once you set more specific goals, such as loyalty program enrollment or improving customer service, set weekly or monthly goals for your team members with bonuses for reaching them. This will keep the whole business on track and motivated to improve your customer retention rate.
Bottom Line
A healthy customer retention rate is a sign of a profitable business with happy customers and savvy leadership. Although the formula for calculating customer retention is cut and dry, improving your rate can feel more like an art form. It will take a combination of advancements in customer service and customer communications.
Having the right data at your fingertips and tools in place to easily put data to use will make the ongoing process of improving customer retention much easier. With Lightspeed, you can view customer retention rates, implement loyalty programs, build out email marketing campaigns, view customer data, and more. Visit Lightspeed for a free trial.