Services offering business leads range from buying segmented lists of email contacts to advanced tools that identify prospects based on social media profiles, saving both prospecting time and effort. We looked at dozens of sources for leads and narrowed it down to the six best, based on reliability, price, and search and segmenting capabilities.
Top 6 Places to Buy Business Leads 2019
| Places to Buy Business Leads | Best For |
| --- | --- |
| | (Best Overall) Businesses that want to send verified leads directly to their CRM |
| | Businesses wanting an affordable, easy-to-use place to buy unlimited lead contact information |
| | Teams that need advanced search filtering to identify territory-based leads |
| | B2B sales professionals needing to identify lead contact information through social media networks |
| | Businesses wanting direct B2B connections with decision-makers at target client companies |
| | Sales teams that need no-frills company lead and contact search |
How We Evaluated the Best Places to Buy Business Leads
Businesses use a variety of forms of lead generation to fill their sales funnel, from prospecting on social media networks to purchasing targeted lists of accurate and up-to-date contact information. To help, we identified the top business lead sources and looked at how easy it is to identify leads and move them into a customer relationship management (CRM) software. Finally, we considered the overall cost of purchasing leads, whether individually, in bulk, or as a subscription service.
Based on the needs of small businesses, we considered:
Price: Overall pricing options available, including the costs for leads purchased, as well as whether users could purchase leads individually, in bulk, or as part of a subscription service were compared.
Search and filtering: We considered the options available to segment lists, and how easily the interface allows users to create customized lists based on industry, SIC code, role, title, location, size of the business, revenue, and the number of employees.
List validation: We looked at whether the service offers validation services to verify and remove bad leads upon purchase, making sure only the highest-quality leads are used for sales prospecting.
Export and integrations: How users are able to export the purchased leads and import them into their CRM software; including whether the service offers a direct CRM integration was a factor in determining which were the best.
Overall quality: No one wants to pay for inaccurate or out-of-date information, and we looked at the overall quality of leads, including whether or not lists included complete information for each lead.
Support and service: How well does the company provide customer support, and how did it resolve issues that arose, especially with out-of-date or inaccurate information.
We choose UpLead as the best overall place for small businesses to buy business leads based on its simple interface, robust search features, and affordable monthly subscription plan. In addition, UpLead offers the option of one-click export to your connected CRM, making it the best choice for businesses wanting a simple way to buy leads and add prospects to their sales process.
UpLead: Best Overall Place to Buy Business Leads

UpLead is a real-time, verified, business-to-business (B2B) database with subscriptions starting at $79 per month for a single user to search for contacts and import them directly into many of the top small business CRMs. UpLead verifies contacts upon export, so users won't end up with large lists of bounced emails or take a hit to their sender reputation due to bad email addresses. This makes it great for those looking for direct CRM import capability with verified leads.
UpLead Pricing
UpLead charges $79 per month for 200 credits for one user. Additional credits are 40 cents per contact. Other plans are $199 per month for 1,000 credits for a single user, with additional credits at 20 cents, and $349 per month for 3,000 credits for unlimited users at 10 cents for additional credits.
UpLead Features
UpLead verifies leads at the time of purchase to make sure that every contact and email address you purchase is accurate. Users can search by individual contact or by company, and can then export results to a spreadsheet or send them directly to their CRM. This is supported by UpLead's database of over 30 million contacts, built using both public and proprietary information sources.
Some of the most valuable features include:
List Filters & Search
UpLead allows you to search for contacts based on criteria such as industry, title, location, company, and social profiles. In addition, when searching by company, UpLead will identify the number of individual contacts at that company in its database, and allow users to filter these further and add them to segmented lists.
When you unlock a contact, UpLead also enriches the lead with LinkedIn profile information, giving users access to the professional history of potential leads. Finally, users can exclude previous downloads from results to ensure they are only capturing new leads, and not duplicate records.
List Verification
UpLead verifies lists at the time of export, as opposed to other options like Salesfully, which verifies information on a scheduled basis, but not necessarily in real-time. UpLead also verifies the recipient's email server configuration to determine whether your email will likely be received, or if the server has a firewall or spam filter that may bounce the email back to you. This is helpful in maintaining a good sender reputation with your email provider.
CSV Export
Like most services that allow you to buy leads, UpLead gives you the option of downloading leads in bulk as a CSV file. This is especially helpful if your CRM is not directly supported by one of their direct CRM integrations, or if you want to upload leads to other types of software like email marketing or direct mail services.
Direct CRM Integration
UpLead integrates with many small business CRMs, including Salesforce, HubSpot, Pipedrive, Insightly, and Zoho. This allows users to select individuals or groups of leads and send them directly to your CRM with one click, making it easy to find and import the right leads and connect them to your sales process.
What UpLead Is Missing
UpLead does not include unlimited leads on any of their plans, unlike what is available from Salesfully. Instead, it provides users with a monthly allotment of credits, each of which unlocks one contact. UpLead also does not offer phone or email support, only a knowledge base and the ability to submit support tickets. Also, while the service is good at producing quality email addresses, it often delivers generic business phone numbers instead of direct contact numbers.
What Users Think About UpLead
Users give UpLead positive reviews for the overall simplicity of the search features and for the direct CRM connections. Users also say it provides high-quality leads. Some users commented that they wish that UpLead provided better phone number information for leads. You can read more about what users think on our UpLead reviews page.
Salesfully: Best Place for Unlimited Lead Searches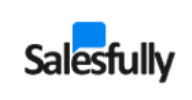 Salesfully is a simple lead database that offers both B2B and consumer leads for a low monthly price of $29. While it lacks direct CRM integration, Salesfully does not limit the number of leads you can download each month. It also offers a simple search interface with a real-time update of the number of leads that fit your search profile. Salesfully is especially useful for B2B sales teams that are looking for an affordable place to access large numbers of business leads.
Salesfully Pricing
Salesfully charges $29 per month for unlimited business and consumer leads, with the ability to export up to 10,000 leads at a time. Salesfully is free to sign up, and users can download their first 100 leads for free.
Salesfully Features
Salesfully includes a good combination of overall value for the price and delivers reliable, high-quality leads. Their database includes over 200 million business and consumer leads, which are verified on a regular basis using a variety of public and business databases. Salesfully includes unlimited lead searches, and users are able to download leads, review past saved searches, and export the results to a CSV file.
Some of the most useful features include:
List Filters & Search
Salesfully has a simple-to-use search feature that allows users to apply filters based on job title, location, industry, company name, company size, revenue, and more. The search feature allows users to preview their list before exporting and get an idea of which contacts they'll be downloading. In addition, after reviewing their results, users can add additional filters to fine-tune their list of leads.
Email Verification
Salesfully validates business and consumer email addresses, and offers a refund of the monthly subscription fee when incorrect information is provided. Unlike D&B Hoovers, Salesfully doesn't continue to update information if it changes after your purchase, but does use a variety of public and proprietary databases to verify information on a regular basis.
CSV Export
Users are able to easily export lead lists to a CSV file that can be imported into any CRM. Like most of the options on this list, Salesfully also saves previous downloads, allowing users to keep track of the lists they've already exported and re-export if necessary.
What Salesfully Is Missing
Unlike UpLead or LinkedIn Sales Navigator, Salesfully does not directly integrate with any CRM software, meaning that users have to first export to a CRM and then import the file into the software. Salesfully also lacks the ability to make connections between leads to recommend additional prospects that may be a good fit based on your current customer base, like Sales Navigator.
What Users Think About Salesfully
Reviews for Salesfully are sparse, but users who have reviewed the service give it good marks for overall ease of use and quality of leads. In addition, users like the price and the fact that they can download an unlimited number of leads for a single monthly price. However, users did comment that they wished that more of the leads included email addresses.
D&B Hoovers: Best for Advanced B2B Lead Searches

D&B Hoovers offers the ability to buy verified leads and is powered by the Dun & Bradstreet database, the industry's leading business intelligence service. Users are able to conduct advanced searches based on location and location radius, SIC codes, industry, revenue, and even variables like IPO status, legal entity, and fiscal year. This makes it the best for teams that need robust search filtering to identify territory-based B2B leads.
D&B Hoovers Pricing
D&B Hoovers does not publish a fixed rate per lead or specific packages for buying leads. You need to call the company, start a chat with a sales representative, or fill out a form to discuss a plan that best fits your business needs and goals.
D&B Hoovers Features
The sales lead component of D&B Hoovers includes information on over 120 million business records covering over 1,000 industries in 190 countries, making it more comprehensive than any other option on this list. It provides the most robust list segmentation capabilities and is ideal for fine-tuned searching within geographic territories. D&B Hoover also offers seamless lead integration with many CRMs, though they aren't listed on the website.
D&B Hoover sales lead features include:
List Filters & Search
D&B Hoovers offers the most advanced search features of any of the options we reviewed, allowing users to search by industry code, geographic location radius, and even variables like IPO status and underwriter. While the search interface is not as modern as other options, it provides the most filters to conduct detailed searches, and many of the other services depend on D&B to verify their contact information.
List Verification
Data from D&B Hoovers comes straight from the D&B database, which is considered one of the most reliable sources of business intelligence, especially for mid- to large-sized businesses. D&B Hoovers doesn't re-verify information at purchase like UpLead, but is generally considered to be reliable, as the D&B database is updated over five million times per day and is the primary source that other services often use for verification.
CSV Export & Salesforce CRM Integration
D&B Hoovers allows you to export your list to a CSV file for easy upload into your CRM. It also integrates with Salesforce CRM automatically, making it a great option for existing Salesforce users.
What D&B Hoovers Is Missing
While it includes the most robust search features, it doesn't appear to include a direct CRM export for any CRM other than Salesforce. It also lacks transparent pricing information on their website compared to the other providers we reviewed.
What Users Think About D&B Hoovers
D&B Hoovers receives mostly positive reviews for the quality of data, Salesforce integration, and the advanced search features. It also is highly regarded for the number of business contacts available, and for the ability to define a geographic radius (within 50 miles of a ZIP code, for example). Many users, however, commented that the data is outdated and in need of updating, and that customer service was disappointing.
Lusha: Best for Finding Prospects on Social Media

Lusha is a lead prospecting service that starts at $75 per month for two users, with a Chrome browser extension allowing users to identify the contact information of social media connections. Users can also purchase credits that can be used to reveal phone and email contact information. It stores your search history (so it is easy to keep track of social media leads), making Lusha the best place to buy lead information while browsing social media networks.
Lusha Pricing
Lusha has a free plan that allows users to unlock five leads per month at no cost. Subscriptions are available for $75 or $149 per month, which gives users the ability to unlock 120 or 300 social media leads per month, making it more expensive than UpLead or Salesfully.
Lusha Features
Unlike the other options on this list, Lusha isn't a searchable database. Rather, it gives users the ability to identify contact information for leads on social network sites like LinkedIn and Twitter. Lusha automatically opens when users are navigating a supported social network page, and provides phone and email contact information when available.
Some of Lusha's prominent features include:
Chrome Browser Plugin
The Lusha Chrome browser extension is a small widget that automatically appears when users navigate to the social media profile on a supported social network. The widget displays the prospect's email and phone contact information, and allows users to directly send email from their email app or copy information to the clipboard to save elsewhere.
Integrations
Lusha is available for an additional cost as a Salesforce native app, which seamlessly adds contact information directly into your Salesforce account. Lusha will also auto-enrich your lead, contact, and company profiles to include phone, email, and other contact information, even with just a name. Salesforce users should contact Lusha directly for pricing information. Lusha also offers integrations through Zapier to connect to apps such as Gmail, HubSpot, and Mailchimp.
CSV Export
Lusha allows you to export a CSV of your contacts with their "Lists" feature. You can export an entire list or select specific contacts to export, which can then be uploaded to your CRM or other contact management tool.
What Lusha Is Missing
Unlike D&B Hoover and Salesfully, Lusha does not offer a searchable database. It's limited to capturing information from social media networks. It also does not include a live chat feature for customer support.
What Users Think About Lusha
Users give Lusha high marks, especially for its ability to provide contact information on LinkedIn. Users also find it easy to use and are generally satisfied with the accuracy of the information. However, some users find that the number of credits included is more limited than other options, especially on the free plan.
LinkedIn Sales Navigator: Best for Making Connections With Decision-makers

LinkedIn Sales Navigator is a subscription-based software tool designed to provide additional features to your LinkedIn account for $79.99 per month. Specifically, it includes advanced keyword and search filters to identify new leads and gives you the ability to import your existing contacts to use predictive search to identify similar prospects. This makes it ideal for B2B sales reps who want to make direct connections with decision-makers at their target companies.
Sales Navigator Pricing
Sales Navigator starts at $79.99 per month for the Professional plan and goes up to $134.99 per month for the Team plan. While slightly more expensive than other subscription services we reviewed, it provides you access to the entire LinkedIn network for prospecting and lead generation.
Sales Navigator Features
Sales Navigator allows you to search for new prospects, and automatically recommends leads that LinkedIn identifies based on factors like their company and their connection to existing leads. It also provides in-depth information about both your leads and their companies, as well as similar prospects and connections.
Some of the most useful features of Sales Navigator include:
List Filters & Search
One of the most powerful aspects of Sales Navigator for generating leads is the advanced search feature that allows you to filter profiles by industry, title, company, geographic location, and more. While the search capability is not as comprehensive as what you can do with D&B Hoovers, users can search the entire LinkedIn network to identify the leads that best fit their target customer and find decision-makers to connect with directly.
InMail
One of the unique features of Sales Navigator is that it allows users to directly contact prospects using LinkedIn's InMail feature. This allows users to send messages to prospects they aren't already connected to on LinkedIn and see when recipients have read their email. You're allowed you to send 20 InMail messages per month to reach new prospects directly on LinkedIn. The Team plan allows you to send an additional 10 InMail messages per month.
CSV Export
LinkedIn includes CRM features built into the Sales Navigator subscription, allowing users to connect with and nurture leads directly within the software. Unlike several options on this list, LinkedIn does not include the ability to export directly to a CSV file or to a CRM without using an API or a service like Zapier.
What Sales Navigator Is Missing
Sales Navigator does not use independent verification tools for authentication of user information and does not include leads from outside of the LinkedIn network. In addition, Sales Navigator's InMail functionality does not extend to non-LinkedIn connects and lacks export capabilities.
What Users Think About Sales Navigator
Users like access to the LinkedIn network through search filters to identify decision-makers at specific companies. Users also like that it allows you to reach out through InMail, which is more likely to create engagement than other types of communication like email or cold calls. Some users said that company names are sometimes misspelled and the filters don't always work correctly. To read in-depth user reviews, visit our Sales Navigator reviews page.
FindEmails: Best No-frills Place to Buy Prospect Emails

FindEmails is an email list service that allows users to buy business leads in the form of validated email lists starting at $19 per month for 500 credits. Users can create their own list criteria or purchase existing predefined lists. FindEmails is an affordable option for small businesses and is a good choice for those who need a no-frills way to buy business leads.
FindEmails Pricing
FindEmails pricing starts at $19 per month for 500 email credits. Additional plans are available at $49 and $99 per month, including 2,500 and 10,000 credits, respectively. Credits are used to verify emails or purchase individual leads.
FindEmails Features
FindEmails includes simple, no-frills search features allowing users to identify contact information for leads at their target companies. It also includes an email verification service that allows users to upload their own lead lists to verify the email addresses of existing prospects. FindEmails is a much more basic service than UpLead or D&B Hoovers, but is useful for simple prospecting at specific target companies.
Some of the best features of FindEmails include:
List Filters & Search
FindEmails has a simple search tool that allows users to find prospects based on their company and job title. For example, users can search for "managers at Microsoft" or "VP at General Motors." Unlike other options, FindEmails deducts credits when you conduct a search, not just when you download or export prospects. FindEmails is also simple to use, but is far less advanced in terms of search filters compared to D&B Hoovers, Salesfully, or UpLead.
List Verification
FindEmails actually offers a separate list verification service that allows users to validate email addresses on an individual basis or as a bulk list. In addition, leads purchased through the prospecting tool are verified to ensure that users only purchase accurate and up-to-date information.
CSV Export
FindEmails allows you to download the purchased lead lists as a CSV, and also delivers the list as a CSV by email. Unlike Salesfully and UpLead, the leads do not appear in a preview, and the search results don't update in real-time. This means that you will have to wait for a few minutes after telling FindEmails what you want, along with the maximum number of leads you want in the list, before it sends them to you by email.
Chrome Extension
FindEmails has a Chrome extension that lets you verify email addresses right on the website you are browsing. You also receive a "confidence score" for the validity of each email address you choose to add to your list.
What FindEmails Is Missing
FindEmails doesn't allow searching by location, size, or across multiple companies. It also doesn't include other advanced search features found in UpLead or D&B Hoovers. FindEmails does not search for leads in real-time, requiring a delay in finding the leads, and does not have a real-time preview to let you know what leads you are purchasing.
What Users Think About FindEmails
FindEmails users generally give it good reviews for the simplicity of the service and how easy it is to buy business leads, as well as how it can be used to verify existing email lists. However, users do wish that there were better search filters, and comment that they would prefer that it let you preview leads before deducting credits.
Bottom Line: Why Buy Leads
Businesses buy leads to help supercharge their sales process and generate new sales opportunities. These six places to buy business leads represent the best options for small businesses that are looking for affordable ways to add prospects that fit their target market.
UpLead allows users to purchase and download verified leads into a spreadsheet or directly into their CRM. UpLead's monthly plans begin at $49 per month for 200 download credits. UpLead also offers a seven-day free trial, where users can download up to five leads. Visit UpLead for more information.