6 Best Places to Buy Business Leads in 2022
Buying business leads is the fastest way to generate prospective customers to keep your sales pipeline full of new opportunities. Top lead sellers have large-scale databases of business profiles, including verified contact information, which you can purchase based on your buyer personas and client types. To find the best lead generation platforms to buy leads from, we evaluated dozens of top providers and considered attributes crucial for small businesses.
Based on our evaluation of the most popular sites, here are the six best places to buy business leads:
Best Places to Buy Business Leads Compared
Provider

Starting Price

Free Trial

CRM Integration Available

Mobile App

Has a free plan; paid plans start at $29 user/month

14 days

Yes, on Premium and Enterprise plans

✕

$29 per month for unlimited credits

5 days or 30-day money-back guarantee

✕

✕

$74 for 2,040 credits

Five trial credits

Yes, on all plans

✕

Customized

Yes, but no details on website

Yes, but only with more expensive Enterprise-level CRMs

✕

$79 per license

30 days

Only in Enterprise plan

✓

$29 for 1,000 credits

50 trial credits

✕

✕
Take our quiz to find out which site can help generate the leads needed to keep your sales pipeline full of new opportunities.
Which Site Is the Best to Buy Business Leads?
Answer a few questions about your business, and we'll give you a personalized product match.
Lusha: Best Free Lead Generation Platform
What We Like
Offers a free-forever plan
Integrates with popular CRM software like HubSpot, Zoho CRM, and Pipedrive
Paid plans include contact export via CSV file
What's Missing
No contact list export on the free plan
Lacks data enrichment features on lower-tiered plans
Integration with Salesforce requires Enterprise-level plan
Pricing Summary*
Starter: Free
Professional: $29
Premium: $51
Enterprise: Customized
*Pricing is per user, per month, based on annual billing; monthly billing is also available at a higher cost
Lusha is a lead seller that uses a credit-based system for distributing lead information. It's also the only one on this list with a free-forever option. Lusha's free plan users get five credits per month to use to unlock profiles for emails and phone numbers.
The Lusha lead generation service works as a Chrome, Firefox, or Edge browser extension on social networks and supported websites. It instantly gives users access to data-enriched contact information from LinkedIn and Gmail, as well as certain business websites, to ensure the information is complete and accurate. It does this by pulling contact information from LinkedIn and Gmail profiles, plus data found on the text of websites.
However, Lusha lacks profile enrichment features in its lower-tiered plans and only its Enterprise-level plan integrates with Salesforce. Users can consider UpLead for data enrichment tools, which users can even use during the free trial. Its lower-tiered plans also integrate with Salesforce.
Lusha Plan Summary
| | Starter | Professional | Premium | Enterprise |
| --- | --- | --- | --- | --- |
| Annual Pricing | N/A | $29 per user | $51 per user | N/A |
| Number of Users | One | Two | Five | Unlimited |
| Credits | Five per month | 480 per month | 960 per month | Customized |
| Provides Contact Email Addresses | ✓ | ✓ | ✓ | ✓ |
| Provides Contact Phone Numbers | ✓ | ✓ | ✓ | ✓ |
| Mass Contact Exports | N/A | ✓ | ✓ | ✓ |
| | N/A | N/A | ✓ | ✓ |
| LinkedIn Sales Navigator Data Enrichment | N/A | N/A | ✓ | ✓ |
| 24/7 Customer Success Manager | N/A | N/A | N/A | ✓ |
Lusha Features
The attributes that stand out the most for the Lusha lead purchasing service are features associated with data enrichment of leads and its ability to manage contact information. For example, except for free plan users, all plans enable CSV contact list exports, and the Premium and Enterprise plans allow for integration with several popular customer relationship managers (CRMs) like Salesforce and Microsoft Dynamics. Here are a few of the primary features Lusha offers that can help you buy sales leads:
Easy data export: Data exportation of sales leads lists as CSV file list or into a supported CRM system
Browser plugins: Automatically opens and operates to acquire contact information if the user is navigating on a social media or web page that supports the service
Customer profile enrichment features: Integrates with LinkedIn Sales Navigator to provide users with more customer profile data, including professional background
Built-in lead and contact search tools: Enables users with an easy filtering tool to find the most appropriate leads suitable to their business needs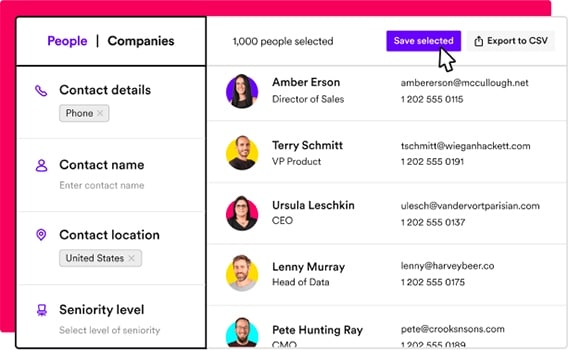 ---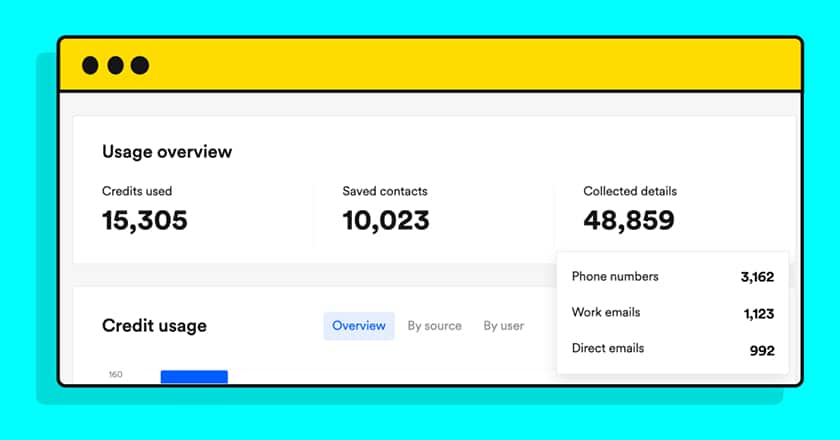 ---
Salesfully: Best for Buying B2C Lead Lists
What We Like
Pulls lead data for consumers based on attributes such as location, ethnicity, age, home value, and occupation
Unlimited access to leads for download at a low monthly cost
Large database of B2C leads
What's Missing
No customer support via phone
No annual billing option
Pricing Summary*
Salesfully Plan: $29 per month
Free trial: 5 days or 30-day money-back guarantee
*Pricing based on monthly billing
Salesfully is an excellent place for a business to buy consumer leads, boasting a database with more than 200 million sales leads. For a relatively low cost, users can search and download (via CSV files) an unlimited number of business-to-consumer (B2C) and even B2B leads. The B2C leads offer high-level filtering based on homeownership, credit score, type of house, marital status, and even net worth and political involvement.
This detailed filtering of B2C leads is invaluable for any organization that targets leads based on demographics, interests, or behaviors. For example, a mortgage broker may want to target high net worth individuals who own large homes to promote a refinancing solution suited for wealthy individuals. Likewise, a political campaign might want to source a list of potential campaign donors based on those who donated to other candidates in the past.
However, Salesfully doesn't offer an annual billing option and it doesn't provide customer support via phone. Users who want access to both can consider FindEmails.com.
Salesfully Plan Summary
| Features | Salesfully Plan |
| --- | --- |
| Free Trial | 5 days free trial or 30-day money-back guarantee |
| Monthly Pricing | $29 per month |
| Data Export Into CSV File | ✓ |
| B2C Lead Search Tools | ✓ |
| B2B Lead Search Tools | ✓ |
Salesfully Features
Where Salesfully sets itself apart from the other places to buy leads online on this list is the depth at which it can filter leads, specifically its B2C leads. It's also one of the most affordable B2C and B2B lead list sellers, with access to unlimited searches for $29 per month. Below are some feature highlights of Salesfully:
Easy lead list export: Unlimited lead searches and downloads that can be downloaded as CSV files
B2C filtering: Consumer lead searches based on demographic information such as age and ethnicity, as well as descriptive information like marital status, occupation, homeownership, credit rating, and political donations
B2B filtering: B2B lead search tool based on industry, employee count, job positions, and annual revenue
Lead information verification: Platform uses public and proprietary databases for information verification
UpLead: Best for Businesses Looking for High-level Intelligence on B2B Leads
What We Like
Has an email verification tool to eliminate bounces
Advanced features like technographics and data enrichment are included in the free trial
Relatively inexpensive from a per-user standpoint
What's Missing
No mobile application
Low-tier plans only allow one user to log in at a time
Lacks phone customer service support
Pricing Summary*
Essentials: $74 per month for 2,040 credits
Plus: $149 per month for 4,800 credits
Professional: $299 per month for 12,000 credits
Enterprise: Customized
Free trial: Five credits
*Pricing based on annual billing; monthly billing is also available at a higher cost
UpLead offers the ability to buy B2B leads with more than 50 search filters, including phone numbers, verified email addresses, industry, and job titles. It uses a credit-based system for buying leads and allows users to roll over unused credits to the next billing cycle. Compared to other lead purchasing platforms, UpLead's Essentials and Plus plans are reasonable due to the number of credits allocated to users.
The most unique attribute of UpLead is its technographics feature, which pulls data about the current technology a company is using. This is valuable intelligence for software as a service (SaaS) sales reps. For example, if a business is looking for prospects to sell a voice-over-internet-protocol (VoIP) system to, UpLead can determine which CRM the prospect is currently using and identify those that integrate with a VoIP service.
One of the flaws of UpLead is that on the low-tiered plans, only one user can log in at a time. LinkedIn Sales Navigator is an excellent alternative as it uses a per-user pricing model, so simultaneous access is granted to lead generation tools for as many users as you pay for.
UpLead Plan Summary
| | Free Trial | Essentials | Plus | Professional | Enterprise |
| --- | --- | --- | --- | --- | --- |
| Monthly Pricing | N/A | $47 per month | $149 per month | $299 per month | Customized |
| Users | Single user | Single user | Single user | Up to five plus $60 per additional user | Scalable |
| Credits | 5 | 2,040 per year | 4,800 per year | 12,000 per year | Scalable |
| Verified Emails & Phone Numbers | ✓ | ✓ | ✓ | ✓ | ✓ |
| Mobile Direct Dials | ✓ | ✓ | ✓ | ✓ | ✓ |
| CRM Integrations | ✓ | ✓ | ✓ | ✓ | ✓ |
| Data Enrichment Functionality | ✓ | N/A | ✓ | ✓ | ✓ |
| Technographics Filtering | ✓ | N/A | ✓ | ✓ | ✓ |
| Competitor Intelligence | ✓ | N/A | N/A | ✓ | ✓ |
UpLead Features
UpLead's platform offers advanced business-to-business (B2B) prospecting capabilities such as in-depth intelligence in addition to supplying the contact information of leads. There are also plenty of integration options, including Salesforce, HubSpot, and Pipedrive, as well as a full application programming interface (API) available on the highest tier. Here are some of the prime features of UpLead:
Chrome extension: Acquire leads from your web browser by visiting a LinkedIn profile or supported website
CRM integration: Integrates with Salesforce, HubSpot, and Pipedrive, and enables users to save their leads to the CRM
Technographics tool: Targets companies based on the technology they use, including payment systems, coding languages, social media accounts, collaboration tools, and CRMs
Real-time email verification: Reduces bounce rate with email verification tools; unverified emails are not shown on the platform
D&B Hoovers: Best for B2B Leads Based on Buying Intent
What We Like
Highly customizable lead list building
Bombora integration for evaluating potential buyer intent
Pulls data from over 170 million business records
What's Missing
Lacks transparent pricing
No mobile application
No integrations with popular small business CRMs like HubSpot CRM and Pipedrive
Pricing Summary
D&B Hoovers Plan: Contact for quotes
Free trial: Yes, but doesn't provide details about trial duration or how many leads can be downloaded
Supplemental Tools:
Business listing in the directory: Free to list and $119 per month for detailed company descriptions taglines
D&B Hoovers, a subsidiary of Dun & Bradstreet, can pull the contact information of B2B leads for you from a variety of sources. These include public business records, credit score databases, and third-party service providers they have partnerships with.
Where they are unique is in some of the capabilities for generating qualified leads for businesses. Through integration with Bombora, D&B Hoovers can not only pull lead data information but also leads for accounts that represent current selling opportunities. Bombora is a B2B data provider for buyer intent and high-level system insights of over 170 million business records.
The Bombora integration allows users to see buyer intent of the lead data they generate as intent dashboards with scores and badges to indicate qualified leads. The data is sourced from a variety of consent-based websites and analyzed using machine learning to organize the intent into usable information.
However, popular small business CRM systems like HubSpot and Pipedrive don't integrate with D&B Hoovers. For a lead-buying platform that also integrates with these CRMs, allowing you to import lead data into the CRM database, consider UpLead as a solid option.
D&B Hoovers Plan Summary
| Features | D&B Hoovers Plan |
| --- | --- |
| CRM Integrations With Salesforce & Microsoft Dynamics 365 | ✓ |
| Direct Download to CSV File | ✓ |
| Over 5 Million Real-time Information Updates per Day | ✓ |
D&B Hoovers Features
The D&B Hoovers system is robust in the information it can compile for your business due to the number of sources it pulls from and integrations it has with other data providers like Bombora. In addition to the lead generation service, the platform has additional capabilities for verifying data and posting your business as a listing. Here are a few feature highlights of D&B Hoovers:
B2B advanced search: Advanced search features for B2B leads, including industry codes, location, and initial public offering (IPO) status
Optional business listing feature: Allows you to post your company profile in the database and across over 60 online platforms, including Apple Maps, Bing, and Yahoo
Bombora integration: Integrates with Bombora for intent files, which display badges next to the lead profile about their lead qualifications
LinkedIn Sales Navigator: Best for Making Direct Contact With Decision-makers
What We Like
Users can directly contact leads through the InMail feature
Built-in social media tools for engaging with a LinkedIn lead's posts
Unlimited network searches are included, even in the lowest-tiered plan
What's Missing
No CRM integration options on the lowest-priced plan
Lacks free and inexpensive subscription options
Monthly caps on InMails with no ability to purchase additional messages
Pricing Summary*
Professional: $79 per user, per month
Team: $134 per user, per month
Enterprise: Customized
*Annual billing
LinkedIn Sales Navigator is a supplemental tool accessible to LinkedIn members for direct sales activities like lead generation and nurturing. It provides users with tools to directly contact business managers and executives through InMail and post engagement for commenting, liking, or sharing their posts.
LinkedIn Sales Navigator users can perform advanced searches to find prospects among LinkedIn accounts based on seniority level, job function, location, and industry. There's also the option for lead recommendations based on current contact connections, where the system uses a predictive search to find similar prospects you might be interested in.
Unfortunately, LinkedIn Sales Navigator doesn't offer a free solution for acquiring leads. For businesses that strongly desire a free plan to try out, we recommend Lusha as a free lead generation option. It also doesn't allow you to download contact lists as CSV files, which is something Lusha does.
LinkedIn Sales Navigator Plan Summary
| | Professional | Team | Enterprise |
| --- | --- | --- | --- |
| Monthly Pricing | $79 per license | $134 per license | Customized |
| Reach-outs Through InMail | 50 per month | 50 per month | 50 per month |
| Custom Lead & Account Contact Lists | ✓ | ✓ | ✓ |
| Advanced Contact Search | ✓ | ✓ | ✓ |
| Advanced Features for Tracking Content Engagement | N/A | ✓ | ✓ |
| | N/A | N/A | ✓ |
LinkedIn Sales Navigator Features
LinkedIn Sales Navigator's standout features include its advanced search and outreach capabilities. The platform also saves and organizes contact information for leads you've approached or saved to a list. Below are some of the top LinkedIn Sales Navigator features:
Direct lead messaging: InMail feature allows users to directly message leads regardless of connection status with them
Lead prioritization: Lead and account prioritizing features offer recommendations on the highest-quality leads based on sales preferences and current connections
Mobile app: Data syncs with LinkedIn Sales Navigator's mobile app for salespeople on the go
Smart Links: Send files and attachments on LinkedIn posts and InMail, and track engagement with those attachments
Visit LinkedIn Sales Navigator
FindEmails.com: Best for Attaining Email Lists
What We Like
Confidence scores are given for contact emails found
All features included on every plan
Scalable, with an affordable entry-level plan
What's Missing
No annual billing option
Credits require spending for email verifications
Lacks additional features for engaging or nurturing leads
Pricing Summary
Basic: $29 per month for 1,000 credits
Better: $49 per month for 2,500 credits
Best: $99 per month for 10,000 credits
Free trial: 50 free leads
FindEmails.com is a scalable email list generation website in which the number of available credits is the only differentiating factor for each plan. This service is strictly for prospect email address acquisition and verification, as it does not have any features for communicating with leads.
Like Lusha and UpLead, FindEmails.com uses a Chrome extension to pull contact information from supported websites. There's also a search tool for finding prospects based on filterable data such as job role, company, and geographic location.
Compared to the other providers on this list, the most unique feature of FindEmails.com is the confidence scoring for each email. The platform uses multiple factors to determine a confidence score for each lead, including a mail server test, a pattern score for each domain, and a uniqueness score.
Unfortunately, FindEmails.com doesn't offer an annual billing option, and credits are required to run email verifications. Users can access both features from UpLead.
FindEmails.com Plan Summary
Basic

Better

Best

Monthly Pricing

Credits per Month

$29 per month

1,000

$49 per month

2,500

$99 per month

10,000

Email Search Tool

✓

✓

✓

Website Data Scraping With Chrome Extension

✓

✓

✓

Export Contacts via CSV

✓

✓

✓
FindEmails.com Features
FindEmails.com is simple in the type of information it generates being mostly emails, and that information can be only directly downloaded as a CSV. Below are some of the main features of FindEmails.com:
Email search tool: Built-in email search tool with assigned confidence scores for each lead
Easy lead list download: Email lists downloadable as CSV file
Chrome extension: Enables users to scrape web pages to verify email addresses
Prospect finder: Find potential leads based on company and job role for more filtered lead lists
Pro tip: After generating your lead list, target the leads with outreach via email, telephone calls, or paid media. Work with a media company to target your list and even expand it with "lookalikes"—or prospects similar to your target leads. If you're targeting B2B buyers, a company like TechnologyAdvice helps you reach your target audience through various channels like email, digital ads, and content offers.
Benefits of Buying Business Leads
Buying leads for your business is a common sales management practice. It offers unique benefits compared to lead generation methods like referrals, collecting information through online web forms, or creating content to attract inbound prospects. While it tends to be a more expensive option, some of its advantages include:
Leads are acquired quickly: Depending on the service, buying leads can be a short process that's as easy as setting parameters and then downloading your contact list.
Ability to generate a high number of leads: Uses large databases, scraping, tools, and web data sources. This enables users to obtain contact information and profiles of hundreds to thousands (or even millions) of prospects at one time.
Leads can be descriptively filtered: Filter leads to your organization's exact target market based on a wide variety of B2B or B2C search and filtering capabilities.
Free Lead Generation Template
Use our free template to identify your organization's lead generation activities. This template will help you learn how to generate leads and determine the target audience who may be interested in your products and services, and create a custom lead generation strategy.
Thank you for downloading!
💡 Quick Tip:
Use a lead generation tool to acquire potential leads and their corresponding contact information.
Consider providers like UpLead that allow you to filter leads based on job titles, location, and industry.
Visit UpLead
How We Evaluated the Best Places to Buy Business Leads
To determine the best sources to buy the best sales leads lists, we evaluated the unique features offered by lead sellers. In addition, we compared common product and service attributes, such as scalability through subscription plan options or credits-based currency, and the ability to export contact lists. We also looked at plugin capabilities for Chrome web browsing, and integrations with customer relationship management (CRM) software.
We chose Lusha as the best overall place to buy business leads online. It is the only provider that offers a free plan. Through Lusha, you can easily build your lead lists with accurate and actionable data for every single prospect. You can also export lists to your CRM and put your workflows on autopilot.
Click on the tabs below to get insight into our evaluation process for choosing the best places to source and buy business leads and access quality business leads database:
40% of Overall Score
Cost is typically among the most important criteria for a small business, especially when evaluating pricing for something with a measurable objective such as generating leads. We weighted cost most heavily when reviewing lead sellers in terms of free plan availability, scalable pricing options, and the option to pay monthly or annually.
20% of Overall Score
We looked at overall features we feel are must-haves in a lead generation business, including downloadable lead lists and data enrichment to ensure accurate information is being obtained. We also evaluated each service's ability to integrate with third-party applications that work in tandem with generating leads, such as your CRM software.
15% of Overall Score
Lead buying platforms were also evaluated on the usability of their service. This was analyzed in terms of the expertise needed to set up an account, the skill required to operate lead filtering and purchasing features, and the intuitiveness of navigating the system's interface.
15% of Overall Score
Extensive support and service can prevent issues a user may encounter while using any one of these lead purchasing services. Help and support were evaluated in terms of customer service hours and the availability of support via phone, live chat, and email.
10% of Overall Score
In addition to firsthand experiences with online lead sellers, we evaluated what other users are saying about each option. These criteria consider how customers feel, based on their reviews, to gain insight into service popularity, ease of use, and overall value for the price.
*Percentages of overall score
Bottom Line
Buying leads saves you time researching prospect information and inputting lead contact information into a database, making it a valuable investment that sales managers should consider. These services used to purchase leads offer value to your business by generating a large number of verified leads for your pipeline and providing intelligence that can be used to ramp up sales conversions.