7 Essential CRM Reports Every Small Business Should Use
This article is part of a larger series on CRM.
Reporting capabilities are one of the most valuable features of customer relationship management (CRM) solutions, giving teams an overview of their business performance. CRM reports help businesses track progress toward their goals, identify problems quickly, operate more efficiently, and sell smarter. The most essential of these reports include sales pipelines, sales performance, sales forecast, sales activities, case logs, and profitability reports.
Let's take a closer look at each of the most powerful types of reports you can run in your CRM software and their benefits:
1. CRM Pipeline Report
CRM pipeline reports provide a visual overview of how your team and leads are progressing. You can track the value and status of all the deals at every stage of the sales cycle.
This type of CRM report helps you determine if the distribution of your deals is adding up toward your sales goals. CRM pipeline reports pinpoint potential problem areas so your team can focus their attention on improving the campaign.
Here are a few examples of CRM pipeline reports:
Sales funnel CRM report: An analysis of your lead and deal segments showing how your sales are progressing toward your targets.
Pipeline development CRM report: Lets you see how your pipeline progresses over different time frames and which opportunities are still pending.
Stage distribution CRM report: Shows you the pipeline stage your active deals are currently in. It also tells you the percentage of active deals versus the total number of deals.
2. Sales Performance Report
Sales performance reports tell you how well your sales reps are doing in terms of closing your target number of deals. They also provide you with estimates of the actual and expected value of your pipeline deals. You'll see the details of all your opportunities over a given period of time.
Having this performance data at hand informs teams which deals have higher revenue potential, so they can allocate more time and resources on these opportunities.
3. Forecasted Sales Report
Forecasted sales, otherwise known as win probability, show you the projected revenue within a specified time period. This type of report is generated based on data you have on leads and sales trends. It also tells sales reps if they can hit their sales target at the current rate of their efforts and activities.
Sales forecasts are extremely important because they help determine how much revenue a business will have in a certain amount of time. These reports also tell businesses if they can afford expansions, investments, and loan repayments. Understanding the potential outcomes of your team's current efforts helps you mitigate future risks.
4. Sales Activity Report
A sales activity report tracks phone calls, appointments, emails, and other activities that sales reps have done within a period of time. It also shows you the activities scheduled for upcoming weeks.
This report gives sales managers an indication of whether your daily activities help you hit your sales goals and which activities are worth maintaining.
Here are a couple of examples of sales activity reports:
Activity overview CRM report: A summary of all logged sales activities.
Visit outcomes CRM report: Tells you how effective your sales activity is. You can use filters that tell you if your prospects are interested or not, and if you should come back later or not at all.
5. Lead Source Analysis Report
Lead source reports tell you how your prospective customers come to know your business and what makes them interested in your product or service. Sources may include Google search, ad campaigns, social media, and email.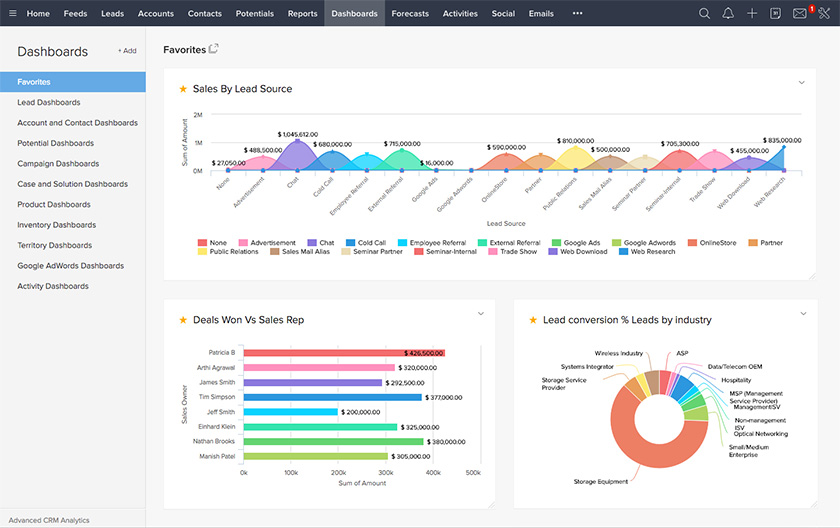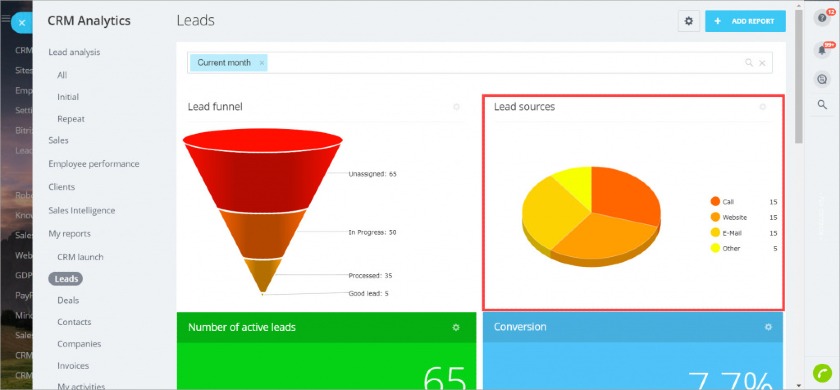 This type of CRM report also drills down into the quality and demographics of your leads so you can eliminate marketing campaigns that do not accelerate the sales process.
Below are examples of lead source analysis reports:
Deal source CRM report: Shows you where your leads are coming from to help you know where you should invest your marketing and sales efforts.
Incoming deals CRM report: Analyzes how lead flow affects your pipeline deals within a given period of time.
6. Call Report
Call reports, or case log summaries, give you an indication of the quality of your customer interactions and the reason why customers seek out the support team. They also give you insights into whether your reps are spending enough time to cultivate customer relationships. Moreover, they show you how effective your reps are in turning calls into deals and whether you need to change the way you get in touch with customers.
Below are some examples of call log reports:
Call duration CRM report: Reveals the average time that a rep spends on a call.
Call outcomes CRM report: Tells you which calls lead to conversations and which ones go unanswered or are directed to voicemail.
Call count CRM report: Shows how many calls each rep is making, as well as which reps are calling more customers and which ones do not make calls.
7. Profitability Report
A profitability report shows you which customers are bringing in more revenue, are most loyal to your brand, and have the highest potential to become repeat buyers. It can also show you the revenue generated from various lead sources or accounts.
It pinpoints which reps are most effective in closing deals. In other words, this type of report helps you identify your best customers and agents.
Revenue vs Profit
Revenue is the total income generated by your sales. Profit is the income that remains after all expenses, debts, additional income streams, and operating costs are subtracted from the revenue.
How Teams Use CRM Reports
Most CRMs allow you to build customized reports based on your specific business priorities. However, standard CRM reports generally fall under the following functionalities:
Sales: Shows you a holistic view of your sales funnel or pipeline and how your business measures against your goals. This includes revenue, sales goals, and sales rep performance.
Marketing: Covers metrics on email clicks, conversions, and lead sources from various marketing campaigns. You can use this data to improve your marketing strategy and conversion rates.
Customer data: Provides you with an assessment of your customers' profiles to pinpoint the most profitable customers. This covers buying patterns, demographics, profitability, and contact information.
Some also allow you to create dashboards, which consolidate several reports in one place. This can be a great feature, especially if each employee and department is designated a customized dashboard view so that they can focus on the reports containing data most meaningful for their role.
If your CRM does not offer role-based views, consider limiting the number of reports that appear on a dashboard to those that will provide the greatest benefit to your entire team. If you want to know more about CRM reporting dashboards and their best use cases, check out our CRM dashboard guide for sales managers.
Bottom Line
CRM reporting is a core CRM feature that provides businesses with summaries of performance metrics relevant to the role of each team member. You can use the insights you gain from these reports to improve your sales and marketing campaigns, as well as to make smarter, data-backed business decisions.
You May Also Like…