What Is Cold Calling? The Ultimate Small Business Guide
Cold calling is a traditional sales activity primarily used to create and qualify new sales opportunities. It allows you to solicit initial conversations with key decision-makers that result in an immediate answer regarding interest in learning more about your products and services. In this article, we explore the cold calling definition along with the goals, implications, and processes involved in implementing this sales activity.
Download our cold calling scripts to get started with engaging leads and developing a cold calling campaign for your sales team. You can customize them to meet your specific business needs and store them in your CRM for everyone to access.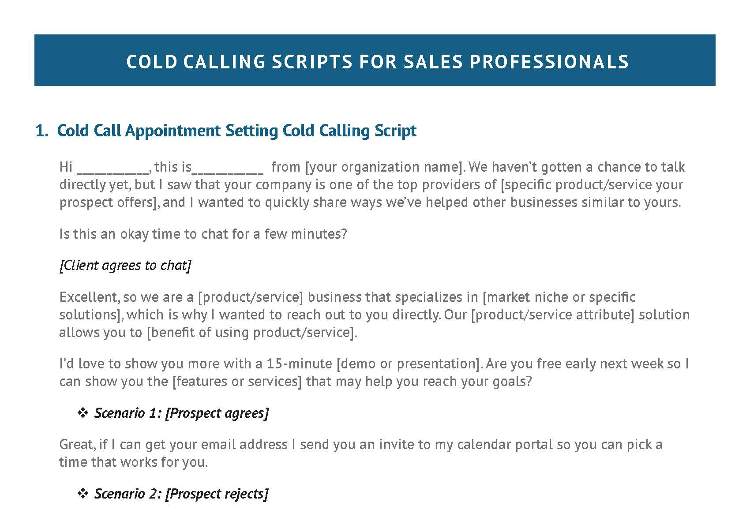 Thank you for downloading!
💡 Quick Tip:
After a successful cold call, schedule product demos with clients easily with an appointment scheduling tool.
Consider software like Calendly that connects with your calendar and gives you a personal link to share with clients so they can quickly schedule sales conversations.
Visit Calendly
What Is Cold Calling?
Cold calling is the practice of placing outbound phone calls to leads, prospects, or potential customers you've had no prior direct contact with. Generally, these contacts have not expressed any interest in your offerings yet, so you use this activity to make a first-time connection. In some cases, however, a sales rep needs to make that initial call to an interested person if a lead submitted a form or was referred by someone else.
Note that the cold calling meaning is different from that of a warm call. Warm calling implies some level of connection has already been made with the contact receiving the call. You could've met them at a networking event and received their business card or been responding to an email they sent you expressing interest in which you're replying with a call.
Pro tip: Use Voice over Internet Protocol (VoIP) platforms like RingCentral to place and track your cold calls. VoIP is a cost-effective solution that places calls over the internet rather than using traditional landlines. In addition to being a cloud-based phone system, RingCentral offers video conferencing, team messaging, and digital call center features to manage communications in one central system.
Goals of Cold Calling
Now that we've answered the question "What is a cold call?" it's time to cover how it helps your business succeed. The main purpose of cold calling is to make initial direct contact with a potential customer, but it can also be used to achieve a number of more strategic business objectives. For example, that first contact can be used to fulfill one of following four common cold calling goals:
1. Lead Generation
Lead generation is the first stage in the sales process where a potential buyer becomes aware of and expresses interest in your products or services. Cold calling is used in these circumstances as a tactic to introduce your business's offerings and see if that prospect is interested. From there, they start their journey in the sales funnel by agreeing to a presentation, product demo, receiving price quotes, or just remaining in contact until they are ready to learn more.
2. Lead Qualification
Cold calling is commonly used to qualify a lead and identify the best opportunities. In other words, sales reps reach out initially via phone and discuss the lead's budget, authority to make purchase decisions, or their timeline of a potential purchase. Most importantly, however, you are evaluating their need and desire to learn about your product or service. This step is expected if you have already generated a leads list through a contact database or online web form and need to connect with prospects individually.
3. Prospect Research
It's common, particularly in business-to-business B2B sales, to use cold calling for intelligence on potential customers. For example, a sales rep may call another business to find out who is the decision-maker for a particular function or department of that organization. They may also seek out the contact information of a decision-maker or common pain points a business is experiencing to gauge whether their products and services offer a solution.
4. Contacting After Inquiry
Many times, a sales rep will use cold calling to personally connect with a lead generated through another source such as a web form, email campaign, or referral. In these cases, the lead already has some relationship and brand awareness toward your firm but needs someone to reach out directly to move them through the sales pipeline.
Pro tip: Referral marketing is a powerful strategy proven to produce top-quality leads with excellent conversion rates. Check out our article about how to get referrals to learn how to optimize this lead source for better results during your cold calling campaigns.
How To Achieve Cold Calling Goals in Five Steps
Cold calling may seem daunting, particularly for those who've never been in a sales position before. To build the groundwork for this sales tactic and develop a standardized process, follow these five steps for more effective cold calling:
1. Conduct Ample Research
Before you pick up the phone, research the types of prospects you'll be calling, who the decision-makers are, and gather their contact information. Much is based on your ideal target market and can be done online by using the company website or researching LinkedIn profiles. Conducting thorough research ensures you don't waste call time on the wrong contacts or leads with incorrect information.
You can also take advantage of lead generation databases such as Uplead to compile all the information you'll need into one place. Uplead is a B2B database that lets users search for leads based on criteria such as industry, job title, location, revenue size, and even the type of technology an organization is currently using. After completing the search and filtering process, you and your sales team can obtain a list of potential customers to start targeting.
2. Prepare Contact Lists
After the research phase is complete, take the information you've acquired and prepare your contact lists. These lists should include the contact's name, phone number, title, and information you will use for the cold call, such as their industry, current providers, or potential pain points you can address. Having a list ready lets you streamline the calling process by simply going down row-by-row as you make calls rather than tracking down information for each call.
Pro tip: Uses customer relationship management (CRM) system to organize contact data and easily generate calling lists. Products like Zoho CRM, for instance, manage your leads into customizable, filtered lists with the info you want to be shown, such as phone number and contact name. This CRM even includes lead scoring tools so you can sort and call in the order which opportunities appear to be the strongest.
3. Set Cold Call Sales Goals
Every campaign should have quantifiable objectives for tracking progress and offering baseline metrics to improve. You can set these either as total activity, conversion rates, or total successes. Some common cold calling goals you can set daily, weekly, or monthly include:
Total Calls Made: Number of total dials or connections made with a decision-maker within a day, week, or month of cold calling
Leads Generated: Total number of new prospects who have expressed interest in your offerings as a result of cold calling introduction campaigns
Appointments Set: Total number of sales presentations or product demonstrations created from cold calling over a set period
Call Conversion Rate: Percentage of total calls made that result in a "success." A success could include leads generated, leads qualified, or appointments set.
A CRM serves as a tool for setting and managing cold calling objectives. HubSpot, for example, has individual and team-based goal tracking features. Managers can set activity goals around cold calling and track their team's ongoing progress.
4. Create Cold Calling Scripts
A successful cold calling campaign starts with using the right script. A cold calling script should not be used to read directly off but serve as a guide. Ideally, after training and going through the first few dials, a sales rep should have the main elements of the script memorized to sound more natural and fluid. A comprehensive script includes an introduction, a cited personal connection, the call purpose, sales pitch, and call to action.
Pro tip: Create and store your scripts in your CRM with document management capabilities. Pipedrive, for instance, has a Smart Docs feature that allows users to design templates for activities such as cold calling or email introductions and share them with the whole team. From the template, you can automatically insert information found in the CRM data fields such as contact first name and organization to tailor the script for every call.
5. Start Dialing
With all of your resources established, you're ready to start making calls. As you go through the process, log your calls by taking notes or documenting the outcome in your CRM records. Try to create a proper calling environment by eliminating distractions so you can focus on dialing and conversing with a high volume of leads.
It's also a smart idea to use a cordless phone or headset so you can stand and pace while talking on the phone. This will make you sound more confident and energetic during your calls—expressing your passion for what you sell and spreading your excitement to the lead.
Pro tip: Virtual phone systems like Grasshopper can offer a single source for business phone numbers, placing calls, and receiving them. This platform is also able to help separate business phone numbers from your personal one without the need to purchase a new phone. This allows users to know exactly when to put their game face on for incoming work-related calls.
Because cold calling is a numbers game that can take dozens to hundreds of attempts before a conversion, any tool that helps automate and streamline the process should be utilized. For example, because dialing is one of the longer steps when placing calls, a software feature such as power dialing is a beneficial asset.
Power dialing is a solution found in CRMs and calling software that automatically dials the next number on your list for you as you complete the previous calls. Freshdesk Contact Center is a software native to the Freshsales CRM product for placing and receiving calls. It includes power dialing capabilities where users can upload their contact list from a CRM or other source and have dialing completed for them in the order of the leads on the list.
How To Optimize Cold Calling Campaigns (+ Statistics)
Cold calls can appear to be a waste of time if you are not converting. However, did you know there are some things you can do to improve success rates and optimize your cold calling campaigns? Here are a few ways to improve cold calling and yield the best results:
Sources
Pro tip: These tips and methods for optimizing cold calling campaigns should be covered in detail during employee training and onboarding. To make the most out of your new rep training, follow these nine best sales training practices to keep your team engaged and ready to hit peak performance.
Cold Calling Implications (Challenges + Benefits)
One of the most common questions surrounding cold calling is whether it can actually produce value and is worth overcoming the negative implications such as the time and training needed to get results. All in all, the consensus is that cold calling is effective as long as sales management leaders and business owners believe they can produce a system where the benefits outweigh the costs.
Below are some of the typical challenges you'll need to overcome associated with cold calling:
Requires Solid Training: Like many "client-facing" activities, cold calling requires a high degree of training for reps on your product or service, giving an elevator pitch, perfecting a cold call script, handling objections, and satisfying call goals.
Employees Dislike Cold Calling: Most sales reps don't enjoy cold calling because of the high rejection rates and the fear surrounding bothering someone with an unsolicited and unexpected phone call.
It's Time-consuming: Cold calling requires a lot of research and dial attempts—which demands a ton of dedicated time during the day for a few wins.
To overcome these challenges, develop solutions to provide adequate call training, motivate employees to overcome their dislike for cold calling, and maximize calling efficiency to make it worth your time. There are many positive implications of using cold calling for sales activities, including:
Buyers Still Accept Cold Sales Calls: Although it may appear to be an outdated method, cold calling still resonates with key decision-makers.
Reps Find Cold Calling Valuable: Even though they may dislike making them, a solid percentage of sales reps still consider cold calling an important prospecting method.
Cold Calling Offers a Prompt Response: The great thing about cold calling is you get an immediate answer to whether someone is interested—allowing you to avoid wasting time on opportunities unlikely to close.
Cold calling has many perceptions around whether it works and how to make it more effective. To separate the facts from fiction, check out our article on 17 cold calling stats you should know for insights on driving factors, popularity, and success rates that come with cold calling leads.
Bottom Line
Cold calling is a sales tactic used by sales professionals to generate and qualify leads, set appointments, and respond to inquiries. This practice is effective if your reps prioritize calling at the right times, consistently follow up on unanswered dials, conduct proper research, and use the right dialogue to gauge interest. While cold calling may seem to require only a phone and list, other solutions like power dialing tools and lead databases can optimize cold calling campaigns.