Cold calling is a sales strategy that involves calling prospects you've never interacted with before. Because it relies on a connection with a relative stranger, who may not be ready to make a purchasing decision, it's the most challenging part of a sales rep's job. However, the process works demonstrably better than email-only outreach.
These cold calling statistics offer some great actionable tips you can use today:
1. Buyers answer 69% of cold calls
According to research from the Rain Group, 69% of buyers have accepted cold calls from salespeople in the previous 12 months. This encouraging statistic proves that cold calling is not dead, it's merely evolving as new cold calling regulations and smartphones that make it easy to avoid sales calls bring new obstacles to this time-honored sales strategy.
(Source: The Rain Group)
2. Only one in 59 randomly-generated calls is answered
Cold calling statistics seem to support that it's no longer the most effective way to generate sales. A study of real estate agents by Baylor University showed that only one out of 59 randomly-generated answered calls resulted in an appointment or referral. These calls were as cold as you can get. However, most businesses don't use this outdated cold calling technique anymore because, like many business tactics, cold calling has to evolve to remain relevant.
(Source: Baylor University)
3. Only 6% of buyers remember receiving cold calls
At a time when people are less likely to answer calls from numbers they don't recognize, sales reps may need to change their approach for effective lead generation. Consider this: 94% of buyers couldn't remember a prospector or message they received during the last two years. Skip impersonal voicemail messages and create a captivating script that encourages a call back.
(Source: The Funnelholic)
4. Pushy sales tactics deter 84% of buyers
Research shows buyers who have a negative cold caller experience say sales agents did not:
Avoid being pushy (84%), listen to the prospect's needs (62%), or research the prospect before calls (45%). The takeaway is that you catch more flies with honey. Be sure you're not overly assertive or brash during a call and make sure you listen to the prospect carefully for the greatest chance of converting to a sale.
(Source: HubSpot)
5. Cold call us first, say 49% of buyers
Despite the articles decrying the death of cold calling, it's still a popular and worthwhile approach for salespeople. A full 49% of buyers prefer cold calls as the first point of contact, however, email takes the overall lead as the preferred first-contact method.
(Source: Rain Group)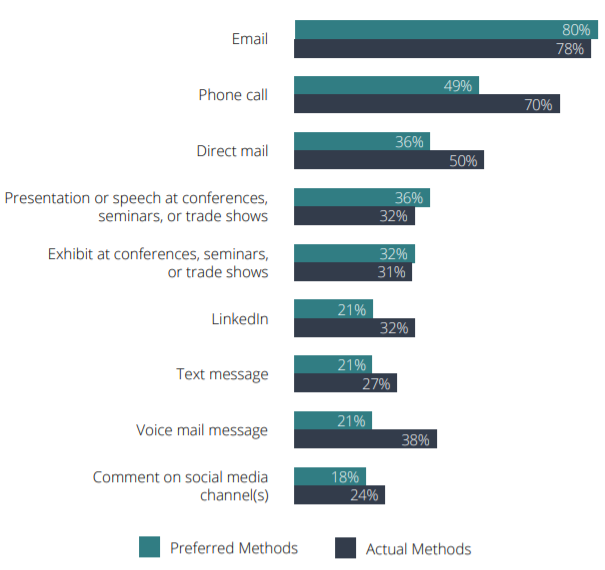 6. In IT, 60% of buyers want cold calls
A survey of 1,000 IT decision-makers asked respondents if a cold call or email led to a new IT vendor being evaluated and whether that decision-maker had taken an appointment or attended an event as a result of a cold call or email. The result was surprising. Nearly 60% of survey decision-makers said yes to both questions. That means sales teams in the IT space have a greater than average chance of developing a warm or hot lead from cold calls.
(Source: DiscoverOrg)
7. The best talk-to-listen ratio is 55%:45%
As a salesperson, you're taught to do more listening than talking. This is true in some stages of the sales process, but not in a cold call. Gong.io says the most successful talk-to-listen ratio is 55% : 45%, with agents talking more than the prospect. A good rule of thumb is to prepare to carry the majority of the conversation and calibrate yourself to keep your talk level at just over half of the potential customer's.
(Source: Gong.io courtesy of Sales Hacker)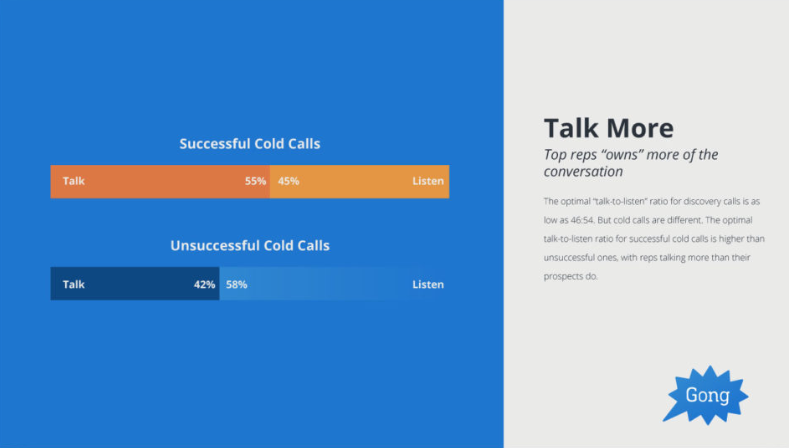 8. Prospecting is the biggest challenge for 42% of reps
A HubSpot survey revealed that sales reps struggle with most prospecting (42%), followed by closing (36%), and qualifying (22%). To overcome this obstacle, sales and marketing should work together to identify qualified leads using a visual pipeline dashboard as featured in customer management platforms like Pipedrive.
(Source: HubSpot)
9. Average B2B buying process involves 7 people
According to Salesforce, seven people are involved in the process for a B2B sale. This means that for the best-selling results you should identify and pursue multiple contacts in a company — a strategy called account-based sales.
(Source: Salesforce)
10. Trustworthy reps are key, say 51% of buyers
The No. 1 factor decision makers want in a salesperson is trust (51%), followed by responsiveness (42%), expertise in the field (42%), problem-solving (37%) and transparency (34%). To build better trust among leads and customers, make sure to be a transparent, responsive, problem-solving expert in your field.
(Source: LinkedIn State of Sales 2018)
11. Cold calls are 70% more successful on Wednesdays
Wednesday is the best day to call prospects to increase the success rate of the most conversations in the first attempt, followed by Thursday, Tuesday, and Monday. Friday is the worst day to call because the conversation rate drops by nearly 70% from Wednesdays. Make your prospecting calls mid-week and save follow-ups for the end of the week for the greatest chance of success.
(Source: CallHippo)
12. Buyers are 16% more likely to answer at 10 a.m.
Phoneburner analyzed 11 million outbound calls over four years and found that the most productive time to cold call prospects is 10 a.m., with 16% of calls being answered. Overall, the best block of time to make cold calls are between 9 a.m. and 4 p.m. in the time zone of the person being called. If you're in the Western time zone, it may be worth starting your day extra early to catch East coast prospects when they're most receptive.
(Source: Phoneburner)
13. The average sales rep makes 45 cold calls daily
In 2018, sales reps made an average of 45 cold calls per day, down from 52 in 2014. Correspondingly, the number of daily quality conversations where the rep learns at least one piece of qualifying or disqualifying information has gone down to 5.1 from 8 in 2014. The results demonstrate that cold calling still works, despite a drop in conversions.
(Source: The Bridge Group)
14. Reps spend 40% of their time looking for prospects
According to InsideSales.com, some sales reps spend 40% of their time looking for someone to call. Rather than letting agents waste valuable time on this task, invest in a good lead list, which should cost from 5% to 10% of your labor.
(Source: InsideSales.com)
15. Cold calls go to voicemail 80% of the time
According to a survey by RingLead, 80% of cold calls go to voicemail. However, let's spin this into a positive: you will connect with someone 20% of the time. If you're averaging 45 daily calls, that's nine conversations and nine opportunities for conversion. When leaving voicemails for the 80% of your calls, make sure to use a compelling script to encourage a callback.
(Source: RingLead)
16. It takes an average of 6 call attempts to win a sale
Research shows 93% of all converted leads are reached by the sixth call attempt. On the other hand, 50% of leads are never called a second time for follow-up. Clearly, persistence pays off. However, buyers are 45% less likely to convert by the seventh call which means you'll get diminishing returns on your conversion rate after six call attempts.
(Source: Velocify)
17. Text messaging decrease lead conversion by 39%
Texting before a relationship has been established (e.g., before a first phone call) decreases the likelihood of ever connecting with the lead by 39%. However, once the initial contact is made, you can convert prospects at a 40% higher rate with texts versus those who don't receive texts. To make this strategy seamless, invest in a Voice over Internet Protocol (VoIP) business phone system like Freshcaller that has all the call and texting tools you need.
(Source: Velocify)
18. Only 50% of prospects are a good fit for your product
Even if you get a chance to talk with a prospect, only about 50% turn out to be a good match with what you're selling. That why it's important for sales and marketing teams to work together to identify and score leads on a visual pipeline dashboard like Pipedrive for the best chance at success.
(Source: Marc Wayshak)
19. Follow-up emails can garner a 62% open rate
If you follow up your cold calls with an email (and you should), research suggests that you'll get more opens and replies asking for a "call" in the subject line (62% open rate, 35% reply rate) than asking to put time on the "calendar" (33% open rate, 10% reply rate). Choose your wording carefully in follow-up emails for the best conversion potential.
(Source: Yesware)
20. Keep post-call emails between 75 & 100 words
The ideal email length is between 75 and 100 words, which typically gets a 51% response rate. Writing at a 3rd-grade level yields the highest response rate (53%) and subject lines that are three to four words are most effective (48%). The takeaway is that an economy of words is the right approach for follow-up emails, save your lengthy descriptions for the phone call.
(Source: Boomerang)
Bottom Line
Despite alternative technologies like email, buyers still want to speak person-to-person — especially for service issues and larger ticket purchases. Cold calling, if done properly, can be effective for the sales rep that is both trained and persistent.
The key to efficient and productive cold calling is to use a customer management platform with a visual pipeline dashboard like Pipedrive. Sign up for a free trial today, no credit card required. Head to Pipedrive's website to learn more.