CRM Systems: The Guide to Customer Relationship Management
This article is part of a larger series on CRM.
A customer relationship management (CRM) system is a business tool that helps organizations manage their lead outreach and sales processes and improve relationships with customers. The best are equipped with functionalities for lead and contact management, sales automation, pipeline monitoring, and business performance reporting. In this article, we further define what a CRM system is and why this software is essential for small businesses.
Top CRM Systems for Small Businesses
| Small Business CRM | Recommended Use Case | Starting Price* |
| --- | --- | --- |
| | Best overall for small businesses needing a robust CRM with free and affordable plans | Free or $15 per user, per month |
| | Best CRM for social media integration and inventory management | Free or $14 per user, per month |
| | Best for users who want an easy-to-use system with visual sales pipelines | $14.90 per user, per month |
| | Best CRM with a built-in phone for in-app calling | Free or $39 per month for up to 5 users |
| | Best scalable, free CRM for unlimited users | Free or $45 per month for up to two users |
| | Best small business CRM with advanced features like lead generation, customizable reports, and case management. | $25 per user, per month |
*Based on annual pricing
For a closer look at the features, strengths, and weaknesses of each provider mentioned above, read our guide to the best CRMs for small businesses. If these providers have too many features you may not necessarily need, check out our guide on CRM alternatives if you only need a tool for organizing and tracking prospects and leads.
What Is a CRM System Used For?
CRM systems work by pulling together lead and customer data collected by business websites, social media, emails, and third-party apps into a single customer database. This enables more streamlined sales, marketing, and service activities and strengthens relationships by allowing agents to provide more personalized interactions with contacts.
Some CRMs provide more robust functionality beyond contact management and workflow automation. For example, a business can also use a CRM platform to analyze data and uncover patterns to make your sales, marketing, and CRM campaigns more efficient. It can also be used to predict future sales trends.
A CRM's use case depends on the individual application. CRM features vary from one provider to another and between pricing tiers. Some platforms only provide sales tools, while others include marketing features. There are also some all-in-one solutions that help you manage and improve all aspects of your CRM process.
The complexity of a CRM system also depends on what other business tools it is designed to work with. CRMs, like Salesforce and Pipedrive, can be purchased as standalone systems. Alternatively, they may be integrated with other types of software as a value-added service, such as Mailchimp (which is primarily an email marketing tool) or Nextiva, a voice-over-internet-protocol (VoIP) platform.
Download our free, in-depth CRM e-book to learn more about how to choose and implement a CRM for your small business.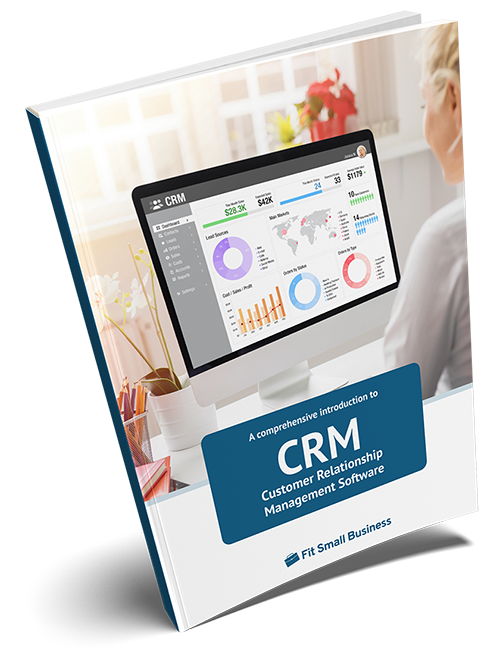 The Expert's Guide to Customer Relationship Management
Small Business Use Cases + Pro Tips
Why Your Business Needs CRM Software
Customer relationships are the foundation of a successful business, but building good relationships takes time and effort. It entails various activities, such as continuous communication, re-engagement, and understanding your customers' needs. These are aspects CRM systems help you manage through tools like contact management, omnichannel communications, email marketing, and analytics.
CRM tools help you streamline your sales processes and customer communications, ensuring nothing falls through the cracks. Some of the challenges you can avoid when using a CRM system include:
Difficulty in managing an influx of customers and leads
Not having enough visibility into your customer data
Being unable to accurately monitor your teams' performance
Wasting time creating reports manually
Studies show CRMs use sales, marketing, and automation features to help businesses target their audience, enhance access to customer data, and shorten the sales cycle. A HubSpot report found that 61% of high-performing leaders used a CRM solution to automate their sales process.
Pro tip: Curious to learn more data-backed insights on the use of CRM systems? Check out our article on 10 interesting CRM statistics every small business should know.
Additional Benefits of CRM Software
A CRM solution simplifies your customer relationship management process, helping you manage your leads and increase customer retention. It is equipped with tools and features that automate some aspects of your business operations and make customer interactions more efficient and effective, as well as improve your overall customer satisfaction score. Some of the top benefits of utilizing CRM platforms include:
Simplified sales processes and increased team productivity
Centralized access to customer information
Data-backed insights for improved decision-making
Improved collaboration among your departments—particularly sales, marketing, and service
CRM Software Costs
CRM pricing models range from free to more than $100 per user, per month, depending on the type of CRM and the features included in each package. Free and low-cost CRMs ranging from $8 to $15 per user, per month often support a limited number of seats and have lower data storage capacity. These also typically only include basic CRM functionalities, such as contact, lead, and pipeline management.
CRM packages for mid-range companies can range from roughly $30 to $150 per user, per month. These usually offer additional features for lead generation, collaboration, and reporting. Others offer more extensive CRM integration, such as a built-in phone system. More advanced plans for large enterprises can cost as much as $300 per user, per month. The most expensive CRM systems include deeper customization options as well as highly sophisticated analytics and reporting tools—typically beneficial for larger-sized enterprise companies.
Pro tip: Some CRM providers advertise low per-user fees, but there are often additional fees for training, onboarding, and implementation. Some options also have separate charges for customer support. Ask your provider about these items before committing to a CRM plan to ensure the package you choose meets both your needs and budget.
Types of CRM Platforms
There are three fundamental types of CRM solutions: operational, analytical, and collaborative. While they have different sets of functions and purposes, each has the same goal: to improve customer relationships and grow your business.
Operational CRMs do this by automating your business and sales processes to save time and effort. Analytical CRMs focus on gathering data and analyzing it to help you deliver excellent service to your customers. Collaborative CRMs‌ bring together your sales, marketing, and service teams to help you better understand your customers' needs.
Types of CRM Technology
When choosing a CRM solution, determine the type of technology you need based on several factors. These include the size of your team, your company's budget, the level of customization you need, and the extent of data access by third-party vendors. Take a look at these examples of CRM systems below to see which one best fits your business needs.
Cloud-based CRMs
Also known as software-as-a-service (SaaS) or on-demand CRM, cloud-based systems store your data in a remote network your employees can access anytime, anywhere. The provider also takes care of the deployment and maintenance of the system, so you only need to oversee the CRM adoption and provide your employees with access to the app. They can open it and access customer data as long as there is an internet connection.
Cloud-based CRM systems are seen as a more budget-friendly option because you don't need to invest a large amount for a software license. You only need to pay subscription fees regularly. Most CRM providers already include basic maintenance and support services in the subscription costs. When you're ready to scale up your business, you can upgrade to a higher-pricing tier with more data storage and features.
Some of the popular cloud-based CRM providers are Salesforce, Zoho CRM, and Pipedrive.
On-premise CRMs
An on-premise CRM solution is installed on the company's servers and requires the purchase of a software license. You also have complete control over the setup, installation, employee training, software maintenance, and data security. However, the vendor will still provide technical support when critical issues arise. With this kind of system, you don't need to rely on an internet connection to access your database.
While an on-premise CRM system allows you to have complete control over the server, this also means that your company bears full responsibility for the extra IT staff needed to manage it. In addition, you have to shoulder the expenses for hardware and software maintenance or upgrades, industry compliance, and offsite data backup service. In general, this kind of system requires a greater capital investment and takes longer to scale.
Some popular CRM providers still offer on-premise versions of their software. Examples of these include Microsoft Dynamics and Bitrix24.
Open-source CRMs
An open-source CRM solution allows users to access its basic source code for free and customize it deeply based on its intended use. You can deploy the modified software to individuals or your entire company. In addition, there's support from open-source developer communities for bug fixes and troubleshooting.
The main drawback of open-source solutions is that they require advanced technical skills to implement. Aside from that, most open-source CRMs are not known for aesthetically pleasing and intuitive interfaces. There is also a limited number of core features available with the free source code, so you need to pay for a more robust system.
Examples of open-source CRM platforms are Vtiger, SuiteCRM, and Odoo. To learn more about these providers or see other similar options, check out our guide to the best free and paid open-source CRM software.
Industry-specific CRMs
Most popular CRM providers are general-purpose CRMs that offer businesses a centralized location to manage customer data and interactions. However, some businesses benefit from using industry-specific CRMs. These CRMs provide more niche and specialized tools to help particular business types move customers and prospects through sales cycles more quickly.
Businesses that need industry-specific CRMs include companies in the insurance, healthcare, real estate, hospitality, mortgage, call centers, and construction industries. CRMs for these industries typically have processes and ready-made tools that need minor customizations. For example, a CRM system for the real estate industry will usually have features for payment collection, lease contract management, and integrations with popular real estate marketplaces.
Integrating Your CRM With Other Business Tools
Software integrations connect various tools to sync essential customer data and allow them to flow in one or both directions. Integrating your CRM with other applications your sales team uses helps facilitate more integrated customer data management and avoid information redundancies. For example, if a team member updates your CRM database, it will automatically update the same information in all apps.
In addition, integrating your CRM with other apps is crucial in managing your customer relationships, especially if you need specific functionalities only certain software can provide. These may include some of the most popular CRM integrations, such as customer service or help desk, social media management, email marketing, and accounting software.
Essential CRM Features & Functionalities
Different CRM providers have their own set of features and highlight the functionalities that set them apart from competitors. However, there are certain fundamental CRM features that should be included in their lineup of capabilities you should look for—no matter which provider you're considering.
Creating Your CRM Strategy
A CRM strategy is a plan of action for organizations to process customer data and use it to improve their products and services and effectively serve their customers. It is essential in strengthening customer relationships, driving sales, increasing team productivity and collaboration, and improving the overall customer experience.
Implementing Your CRM
Implementing CRM software requires careful planning—especially if you want your team to utilize it. While most CRM systems are designed to work out-of-the-box, you still need to take several aspects into consideration to get your CRM up to speed and make the most of your investment.
Steps included in implementing CRM include assembling your CRM team, establishing your goals for using the software, identifying data that needs to be migrated, and integrating third-party apps. You also need to train your team on how to use the system to increase CRM adoption and maximize its benefits.
Bottom Line
CRM systems may seem overwhelming and, sometimes, like overkill for your business. However, using one often makes the difference between providing timely and informative follow-ups or allowing deals to slip through the cracks. This makes the CRM solutions well worth the investment for businesses of all sizes, provided your team commits to keeping data up to date and is thoroughly trained on its expected use.
You Might Like…
Interested in how you can properly utilize your CRM system? Read our guide on CRM best practices.
Did you know the customer relationship management process began in the 1950s? If you're curious about the evolution of CRM through the years, check out our comprehensive article on the history of CRM.
Using a CRM can help you attract new clients and open new opportunities for career advancement. If you want to showcase your knowledge in using CRM in a verifiable way, consider earning CRM certifications.