Employee Suspension: Ultimate Guide for Small Businesses
Employee suspension is a disciplinary action taken against an employee who may have engaged in serious misconduct or policy violations. It serves as a temporary measure to separate an employee from their work environment following wrongdoing.
The suspended employee is removed from their position and prohibited from accessing company premises or engaging in work-related activities. This includes any remote or work-from-home activities. The break allows an employer to conduct a thorough investigation that adheres to employee suspension laws without interference from the accused employee.
Grounds for Employee Suspension
There are various reasons why an employer may choose to suspend an employee. For instance, repeated violations of company policies or procedures can lead to suspension. Other causes for employee suspension may include gross misconduct, unethical behavior, or unsatisfactory job performance.
When employees disregard established rules and engage in improper behavior, the consequences can be far-reaching. Such actions not only compromise the integrity of the company but also jeopardize its reputation in the business community.
A violation of any of your company policies may result in the suspension of an employee. For instance, if an employee is habitually tardy for work and has been reprimanded multiple times as well as given a written warning, you may choose to suspend the employee as a disciplinary punishment.
Your company policies may vary and could include:
Health and Safety
Code of Conduct
Attendance
Job Performance Expectations
Substance Abuse
Ethics
Security
Gross misconduct refers to actions that breach professional conduct standards and can cause harm to others or the organization itself. This includes any act that brings discredit to the company's name. In some cases, the actions may break the law. Such behavior not only damages the trust within a workplace but also hampers productivity and employee morale.
Some examples of gross misconduct include:
Substance abuse
Workplace violence
Offensive behavior
Harassment
Discrimination
Negligence
Fraud
Sabotage
Theft or embezzlement
When an employee engages in activities that breach ethical standards, it not only tarnishes the reputation of the individual but also undermines the trust and morale of the entire workforce. As a response, you may choose to suspend employees who have been found engaging in unethical behavior.
Employee suspension serves as a strong message that misconduct will not be tolerated, highlighting that no one is above the rules or immune from consequences. This action also allows you time to investigate further into the alleged unethical conduct without immediate termination, demonstrating your commitment to fair procedures and unbiased decision-making.
Examples of unethical behavior include but are not limited to:
Misuse of company time
Lying
Theft of company property
Sabotage
Falsifying company records
When an employee consistently fails to meet job expectations despite training and support from their employer, it can have a detrimental impact on productivity, team morale, and overall company success. As a result, employers may make the decision of suspending an employee due to unsatisfactory job performance. While this measure may seem extreme to some, it is often necessary to address the issue at hand effectively.
Employee suspension serves as a means of communicating the severity of the situation while allowing both the employee and employer to assess the root causes behind the unsatisfactory performance. By temporarily removing an underperforming employee from their duties and responsibilities, you create an opportunity for evaluation and improvement.
Best Practices for Employee Suspension
When the need arises to suspend an employee, there are a few practices to follow to ensure that it goes smoothly.
1. Have Clear Policies in Place
Before any disciplinary action is taken, it is crucial for employers to have well-defined policies regarding employee conduct, performance expectations, and disciplinary procedures. These policies are typically communicated in an employee handbook so all employees understand the consequences of their actions. It should be part of a progressive discipline policy that outlines warnings that lead to suspension and possible termination.
2. Provide Written Notice to the Employee
When you suspend an employee, you should notify the employee in writing. Your suspension letter, at minimum, should include the following:
The original date of the incident
Specifics of the incident that led to the suspension
Details of any investigations that will take place
With or without pay details
The decision-making process
An employee's right to respond
Risk of termination
Download and customize our employee suspension letter samples below.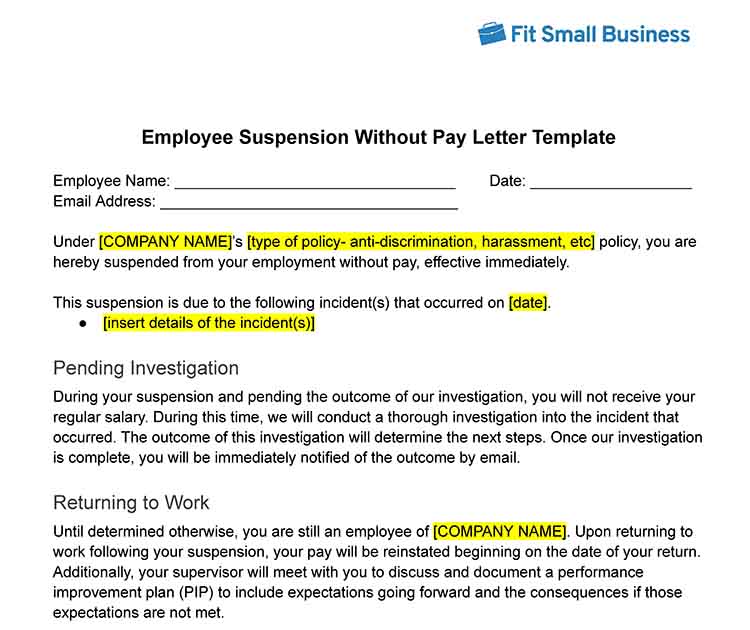 Thank you for downloading!
If you need assistance with an employee suspension, including legal, payroll, and policy information, consider BambooHR, your all-in-one solution for HR tracking needs.
Visit BambooHR
3. Notify the Employee in Person
Notifying employees face-to-face of their suspension allows for clear communication and avoids any misunderstandings or misinterpretations. It also demonstrates that you value their contributions and are willing to have difficult conversations directly with them.
Bring the individual into your office, or if remote, you can schedule a video conference call. Here you will tell the employee everything that is in the suspension letter. Do not read it word for word, however, do explain to the employee that they are being suspended (with or without pay) along with the reasons and next steps in the investigation.
Allow the employee time to process the suspension and ask any questions. Then provide the employee with a written suspension letter and have them sign the document. Once signed, the employee can be escorted off the premises (if on-site).
4. Put Security Measures in Place
When an employee faces suspension or possible termination, it is crucial for companies to swiftly respond and ensure the protection of their sensitive data. Once the disciplinary action has been taken and the employee is escorted off the premises, immediate attention should be given to revoking their access to company systems and networks.
This responsibility lies primarily with the IT department, as they hold the keys to safeguarding critical information. By removing employee access, you:
Prevent unauthorized use or potential misuse of confidential data
Mitigate any risks associated with disgruntled employees seeking revenge or engaging in malicious activities
Preserve a secure working environment and ensure that sensitive information remains protected from external threats
5. Investigate the Accusations
When you notify your employee that they are being suspended, you should also notify them that their suspension is pending investigation of the claims. It is your duty to thoroughly look into all accusations and incidents that occurred before the suspension. To do this:
Speak with supervisors or any colleagues with direct knowledge of the incident(s)
If a physical incident occurred, review any potential video evidence available
Take written statements from each party involved
Hold a meeting with key employees (typically a supervisor and an HR rep) to discuss
Record a written document with the results of the findings
Determine the final outcome—performance improvement plan (PIP) and reinstatement of employee or termination
6. Notify the Employee of the Outcome
Once you have thoroughly investigated the situation that led to the suspension, it is time to notify the employee of the outcome. Be clear and concise about your decision. Start by acknowledging their suspension and expressing appreciation for their cooperation during the investigation process. Next, outline the findings of your investigation in simple terms, without delving into unnecessary details. Provide specific examples or evidence that support your decision while respecting any privacy concerns.
It is equally important to offer guidance on how to move forward from this point. If the employee's suspension was due to misconduct or poor performance, discuss what steps they need to take in order to improve or rectify the situation. This will likely involve a performance improvement plan (PIP). Have this ready and review it with the employee.
If the investigation led to termination, notify the employee that their employment is immediately terminated. You will also want to provide them with a letter of termination that outlines the situation and dates of termination.
Employee Suspension Laws
When issues arise in the workplace that require immediate attention, suspending employees may be an appropriate disciplinary measure. However, suspensions should never be taken lightly or implemented without careful consideration of legal guidelines and fairness.
To ensure compliance with labor laws and maintain a productive work environment, employers must adhere to specific rules when it comes to suspending employees.
At-will-employment legally allows employers and employees to terminate employment for any reason. Both employers and employees have the freedom to enter into an employment relationship without a specified duration and can end it at any time, with or without cause.
Under this doctrine, employers are not obligated to provide notice or severance pay when terminating employees, nor do they need a specific justification for dismissal, as long as it is not illegal or discriminatory. Similarly, employees are also free to resign from their positions without giving advance notice.
Although most states adhere to an employment-at-will doctrine, a suspension may be a better alternative to termination. A suspension will give you time to investigate the allegations and potentially save the employee's position.
---
Under most employment laws, employers have significant discretion in terms of disciplining their employees. This means that you generally have the right to suspend your employees as a way to enforce company policies or address behavioral problems.
However, there are certain limitations on when and how suspensions without pay can be implemented legally. Some states require employers to provide a written notice detailing the reasons for the suspension before implementing it and put a limit on the timeframe of the suspension.
Be sure to check your specific state laws before suspending your employees without pay.
---
There are several Federal anti-discrimination laws that you should be aware of before suspending an employee. It is recommended that you have all incidents clearly in writing to avoid discrimination charges.
According to the Equal Employment Opportunity Commission (EEOC), it is illegal to discriminate against someone because of their race, color, religion, sex (including gender identity, sexual orientation, and pregnancy), national origin, age, disability, or genetic information. It is also illegal to retaliate against a person because he or she complained about discrimination, filed a charge of discrimination, or participated in an employment discrimination investigation or lawsuit.
The Americans with Disabilities Act (ADA) prohibits discrimination in all employment practices, including job application procedures, hiring, firing, advancement, compensation, training, and other terms, conditions, and privileges of employment.
The National Labor Relations Act (NLRA) prohibits discipline and termination of employees based on whether the employee is a union supporter. Section 8(a)(3) of the Act makes it an unfair labor practice for an employer to discourage (or encourage) union activities or sympathies by discrimination in regard to hiring or tenure of employment or any term or condition of employment.
---
When an employee is suspended from work without pay, they may be able to claim unemployment benefits. However, there are certain criteria that must be met to qualify and certain situations that will automatically disqualify a candidate for unemployment. For instance, if an employee is suspended without pay or terminated due to gross misconduct, they are generally not eligible for unemployment benefits.
If a suspended employee files for unemployment, it is recommended that you dispute the claim and contact a skilled unemployment attorney to assist you.
---
Alternatives to Suspension
If you are trying to avoid suspension, or if this will greatly affect the production of your company, there are alternative options available. These options can remove the employee from the area where the incident occurred or offer a solution that is acceptable to all parties.
Job Change
If possible, when an employee does something that could potentially result in suspension, it is critical to remove the employee from their current location. This proactive measure serves two important purposes: protecting the well-being of other employees and minimizing further damage to the company's reputation.
By swiftly removing the employee from their current work setting, you create a safer environment for colleagues who may be affected by their actions or behavior. This can mean transferring the employee to another department or office building, depending on the incident. For instance, if insubordination is the issue, try removing the employee from under that supervisor, at least temporarily.
Remote Work
If the employee in question works in a physical office where the incident took place, one way to avoid suspension is to remove the employee from the office by having them work remotely. With this alternative, your employee will still be able to perform their daily duties—but away from the office and other co-workers that may have been affected by the inappropriate behavior.
While the employee is working remotely, you will have time to investigate any claims while not affecting your current productivity. Once the investigation is complete, a decision should be made to either bring the employee back to the office or terminate employment.
Coaching & Mentoring
Coaching and/or mentoring programs provide employees with the necessary support and guidance to address performance issues or behavioral problems before they escalate. It focuses on improving an individual's skills, knowledge, and abilities by providing regular feedback and setting achievable goals.
By engaging in one-on-one coaching sessions with employees who display signs of potential misconduct or underperformance, managers can identify underlying issues and help them find appropriate solutions before it's too late.
Restorative Justice
Restorative justice, also known as mediation, is a process that brings all parties involved in a conflict or dispute together to discuss and find a resolution. It involves creating a safe space for open dialogue and empathy, with the goal of repairing the harm caused and restoring relationships.
When used in the workplace, this inclusive approach focuses on understanding the underlying needs and interests of each party, rather than assigning blame or punishment. It encourages active participation and open communication from all individuals involved, through guided mediation. A person not involved in the incident (likely an HR rep) should take the lead on the discussion.
Employee Suspension vs Termination
When an employee's behavior or performance falls below acceptable standards, you may face the difficult decision of whether to suspend or terminate their employment. While both measures aim to address misconduct or poor performance, it is important to understand the differences between suspension and termination and their respective implications.
| Employee Suspension | Termination |
| --- | --- |
| Remains an employee, pending investigation | Employment relationship ends immediately |
| If paid, will remain on payroll | Immediately removed from payroll |
| Not entitled to unemployment benefits, if paid | Entitled to unemployment benefits, depending on reason for termination |
| Temporary termination of employment, if unpaid | Permanent termination of employment |
When to Terminate Instead of Suspend
While employee suspensions are often seen as a disciplinary measure, there are instances where termination might be the more appropriate course of action. One key factor to consider is the severity and frequency of the misconduct committed by the employee.
If an individual repeatedly engages in serious violations of company policies or exhibits behavior that threatens workplace safety, it may be necessary to terminate their employment rather than merely suspend them.
Another crucial consideration is whether the misconduct is indicative of a pattern or a one-time occurrence. If an employee consistently demonstrates poor performance, such as failing to meet deadlines or complete tasks accurately despite repeated warnings and training opportunities, a suspension may no longer suffice as an effective corrective measure.
Bottom Line
Employee suspension is a disciplinary action that serves as a means to address misconduct or breaches of company policies. By suspending an employee, businesses have time to conduct a thorough investigation and make a decision on how to proceed. It is important to adhere to any employee suspension laws for your specific state during the suspension period.