An interview evaluation form allows job interviewers to score an applicant's interview in a consistent way, comparing candidates fairly. Data is then transferred to a scorecard used by HR or the hiring manager to determine which candidate, based on all interviewer feedback, is the best fit for the organization.
In this article, we'll provide you with 11 free interview evaluation forms and scorecards that you can customize for specific kinds of interviews and job roles.
Looking for a better way to store interview evaluations, scorecards, and other hiring documents? Freshteam is an applicant tracking system (ATS) that lets you store important candidate documents and information, including resumes, emails, interaction history, interview scorecards, and feedback from team members, all in one place. Freshteam is free for up to 50 employees.
1. Simple Interview Evaluation Form
Use this template if you're just looking for a one-page document to jot down notes and score the candidate on 5-10 job qualifications. This is the best and easiest interview evaluation form to use if your interviewers don't have much experience interviewing. It's simple and allows raters to assess each candidate using three choices (poor, ok, great).
Because these templates are editable, you can modify each to suit your particular needs by changing the text in the categories, modifying the rating scale, or adding your own logo.
Training Interviewers to Use this Form
We've tried to keep it simple, with 10 questions, room to jot a reminder note about each rating, and a simple 3-point rating scale for interviewers to choose from. All interviewers should use the same form and rating system for consistency. In addition to training on how to conduct an interview, as well as what not to ask, your interviewer training can be as simple as showing the interviewer how to use and score the form:
Complete form info, such as interviewer name, candidate name, job title, and date
Rate candidate on each of the questions (poor, ok, great) by using a checkmark
Once they complete the interviewer evaluation ratings, count the number of each 'poor', 'ok' and 'great' ratings and write that number at the bottom of the interview evaluation form
Interviewers then circle their overall rating (which is subjective; it may or may not match the numeric score)
Last, they should indicate 'yes' or 'no' on whether they recommend the candidate
If they have comments as to why they made a recommendation, they can write those in
Simple Interview Evaluation Form Customized to Specific Job Roles
The example forms below take the basic questions provided in the interview evaluation form template and customize them to specific job roles. For example, candidates for a retail job may need to have POS experience, while candidates for an administrative role may need specific computer expertise.
Evaluation Form for Retail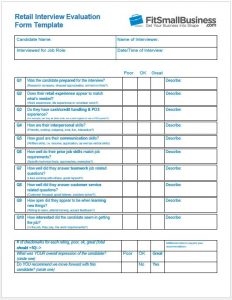 Use this template to assess retail job candidates for fit within your business and your customer base. This one verifies that candidates have the skills to run a register and serve clients.
Evaluation Form for Food Service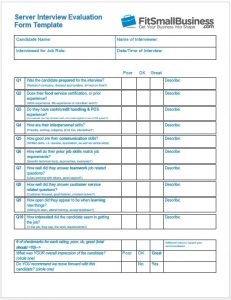 Use this template if you're interviewing for individuals who will work in the fast-paced food service environment; to ensure you're evaluating candidates fairly and capturing the work experience and interpersonal skills required to ensure great customer service as well as food safety.
Evaluation Form for Administrative Assistant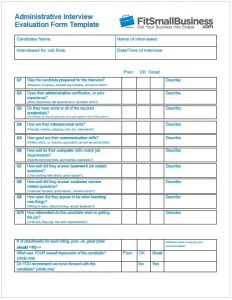 Use this template if you're interviewing an administrative assistant as it contains questions that assess typical job skills needed by a successful admin,  such as computer skills and ability to support others.
2. Complex Interview Evaluation Form
Use this customizable template if you're looking to document results from a detailed behavioral interview, not only looking at job-specific qualifications, but also at personality traits and organizational fit. The only difference between this form and the simpler versions above, is that this form has a place for you to record responses on 20 questions. 10 of those questions are behavioral interview questions based on Korn Ferry & Lominger Competencies.
Training Interviewers to Use this Form
In addition to basic training on how to conduct an interview, and showing interviewers how to use this form, you may want to explain why you chose specific behavioral and technical interview questions on this 2-page template. Otherwise, this form is scored in the same way as the simpler versions above. The only real difference is it has more questions.
Complex Evaluation Forms Customized for Specific Job Roles
These forms use the same format provided in the complex interview evaluation form above and further customize the behavioral and technical questions to suit specific job roles. For example, managers need to be able to inspire team members, project managers may need PMP certification, and technical team members may need to have very specific hardware or software expertise.
Manager Evaluation Form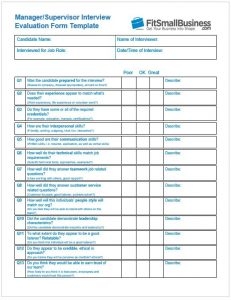 This version of the interview evaluation form adds questions relevant to managerial roles, assessing what some consultants refer to as the Big 8 — those job competencies that are both hard to develop, and critical to the success of a manager/leader in an organization.
Technical Team Member Evaluation Form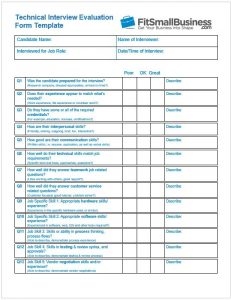 Use this template if you're evaluating candidates for technical skills. You can customize it by listing the specific hardware, software, or Trello. This interview evaluation form includes 10 behavioral interview questions specific to the kind of competencies required by technical staff in addition to the 10 questions used to evaluate most candidates — questions about communication, teamwork, and customer service.
Project Manager Evaluation Form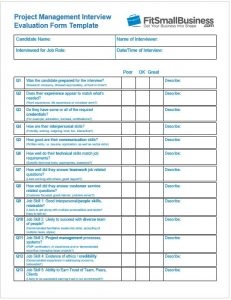 Because project managers do the work of managers without direct supervisory authority, this template includes competencies identified by the Project Management Institute (PMI) needed by project managers — such as the ability to manage conflict, prioritize work and motivate a self-managed team.
What to Include in an Interview Evaluation Form
Whether you use our templates above or create your own, an interview evaluation form should have basic candidate information and job-related questions. Every interviewer should use the same form so that data can be gathered consistently and candidates assessed fairly.
Interview evaluation forms should include:
First and last name of candidate
Position or job title — this is the job that the candidate is being interviewed for
Name of interviewer — this is the name of the person conducting the interview. If you are conducting a group interview with a candidate, each interviewer should have their own copy or electronic access to the interview form to fill out for that candidate.
Date and / or time of interview
Evaluation criteria — some way to rate or score the candidate on each question. Our templates use a simple 3-point scale, asking raters to choose from 3 options for each item — poor, ok, or great. You might prefer to use a 1-5 scale, where 1 is poor and 5 is excellent.
Questions — You can have as few or as many questions as needed. Our templates provide 10 questions for the simple interview and 20 for the more complex interview.

For entry level roles, 5-10 questions is typically sufficient
For management and senior level roles, develop as many questions as you need to determine experience, skills, ability, competencies, behaviors, and cultural fit
Summary rating — Provide some way to add up your ratings and get a more holistic look at the candidate. Our templates simply count the number of ✓ check marks, but you could also weight each rating, such as poor=1, ok=2, great = 3 and then total the points-value as a numeric sum. For example: (5) ✓ checkmarks in the ok column (worth 2 points each) would equal 10 points total.
Recommendation — This section is important to find out whether the interviewer would recommend that the candidate continue to the next step in the hiring process. It's a subjective recommendation based on both the ratings and the interviewer's gut feeling, which sometimes isn't captured in the scoring. HR or management uses their recommendation as just one 'opinion' as they compare all interviewer's ratings.
Comments — this section is deliberately small, to make note only of the rationale for moving the candidate forward or not, such as "not enough job experience" or "one of the top 2". Watch out that nothing discriminatory is written on the form, such as age, pregnancy or mention of a disability.
What NOT to Include in an Interview Evaluation Form
Be careful when you create your interview evaluation form that you do not inadvertently encourage interviewers to ask or rate anything that could be subject to discovery in a litigation process, such as any demographic, gender, or other protected-class information that may violate labor laws. Even seemingly harmless data, such as a candidate's date of birth, can cause unintended interviewer bias based on age and violate federal law.
Don't Include any data fields or document this information on the form:
Candidate gender or gender identity
Candidate marital or family status
Candidate race, ethnic or religious background
Candidate age or date of birth
Candidate location (it's okay to indicate candidate's preferred work location)
Candidate disability or pregnancy
Here are more questions to avoid and illegal questions you cannot ask during the hiring process.
Note for EEO purposes demographic data may be gathered by HR and maintained separately from the application/candidate file. However, it does not belong on the interview feedback form due to the risk of potential discrimination.

Free Interview Evaluation Scorecards to Compare How Different Interviewers Rate the Same Candidate
Once individual interviewers have completed their rating of an individual candidate, you can input that data into an interview evaluation scorecard to compare everyone's interview ratings for the same candidate. This way, you can determine the average rating for each candidate and decide (without bias) whether or not you should move the candidate forward in the hiring process.
Scoring sheets, as Dr. Amanda Holdsworth explains below, can be very helpful when you have multiple interviewers from different teams across an organization:
Scoring sheets are extremely helpful when working with cross-organizational interview teams, because they reiterate the core competency requirements of the position. This process can be both efficient and inclusive by allowing everyone on the team to provide input with the same foundational understanding. Personally, I use scoring sheets during second round interviews after the candidates have completed competency tests or exercises, and their level of culture fit has been gauged. – Dr. Amanda Holdsworth, Ed.D, Educational Consultant, Cleary University & USC Alumni
Of course, if you have only 1-2 interviewers, e.g. you and the supervisor, you may not need to use a scorecard like this as you can view your interview evaluation forms side by side.
1. Scorecard Using Simple Interview Evaluation Form
If you've used the simple, 10-question candidate evaluation form, then you can transfer the data to this scorecard template and get comparative ratings, showing average score and overall count of those who recommend this candidate move forward to the next step in the interview process, such as a final interview. This is great for a side-by-side comparison of how each interviewer rated the same candidate.
In this example, we scored each candidate based on poor=1 point, OK=2 points, great =3 points (since there are only 10 questions, the max 'score' is 30). We then transferred each interviewer's (subjective) overall rating (poor, OK, or Great) to the overall column and noted whether they recommended the candidate move forward. See the example below, and then download and customize your own version.
2. Scorecard Using Complex Interview Evaluation Form
If you're wanting to compare interviewer ratings of a candidate for a higher-level job, one for which you used the more complex 20-question behavioral and competency based interview form, then use this scorecard template to input the interviewers ratings.
It's scored exactly like the form above, although your totals and averages will be higher based on the number of questions you assess. You can then obtain an average rating for the candidate overall, and determine next steps, such as a final interview or a request for a sample work product.
3. Scorecard to Compare Candidates Side by Side
Once all your interviews are complete for all your candidates for a given position, you'll need a way to capture the summary data for each candidate and compile it into a comparative scorecard. This lets you compare how candidates performed in the interview on an apples-to-apples basis.
Here's an example of how the data might look for three candidates who interviewed for the same retail job.
This tool allows you to document and rate candidates fairly and can come in handy if you ever have a claim of interviewer bias or unfair hiring practices filed against your company. You would be able to show how each candidate compared to one another and will have documentation as to why you choose to hire one person, and not to hire another individual.
You'll notice that Sue's average ratings score was higher than Billy's, and so is her average overall score (which is a subjective rating, averaged across all interviewers). Sue is the top candidate per HR (whose data has been added in blue) in terms of candidate rank and whether or not to proceed.
Candidates Not Chosen
After evaluating and scoring the candidate, if you choose not to move forward, please consider sending the applicant a professional rejection letter to maintain goodwill, and to encourage the applicant to apply for other positions which may be a better fit.
Bottom Line
Like most business tools, the exact interview evaluation tool you need is one that's right for the specific job. So if you want to keep it simple, with 10 or fewer questions, and printable on one page, download and customize the simple interview evaluation template. But if you're hiring your first manager or interviewing for a senior-level role, you might consider using the more complex template.
We've also provided 3 versions of interview evaluation scorecard templates for you to choose from, both to compare interviewer feedback on a candidate and to compare multiple candidates against one another for the same job. We hope you find these useful to select the best person for the job every time.
Remember, you can skip the hassle of editing, printing, and filing interview evaluation forms with an ATS like Freshteam. You can easily store important information about candidates, create custom digital scorecards, and collect team feedback instantly, all online. If you have 50 employees or fewer, it doesn't cost you a dime.