Subdomains allow you to create separate websites on your domain for things like stores, forums, knowledge bases, technical documentation, employee intranets, and more. For GoDaddy web hosting customers, creating subdomains is easy. To make a subdomain in GoDaddy, log into your account, add a new record, and create your subdomain. Read our step-by-step instructions below.
Not sure if creating a GoDaddy subdomain is the best option for your project? Learn what a subdomain is and the best ways to use them.
1. Log In to Your GoDaddy Account
Making GoDaddy subdomains will only take a few minutes. The first step is to log in to your GoDaddy web hosting account by clicking "Sign In" in the top right corner of the GoDaddy homepage. Enter your customer ID and password. Then click the "Sign In" button.
Remember that to create a subdomain in GoDaddy, your site needs to be hosted on GoDaddy. If your site is registered on GoDaddy but hosted elsewhere (like Bluehost), you must create a subdomain with the hosting provider where your website domain resides instead.
2. Add a New Record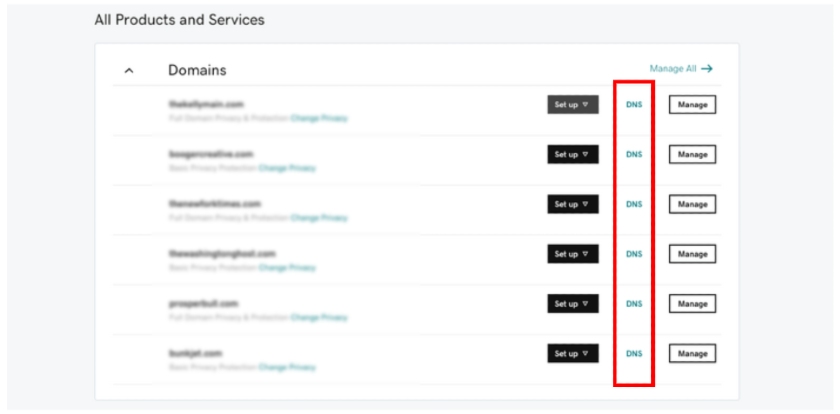 ---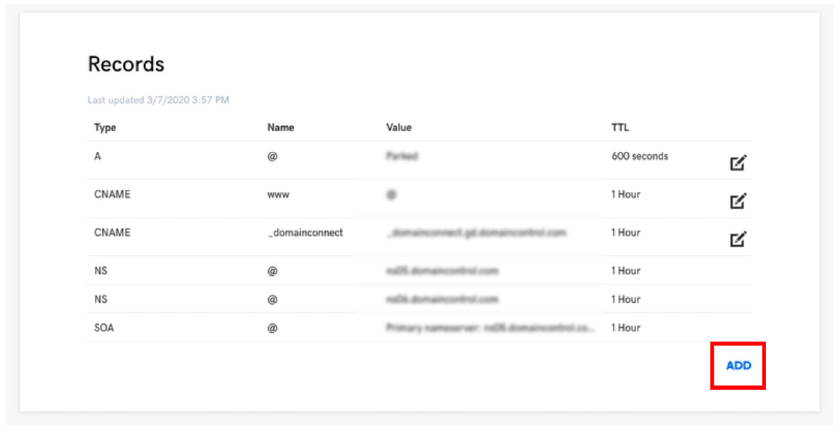 ---
Once you're logged in, click your username in the upper right-hand corner and then select "My Products" in the drop-down menu. On the "All Products and Services" page, locate the domain you want to create a subdomain for in the "Domains" section.
Next, click "DNS" beside the domain name to open the "DNS Management," where you will find the "Records" section. Click on the "Add" button at the bottom right of your screen to start making your subdomain.
3. Create Your Subdomain
After clicking "Add," select "A" under the Type field, then enter the subdomain you want under "Host." For example, if you're setting up a web store on a subdomain, you can name it "store" to make the subdomain "store.yourwebsite.com."
Finally, under "Points To," type the IP address of your hosting account. Find your server's IP address by clicking My Products > Servers > Manage > Details.
After entering the server IP address, press "Save" to save your new record, and you're all done. Changes made to your Domain Name System (DNS) can take up to 48 hours to take effect.
Frequently Asked Questions
What's the difference between a subdomain & a domain?
A subdomain is an extension of your domain name that precedes it. For example, in the URL "blog.yourwebsite.com," "blog" is the subdomain, "yourwebsite" is the domain, and ".com" is the top-level domain (TLD) extension. A subdomain name should identify the part of your website they're viewing, like a forum, customer support knowledge base, blog, or online store. Learn more about domain names and how to get a custom one of your own.
Do I need to create subdomains?
Subdomains aren't required, but they do help with site organization and search engine optimization (SEO). Since search engines recognize subdomains and root domains as separate entities, you can use your subdomain to insert more keywords and backlinks to your main site while also still building brand visibility. Subdomains help boost user experience too. They organize large websites into easily digested sections, without building an extensive and confusing sitemap.
How many subdomains can I have with GoDaddy?
Each GoDaddy domain can have up to 500 subdomains, but you don't want to max that out. Keep in mind that while subdomains can boost your SEO, they can also impact it. Since subdomains are counted as separate websites, having a lot of subdomains can spread your site's traffic and web hosting resources too thin. For more details, read our guide explaining what web hosting is.
Bottom Line
After making a small business website, you might want to use subdomains to differentiate sections as it grows. Subdomains can improve search engine rankings and better organize your site without having to create a complicated system of links. Creating a subdomain in GoDaddy only takes three steps: logging in, adding a new record, and filling out the required fields. Since it only takes a few minutes, create one for your website today.